About Me: I have more than 20 years of cooking experience & share my favorite recipes on this blog.
Have a question? Please post a comment, I'm happy to help. 🙂
This classic Lemon Blueberry Semifreddo is one of our favorite desserts to enjoy while the blueberries are in season! An easy Italian recipe bursting with zesty citrus and blueberry flavor in every spoonful.
Looking for an easy no-bake dessert perfect for hot weather? Try a semifreddo. It's creamy, refreshingly cold and bursting with citrus and fresh berries. This simple lemon blueberry semifreddo brings out the flavors of summer in the best possible way.
Featured Comment
Wow! What a wonderfully refreshing dessert! I followed the recipe exactly as written. It was easy to make and presented beautifully.
Why You'll Love This Semifreddo Recipe
Easy. Whip some heavy cream, cook an egg mixture briefly, then mix everything together and freeze.
Elegant. If you're looking for a beautiful dessert to serve at a summer get together, a semifreddo is a great option! It's creamy, colorful and gorgeous.
Refreshing. On a scorching day there is nothing like a slice of creamy semifreddo to cool you off!
What is a Semifreddo?
Semifreddo is Italian for "half-frozen," which happens to describe the dessert perfectly! It's a (half) frozen Italian dessert, traditionally made with whipped cream folded into a custard base. A bit like ice cream, though not the same (see below). A semifreddo gets its name from its silky, mousse-like, half-frozen texture that sticks around even after it's been in the freezer.
What is the difference between ice cream and semifreddo?
I like to think of semifreddo as a cross between your classic ice cream recipe and a light whipped cream or mousse. Like ice cream, a semifreddo starts with a crème anglaise of egg yolks and sugar. However, ice cream is denser, made with higher fat content and less air incorporated into the base, and also requires churning to achieve a creamy consistency.
Semifreddo, on the other hand, combines the custard with whipped cream, more like a mousse. While the recipe resembles ice cream, you don't need an ice cream maker to prepare a semifreddo. By whisking alone, you can achieve the perfect light texture that's creamy and airy all at once.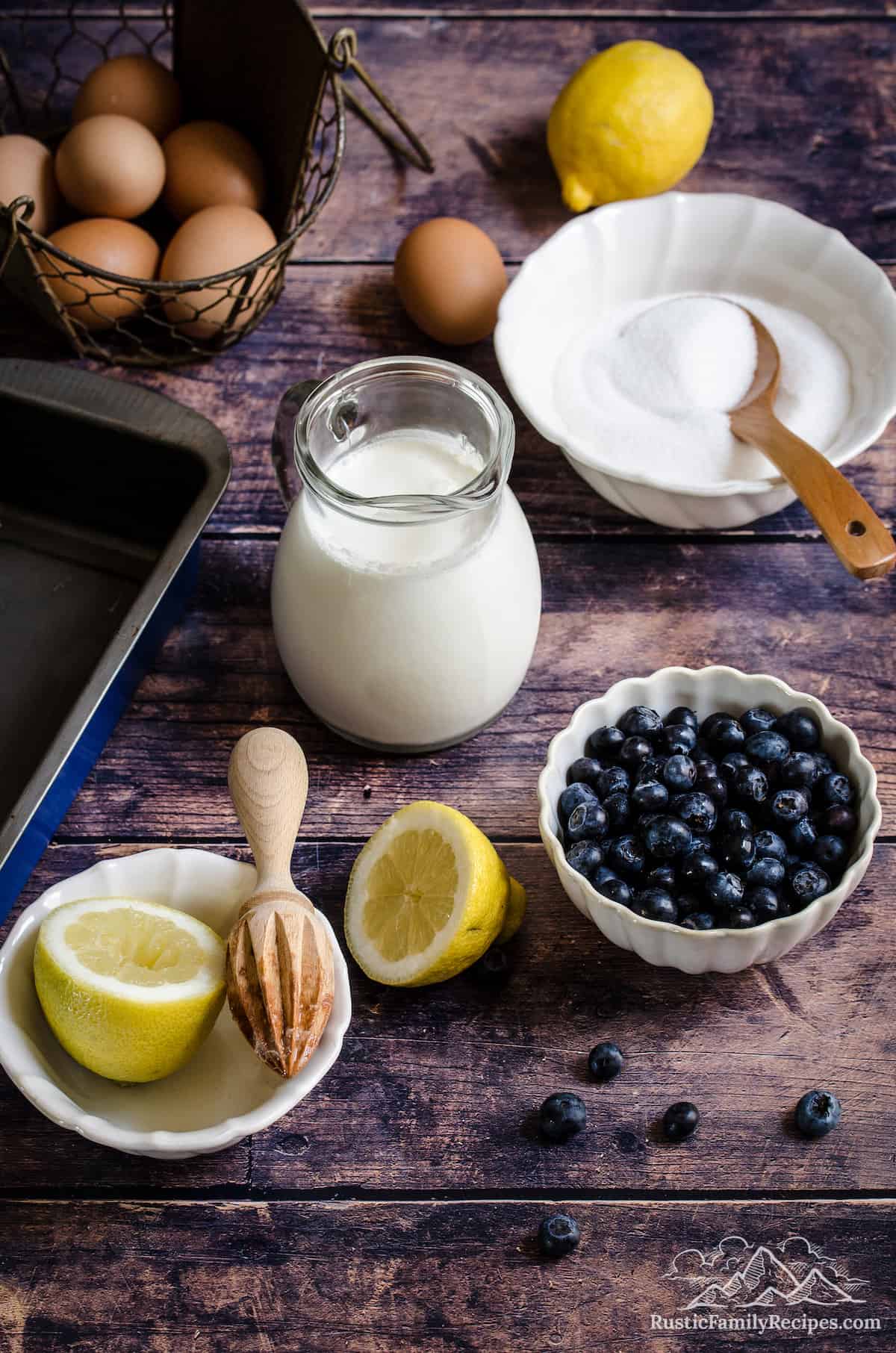 Recipe Ingredients
You mostly need a whack of eggs, plus some cream and a few other simple ingredients to make a semifreddo from scratch. The epitome of effortless luxury, I tell you. Below you'll find a summary, and be sure to scroll to the recipe card for the full details and amounts:
Heavy whipping cream – Chilled in the fridge right up until you're ready to use it. Cold is key!
Egg yolks – This semifreddo recipe calls for 7 large eggs. You'll only need the yolks, so in cases like this, I usually hang onto the whites to make them into an egg white omelet. Or, I'll use them in the meringue base for my strawberry-blueberry mostachon.
Lemon juice and zest – Be sure to use freshly squeezed lemon juice and freshly grated zest when making your lemon semifreddo. The flavor just can't be matched! After you've juiced the lemon, set aside a couple of spoonfuls to use for enhancing the flavor of the blueberry topping.
Salt – A pinch of salt in the semifreddo base helps to balance the flavors.
Sugar – Granulated white sugar is perfect. You'll need it for the egg mixture, plus a couple of extra spoonfuls to break down with the blueberries for the sauce.
Blueberries – If you can't raid your garden for fresh blueberries, visit your local farmer's market for the ripest berries.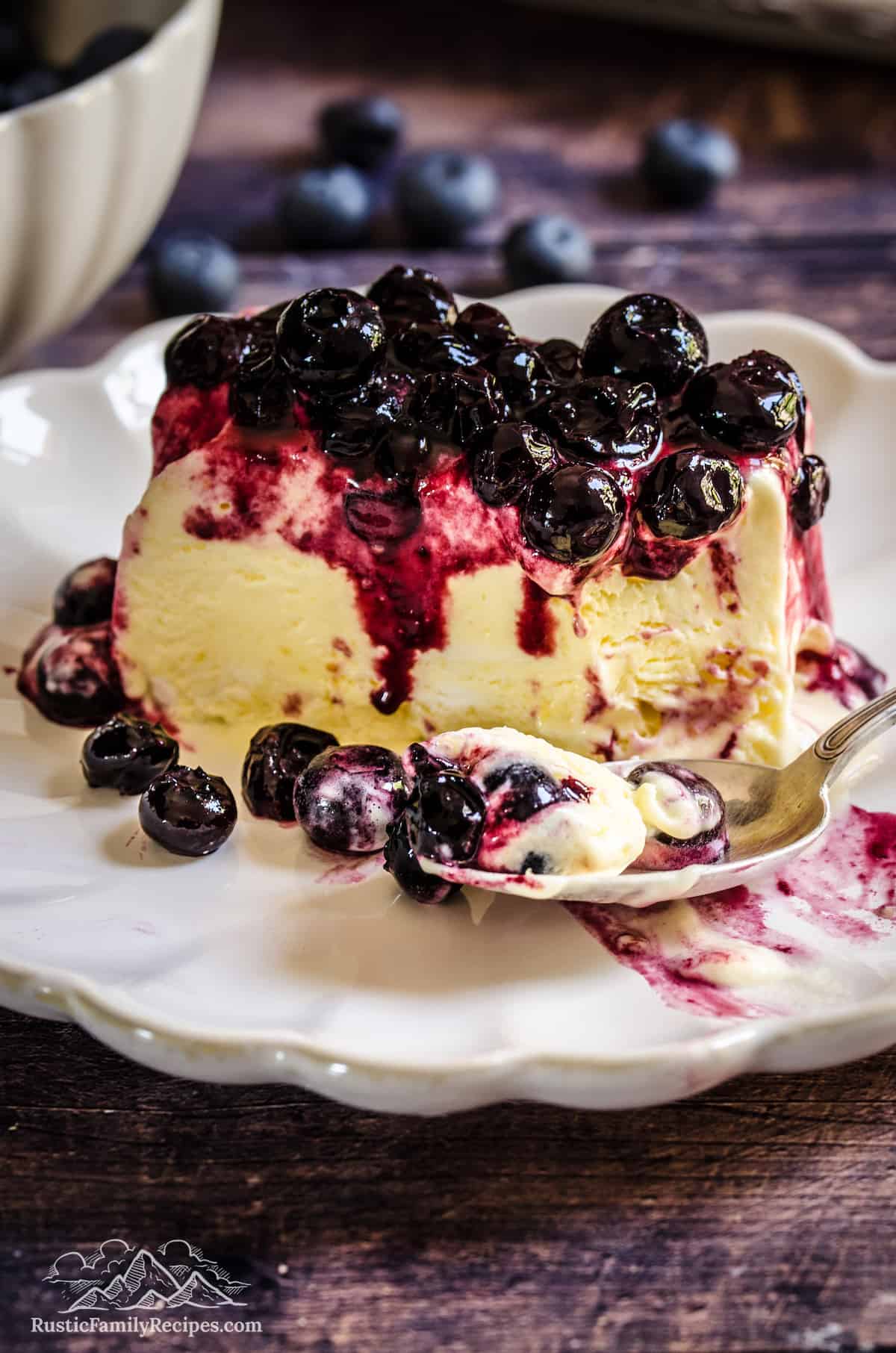 How to Make Lemon Blueberry Semifreddo
There's no intensive churning involved in making semifreddo. There is, however, quite a bit of whisking. The payoff is the most gorgeous, blueberry-soaked frozen dessert that you'll ever lay your eyes on, which is a fair trade in my books.
Here's how to make semifreddo from start to finish, with only a few basic kitchen tools:
Prep your tools. First, line a loaf pan with plastic wrap, generously enough that some of the plastic hangs over the sides of the pan. You'll use the excess cling wrap to cover the semifreddo before it goes into the freezer.
Whip the cream. Place your cold whipping cream into a large bowl, and beat until stiff peaks form. Move it back into the fridge to chill while you prepare the lemon semifreddo base.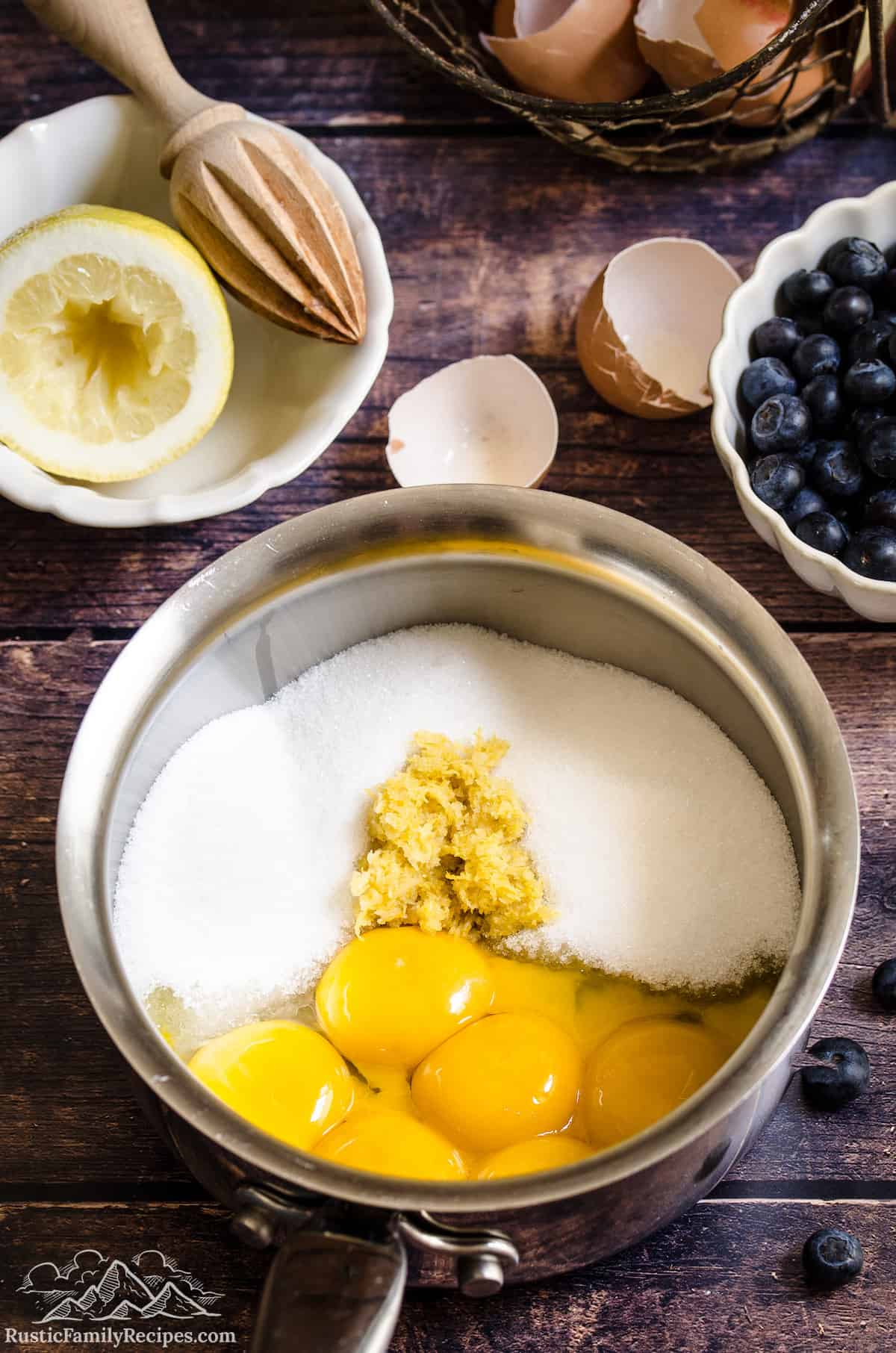 Combine the ingredients. In a large metal bowl, whisk together the sugar, egg yolks, lemon juice, lemon zest, plus a pinch of salt. Make sure to use a metal bowl here, as you'll need to use it to make a double boiler when heating the eggs in the next step.
Thicken the egg mixture. Since semifreddo contains eggs, you'll need to partially cook the base before you continue. Get a pot of water simmering, then place the metal bowl over top. Now, get whisking. Consider semifreddo an excellent exercise for arm strength, as you'll need to whisk the mixture for a good 5-7 minutes until it's thickened and fluffy. Follow that up with an electric mixer once the custard base is off the heat, beating until the mixture is doubled in volume. This also helps to cool it off.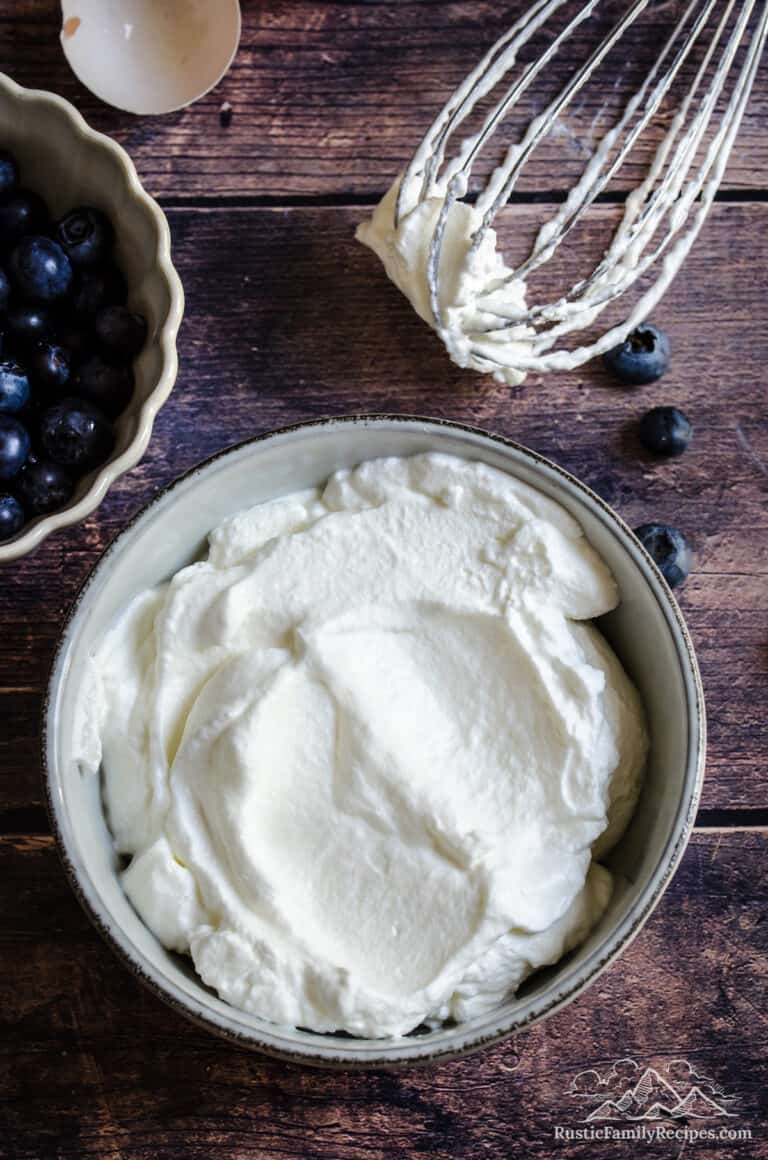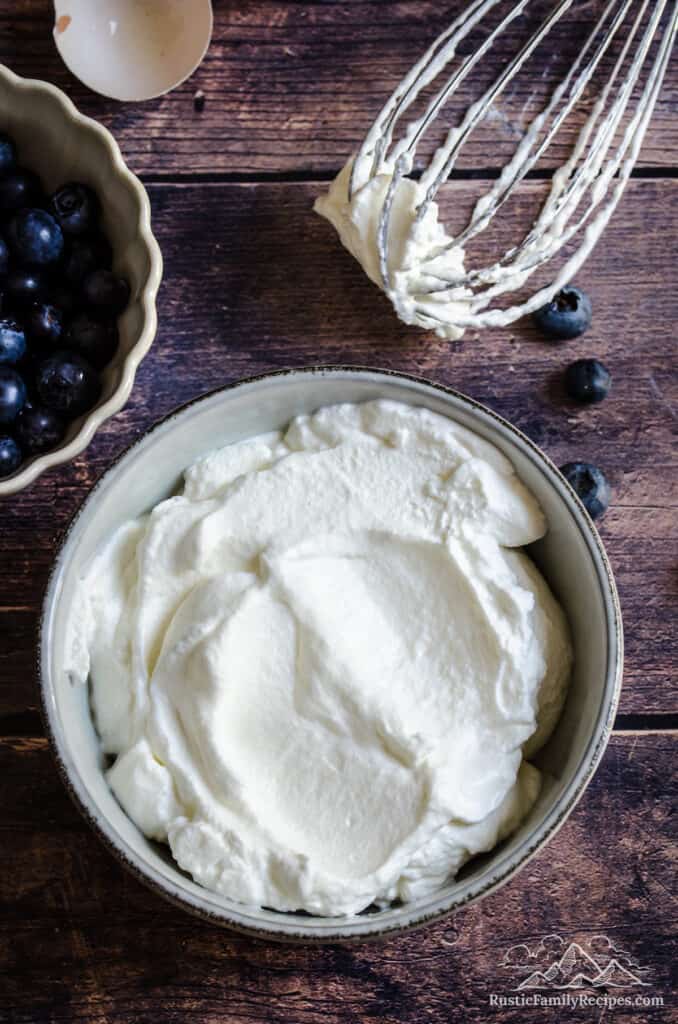 Add the whipped cream. Once your base is ready and cool, take the whipped cream out of the fridge and fold it into the egg mixture.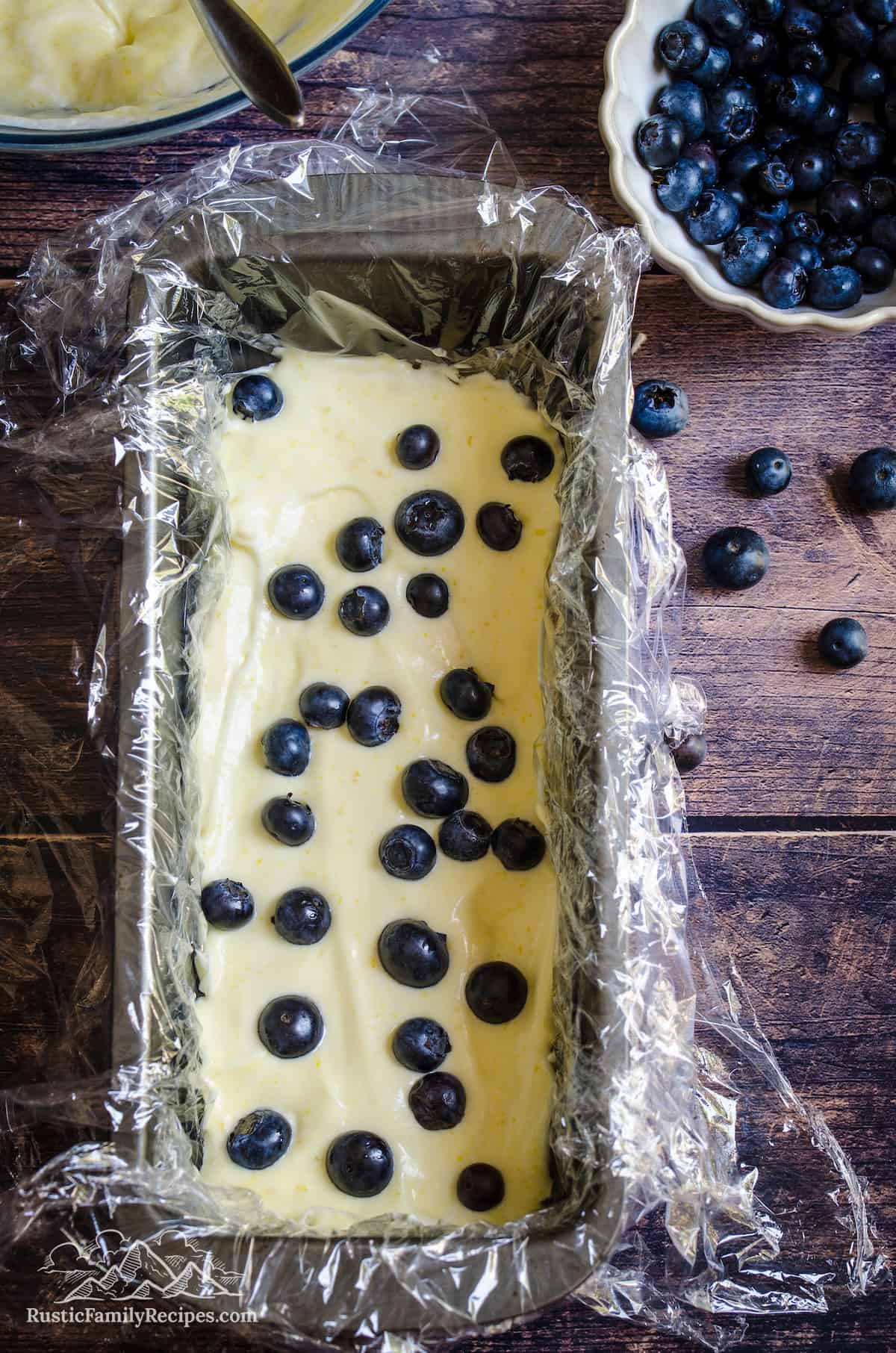 Assemble and freeze. Transfer the semifreddo mixture into your prepared loaf pan. Go ahead and add fresh blueberries if you'd like. Then, use a spatula to smooth out the top, and give the pan a couple of taps against the counter to help release any air bubbles. Fold the excess plastic wrap over the top of the semifreddo, then place the whole pan into the freezer. It will need to freeze for at least 8 hours, but preferably overnight.
Topping & Serving
After your lemon semifreddo has had a good rest in the freezer, it's time to serve! We used a simple blueberry sauce that comes together in minutes.
To make an easy blueberry sauce, combine one cup of blueberries with a couple of tablespoons of sugar, and a dash of lemon juice in a saucepan. Bring the mixture to a simmer for about 7 minutes, or until the blueberries break down and the texture becomes sauce-like. Then add then vanilla.
Once the blueberry sauce is cool, take your semifreddo out from the freezer. Invert the pan onto a plate, then carefully lift the plastic wrap away from the semifreddo. Throw over a few generous spoonfuls of blueberry sauce and, finally, top with more fresh blueberries. Then slice and serve!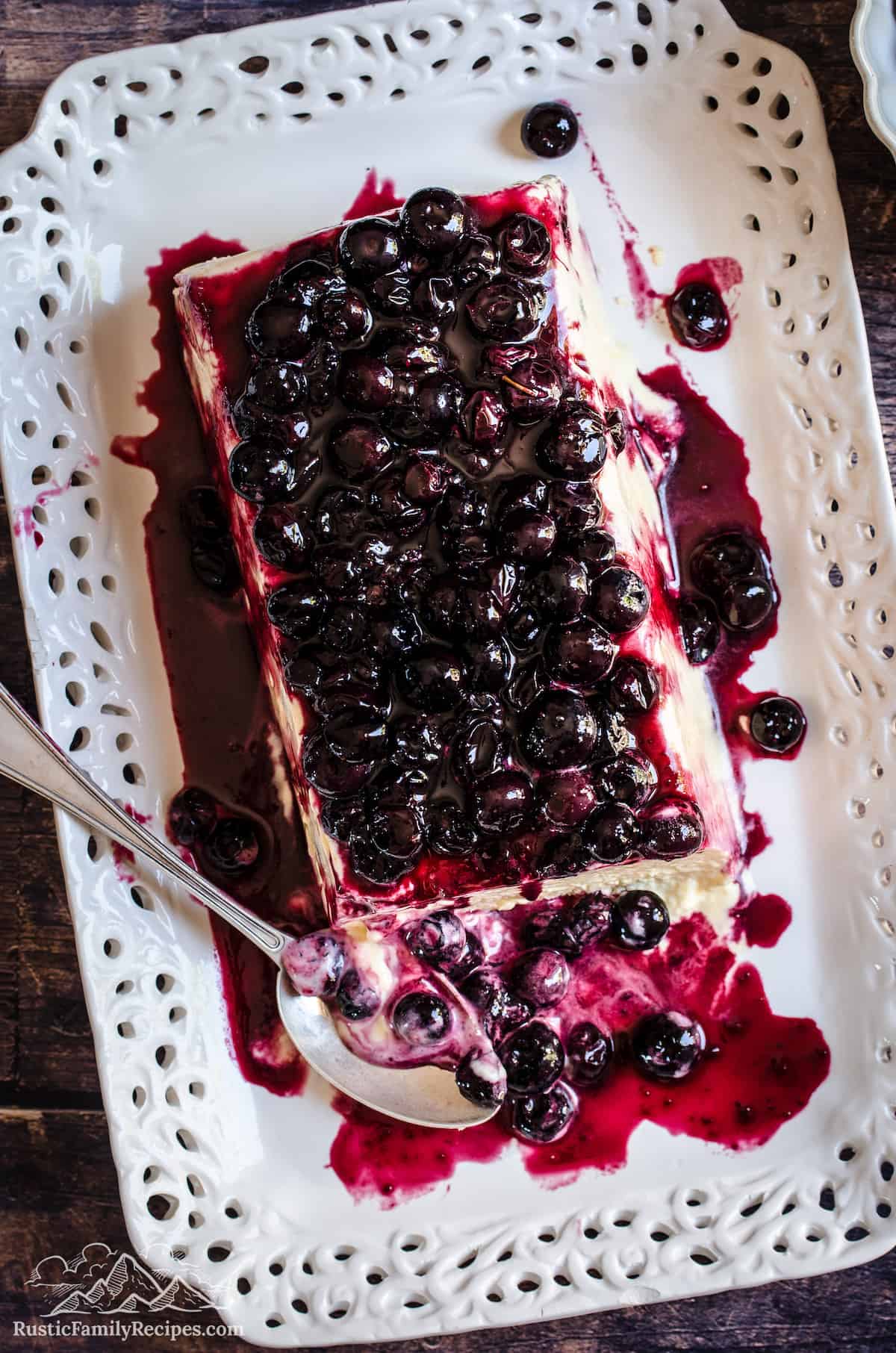 Tips and Variation Ideas
Use cold whipping cream. This is important for a chilled, smooth semifreddo. If you like, you can even chill the bowl you'll whip your cream in. Just place it into the freezer for about 20 minutes before you start.
Work quickly. The steps should flow from one into the next pretty seamlessly. Avoid leaving your whisked and beaten creams and bases sitting for too long – the goal is to get the semifreddo mixture into the loaf pan and into the freezer, ASAP.
You can make this recipe with other kinds of berries. Why limit a semifreddo topping to just blueberries? I'm tempted to try this recipe with fresh strawberry sauce, like the one I serve over my vanilla budino! I'm sure raspberries and blackberries would also be incredible. Let me know if you've tried your semifreddo with any of these in the comments below.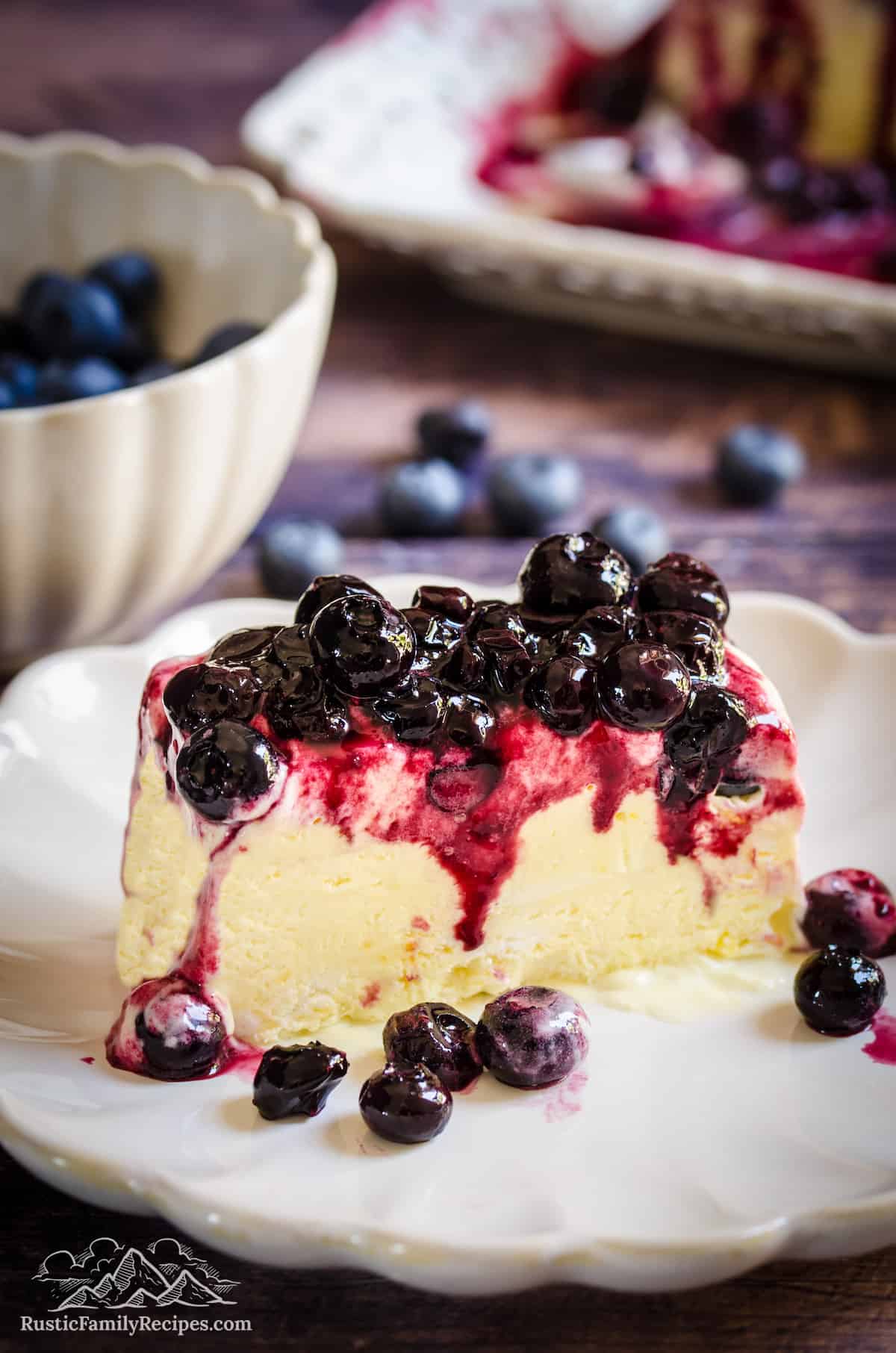 How to Store a Semifreddo
Like my recipes for no-churn ice cream, a homemade semifreddo doesn't contain the additives you'll find in most store-bought ice creams. As a result, homemade recipes rarely last as long even when stored properly in the freezer.
Semifreddo is best enjoyed within one week. So, in case you needed an excuse to finish a semifreddo in a matter of days, there you have it!
However, you can keep a semifreddo stored in the freezer for up to one month at the very most. To help prevent freezer burn, I like to cover any leftover semifreddo first with a layer of parchment paper, then wrap it tightly in plastic wrap.
You can take the semifreddo out of the freezer a short while before you plan on serving it, removing the wrapping, and letting it soften a bit.
More Frozen Desserts to Try
Lemon Blueberry Semifreddo
This classic lemon blueberry semifreddo is one of our favorite frozen desserts to enjoy when the blueberries are in season! An easy-to-make Italian recipe bursting with citrus and topped with homemade blueberry sauce.
Ingredients
1 ¾

cups

heavy whipping cream

,

very cold

1 ¼

cups

sugar

7

large egg yolks

½

cup

lemon juice

,

fresh

1

tablespoon

lemon zest

¼

teaspoon

kosher salt

1

cup

fresh blueberries

,

divided use
For the Blueberry Sauce
1

cup

fresh blueberries

2

tablespoons

sugar

2

tablespoons

lemon juice

,

fresh

½

teaspoon

vanilla extract
Instructions
Making the Semifreddo
Line a loaf pan with plastic wrap. Make sure you have enough plastic wrap so that it hangs over the sides of the pan (you'll need it to cover the semifreddo before freezing it).

Whip the cream. Beat the whipped cream in a large bowl until soft peaks form. Refrigerate the whipped cream, we will use it later.

Combine the ingredients. Combine 1 1/4 cups sugar, egg yolks, 1/2 cup lemon juice, lemon zest, and salt in a large metal bowl. Whisk the ingredients together until well combined.

Thicken the egg mixture. Place the metal bowl over a large pot of simmering water and whisk until your mixture looks fluffy and thick (this will take about 5-7 minutes). Once your mixture has thickened, remove the bowl and transfer the mixture to a large bowl. With an electric mixer, beat until it is doubled in volume and has cooled down.

Fold in the whipped cream. Take the whipped cream mixture out of the refrigerator. Fold the whipped cream into the cooled-down egg mixture.

Pour into the loaf pan. Pour the semifreddo mixture into the loaf pan and smooth out the top. Add 1/2 cup of fresh blueberries to the mixture at this point, gently mixing them in. (The rest you'll use when you serve the semifreddo) Tap your loaf pan on the kitchen counter to get air bubbles out.

Cover and freeze. Cover the semifreddo with the plastic wrap, and place it in the freezer for at least 8 hours or overnight.
Topping & Serving
Prepare the blueberry sauce. Place 1 cup of blueberries, 2 tablespoons sugar, and 2 tablespoons lemon juice in a saucepan. Stir and then bring to a simmer over medium heat. Simmer for 7 minutes until the blueberries break down. Remove from the heat and stir in the 1/2 tsp vanilla extract. Let the sauce cool completely, chilled is better. You can make the sauce in advance and store in the fridge until you are ready to serve.

Serve the semifreddo. Remove the semifreddo from the freezer. Invert the semifreddo onto a plate, and remove the plastic wrap. Spoon the blueberry sauce over the semifreddo so that it's completely covered. Place the rest of the fresh blueberries on top, then slice and plate.
Last Step:
Please
share a rating and comment
if you enjoyed this recipe! Your feedback helps this little blog thrive and continue providing free, high-quality recipes for you.
Nutrition
Calories:
370
kcal
|
Carbohydrates:
39
g
|
Protein:
4
g
|
Fat:
23
g
|
Saturated Fat:
13
g
|
Polyunsaturated Fat:
2
g
|
Monounsaturated Fat:
7
g
|
Cholesterol:
229
mg
|
Sodium:
95
mg
|
Potassium:
97
mg
|
Fiber:
1
g
|
Sugar:
37
g
|
Vitamin A:
1013
IU
|
Vitamin C:
5
mg
|
Calcium:
58
mg
|
Iron:
1
mg
Nutritional info is an estimate and provided as a courtesy. Values may vary according to the ingredients and tools used. Please use your preferred nutritional calculator for more detailed info.
Did you make this recipe?
💖 I love hearing how my recipes came out for others! If you tried this recipe, please share a comment. 💖