This cozy Knoephla Soup recipe features homemade dumplings and tender chicken breasts. Everything is cooked together in a creamy soup base dotted with sliced carrots and potatoes. Perfect cold-weather food!
This knoephla soup is inspired by one of the few recipes my grandfather used to make when I was a child. He grew up in Poland near the German border and when he felt nostalgic he would cook up a big pot of this cozy soup. Homemade dumplings are cooked in a flavorful broth along with carrots, potatoes, and chicken breasts. The end result is a hearty bowl of creamy soup filled with tender chicken and pillowy dumplings. This is some serious old-fashioned comfort food right here.
Why You'll Love Knoephla Soup
Comforting. There is just something supremely satisfying about ladling homemade soup into a big bowl, then sitting down at the table to eat it. Between the steam wafting off the bowl and the warmth of the soup itself, it's pure comfort.
Easy. Even though we're making the knoephla dumplings from scratch, this recipe is very easy. A simple dough is mixed up, then rolled out like a rope of Play-Doh. Once that is done, you just cut it into bite-sized pieces with a knife or kitchen scissors.
Flavorful. The soup base is flavored with veggies and spices, then cooked low and slow before you add the dumplings.
Hearty. Between the dumplings and the chicken breasts, knoephla soup is super filling and satisfying.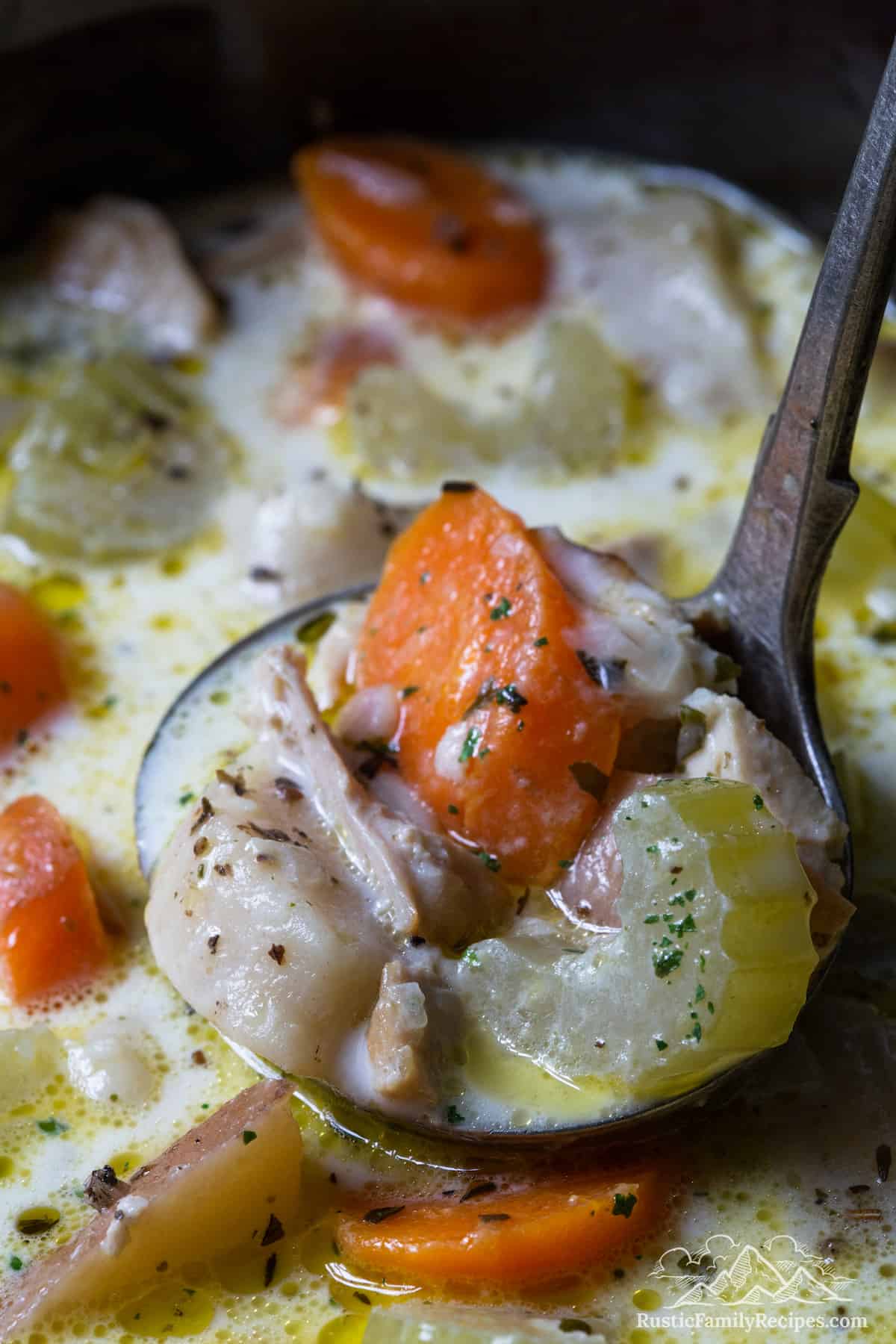 Is It Hard to Make Knoephla Dumplings?
If the idea of making dumplings from scratch sounds intimidating, not to worry. These dumplings are actually incredibly easy to make.
All you have to do is stir the knoephla ingredients together in a large bowl until a soft dough forms. Then you roll it out into a rope similar to the way you would roll out Play-Doh as a child. The final step is just using a knife or kitchen scissors to cut the rope into bite-sized pieces. Ta-da! Homemade knoephla.
Tips for Success
Don't over-knead the knoephla. If you knead the dough too much gluten will form and your dumplings with be chewy instead of pillowy. Just mix until there are no dry bits visible, then quickly roll it out and cut it into pieces.
Add the cream last. The heavy cream is the last thing added to the soup. If you add it too soon it will curdle instead of creating a creamy broth.
Low and slow. This recipe is not for people in a hurry. The soup base cooks for 40 minutes before the dumplings are added, then everything is cooked for another 20 minutes. This hour of cooking time gives the soup time to develop flavor and makes all the meat and veggies extra tender. Don't try to speed up the cooking time by raising the heat.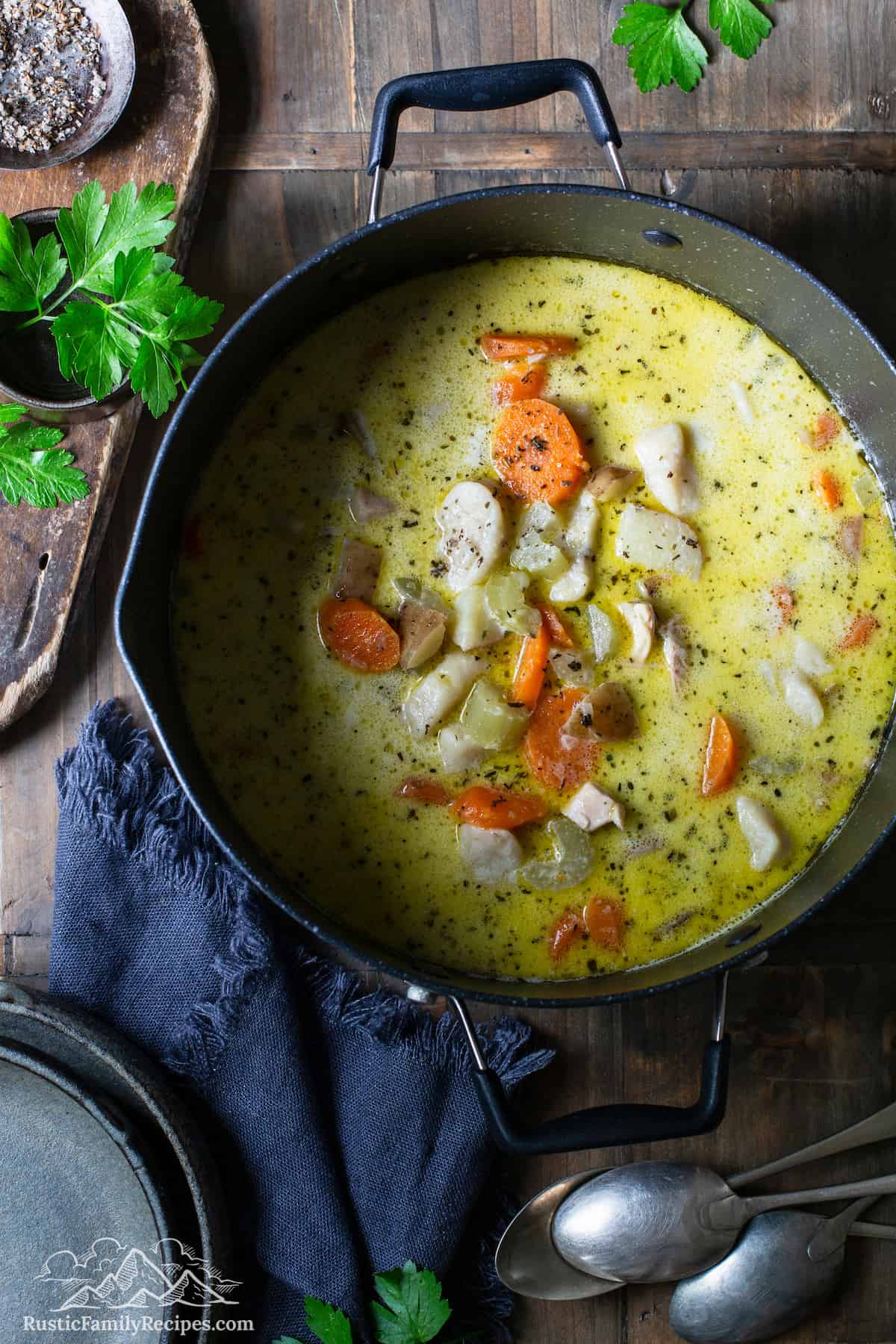 What Goes With Knoephla Soup?
I always love something bread-y on the side with a bowl of soup. Here are some of my favorite ideas:
Common Questions
Where does knoephla soup originate from? This soup comes from Germany. It is a thick and creamy soup with chicken, potatoes, and dumplings called knoephla. It is popular in areas of the US with communities that trace their roots to Germany, such as Minnesota, South Dakota, and North Dakota. Each region has its own version of the recipe.
What does knoephla mean in German? The name of this soup derives from the German word Knöpfle, meaning little knob or button.
How is knoephla pronounced? The word "knoephla" is pronounced nip-fla.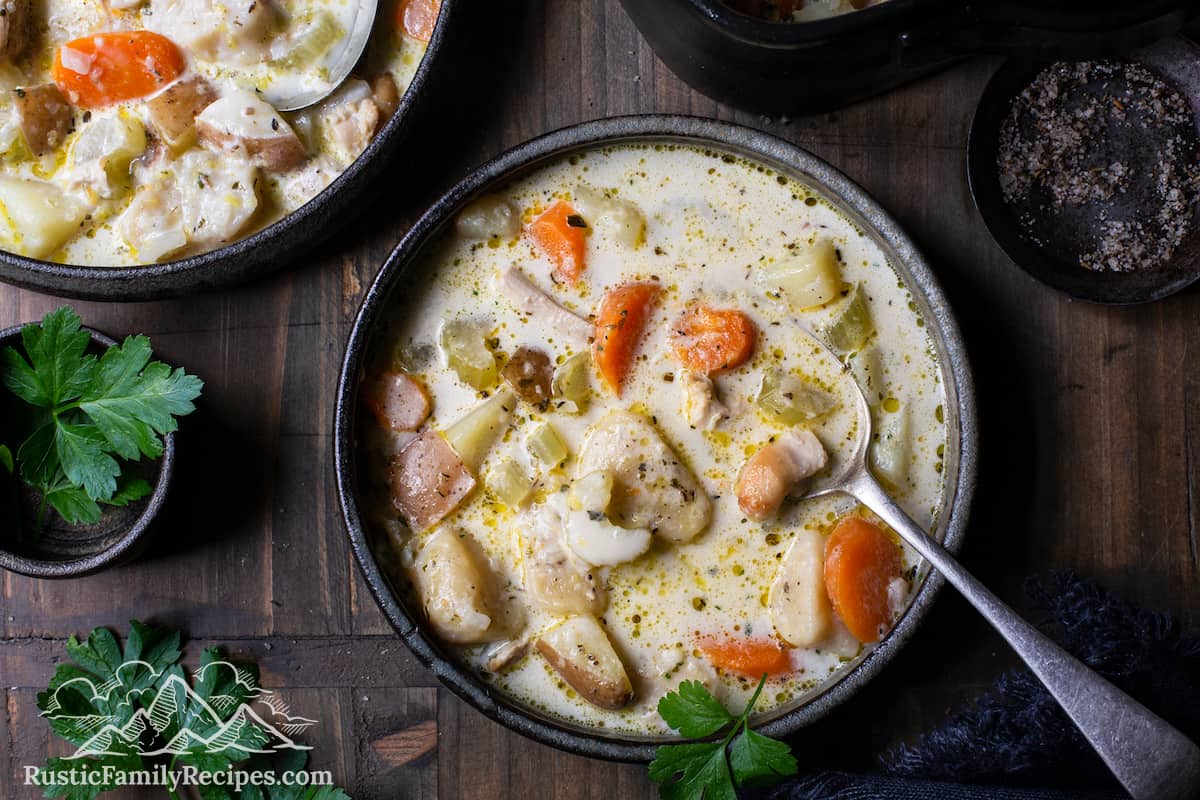 How to Store and Reheat Leftovers
Let the soup cool to room temperature, then ladle extras into airtight containers and store them in the fridge for up to 4 days.
The dumplings will absorb some of the liquid in storage, so when it's time to reheat the soup you may want to add some extra broth. You can reheat single servings in a microwave-safe bowl, zapping until everything is warmed through. My preferred method, however, is to reheat this soup in a small pot on the stovetop over medium-low heat.
Can I Freeze It?
Yes! You can freeze the knoephla itself by placing the bite-sized pieces on a baking tray lined with parchment paper, then popping it into the freezer for an hour. Once the knoephla have frozen, transfer them to an airtight, freezer-safe bag and freeze for up to 3 months. You can add them frozen to your soup base and just increase the cooking time by a few minutes.
If you want to freeze the soup, let it cool to room temperature and then ladle it into airtight, freezer-safe containers. Be sure to leave 1-inch of space at the top so that the soup has room to expand. Freeze for up to 3 months, then thaw overnight in the fridge and reheat as described above.
More Cozy Soup Recipes to Try
Print
Knoephla Soup
This cozy Knoephla Soup recipe features homemade dumplings and tender chicken breasts. Everything is cooked together in a creamy soup base dotted with sliced carrots and potatoes. It's perfect cold-weather food!
Author: Rustic Family Recipes
Prep Time:

20 minutes

Cook Time:

1 hour

Total Time:

1 hour 20 minutes

Yield:

5-6 servings

Category:

Soup

Method:

Stovetop

Cuisine:

German-American
Soup:
4 tablespoons

unsalted butter

2

large carrots, chopped

2

celery stalks, chopped

1

large yellow onion, chopped
Kosher salt and freshly ground black pepper

4

cloves garlic, minced

8 cups

chicken or vegetable broth

2 cups

water

2

chicken breasts, cut into

1

-inch pieces

1/2 teaspoon

dried thyme

1/2 teaspoon

dry parsley

3

–

4

small red potatoes, chopped into

1/2

-inch pieces

1 cup

heavy cream
Knoephla:
3 1/4 cups

(

422 grams

) all-purpose flour, plus more for dusting

1 1/2 teaspoons

baking powder

1 1/2 teaspoons

kosher salt
Freshly ground black pepper

1

large egg

3/4 cup

to 1 cup of milk
Instructions
Make the Soup Base
Melt the butter in a large pot over medium heat. Add the carrots, celery, onions, a generous pinch of kosher salt and a pinch of black pepper. Cook, stirring often, until the vegetables soften, about 8-10 minutes. Add the garlic and and cook. stirring constantly, about 2 minutes. Add the thyme and parsley, then stir everything together.
Add the vegetable broth and water. Add the chicken breasts. Increase the heat to medium-high and bring the soup to a boil. Reduce the heat, cover the soup and simmer for 40 minutes.
Make the Knoephla Dumplings
In a large bowl combine the flour, baking powder, salt and pepper. Mix well.
Add the egg and stir into the dough. Then begin adding the milk 1/4 cup at a time, mixing between additions, until a soft dough forms. The dough should be firm enough to hold its shape and not sticky.
Turn the dough out onto a lightly floured counter. Pat into a ball and cut the ball into 4 pieces.
Roll out each piece of dough into a long rope about 1/2 inch thick. Using scissors or a sharp knife, cut each rope of dough into small squares about 1/2 inch wide. These are going to be your dumplings.
Finish the Soup / Cook the Dumplings
When the soup has 20 minutes of simmer time left, add the potatoes and the knoephla to the soup, cover, and continue to simmer.
Remove the soup from the heat and stir in the cream. Adjust the salt and pepper as needed, stirring between additions.
Last Step:
Please
share a rating and comment
if you enjoyed this recipe! Your feedback helps this little blog thrive and continue providing free, high-quality recipes for you.
Keywords: Knoephla soup recipe, German soup, German dumplings
Filed Under:
This post may contain affiliate links. Please read our disclosure policy.