About Me: I have more than 20 years of cooking experience & share my favorite recipes on this blog.
Have a question? Please post a comment, I'm happy to help. 🙂
These authentic homemade babàs are soaked in rum syrup and then topped with whipped cream and fresh berries! A classic Italian pastry made from scratch, this dessert will transport you to the streets of Naples.
If you have been reading this little blog for any length of time, you probably know I like to make recipes with booze. There's this bourbon apple crisp french toast casserole (which is ahmazing) and these bourbon strawberry shortcake ice cream bars, for starters. I'm not a lush or anything, but putting a splash of spirits into food adds flavor and is just plain fun. Ain't no shame in enjoying a good cocktail or adding a little grown up flair to your desserts!
Today we're mixing it up a touch and instead of using bourbon, we're making a rum syrup! Then we're baking up fluffy homemade babàs and soaking them in the syrup before topping them with whipped cream and fresh berries. Sound tasty? That's cause it is baby! My husband's Italian grandmother approves of this recipe, which let me tell you, is saying a lot. 😅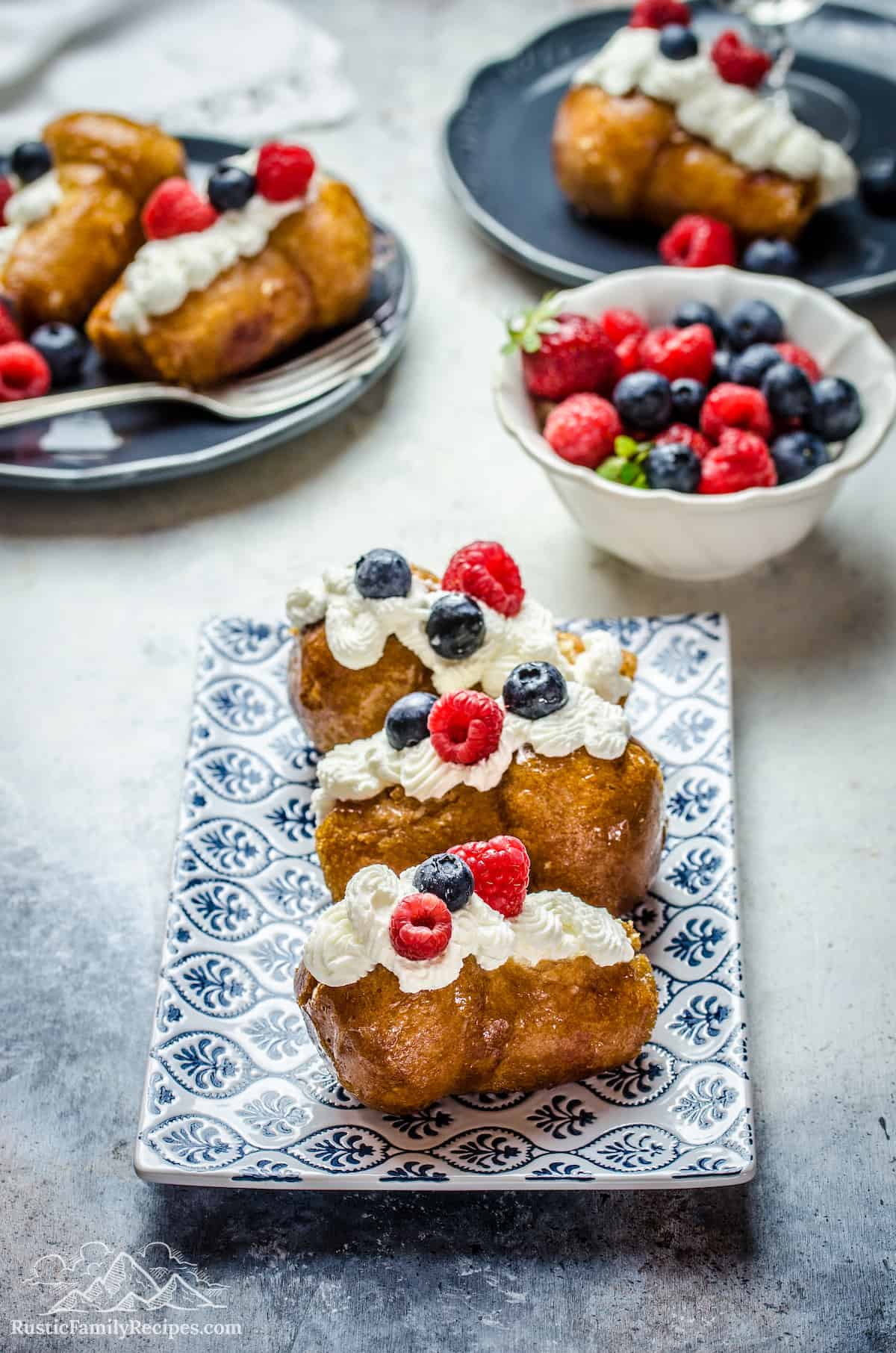 What is a Babà?
A babà is a kind of Neapolitan pastry from Italy. In downtown Naples you can find these available at pastry shops and street vendors. They can be eaten on a plate with a fork, or even eaten "on the go" with your hands as long as you don't mind licking some of the rum syrup off your fingers. 🙂
Soaking the babàs in rum syrup is an important part of the way these are made and eaten. By themselves the babàs are a bit dry, but that is on purpose because you want them to soak up a lot of syrup without falling apart.
These pastries are so popular in Italy that there is a Neapolitan expression: "si comme a 'nu babbà" which means "you're just like a babà." It's a big compliment if an Italian says this to you.
This Recipe Uses 12 Eggs – Yes, Really!
This recipe uses 2 cups of fresh eggs, which usually comes out to about 12 eggs. Yes, a whole dozen. Now that might bother some folks but I love recipes that use up eggs on my counter. There's a reason I have an entire section on this site dedicated to what you can do with too many eggs. This time of year my hens are laying so regularly that I literally meet someone and the second thing I say to them after my name is, "Hey, would you like some eggs?" True story.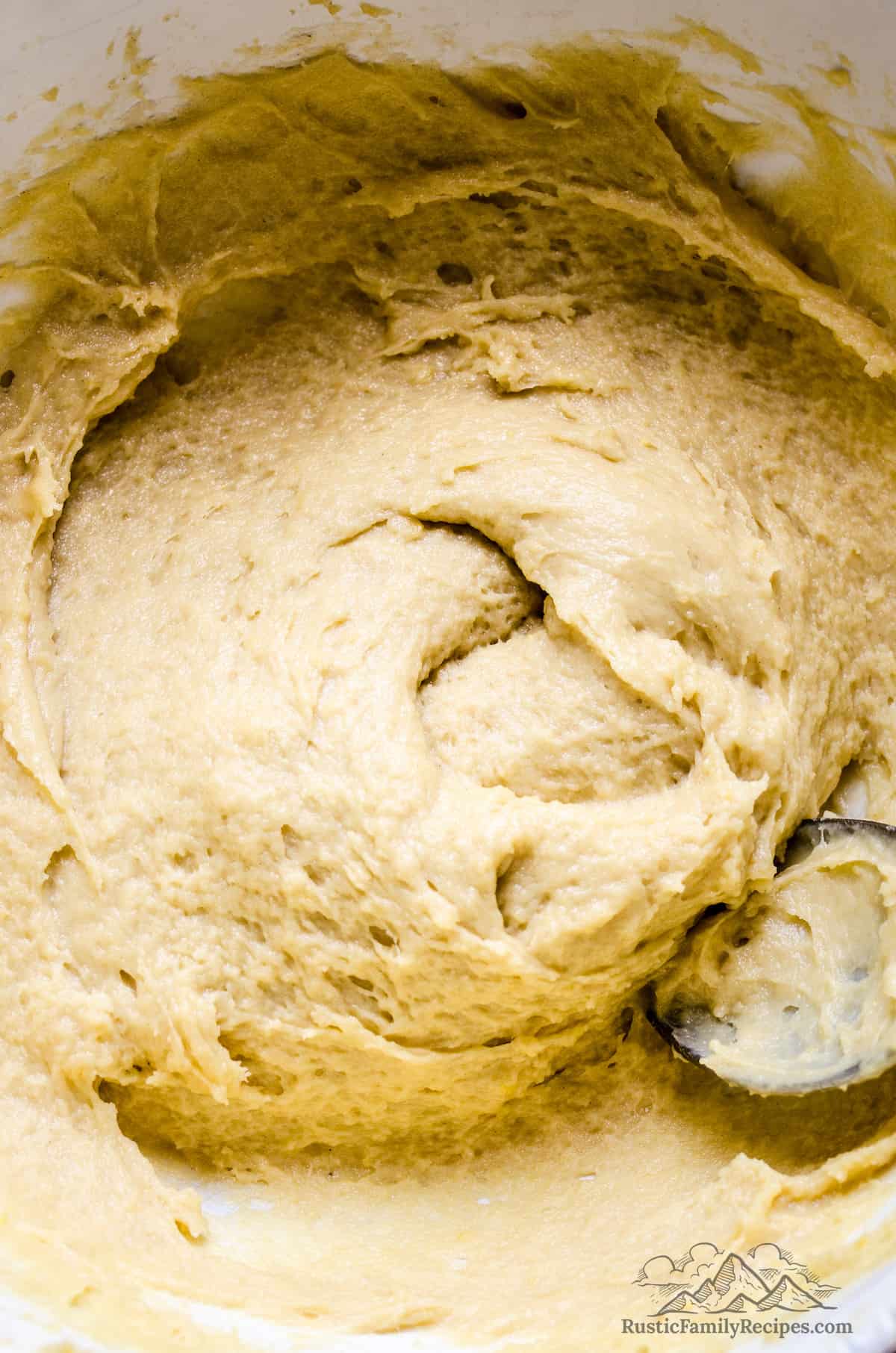 A Note About Yeast and Flour
In Italy, babàs are made with fresh brewer's yeast, so that is what I used in the recipe below. The best place to find fresh yeast is at your local bakery – usually they will be willing to sell you some. However, if you can't find fresh yeast you can substitute active dry yeast. The ratio is 3:1 so for the amount of fresh yeast in the recipe, you could sub 1 1/2 teaspoons of active dry yeast.
In Italy, these are also made with Manitoba flour. Manitoba flour is a type "0" strong wheat flour. Produced from the best strength grains with high protein value, this kind of flour is ideal breads, baguettes and pastries. You can buy Italian Manitoba flour on Amazon. In a pinch, you can also sub all-purpose flour but the results won't be as authentic as what you'd find in Italy.
Dough Texture
The babà dough is somewhere between a batter (like for cookies) and a bread dough. So it will be softer, sticker and more wet than what you would typically expect from a bread dough, which is usually smooth and bounces back when you press it with your thumb. In this sense, babà truly is a cross between popovers (which have a very wet, loose batter) and homemade bread.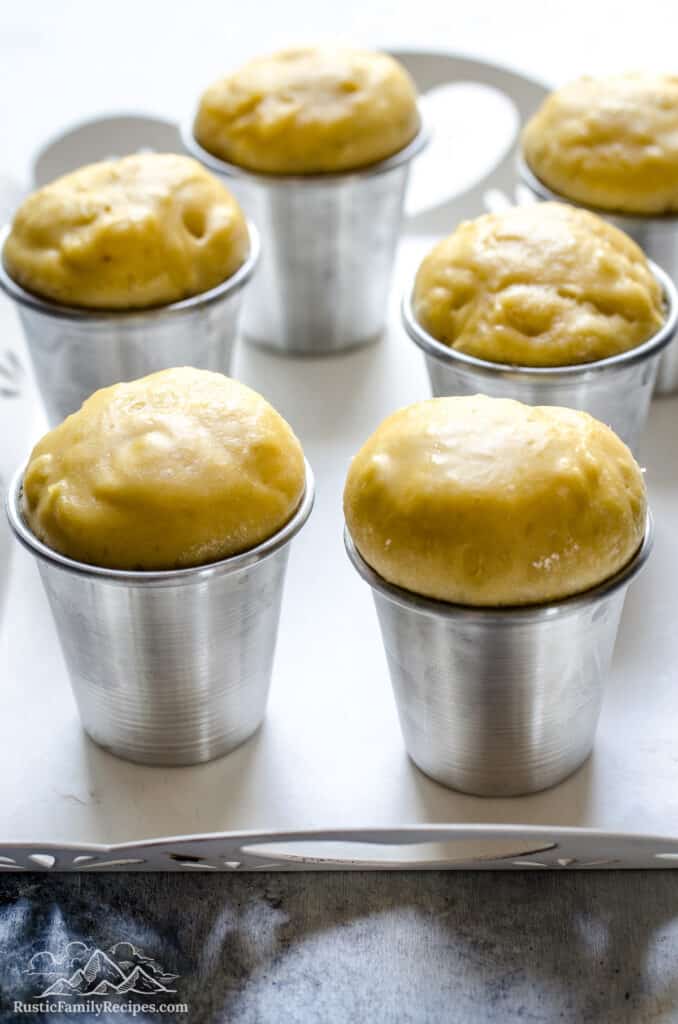 What Kind of Molds to Use
Speaking of popovers, these babà are made in individual popover molds or a popover pan. I used the individual molds for this particular recipe but I actually love all of the Williams-Sonoma "Goldtouch" bakeware and highly recommend that line.
Tips for Success
These rum babàs fall into the intermediate level of baking so it's always helpful to have a few tips:
Use cold eggs. Usually it is better to use room temperature eggs for baking because the eggs will work into the batter more evenly. However, since the dough for this recipe is mixed for so long the stand mixer tends to heat up the dough. Using cold eggs helps prevent the dough from getting too warm while you are mixing it.
Cut the butter into small pieces. This does take a bit more time, but smaller pieces will work into the dough better.
Wet your hands. The dough for these babàs is sticky, so use wet hands when shaping the dough to avoid getting it stuck to your hands.
Give it time to rise. Don't rush the rising time! The initial rise takes at least 3 hours, while the second rise will take about 45 minutes, depending on how warm your kitchen is.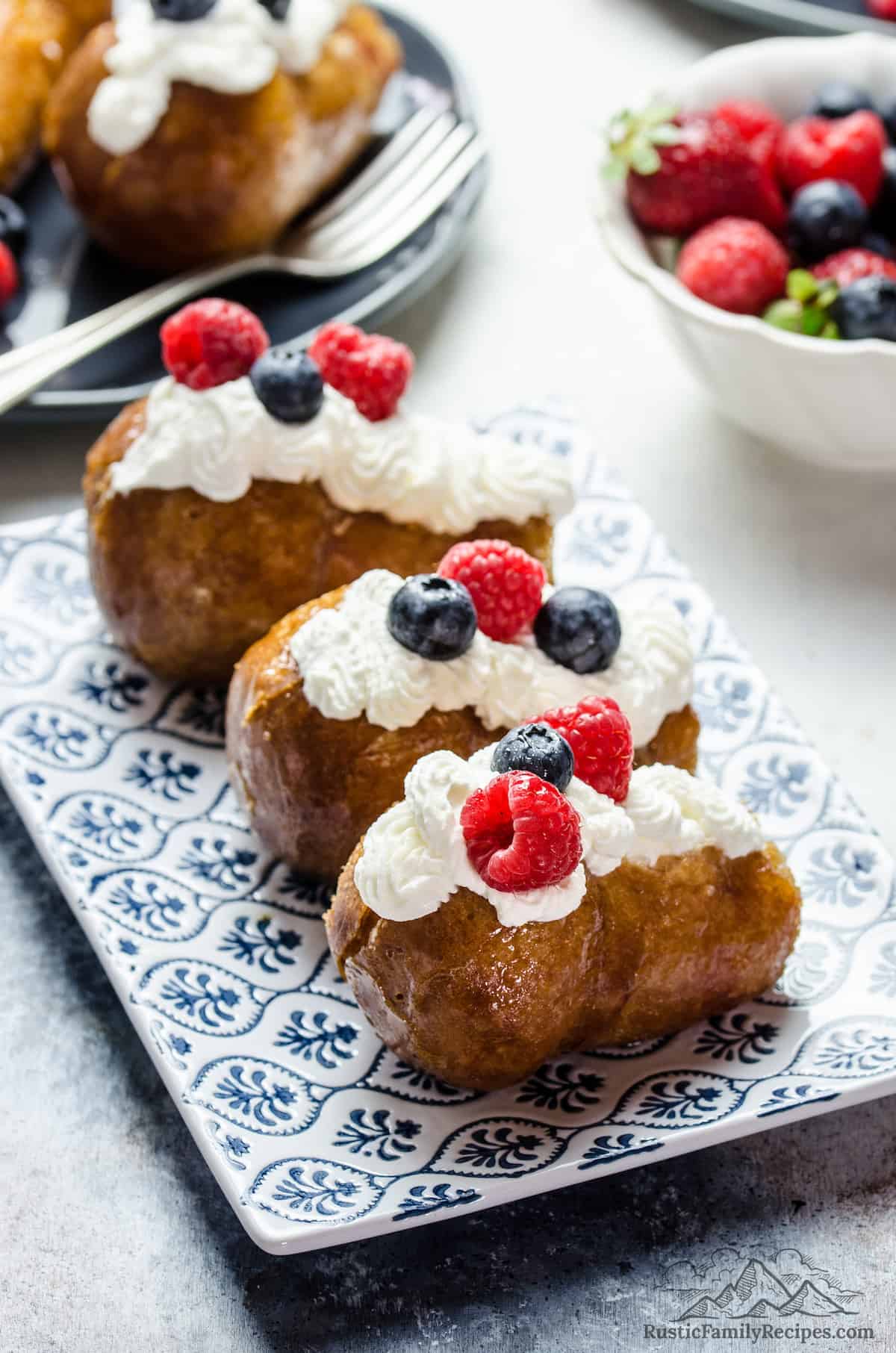 Serving Suggestions
I like to serve babàs with whipped cream and fresh berries, but you can also serve them with ice cream! Vanilla ice cream and strawberry ice cream are my top picks. Other delightful toppings ideas include powdered confectioners sugar (similar to beignets), strawberry sauce, blueberry sauce, or a drizzle of chocolate sauce. Really you can serve babàs with whatever you like.
Keep in mind, these topping ideas are in addition to the rum syrup. Babàs are meant to be soaked in syrup before they are served so if you skip that piece you'll end up with a dry dessert.
How to Store Extras
Babàs can be stored in the fridge for up to 1 to 2 days. If not soaked, they will keep for about 5 days. Keep them in an airtight container to avoid them drying out too much. Freezing is not recommended.
Italian Rum Babas
These homemade babàs are soaked in rum syrup and topped with whipped cream and fresh berries! A classic Italian pastry made from scratch.
Ingredients
For the babas
5

cups

Manitoba flour,

Soft wheat flour super "0"*

1

tablespoon

+ 1 teaspoon Fresh brewer's yeast**

2

cups

cold eggs

,

12 medium eggs

3

tablespoons

sugar

2

teaspoons

kosher salt

14

tablespoons

unsalted butter

,

at room temperature, cut into pieces
For the rum syrup
6

cups

water

2

cups

sugar

1 ½

cups

rum
For serving
Whipped cream

Fresh berries
Instructions
To Make the Babas
Pour the flour into the bowl of a stand mixer fitted with a paddle attachment. Add the yeast and mix well. Add the eggs, one at a time, mixing between additions. When they are blended in, add the sugar and mix again. Add the salt and let it continue mixing for a few more minutes overall it will take 10 minutes.

Add the butter pieces, mixing between additions. Let each piece be worked into the dough completely before adding the next one.

Once the butter is combined, switch to the hook attachment and continue to mix for 10-15 minutes.

Transfer the dough to another large bowl. Cover the bowl with plastic wrap and leave to rise in a warm place for about 3 hours.

When you are just about ready to bake, grease the molds with butter.

Remove the plastic wrap from the dough. With a wet hand take a portion of the dough (about 2 oz), forming a small ball and dropping each piece into one of the buttered molds.

Cover molds with an apron or towel without any fluff and leave to rest until the dough rises over the edge. This will take about 45 minutes. Alternatively, you can spray the underside of a piece of saran wrap with a bit of PAM and lay that over the dough as it rises, sprayed side down.

Preheat your oven to 360F. Move the babà molds onto a baking sheet, spreading them out so that they aren't touching each other. Bake for about 20-25 minutes, until the babas have risen and are golden.

Let them cool for about ten minutes, remove from them molds and place them on a wire rack to finish cooling.
Make the Rum Syrup & Serve
Pour the water in a saucepan on medium-low heat.

Add the sugar, stir until completely dissolved.

Turn off the heat, add the rum and wait for the water to reach 120°F (50°C), the ideal temperature for soaking. You can measure the temperature with a candy thermometer.

Dip in 1 or 2 babàs into the syrup. Let them soak for about 1 minute turning them over. Give them a gentle squeeze 1 or 2 times: this will soften them and improve the soaking.

After the last dip, if you prefer, can stop squeezing them. Drain them on a wire rack, for a couple minutes.

Serve them plain or garnished with whipped cream and berries.
Last Step:
Please
share a rating and comment
if you enjoyed this recipe! Your feedback helps this little blog thrive and continue providing free, high-quality recipes for you.
Notes
* You can also use all-purpose flour
** To use active dry yeast instead, sub 1 1/2 teaspoons dry yeast for the fresh yeast
Nutrition
Serving:
1
baba
|
Calories:
268
kcal
|
Carbohydrates:
35
g
|
Protein:
6
g
|
Fat:
9
g
|
Saturated Fat:
5
g
|
Polyunsaturated Fat:
1
g
|
Monounsaturated Fat:
2
g
|
Trans Fat:
0.3
g
|
Cholesterol:
89
mg
|
Sodium:
220
mg
|
Potassium:
133
mg
|
Fiber:
3
g
|
Sugar:
18
g
|
Vitamin A:
303
IU
|
Calcium:
23
mg
|
Iron:
1
mg
Nutritional info is an estimate and provided as a courtesy. Values may vary according to the ingredients and tools used. Please use your preferred nutritional calculator for more detailed info.
Did you make this recipe?
💖 I love hearing how my recipes came out for others! If you tried this recipe, please share a comment. 💖
Filed Under: