About Me: I have more than 20 years of cooking experience & share my favorite recipes on this blog.
Have a question? Please post a comment, I'm happy to help. 🙂
If you're thinking about making sushi then you'll want to make the best sushi rice. With a delicate flavor and surprisingly simple preparation, this Instant Pot sushi rice is perfect for making quick meals like an Alaska roll, poke, onigiri and a Dragon roll.
Perfect Instant Pot Sushi Rice
Sushi rice is extremely important in Japanese cuisine. Regardless of what you're making, there's no escaping it, so you might as well get it right. Luckily, it's quite easy to make. Despite this, we've decided to create an Instant Pot version to speed up the process significantly and reduce any errors like forgotten pots on stoves or undercooked rice floating around in excess water.
Instant Pot sushi rice is as good as any traditionally cooked rice, minus a bunch of effort and time. When you taste it, it will still have a bit of a bite and each individual grain will be slightly glossy. A serving of it won't look compacted together but rather lightly mixed because sushi rice grains maintain their shape when cooked.
In terms of flavor, it's prepared with the typical vinegar mixture that's been used in Japan for centuries. White wine vinegar, rice vinegar, sugar, and salt. Even if it's prepared in the Instant Pot and is ready in 10 minutes, it's just as perfect (or even more so) and is the blank canvas that sushi ingredients need to shine bright.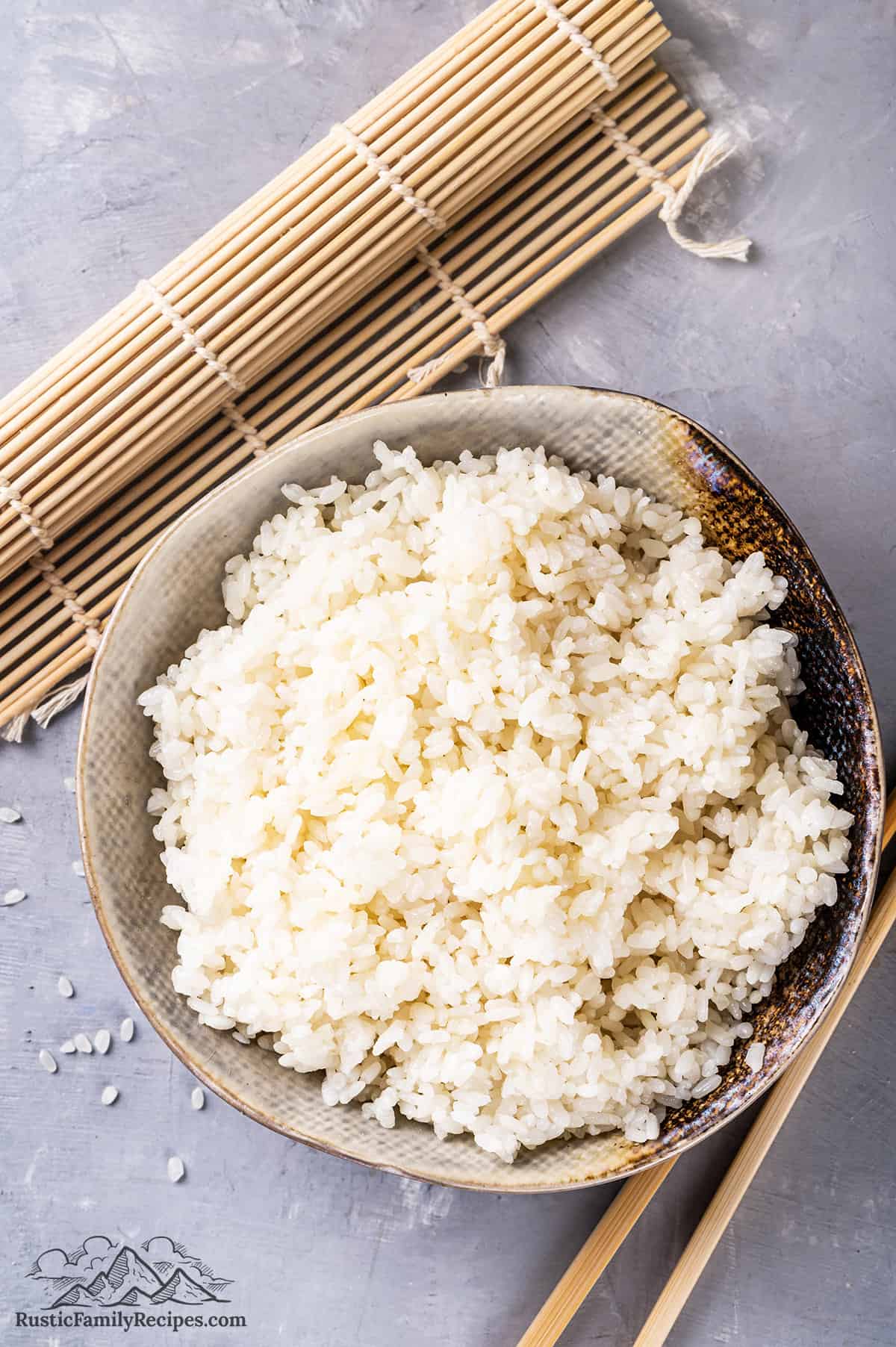 What is Different About Sushi Rice?
Sushi rice is different from other kinds of white rice for two reasons: the type of grain and its consistency.
Sushi rice is a short-grain variety, which means its much denser than medium and long-grain types like Basmati and Jasmine rice. The larger the grain, the more the rice tends to fluff up. Sushi rice, on the other hand, retains its shape and does not develop a light, fluffy texture.
As far as consistency goes, sushi rice becomes slightly sticky when cooked, unlike other kinds of white rice. Although not nearly as sticky as glutinous rice, it allows the rice to be shaped for different types of sushi like makis and nigiris without feeling tacky.
Recipe Ingredients
With only 6 ingredients, sushi rice is easier to make than it seems. As long as you tick off every item on this list, you're set for success:
Japanese short-grain white rice – Don't use any other type. Even Asian ones like Basmati and Jasmine rice won't work because they have longer grains, a different taste, and aren't sticky.
Water
White wine vinegar – If you can't find any, rice vinegar like mirin or cooking sake will work fine.
Mirin – Most Asian grocery stores carry it. If you can't find it, feel free to swap it out for cooking sake.
Sugar – Only use granulated white sugar. Confectioners' sugar, light, and dark brown sugars are out of the question.
Salt
Where to Buy Japanese Short Grain Rice aka Sushi Rice
Sushi rice is a lot easier to find these days. Most grocery stores have an Asian or imported section where you can typically get it. Whether it's labeled as Japanese short-grain rice or sushi rice, rest assured they're the same thing. If you can't find it there, head to your local Asian grocery store.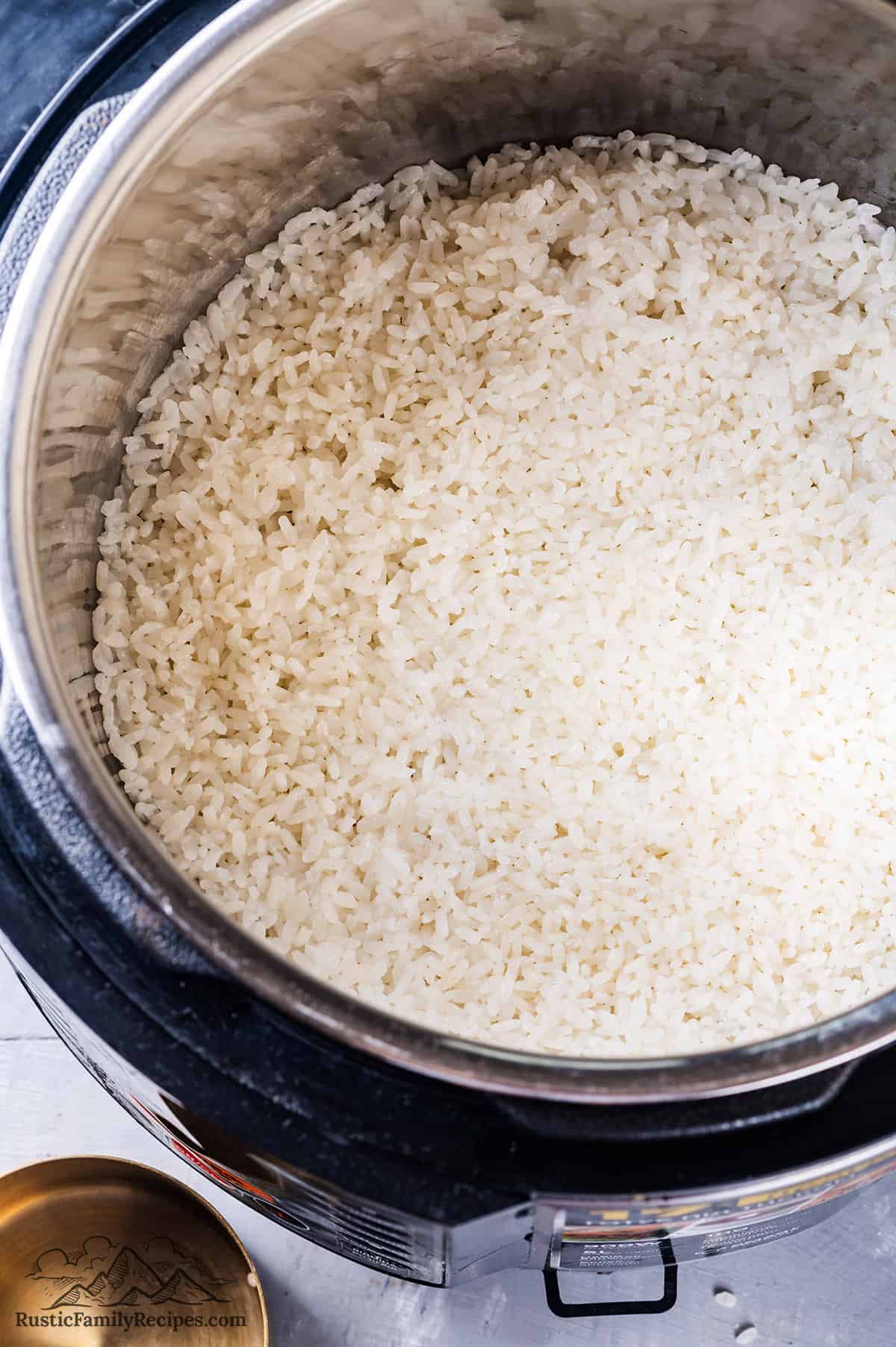 How to Make Sushi Rice in the Instant Pot
Are you ready to make sushi rice? Here's how to do it with your Instant Pot:
Rinse the rice. Place the rice in a strainer and rinse it under cold water until it runs clear. Let it drain for 10 minutes to remove any excess water.
Transfer to the Instant Pot. Add the drained rice into the Instant Pot. Pour the water in.
Cook. Select the low-pressure setting and let it cook for 10 minutes. Do a natural pressure release after, not the quick one.
Prepare the seasonings. Whisk the white wine vinegar, mirin, sugar, and salt, in a small bowl until the sugar has completely dissolved.
Season the rice. Transfer the cooked rice to a large bowl and pour the vinegar mixture over it. Gently combine everything with a wooden spatula, without crushing the rice.
Let it cool. Set the seasoned rice aside and let it cool completely.
Why Do We Season Rice with Vinegar to Make Sushi?
There are two answers to why sushi rice is seasoned with vinegar, the historical one and the yummy one.
The historical answer: Way before refrigerators and freezers ever existed, Japanese people relied on fermented rice to wrap their fish and preserve it for longer. When they wanted to eat the fish, they threw the fermented rice away. After a while, they realized it was a huge waste, so they began to experiment with other ways to extend the fish's shelf life. Eventually, they came to the realization that adding vinegar to sushi rice provided similar results. Since it also made the rice taste better, they decided to stick with it and began eating the fish and rice together. Thus, sushi was born.
The yummy answer: Adding vinegar adds a delicate tang to rice that nicely enhances the sweetness and saltiness of the sugar and salt. In other words, it rounds out the flavor and makes it taste better.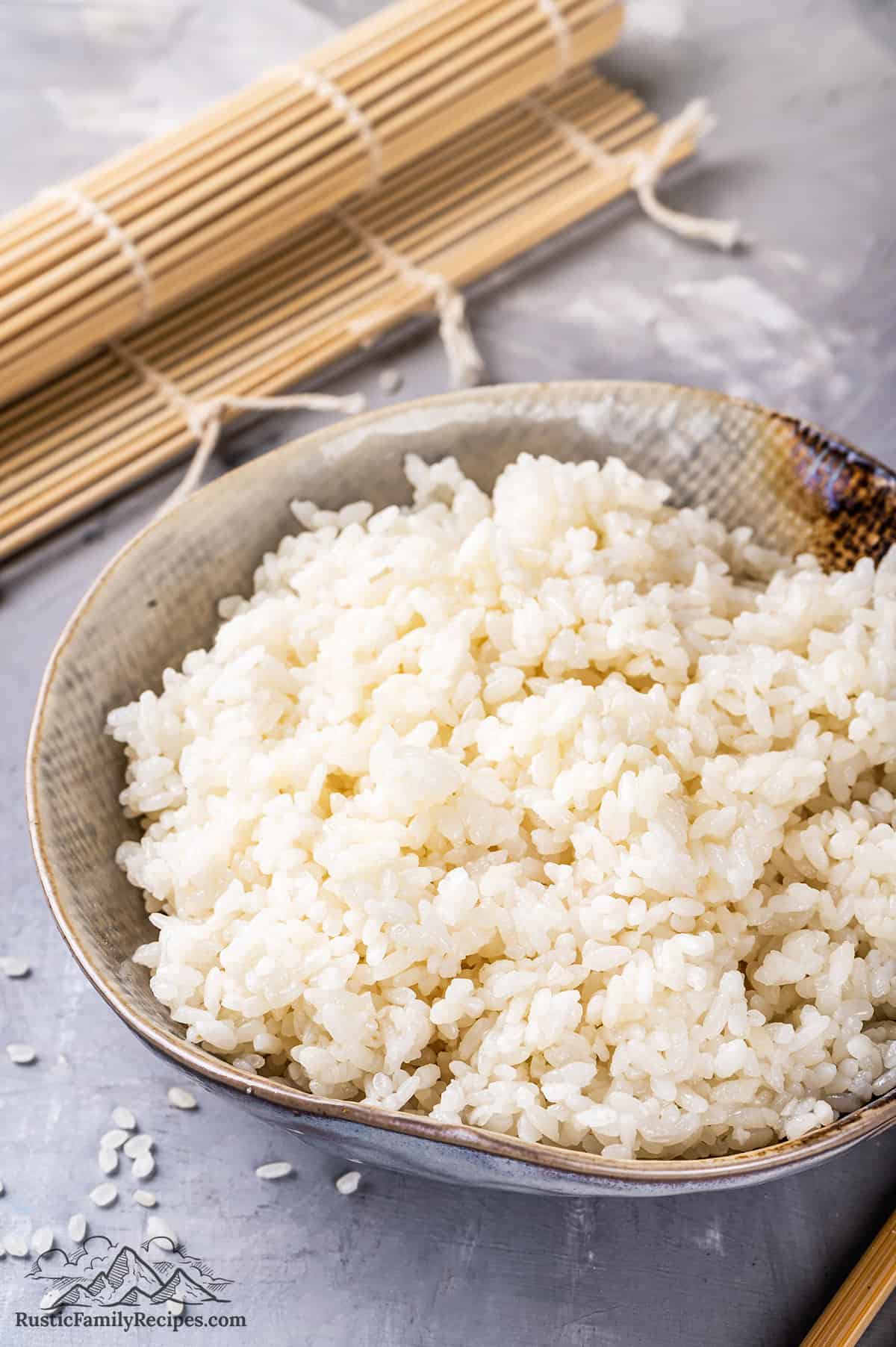 How to Know if Your Rice is Perfectly Cooked
It's easy to tell if your rice is perfectly cooked or not. Part of it lies in its appearance and the other in its texture.
Appearance: Perfectly cooked rice will have a nice sheen or gloss to it. The grains will look plump but intact. Individual grains are also easy to separate from one another, even if they're slightly sticky. Unlike other types of rice, sushi rice doesn't really bond together much. It looks more like separately cooked grains that have been lightly tossed together.
Texture: This is another way to tell if your rice has been perfectly cooked. When you taste it, it should have a bite to it without being crunchy (crunchy rice means it's undercooked). Another way to test it is by lightly pressing it between two fingers. It shouldn't squash immediately, but show a little resistance and maintain its shape.
Tips for Success
With these tips, you'll be making sushi rice like a pro. The fact that you use the Instant Pot will be our little secret.
Wash the rice. Placing the rice in a large container filled with water and then using your hands to move it around is a much quicker way to release excess starch. Strain the rice and repeat the process as many times as necessary. This process is easier than rinsing the rice directly in the strainer.
Soak the rice. Once you've rinsed the rice, let it soak in cold water for at least 30 minutes. This helps with the texture, making it extra delicious.
Season the rice while it's hot. Pour the vinegar mixture over the rice as soon as it's out of the Instant Pot. Letting it cool before adding the mixture will result in wet rice.
Fold the rice. When you've added the vinegar mixture, make sure to gently fold it into the rice, not stir it. Insert your spatula at a 45 degree angle and lift and fold the rice into itself until all of the liquid has been absorbed. Quick, stirring motions will clump the rice and make a batter.
Use an electric fan. It's important that the vinegar mixture is quickly absorbed into the rice after you've poured it in. Use an electric fan to blow cold air into it for 5-6 minutes to help speed up the process.
Cover it with a damp towel. After you've seasoned the rice, place a damp towel over the bowl to keep it from drying it while you prepare the rest of your sushi ingredients.
Can I Make Rice in Advance?
Yes. As long as it's stored in an airtight container, sushi rice can be made and refrigerated up to three days in advance. Any longer and the grains may dry out and harden.
Print
How to Make Sushi Rice in the Instant Pot
Make sushi in your Instant Pot with this quick and easy recipe!
Author: Rustic Family Recipes
Prep Time:

5 minutes

Cook Time:

10 minutes

Total Time:

15 minutes

Yield:

3 servings

Category:

Side Dish

Method:

Instant Pot

Cuisine:

Japanese
1 cup

sushi rice

1 cup

water

2 tablespoons

white wine vinegar

2 tablespoons

rice vinegar mirin

1 tablespoon

sugar

1/4 teaspoon

salt
Instructions
Rinse the rice. In a mesh strainer, rinse the sushi rice under cold water, until the water runs clear. Let it drain for10 minutes.
Transfer to the Instant Pot. Add the drained rice into the Instant Pot. Pour the water in. Cook on low pressure for 10 minutes with natural pressure release.
Prepare the seasonings. While the rice cooks, add the vinegar, mirin, sugar and salt to a small bowl and whisk together until the sugar dissolves.
Season the rice. Transfer the rice to a large bowl. Pour the vinegar mixture over the bowl of cooked sushi rice and gently mix to combine with a wooden spatula.
Let it cool. Set the seasoned rice aside and let it cool completely.
Last Step:
Please
share a rating and comment
if you enjoyed this recipe! Your feedback helps this little blog thrive and continue providing free, high-quality recipes for you.
Keywords: sushi rice instant pot, how to make sushi rice, sushi rice seasoning
Filed Under: