Tender, fall apart chuck roast meat cooked with potatoes and carrots right in your Instant Pot. This easy recipe makes your home smell incredible and is cozy comfort food perfection.
Are you ready to talk about cozy dinner ideas? Because that's what this recipe is my friends – ultimate comfort food! Tender, chuck roast meat that literally falls apart when it's done cooking. And best of all, this easy recipe cooks start to finish in your Instant Pot along with carrots and potatoes. All you have to do is briefly sear the meat, then add everything to your pot and walk away.
I like to add a packet of matzo ball soup mix when I make this recipe. It adds flavor and is an easy way to use up extra soup packets. I usually have some in the pantry because when I make matzo ball soup I'm only after the dumpling mix, I make the soup base itself from scratch. So as a result, I end up with extra soup mix that I refuse to throw away. It's much more fun and frugal to find tasty ways to use them! Note that you will only be using the soup mix base for the pot roast, not the matzo mix that's used for the dumplings. 🙂
The first time I made this instant pot pot roast I asked my family if they liked it. My son said: On a scale of 1 to 10, it's a 20! Then he cleaned his plate and asked for a second helping. I hope you enjoy this recipe as much as he does!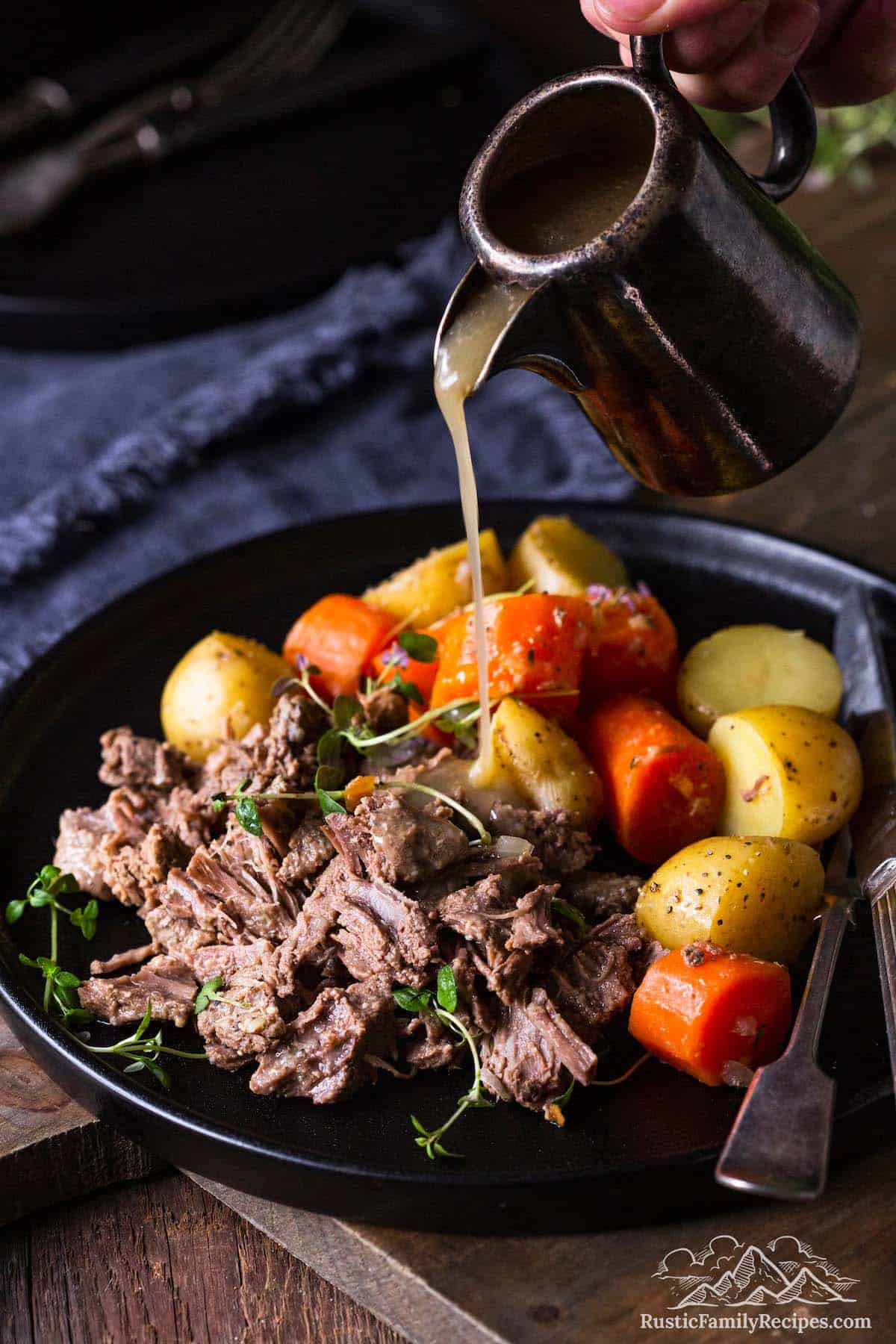 What Kind of Meat is Best for Pot Roast?
I usually use a chuck roast when making Instant Pot pot roast. Chuck roast is a cut of meat from the should and neck region of a cow. It has a bit more fat than a brisket round, so it makes for a more flavorful pot roast. I prefer to use a piece of meat that is about 3-4 lbs.
What Size Instant Pot to Use?
Because chuck roast is a large cut of meat – and we'll also be adding veggies and broth – it's important to use an Instant Pot that is large enough. I use a 6-quart Instant Pot but you could also use a 10-quart one. I would not recommend using the smaller 3-quart size.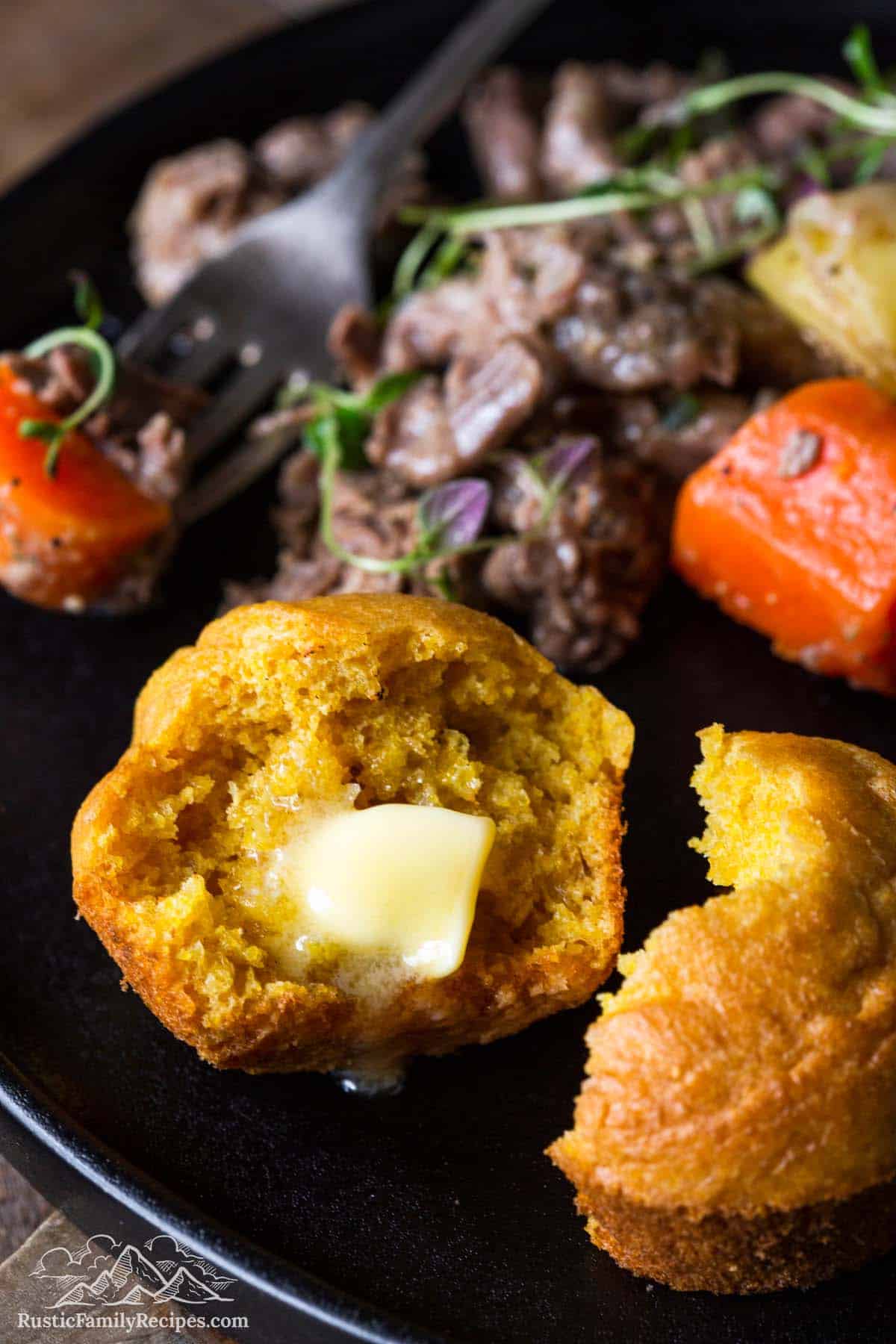 Serving Suggestions
Even though this recipe includes potatoes, I sometimes like to serve it on top of a bed of homemade mashed potatoes or mashed cauliflower. And because there is a fair amount of gravy to sop up, something bready like sweet potato biscuits, cornbread or popovers is always an excellent idea! These cornbread muffins (shown above) are another favorite accompaniment and only take 20 minutes to make.
Print
Instant Pot Pot Roast with Carrots and Potatoes
Tender, fall apart chuck roast meat cooked with potatoes and carrots right in your Instant Pot. This easy recipe makes your home smell incredible and is cozy comfort food perfection.
Author: Rustic Family Recipes
Prep Time:

15 minutes

Cook Time:

1 hour 30 minutes

Total Time:

1 hour 45 minutes

Yield:

5-6 servings

Category:

Dinner

Method:

Instant Pot

Cuisine:

American
4

–

5

lb beef chuck roast, not frozen

2 tablespoons

olive oil

1 teaspoon

kosher salt

1/2 teaspoon

onion powder

1 teaspoon

garlic powder

1/4 teaspoon

ground black pepper

1 teaspoon

dry oregano

1/2 teaspoon

dry thyme

1

lb new potatoes, roughly chopped

2

–

3

large carrots, peeled and roughly chopped

1

large yellow onion, roughly chopped

3 cups

vegetable broth

1

packet Manischewitz matzo ball soup mix

1/2 cup

water

3 tablespoons

corn starch
Sprigs of fresh thyme for garnish
Instructions
Make the herb seasoning. In a small bowl mix the salt, onion powder, garlic powder, pepper, oregano, and thyme.
Season the meat. Rub the herb seasoning all over both sides of your chuck roast.
Sear the meat. Set your instant pot to saute and add the 2 tablespoons olive oil. Tilt the instant pot insert so that the bottom is well coated with oil. Add the seasoned chuck roast meat and sear on each side for 3-4 minutes without moving the meat. Use tongs to flip the meat over.
Add the veggies. Turn off the saute function. Add the veggies around your meat.
Add soup mix and liquid. Sprinkle the soup mix on top of the meat, then pour the broth and water on top of the mix to distribute it.
Seal and cook. Cover your instant pot and make sure the vent is sealed. Set to high pressure for 90 minutes.
Natural release. When the time is up, let your instant pot do a natural release for 15 minutes before venting.
Remove the meat and veggies. Turn the knob on your instant pot to release the rest of the pressure, then remove the lid. With tongs and a slotted spoon, remove the meat and veggies to a large mixing bowl. Place the meat on one side of the bowl and shred it with two forks.
Make gravy. Set your instant pot to soup mode and remove 2 cups of the broth to a medium bowl. Add the corn startch and whisk until combined. Add about 1/4 cup of the cooked potatoes and gently mash them. Add this back to the instant pot. Mix well, then simmer for 5 minutes. This will not be a very thick gravy, it's just thick enough to coat the meat and veggies.
Serve. Place sliced pork roast on plates with cooked veggies and top with spoonfuls of the gravy mixture. Garnish with sprigs of fresh thyme if desired.
Keywords: instant pot roast, beef chuck roast, best pot roast recipe
This post may contain Amazon affiliate links to products that I use, which can earn a small commission on qualifying purchases.