This post may contain affiliate links. Please read our disclosure policy.
This huevos rancheros recipe is easy to make and super satisfying! Perfect for a lazy Sunday brunch or even a weeknight dinner. Sunny side up eggs, refried beans and melty cheese are served on a crispy tortilla then topped with pico de gallo, sour cream and diced avocado.
Growing up, my mom made huevos rancheros for our family almost at least a few times a month. Over the years, I watched her play with the toppings quite a bit so they would never get old for us. Sometimes we'd have them with pico de gallo or red salsa and others we'd have green. Other times we'd go multicolor and use all the leftover salsas in the fridge at once! They became my comfort food and now they're my breakfast go-to when I need a taste of home.
Why You'll Love This Huevos Rancheros Recipe
Easy. These is nothing complicated about making huevos rancheros. Cook some eggs, warm a few tortillas, then layer everything together and warm in the oven. You can use store-bought refried beans and salsa too.
Hearty. This Mexican breakfast is super filling! Usually when I have this for breakfast I'm not even hungry for lunch. The combination of beans + eggs packs a big protein punch, plus you get some carbs from the tortillas.
Flavorful & flexible. Every bite of this huevos rancheros recipe is full of texture and flavor. You have the crisp tortilla, the creamy beans, the soft eggs, then your favorite fixings on top. Everyone at the table can use their preferred combination of toppings to customize their meal.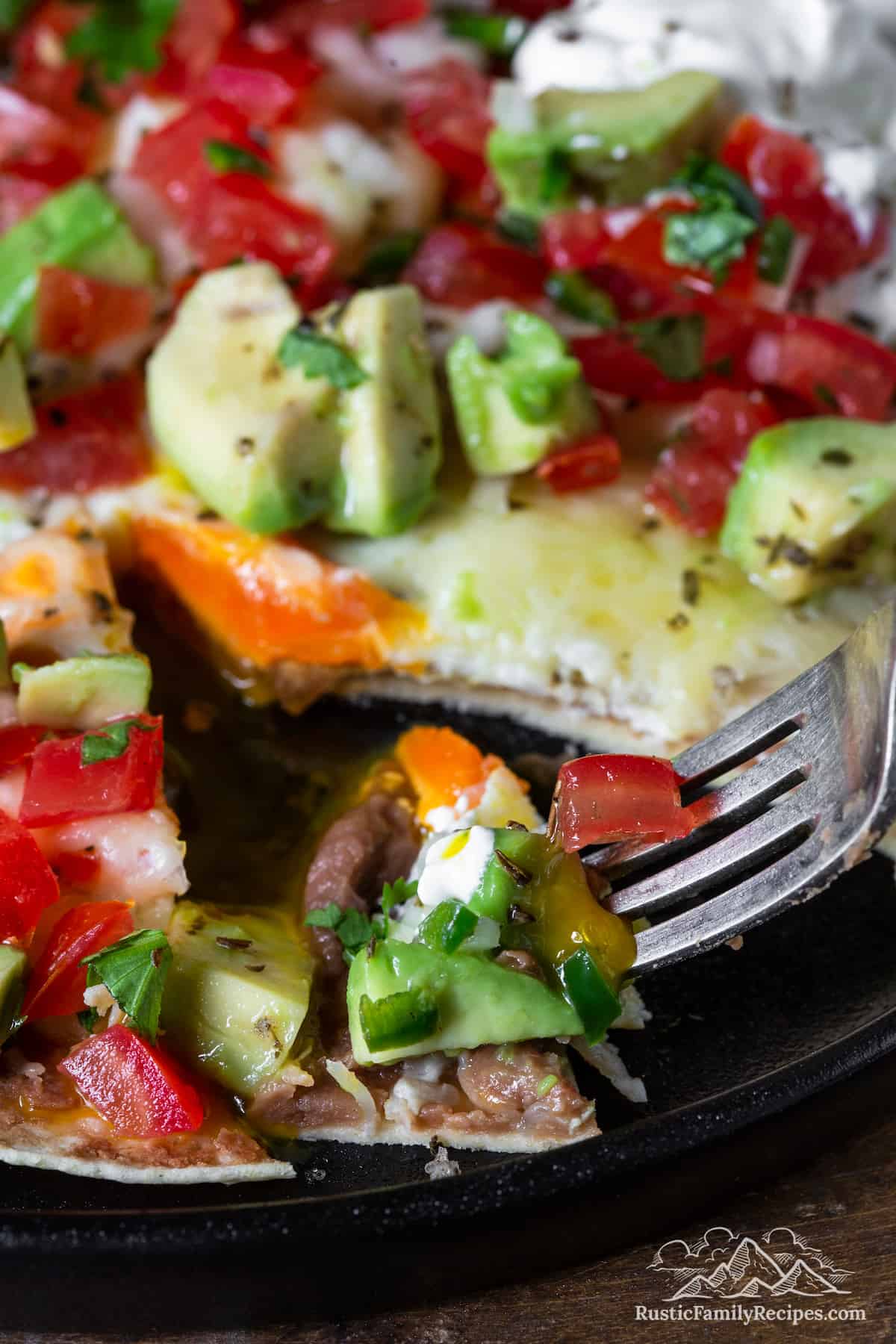 What is Huevos Rancheros?
The mouthwatering answer: Think of a sunny side up egg. Now imagine it on top of a crispy corn tortilla that's been spread with flavorful refried beans. Add melty cheese, some pico de gallo, diced avocado, sour cream, and chopped cilantro. Drizzle with salsa and you're done. That's huevos rancheros in a nutshell!
The historical answer: Huevos rancheros are a traditional Mexican recipe that used to be served for breakfast on rural farms because they were filling and cheap. Most importantly, they were delicious. Farm owners eventually fell in love with them too and the love for huevos rancheros spread quickly throughout the country. They went from being a humble workers' breakfast to being served to the president. The rest is history.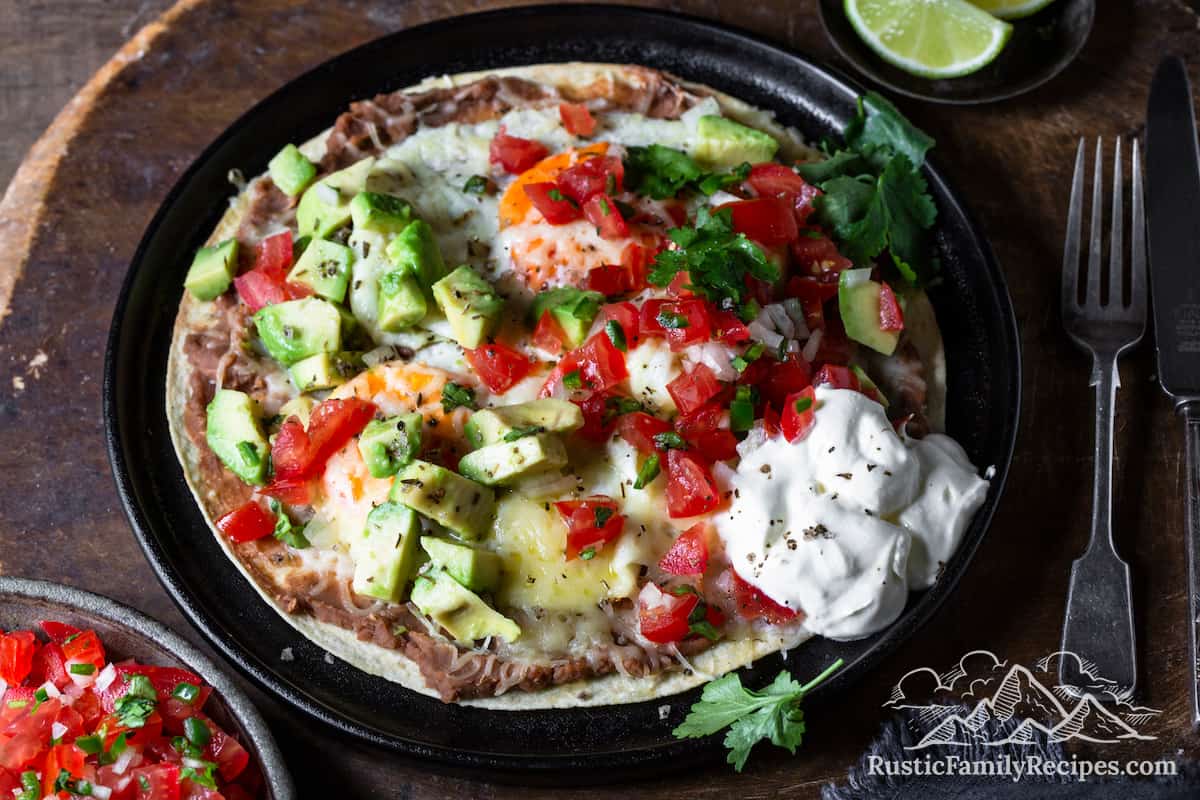 Recipe Ingredients
Although every household might add its own little twist, I'm going to show you how my family makes them. It's a pretty basic recipe, but also one that explodes with flavor in every bite. Besides, I think it's the perfect canvas for you to get creative with your favorite toppings.
Here's what you'll need to make huevos rancheros like we do. Be sure to scroll down to the recipe card for specific amounts:
Corn tortillas – I recommend those made at your local Mexican market or closest tortillería (the place where tortillas are made). My favorite brand of store-bought corn tortillas is La Tortilla Factory Yellow Corn & Wheat Tortillas.
Refried beans – Use your favorite brand. I quite like El Paso's refried beans (get the ones with chorizo for extra flavor) or make your own.
Butter – Salted or unsalted, whatever you've got on hand will work.
Olive oil – Vegetable oil will work too.
Eggs
Monterey Jack cheese – I prefer this one because I enjoy the way its sharp taste contrasts with the rest of the flavors, but any easily melting cheese will work. If you're feeling particularly Mexican, why not go for Chihuahua or Oaxaca cheese?
Avocado
Lime juice – Not super necessary, but I like the tang.
Sour cream – Mexican crema will also work.
Pico de Gallo – You could also use red or green salsas, like the ones used in my huevos divorciados recipe.
Cilantro
Salt and pepper
Don't worry if you don't have some of these ingredients. Even when it was served on rural farms, the toppings would vary quite a lot too. It all depends on what's in season as well as what you've got in your fridge. What you absolutely mustn't leave out, though, are the corn tortillas, refried beans, and eggs, because they're the foundation of the dish. Everything else you add on top is extra.
If it's your first time trying huevos rancheros, I highly recommend sticking to the original recipe as much as possible. Once you know what they should taste like, you can begin playing around with the ingredients and toppings.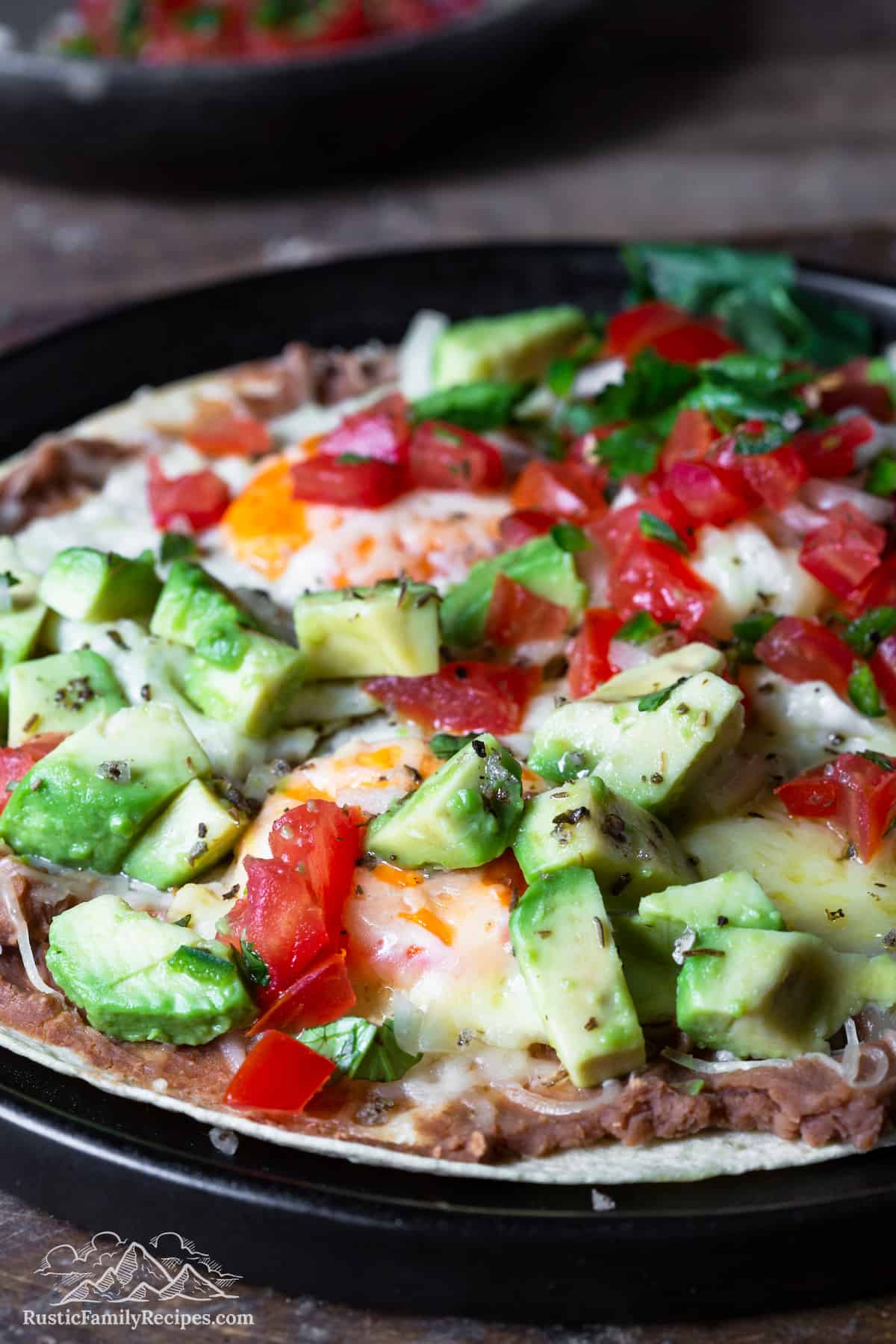 How to Make Huevos Rancheros
Let's get into it because huevos rancheros are quite easy to make. That's one of the reasons I love them and why I hope you will too.
Heat and toast the tortillas. You want them to be slightly crunchy so they can hold the refried beans and the rest of the ingredients for a couple of minutes without softening.
Cook the eggs. I love mine with a runny yolk. There is nothing like cutting into huevos rancheros and having the yolk run over everything. It's pure goodness! However, you can also cook them to taste and I've included instructions in the recipe card below for that.
Spread the tortillas with beans.
Top each tortilla with 2 eggs.
Sprinkle with cheese and let it melt. I recommend using a broiler for this.
Add your toppings.
Dig in.
Of course, this is the quick and summarized version of it. You'll find the full recipe card below.
Tips for Success
As you've seen, the recipe isn't rocket science, so there are no quantum-physics secrets to making huevos rancheros successfully. However, there are a couple of tips that I've picked up over the years to make sure they're perfect every single time.
Cook your eggs over medium-low heat. Do it low and slow because a high flame will certainly cook them quicker but not better. The bottom and edges will become crackly, crispy, and hard to cut through. They might even burn and nobody wants that. Perfectly cooked eggs need to be soft, which requires medium-low heat and patience.
Use enough cooking oil or butter. Without it, the pan can't properly transfer heat onto the eggs in order to cook them and they'll stick to your pan terribly. Adding half a tablespoon of butter or oil should be enough for two to three eggs. However, that will depend on the size of the eggs and the type of pan you're using.
Use a non-stick pan. This is optional, but I've found it makes for a seamless process because you avoid having to scrape the bottom of the pan with a spatula and potentially cracking your beautifully cooked yolks.
Toss the avocado in lime juice. If you don't like lime juice you can leave this out but it helps prevent the avocado from browning too quickly.
Make your own refried beans. I understand this requires a larger effort and isn't always an option, but never underestimate the flavor of homemade frijoles refritos.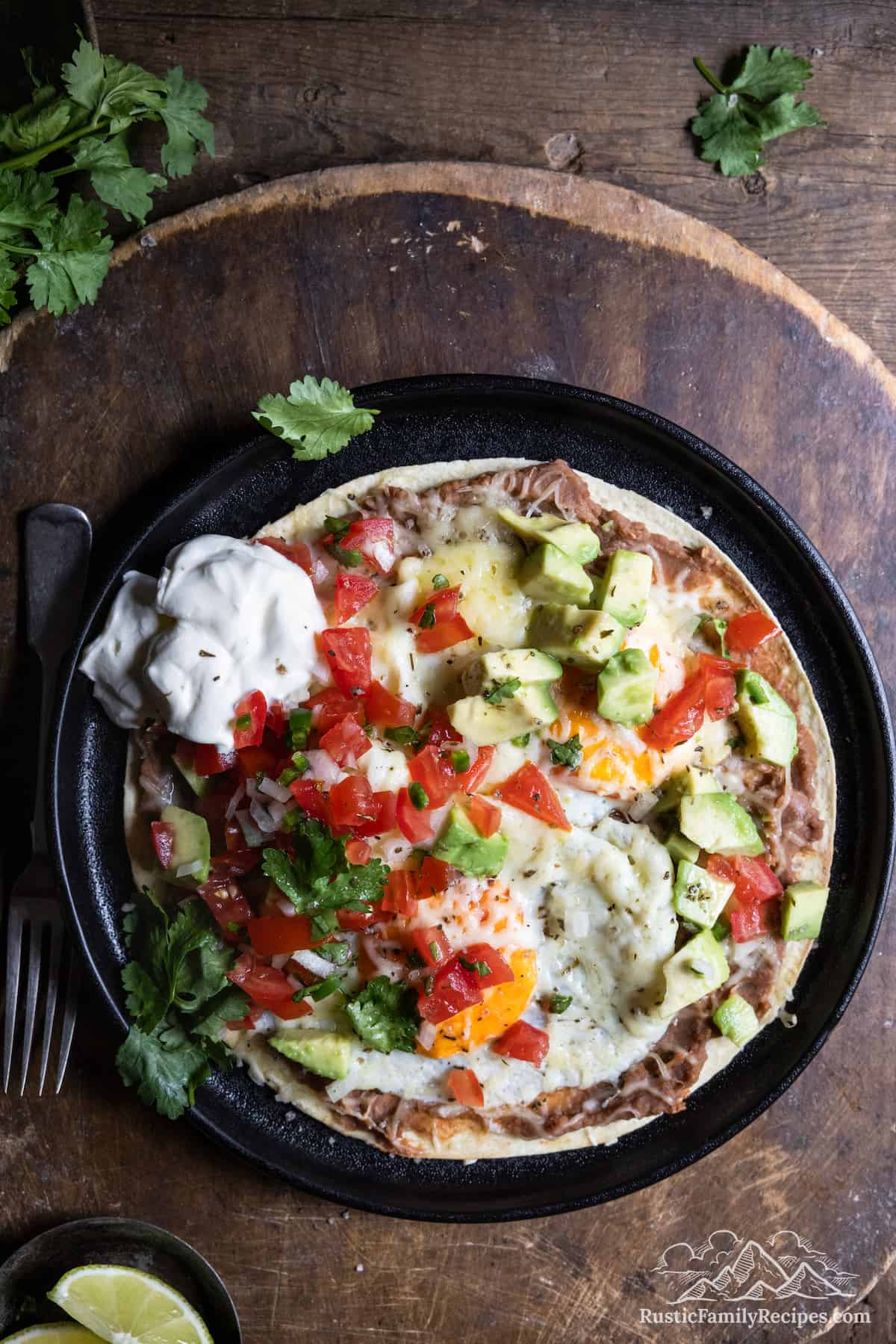 Fixings & Serving Suggestions
Huevos rancheros are a meal in and of themselves and you can really go to town with the fixings. In addition to what is included in my recipe below, you can also sprinkle Oaxaca cheese on top, drizzle some salsa macha over it for extra heat, or even add dollops of homemade guacamole. My kiddo likes to add taco sauce to their huevos rancheros instead of sour cream, which you can try too! If you want to add meat to this dish, I recommend cooking up some Mexican chorizo and then sprinkling it on top.
If I have extra time and am feeling a bit fancy, I might serve huevos rancheros with cold glasses of horchata. (Recipe coming soon!) It also goes well with traditional breakfast favorites like orange juice.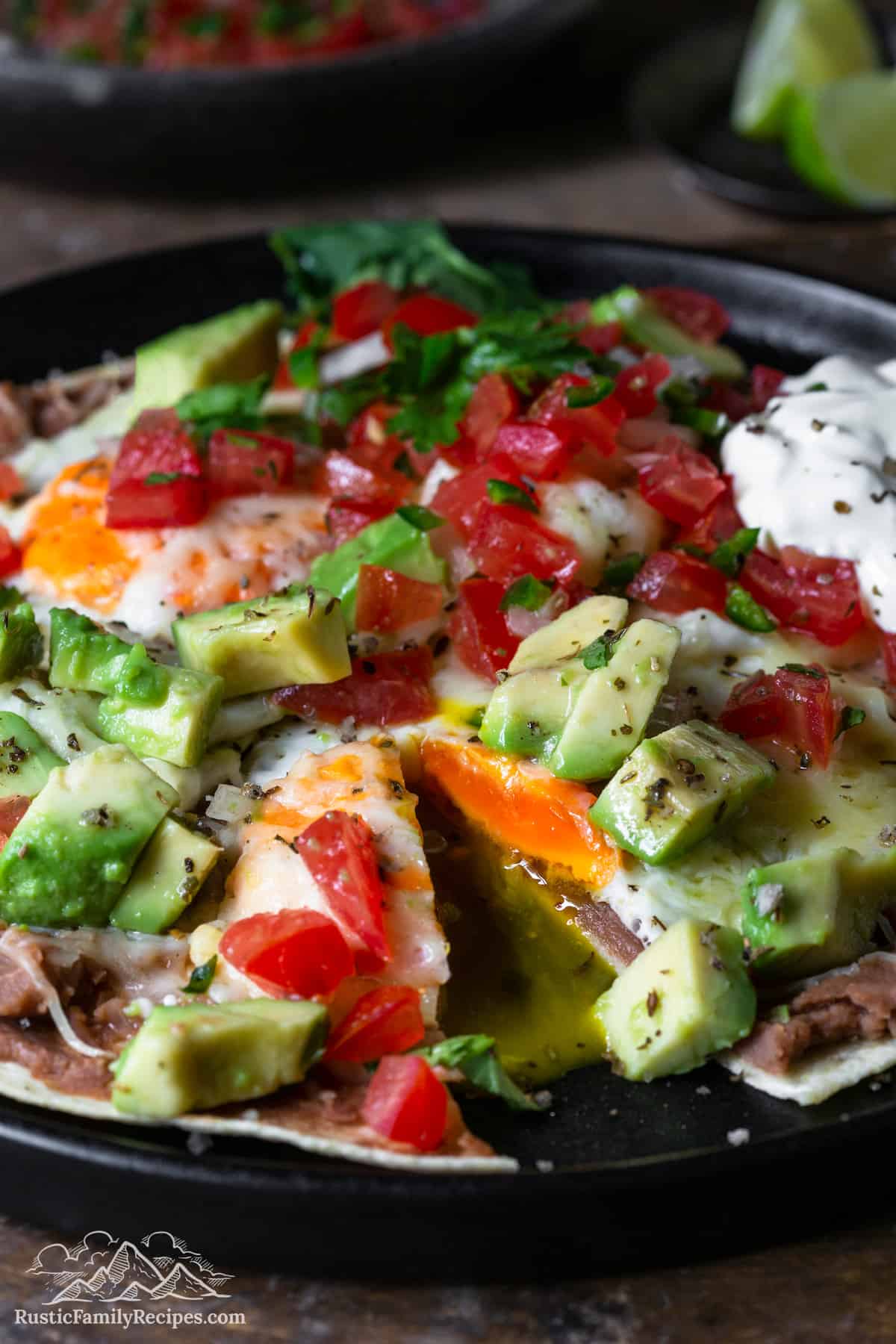 Can You Store and Reheat Leftovers?
Unfortunately, the answer is no. Several ingredients in huevos rancheros don't do well when stored or reheated. For example, the avocado will brown and your eggs will end up overcooked if you try to reheat them. Worst of all, your tortilla will be soggy and your cheese won't be melty anymore.
Not all is lost, though, because you can definitely prep all of the components of huevos rancheros in advance. Why not make the refried beans two to three days in advance? How about making the salsa the night before? Break it down into smaller tasks and, before you know it, you'll be cutting into some huevos rancheros within minutes on the day of.
More Mexican Recipes to Try
Huevos Rancheros
These delicious homemade huevos rancheros served on crunchy tortillas, spread with refried beans, and topped with melted cheese, avocado, pico de gallo, salsa, sour cream, and cilantro, are the perfect Mexican breakfast.
Ingredients
3

good quality corn tortillas

1 ½

cups

refried beans

, e.g. Old El Paso refried beans or homemade

2

tablespoons

butter or olive oil

6

large eggs

Kosher salt and ground pepper

¾

cup

grated Monterey Jack cheese

1

avocado

,

diced

1

teaspoon

fresh lime juice

⅓

cup

sour cream

Pico de gallo,

or your preferred red salsa

Chopped cilantro
Instructions
Preheat the broiler.
Heat the tortillas. Toast them one at a time in dry cast-iron skillet. Place on a baking sheet; spread each tortilla with 1/4 to 1/2 cup of refried beans, according to taste, and lightly cover with aluminum foil to keep warm.

Cook the eggs. Heat the butter in a large skillet over medium-high heat until it is very hot but not smoking and the foaming has subsided. Crack the eggs directly into the hot butter and reduce the heat to medium-low. Fry the eggs, shaking the pan occasionally to keep the eggs from sticking. Season with salt and pepper. Fry about 2 minutes for "sunny side up," 3 minutes for medium yolks (cook this way for photos), and 3 1/2 to 4 minutes for hard yolks.

Sprinkle with cheese. Top each prepared tortilla with 2 fried eggs and 3-4 tablespoons of the grated cheese. Slide the tortillas under the broiler just long enough to melt the cheese.

Prep the avocado. Dice the avocado and toss with the lime juice to prevent the avocado from browning. Divide the avocado among the tortillas.

Add your favorite toppings and enjoy! Top each serving with 2 tablespoons (or more) of salsa or pico de gallo, cilantro, and a dollop of sour cream.
Last Step:
Please
share a rating and comment
if you enjoyed this recipe! Your feedback helps this little blog thrive and continue providing free, high-quality recipes for you.
Nutrition
Calories:
593
kcal
|
Carbohydrates:
32
g
|
Protein:
27
g
|
Fat:
40
g
|
Saturated Fat:
17
g
|
Polyunsaturated Fat:
4
g
|
Monounsaturated Fat:
16
g
|
Trans Fat:
0.3
g
|
Cholesterol:
388
mg
|
Sodium:
1069
mg
|
Potassium:
554
mg
|
Fiber:
11
g
|
Sugar:
5
g
|
Vitamin A:
1284
IU
|
Vitamin C:
7
mg
|
Calcium:
357
mg
|
Iron:
4
mg
Nutritional info is an estimate and provided as a courtesy. Values may vary according to the ingredients and tools used. Please use your preferred nutritional calculator for more detailed info.
Did you make this recipe?
💖 I love hearing how my recipes came out for others! If you tried this recipe, please share a comment. 💖
Filed Under: