Nothing is more disappointing than opening your cupboard to discover your bag of fluffy, soft brown sugar has hardened into a solid lump! Learn How to Soften Brown Sugar and have it back in action for all sorts of tasty recipes.
What is Brown Sugar?
Brown sugar is granulated white sugar with added molasses. The two are mixed together until each granule of sugar is covered with molasses. The only difference between light and dark brown sugar is the amount of molasses used.
Can I Make Brown Sugar?
You sure can. In a pinch, you can make your own brown sugar at home.
Light brown sugar: Mix 1 cup of white sugar with 1 tablespoon of molasses.
Dark brown sugar: Mix 1 cup of sugar with 2 tablespoons of molasses.
Why Does Brown Sugar Go Hard?
Brown sugar goes hard when the moisture in it evaporates. It is important to store brown sugar in an airtight container to prevent this from happening. When brown sugar is stored incorrectly (ie. not airtight), your package of soft sugar can quickly become a hard, unappealing lump as the natural moisture in the granules evaporates. While it's still technically safe to eat, hardened brown sugar is impossible to measure properly and is difficult to use in recipes because the lumps don't break down the way sugar normally would.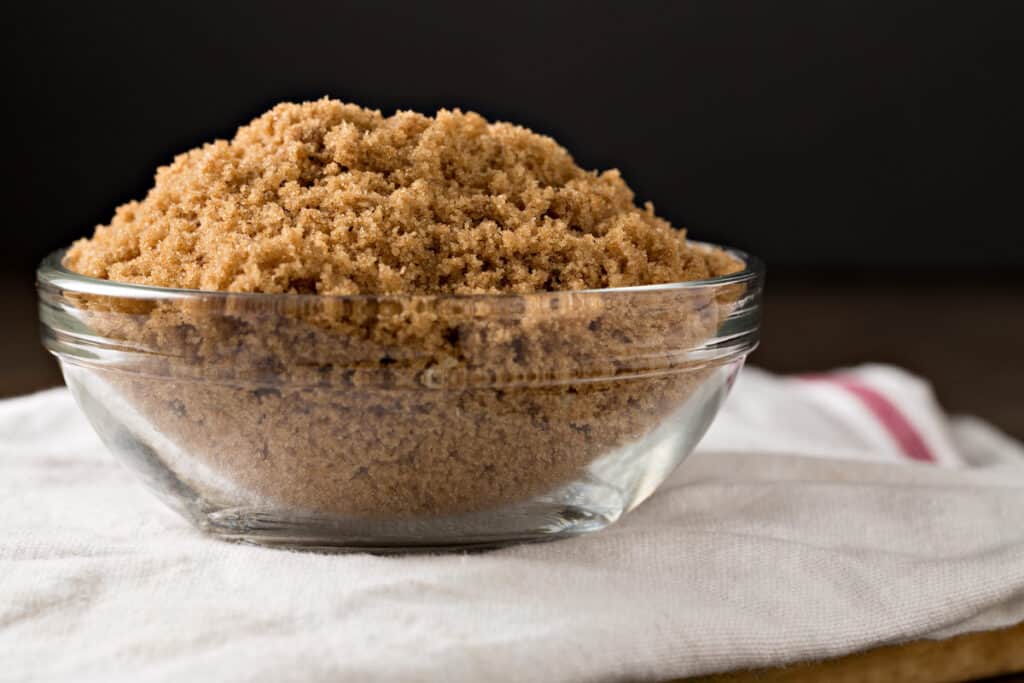 Easy Ways to Soften Brown Sugar
If you've opened your pantry to find a bag of lumpy, hardened brown sugar, never fear! There are a few easy remedies that you can try that should soften your sugar back up – and prevent it from happening again.
In the Microwave
By far the quickest way to soften brown sugar in a pinch is in the microwave. Place the dried-out lump of sugar in a microwave-safe bowl, and cover the bowl with a damp paper towel. Microwave the sugar in 10-second bursts, breaking it up with a fork in between, until it's grainy and soft again.
Two notes of caution: Be careful when handling, as the sugar can become very hot! Secondly, whatever you do, don't over-microwave it, as this will cause the sugar to melt.
With a Slice of Bread
This next method takes a bit longer. Place the lumpy brown sugar along with a slice of fresh bread in an airtight container, and leave it for 24 hours. The sugar will absorb the moisture from the bread and should return to a soft, crumbly texture. Don't forget to take the bread out of the container afterward, so that it doesn't become moldy! Just leave it in there long enough to rehydrate your brown sugar.
With an Apple Slice
This method works the same way as the bread slice! Follow the same directions, only using a slice of apple instead (also remembering to remove it after 24 hours).
With a Piece of Terracotta
Terracotta has become a crafty solution for maintaining moisture in brown sugar! Soak a piece of (clean) terracotta in water, and after about 20 minutes place it in an airtight container with the hardened sugar lump. Leave it for a day or so, and the sugar will be revived. Terracotta can be left in with the sugar to prevent it from lumping again – you can even find terracotta "sugar savers" (affiliate link) in many kitchen supply stores.
Storing Brown Sugar
Now that you've revived your brown sugar, it's time to store it properly! Store brown sugar airtight and in a cool and dry location (like a pantry, and not the fridge). This will keep it soft, grainy, and ready to use.
23 Recipes With Brown Sugar to Try
Are you ready to use your brown sugar? Here are 23 of my favorite recipes (there are even more if you search this site for brown sugar!):
This post may contain affiliate links. Please read our disclosure policy.