Cutting a pineapple is a (tropical) breeze! Follow this easy step-by-step to learn How to Cut a Pineapple into rings, spears, and cubes.
If you've been left pining for fresh-cut pineapple on more than one occasion, you've wound up in the right place! Here you'll find a step-by-step guide to how to cut a pineapple three ways: into pineapple rings, cubes, and spears. Plus, we're sharing a lightning round of everything you'd want to know about pineapples, from useful facts to spotting a ripe pineapple in the store.
These tropical wonders are literally the crown jewel of the produce aisle (just look at that crown of fronds!). Yet what is a pineapple? How do you separate true royalty from the joking jesters? And how do you lop off their heads? Ok, maybe that's taking the analogy too far.
In any case, let's dig into the nitty-gritty of the alluring, sweet and spikey pineapple.
Watch How to Cut a Pineapple 3 Ways
Want to see how to cut a pineapple into rings, spears or cubes? Check out this step-by-step video:
How to Cut a Pineapple
Follow the easy guides below for easy-peasy pineapple rings, spears, and pieces to use in all the best pineapple recipes!
Rings
Here's how to cut a pineapple into rings:
Step 1: Cut off the top and bottom. Lay the pineapple on its side on a cutting board. Using a sharp knife, cut off the crown with the fronds as well as the base of the pineapple.
Step 2: Cut away the outer shell. Next, stand the pineapple up on one of the cut ends. Working from top to bottom, carefully trim away the spiny outer skin.
Step 3: Slice. Place your trimmed pineapple on its side, then use the knife to cut it into 1 ½ to 1-inch rings, or your desired thickness.
Step 4: Remove the core. Using a small sharp knife, cut out the hard centers of the pineapple rings and discard.
Rings are a great way to prepare pineapple for grilling, baking over ham, or to use in recipes for pineapple upside down cake!
Spears
Cutting a pineapple into spears is quick and easy, too:
Step 1: Clean the pineapple. Repeat steps 1 and 2 above.
Step 2: Cut in half lengthwise. Hold the clean pineapple upright on one of its cut ends. Use a knife to cut the pineapple down the center.
Step 3: Cut into spears. Lay each of the pineapple halves cut side-down on the cutting board, and cut each half lengthwise into 4 even spears.
Step 4: Trim away the core. Cut the hard core away from the center of each spear.
Pineapple spears are the perfect size for snacking and dipping. Plus, you're just one step away from cubes if you need 'em!
Cubes
Use both of the methods above to prepare your pineapple for cutting into cubes.
Cut rings into cubes. Lay each ring flat and cut the pineapple into chunks.
Cut the spears into cubes. Lay the spears on their sides and cut them into your desired size chunks or larger cubes.
Pineapple cubes are great to use in recipes for grilled kebabs, pineapple chicken, and fruit salads.
Is Pineapple Good for You?
Yes! Pineapple is jam-packed with nutrients as well as being high in minerals and vitamins. Just one cup of pineapple packs ⅓ of your daily value of vitamin C. Vitamin C is cancer-fighting, helps prevent heart disease, and aids in tissue repair. Plus, pineapple is a great source of fiber while being low in calories.
Is Pineapple a Fruit?
Despite its name, a pineapple isn't a pine or an apple at all – but it is a fruit. In fact, a pineapple is a group of berries that have grown together. This is often referred to as a "collective fruit". Like other fruits, you'll find sweet pineapple used in recipes like desserts to smoothies. Meanwhile, its acidity makes pineapple great to incorporate into savory recipes, too!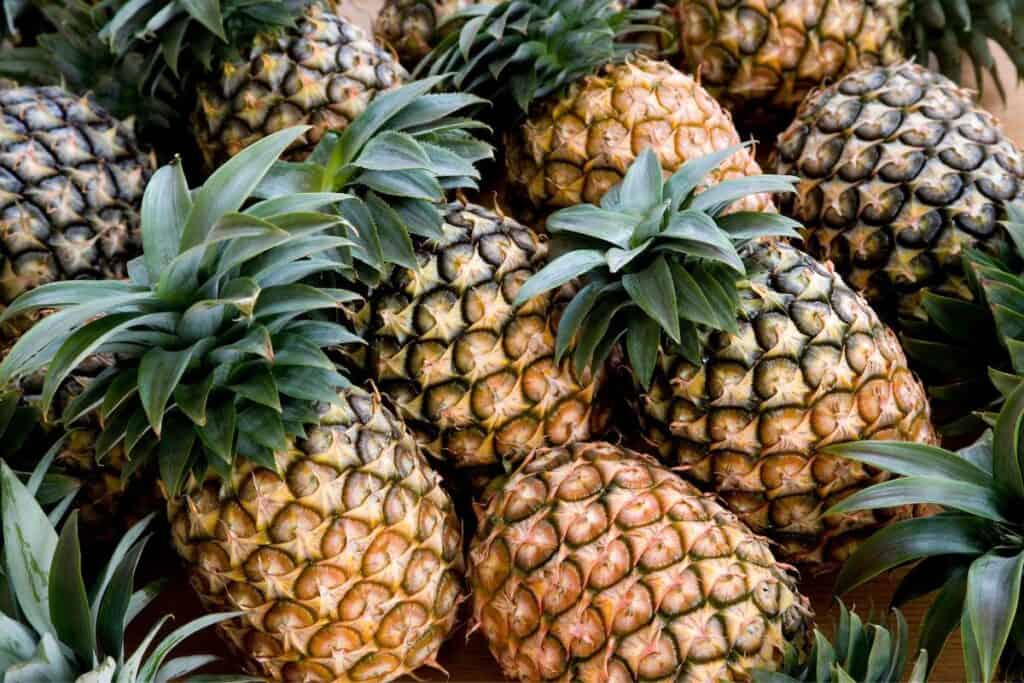 How to Tell if a Pineapple Is Ripe
Before you can cut a pineapple, you'll need to learn to spot a winning specimen. Here are some quick tips for picking the best pineapple of the bunch at your local supermarket:
Have a look at the color. Fresh, ripe pineapples will be brighter yellow-green, with perky, vibrant green fronds (the spikey leaves at the top).
Give it a sniff. Oftentimes, one whiff of a pineapple can tell you if it's ripe for eating! A ripe pineapple will have a sweet smell at the base of the fruit.
Check the feel. Give the pineapple a squeeze – a ripe pineapple will be firm on the outside, but with a little give.
Note the weight. Pineapples that are ripe and juicy will feel heavy for their size.
Pull out a frond. If a pineapple is ripe, a gentle tug on one of its green leaves should be enough to pull the frond out from the top of the fruit.
Pineapple Recipes to Try
Here are some of my favorite recipes that use pineapple: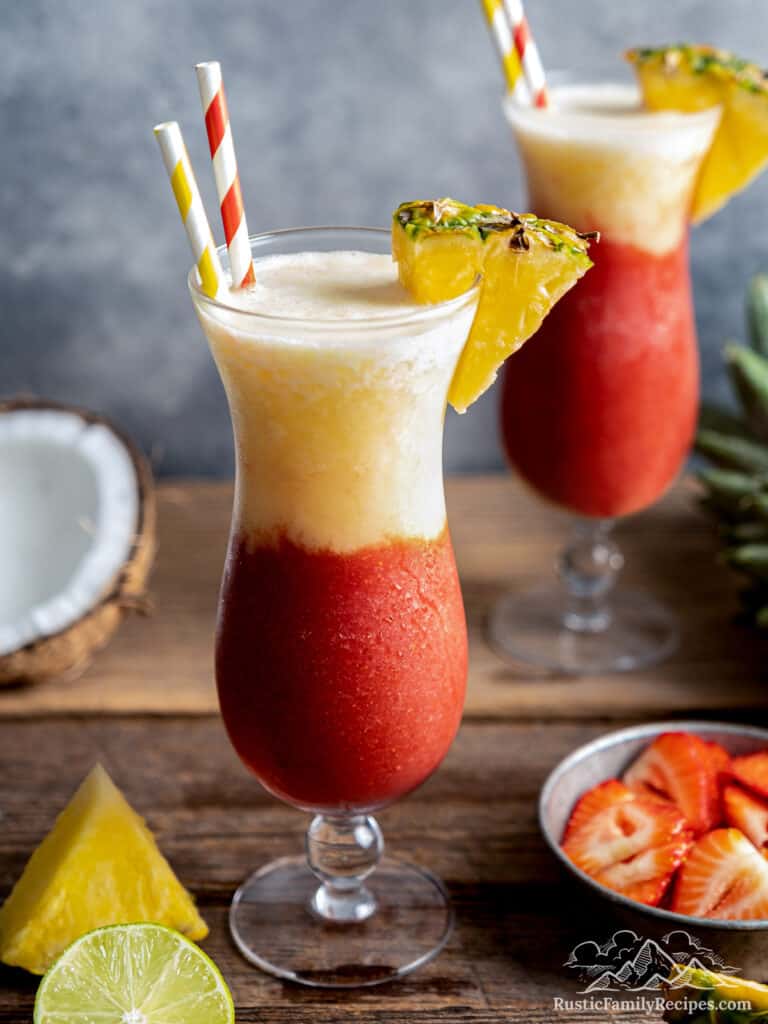 Miami Vice Drink
This gorgeous Miami Vice drink is made with two frozen cocktails: a strawberry daiquiri and a piña colada! Layer them in a hurricane glass, add a pineapple wedge, then pop straws in there and start sipping.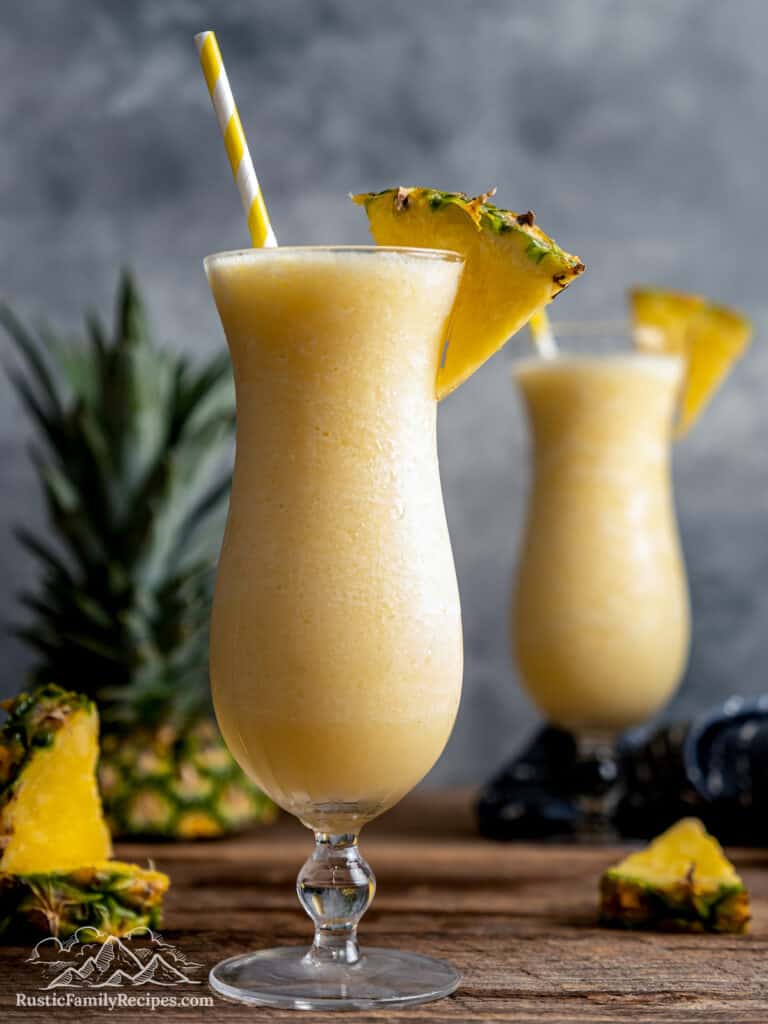 Piña Coladas
These frozen piña coladas come together in minutes and are full of tropical flavor. An easy summer cocktail that's a refreshing way to beat the heat!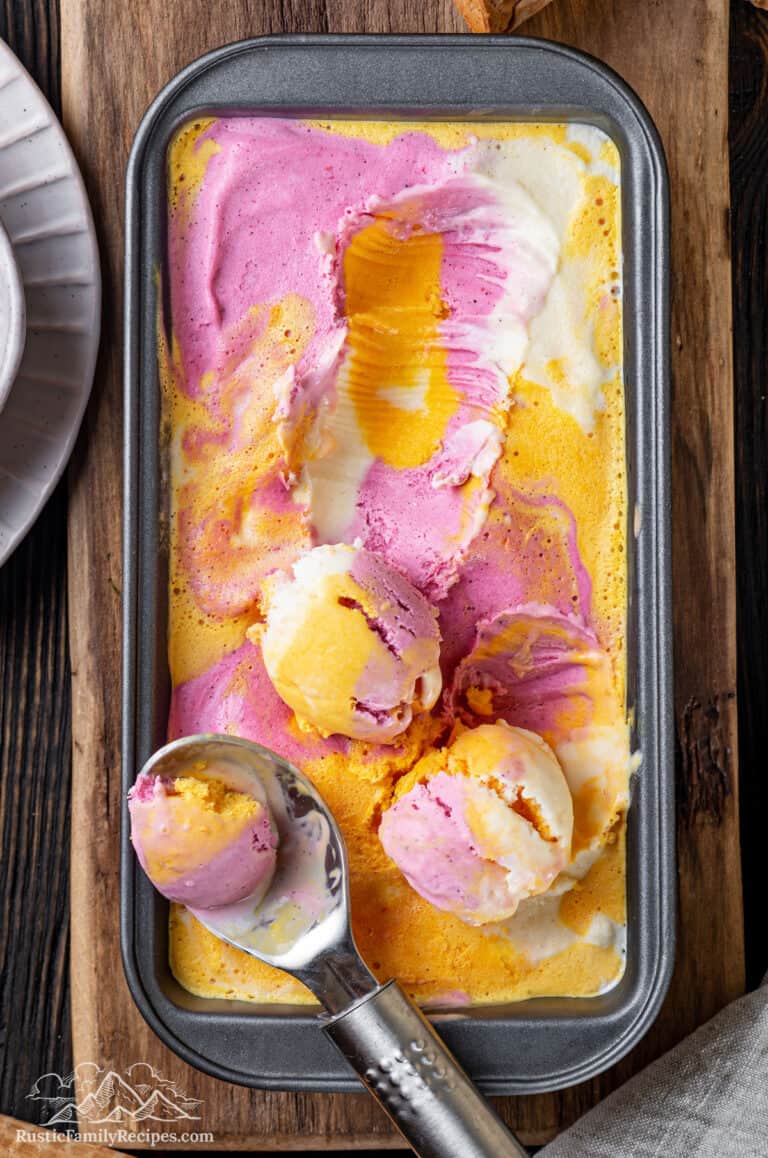 Rainbow Sherbet
This easy homemade Rainbow Sherbet is the perfect summertime treat. Made in the style of no-churn ice cream, this frozen dessert is like a sunrise of real fruit flavors in one creamy scoop.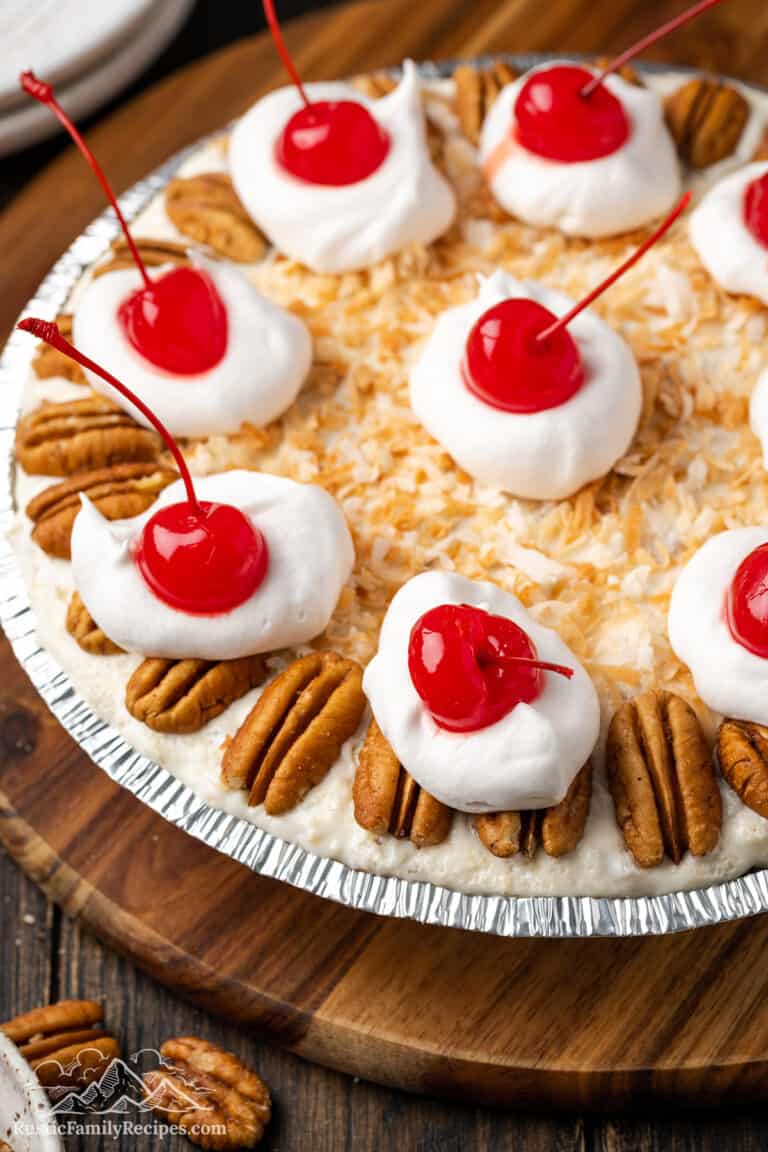 Million Dollar Pie
This Million Dollar Pie recipe is an easy no-bake dessert perfect for warmer weather. Made with graham cracker crust and a simple coconut-pineapple filling, this luscious treat is served chilled with cherries on top.
This post may contain affiliate links. Please read our disclosure policy.