If you're looking for a cozy recipe to celebrate fall, look no further than this honey cake served with caramelized apples. A moist cake flavored with warming spices is topped with tender, buttery apple slices for a simple cake worth getting excited about.
Apple picking is one of my family's favorite fall activities. We get a modest amount from our own apple trees, then head over to the local farms to fill up bags and bags with more fruit. We make multiple trips every autumn, then turn all the apples into applesauce, apple bread, apple pancakes, pies, and crumb cakes. Then we dehydrate apples a crazy amount for healthy snacking all winter long.
Another great way to enjoy apples? By caramelizing them. Just cook sliced apples in butter and sugar, then spoon the tender slices over pancakes or on top of ice cream. I also love using them as a simple cake topping, like we are doing here with a honey cake.
This easy honey cake recipe comes together in minutes and bakes into a fluffy, perfectly flavored dessert. In addition to the caramelized apples, I recommend serving it with a scoop of vanilla ice cream or a generous dollop of whipped cream.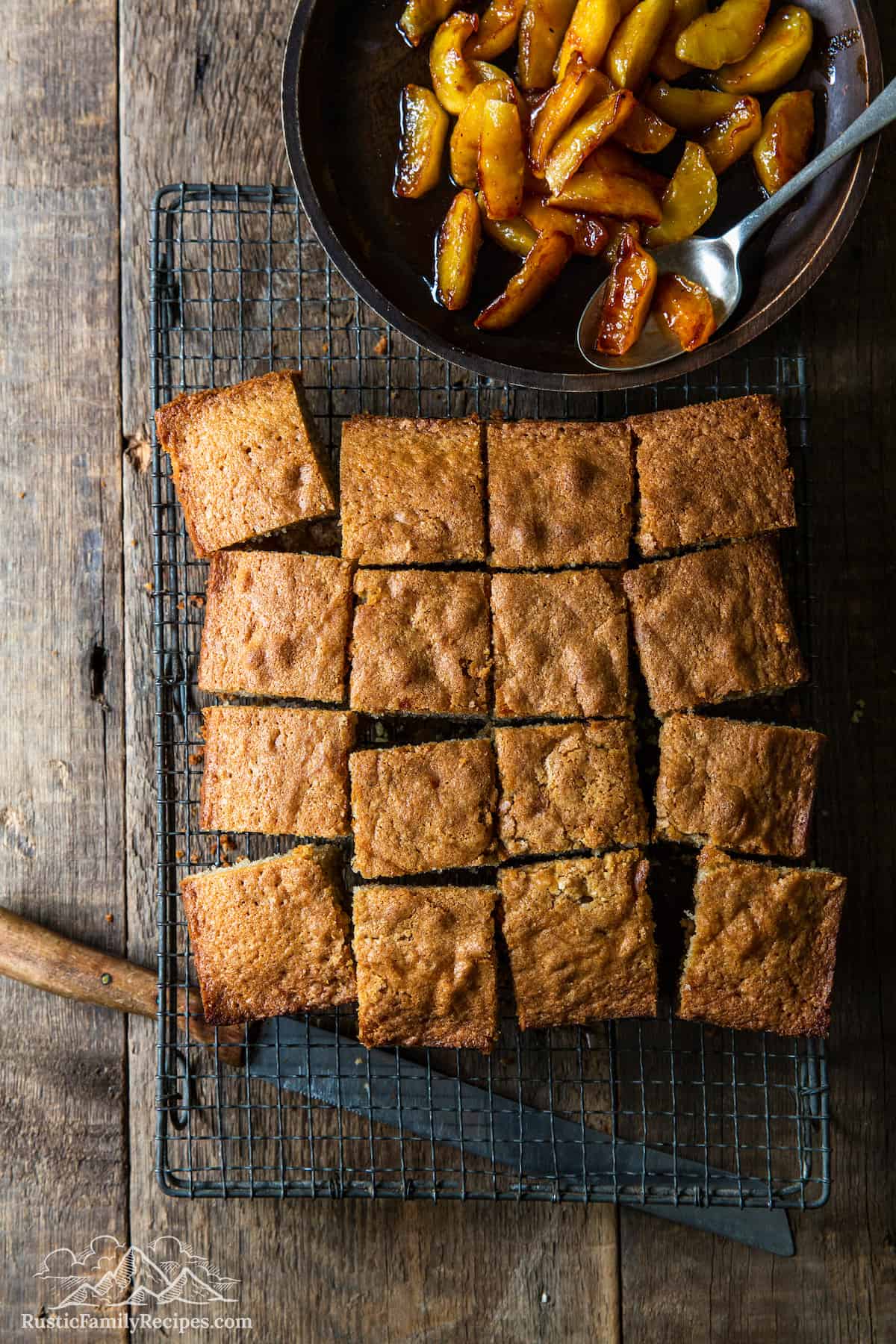 What is a Honey Cake?
A honey cake is exactly what it sounds like: a cake made with honey as the primary (or only) sweetener.
This particular cake is perfect for Rosh Hashanah celebrations when it is customary to eat foods made with honey. The honey symbolizes hopes for a sweet new year, so it is often served with apple slices, challah, and in various baked goods. Thanks to the combination of honey and apples I've made this honey cake for friends celebrating Rosh Hashanah in the past!
This simple cake has a tender crumb (you can thank the yogurt for that!) and a lovely golden color. Once you make it, I think it's going to find a permanent spot in your fall baking rotation.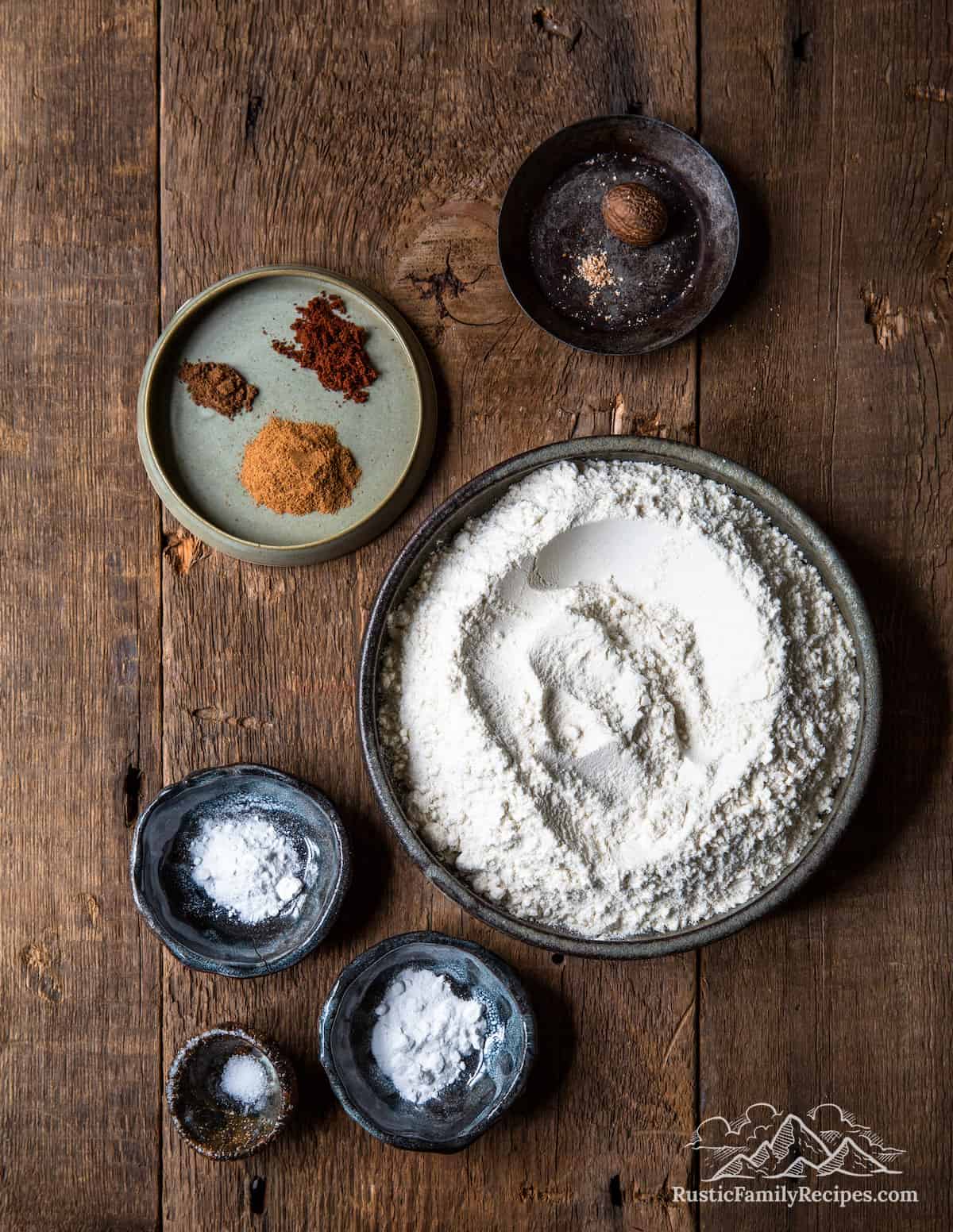 What You'll Need
While this ingredient list looks long, it's mostly pantry items that you probably have on hand. Here's a quick run down of the ingredients. Be sure to scroll down to the recipe card for specific amounts.
For the honey cake:
All-purpose flour
Baking powder
Baking soda
Kosher salt
Spices: Ground cinnamon, cloves, allspice, and freshly grated nutmeg.
Unsalted butter
Light brown sugar – Dark brown sugar also works.
Egg – Let it come to room temperature before you start the recipe.
Honey – Use a thin, pourable one, not a thick, creamed honey.
Plain yogurt – I always like using full-fat yogurt in baking, but a reduced fat variety is fine, too.
English breakfast tea – Brew a strong cup and then let it cool.
Vanilla extract
Whipped cream or vanilla ice cream – Optional, but it definitely elevates the whole experience because ice cream melting over warm apples is heavenly.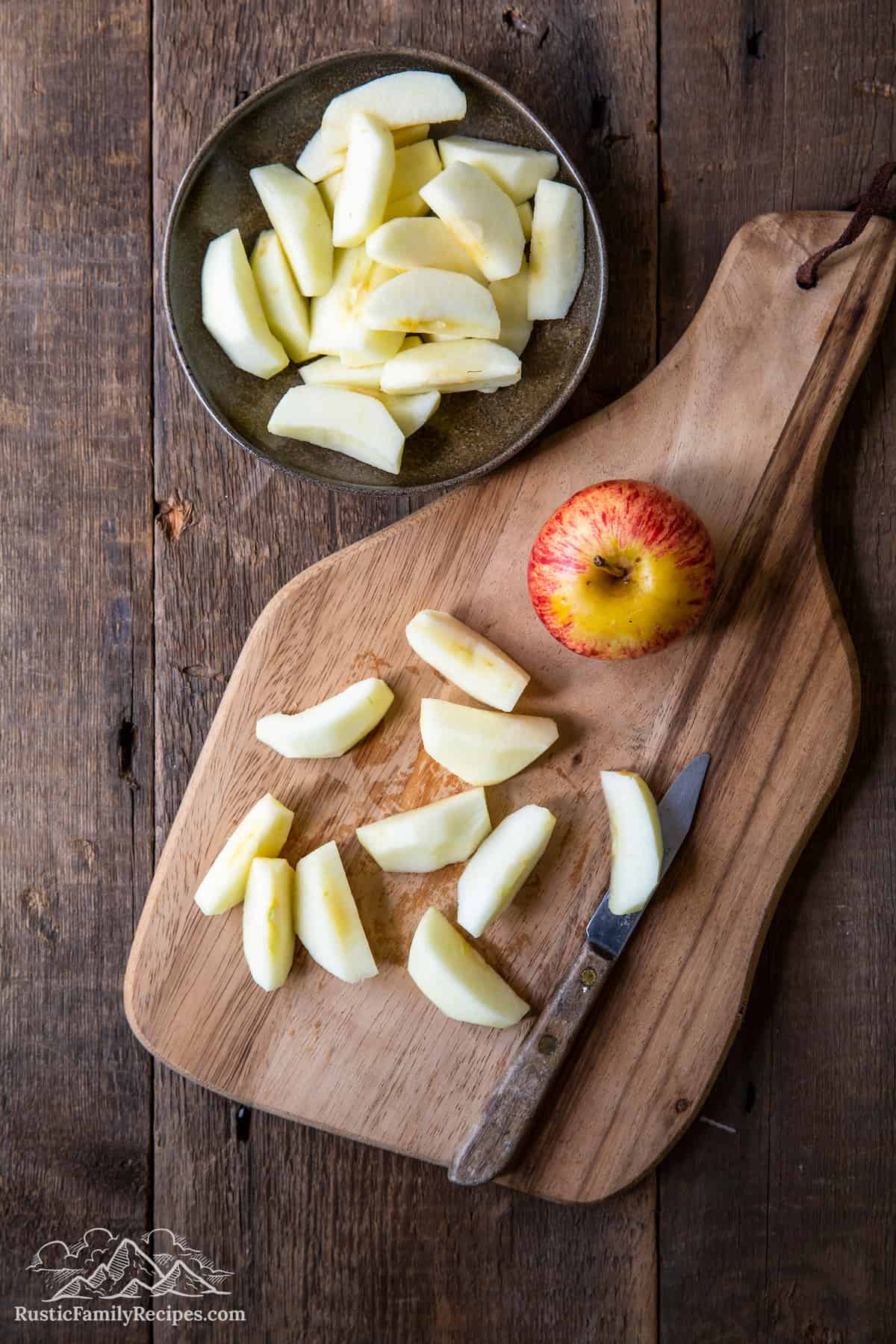 For the apples:
Gala apples – You can substitute another apple that stands up well to baking and cooking.
Unsalted butter
Light brown sugar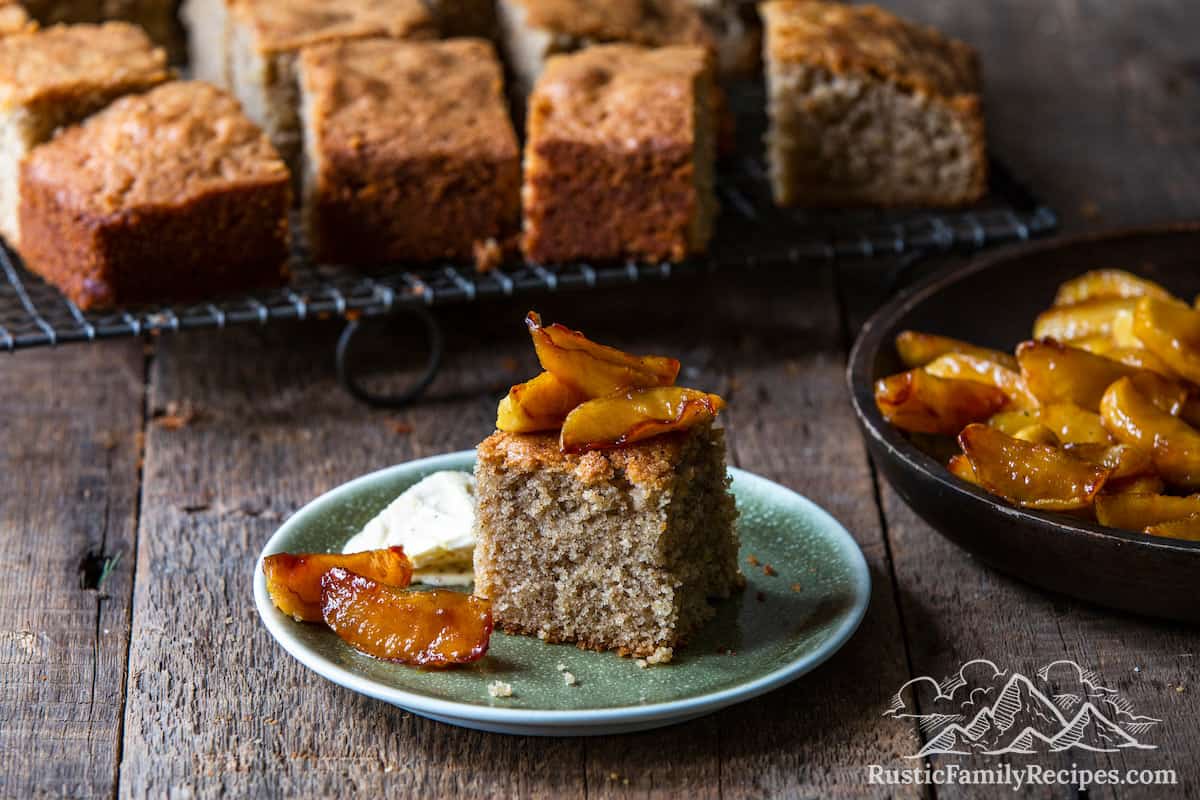 How to Make Honey Cake With Caramelized Apples
This cake recipe is super easy. Here's how to make it:
Prepare. Place the oven rack in the middle position, then preheat the oven to 350ºF. Coat a square cake pan with non-stick cooking spray.
Mix the dry and wet ingredients. Whisk the flour, baking powder, baking soda, salt, and spices in a large bowl, then in a large bowl or the bowl of a stand mixer, cream the butter and brown sugar until fluffy. Add the egg, followed by the honey, yogurt, tea, and vanilla.
Combine the dry and wet ingredients. Add the wet ingredients to the bowl with the dry ingredients and mix on the lowest setting until just combined.
Bake the cake. Pour the batter into a prepared cake pan and bake until the cake is golden brown and a toothpick inserted into the center comes out can, 35 to 40 minutes. Cool on a wire rack for 10 minutes before serving.
Caramelize the apples. Heat the butter in a large skillet over medium-high; once it's melted, add the apples and sprinkle them with a tablespoon of brown sugar. Sauté them, stirring often, until they're tender and beginning to brown, then add the remaining brown sugar and increase the heat to high. Gently stir the apples until the sugar melts and the apples turn golden brown.
Serve. When the cake has cooled, run a butter knife along the sides, then invert it onto a large plate or cutting board and cut it into squares. Serve with the apples and a dollop of whipped cream or scoop of ice cream.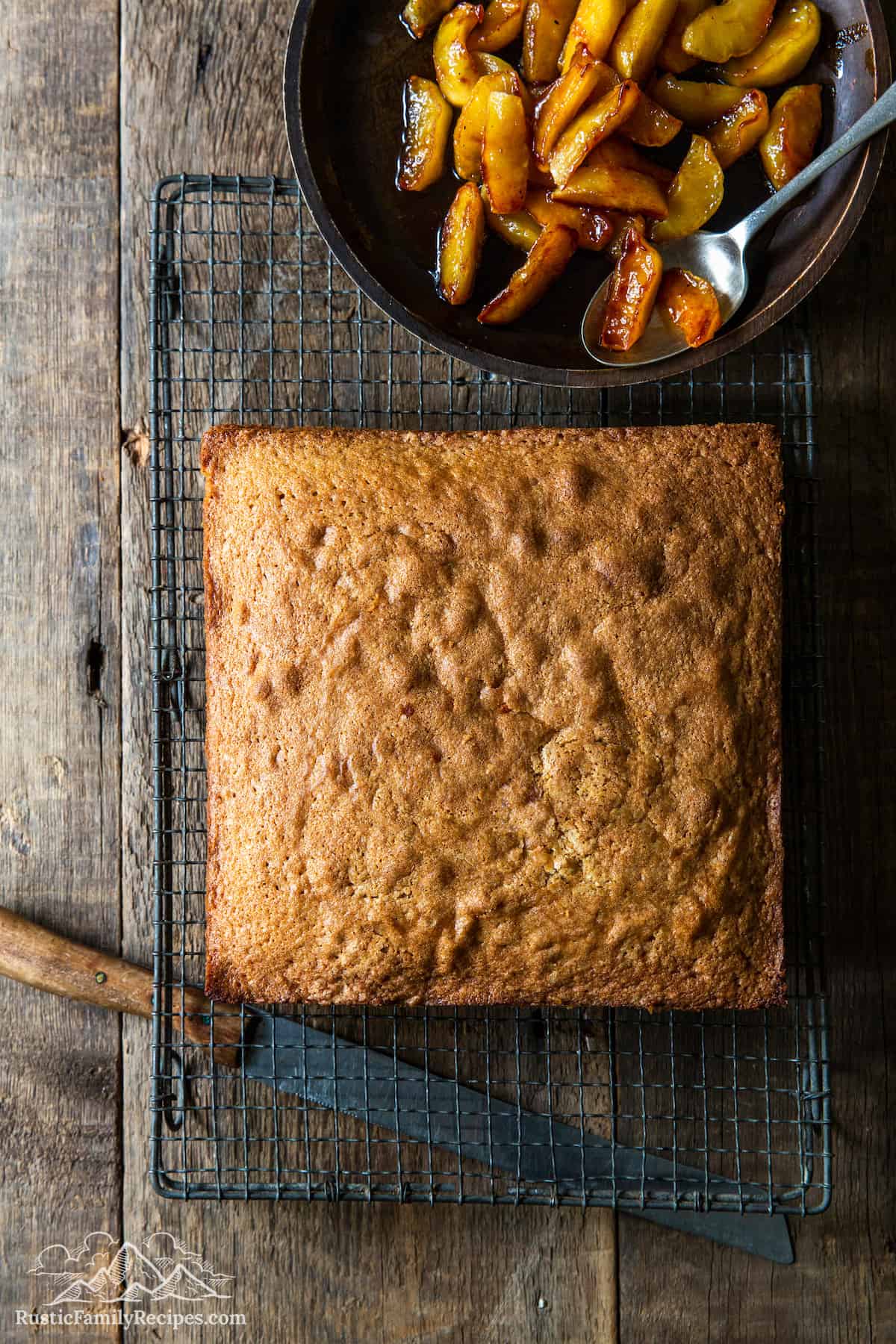 Variations
If you want to switch things up a bit, here are some variations to try:
Add some chopped walnuts to the apples in the last minute of cooking time—just enough to toast them and coat them in the caramel sauce.
Frost the cake with homemade cream cheese frosting to up the decadence factor.
Swap a firm pear for the gala apples.
Add a handful of raisins or finely chopped walnuts to the cake batter. I recommend soaking the raisins in warm orange juice first to plump them up.
Tips for Success
Here's how to make a perfect, moist honey cake:
Let your ingredients warm up a bit. Letting the egg and yogurt come to room temperature allows them to hold more air when you beat them, which yields a lighter, fluffier cake.
Use kosher salt. Or, if you want to use table salt, use a little less. Kosher salt has larger crystals than table salt, so you can't make a one-to-one substitution.
Adjust the baking time for cupcakes. As with most cake recipes, you can make this in cupcake form – it will make about 12. You can bake them at the same temperature, but reduce the time in the oven by half. Your cupcakes are done when they spring back in the center after being gently pressed with your finger. (Careful, they will be hot so a quick press!)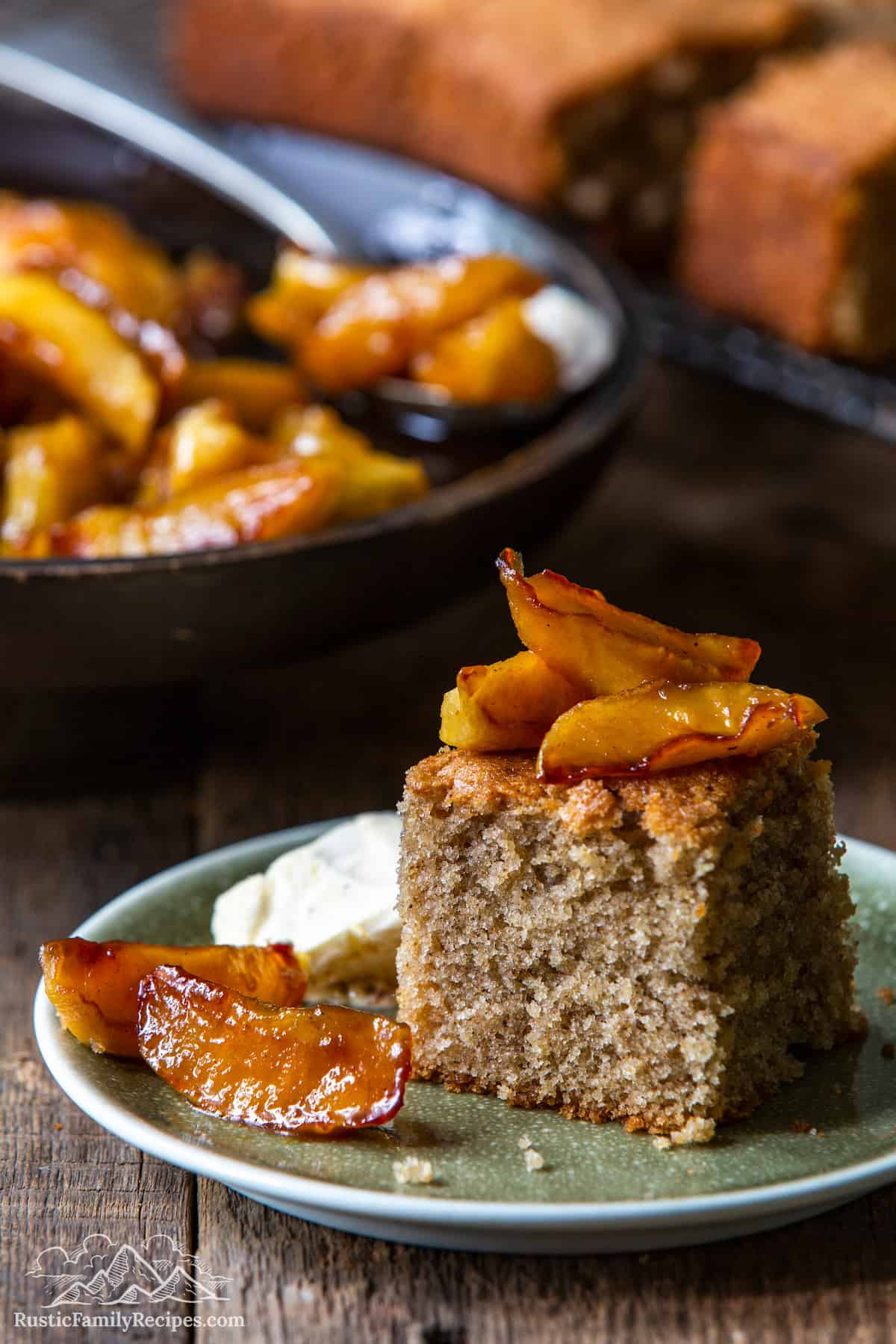 How to Store Extras
Storing the caramelized apples:
Keep the apples in the refrigerator and warm them up when you want to serve the cake. You can just zap them in the microwave for about 15-30 seconds.
Storing the honey cake:
The cake will keep at room temperature for 2 to 3 days, or in the refrigerator for about 5 days. Wrap the cake with saran wrap or place it in an airtight container to prevent it from drying out.
You can also freeze this honey cake. Let it cool completely, then wrap it in a few layers of saran wrap to prevent freezer burn. Place it in an airtight, freezer-safe container and place it in the freezer for up to 3 months. Thaw on the counter for a few hours when you are ready to eat it.
Print
Honey Cake with Caramelized Apples
This honey cake is easy to make and full of flavor – especially when topped with warm caramelized apples!
Author: Rustic Family Recipes
Prep Time:

10 minutes

Cook Time:

40 minutes

Total Time:

50 minutes

Yield:

16 servings

Category:

Dessert

Method:

Oven

Cuisine:

American
For the honey cake:
1 1/2 cups

all-purpose flour

1 1/2 teaspoons

baking powder

3/4 teaspoon

baking soda

1/2 teaspoon

kosher salt

1 teaspoon

ground cinnamon

1/2 teaspoon

ground cloves

1/4 teaspoon

ground allspice
A few pinches of freshly grated nutmeg

1

stick (1/2 cup) unsalted butter, softened

1/2 cup

packed light brown sugar

1

large egg

2/3 cup

honey

1/2 cup

plain yogurt

1/2 cup

warm (not hot) English Breakfast tea

1 teaspoon

vanilla
Optional accompaniments: whipped cream and/or vanilla ice cream
For the apples:
6

Gala apples, peeled, cored and sliced into

1/2

inch wedges

4 tablespoons

unsalted butter, softened

4 1/2 tablespoons

packed light brown sugar
Instructions
Make the Honey Cake:
Put the oven rack in middle position and preheat the oven to 350 degrees F. Lightly coat an 8-inch square cake pan with non-stick spray (I used Pam).
In a large bowl, gently whisk together the flour, baking powder, baking soda, salt and spices. Set aside.
In the bowl of a stand mixer or using a hand-held mixer, cream the softened butter and brown sugar together until fluffy. Add the egg and mix until combined. Add the honey, yogurt, tea and vanilla. Mix until combined.
Add the wet ingredients to the dry ingredients and mix with a hand held mixer on the lowest setting, just until everything is combined. Pour batter into prepared cake pan and bake until deep golden brown and a toothpick inserted in the center comes out clean, 35 to 40 minutes.
Cool on a rack for 10 minutes before attempting to remove the cake.
Make the caramelized apples:
While the cake is baking, make the caramelized apples. Peel and core each apple, then cut into 1/2-inch thick wedges.
Melt 4 tablespoons of butter in a large nonstick skillet over medium-high heat. Add apples; sprinkle with 1 tablespoon light brown sugar. Saute apples until almost tender and beginning to brown, about 5 minutes. Sprinkle with remaining 3 1/2 tablespoons sugar. Increase heat to high and gently, but briskly, stir the apples until the sugar melts and apples are golden brown, about 4 minutes.
Remove from heat and set aside to cool.
Serve
Once the cake has cooled run a thin knife around the edge of the pan, then invert the cake onto a plate and cut into squares.
Serve slices warm or at room temperature, topped with the caramelized apples, along with whipped cream and vanilla ice cream
Last Step:
Please
share a rating and comment
if you enjoyed this recipe! Your feedback helps this little blog thrive and continue providing free, high-quality recipes for you.
Keywords: honey cake, spiced cake, rosh hashanah cake, rosh hashanah dessert
Filed Under:
This post may contain affiliate links. Please read our disclosure policy.