This easy pumpkin spice latte recipe hits all the cozy vibe notes! Flavored with brown sugar and autumn spices, it's perfect topped with a generous serving of whipped cream and a sprinkle of ground cinnamon.
A cup of coffee, homemade, that comes to you dark as a hazel-eye, but changes to a golden bronze as you temper it with cream…such a cup of coffee is a match for twenty blue devils and will exorcise them all." – H. W. Beecher
If you're craving a Starbucks pumpkin spice latte but don't want to trek to the nearest location, this homemade version is here to give you your fix. I created this recipe back in 2006 when I was still in graduate school and Starbucks was a constant, if expensive, companion. Many years later this is still one of my favorite Autumn beverages.
Flavored with fresh nutmeg, ground cloves, and brown sugar, this easy coffee recipe is cozy, and perfect in a big mug topped with a tall swath of whipped cream. I like to sprinkle extra ground cinnamon or nutmeg on top and maybe add a cinnamon stick for garnish and extra flavor. It makes a handy stirring stick too!
This is not a "true latte" in that I don't use espresso. I couldn't afford an espresso machine in grad school and I still don't have one to this day. So, if you're looking for a drink that is "technically" a latte this is not the recipe for you. But if you're just looking for a tasty homemade pumpkin spice latte, definitely give this drink a try! You might also like my Gingerbread Latte recipe while you're at it. 🙂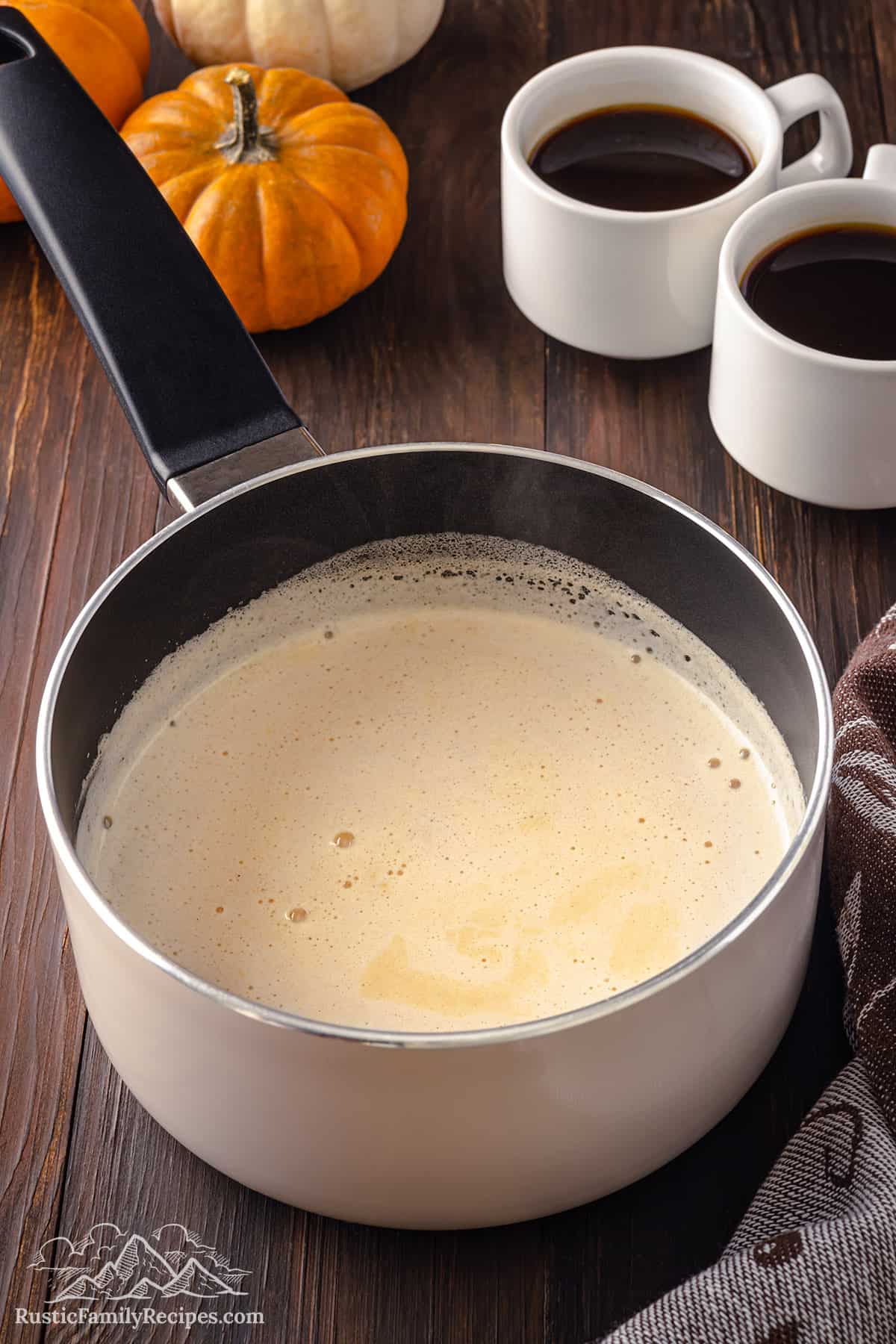 How to Make a Pumpkin Spice Latte
Making a pumpkin spice latte at home requires a few steps, but is still incredibly easy. Here's how to do it:
Brew your coffee. Brew 2 cups of your favorite coffee. If you want to get it closer to espresso flavor you can make it a bit stronger than normal, but I usually don't.
Make the pumpkin spice milk mixture. For this step, we are going to blend the pumpkin puree with milk and spices. You do need a stand mixer for this step because it's the best way to get an incredibly smooth spiced pumpkin liquid. I've tried mixing this by hand before, but it doesn't get as smooth as you need it to be for a drink.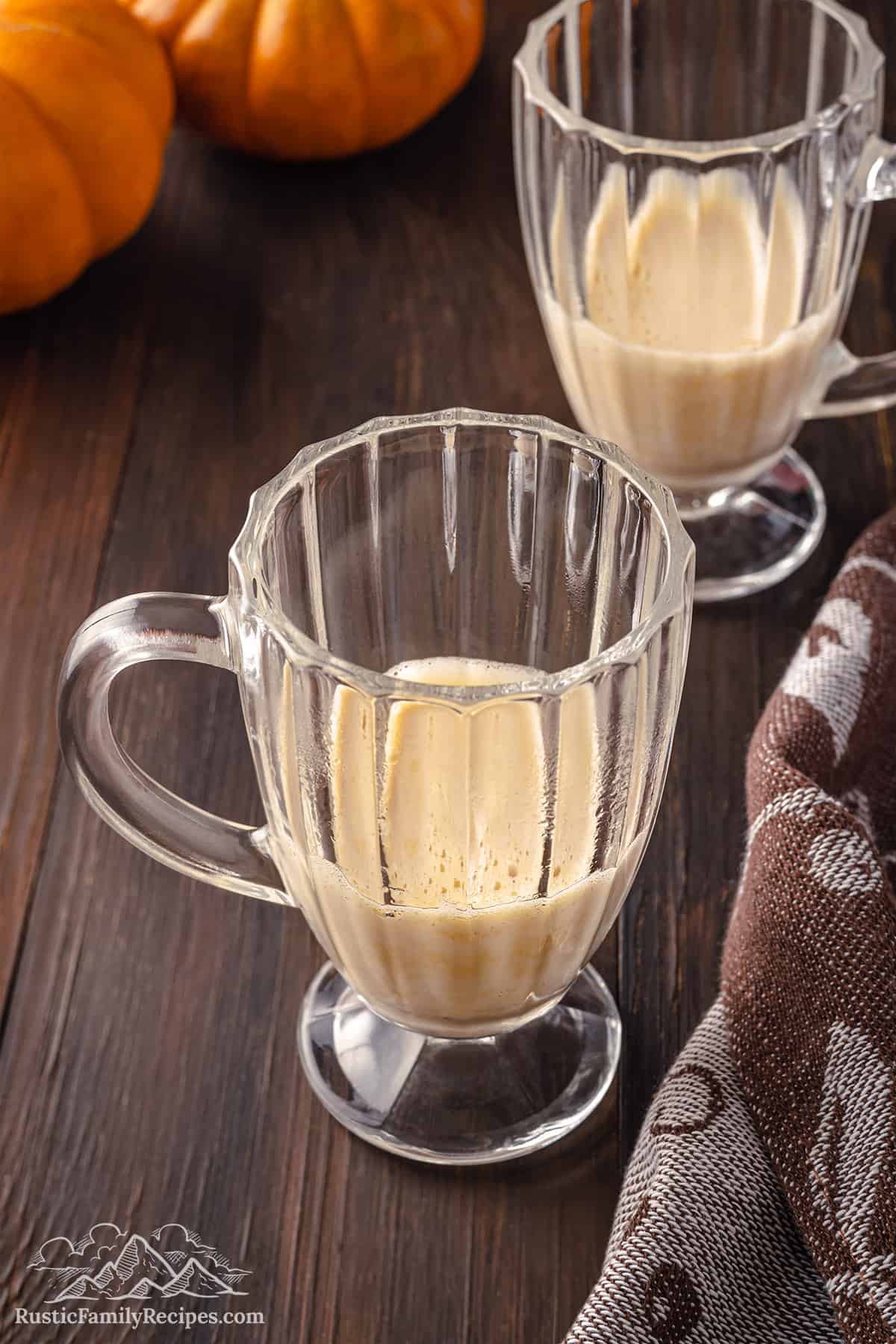 Make your drinks. To assemble your pumpkin spice lattes, pour some of the pumpkin milk into two large coffee mugs. Add half-and-half, then warm it in the microwave for about 20-30 seconds. Pour in your coffee and top it off with a bit more pumpkin milk. Add whipped cream and a sprinkle of ground cinnamon or nutmeg.
Making the Pumpkin Milk in Advance
It doesn't take long to make this pumpkin spice latte from start to finish, but you can make things even easier by making the pumpkin milk in advance.
To do this, make the milk as directed, then let it cool. Pour into a large mason jar with a lid and store in the fridge for up to 1 week.
When your pumpkin milk has been made in advance, you can assemble your pumpkin spice latte as follows:
Brew your coffee
Pour your desired amount of pumpkin milk into a big mug or glass.
Add the half and half.
Warm in the microwave, stirring halfway through.
Pour in your coffee. Top off with extra pumpkin milk if desired.
Give everything a good stir.
Finish your drink with a generous dollop of whipped cream.
Add a sprinkle of ground cinnamon or nutmeg.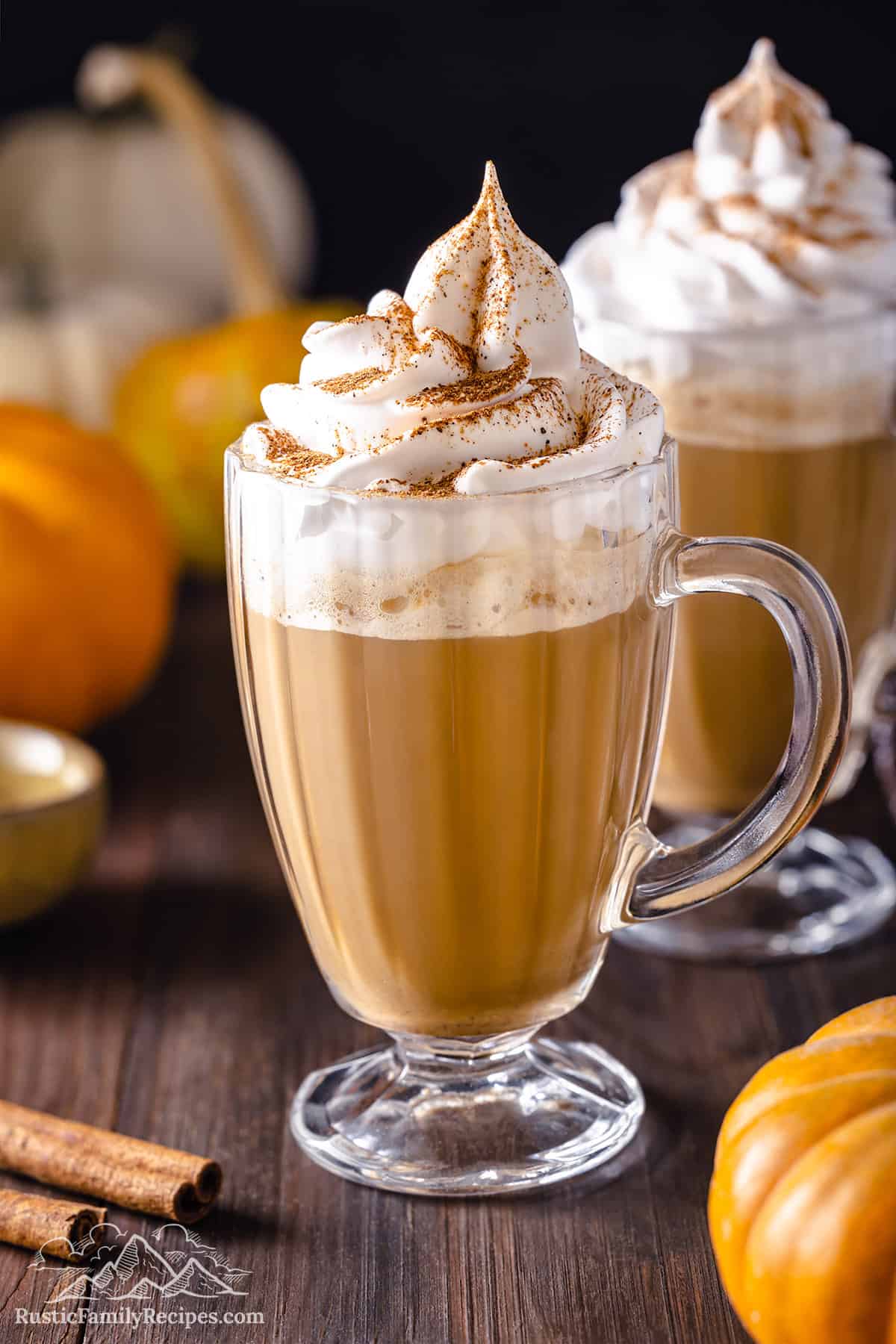 What Goes with a Pumpkin Spice Latte?
Want to serve something on the side, maybe a baked treat? You're mind kind of person! Here are my favorite baked goodies to go with a pumpkin spice latte:
Pumpkin spice lattes are also wonderful with breakfast. Want to go all in for the fall theme? Make these fluffy pumpkin pancakes or these pumpkin waffles. Feeling more traditional vibes? I highly recommend these old-fashioned pancakes or these buttermilk waffles.
Print
Homemade Pumpkin Spice Latte
This easy pumpkin spice latte recipe hits all the cozy vibe notes! Flavored with brown sugar and autumn spices, it's perfect topped with a generous serving of whipped cream and a sprinkle of ground cinnamon.
Author: Rustic Family Recipes
Prep Time:

5 minutes

Cook Time:

5 minutes

Total Time:

10 minutes

Yield:

2 servings

Category:

Drinks

Method:

Stovetop

Cuisine:

American
1

level tablespoon canned pumpkin puree

1 cup

milk

1/2 tablespoon

light brown sugar (packed and leveled)

1/4 tsp

cinnamon

1/8 tsp

nutmeg

1/8 tsp

ground cloves

1/2 tsp

pure vanilla extract

2 cups

coffee (brewed using 2 tbs per

1 cup

of water)

4 tablespoons

half-and-half
Sugar to taste
Whipped cream
Instructions
Begin brewing coffee. Brew two cups of your favorite coffee.
Make the pumpkin spice milk mixture. In a blender puree the milk, pumpkin, cinnamon, nutmeg, cloves, brown sugar and vanilla. Pour into a small saucepan and cook over low heat until the milk is warm and begins to froth slightly. (About 4-5 minutes.) Remove from heat.
For each serving: Pour 1/2 cup of the pumpkin mixture into your coffee mug. Add 2 generous tablespoons of half-and-half. Heat in the microwave for 30 seconds, then add 1 cup of brewed coffee. Top it off with a touch more 'pumpkin milk,' add sugar to taste, then cover with whipped cream and sprinkle with freshly grated nutmeg or ground cinnamon.
Notes
TIP: You can also make a bigger batch of the pumpkin mixture in the blender and store it in the fridge for a couple days. Easy pumpkin spice latte in the mornings!
Last Step:
Please
share a rating and comment
if you enjoyed this recipe! Your feedback helps this little blog thrive and continue providing free, high-quality recipes for you.
Keywords: starbucks pumpkin spice latte, pumpkin spice latte 2022, pumpkin spice latte recipe
Filed Under:
This post may contain affiliate links. Please read our disclosure policy.