About Me: I have more than 20 years of cooking experience & share my favorite recipes on this blog.
Have a question? Please post a comment, I'm happy to help. 🙂
Make traditional pierogi stuffed with a savory filling of potato and cheese! This traditional Polish comfort food is an easy, crowd-pleasing recipe topped with caramelized fried onions and sour cream.
Pierogies are traditional Polish comfort food and these dumplings are easy to make from scratch! If you've ever found yourself craving soft, tender pierogi filled with cheesy mashed potatoes, there's no time like the present to give this easy homemade version a try.
Pierogies are one of the few things my Polish grandfather used to make, so this recipe has a soft spot in my heart. They are perfect topped with a dollop of sour cream and crisp, caramelized onions. The ultimate comfort food!
Why You'll Love This Pierogi Recipe
Easy. If you're intimidated by the idea of making pierogies from scratch, don't be. This recipe is super simple and I've included step-by-step photos below.
Delicious. Tender pasta dough stuffed with cheese and mashed potatoes? Yes please. It doesn't get any tastier!
So comforting. This is the kind of cozy food you tuck into on a cold winter evening. All you need are you favorite toppings and a fork.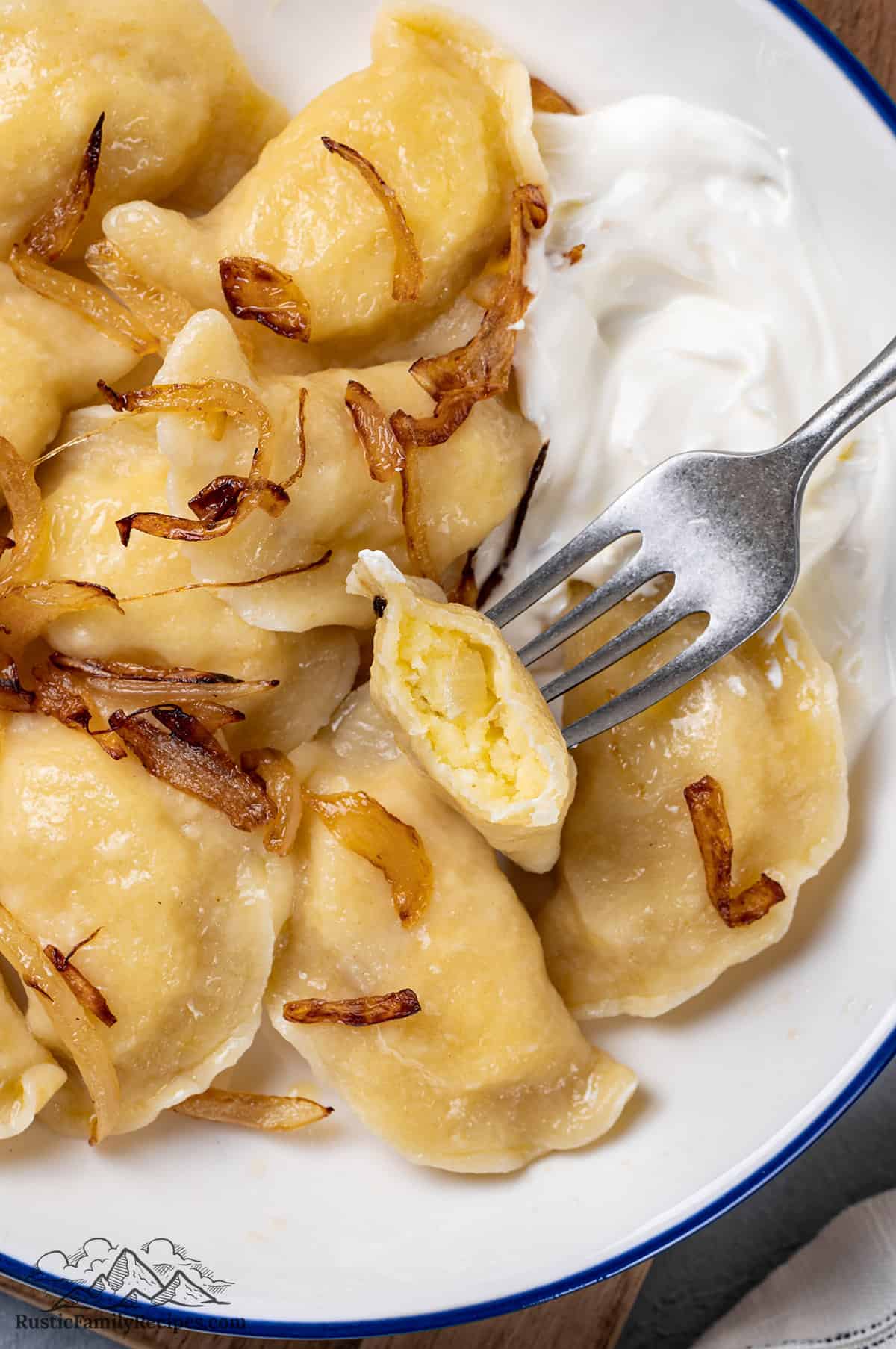 What Are Pierogies?
Pierogi are a type of Polish dumpling traditionally filled with potatoes and cheese. They are also called pierogi ruskie, perogie, perogy and pierogie. The word "pieorgi" is actually the plural but in English we still call them pierogies sometimes. How do you say it? You can pronounce it puh-row-gee. 🙂
Many, many variations exist throughout Eastern and Central Europe. Pierogi fillings range from savory to sweet and the dumplings are boiled first, then tossed in butter before serving. The result is a perfectly tender, soft, and flavorful dumpling. Pierogi perfection!
How to Make Pierogies
Ready to make your own pierogies? Let's dive into making the dough, filling, and caramelizing the onions for an easy traditional topping.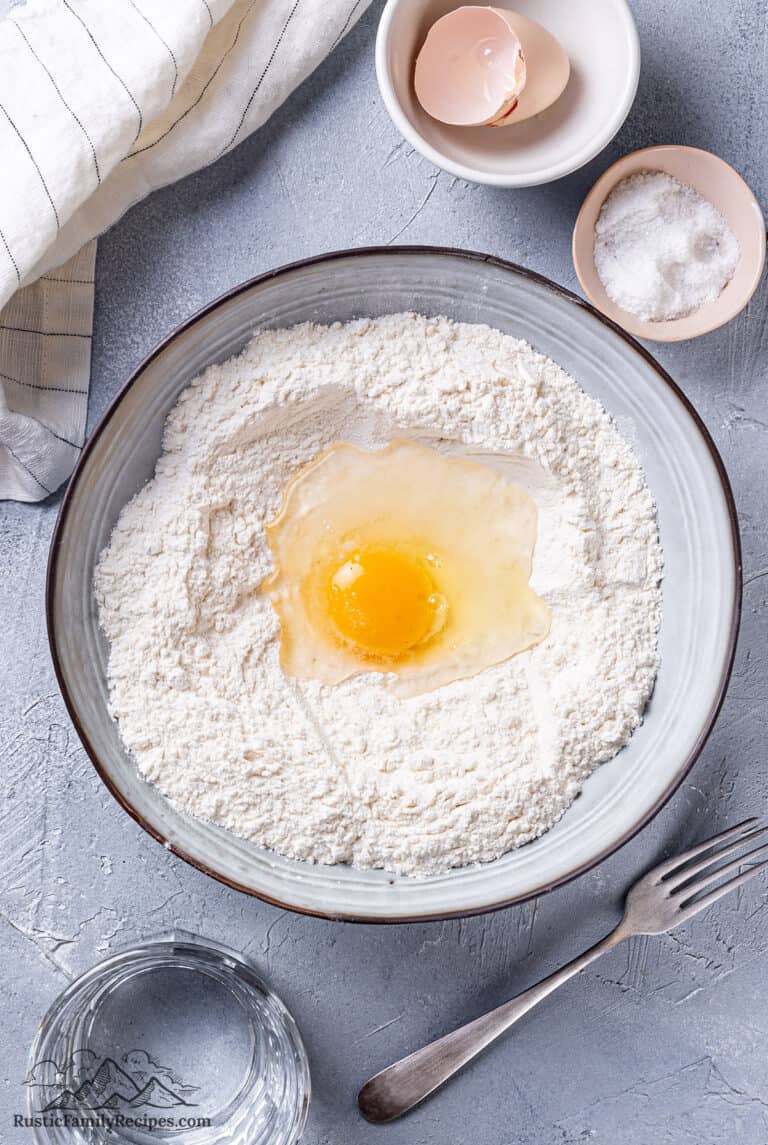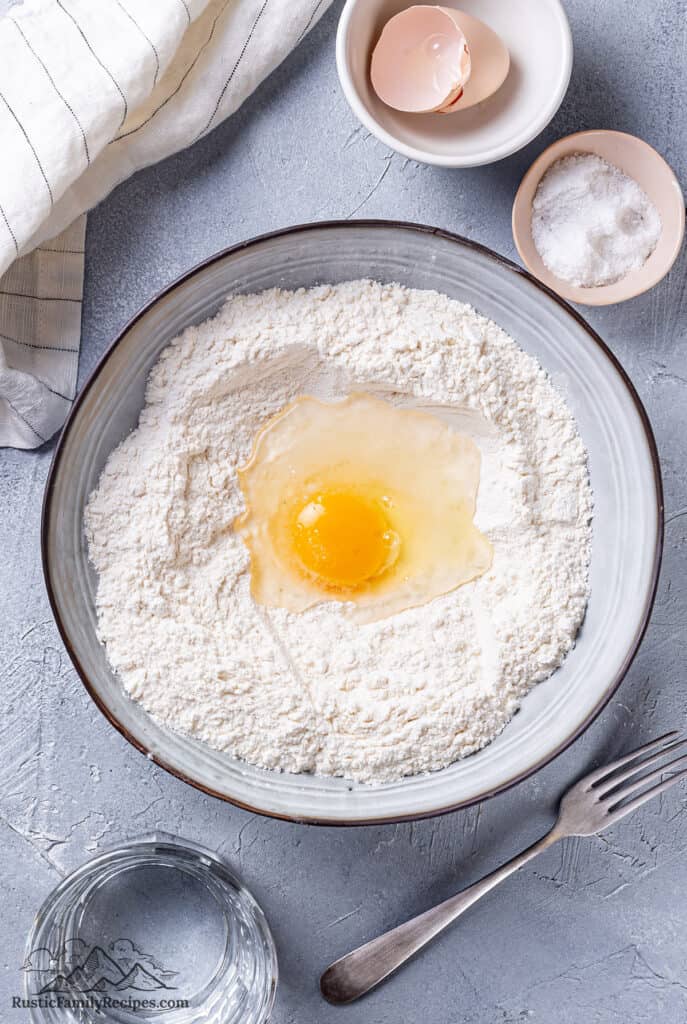 Making the Dough
Here's how to make the simple egg dough for wrapping your pierogies:
Combine the ingredients. Add your flour to a large bowl, form a well in the center, and add the egg. Sprinkle in some salt and gently whisk the yolk with a fork. Next, gradually pour in a cup of water while continuing to whisk everything together.
Knead the dough. Use your hands to knead the dough into a smooth ball. The pierogi dough will be softer than pasta dough. After, leave the dough to rest for about 15 minutes while you prepare the filling.
Preparing the Pierogi Filling
The filling comes together quickly and easily, and it starts with boiling the potatoes for mashing. You can also use leftover mashed potatoes for this step.
Boil the potatoes. Scrub and peel the potatoes, then add them to a pot with water and bring the potatoes to a boil. Simmer until the potatoes are fork-tender.
Mash. Once the potatoes are soft, drain and mash them. Make sure to mash the potatoes while they're still hot (mind the steam!), and then let them cool completely before mixing the filling.
Saute some onion. While your potatoes are cooling, finely mince a small onion and add it to a pan with butter. Saute the onion until soft.
Combine. When your potatoes are cooled to room temperature, add the minced onion along with the farmer's cheese and a few cracks of black pepper, along with salt to taste. Give the filling a good mix.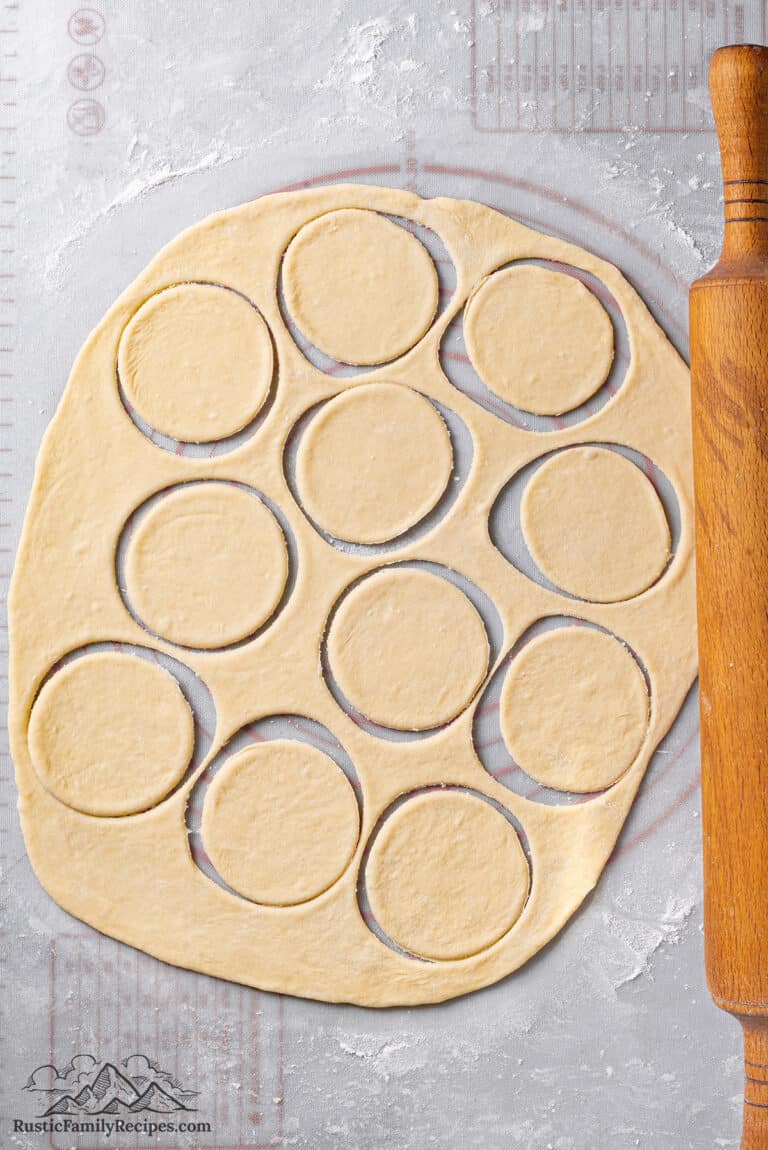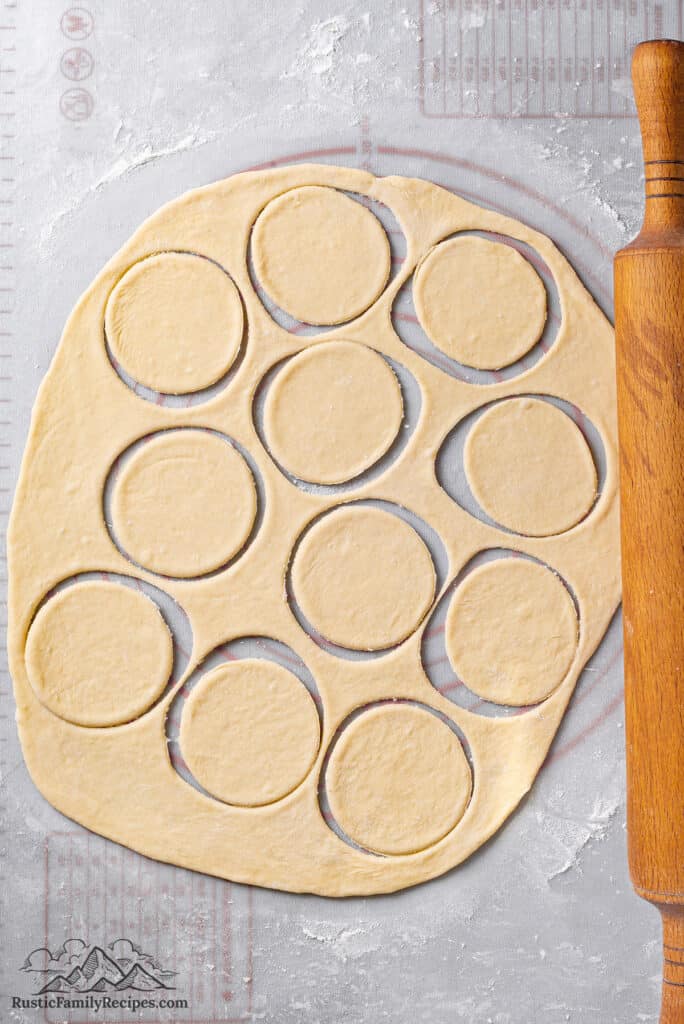 Assemble and Cook
Now, it's time to assemble your dumplings before you boil and fry them:
Roll and cut out the dough. Turn the prepared pierogi dough out onto a clean, floured work surface and roll it out with a rolling pin. Next, use a round cookie cutter or the top of a glass to cut out small circles of dough.
Add the filling. Drop a spoonful of potato filling onto each circle, and fold the dough over so that your dumpling resembles a half-moon. Tightly pinch the edges together to seal. Repeat with the remaining circles of dough, until all your pierogies are ready to go.
Boil. It's a good idea to keep your assembled pierogies covered on a floured baking sheet until you're ready to cook them. Working in batches, boil the pierogies in a large pot of salted water. When the dumplings float to the surface, leave them to cook for another couple of minutes before fishing them out with a slotted spoon.
Toss with butter. Lastly, transfer the boiled pierogies to a large bowl, and toss them with butter to keep them from sticking. Serve your homemade pierogies warm, topped with caramelized onions (see the next section), along with sour cream. Scroll further down for more easy serving suggestions!
How to Caramelize Onions
Fried onions are a classic pierogi topping, and they're super easy to make. Here's how to caramelize onions quickly on the stovetop: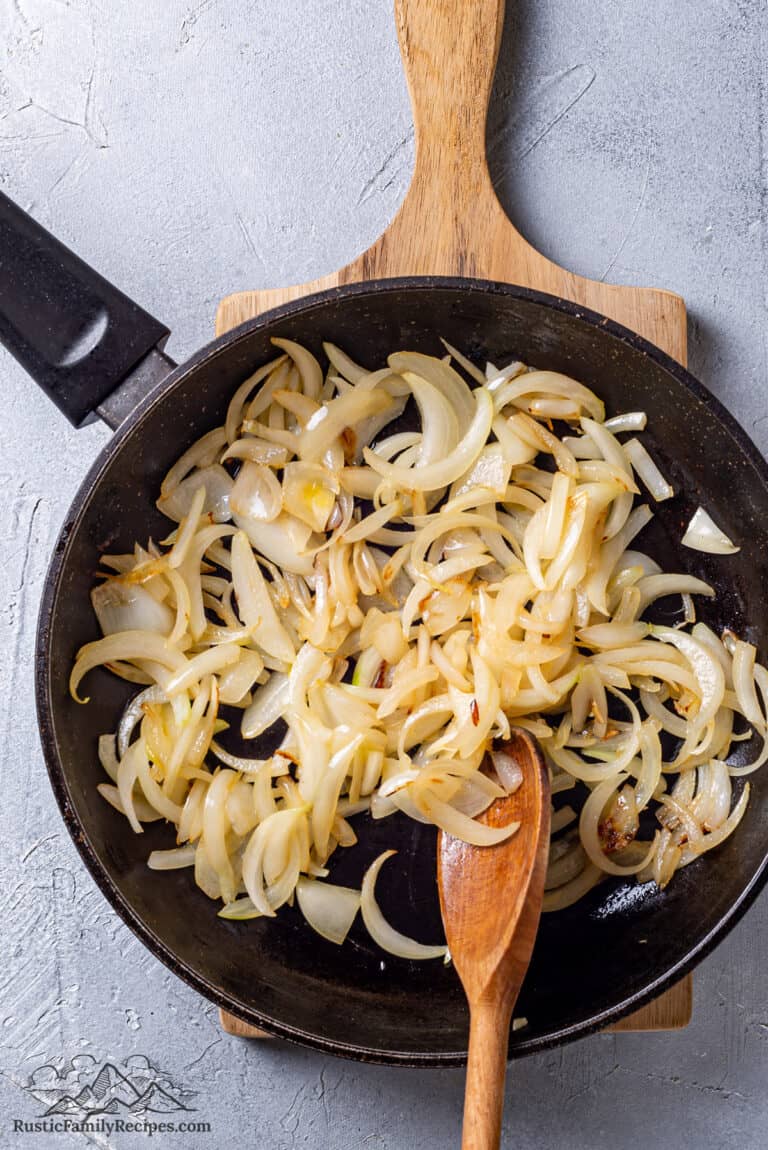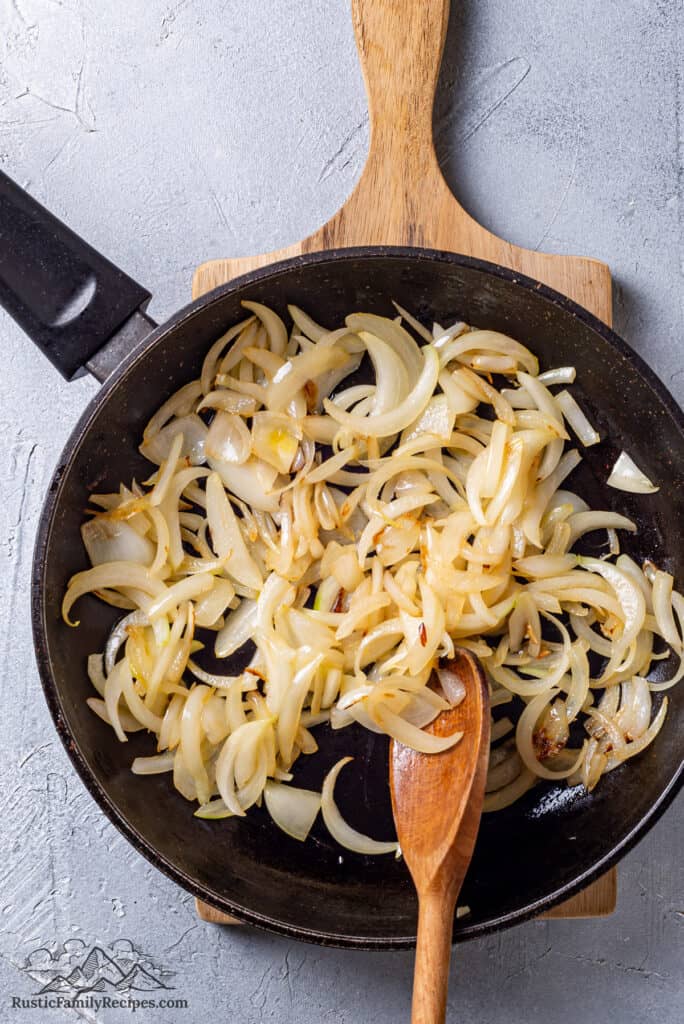 Slice up an onion. Cut a medium-sized onion first in half, then slice each half up thinly.
Cook. Add the sliced onions to a pan with butter, spreading them out to cook and soften. Give them a stir every so often, so that the onions brown, but don't burn. After about 10 minutes, sprinkle over some salt, and continue to cook until they're caramelized to your liking.
Can I Make the Dough Ahead?
Yes, you can prepare the dough a couple of hours in advance, or you can freeze it. To make the dough ahead, wrap the dough tightly in plastic wrap and place it in the fridge. Take it out and let it come back to room temperature before you roll it out.
To freeze pierogi dough for a later day, place the wrapped dough into a resealable freezer bag and store it frozen for up to 1 month. Thaw the dough in the fridge or at room temperature before you use it.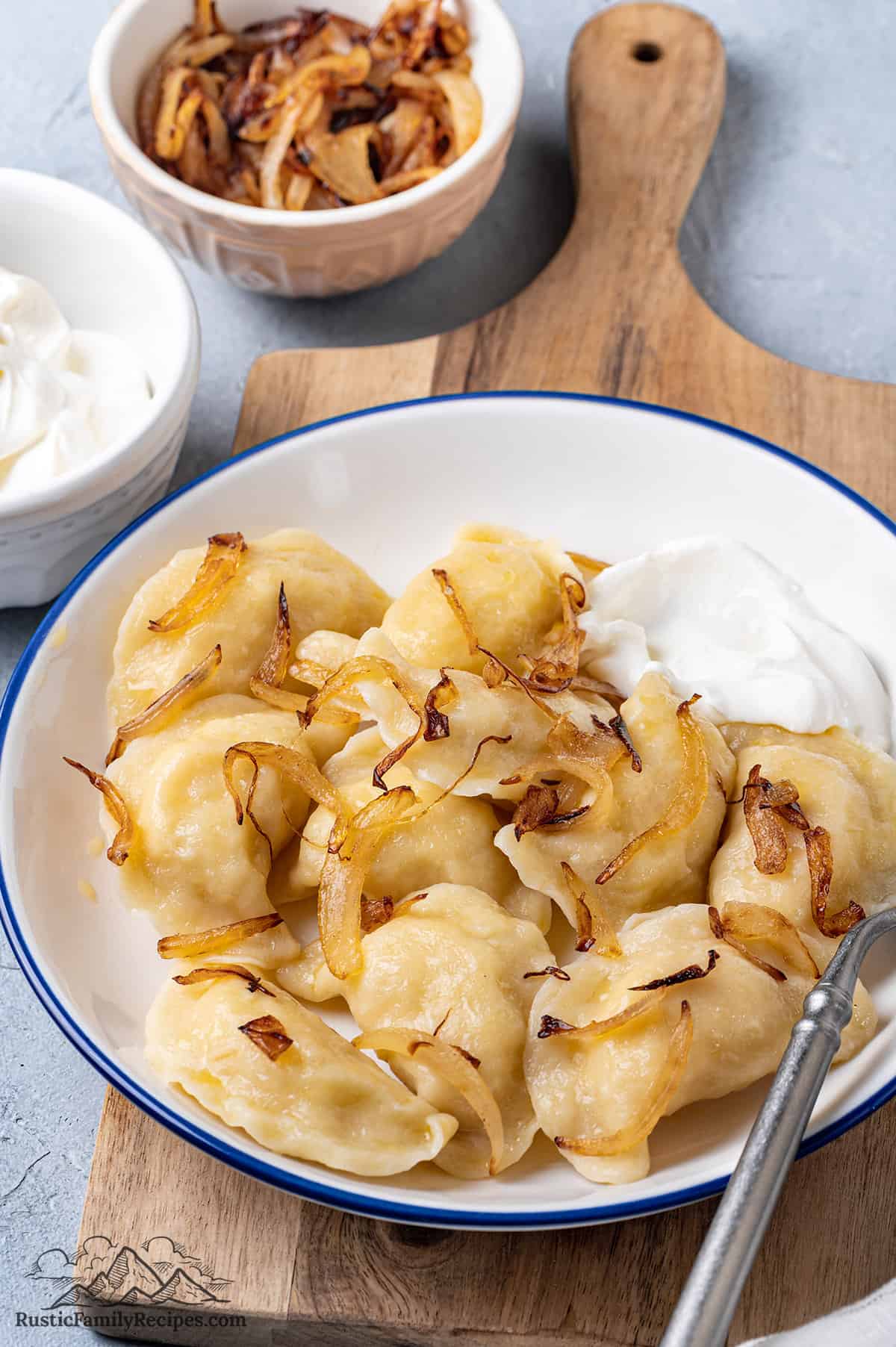 Tips for Success
You're going to love making your own pierogies at home! Here are some final tips for perfectly prepared Polish dumplings:
Use freshly grated cheese. Fresh-grated cheese will melt perfectly into the potatoes. Pre-shredded cheese is often treated with anti-caking agents that prevent the cheese from melting as smoothly.
Don't overwork the potatoes. Same as when you're making mashed potatoes, overly mashing the cooked potatoes can cause the filling to become rubbery. Use a fork to lightly mash them.
Don't overcrowd the pot. Work in batches of 6-10 pierogies at a time when boiling, depending on the size of your pot. Overcrowding may cause the pierogies to stick and cook unevenly.
What to Serve With Perogies
Serve your pierogies with a dollop of sour cream (or Greek yogurt), or toss them in melted butter. You can also enjoy pierogies topped with fried onions, crispy pork rinds or bacon, and fresh herbs like chives, thyme, or basil.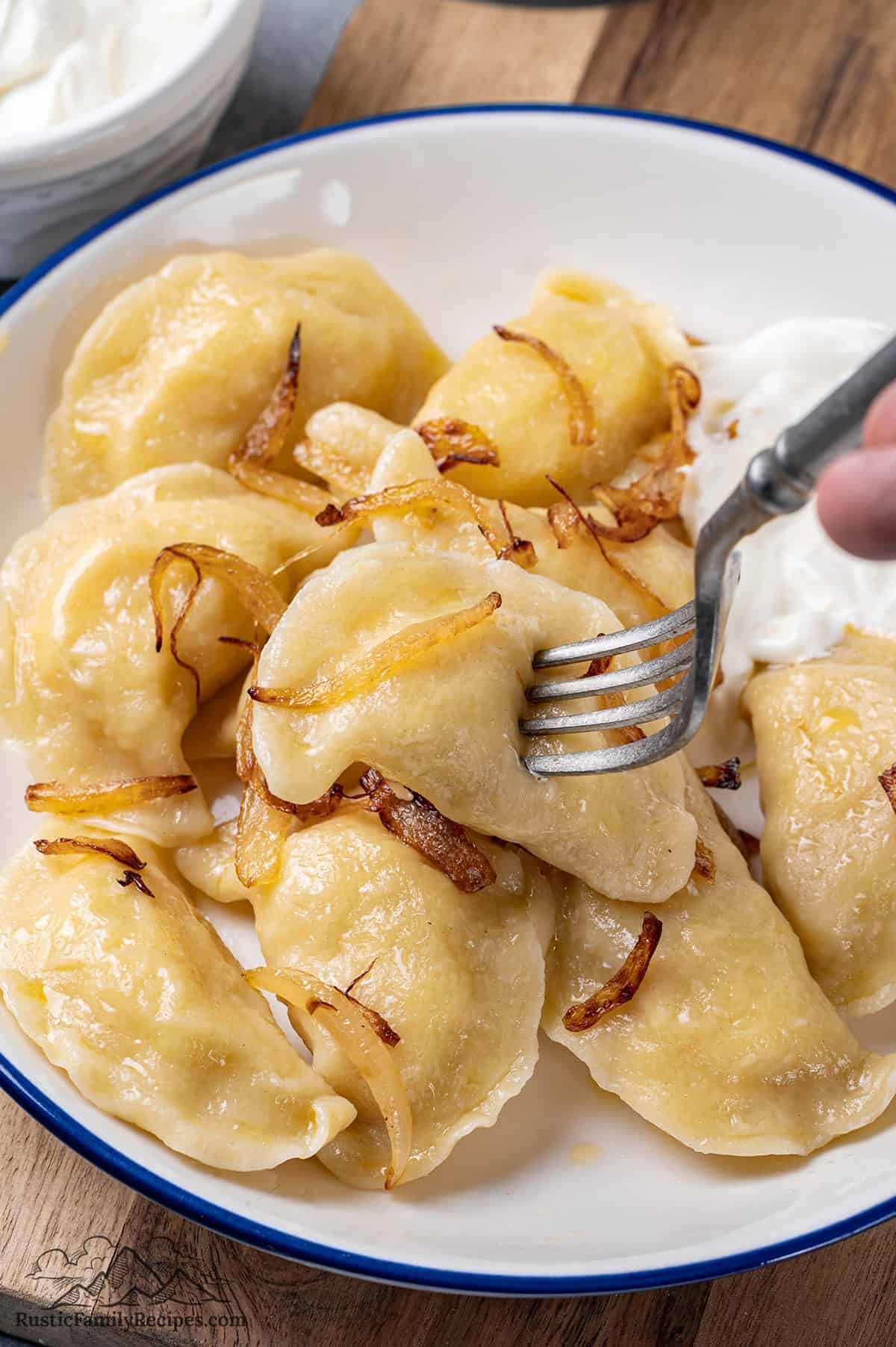 Storing and Reheating Leftovers
Store any extra pierogies airtight in the fridge for up to 3-4 days. Reheat the cooked pierogies in the microwave, or in a pan on the stovetop.
Can I Freeze Pierogies?
For best results, freeze your pierogies before cooking them. Once your pierogies are filled and ready to boil, place them onto a lined baking sheet to pre-freeze instead. Afterward, transfer the frozen dumplings to a freezer-safe container or resealable bag to freeze for up to 1 month. Uncooked, frozen pierogies can be boiled straight from frozen with an extra minute or two added to the cooking time.
You can also freeze cooked leftover pierogies. Simply follow the same directions as above, pre-freezing them before storing them. Reheat the pierogies in the microwave from frozen, or thaw them in the fridge overnight beforehand. The dumplings can be sautéd in a pan with a bit of butter or warmed in the microwave before serving.
More Polish Recipes
Print
Homemade Pierogies
Homemade Pierogies (Polish dumplings) are easy traditional comfort food stuffed with potatoes and cheese, and topped with butter and fried onions.
Author: Rustic Family Recipes
Prep Time:

40 minutes

Cook Time:

1 hour 20 minutes

Total Time:

2 hours

Yield:

5-6 servings

Category:

Dinner

Method:

Stovetop

Cuisine:

American, Polish
Filling:
2

pounds russet potatoes scrubbed

1 teaspoon

kosher salt

1

small onion

8 ounces

farmer cheese or ricotta
Freshly ground black pepper to taste

2 tablespoons

unsalted butter
Dough:
2

to

2 1/2

cups all-purpose flour

1

large egg at room temperature

1/3 teaspoon

kosher salt

3/4 cup

water room temperature
For the caramelized onion:
1

medium onion

2 tablespoons

unsalted butter

1/4 teaspoon

kosher salt
Instructions
To make the filling:
Wash and peel the potatoes.
Cover with water in a medium pot. Bring to a boil over high heat. Lower the temperature and simmer until potatoes are soft, about 15 min.
Drain the water and mash the potatoes when still hot, then leave them to cool completely. It's important for the potatoes to not be warm when you proceed to mix the filling.
Mince one small onion. Place 2 tbsp butter in a small pan, add the onion and saute over medium-low heat for 3-4 minutes until soft and translucent.
When potatoes are cooled add sauteed onion, cheese, and black pepper to taste and mix well. Taste and add more salt if needed.
To make the dough:
Place 2 cups of flour in a large bowl or on a work surface and make a well in the center.
Add one egg to it, then add 1/3 teaspoon of salt and whisk with a fork to break the yolk.
Add 1 cup of water, a little at a time. Continue to whisk with a fork to mix the flour with water and egg.
Then proceed to knead the dough with your hands until smooth. You may need to add more flour, but keep in mind the dough for pierogi is much softer than for pasta.
Let the dough rest for 15 min.
Assemble and Cook:
On a floured surface roll out the dough to 1/8 inch in thickness. Using a 2-inch round cookie cutter or drinking glass, make small circles. (I divided the dough into 4 parts.)
Spoon 1 heaped teaspoon of the filling onto one half of each circle.
Fold the dough in half to form a half-circle shape and then firmly pinch the edges together.
Sprinkle a baking sheet with flour and place the filled pierogi on it in a single layer. Cover them with a clean kitchen towel to prevent them from drying.
To cook, bring a large pot of salted water to a boil. Drop in about 6 to 10 pierogi at a time, making sure not to overcrowd the pot. Stir once with a big spoon to make sure they are not stuck to the bottom. Cook until they rise to the surface, then cook for another 2 to 3 minutes.
When ready, remove the pierogies from the water with a slotted spoon and place them in a large bowl.
Add 1 tbsp butter and shake. This will prevent the pierogi from sticking to each other.
Serve warm with caramelized onions and a dollop of sour cream.
Caramelized onions:
Cut the onion in half, then slice it into half circles about 1/8 inch thick.
Place a pan on medium heat, add 2 tbsp butter and onion.
Spread the onions out evenly over the pan and let cook, stirring occasionally.
As soon as the onions start sticking to the pan, let them stick a little and brown, but then stir them before they burn. After 10 minutes, sprinkle some salt over the onions.
Cook for about 15 min in total to make them brown and reach in taste.
Notes
This recipe makes about 60 pierogies, which is approximately 5-6 servings – depending on how many each person wants to gobble up!
Last Step:
Please
share a rating and comment
if you enjoyed this recipe! Your feedback helps this little blog thrive and continue providing free, high-quality recipes for you.
Keywords: homemade pierogies, perogies recipe, pierogi recipe
Filed Under: