This post may contain affiliate links. Please read our disclosure policy.
Golden and crispy homemade huaraches are made from fried masa dough piled with refried beans and loads of toppings! An easy appetizer recipe inspired by classic Mexican street food.
Ah, huaraches. Classic Mexican street food that falls somewhere between a sope and a flatbread pizza, and somehow never disappoints! Growing up in a Mexican family, the homemade version of this simple dish was always a treat. It allowed us to get creative with toppings, using up things like Nana's frijoles refritos and next-day leftovers from beef tacos.
Now that I make these for my own family, we love huaraches because they're essentially a choose-your-own-adventure of toppings and flavors! Huaraches are the definition of laidback comfort food. Top them with tender taco meat, spicy salsa, creamy queso fresco, crunchy garden veggies, and more.
What Are Huaraches?
In Spanish, huaraches ("wah-rah-ches") can be one of two things: a type of Mexican sandal, or crispy masa dough stuffed with beans. I think it goes without saying, but a variation of the latter is what we're making today!
Huaraches are long and flat, pan-fried masa loaded with toppings. In the US, they're usually left unstuffed, which is the kind I make in my recipe. A flat, oval huarache does resemble the sole of a Mexican sandal, which is where it gets its name. A bit like a sope or an oblong corn tortilla, these Mexican-style flatbreads can be served as an appetizer or made larger, as a main.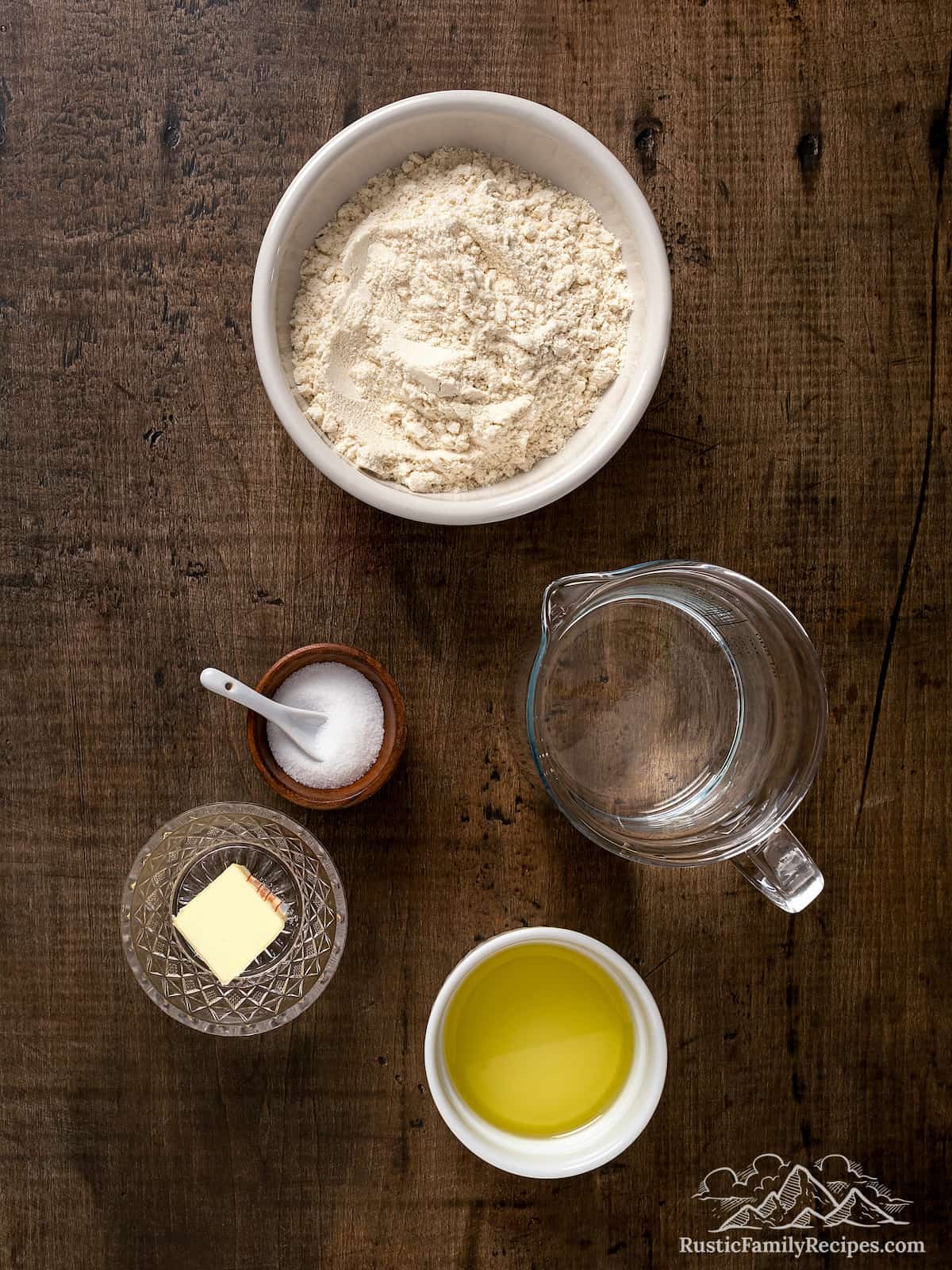 Recipe Ingredients
Making homemade huaraches only requires a short list of ingredients. If you're into Mexican cooking, chances are you already have things like masa harina in your pantry! If you don't, the below ingredients are easy to come by. Be sure to scroll down to the recipe card for the full amounts:
Masa harina – This is a kind of flour made from finely ground maize that you'll need when making the dough for your huaraches. It's an ancient flour that was invented by the Aztecs! Many grocery stores carry masa harina in the baking aisle or international food aisle. However, note that masa isn't the same as cornmeal, which is coarser.
Salt
Unsalted butter – I prefer to cook with unsalted melted butter, as it gives more control over the level of saltiness in a dish. If you're using salted butter, I recommend adjusting the amount of added salt accordingly.
Oil – You'll need a couple of tablespoons of oil when cooking huaraches. I use extra virgin olive oil, or you can use another neutral oil like vegetable or canola oil.
Toppings for serving – Toppings for huaraches include refried beans, taco meat, tomatillo salsa, guacamole, queso, and more! See the recipe card as well as the section later on for more suggested topping ideas.
How to Make Mexican Huaraches
Before you start, I recommend preparing all the toppings and dips for your huaraches ahead of time. This delicious fried masa dough is also perfect for topping with leftovers, like taco meat and veggies! Once you have your assorted toppings ready to go, making huaraches is super easy: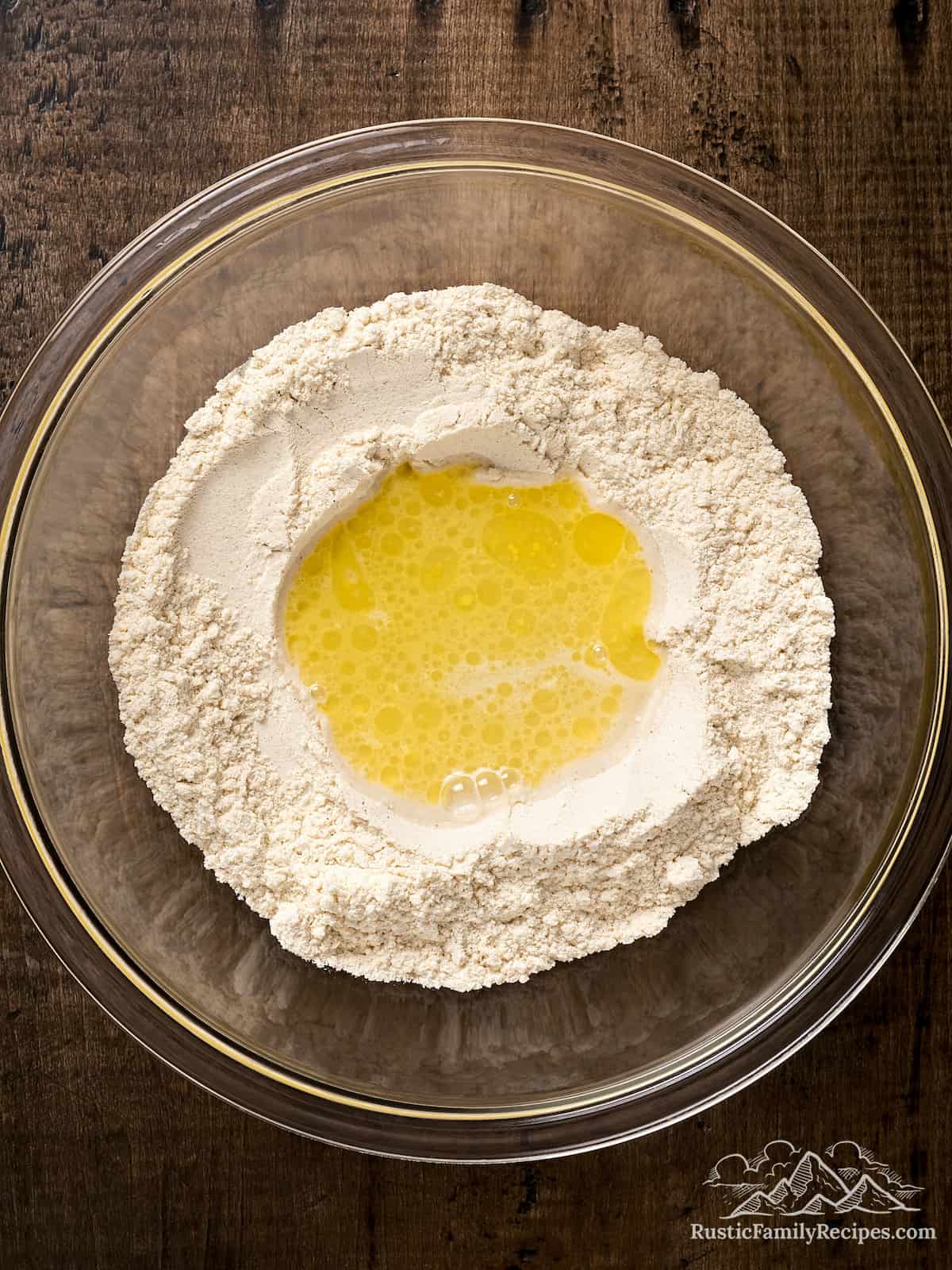 Make the masa dough. Combine the masa harina with salt and give it a good mix. Next, you'll form a well in the middle, then pour in the hot water and melted butter. Use a wooden spoon to mix the ingredients into a ball of dough. Then, use your hands to knead the dough for a few minutes.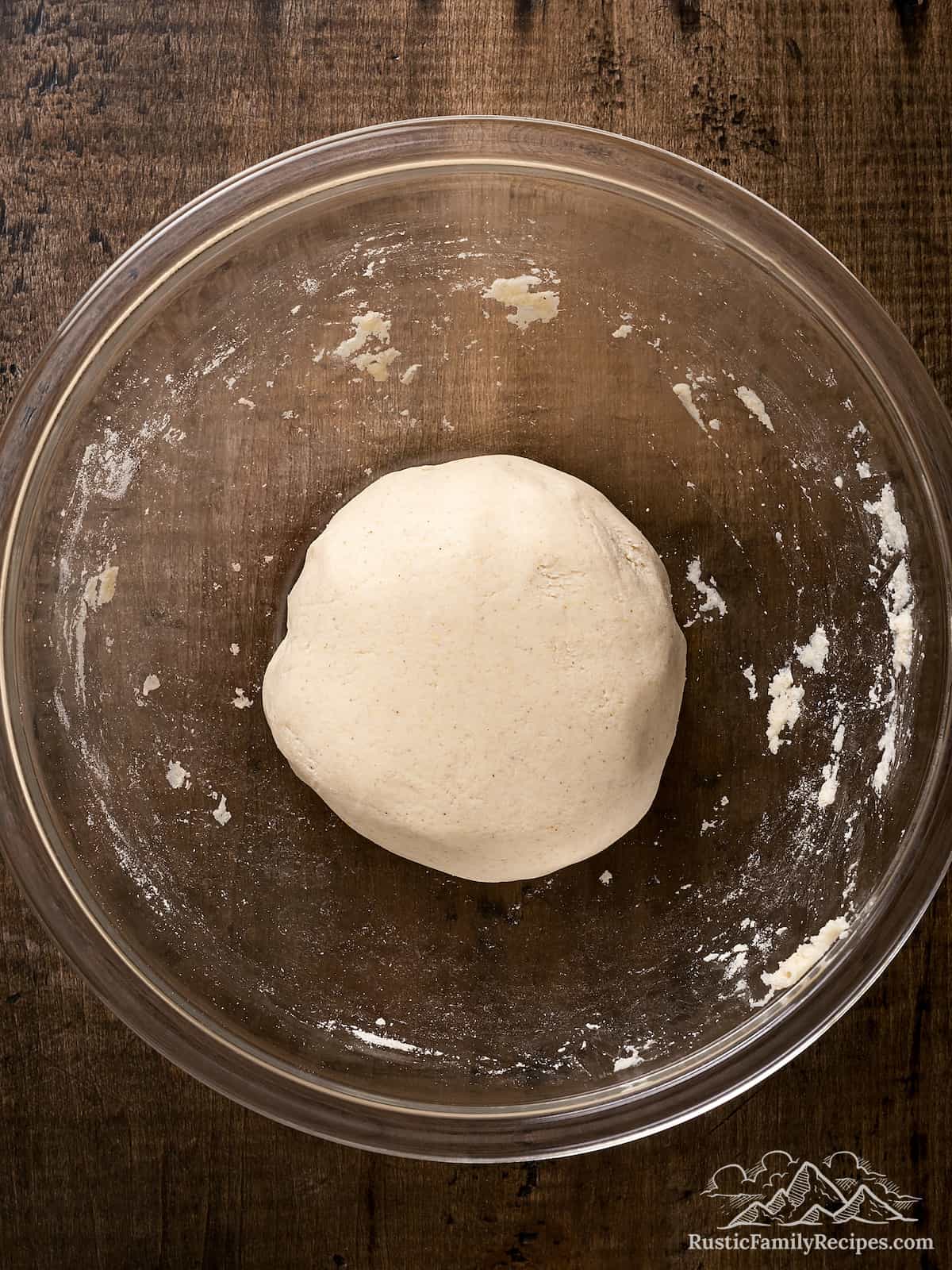 Shape the dough. With your dough kneaded into a rough circle, portion it into 6 equal sections. Use your hands to form each section into a cigar-like shape, then stack the rolled dough pieces in your mixing bowl. Cover the bowl with a damp cloth – this helps keep the dough from becoming dry while you work.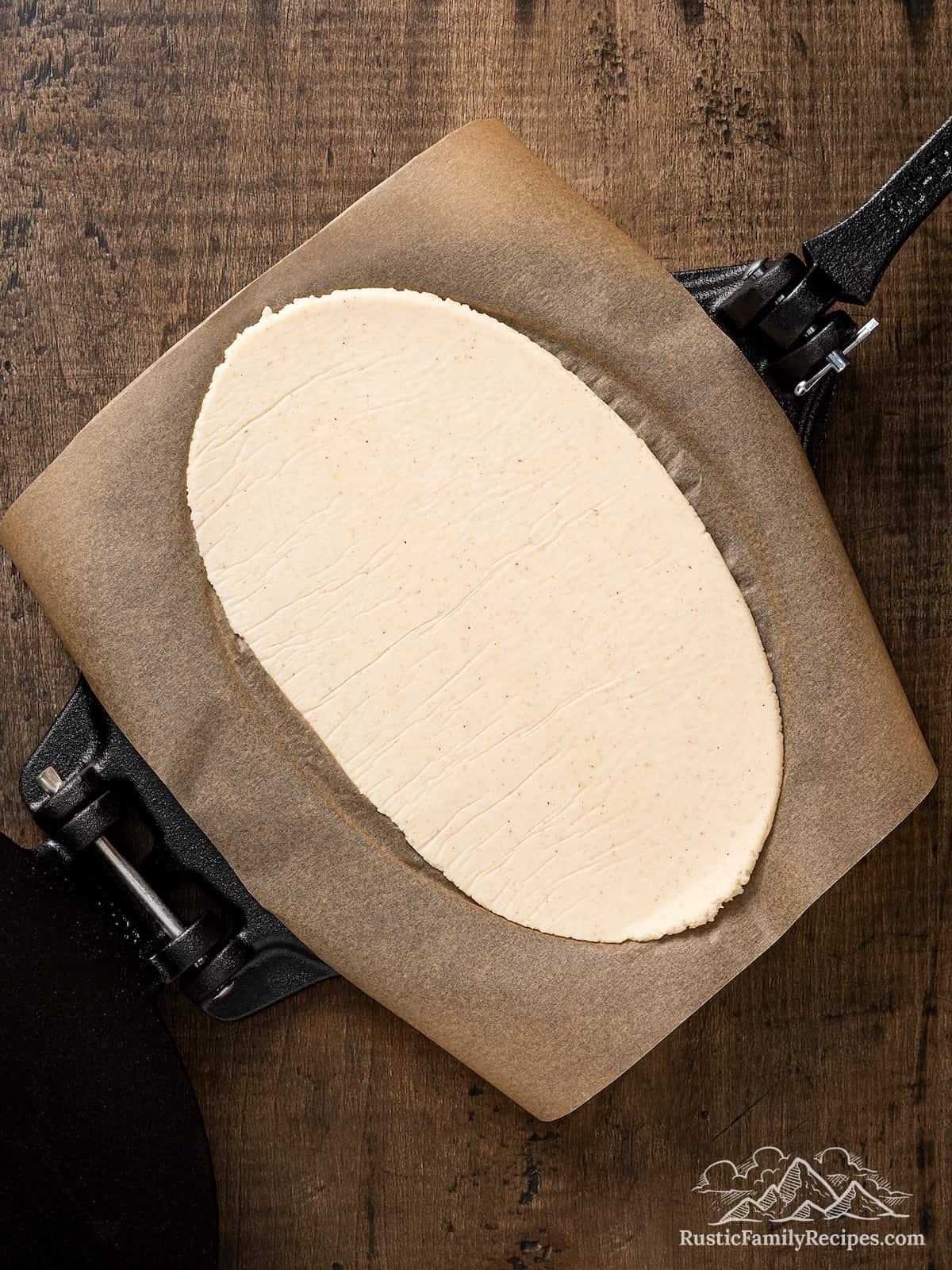 Flatten the dough. While a pan with oil preheats on the stove, use a tortilla press to flatten the dough into a "sandal" shape. Place the dough onto the press between two pieces of parchment paper, then flatten the dough into a long oval about ¼ inch thick. This will likely take more than one press. If you don't have a tortilla press, you can use a rolling pin and parchment paper instead.
Cook. Lift the parchment paper (dough and all), and slide the dough into the preheated pan. The huaraches will need to fry for about 2-3 minutes per side until they're golden and crispy. To keep your finished huaraches warm, place them in a warmed oven while you cook the remaining dough.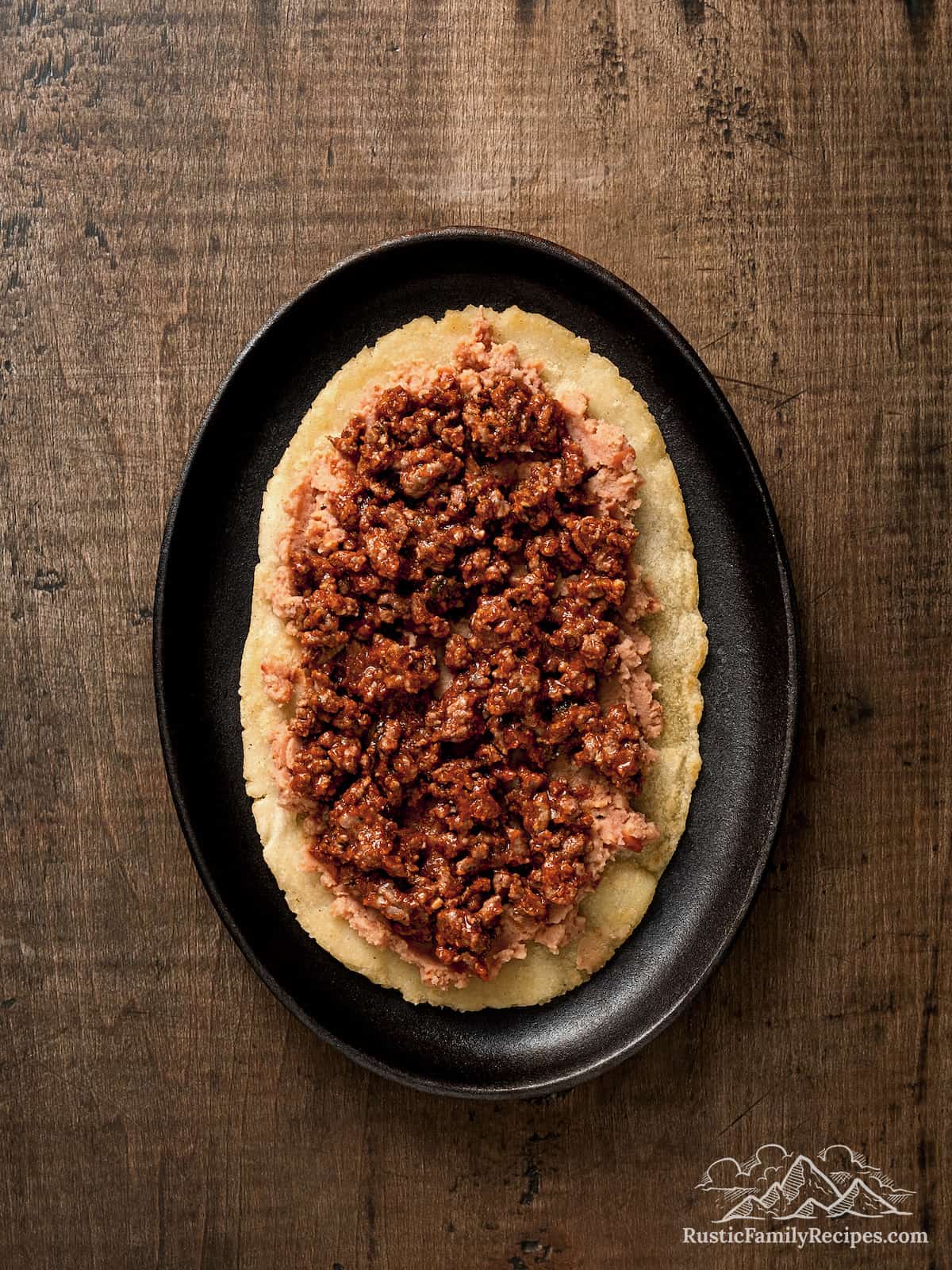 Topping and Serving
Traditional huaraches are stuffed with refried beans before they are piled high with toppings. In the case of these unstuffed huaraches, you can dive straight into topping and serving! Gather any dips and toppings you prepared earlier and get ready for a Mexican-style DIY feast. I've included our favorite topping ideas below, as well as more easy foods to serve with these huaraches.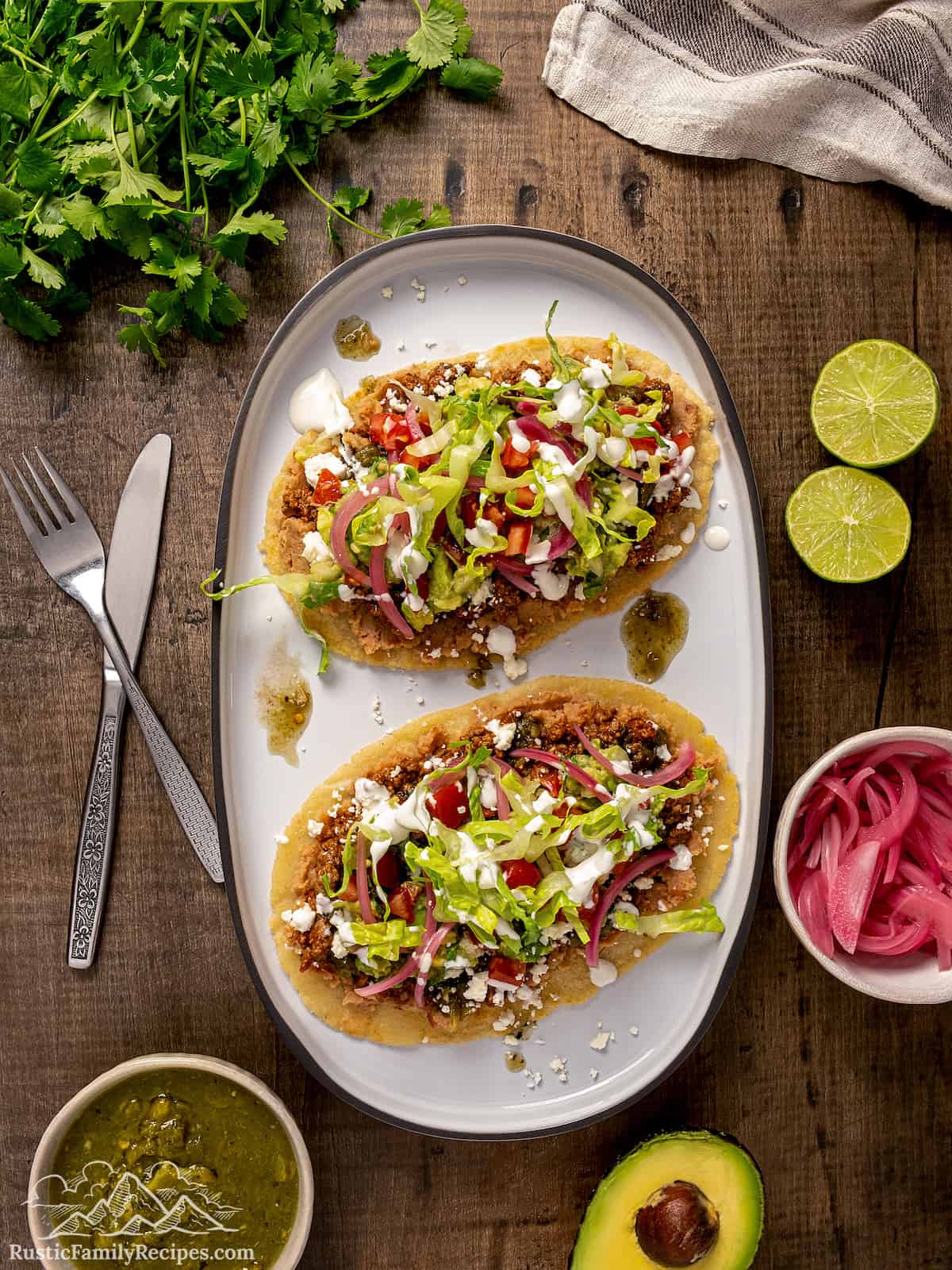 Tips for Success
While the recipe is ultra simple, here are my added tips for making homemade huaraches:
Prep ahead. It's a good idea to prepare the toppings and dips that you'll be serving with your huaraches ahead of time. That way your freshly fried huaraches won't need to sit out for too long, and can be served right away, as they should be.
Use leftovers. Huaraches are an excellent way to use up leftovers. I love making these the day after taco night at our house when we have leftover taco toppings to get through.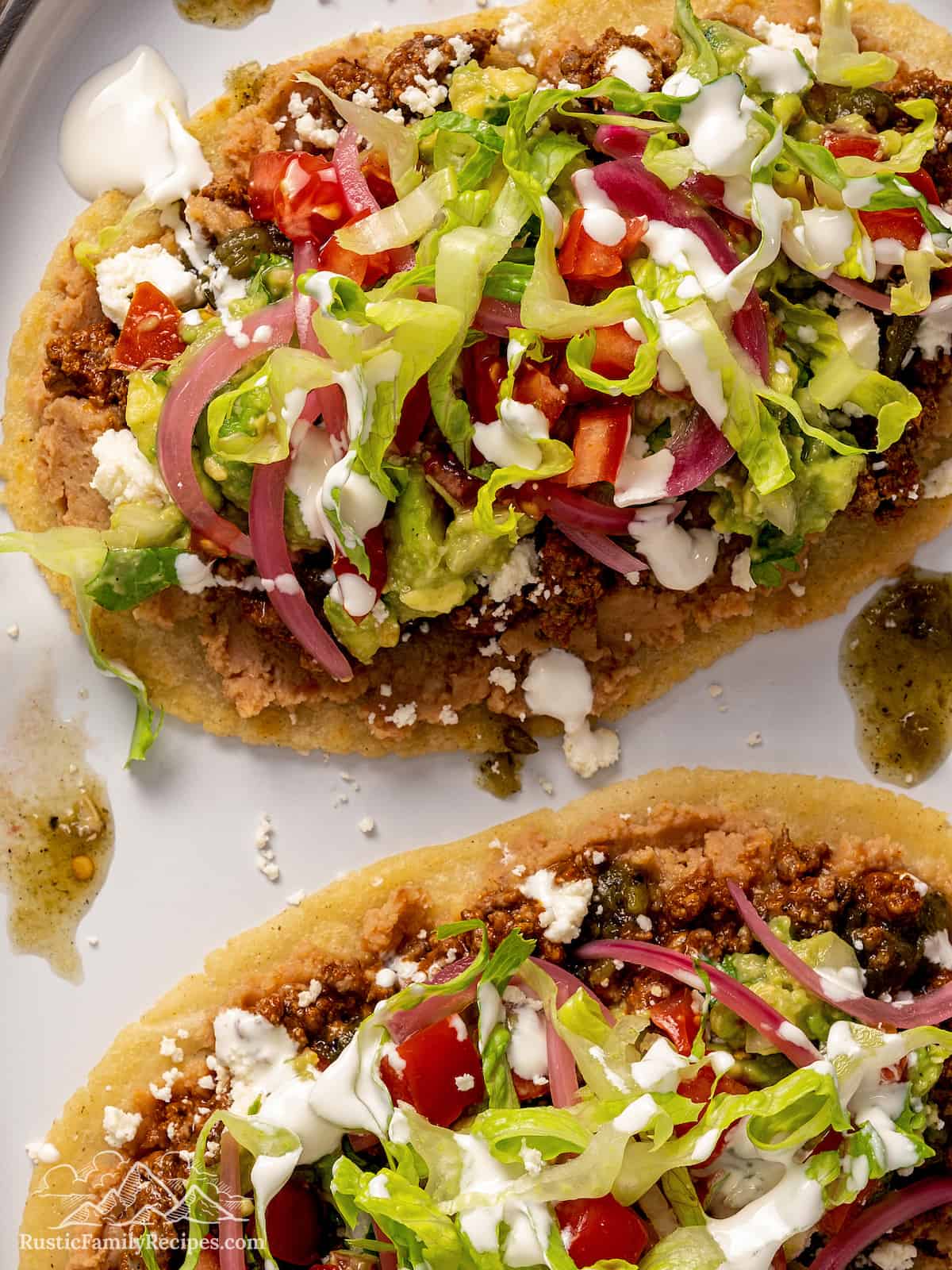 Topping Ideas
Like a taco or a pizza, and as traditional street food, there are endless ways to dress up huaraches. I recommend adding toppings to your huaraches in the order they're listed in!
Refried beans – Also known as frijoles refritos, Mexican refried beans are an absolute must for any huaraches recipe.
Chorizo or taco meat – As mentioned, huaraches taste great topped with either leftover or freshly prepared taco meat. You can find easy recipes for homemade ground beef taco meat in my posts for ground beef tacos or copycat Cheesy Gordita Crunch tacos, or use chopped up or crumbled chorizo sausage. (I also have a vegetarian chorizo recipe coming up that goes wonderfully with these!)
Green tomatillo salsa – I have a delicious recipe for tomatillo salsa that I make for my huevos divorciados that's perfect for these huaraches.
Queso fresco – Any Mexican white cheese, like Cotija cheese or queso ranchero. You can also use crumbled goat cheese. In a pinch you can also use Monterrey Jack cheese or cheddar cheese.
Guacamole – I'll always whip up a batch of my simple homemade guacamole to serve with huaraches. In this house, no Mexican meal is complete without guac!
Pickled red onions – I'll usually have a jar of quick pickled red onions on hand in the fridge. I love the tangy crunch they give my huaraches.
Chopped tomatoes
Chopped lettuce
Sour cream – To make your sour cream easier to drizzle, thin it out with a spoonful or two of milk until it's thick but pourable.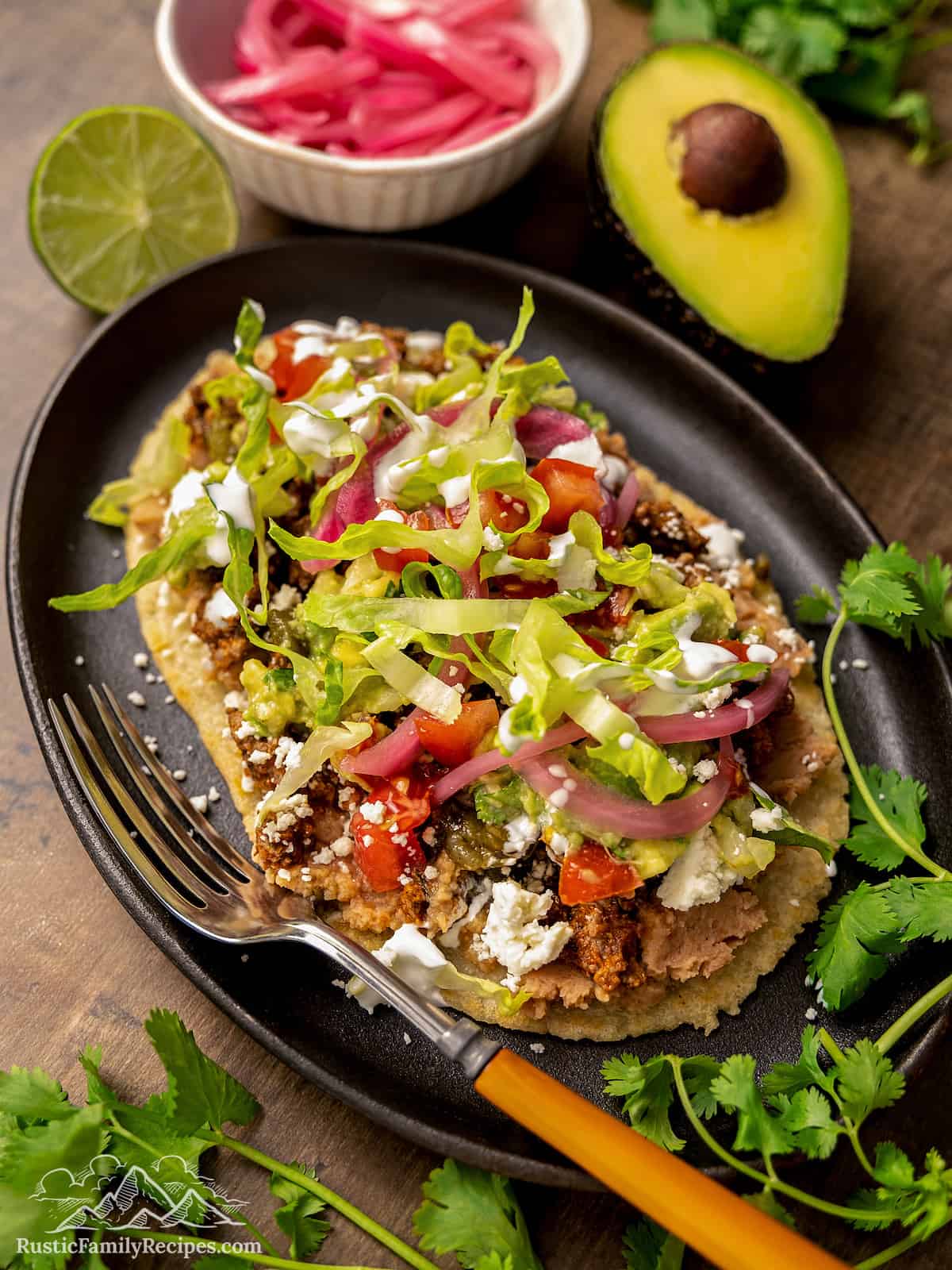 What Food Goes with Huaraches?
Huaraches are perfect to serve as an appetizer or as a main with just about any Mexican food that you can think of.
Served with sides, huaraches are delicious next to Mexican rice or frijoles de la olla. As a starter, we love huaraches as a lead-in to a meal of black bean and spinach enchiladas with homemade smoky chipotle enchilada sauce.
Since huaraches and tacos share many of the same toppings, these are also a great way to kick off a taco dinner. Try serving huaraches next to my quesabirria tacos or carne asada tacos dorados, or crispy black bean flautas.
As a light meal, they're delicious to enjoy alone, washed down with pomegranate maple margarita or simple apple cider margarita. And don't forget a dessert of puerquitos (marranitos pan dulce) or fresas con crema, for the perfect after-dinner treat!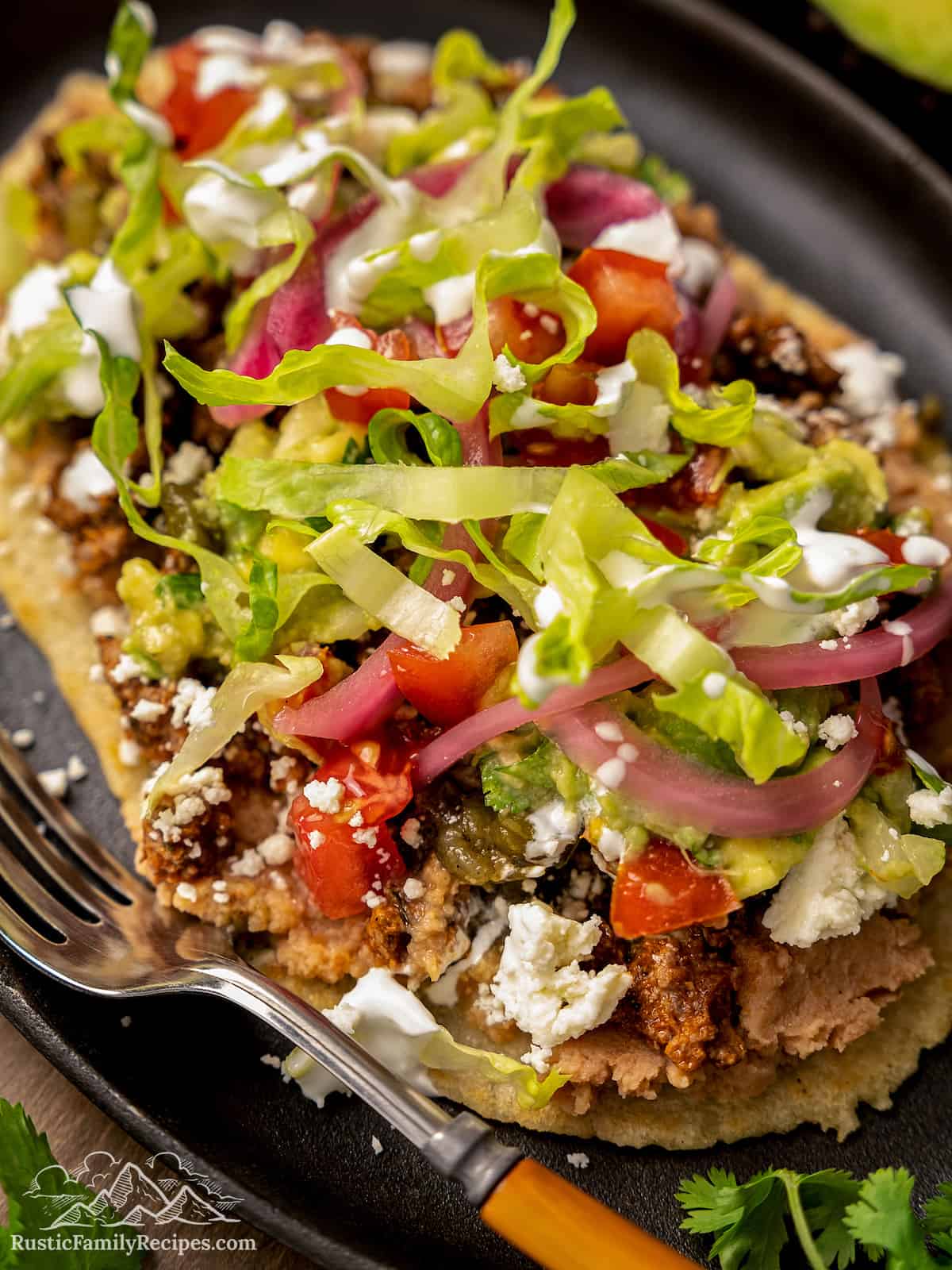 How to Store and Reheat Extras
These huaraches are at their best and crispiest the day they're made. If you do have leftovers, wait until they're cooled, then store them in the fridge either tightly wrapped in plastic wrap or in an airtight container. They'll keep for up to 5 days, however, they may not have the same texture as when they were freshly cooked.
The best way to reheat huaraches is in a pan on the stovetop again. Just put a little oil in the pan, the same as you did when you first cooked them, and then lightly toast the huaraches on each side until warmed through.
Can I Freeze These?
Huaraches can be stored frozen for up to 3 months. Thaw the huaraches at room temperature before reheating and serving.
Print
Homemade Huaraches Recipe
Golden and crispy homemade huaraches are an easy Mexican-inspired appetizer or main dish, made from fried masa dough piled with toppings.
Author: Rustic Family Recipes
Prep Time:

15 minutes

Cook Time:

20 minutes

Total Time:

35 minutes

Yield:

6 servings

Category:

Dinner

Method:

Stovetop

Cuisine:

Mexican
2 cups

masa harina

½ teaspoon

kosher salt

1 ½ cups

hot water

1 tablespoon

unsalted butter, melted

2 tablespoons

olive oil, for cooking
To serve:
Ground beef taco meat (see my ground beef tacos and Cheesy Gordita Crunch)
Green tomatillo salsa (find the recipe in my post for huevos divorciados)
Queso fresco
Chopped tomatoes
Chopped lettuce
Sour cream, thinned with a bit of milk to make it easier to drizzle (it should be thick but pourable)
Instructions
Prepare the toppings. Make any of the toppings or dips you plan to put on your huaraches before proceeding. Huaraches are a great way to use up leftover taco meat.
Make the dough. In a large bowl combine the masa harina and salt. Mix well. Make a well in the center and add the hot water and melted butter. With a wooden spoon, mix until everything is combined and a ball of dough forms.
Knead. Once a ball of dough starts to form, stop using the spoon and instead use your hands to knead the dough for a few minutes.
Shape the dough. Pat the dough into a rough circle, then divide it into 6 equal sections. Shape each one into a cigar shape, then put them back in your mixing bowl and cover the bowl with a damp wash cloth to prevent it from drying out while you cook the huaraches.
Preheat the pan. Warm 1 tablespoon of olive oil in a large non-stick skillet over medium-high heat. Preheat your oven to 200F and place an oven-safe plate on the rack.
Flatten the dough. Place a piece of parchment paper on the bottom of your tortilla press. Add a piece of the shaped dough, then another piece of parchment paper on top of the dough. Press the dough until resembles a long oval. You will need to press it more than once and move the dough around in the tortilla press to achieve the desired shape. It will be about 1/4 inch thick when it's ready to cook.
Cook. Carefully slide the dough into the prepared pan with the olive oil, sliding it off the parchment paper. Cook for about 2-3 minutes, then using a large spatula flip the dough over and cook on the other side until golden and crispy. Transfer to the oven to keep warm as you repeat the process for the remaining pieces of dough.
Topping and Serving. To serve, top the fried masa dough with fixings in the following order:
Refried beans
Chorizo
Green tomatillo salsa (generous amount drizzled on top)
Queso fresco (generous amount crumbled on top)
Guacamole
Pickled red onions
Chopped tomatoes
Chopped lettuce
Sour cream
Last Step:
Please
share a rating and comment
if you enjoyed this recipe! Your feedback helps this little blog thrive and continue providing free, high-quality recipes for you.
Keywords: huaraches food, fried dough, mexican appetizers
Filed Under:
More Mexican Recipes to Try