This cake-like fruit bread is a Christmas classic! Homemade stollen is moist, tender, and speckled with rum-soaked dried fruits, chopped almonds, and candied citrus peels. Perfect for holiday baking and gift-giving.
If you're looking for something special to bake for the holidays and don't mind putting in a bit of effort, this stollen recipe may be just the ticket. It is probably one of the most complex recipes I have shared so far – but that doesn't mean it is difficult. It just means attention to detail, patience, and – most importantly – not expecting perfection from yourself is paramount.
Those are probably good qualities to keep in mind for life in general no? Maybe if we all paid a bit more attention to what matters, had more patience with ourselves and others, and didn't expect perfection from anyone or anything, life would be more harmonious. In fact, I'm sure it would be.
Life lessons from bread-making. 🙂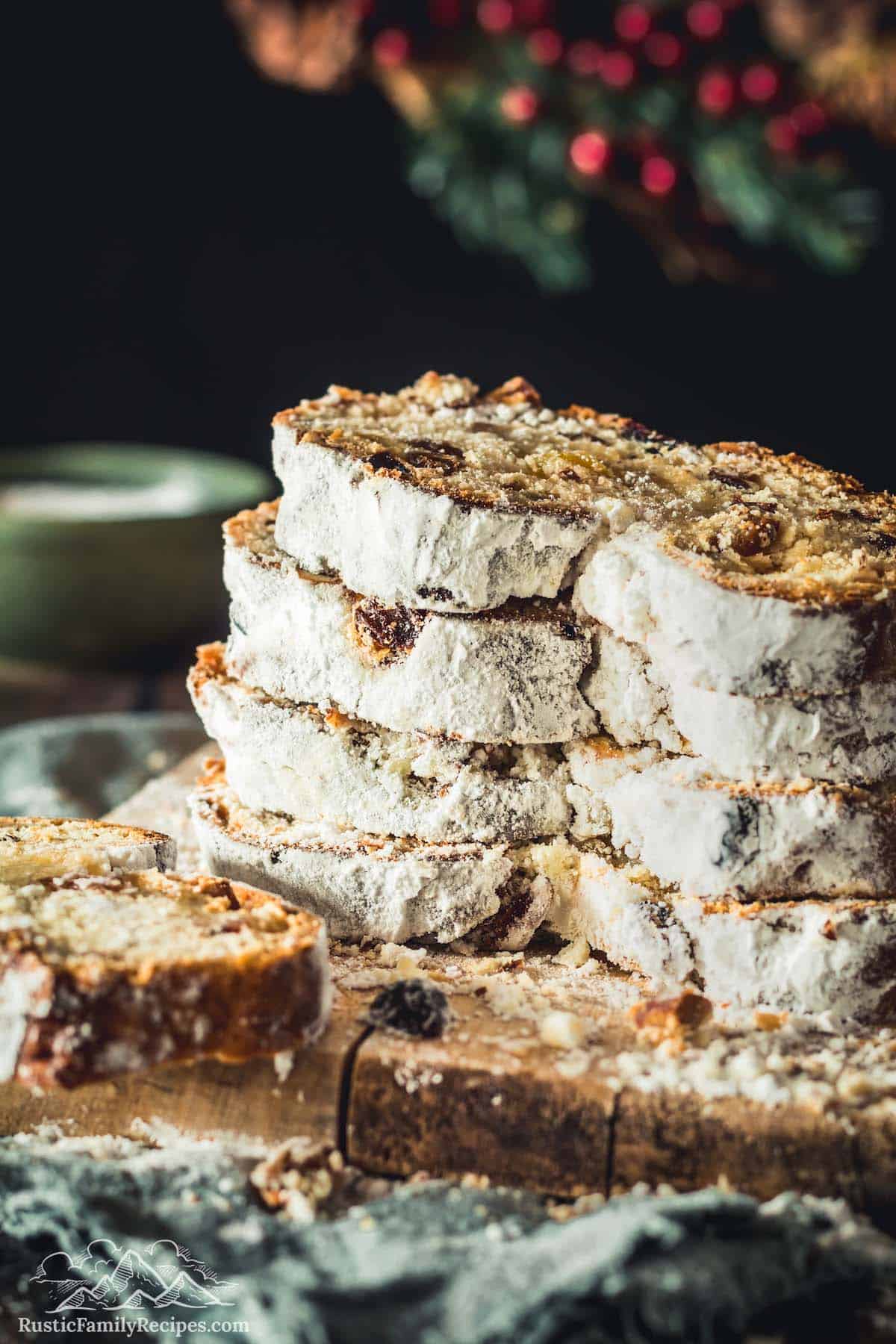 But I digress, so let me tell you a bit about this homemade stollen. It is rich, it is fancy and it is perfect for Christmas. This bread is moist and flakey and infused with rum-soaked raisins, dried apricots, cranberries, and cherries. It's also dotted with candied orange and lemon peel, then stuffed with marzipan and warming spices like cardamom, nutmeg, and cinnamon. The whole thing is topped off with a generous amount of confectioners sugar, not unlike my beignet recipe. If you have never tried stollen, I recommend the experience.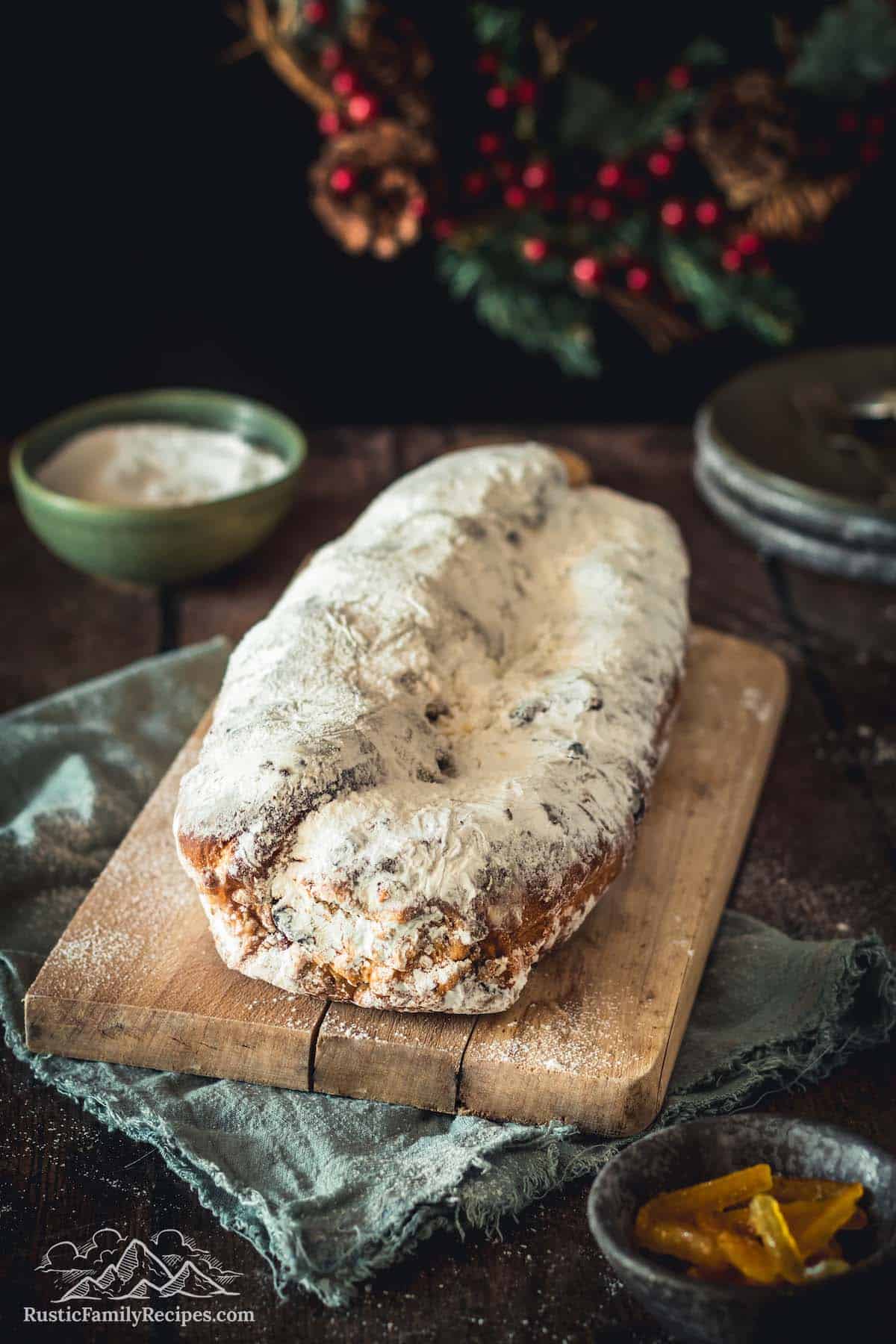 What is Stollen?
Stollen is a cake-like fruit bread made with nuts, spices, and dried or candied fruit. It originated in Germany, and unlike dense American fruit cakes, the interior of the best stollens are fluffy and tender. Over the past few decades, stollen has become popular at Christmas time, especially in Britain. This is probably due to the fact that it takes a bit more effort to make than a regular loaf of bread, so if you're going to take the time you might as well make an occasion of it.
This Recipe Makes Two Loaves
Because stollen is such a treat it's often given as a gift during the holidays. For that reason, this recipe makes two loaves of stollen – one for you and one to give away. Stollen is actually at its best a few days after baking, which makes it perfect for making a couple of days before you're going to see the intended recipient of your homemade bread!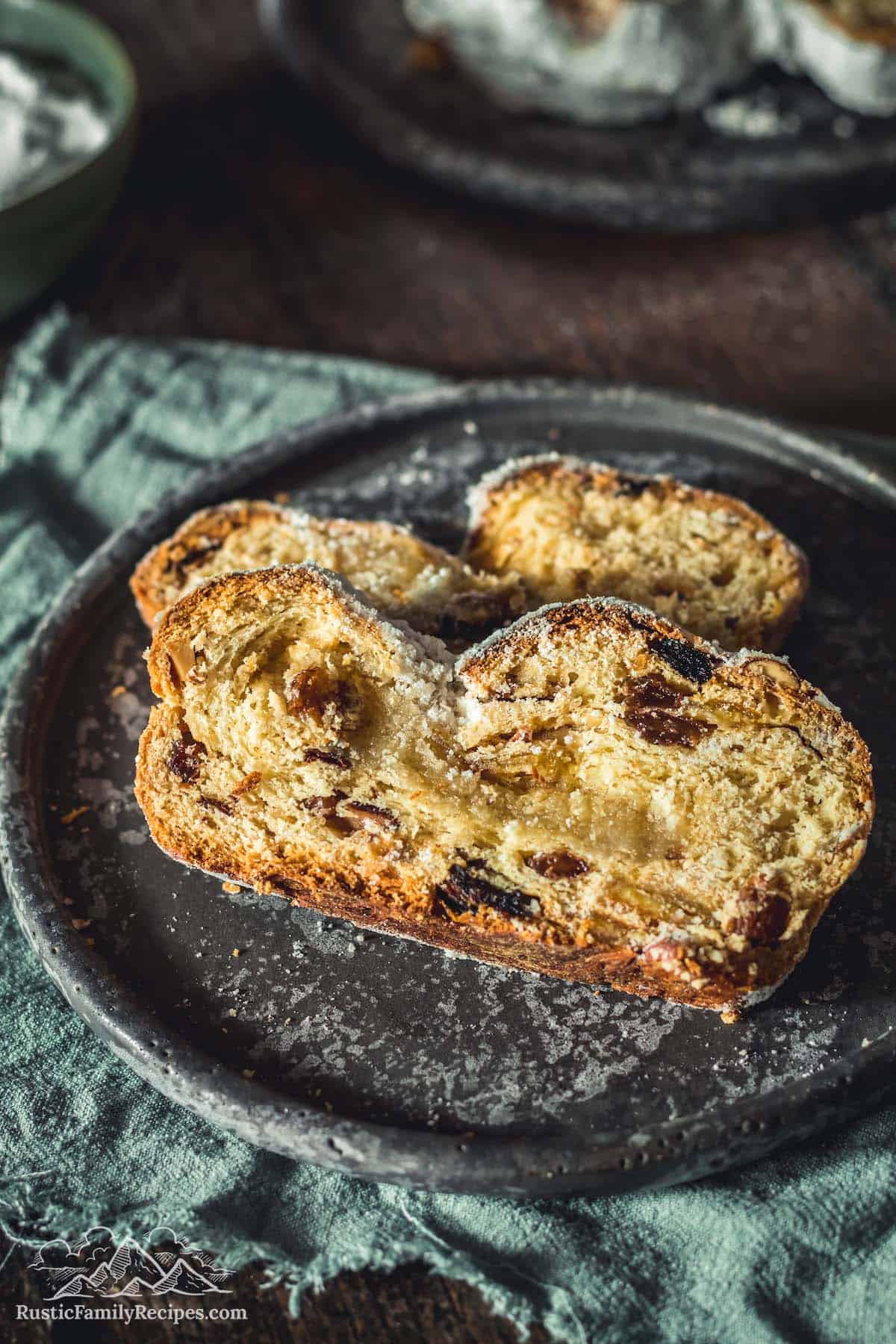 Notes on Ingredients
A few quick notes on some of the ingredients:
Dried fruits: I like to use a mixture of raisins, cranberries, cherries and apricots. If you don't like any of these fruits you can easily sub them out with an equal amount of dried fruit that you do like. Just make sure that all of your dried fruit is the same size.

So for example, let's say you wanted to experiment with adding dried pineapple to this recipe. (I have not tried this, it is just an example.) Since dried pineapple comes in large chunks you would want to chop it up so that the pieces are about the same size as the cherries.

Candied citrus: These add a delightful pop of flavor to your stollen so don't leave them out. Usually you can find candied peels in the candy or baking section of the grocery store.
Clementine zest: If you can't find any clementines you can sub orange or lemon zest.
Marzipan: What is it and where do you get it? Marzipan is a confection made with sugar, honey and almond meal. In the States it is sometimes called "almond candy dough." If you can't find it in the baking section of your local market you can find some on Amazon (affiliate link).
Almonds: I use chopped almonds in this recipe because I like the way their flavor compliments the marzipan. But if you prefer you can use chopped walnuts.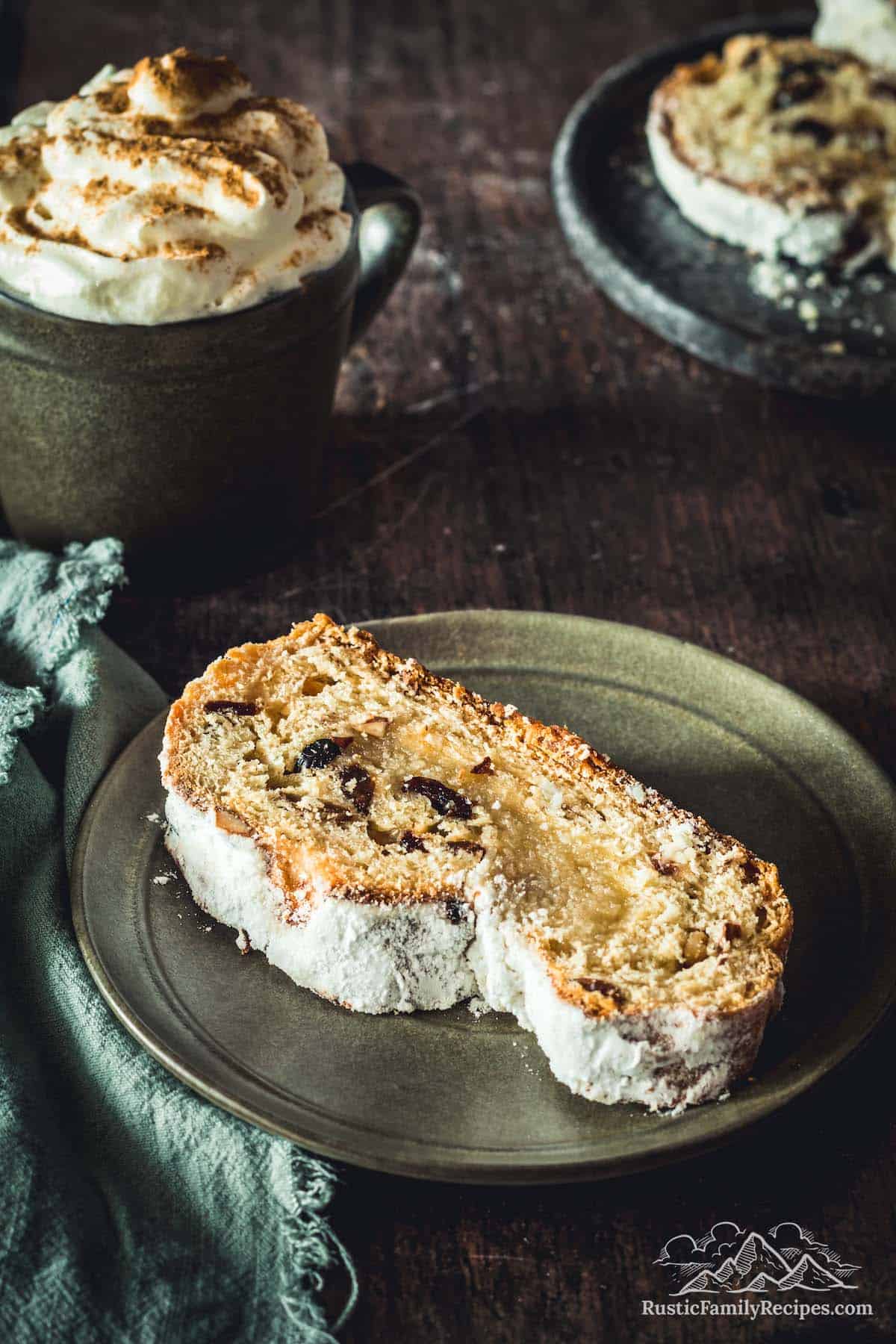 Tips for Success
Don't skip the booze and use a good quality rum. The dried fruits will be soaked in the rum and that soaking period is part of what makes this bread moist and tender.
Be gentle with the yeast. One the easiest mistakes to make with yeased dough is killing the yeast. Usually this happens when the liquid you're trying to proof your yeast in is too hot. Remember, yeast is actually a living organism! I like to use what I call the "baby bottle" method. I do this by dipping my finger into the heated milk and placing a dot on the inside of my wrist. If it feels uncomfortably warm, then it is probably too hot for a baby's bottle and therefore is also too hot for your yeast. The milk should be lukewarm to gently activate and proof your yeast.
Rising time will vary. Many don't realize this, but the amount of time your dough needs to rise will vary depending on your house. Yeasted dough needs a warm place to rise, so if your kitchen is cold then your dough will need longer to double in size. My house tends to get very cold in the winter, so I get around that by using either my oven or my fireplace.

For the oven I will heat it to 350F, then turn it off and place the bowl of dough nearby. I don't place it on top of the oven because then the dough closest to the oven vent will partially bake, I just place it on the counter next to the oven.
If we have a fire going, then I'll place the bowl with my dough nearby as well (but not directly in front of the fire). If you go the fireplace route keep an eye on kids and dogs! Curious fingers and noses will definitely affect your dough. 🙂
How Do I Eat It?
Use a serrated knife to cut off a slice, then enjoy it on its own or top it with maple cream, honey, your favorite jam, or butter. I like to lightly warm slices of stollen in the toaster oven and then add a generous dollop of local creamed honey. This is a thicker kind of honey with a pale yellow color that spreads like butter.
And while you're at it, a steaming mug of gingerbread latte goes wonderfully with stollen!
How to Store Stollen
Stollen is best enjoyed at least a day after baking – a few days is even better – so stollen is ideal for making in advance. Let your bread cool completely then place it in a bread box, an airtight container, or wrap it in saran wrap and store it in a cool, dark place like your pantry. It will keep for 1-2 weeks. Once you have sliced it open, I recommend finishing it off in 3-4 days.
You can also freeze stollen. Let it cool completely, then wrap it in a couple of layers of saran wrap before placing it in an airtight, freezer-safe container. It will keep in the freezer for up to 3 months. Thaw on the counter when you are ready to eat it.
Print
Homemade Christmas Stollen Recipe
This cake-like fruit bread is a Christmas classic! This homemade stollen is moist, tender, and speckled with rum-soaked dried fruits, chopped almonds, and candied citrus peels.
Author: Rustic Family Recipes
Prep Time:

2 hours

Cook Time:

45 minutes

Total Time:

2 hours 45 minutes

Yield:

2 loaves

Category:

Bread

Method:

Oven

Cuisine:

German, American
For the rum fruits and nuts:
1/2 cup

raisins

1/2 cup

dried apricots

1/2 cup

dried cranberries

1/2 cup

dried cherries

1/2 cup

candied lemon peel

1/2 cup

candied orange peel

1 cup

finely chopped almonds

1/2 cup

dark rum
For the dough:
1

package active dry yeast (

2 1/4 teaspoons

)

3/4 cup

lukewarm whole milk

4 1/2 cups

all-purpose flour

1/2 cup

granulated sugar

1

large egg

1 cup

unsalted butter, softened

1/2 teaspoon

salt

1/2 teaspoon

ground cardamom

1/2 teaspoon

ground nutmeg

1/2 teaspoon

ground cinnamon
zest of

1

clementine

1 teaspoon

vanilla extract

1 oz

marzipan
For the glaze:
1/2 cup

unsalted butter, melted

1 cup

powdered sugar
Instructions
Prepare the rum fruits and nuts:
Soak the dried fruit. In a medium bowl, stir together the dried fruits, candied citrus peel, almonds, and rum. Set aside while you prepare the dough.
Prepare the dough:
Proof the yeast. Stir the yeast and 2 tablespoons of the sugar into the lukewarm milk and let sit for 10-15 minutes, until frothy.
Add remaining ingredients. In a large bowl combine the flour, remaining sugar, egg, butter, spices, clementine zest and vanilla extract. Add the yeast/milk mixture and stir to combine.
Knead. Knead the dough for about 5-6 minutes. Add the soaked fruit/nut mixture to the dough and knead for 3-4 more minutes.
Proof. Lightly spray a clean bowl with oil, place the dough in it and cover with a clean kitchen towel or plastic wrap. Place it in a warm place to rise until nearly doubled in size (about 1 hour to 1 hour 30 min).
Assemble and Bake
Prep your tools. Preheat your oven to 350°F and cover a baking pan with parchment paper.
Knead and roll out. Knead the dough again and turn it out onto a lightly floured work surface and cut it in two equal halves. Press or roll each piece into an oval (about 1 inch thick).
Add marzipan and shape the dough. Press the marzipan gently into the middle of the dough. Fold the left side of the dough over to cover the marzipan, then fold the right side over on top of the left side so that the edge of it doesn't fold all the way over to the left edge of the stollen. Create a hump with your hands. (Note that this recipe makes 2 loaves of stollen so you are shaping two loaves here.)
Bake. Place the stollen on the prepared baking sheet and bake for 45-50 minutes, until golden-brown.
Cool. Take it out of the oven and let it sit for 5 minutes.
Add the Icing
Add butter. Brush the stollen with the melted butter while it's still hot.
Sprinkle with confectioners sugar. Immediately sprinkle with a generous amount of powdered sugar, rubbing it into the creases and down the sides.
Let the stollen cool completely. You may want to add more powdered sugar once cooled.
Last Step:
Please
share a rating and comment
if you enjoyed this recipe! Your feedback helps this little blog thrive and continue providing free, high-quality recipes for you.
Keywords: stollen bread, stollen cake, german stollen, marzipan stollen
This post may contain affiliate links. Please read our disclosure policy.