This homemade apple bread is perfect for sandwiches, grilled cheeses, or eating toasted and slathered with butter. It's not a sweet bread, but rather a sandwich loaf studded with apples!
Baking bread during the winter months makes me happy. Do you find this to be true for you as well? These days our property is covered with inches of snow and temperatures are dipping well into the negatives. So a warm oven heating the house, then filling it with the aroma of baking bread is downright cozy. Forget chicken soup for the soul. (Although, I do make a mean chicken soup.) Let's hear it for bread baking for the soul!
If you're feeling a bit down, I recommend baking as a remedy and bread-making in particular. In my opinion, the act of kneading the dough is a natural de-stressor. No matter what is happening in this crazy world, while you're working the dough you can focus on the way it feels and the way it smells. (Go on, sniff the dough – that yeasty goodness feels homey doesn't it?) Call me old-fashioned, but who needs a stress ball when you can work with soft dough on a floured countertop, then enjoy a warm slice of bread made with your own hands.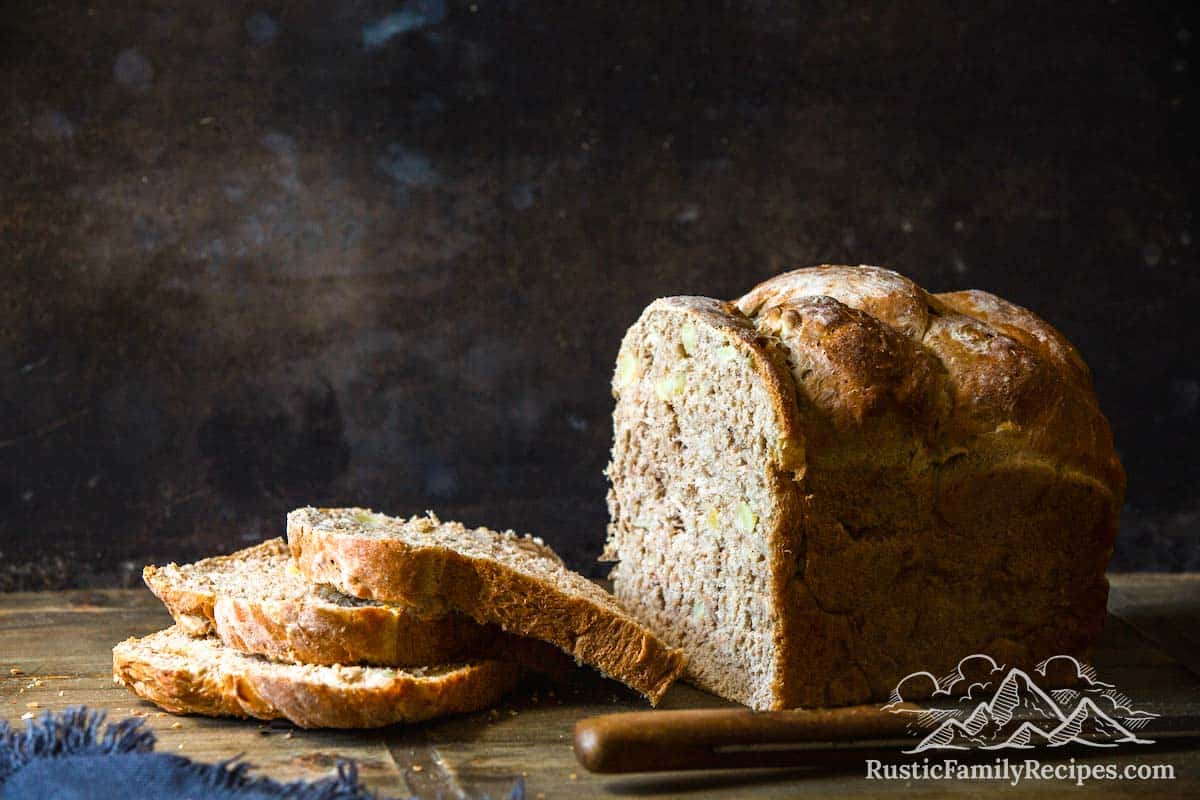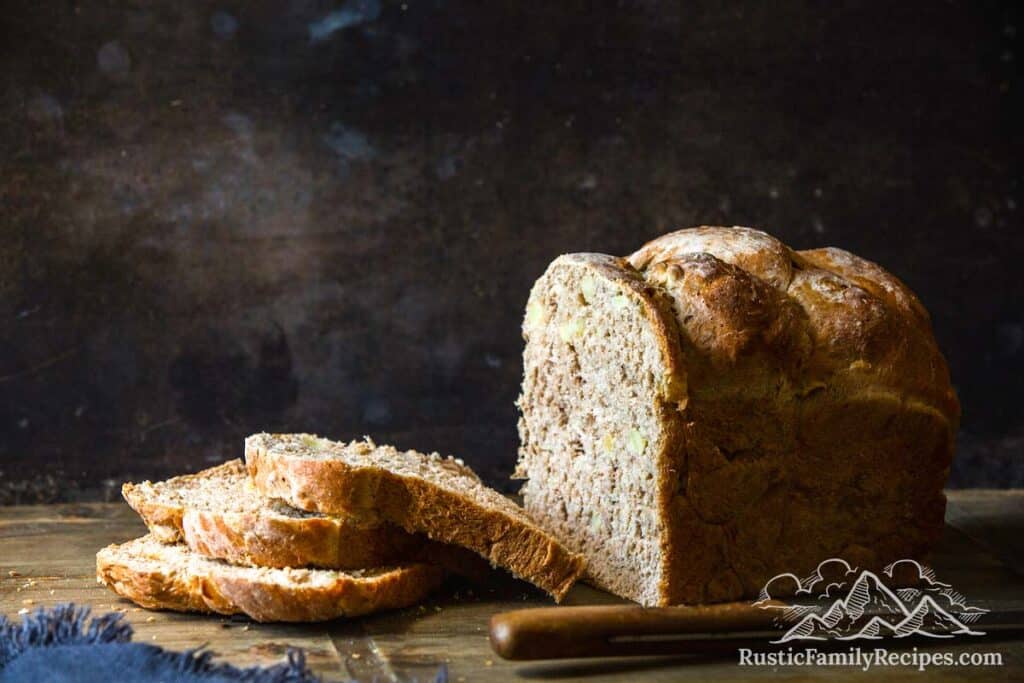 This is Sandwich Bread, Not Sweet Bread
This homemade apple bread is easy to make, but it is different than other recipes you're likely to find online. Why? Because it is not a sweet dessert bread.
I made this recipe because I wanted a loaf of bread that was more interesting than regular sandwich bread, and that I could use to make sandwiches and grilled cheeses. So while this bread has a hint of sweetness from brown sugar and the apples, you should think of it as a loaf of sandwich bread.
If you're looking for a sweet recipe that uses apples, you might want to check out my Pumpkin Apple Apricot Bread or this Apple Harvest Bread.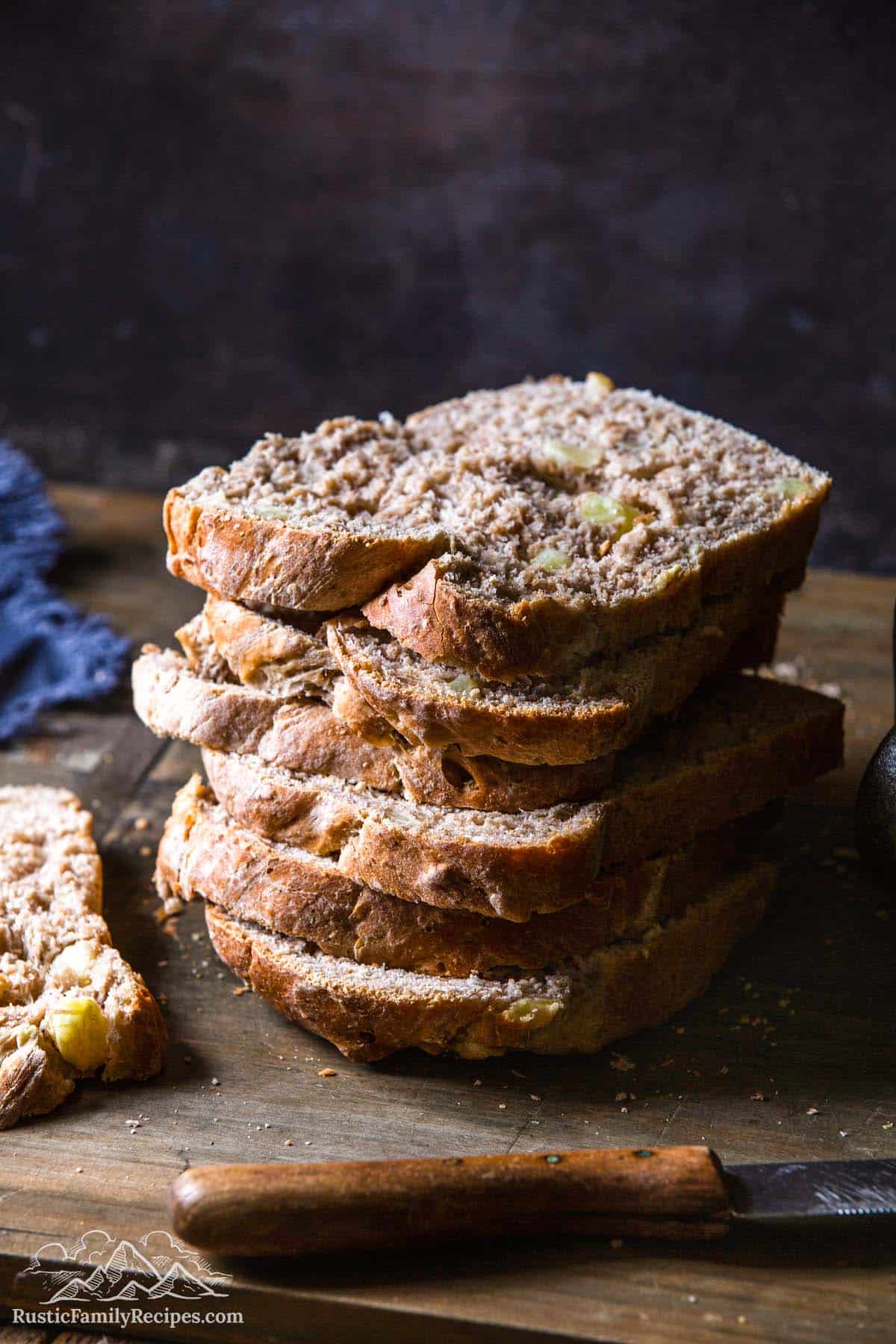 What Kinds of Apples to Use
I recommend using a somewhat sweet and firm apple such as Honey Crisp or Gala. Really any kind of hand-eating apple will work though. I would not recommend using Granny Smith apples because they are a bit too tart for this recipe, which depends upon the apples for a modest amount of sweetness.
Tips for Success
Use your hands to finish kneading the dough. Although I generally use my stand mixer to knead my dough, I always turn it out onto a floured surface and finish the kneading by hand, for the last minute or so. It's the best way to know when the dough has been kneaded enough. It should be smooth, soft and bounce back when you gently press into it with your thumb.
Braiding the dough. The dough for this bread is braided before being placed in a 9×5 loaf pan. I have a step-by-step tutorial showing how to do a 3-strand braid in this post for my honey vanilla challah recipe.
Braid tightly. When you're braiding the dough be sure to tuck each strand up against the braid so that there isn't any air that will get trapped while the bread is baking.
Grease your pan. I use about 1/2 teaspoon of olive oil to grease the bread pan before adding the dough. Don't skip this step or your bread will be likely to stick to the pan while baking.
Let it cool. This is probably the hardest part. This recipe makes a soft and fluffy loaf of bread. As such it will be delicate when it comes right out of the oven and needs to cool for at least 10 minutes before your turn it out onto a wire rack to finish cooling. Wait until the bread has cooled completely before you slice it. (If you don't care about getting even slices for sandwiches then you can just tear off a hunk and slather it with honey. )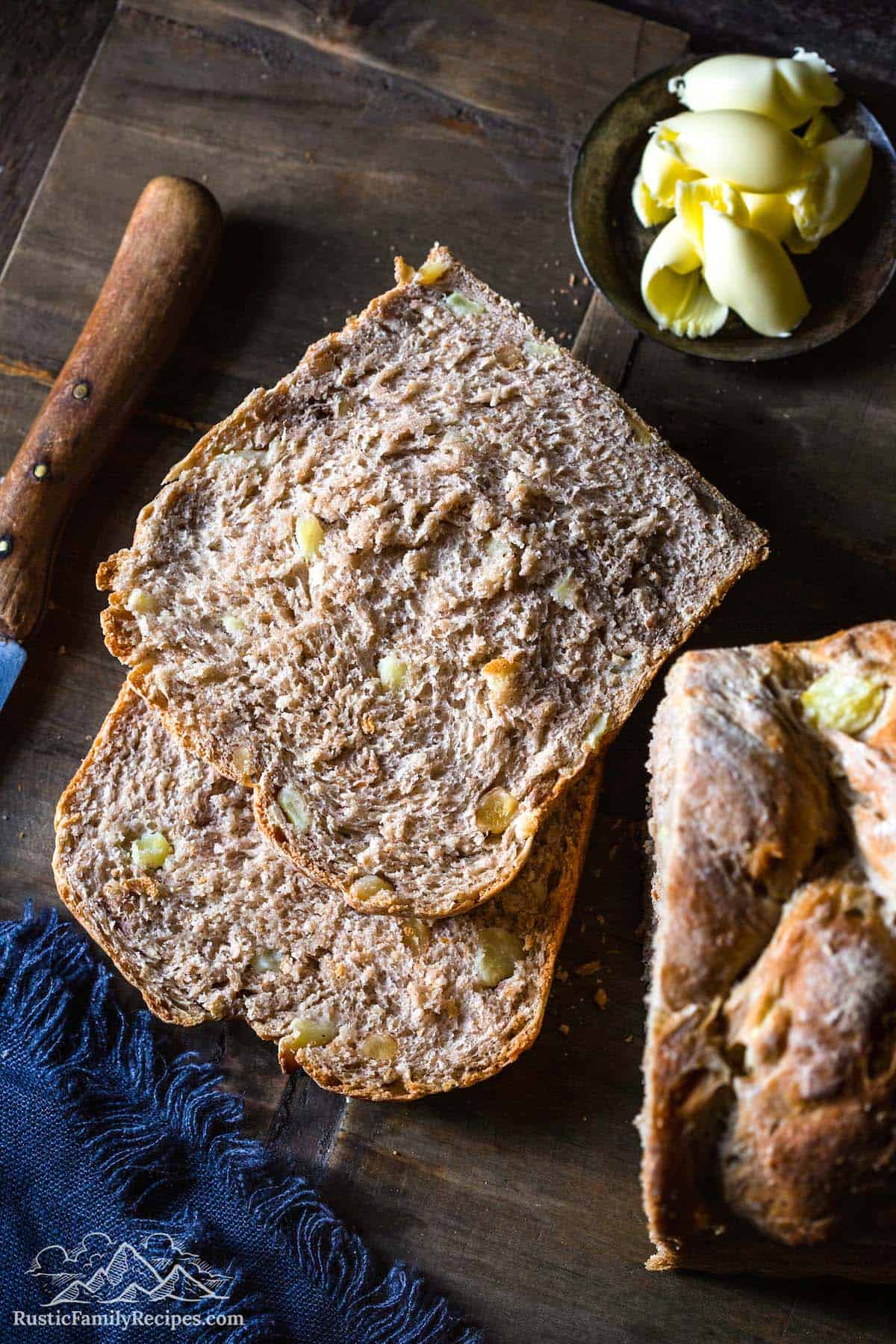 Ways to Use this Sandwich Bread
There are so many ways to use this apple bread. The simplest is of course just toasting a slice and topping it with a pat of melty butter, or slathering it with your favorite jam. Maple cream or a drizzle of honey is also delightful with this bread!
Make a Grilled Cheese Sandwich
This bread also makes incredible grilled cheese sandwiches. Simply melt a generous amount of butter in a skillet over low heat, then place two slices of bread next to each other in the skillet, making sure that each slice is in a bit of melted butter.
Let them soak up the butter for about 30 seconds, then top one slice of bread with 3 slices of your favorite cheese. (I recommend cheddar, which goes nicely with the apples.) Place the other slice of bread on top, making sure the side that was in the butter is facing up. Now cook over medium-low heat until each side is toasty and the cheese inside has melted to gooey perfection.
Make a Regular Sandwich
I love using this bread for ham & cheese or turkey & cheese sandwiches. Just prepare your sandwich with your favorite fixings, add a goodly amount of meat and cheese, then dig in. You can of course also make vegetarian sandwiches if that is your preference!
Serve it on the Side
Steaming bowls of soup and saucy pasta dishes also go wonderfully with this bread. Serve it on the side with: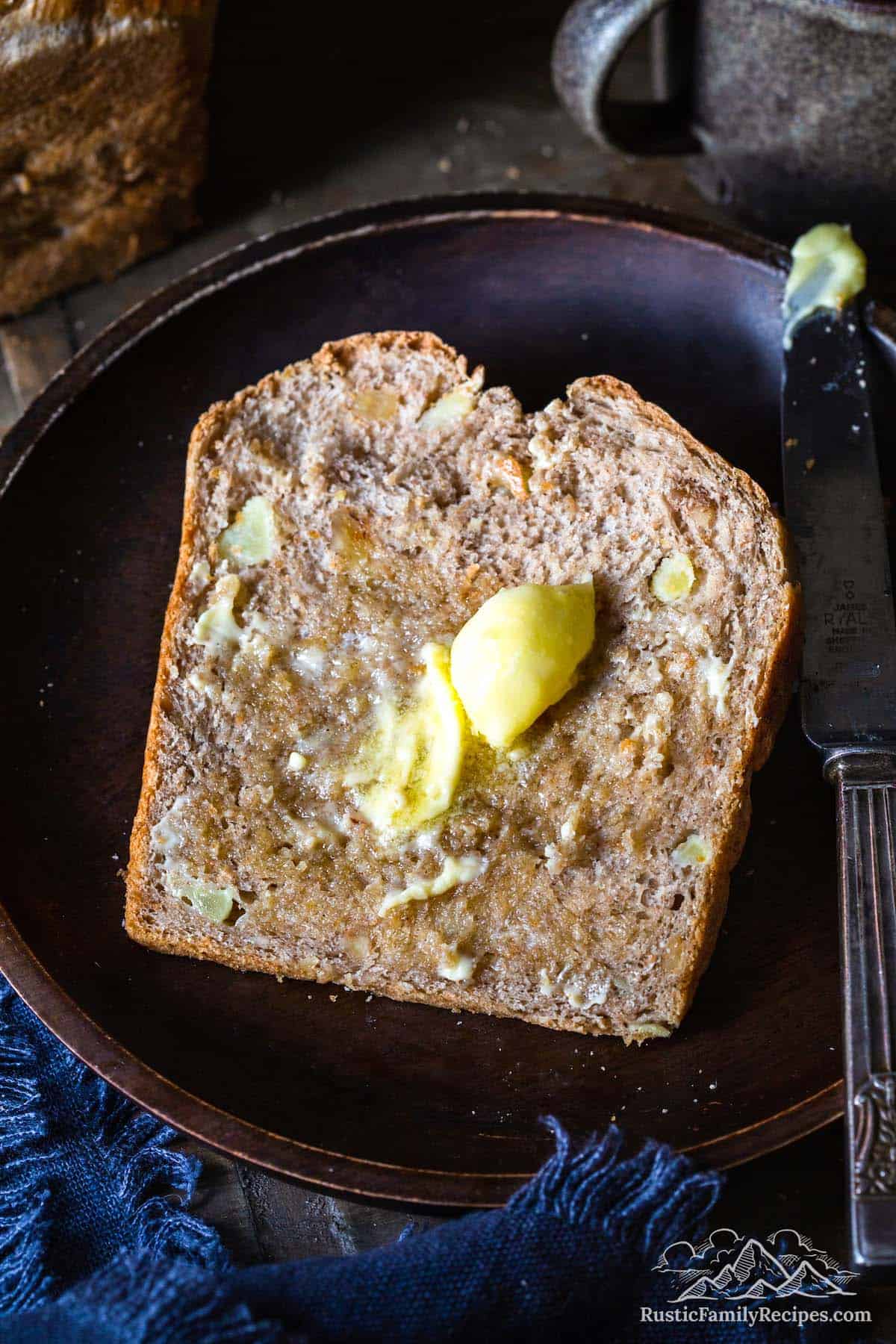 How to Store & Freeze
Counter: Allow your bread to cool completely, then cover with saran wrap or place in a Ziploc bag and store it on the counter for up to 2 days.
Fridge: To extend the shelf life of this bread, store it in an airtight container in the fridge for up to 1 week.
Freezer: Wrap the bread in a couple layers of saran wrap, then place it in an airtight, freezer-safe container or Ziploc bag. It will keep in the freezer for 3 months. Thaw overnight in the fridge when ready to use or on the counter for a few hours.
I do not recommend slicing this bread before storing it. This will allow the bread to dry out too quickly so just slice off what you need as you go.
Print
Homemade Apple Sandwich Bread
This fluffy homemade apple bread is perfect for sandwiches, grilled cheese or just eating toasted and slathered with butter. It's not a sweet bread, but rather a sandwich loaf studded with apples!
Author: Rustic Family Recipes
Prep Time:

30 minutes

Rising Time:

3 hours

Cook Time:

50 minutes

Total Time:

4 hours 20 minutes

Yield:

8-10 servings

Category:

Bread

Method:

Oven

Cuisine:

American
3

to

3 1/2

cups all-purpose flour

1/2 cup

whole wheat flour

1

heaping tablespoon active dry yeast

1/2 tablespoon

salt

2/3 cup

warm milk

1/2 cup

warm water

1

egg, at room temperature

3 tablespoons

light brown sugar

1 tablespoon

melted butter

1 1/2 cups

apples, peeled and diced

1/2 tablespoon

ground cinnamon

1/2 teaspoon

freshly grated nutmeg
Optional: 1/4 cup chopped walnuts

1 teaspoon

olive oil, divided use
Instructions
Activate the yeast. In a large bowl using a whisk or the paddle attachment of a heavy-duty electric mixer, combine the yeast, 1 tablespoon of brown sugar, warm water, warm milk, and 1 cup of the all-purpose flour. Beat until smooth, about 30 seconds.
Prep the apples and nuts. Allow the mixture to rest while you peel and dice the apples. Add the apples and walnuts (if using).
Add remaining ingredients. Add the butter, salt, egg, cinnamon, and nutmeg to the bowl. Add the remaining 2 tablespoons of brown sugar and the 1/2 cup whole-wheat flour. Mix well. Add the remaining flour 1/2 cup at a time, until a soft dough that just clears the sides of the bowl forms. If you are doing this by hand, you may need to switch to a wooden spoon.
Knead the dough. Switch to the dough hook and knead for 4-5 minutes, adding additional AP flour 1/2 tablespoon at a time, if necessary, to prevent sticking. If kneading by hand, turn the dough out onto a lightly floured surface and knead for 5-6 minutes. If any of the fruit falls out, simply push it back in. The dough is ready when it's smooth to the touch and springs back when pressed.
Allow the dough to rise. Grease a deep container with about 1/2 teaspoon of olive oil. Place the dough in the container, turning once to coat with the oil. Cover with plastic wrap and allow to rise at room temperature until doubled in bulk, about 2 hours.
Deflate the dough. Gently deflate the dough with your fingers and turn it out onto a lightly floured surface. Divide into 3 equal portions, and roll each portion out into a smooth, thick strip about 15 inches long, with the ends slightly thinner than the middle. Lay these ropes side-by-side, not quite touching.
Braid the dough. Beginning in the middle and working towards you, braid the lower half of the three ropes. To braid, alternately move the outside ropes over the one in the center – left over, right over, left over – until you come to the end. Now go to the other side of your working space and braid the other half, this time moving the outside ropes under the center one. Braid tightly – you don't want any gaps.
When you finish braiding each side crimp the tapered ends together, then tuck them under. (Check out my challah recipe for a step-by-step to braiding bread, it is the exact same method used here.)
Allow the bread to rise again. Using your hands, lightly grease a 9 x 5 inch loaf pan with about 1/2 teaspoon olive oil. Transfer the braid to the pan. Pat your hands on top of the braid so that any oil on your palms is transferred to the dough. Loosely cover with plastic wrap and allow to rise until the dough has doubled in bulk, about 45 minutes to 1 hour.
Preheat your oven. About 30 minutes before baking, preheat your oven to 350 degrees F.
Bake. Place the loaf pan on a rack in the center of the oven and bake for 40 to 50 minutes, or until browned and the loaf sounds hollow when you tap it with your fingers.
Cool. Allow to cool for about 10 minutes in the pan, then transfer the bread to a cooling rack. Allow to cool completely before slicing.
Last Step:
Please
share a rating and comment
if you enjoyed this recipe! Your feedback helps this little blog thrive and continue providing free, high-quality recipes for you.
Keywords: sandwich bread, apple bread, homemade bread, bread for sandwiches
This post may contain affiliate links. Please read our disclosure policy.