This post may contain affiliate links. Please read our disclosure policy.
These Apple Pie Cinnamon Rolls have all the flavors of a classic apple pie stuffed in cinnamon bun form. Fluffy buns are swirled around tender apples, then drizzled with a simple vanilla icing.
Remember that time I decided to chase a wild and crazy idea by combining an apple crisp with overnight french toast? And then I added bourbon to it? The end result was ah-mazing and…. I think I did it again. Except this time, I kitchen magick-ed apple pie into cinnamon rolls!
The inspiration came about pretty much like this. There I was looking at our haul of apples from an orchard visit and lighting done struck my brain. Right then and there, I decided that I was going to make cinnamon buns that tasted like apple pie. Then, I was going to put icing on them.
The end result? Fluffy homemade cinnamon rolls filled with tender diced apples and caramelized brown sugar. A simple vanilla icing drizzled on top seals the deal. It's so good. You have to make this recipe friends.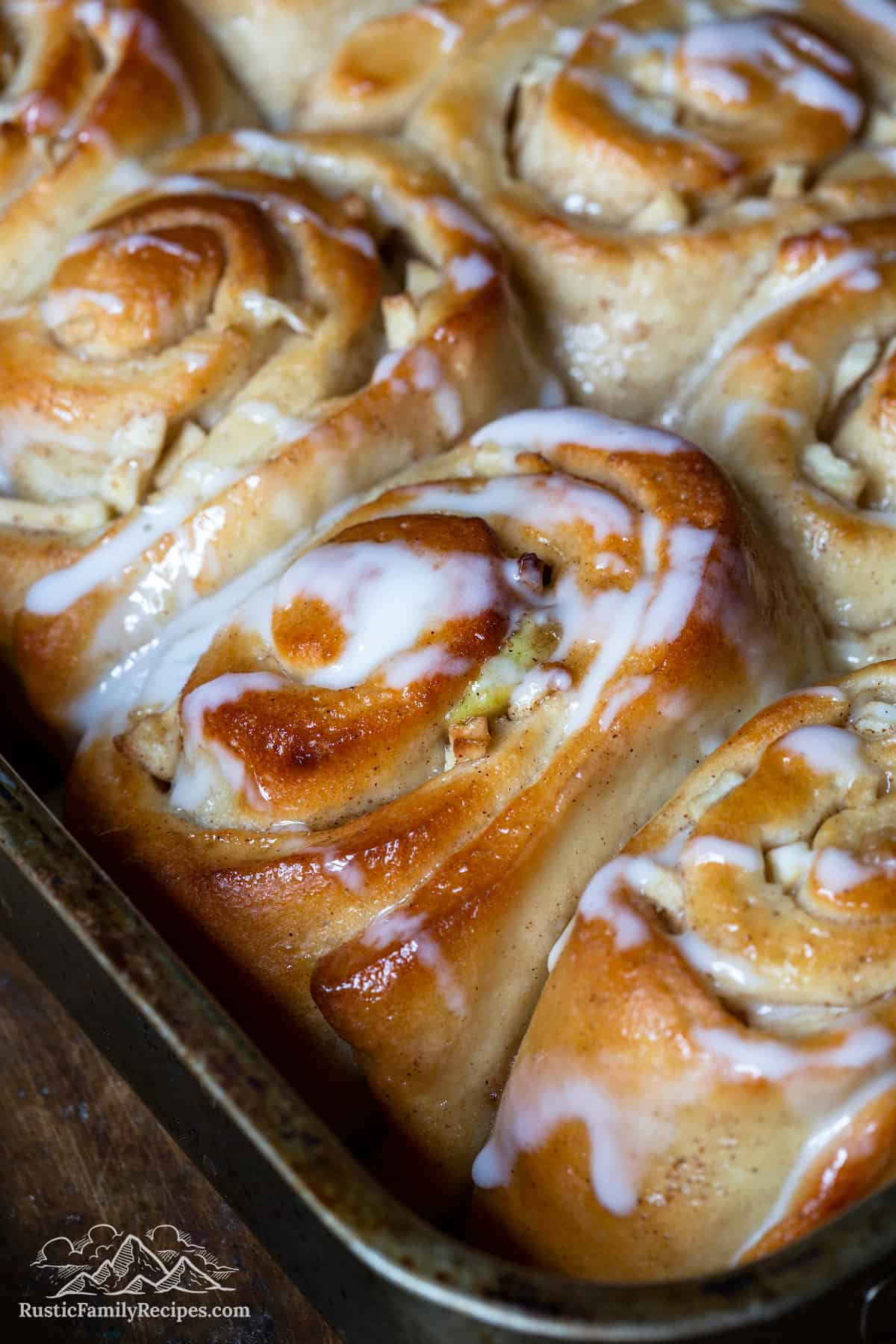 Why You'll Love These Apple Cinnamon Rolls
Easy. I know the title of this recipe sounds fancy, but it's actually not much more difficult to make these than making regular cinnamon buns. If you can dice apples, you can make these cinnamon rolls.
Satisfying. Let me tell you, biting into one of these fluffy, tender cinnamon buns is pure heaven. Your brain will wonder if it's eating apple pie or a cinnamon roll, then it will just say OMG I'm eating both!
Impressive. Even if this recipe is fairly straightforward, there's no reason to tell your friends and family that. Make these cinnamon buns for your next get-together or just make them at home and everyone will be impressed by your baking prowess.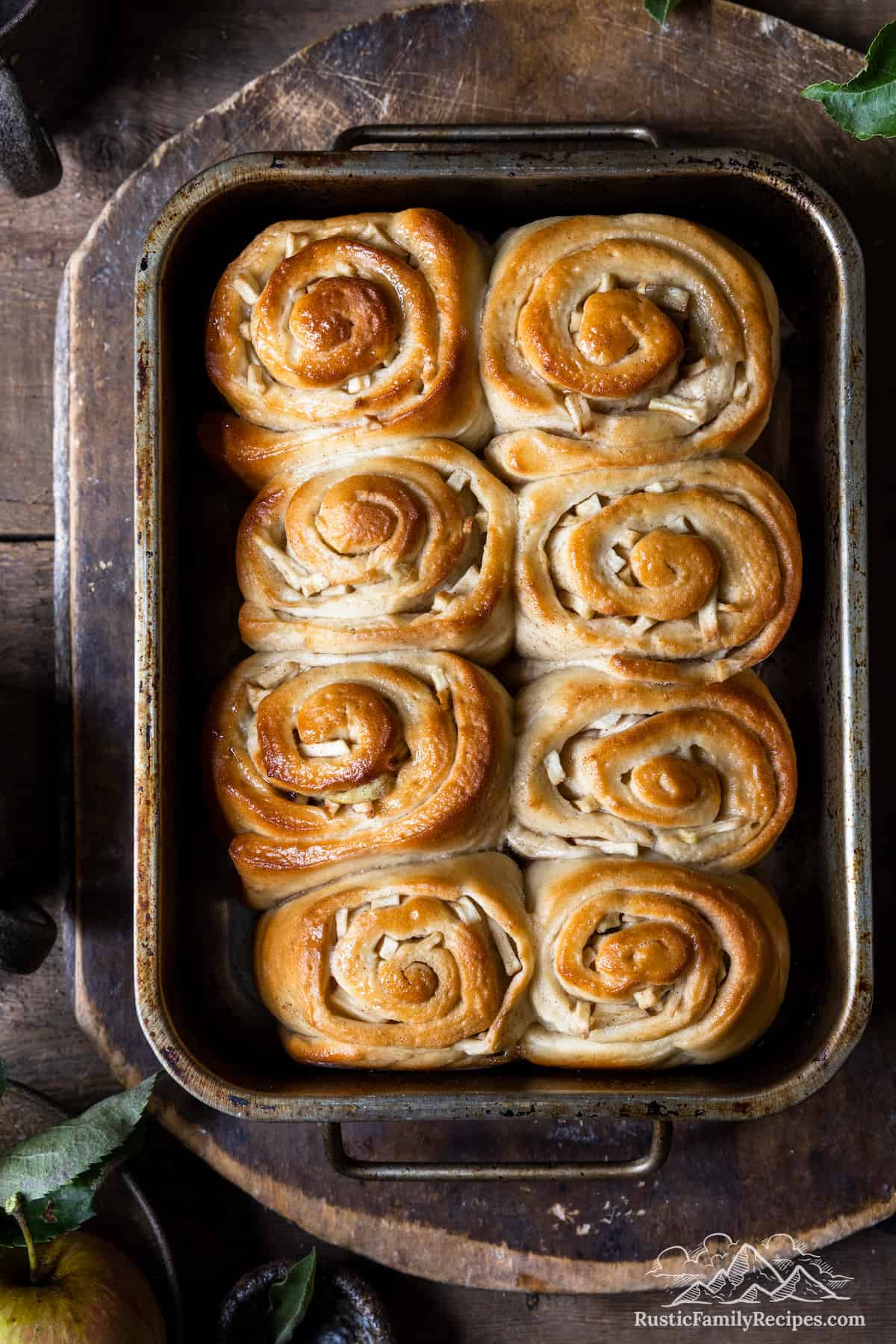 The Best Apples for Baking
The best kinds of apples to use for this recipe are going to be ones that will hold their shape after being baked vs. turning into mush. The gold standard for baking are Granny Smith apples, but I actually used Mutsu apples from our recent apple picking adventure. Mutsu apples have firm flesh and are less tart than Granny Smiths.
Here are a few other apple varieties that are ideal for baking:
Jonagold – Slightly tart with great structure.
Braeburn – Crisp apples with intense flavor that hold up well during baking.
Honeycrisp – Sweet, crisp apples that are hard to resist eating by themselves.
Pink Lady – These apples have a good balance of tart and sweet, plus they don't lose their shape when baked.
If you can't find any of the above you can use any apple you have on hand. The results will still be delightful! The above are just my top picks for apples that have the ideal balance of crispness and sweetness.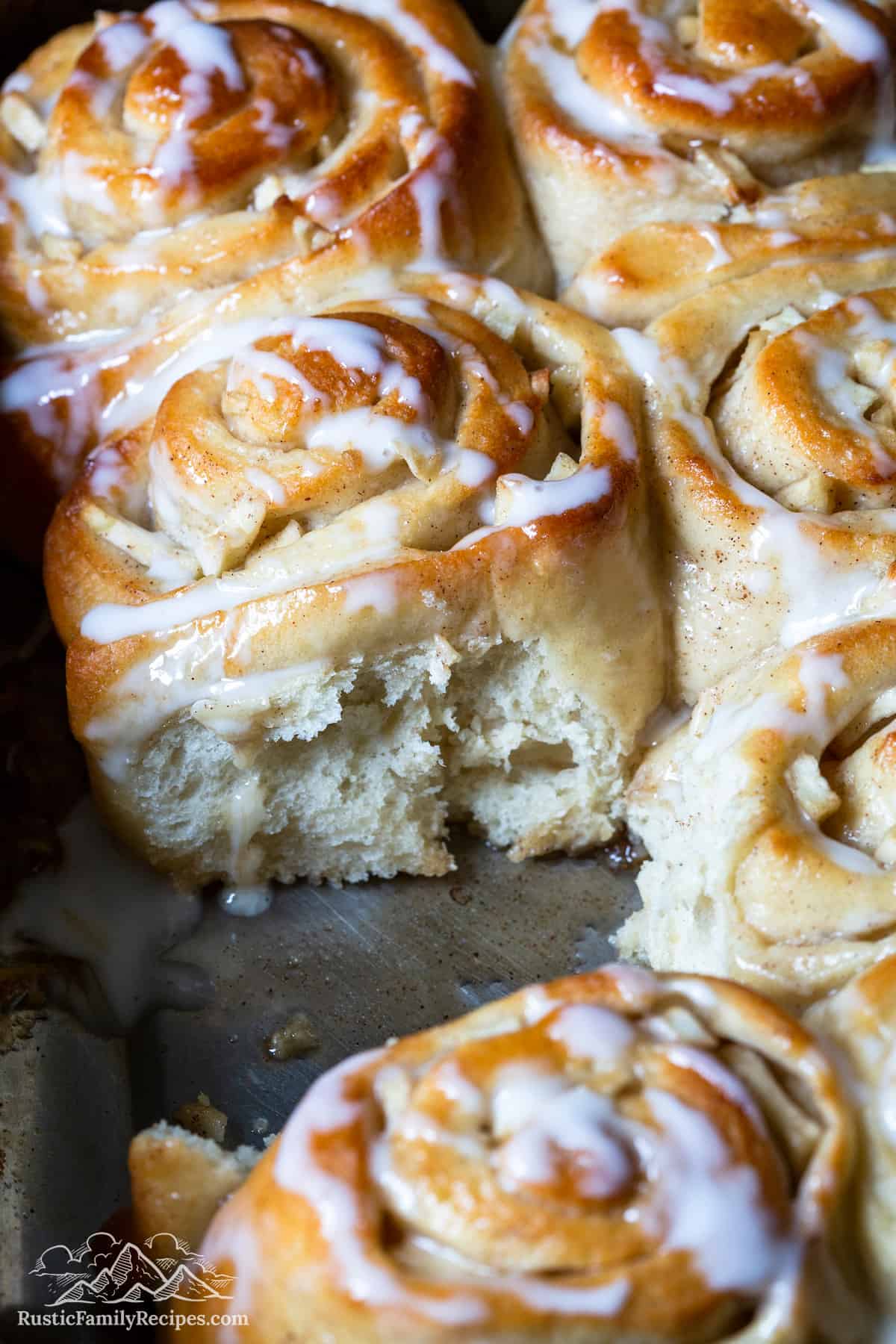 Tips for Success
These cinnamon buns are pretty easy to make but here are my top tips for perfect results every time:
Dice the apples. If you leave the apples in big chunks then each piece of apple won't have enough time to become soft and tender during the baking process. So cut them into small pieces about the width of the nail on your pointer finger.
Give it time. As with all yeasted doughs, one of the most important ingredients is time. The dough needs to rise for 1 hour after you make it, then once the buns are assembled they need to rise for 45 minutes until they have doubled in size. This rise time will ensure that your buns are fluffy and tender.
Let them cool. This is probably the most difficult part of this recipe. Your house is going to smell amazing and you're going to want to tear into these cinnamon buns as soon as they come out of the oven. However, it is important to let them cool first so that your icing doesn't melt into the buns. I usually let them cool for at least 30 minutes before I add the icing. Then I dig in!
Want to Use Frosting Instead of Icing?
I used a simple icing for these cinnamon rolls but you could also use a cream cheese frosting. My recipe for homemade overnight cinnamon rolls has a fantastic frosting that you could use with this apple recipe.
Pan Sizes
This recipe makes a generous amount of cinnamon rolls, so I usually use a 9×13 baking dish and a 9×9 baking dish. If your oven is large enough to fit both baking dishes at once, you can bake both at the same time. If not, there is no issue with just letting one set of buns proof a bit longer while the first one bakes.
Really you can use any size baking dish you want so don't worry about it too much. Just slice the dough and then add the buns to your baking dishes to let the buns proof before baking.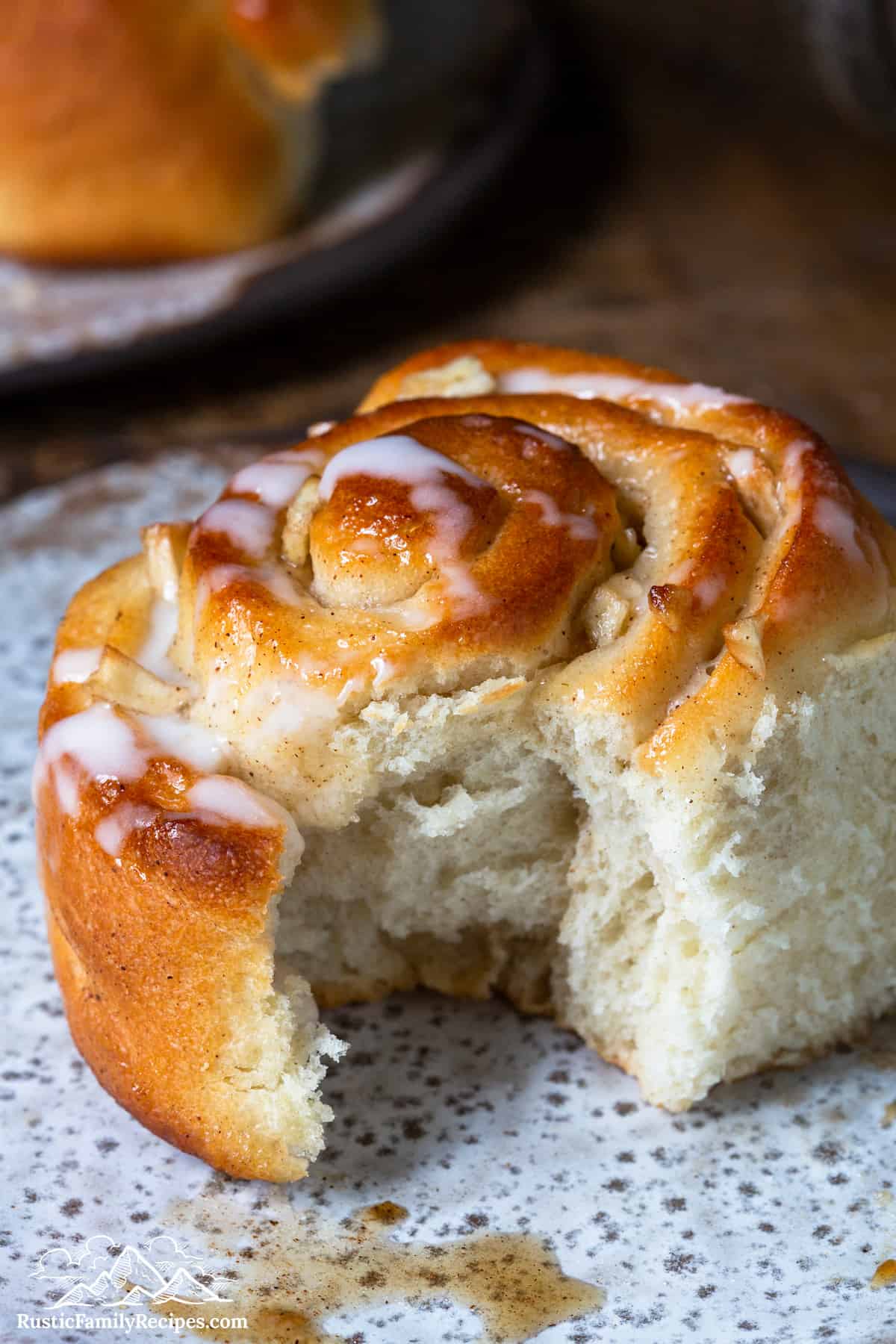 How to Store Cinnamon Rolls
Let the cinnamon rolls cool completely, then cover your baking dish with saran wrap and store them on the counter for up to 3 days. You can extend their shelf life by placing your wrapped baking dish in the fridge, where they will keep for up to 7 days.
If your fridge is not big enough to store the entire baking dish, you can also cut out the cinnamon rolls and store them in tupperware containers. The key is to use airtight containers so that the dry air in the fridge doesn't dry out your cinnamon buns.
Can I Freeze Them?
Yes, you can definitely freeze these after they have been baked. Here's how:
Freeze the entire tray: Wrap your 9×13 baking dish in saran wrap, then in several layers of aluminum foil. Place in the freezer for up to 3 months.
Single buns: This is how I freeze my cinnamon rolls. Cut the rolls into individual servings, then wrap each one in saran wrap. Place the wrapped buns in an airtight, freezer-safe container for up to 3 months.
When you are ready to eat some, let your cinnamon buns thaw overnight in the fridge. If you have frozen single servings, you can let them thaw on the counter for a few hours, or you can remove the saran wrap and zap them in the microwave for about 20-30 seconds until they have warmed up a bit and the center is no longer frozen.
Print
Apple Pie Cinnamon Rolls
These Apple Pie Cinnamon Rolls have all the flavors of a classic apple pie stuffed in cinnamon roll form. Fluffy buns are swirled around tender apples, then drizzled with a simple vanilla icing.
Author: Rustic Family Recipes
Prep Time:

30 minutes

Rising Time:

1 hour 45 minutes

Cook Time:

20 minutes

Total Time:

2 hours 35 minutes

Yield:

12-15

Category:

Dessert

Method:

Oven

Cuisine:

American
For the dough:
1/2 tablespoon

active dry yeast (.

25 Oz

package)

1 cup

warm water

1 cup

warm milk

1/2 cup

olive oil

1/4 cup

granulated sugar

2

eggs

1/2 teaspoon

vanilla

6 cups

all-purpose flour
Pinch of salt
For the filling:
1 cup

light brown sugar, packed

1 1/2 cups

granulated sugar

1 tablespoon

ground cinnamon

2

large apples, peeled, cored and diced (small)

1

stick of butter, melted
For the icing:
2 cups

confectioners sugar

1/2 teaspoon

vanilla

1/2 cup

milk
Instructions
Make the Dough
In the bowl of a stand mixer or in a large bowl, combine the yeast, water and milk. Allow to proof for 5 minutes, then add the olive oil, sugar, eggs and vanilla, mixing well. Add the all-purpose flour 1/2 cup at a time until the dough pulls away from the sides of your bowl and forms a sticky ball.
Switch to your dough hook or turn the dough out onto a floured surface. Knead for 2-3 minutes by machine or 3-4 minutes by hand. The dough is finished when it is smooth and bounces back when you press your finger into it.
Grease a large bowl with about 1 tsp of olive oil and place the dough in, turning once to coat. Cover with saran wrap and allow to rise in a warm place for 1 hr.
Make the filling
Melt the butter, set aside.
In a medium bowl combine the brown sugar, granulated sugar, and cinnamon, mixing well. Set aside.
Peel and dice the apples, set aside.
Assemble the buns
Grease your pans with baking spray. I usually use a 9×13 baking dish and a 9×9 baking dish. Set aside.
Roll out the dough on a lightly floured surface. It should be about 10×20 inches, but no need to be precise about it. Just make sure you don't roll the dough too thin or the buns won't be fluffy like you want them to be. The long side of the dough should be perpendicular to your body.
With a pastry brush, coat the dough with the melted butter, going right up to the edges of the dough. Sprinkle the sugar mixture over the dough, leaving a one-inch margin along the edges. Sprinkle the apples over the top, spreading them around with a spoon and gently pressing the apples down into the dough.
Tightly roll the dough into a log with the rolling action going away from you. I like to fold either side of the dough in as I roll to prevent any filling from falling out.
With a serrated knife slice the log into pieces about 2 inches thick. Place the buns in your prepared trays about 1/2 inch apart so that they aren't touching and have room to rise. Cover with saran wrap and allow to rise for 45 minutes.
Bake and Add the Icing
Preheat your oven to 375 degrees F. Bake the buns for 20-25 minutes or until they are golden brown. Set aside to cool.
In a small bowl combine the confectioners sugar, vanilla and milk. Start with 1/3 cup of milk and adjust the thickness of the glaze to your liking by adding more milk by the tablespoon and mixing until smooth between additions. If you add too much milk, just add more sugar until the glaze thickens up a bit.
Drizzle the glaze over the cooled buns. Dig in.
Last Step:
Please
share a rating and comment
if you enjoyed this recipe! Your feedback helps this little blog thrive and continue providing free, high-quality recipes for you.
Keywords: homemade cinnamon rolls, best cinnamon rolls recipe, easy cinnamon roll recipe, cinnamon buns