This post may contain affiliate links. Please read our disclosure policy.
Airy and crisp Hojaldres (a.k.a. hojaldras) are a simple Panamanian fried dough recipe that you can make at home. Enjoy these as an easy treat dusted with powdered sugar!
Our recent trip to the county fair has turned into a fountain of inspiration. These hojaldres were one of the first treats I picked up along my stall crawl. Not long after was the equally sugary and delicious tanghulu. I'm a sucker for street food (and sugar, naturally), so the local fair did not disappoint!
Fried dough dusted with oodles of confectioners sugar is pretty standard county fair food. This year, a vendor who grew up in Panama was selling his country's version: hojaldres. As soon as my teeth hit the crisp, flaky dough and powdered sugar went sailing through the air, I was smitten. I also knew that I needed to figure out how to make hojaldres at home!
As it turns out, it's incredibly simple. These golden clouds made from deep-fried dough are a delicacy that anyone with a skillet and pint of oil can whip up in no time.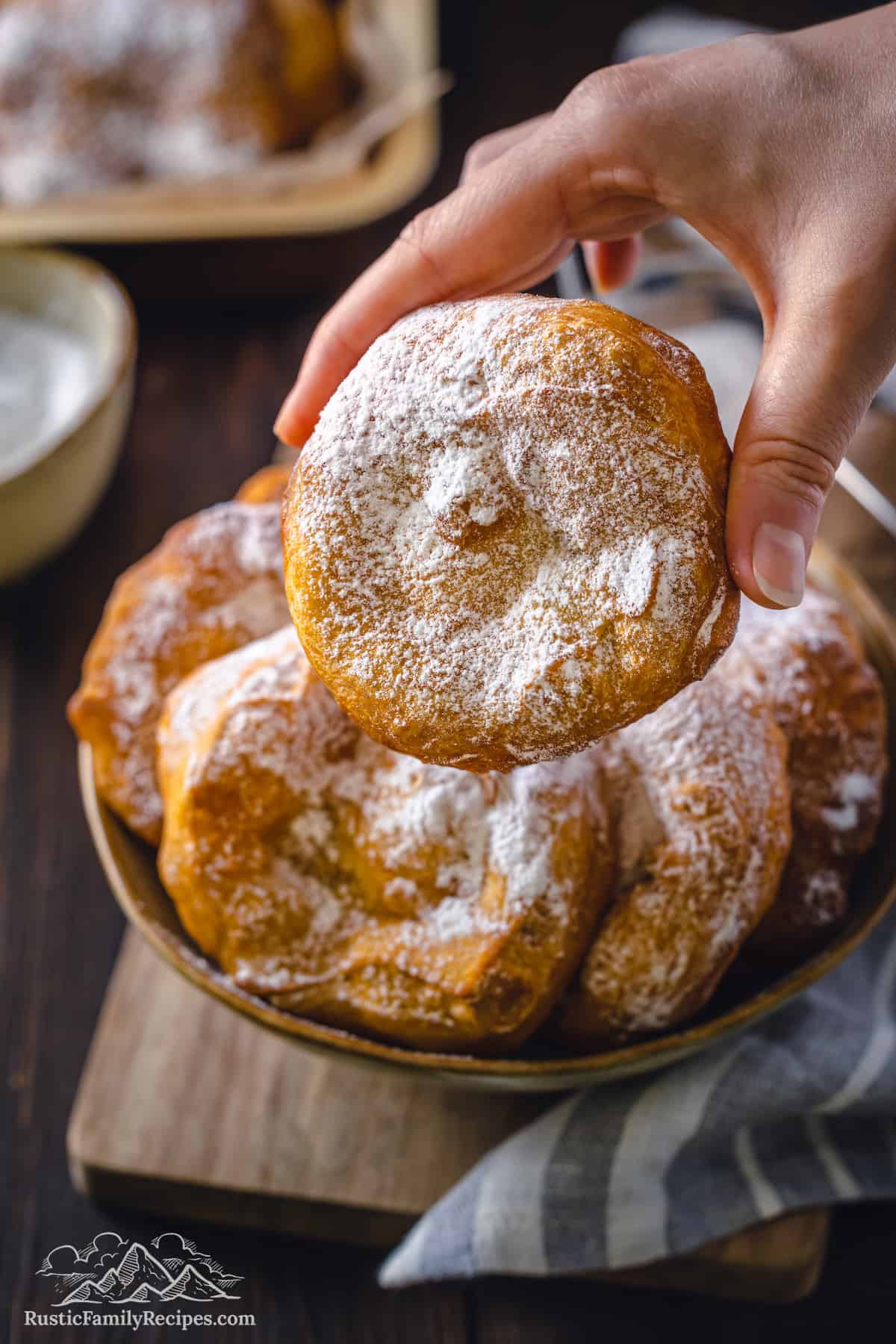 Featured Comment
My eighth grader (a 13-year-old with huge "NO, I want to do this myself" energy) made these for a class assignment and they turned out perfectly. We're probably going to end up making lots more! Thank you!
What Are Hojaldres?
Hojaldres, also called ​​hojaldas or hojaldras, are a popular fried bread in Panama, as well as in Uruguay and Colombia. The texture is crispy and airy, and in Spanish, hojaldres actually translates to "puff pastry." It's a bit of a misnomer, though. These round, fried doughs are a far cry from the puff pastry of croissant and French pastry fame!
Hojaldres are puffy flatbreads made of simple dough, then deep fried like a beignet or a North American fry bread. As you can see from the photos, they're a lot like the classic country fair fried dough you'll find dusted with confectioner's sugar at American fairs. And they're just as sweet and delicious to make at home!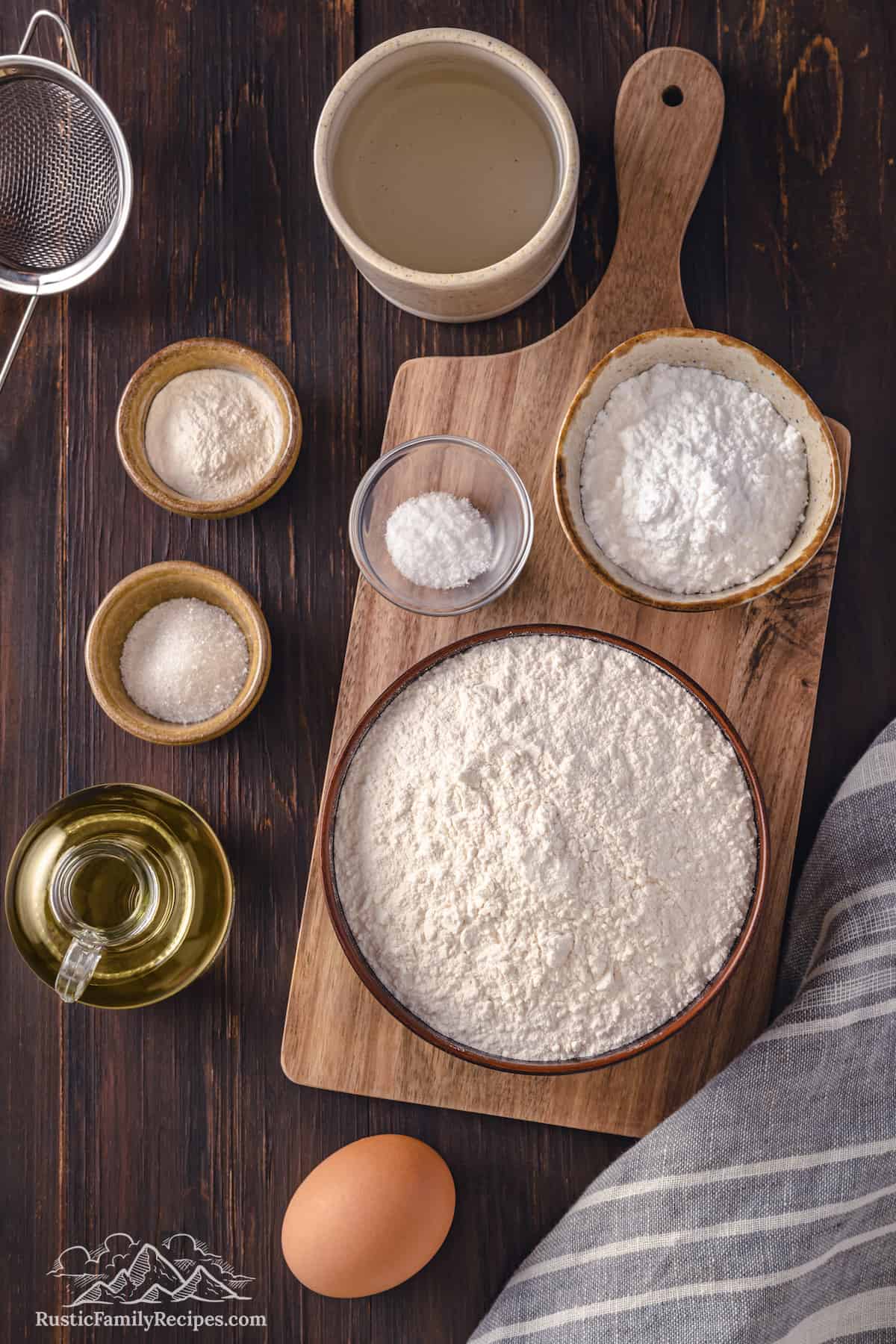 Recipe Ingredients
Hojaldres are wonderfully basic when it comes to ingredients. They're a pantry pleaser, for sure! The full ingredient amounts can be found in the recipe card, but here's an overview of what you'll need:
Flour – You'll need to sift the flour for this recipe. Sifting breaks up any clumps and helps to aerate the flour so that it's easier to measure and mix.
Baking powder – To give the dough some lift.
Sugar – Regular granulated sugar works best.
Salt
Oil – Use a neutral oil like vegetable oil, canola oil, or avocado oil. The oil and egg bring moisture and structure to the dough.
Egg
You'll also need about one cup of water, oil for frying your flatbreads, and powdered sugar for dusting.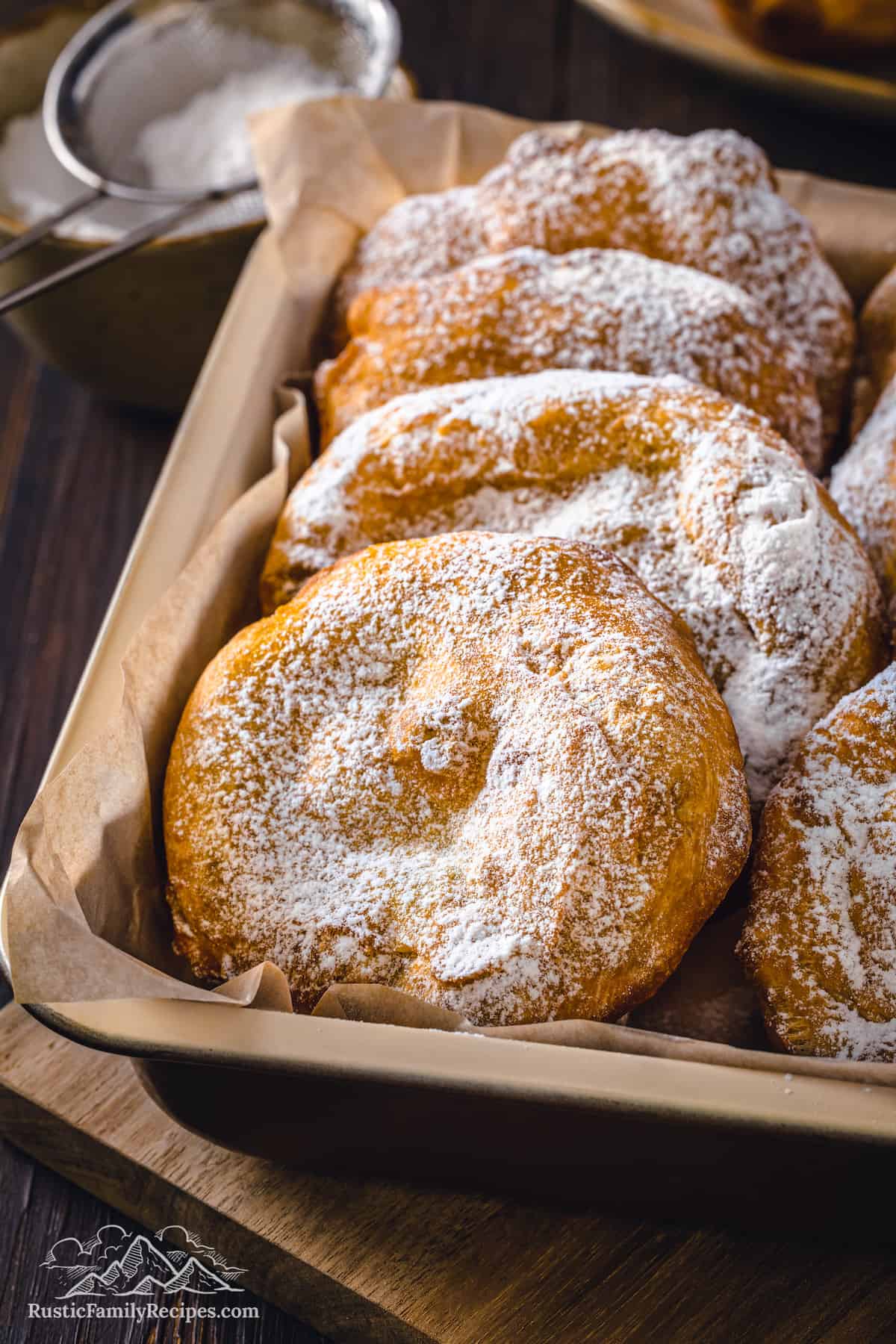 How to Make Hojaldres
There is a bit of resting time involved when making the dough for proper hojaldres. Otherwise, the recipe comes together quickly and fries up fast in hot oil. So let's get started! Here's how to make your very own hojaldres that taste just like they came from the local fair: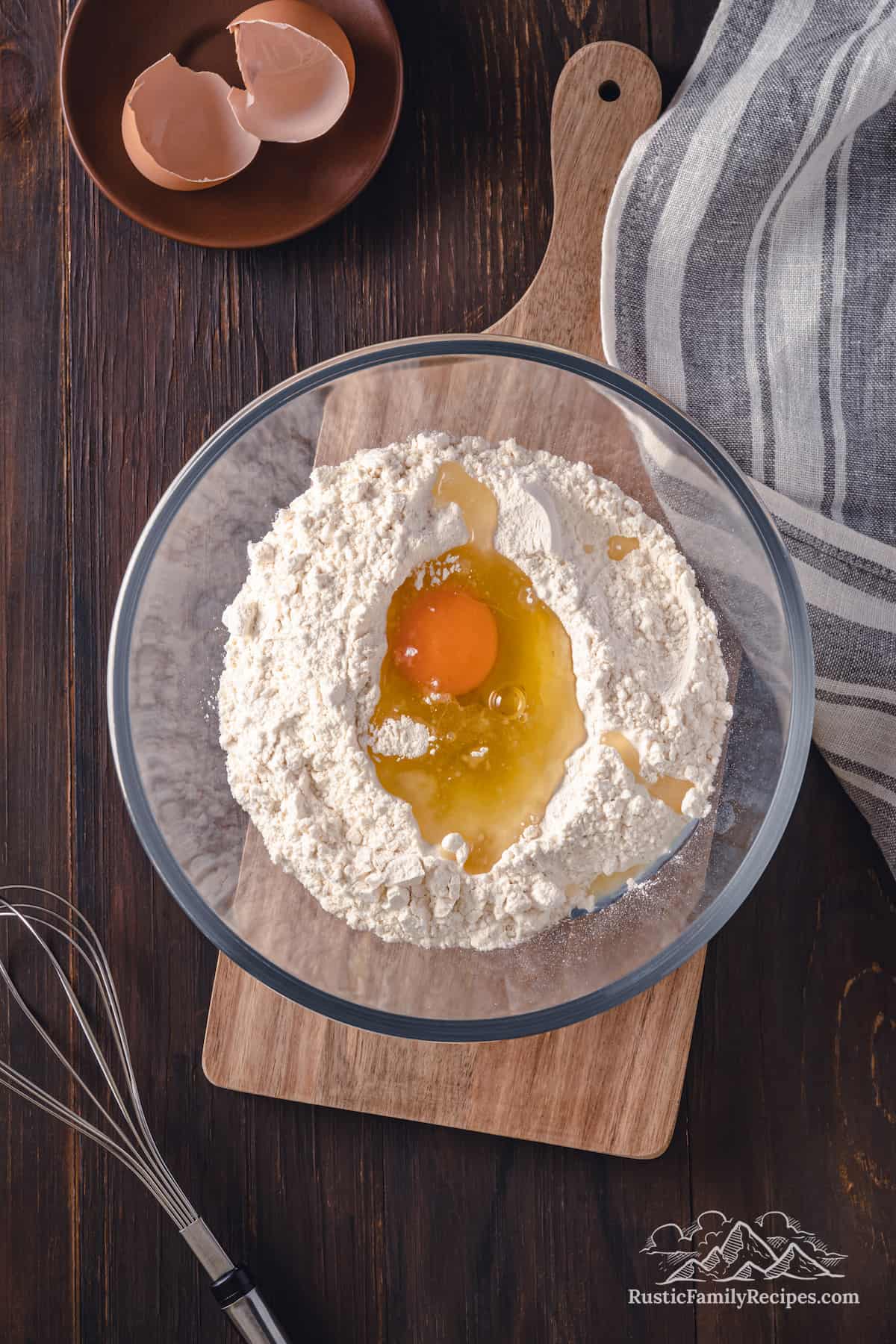 Make the dough. First, get out a large bowl to combine the dry ingredients, add in the egg and the oil, and mix. Next, you'll add a bit of water to the dough, about one cup. I suggest adding the water gradually, as you may need to add more or less depending on the flour you're using. When everything is combined, knead the dough until it's smooth and elastic. Finally, cover and let it rest.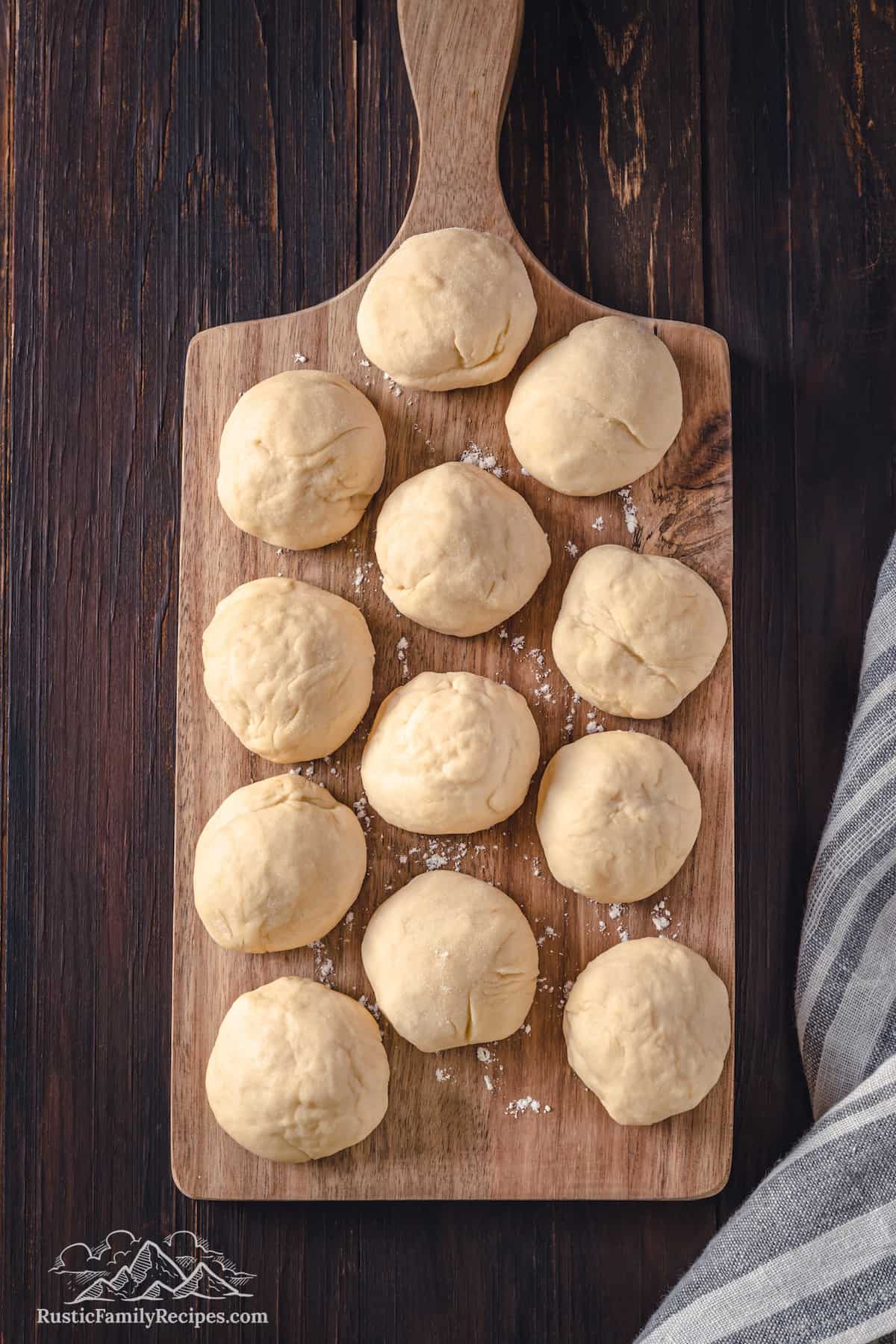 Shape the dough. Once the dough has rested for about an hour, place it onto a lightly floured surface. Divide and form the dough into 12 even-sized balls. With the oil preheated in a skillet, you'll shape and flatten the first dough ball, then place it in the skillet right away. It's very important that you don't leave hot oil unattended, so be ready to standby for the time you're cooking.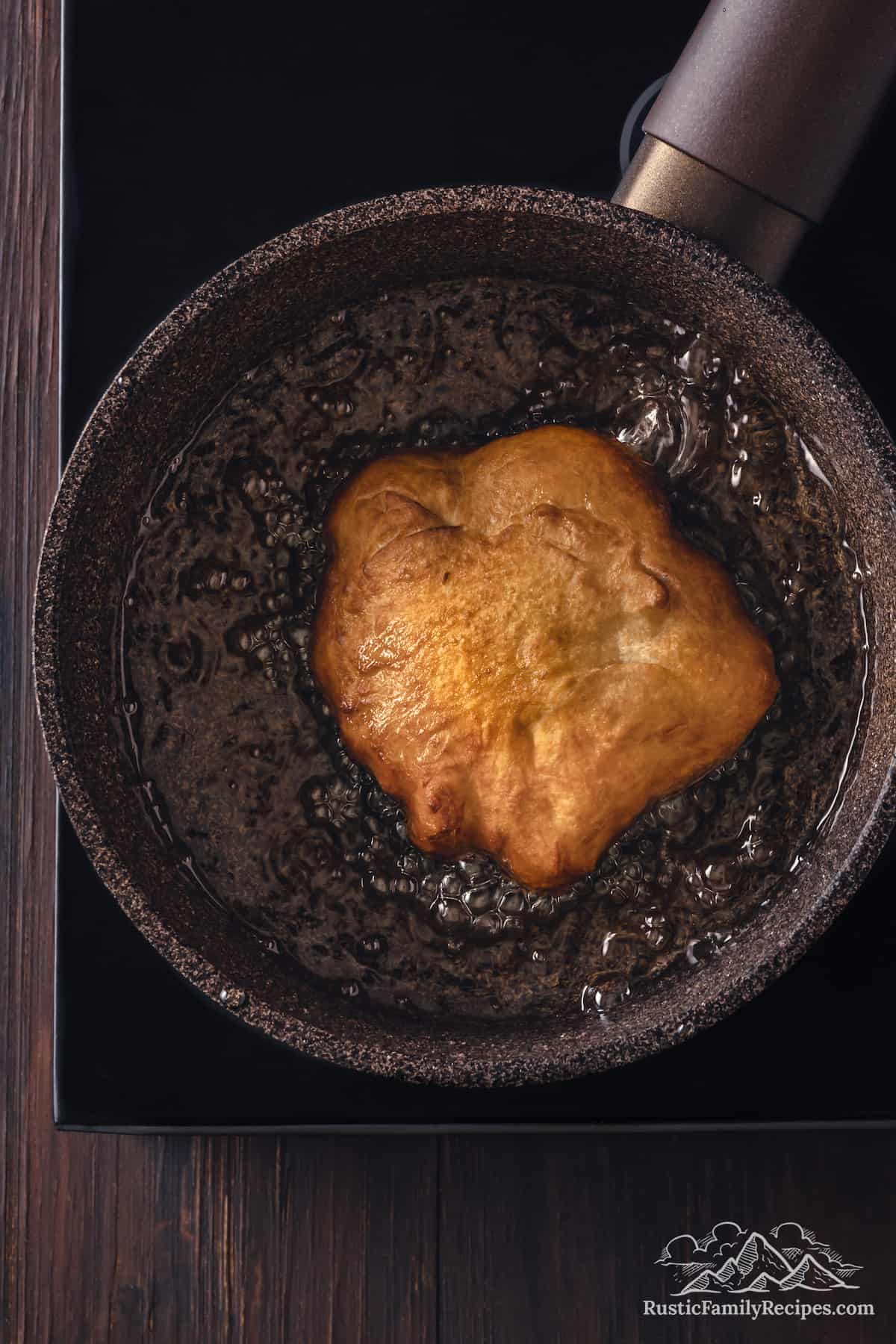 Fry. One at a time (maybe two, depending on the size of your skillet), flatten, and then carefully place the dough into the hot oil. The dough needs to cook for about 2 minutes per side, or until golden brown. Please don't drop the hojaldres into the oil from so high up that the oil splashes! I had oil burn spots on my hand for years from learning that lesson the hard way. Pay attention while frying and also make sure no little hands or paws are wandering through the kitchen while you're working. When the hojaldres are finished frying, use a slotted metal spoon to move them from the skillet onto a plate lined with paper towels.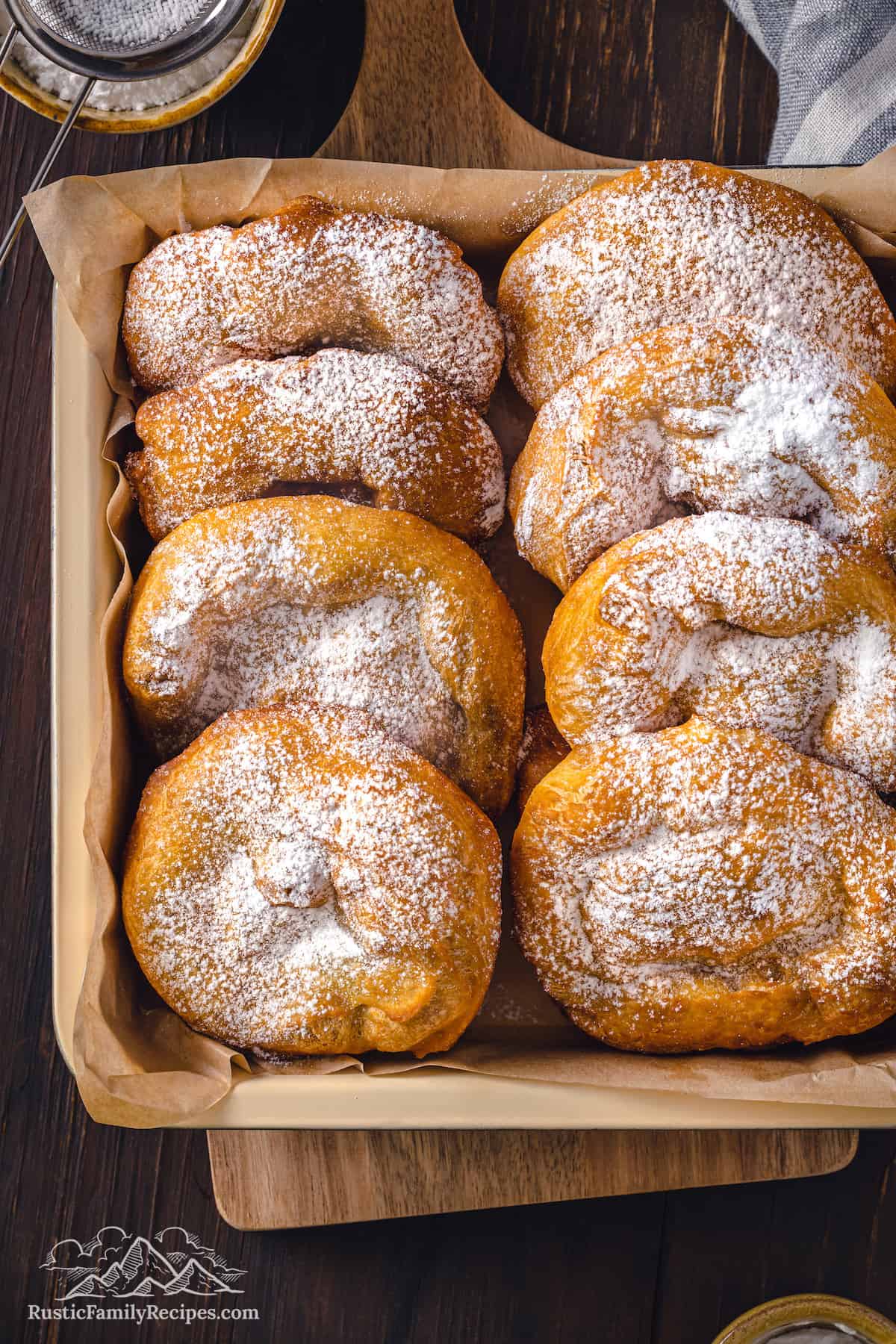 Serve. Now that your hojaldres are cooked golden and crispy, it's time to serve them! These are delicious and classic dusted with powdered sugar. You can use a sifter or your fingers, and be as all-in or as conservative as you like when it comes to the amount of sugar. With the oil safely out of reach, now is the perfect time to get the kids involved in decorating their hojaldres!
What is the Best Temperature for Frying?
The temperature of the oil is important when frying hojaldres, donuts, or anything, for that matter. Oil that's too hot will over-brown the outside of the dough and undercook the inside. More importantly, overheating can cause the oil to burn and become a fire hazard!
I've found that vegetable oil heated to a temperature of 345ºF to 350ºF is best for frying. Vegetable oil is inexpensive and has a high smoke point of 400ºF. This means you won't have to worry about hitting it when frying your hojaldres in the 350ºF range mentioned above.
The best way to measure the temperature of the oil is to use a candy thermometer (affiliate link). There are models that you can clip to the side of the pot so you can easily keep an eye on the temperature of the oil. Definitely worth investing in if you plan on frying up a storm (which you no doubt will after a bite of this fried dough!). You can read more tips on frying in this post about homemade beignets.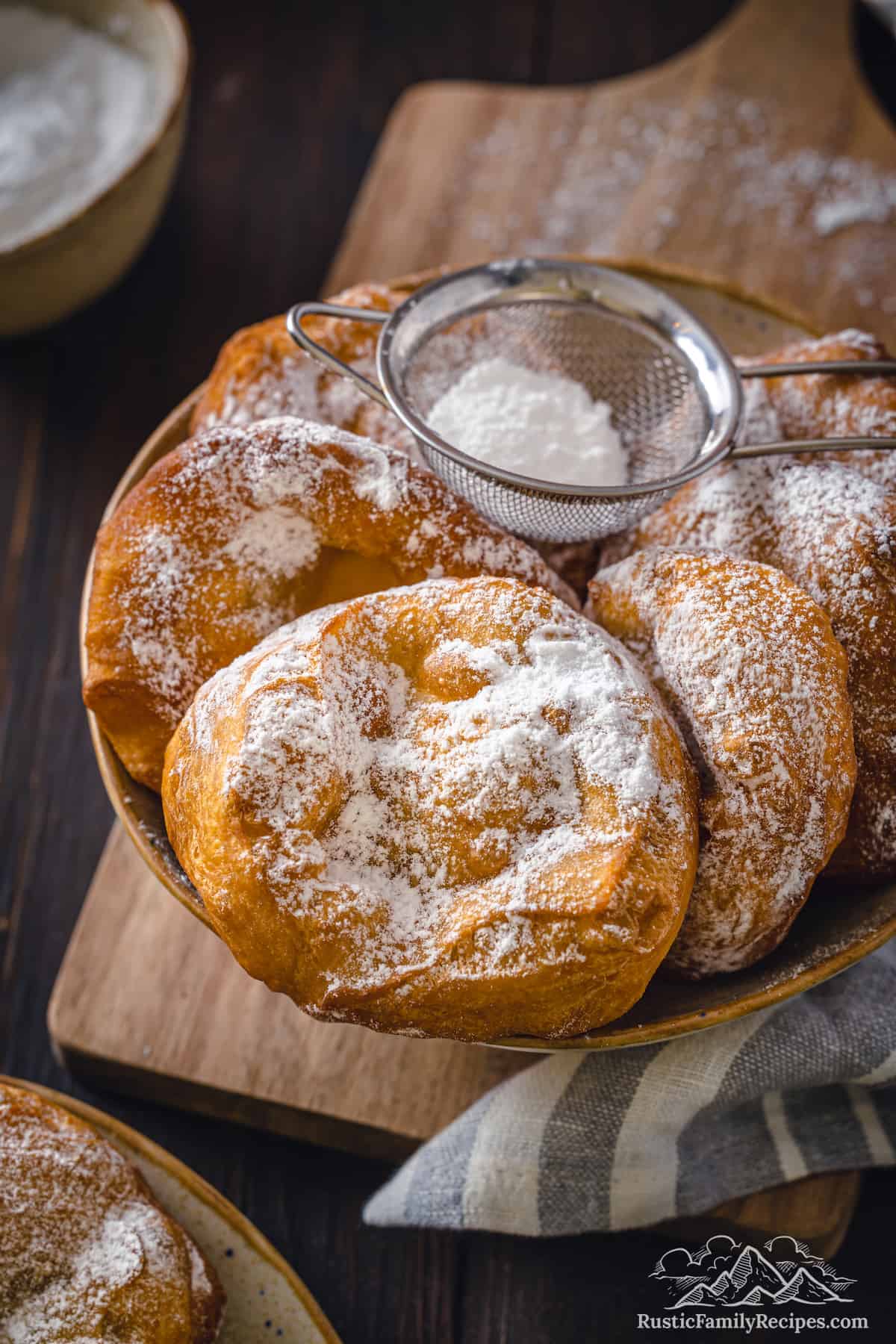 Tips for Success
You'll be smooth sailing to crispy fried hojaldres in no time! Here are some tips to ensure the best possible outcome when frying these at home:
Safety first. I can't emphasize enough the importance of safety when cooking with hot oil. Deep frying is a fun and tasty way to make uber crispy food. However, oil fires and splatter burns are no joking matter. Pay attention when frying, ensure that kids and pets are safely away from the kitchen, and monitor the temperature of the oil closely while you work.
Don't forget to sift the flour. It makes a difference! Not only will you be able to measure your flour more accurately, but you'll wind up with perfectly textured hojaldres. A sifter is easy to come by, and you can use it to powder your hojaldres with sugar, too!
Eat them right away. Like most fried food, homemade hojaldres really do taste the best when served right away. You can store them out of desperation (see below), but the crispiness and flavor just won't be the same the following day. I love making this recipe for guests when I know there won't be any leftovers!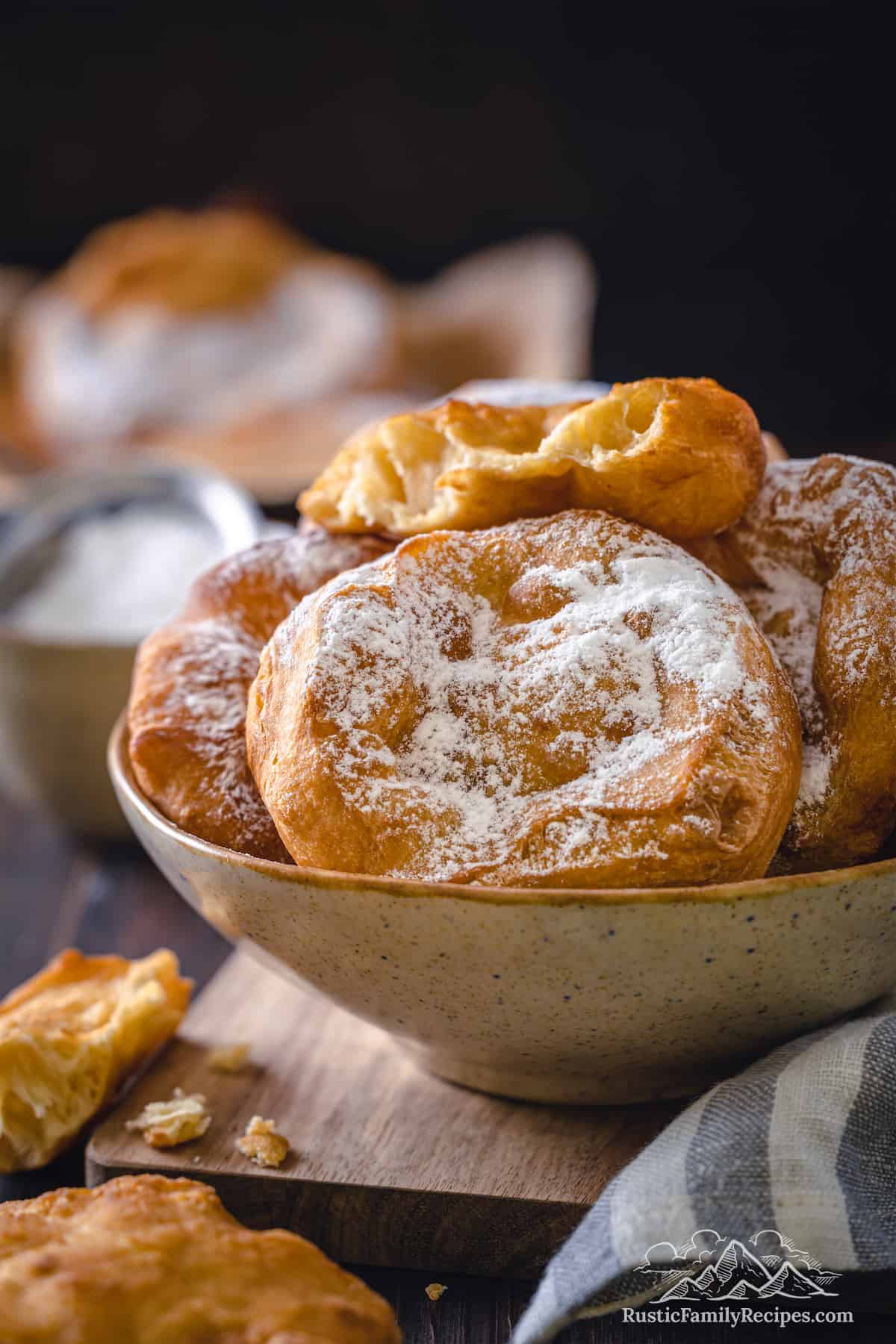 How to Store Extras
If you've ever had a second-day donut, you know that when it comes to fried dough, it's best enjoyed the day it's made! Like donuts, these hojaldres are yummiest eaten the day of.
Whenever you absolutely need to store them, keep the hojaldres in an airtight container on the counter until the following day. They'll be perfectly edible, but do keep in mind that they won't be nearly as delicious and crisp as when they're fresh from the fryer.
Since this recipe makes 12, if I know I won't make it through a whole dozen hojaldres on the day they're made, I'll halve the dough. One half becomes hojaldres right away, and the other half gets stored in the fridge for the next day. Simply store the dough airtight to give it enough room to expand without drying out.
Hojaldres
Airy and crisp Panamanian hojaldres (a.k.a. hojaldras) are a simple fried dough recipe that you can make at home. Perfect for dusting with powdered sugar!
Ingredients
3

cups

all-purpose flour

,

sifted

2

teaspoons

baking powder

2

teaspoons

sugar

1

teaspoon

kosher salt

2

tablespoons

oil

1

large egg

~ 1 cup water

Vegetable oil for frying

Powdered sugar for dusting
Instructions
Combine the ingredients. In a big bowl, mix dry ingredients. Then add the egg and oil.

Knead the dough. Mix the ingredients, then add the water (you may need less or more depending on your flour), and knead until you get a smooth and elastic dough.

Rest. Cover the dough and let it rest for 1 hour.

Portion the dough. Divide the dough into 12 pieces and form the balls.

Preheat the oil. In a large skillet, warm a generous amount of oil over medium-high heat.

Shape the dough. Using hands, flatten the ball, and stretch it out (about ¼ inch thick) just before carefully placing it in preheated oil.

Fry. Fry each piece of bread until golden brown, about 2 minutes per side. Place the hojaldres on a plate lined with paper towels to soak up the oil.

Serve. Enjoy with powdered sugar.
Last Step:
Please
share a rating and comment
if you enjoyed this recipe! Your feedback helps this little blog thrive and continue providing free, high-quality recipes for you.
Nutrition
Calories:
143
kcal
|
Carbohydrates:
25
g
|
Protein:
4
g
|
Fat:
3
g
|
Saturated Fat:
0.3
g
|
Polyunsaturated Fat:
1
g
|
Monounsaturated Fat:
2
g
|
Trans Fat:
0.01
g
|
Cholesterol:
14
mg
|
Sodium:
270
mg
|
Potassium:
39
mg
|
Fiber:
1
g
|
Sugar:
1
g
|
Vitamin A:
20
IU
|
Calcium:
46
mg
|
Iron:
2
mg
Nutritional info is an estimate and provided as a courtesy. Values may vary according to the ingredients and tools used. Please use your preferred nutritional calculator for more detailed info.
Did you make this recipe?
💖 I love hearing how my recipes came out for others! If you tried this recipe, please share a comment. 💖
More Bready Recipes to Try