This post may contain affiliate links. Please read our disclosure policy.
This easy Instant Pot Chicken Soup is a favorite when I want a big bowl of something hearty and satisfying, especially during colder months. It's full of flavor and good-for-you ingredients like turmeric, miso and mushrooms.
We all have foods we turn to when we're a bit under the weather. For my grandmother, it was 7-Up. It didn't matter what was wrong with you, she firmly believed 7-Up would fix it. Stomach ache? Headache? Missing a limb? "7-Up will fix it mija." Even after all these years I can hear her voice suggesting her favorite remedy. In fact the only thing she did not suggest 7-Up for was a stuffy nose, in which case she advised eating a jalapeno raw. True story.
Maybe I'm losing touch with tradition, but in my house chicken soup is my go-to remedy. This soup in particular is something of a magic potion if you ask me. I'm not a medical professional and am not giving advice here, I'm just saying there have been countless times when this soup has made me feel better. I guess this is one case where you can say "food is our best medicine."
Featured Comment
Loved this soup!! So easy and really tasty. Our new favorite chicken soup recipe.
Why You'll Love This Instant Pot Chicken Soup Recipe
Easy. Just add all the ingredients to your Instant Pot, press the buttons and walk away.
Flavorful & satisfying. This chicken soup has rich flavor thanks to all the herbs, miso and broth. If you're in the mood for a steaming bowl of soup, this recipe is cozy and comforting.
Good for you. I created this recipe when my kiddo was under the weather, and as a result, I purposefully chose the herbs and other ingredients for their healing potential. (More info in the "What You'll Need" section below.)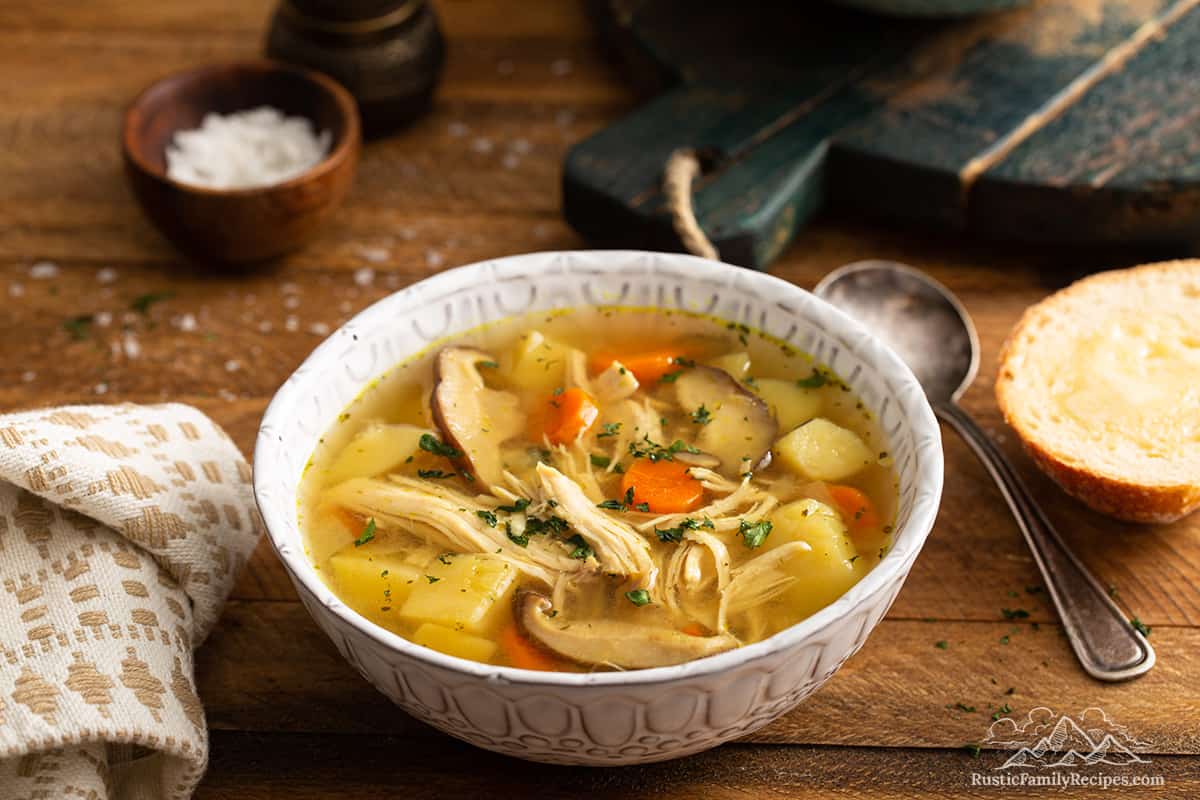 This Chicken Soup is So Easy to Make
There are many things to love about this IP chicken soup. The broth is deeply satisfying and the chicken breast so tender; it's as if the soup were simmering on the stove all day long. Plus, the ingredients are healing and make you feel good to the bone.
But my favorite thing about this soup is how easy it is to make. You pretty much just put everything in your Instant Pot and walk away. I like effortless recipes in general, but when you're feeling a bit under the weather or caring for a sick child, zero-effort is where it's at. The same can be said for lifting your spirits with a bowl of comforting soup at the end of a long day.
If you're looking for a bowl of coziness that all but makes itself, this chicken soup is for you.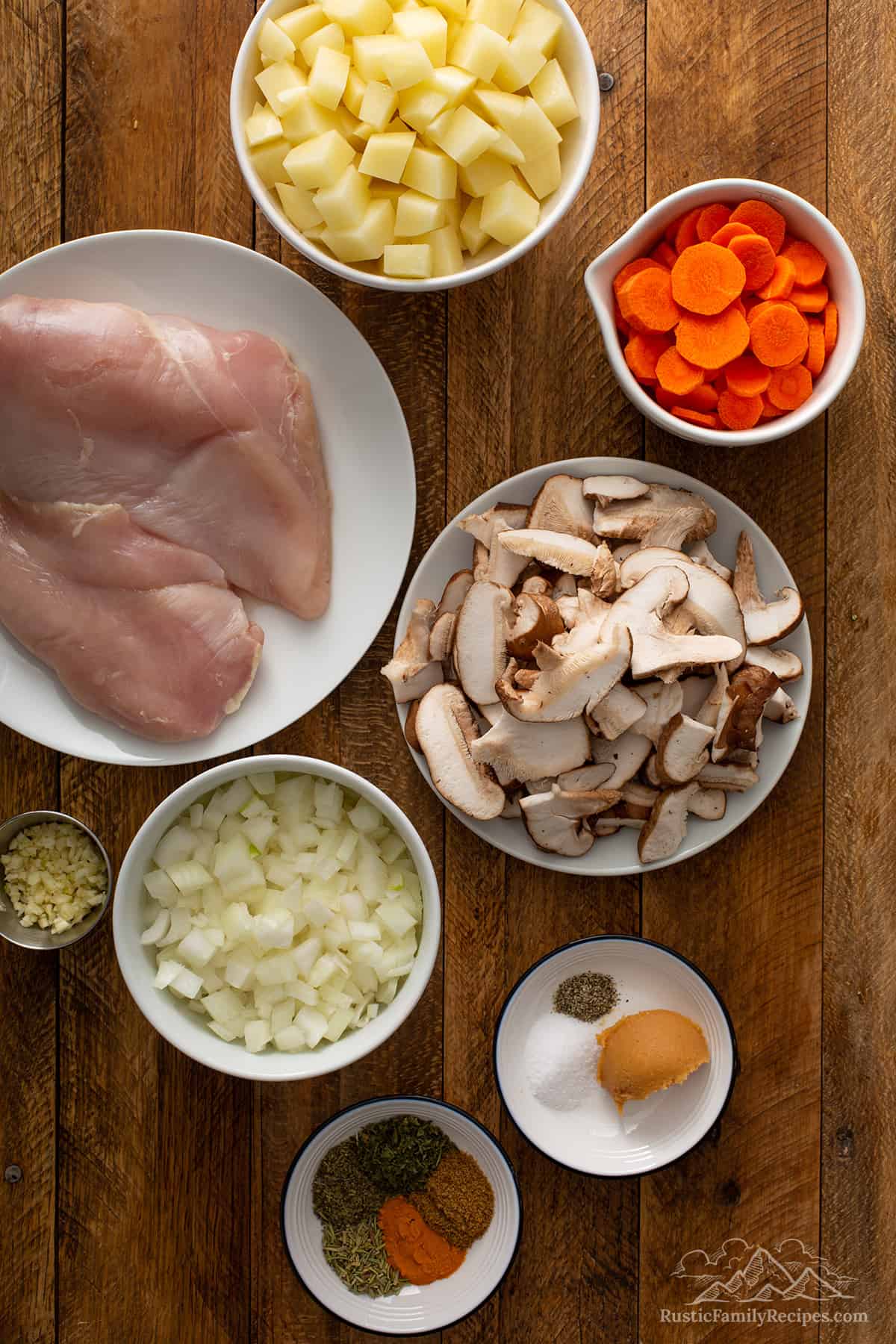 What You'll Need
So what goes into this soup? I will admit, I don't use traditional chicken soup ingredients. That's because when I created this recipe years ago I was specifically looking to combine ingredients that have natural healing properties. My kid was sick at the time and I wanted to make a soup he would eat despite not feeling great, and that would help him recover.
As a result, you won't find rice or noodles in this recipe (I don't like the way they store with leftovers) and you will find herbs and spices known for their healing properties.
Here is a quick look at what you'll need. Scroll down to the recipe card below for specific amounts.
Chicken Breast + Veggies
Chicken Breasts – A key ingredient in chicken soup that's packed with protein.
Carrots – These have healing compounds like beta-carotene, lutein and lycopene.
Potatoes – We grow potatoes every year and I love adding them to soup and stews. I usually peel them just because the skin can be a bit rough in a soup, especially if you have a sore throat.
Yellow Onion – Adds flavor to the soup and helps fight respiratory infections thanks to phytonutrients that increase immune defenses.
Garlic – Adds flavor and helps fight off infections.
Shiitake Mushrooms – You can leave these out if you are not a mushroom fan, but shiitakes are known for their antioxidant and anti-inflammatory benefits. Studies also indicate that shiitake mushrooms boost the immune system.
Miso + Herbs + Spices
Red Miso – This is a salty paste made from fermented soy beans that is common in Japanese cuisine. It is a probiotic and helps improve gut health, which in turn aides immunity. If you can't find red miso, white miso will do in a pinch.
Oregano – An anti-inflammatory herb that also has anti-viral properties.
Parsley – Reduces inflammation and boosts immunity. This herb has high levels of antioxidants like vitamin C and vitamin A.
Thyme – Helps reduce sore throat inflammation and fight off infections.
Cumin – Cumin has antiseptic and anti-inflammatory properties that help boost the immune system.
Turmeric – Thousands of studies have been published about the health benefits of curcumin, the pigment in Turmeric that gives it a golden color. It fights inflammation and can help your body heal.
Kosher Salt & Black Pepper – Adjust according to your taste preferences.
You'll Also Need
Vegetable broth – You can also use chicken broth if that is what you have on hand.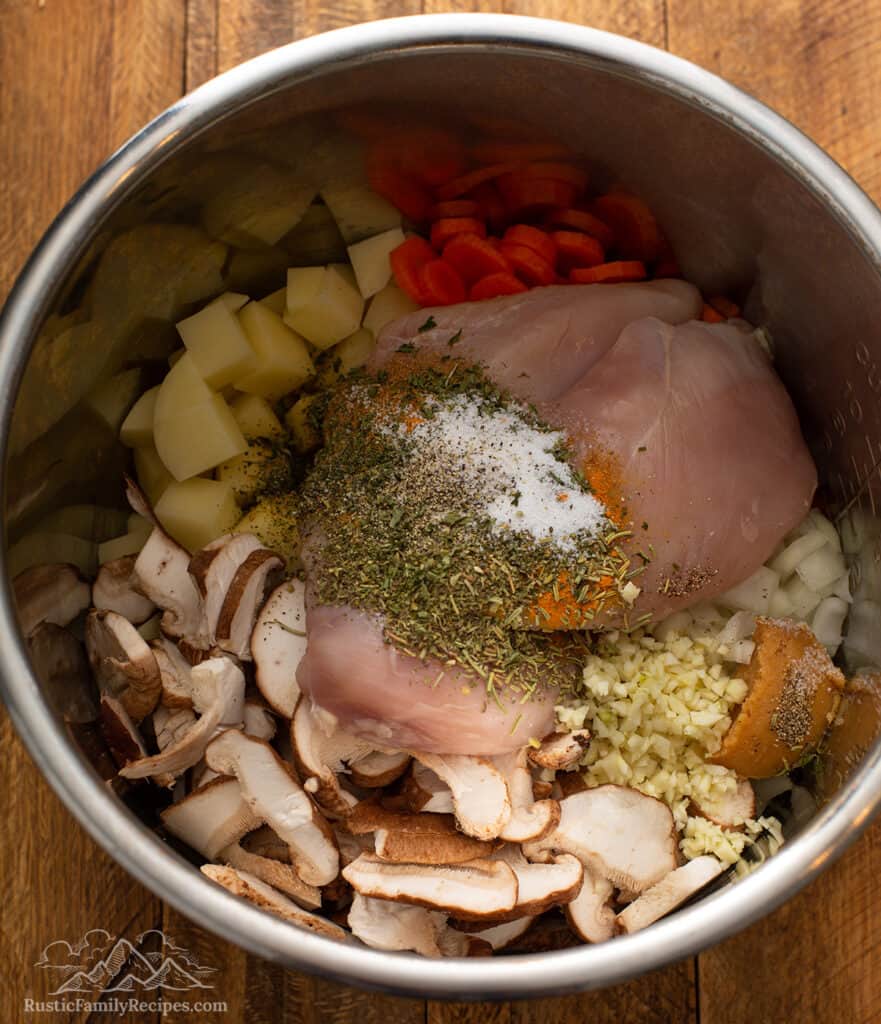 How to Make Instant Pot Chicken Soup
Making the soup is so easy! It almost doesn't need step-by-step instructions. In fact, this is probably going to be the quickest how to you have ever seen. Are you ready?
Add all the ingredients to your Instant Pot. Seal the lid and close the vent.
Cook. Set it to cook on the soup setting for 30 minutes.
Natural release. Allow the soup to do a natural release after the timer has gone off.
Shred the chicken. Remove the lid once the pressure gauge is all the way down. Shred chicken in the pot with two forks and give the soup a good stir.
Adjust seasonings & serve. Taste the soup and adjust salt & pepper to taste. Serve.
That's it!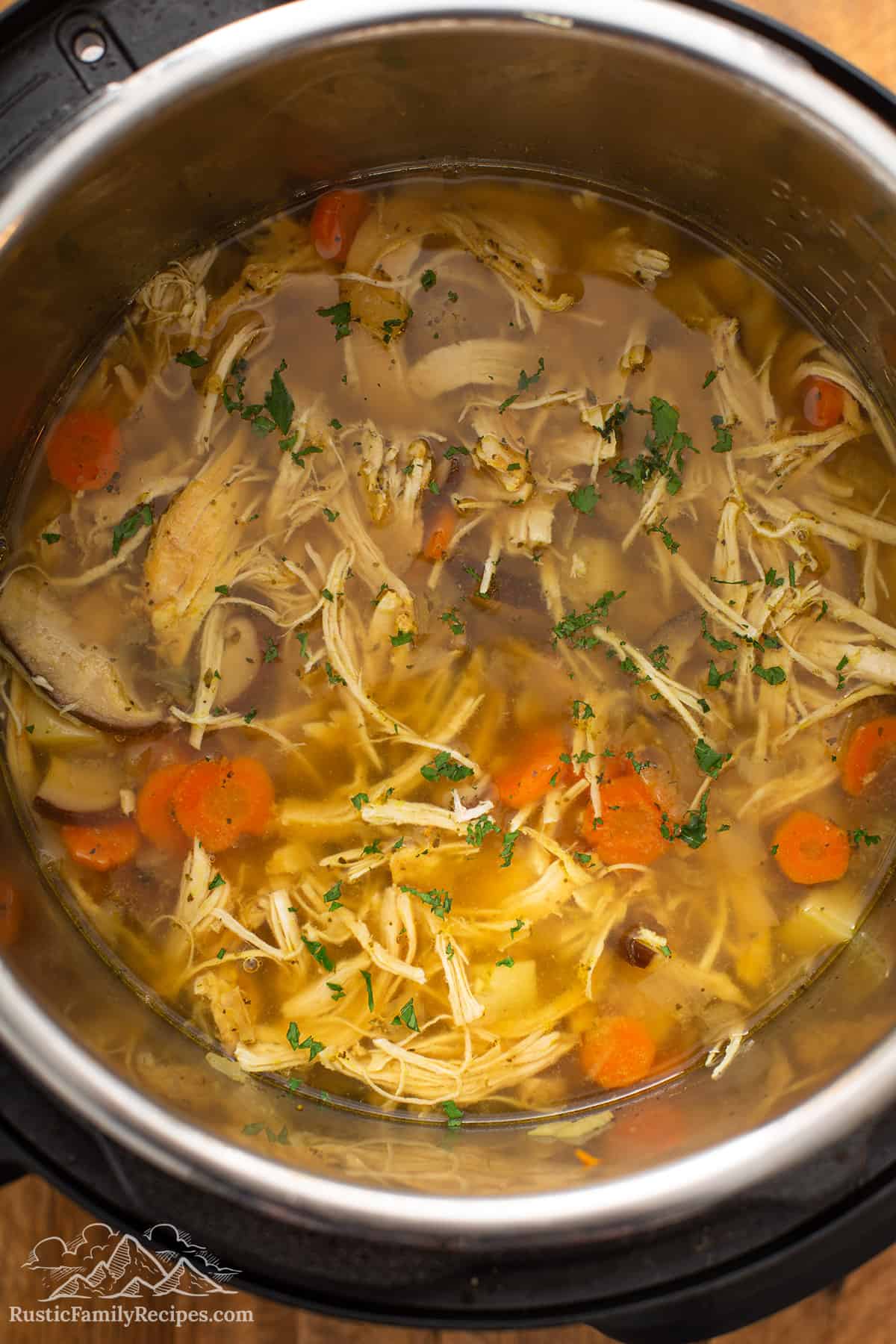 Tips for Success
This recipe is pretty simple but there are a few things you can do for the best chicken soup:
Don't rush the process. It is tempting to vent the steam after the soup is done cooking, but I find that the chicken is most tender when you allow the soup to do a natural release. Usually the chicken is so tender it practically falls apart when you go to shred it with forks.
Start with less salt. I gave a range of salt in the recipe card below. This is because the amount of salt you need will vary according to the saltiness of the broth you're using. It will also vary according to your personal taste preferences. So start with 1/2 a teaspoon of kosher salt, then at the end when the soup is done cooking taste and adjust.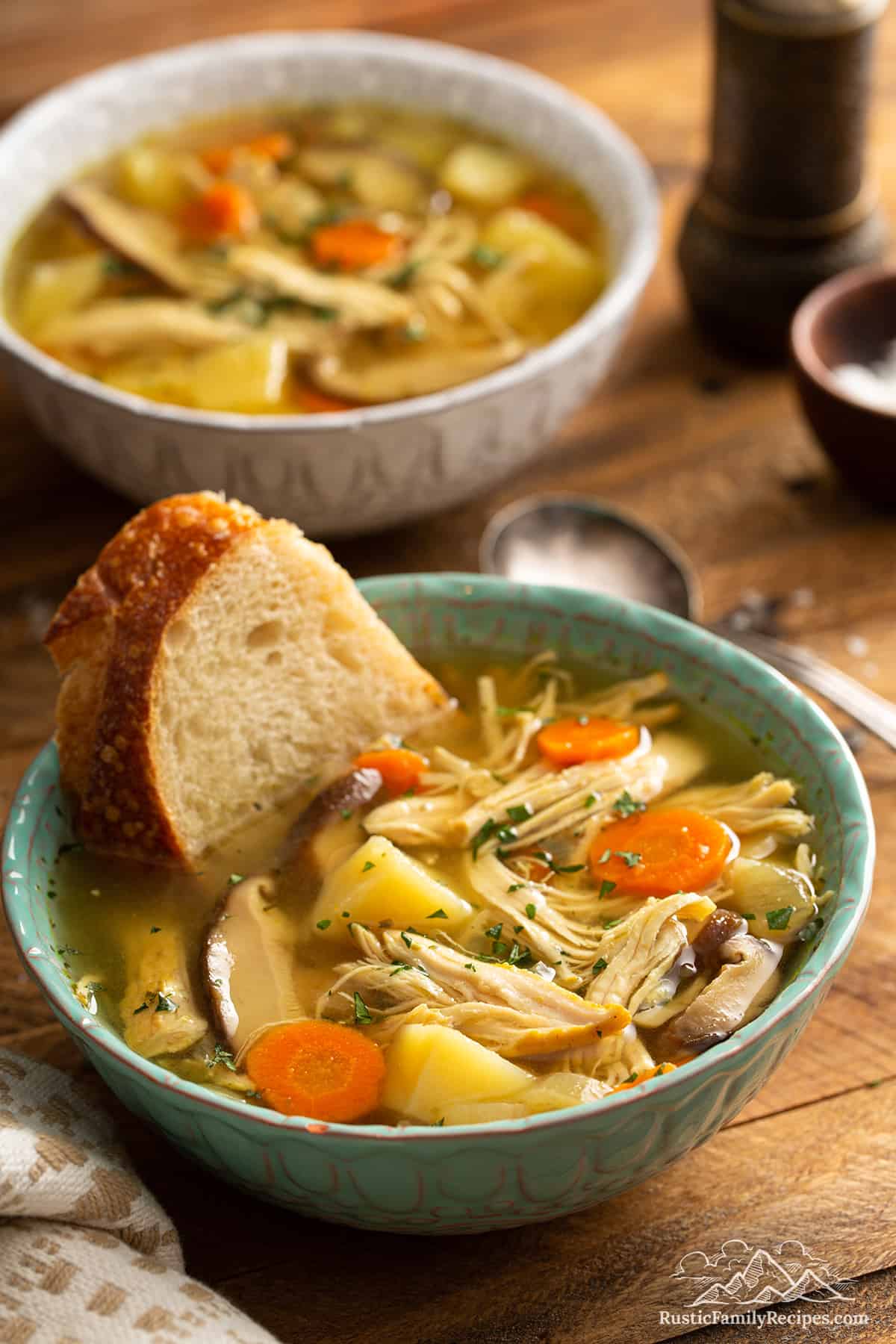 Serving Suggestions
I like to serve Instant Pot chicken soup with a slice of crusty bread warmed in the toaster and slathered with butter. Other favorite sides include:
Tortillas. A warm flour tortilla, rolled up and stuffed with cheddar cheese.

One of my other favorite ways to eat chicken soup is, I admit, a bit odd. (I think?) I like to tear up a warm flour tortilla and add it to a bowl of soup along with generous dollops of Cholula hot sauce. My grandmother used to do this with Caldo Tlalpeño, which is a kind of Mexican chicken soup.

Quesadilla. Simply place a corn tortilla on the griddle, top with your cheese of choice, then top with another corn tortilla. Flip after a minute or two and warm until the cheese is melted and the tortillas have your desired texture. (I like mine slightly crispy.)
Popovers. I know I've mentioned these before, but popovers really do go wonderfully with soup.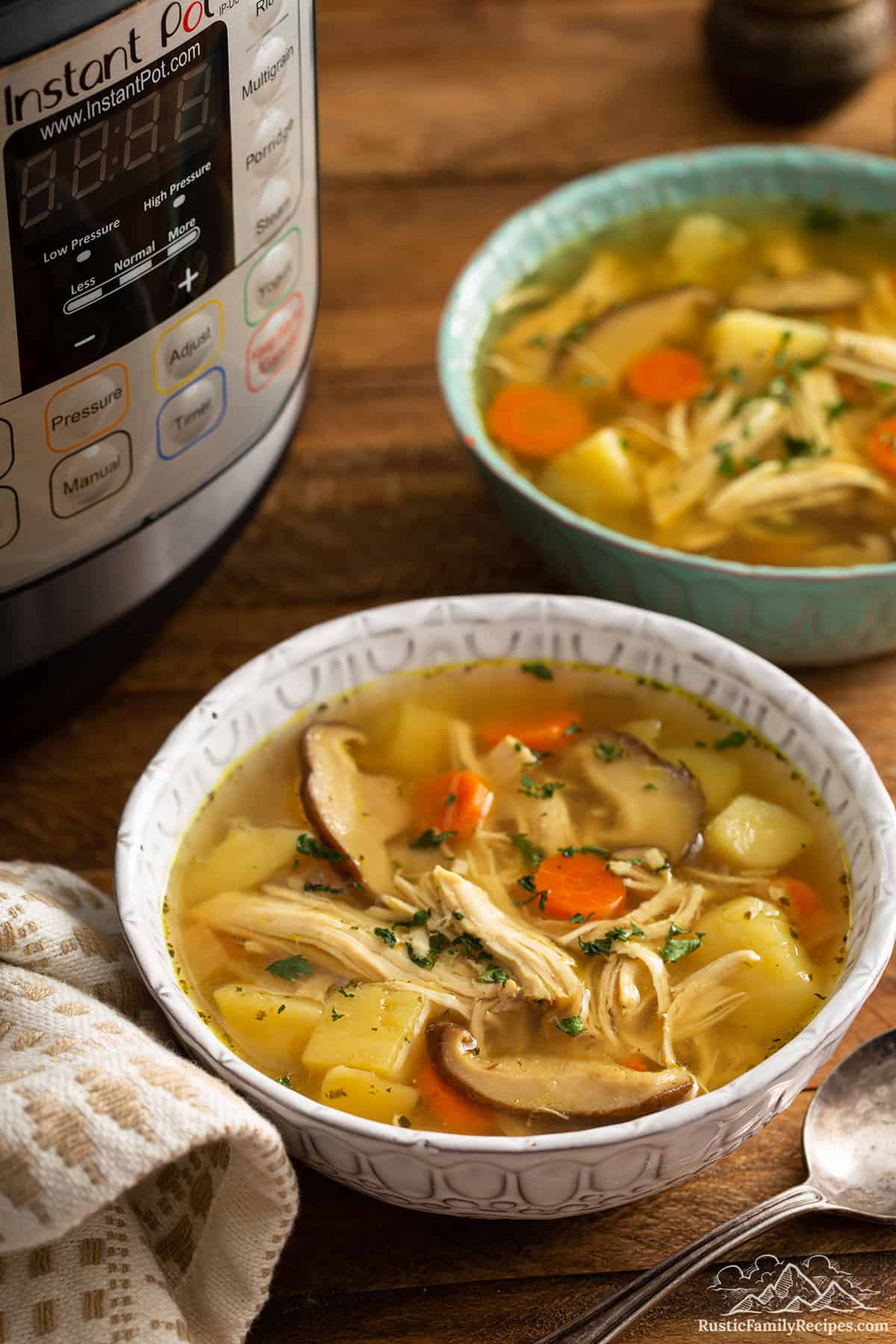 How to Store and Reheat Leftovers
Fridge. Let your chicken soup cool to just warm or room temperature, then transfer to airtight containers. I prefer glass containers with BPA free lids, like these ones on Amazon. The soup will keep for 3-4 days in the fridge.
To reheat. I prefer to reheat this soup on the stovetop. Simply place the amount you want to eat in an appropriately sized pot and warm over medium-low heat until it reaches your desired temperature. You can also ladle single servings into microwave-safe bowls and zap in the microwave until it heats up. I recommend stirring the soup halfway through the heating time.
Can I Freeze This Soup?
Yes! In fact, I like to keep mason jars (affiliate link) filled with this chicken soup in the freezer. That way it's easy to defrost some of this chicken soup when needed.
I prefer to freeze soup in wide mouth 16-oz mason jars. (The wider mouth makes it easier to get the soup out for defrosting.) Just ladle the cooled soup into each jar, leaving about 1.5 inches of room for expansion in the freezer. Seal with BPA free, freezer safe plastic lids. The soup will keep for 5-6 months frozen.
When you are ready to defrost some soup, simply run the glass parts of the jar under warm (not hot) water for a few minutes to loosen up the soup. Then invert the jar over a saucepan to remove the soup. Heat over medium-low heat on the stove top, covered, until the soup has defrosted and is warmed through. This usually takes about 15-20 minutes depending on how much soup you are warming up.
More Soup Recipes to Try
Instant Pot Chicken Soup
This easy Instant Pot Chicken Soup is my go-to recipe anytime someone is under the weather. It's full of flavor and healing ingredients like turmeric, miso and mushrooms.
Ingredients
3

medium carrots

,

peeled and chopped

2

medium potatoes

,

peeled and chopped

1

yellow onion

,

chopped

3-4

cloves of garlic

,

minced

1

teaspoon

dry oregano

1

teaspoon

dry parsley

1

teaspoon

dry thyme

½

teaspoon

ground cumin

½

teaspoon

ground turmeric

1

tablespoon

miso

,

red or white

2-3

chicken breasts

,

no skin

4

oz

Shiitake mushrooms

,

optional

5

cups

veg broth

,

low sodium

½ – 1

teaspoon

kosher salt

,

according to taste

Black pepper to taste

,

about ⅛ tsp
Instructions
Add all the ingredients to your Instant Pot. Give it a stir. Seal the lid and close the vent.

Cook on the soup setting for 30 minutes.

Allow the soup to do a natural release after the timer has gone off.

Remove the lid once the pressure gauge is all the way down. Shred chicken in the pot with two forks and give the soup a good stir.

Taste the soup and adjust salt & pepper to taste. Serve.
Last Step:
Please
share a rating and comment
if you enjoyed this recipe! Your feedback helps this little blog thrive and continue providing free, high-quality recipes for you.
Nutrition
Serving:
1
bowl
|
Calories:
187
kcal
|
Carbohydrates:
23
g
|
Protein:
19
g
|
Fat:
2
g
|
Saturated Fat:
1
g
|
Polyunsaturated Fat:
0.5
g
|
Monounsaturated Fat:
1
g
|
Trans Fat:
0.01
g
|
Cholesterol:
48
mg
|
Sodium:
1199
mg
|
Potassium:
785
mg
|
Fiber:
4
g
|
Sugar:
5
g
|
Vitamin A:
5563
IU
|
Vitamin C:
19
mg
|
Calcium:
40
mg
|
Iron:
1
mg
Nutritional info is an estimate and provided as a courtesy. Values may vary according to the ingredients and tools used. Please use your preferred nutritional calculator for more detailed info.
Did you make this recipe?
💖 I love hearing how my recipes came out for others! If you tried this recipe, please share a comment. 💖
Filed Under: