About Me: I have more than 20 years of cooking experience & share my favorite recipes on this blog.
Have a question? Please post a comment, I'm happy to help. 🙂
This Harry Potter birthday cake is made from layers of moist chocolate cake topped with bright pink frosting. It's finished off with the iconic "Happee Birthdae Harry" written in green icing, just like the movie!
What better way to celebrate a wizard's birthday (or Halloween) than with the famous cake from Harry Potter? This extra-moist chocolate cake is haphazardly frosted with creamy pink buttercream and the words "Happee Birthdae Harry" written on top. This iconic Harry Potter cake is easy to recreate with simple baking ingredients, and the flavors are totally delicious.
Why You'll Love This Harry Potter Cake
Just like the movie and book – but easy to make! This recipe makes a chocolate cake just like the one gifted to Harry in Harry Potter and the Sorcerer's Stone. The chocolate cake layers are finished off with bright pink frosting and "Happee Birthdae Harry" written in green icing. And best of all, this recipe is EASY to do.
Perfect for Harry Potter-themed parties or Halloween. This is an simple dessert to make for a Potter fan's birthday or Halloween wizarding celebration. It's one of the easiest Harry Potter cakes that anyone can make, and it's instantly recognizable at the dessert table.
Chocolatey and delicious. I make this Harry Potter cake from two tiers of rich chocolate cake filled with creamy frosting. It's perfectly tender and definitely fit for any wizard.
In case you haven't watched the Harry Potter birthday cake scene in a while, here is a clip:
What Kind of Cake Did Harry Get From Hagrid?
In Harry Potter and the Sorcerer's Stone, Rubeus Hagrid, keeper of keys at Hogwarts, presents Harry with a "large, sticky chocolate cake with Happy Birthday Harry written on it with green icing" for his 11th birthday. While the book doesn't mention pink frosting, the movie adaptation shows Hagrid's cake covered in the signature pink buttercream and decorated with bright green letters. That's the cake I've set out to recreate. The words are written in block letters, just like Hagrid's handwriting. Then I used a toothpick to create the "crack" in the cake from Hagrid accidentally sitting on it while riding his flying motorcycle.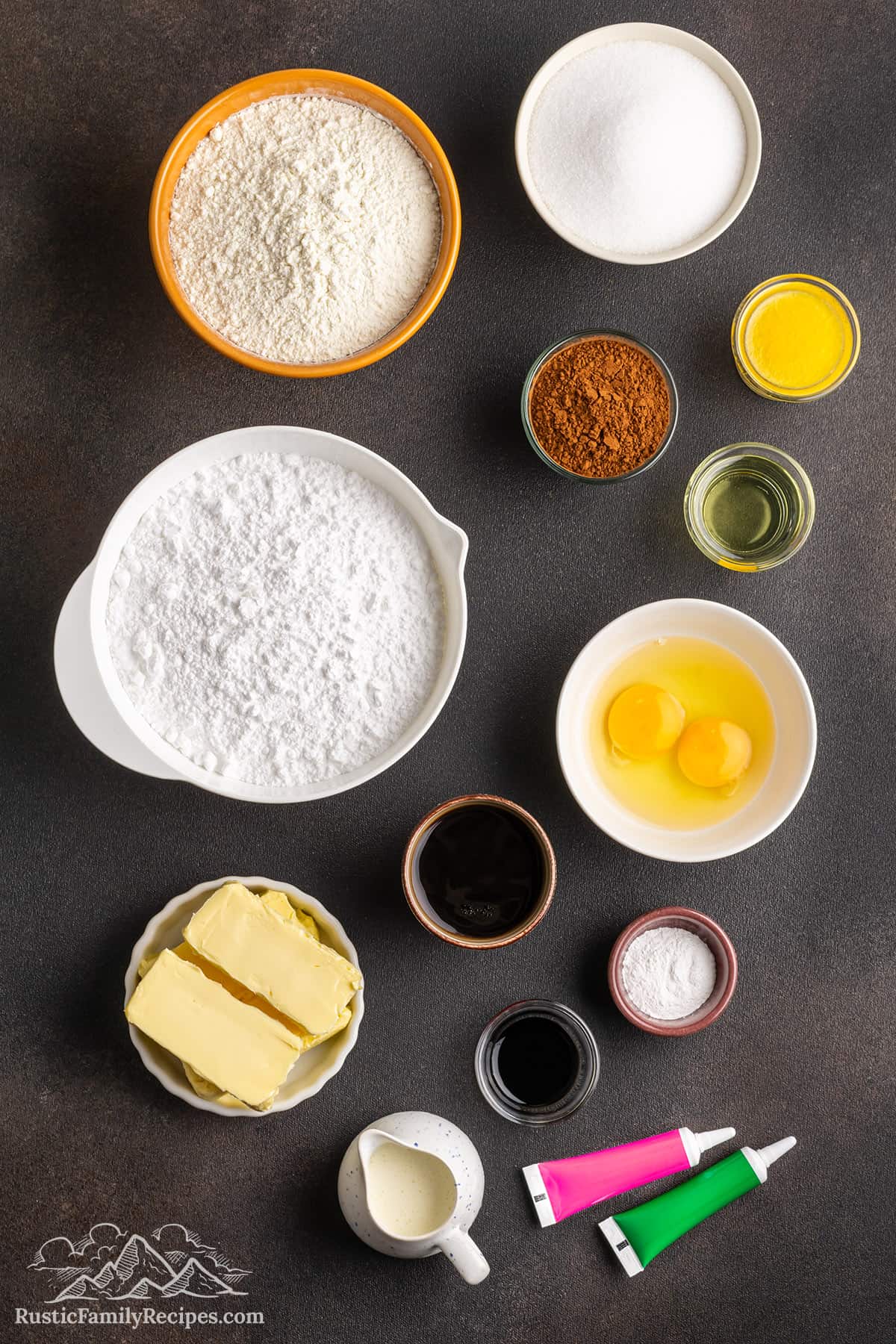 Recipe Ingredients
This Harry Potter birthday cake comes together easily with a handful of pantry staples. Below you'll find some notes on the key ingredients. Remember to scroll to the recipe card for the full amounts and recipe details.
For the Cake
Flour
Cocoa Powder – For this extra-fudgy chocolate cake, you'll use ½ cup of unsweetened or natural cocoa powder. Dutch-processed cocoa powder will give this cake a much darker color and fudgier flavor.
Baking Powder
Sugar
Eggs
Heavy Cream – Heavy cream brings additional moisture to the cake. You can also use buttermilk.
Oil – Using vegetable oil in place of butter in cakes yields an ultra-moist cake crumb, just like the "sticky chocolate cake" you're going for.
Brewed Coffee – Adding coffee to chocolate cake batter helps "bloom" the cocoa powder and intensifies the rich, chocolatey flavors.
For the Frosting
Butter – To make buttercream frosting, you'll need unsalted butter.
Powdered Sugar – Also called confectioner's sugar.
Vanilla
Heavy Cream – You can adapt the amount of heavy cream by the spoonful to get your frosting to the right consistency. You want it to be smooth and spreadable, and to hold its shape when piped.
Food Coloring – You'll need pink and green food dyes to color the frosting. Gel dyes yield the most vibrant colors, though regular liquid food coloring will also work here.
How to Make a Harry Potter Birthday Cake
Make the Cake Layers
This Harry Potter cake begins with two decadent chocolate cake layers: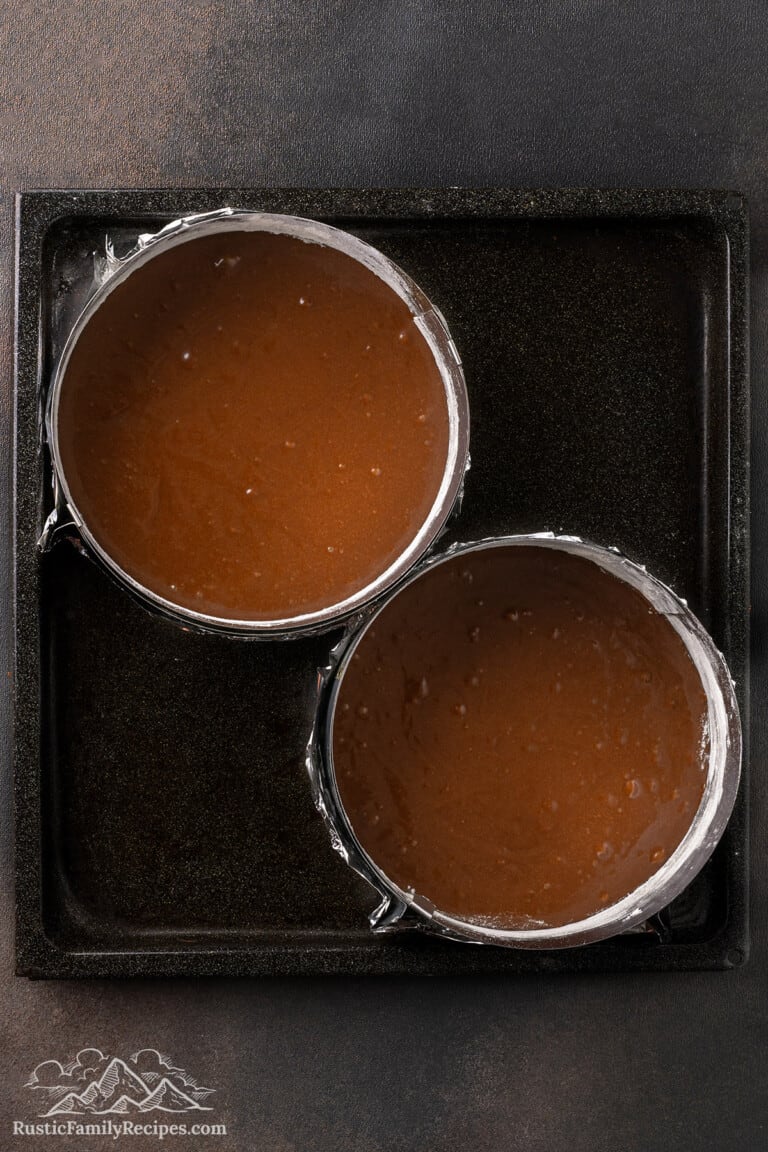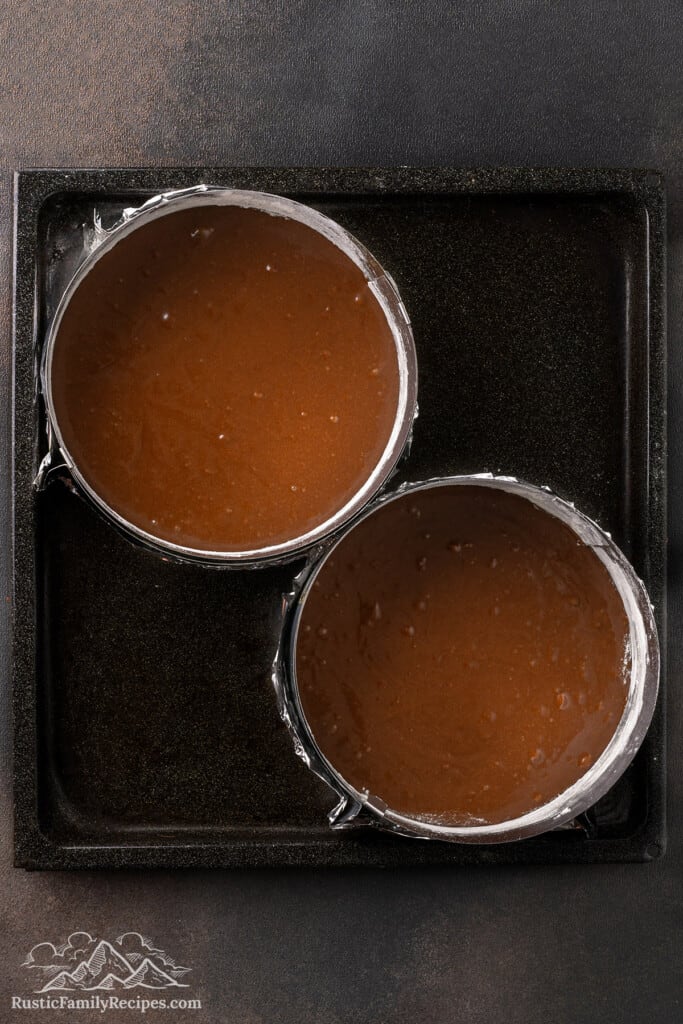 Make the batter. Start by sifting the dry ingredients into a bowl, then add sugar, eggs, and the remaining wet ingredients. Beat the batter for a few minutes to combine.
Bake. Divide the batter between two well-greased and floured 8-inch round pans. Bake at 350ºF for 50 minutes, until a toothpick stuck into the middle comes out clean.
Cool. Once your chocolate cakes are out of the oven, leave them to cool in the pans for a bit, then invert the cakes onto a wire rack. When they're cooled to room temperature, wrap the cakes and refrigerate them overnight. Chilled cakes are more sturdy, and they'll hold up better when stacking and frosting.
Make the Frosting
Fast forward, and you're ready to finish and frost your Harry Potter birthday cake. First, you'll make the buttercream frosting: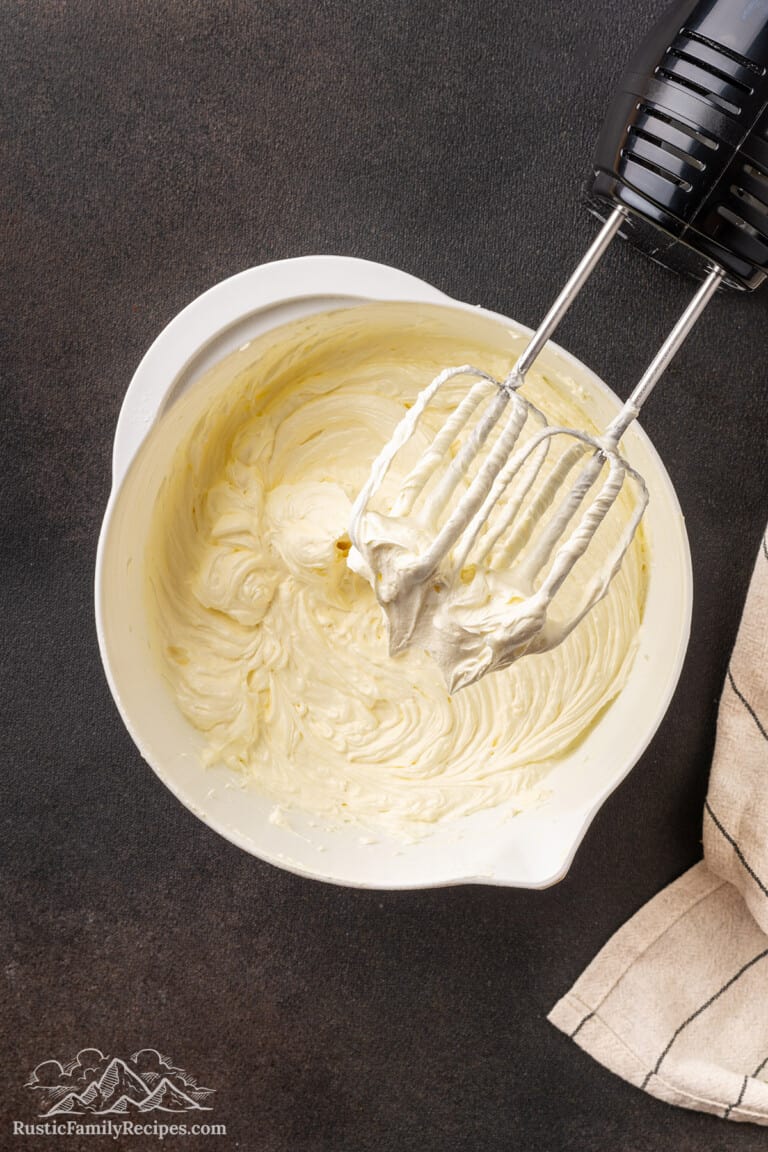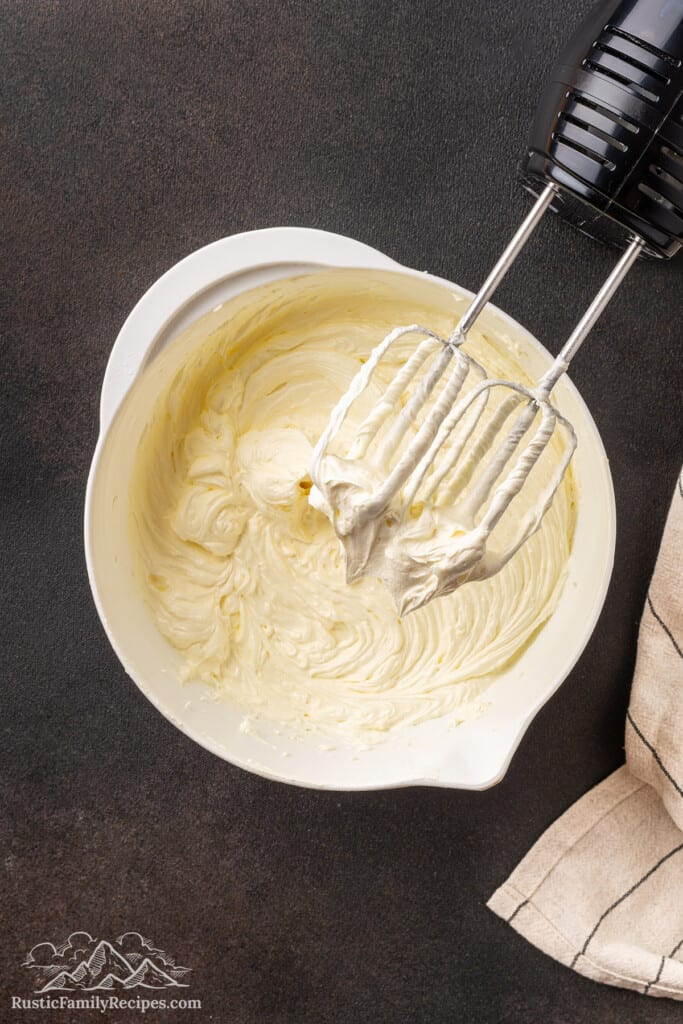 Beat the butter and sugar. Give the butter a good whip alone to start, then sift the powdered sugar and gradually add it to the bowl. Let each addition cream well with the butter before adding more.
Combine and whip. Beat in the vanilla, followed by heavy cream. I recommend adding the cream a little at a time to get your frosting to the right consistency. After, whip the frosting one last time so that it's nice and fluffy.
Color the frosting. Finally, scoop out about ½ cup of frosting and add it to a bowl with green food coloring. Mix, then color the last of the frosting using pink food dye.
Assemble and Frost the Cake
You can assemble this cake on a cake plate if you have one, otherwise, any plate or board that's large enough will do the trick.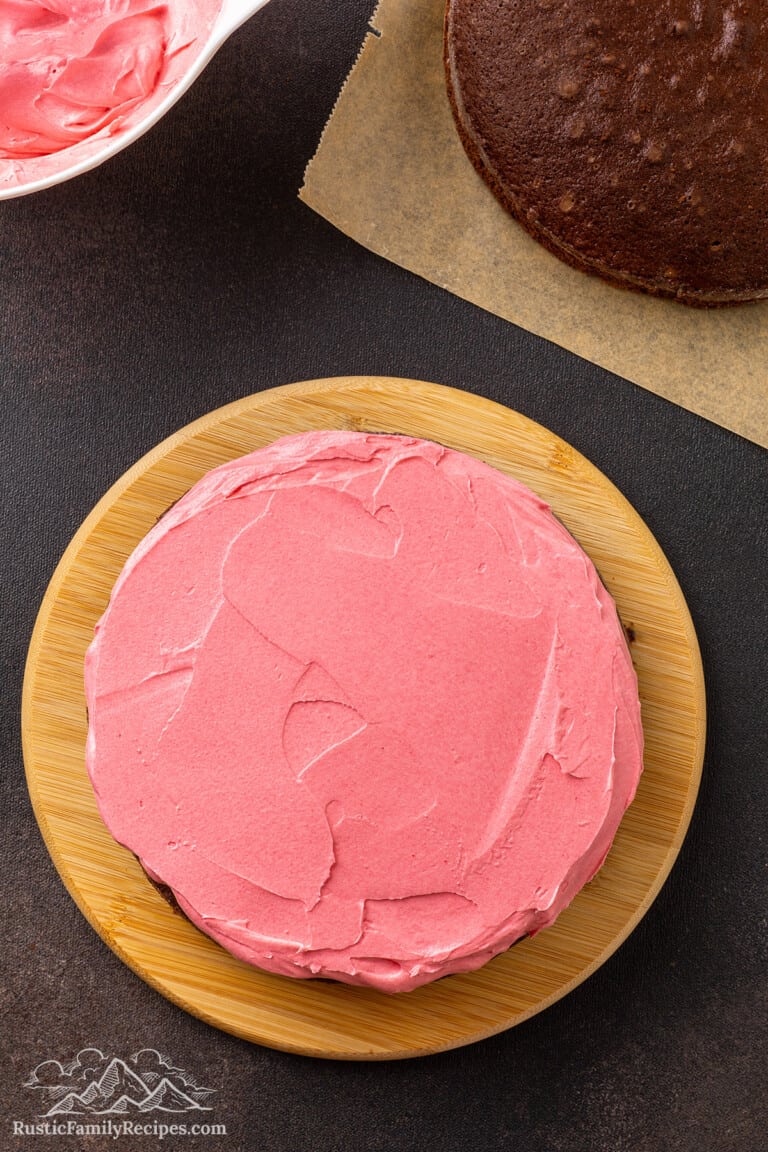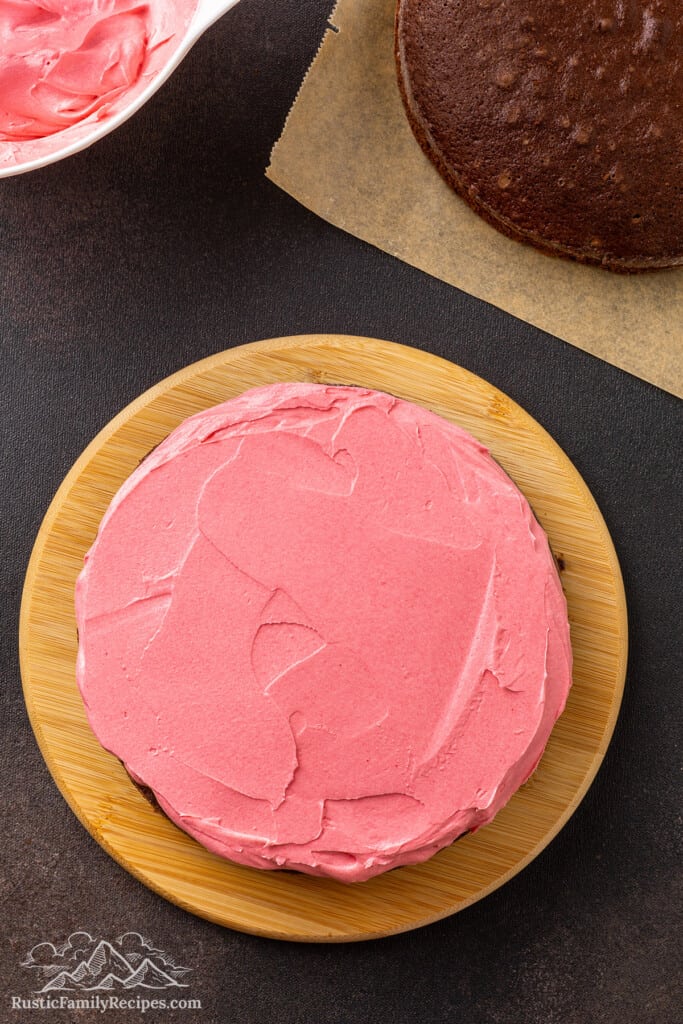 Assemble the cake. I like to place a dollop of frosting in the center of the plate, to keep the first layer from slipping. Beginning with the first layer, spread pink frosting in an even layer over top. Afterward, stack the second layer. Use a knife or offset spatula to cover the sides and top of the cake with pink frosting.
Add the green writing. Lastly, you'll write your "Happy Birthday" message using a piping bag filled with green frosting. Carefully pipe "HAPPEE BIRTHDAE HARRY" over the top of the cake. You can also change the name Harry to any name you'd like. Finish it off with a scraggly line drawn through the letters with a toothpick.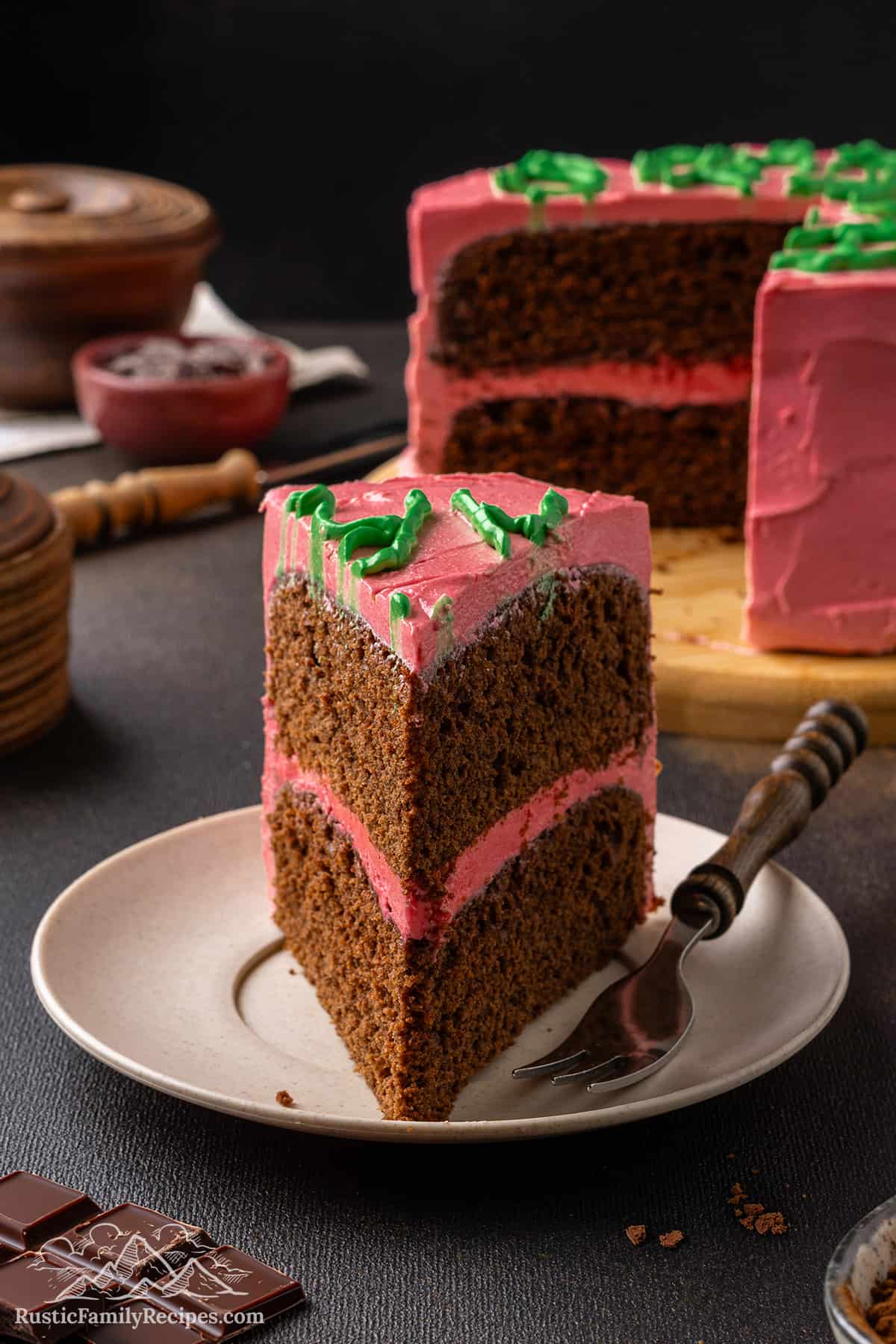 Tips for Success
It's not difficult to turn a moist chocolate cake into the famous Hagrid cake, but while creating this recipe I did pick up a few helpful tips:
Use room temperature ingredients. Take your eggs and heavy cream out of the fridge ahead of time to take the chill off. Room-temperature ingredients are easier to combine and the cakes will bake more evenly.
If you make this cake with 9" round pans, you'll need to shorten the baking time by a few minutes and the layers will turn out thinner.
Chill the cake layers. I like to start this recipe a day ahead and chill my chocolate cake layers overnight before frosting. This helps them firm up so that they're less likely to crumble when assembling. If you're pressed for time, try to chill them for at least 2 hours.
To thin out frosting that's too thick, add another spoonful of cream at a time until you get the best consistency. You can also add additional powdered sugar to thicken frosting that's too thin.
Do a test run. If you're still getting the hang of piping frosting, use a toothpick to write out the letters in advance. If you make a goof, you can quickly smooth out the frosting and start over before piping on the green letters.
Don't strive for perfection. Channel Hagrid's amateur baking skills when it comes to decorating your Harry Potter cake. Hagrid does admit to sitting on the cake in question, after all! It's more than fine if your writing and frosting turn out a bit uneven. It's part of this cake's charm.
Can I Make This Recipe as Cupcakes?
Certainly. This Harry Potter cake recipe makes enough batter for roughly 18-24 standard-sized chocolate cupcakes. You'll need to adjust the baking time to 18 to 22 minutes at 350ºF (give or take, use the toothpick test to be sure). Once your cupcakes have cooled, you can frost them with pink and green frosting, piping each cupcake with one letter of your Happy Birthday message.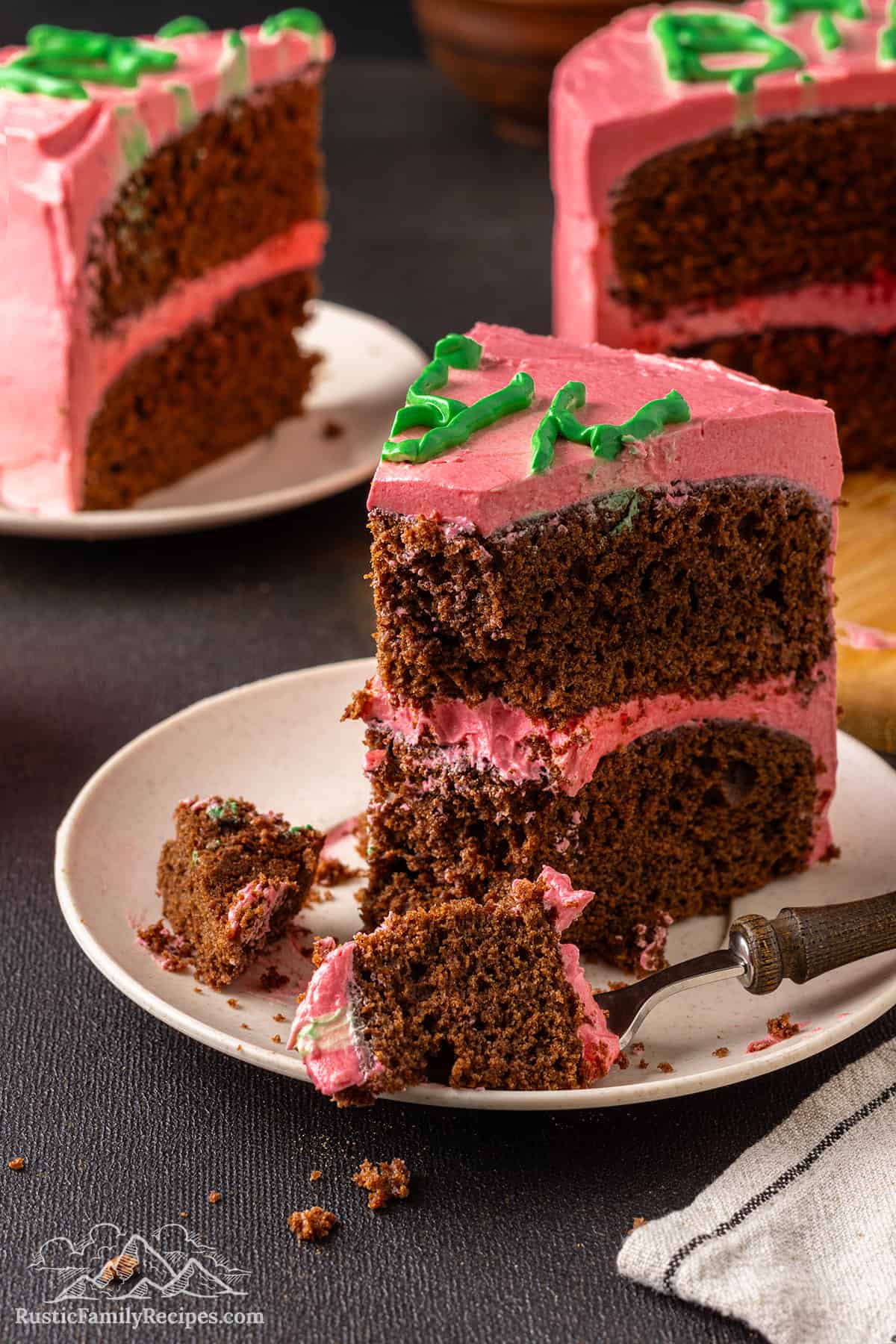 What to Serve With a Harry Potter Cake
Now you can have a slice of Harry's birthday cake, too! At your next wizarding occcasion, serve slices with a scoop of vanilla ice cream, strawberry ice cream or Oreo ice cream. For a grown-up twist, try bourbon vanilla ice cream topped with homemade whipped cream.
How to Make Ahead and Store
Fridge. Store any leftover Harry Potter cake covered in the refrigerator for up to 4-5 days.
Make-ahead. Once your baked, unfrosted cake layers are wrapped and in the fridge, they can stay in there for up to 2 days, or you can freeze them to assemble later on. Defrost the cake layers in the fridge before frosting. The buttercream frosting can also be kept airtight in the fridge for up to 4 days, or frozen for up to 1 month. Once thawed, beat the frosting to get it fluffy again.
Freezer. I usually don't recommend freezing cakes once they're frosted, but if you have leftovers you'd like to freeze, store slices wrapped individually in plastic wrap. Freeze for up to 2 months and thaw the cake in the fridge before serving.
More Cake Recipes
Harry Potter Cake
This Harry Potter birthday cake is an extra-moist chocolate cake with bright pink frosting and "Happee Birthdae Harry" written in green, just like the movie!
Ingredients
Chocolate Cake:
2

cups

all-purpose flour

½

cup

cocoa powder

2

teaspoons

baking powder

1 ½

cups

granulated sugar

2

eggs

¼

cup

heavy cream

¼

cup

vegetable oil

1

cup

brewed coffee
Buttercream:
1 ½

cups

unsalted butter

4

cups

powdered sugar

1

tablespoon

vanilla extract

4

tablespoons

heavy cream

,

more or less may be needed to achieve desired consistency, it should be smooth but still stuck and hold on the whisk

Pink and green food colorings
Instructions
Prep. Preheat the oven to 350°F (180°C). Grease two 8-inch round cake pans with butter, then dust with flour, tapping out the excess. Set aside.

Make the cake batter. In a large bowl, sift together the flour, cocoa powder, and baking powder. Add sugar, eggs, heavy cream, oil, and brewed coffee. Using a hand mixer, beat the batter for about 3-4 minutes until well combined. Divide the batter evenly and pour into the prepared pans.

Bake and then chill. Bake for about 50 minutes, or until a toothpick inserted into the center comes out clean. Remove from the oven and allow to cool in the pans for a few minutes before transferring to a wire rack to cool completely. Wrap the cake layers in plastic wrap and refrigerate overnight.

Beat butter and sugar for the frosting. Beat butter on high speed for 5 minutes. Meanwhile, sift the powdered sugar. Reduce the mixer speed to medium-low and add the powdered sugar one tablespoon at a time, allowing each addition to incorporate before adding more. Beat until fully dissolved, scraping down the sides of the bowl as needed.

Finish the frosting. Add the vanilla and beat until incorporated. Then, add heavy cream, one tablespoon at a time, to achieve the desired consistency. Beat for another minute until well combined.

Color the frosting. Take about ½ cup of the frosting and color it with green food coloring. Color the remaining frosting with pink food coloring.

Assemble the cake. To assemble the cake, place a small amount of frosting on a cake plate to secure the first layer. Top the first cake with a layer of pink buttercream. Place the second cake layer on top and repeat the process. Cover the sides and the top of the cake with the pink buttercream.

Frost the cake. Fill a piping bag with a small round piping tip with the green frosting. Size PME 2.5 (2.5mm, or 0.1 inch) will work perfectly (or cut off the tip of the piping bag) Write "HAPPEE BIRTHDAE HARRY" onto the cake, like in the movie. Then make line with a toothpick between the letters, like in the movie.
Last Step:
Please
share a rating and comment
if you enjoyed this recipe! Your feedback helps this little blog thrive and continue providing free, high-quality recipes for you.
Nutrition
Calories:
627
kcal
|
Carbohydrates:
83
g
|
Protein:
4
g
|
Fat:
33
g
|
Saturated Fat:
18
g
|
Polyunsaturated Fat:
4
g
|
Monounsaturated Fat:
8
g
|
Trans Fat:
1
g
|
Cholesterol:
100
mg
|
Sodium:
90
mg
|
Potassium:
116
mg
|
Fiber:
2
g
|
Sugar:
65
g
|
Vitamin A:
895
IU
|
Vitamin C:
0.1
mg
|
Calcium:
66
mg
|
Iron:
2
mg
Nutritional info is an estimate and provided as a courtesy. Values may vary according to the ingredients and tools used. Please use your preferred nutritional calculator for more detailed info.
Did you make this recipe?
💖 I love hearing how my recipes came out for others! If you tried this recipe, please share a comment. 💖
Filed Under: