About Me: I have more than 20 years of cooking experience & share my favorite recipes on this blog.
Have a question? Please post a comment, I'm happy to help. 🙂
This Halloween Gingerbread house is so easy to make and the perfect Halloween activity idea. Decorate it with buttercream, royal icing, and lots of candy to celebrate Halloween with an edible gingerbread house.
Halloween is my favorite holidays so I'm always looking for fun ways to celebrate. When I had little kids running around that meant Halloween egg hunts, craft projects and festive food. I could always count on hot dogs dressed up in cresent dough to look like mummies and cupcakes topped with candy worms to delight.
These days I have to try a bit harder – mostly because teens are, by default, unimpressed. Know what I mean?
Thankfully, this twist on the classic Christmas gingerbread house sparked their interest! Made with an easy print out (see below), this Halloween gingerbread house can be as simple or as complex as you like.
Homemade gingerbread is "glued" together with royal icing, then decorated with buttercream frosting and any kind of candy that you like. Everyone can make one house together, or you can give each person their own house to assemble and decorate. Gingerbread house decorating contest anyone?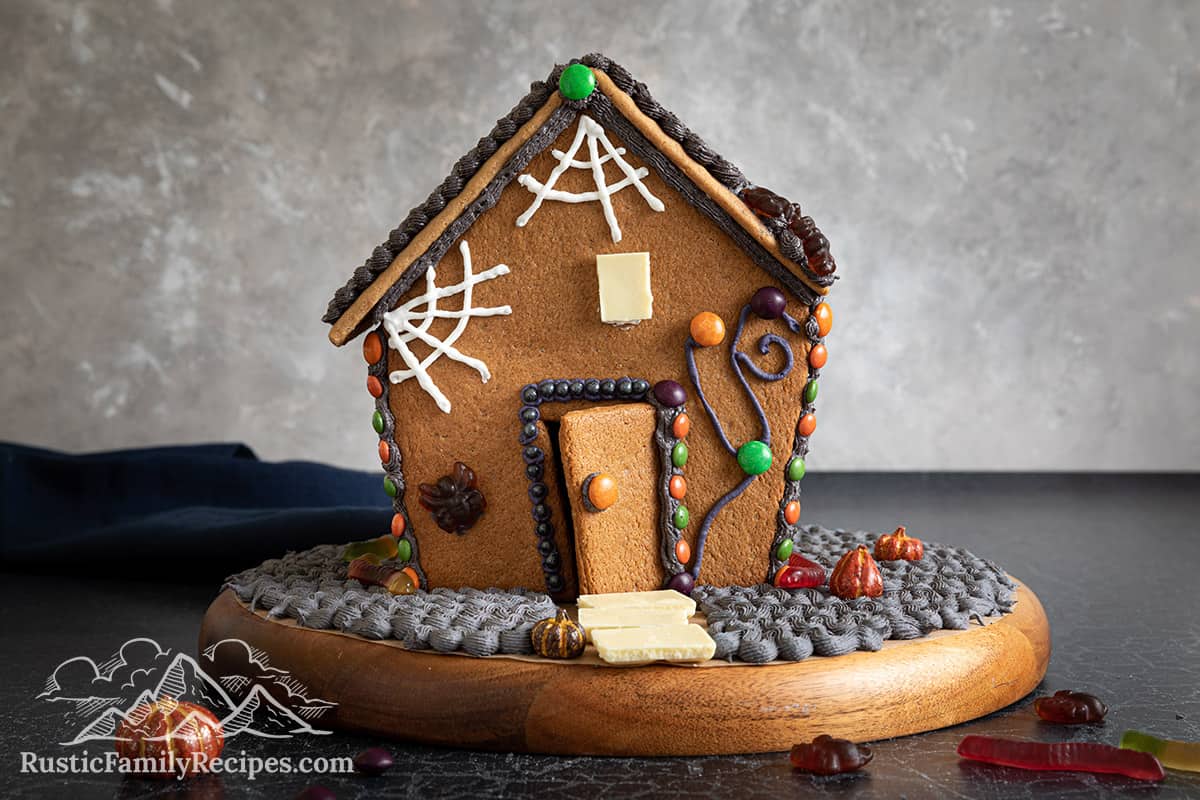 Why You'll Love this Halloween Gingerbread House
Gingerbread houses are one of my favorite baking projects. Here's why I think you'll love this one too:
Fun. It's super fun to make and decorate a gingerbread house. It's a bit like building with LEGOs, except everything is edible and you can go to town with your favorite candies for decoration.
Easy. I have included a printable template you can use to cut out your gingerbread house pieces. Then all you need to do is glue them together with icing and start decorating.
Great for parties. Building gingerbread houses is perfect for parties with guests of any age. Little kids love them and teens like the opportunity to express their unique creativity. You could even make gingerbread houses at a grown up party complete with spooky cocktails.
Looks fancy! Even though it's relatively easy to make, this gingerbread house looks all sorts of fancy at your Halloween party. If you want to go the extra mile, you can also make a Nightmare Before Christmas Cake to display beside your house.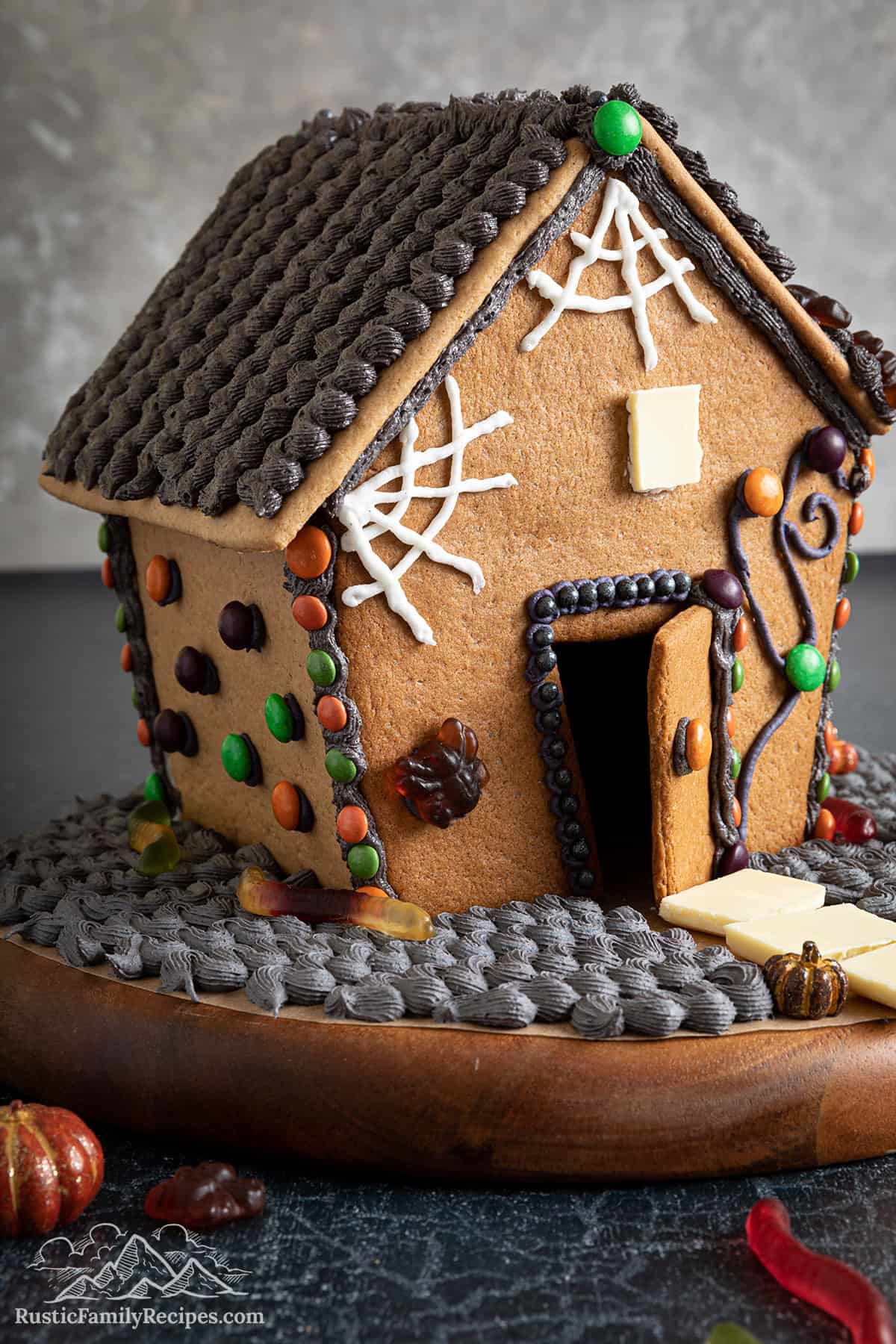 Recipe Ingredients
Lots of ingredients go into making and decorating a gingerbread house. After all, you're building an edible house. But, there is nothing complicated or hard to find. Here's a quick run down of what you'll need. For exact amounts, scroll down to the recipe card.
For the gingerbread
Unsalted butter – Please don't use salted butter for this recipe.
Brown sugar – I prefer dark brown sugar, but the light brown kind will work too.
Molasses – You can find it in the baking aisle of most supermarkets or even online. If you can't get a hold of any, use golden syrup, corn syrup, or maple syrup instead.
Honey – Raw honey works best.
All-purpose flour – No cake flour, bread flour, gluten-free, or plant-based flours. Only all-purpose flour can provide the structure we need for a sturdy house.
Ground cinnamon
Ground ginger
Ground clove
Salt
Baking soda – Don't substitute it for baking powder. Without baking soda, the gingerbread house would be rock-hard.
Water
For the royal icing ('glue')
Meringue powder – We are going to use this instead of raw egg whites so that the royal icing is totally safe to eat.
Water
Cream of tartar – Check the ingredient list on your meringue powder. If it already has cream of tartar, you don't need to add extra. It's usually by the spice section or baking aisle in most supermarkets.
Powdered sugar – Also called confectioners' sugar. Don't use any granulated sugars.
Vanilla extract
Almond extract – You can find it in the baking aisle of most supermarkets or even online. If you can't get it, swap it for more vanilla extract or leave it out completely.
Food dyes – I used purple and black, but use your favorite spooky colors for a unique gingerbread house.
For the buttercream frosting
This frosting recipe is the same one I used on my Encanto Cake.
Unsalted butter – Never use margarine instead of butter, especially for buttercream frostings.
Powdered sugar
Salt
Heavy whipping cream – Make sure it has at least 36% fat. There is no substitute for this.
Black food dye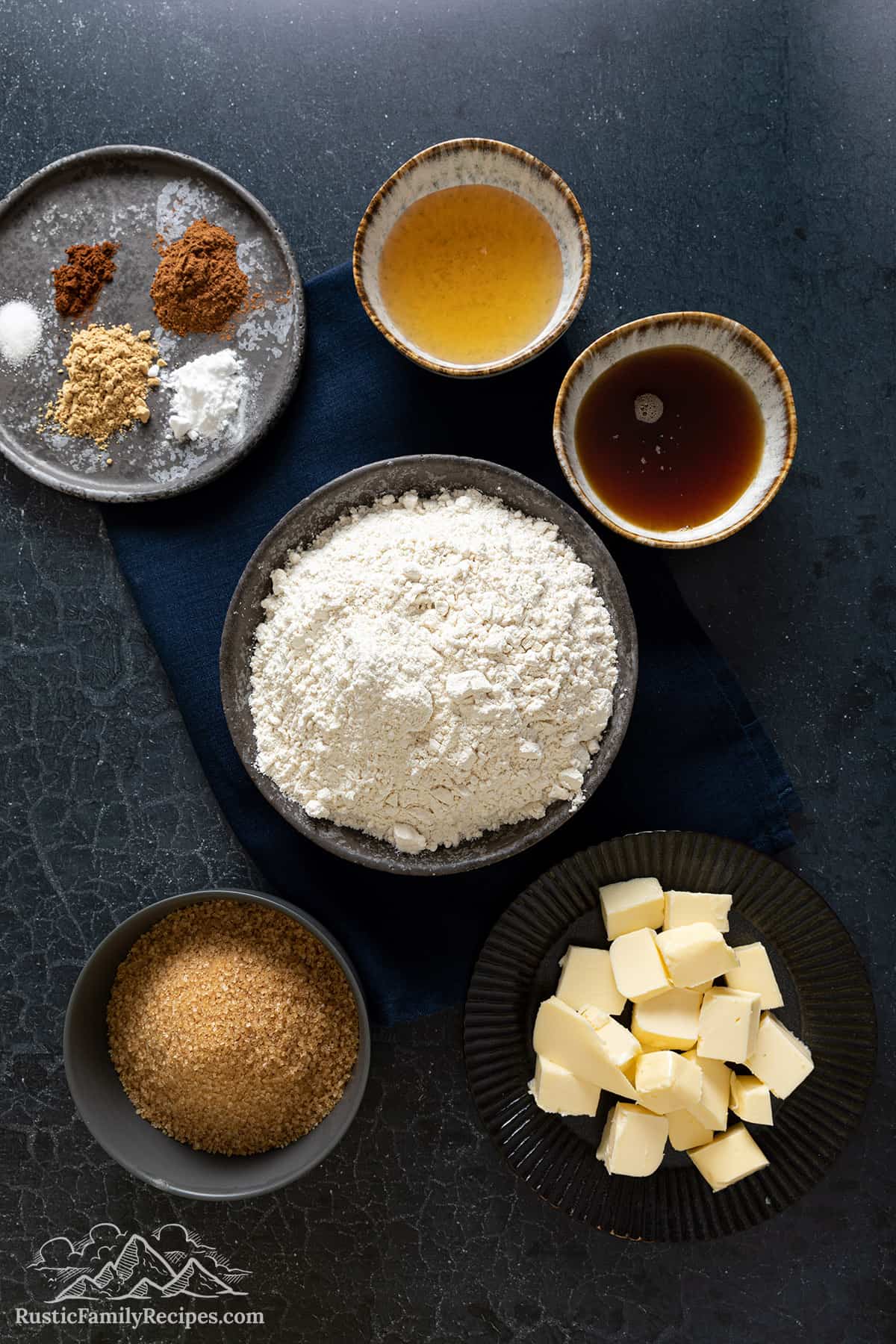 How to Make a Halloween Gingerbread House
Starting a day before will make the process seem way more manageable. Gingerbread is not hard to make from scratch, but it does require time and patience before you're ready to sit down and decorate.
Make the Gingerbread
Print. Once you print out the template, cut it out using a pair of scissors.
Make the sweet mixture. Preheat the oven to 350 F. Then add the butter, brown sugar, molasses, and honey to a small pot over low heat. Stir continuously for 5-10 minutes or until the butter has melted and the sugar crystals have dissolved. Remove from the heat and set it aside to cool.
Whisk the dry ingredients. In a large bowl, whisk the flour, spices, salt, and baking soda. Mix until well combined.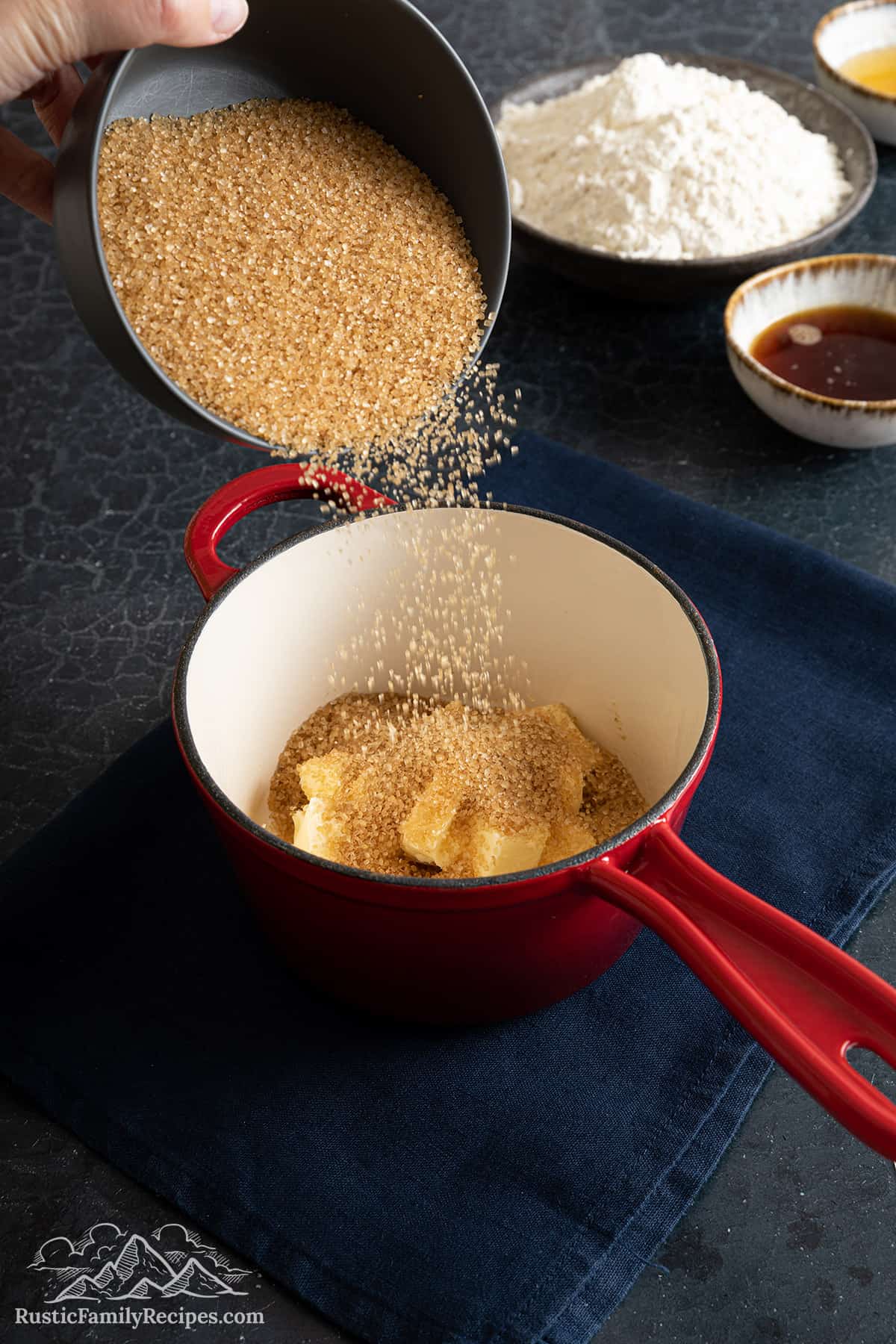 Combine wet and dry ingredients. Carefully pour the sweet mixture into the dry ingredients. Add warm water and use a silicone spatula or wooden spoon to combine everything. The dough should be thick and pliable, not sticky.
Prepare the trays. Line the baking sheets with parchment paper and set them aside.
Flour the surface. Generously sprinkle flour on your work surface and rolling pin to avoid sticking. Occasionally you may have to re-dust them.
Roll it out. Divide the dough in two. Roll each half out until it's about 1/4″ thick. Immediately transfer each part into a prepared baking tray. Place the template on top and use a pizza cutter or knife to cut along the edges and carve out the pieces.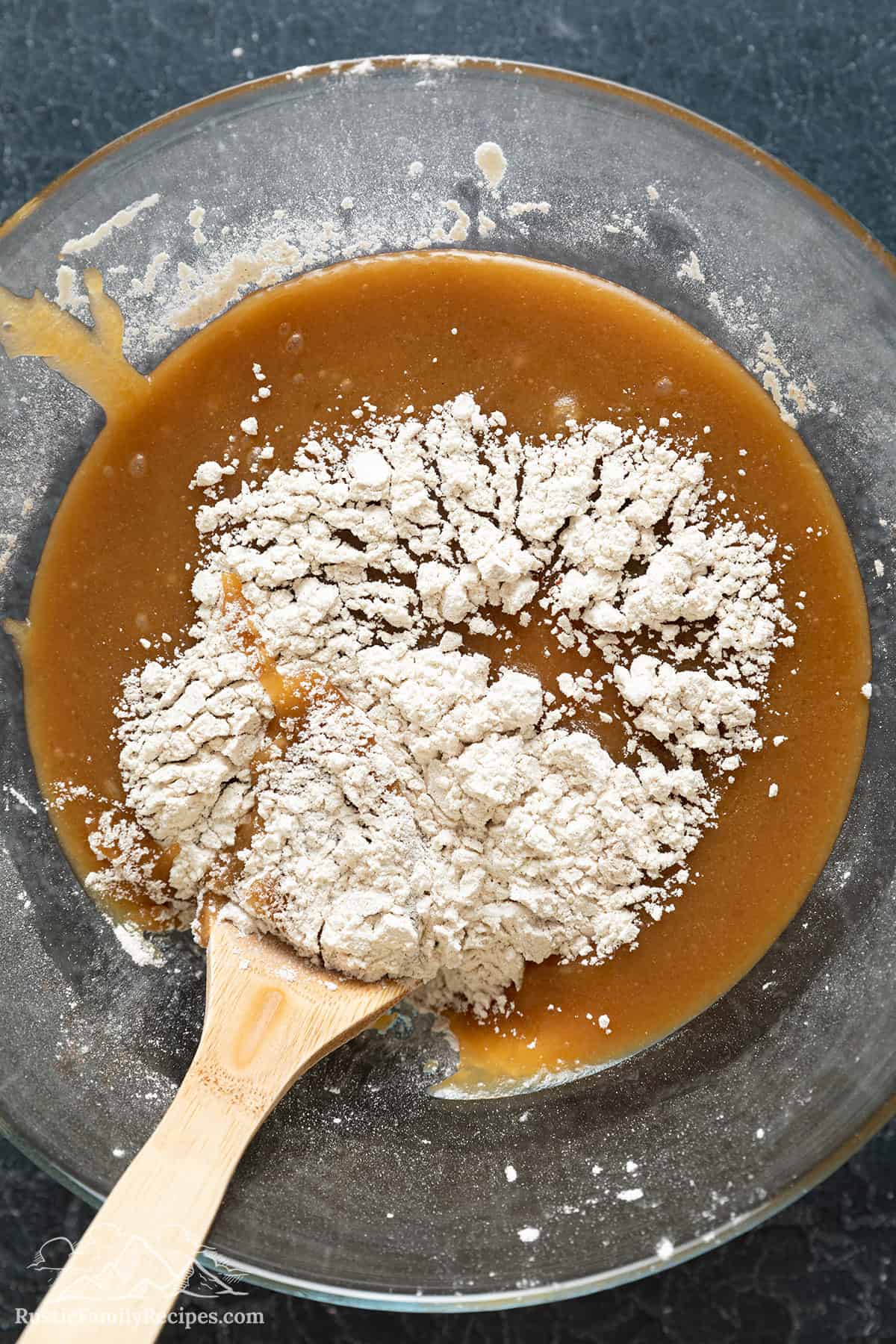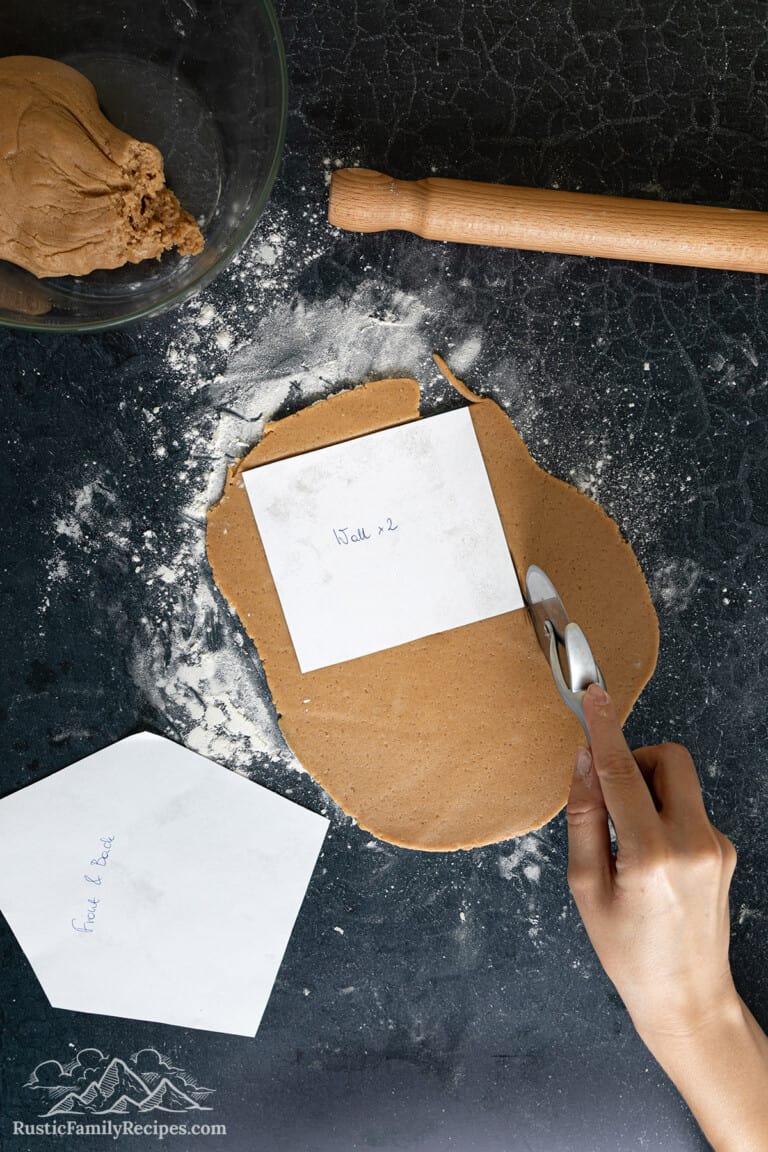 Separate. Once all your pieces are ready, carefully use your hand to separate them. Leave about 2-3″ of space between them so they don't stick as they spread when baking. Re-roll the scraps once. Don't forget to cut out a door from the front house wall piece. Place it on the tray and let it bake.
Bake. Pop the trays into the oven and bake for 20 minutes.
Cool. Remove from the oven and set aside to cool completely. If you decorate while the cookies are still warm, the royal icing and buttercream will melt.
Make the Royal Icing
Whisk the meringue. In a medium-sized bowl, whisk the meringue powder and water for about 2 minutes or until well combined. If you're using cream of tartar, add it in now and continue whisking for another minute.
Add the sugar. Sift the powdered sugar and then add the meringue mixture. Using the paddle attachment, mix it on low speed for 5 minutes. You can also do this by hand. Whisk the mixture gently, without incorporating too much air, until you get a smooth mixture. It should take between 8-16 minutes.
Add the extracts. Pour the vanilla and almond extracts into the royal icing. Mix for another 3-4 minutes or until fully combined.
Divide it. Split the royal icing in half. Add 4-5 drops of black food dye to one half and mix well. Depending on how concentrated your food dye is, you may have to add more. Divide the remaining half of royal icing into two parts. Leave one of them as it is, white. Add 2-4 drops of purple food dye to the other one and mix until well combined.
Transfer. Carefully pour each color into piping bags. Twist the ends shut with a rubber band or twist tie. Place them in tall glasses with the tips pointing downward until ready to use. This will avoid any leaks.
Make the Buttercream Frosting
Beat the butter. Use the paddle attachment on your stand mixer to beat the butter on medium speed for 3-4 minutes or until light and fluffy. You can also use a hand-mixer as long as you achieve the same consistency.
Add the sugar. Set the speed to low and sift the sugar into the bowl. Gradually increase the speed until you reach medium again. Mix until light and fluffy, which should be about 2 minutes.
Add the whipping cream. Pour the vanilla extract and whipping cream into the mixture. Add the salt. Scrape down the sides of the bowl and continue mixing until just combined.
Transfer. Add black food dye and mix until you get an even mixture. Fit a piping bag with a Wilton No. 22 piping tip and transfer the buttercream into the bag. If you don't have this piping tip, just use your favorite!
Assemble the Gingerbread House
Glue the main structure. Use thick lines of white royal icing to "glue" the front and sides of the house together. Hold the pieces in place with heavy cans and glasses so you don't have to stand there for hours. Let the icing harden for 20-30 minutes. A fan or AC also help speed up the process.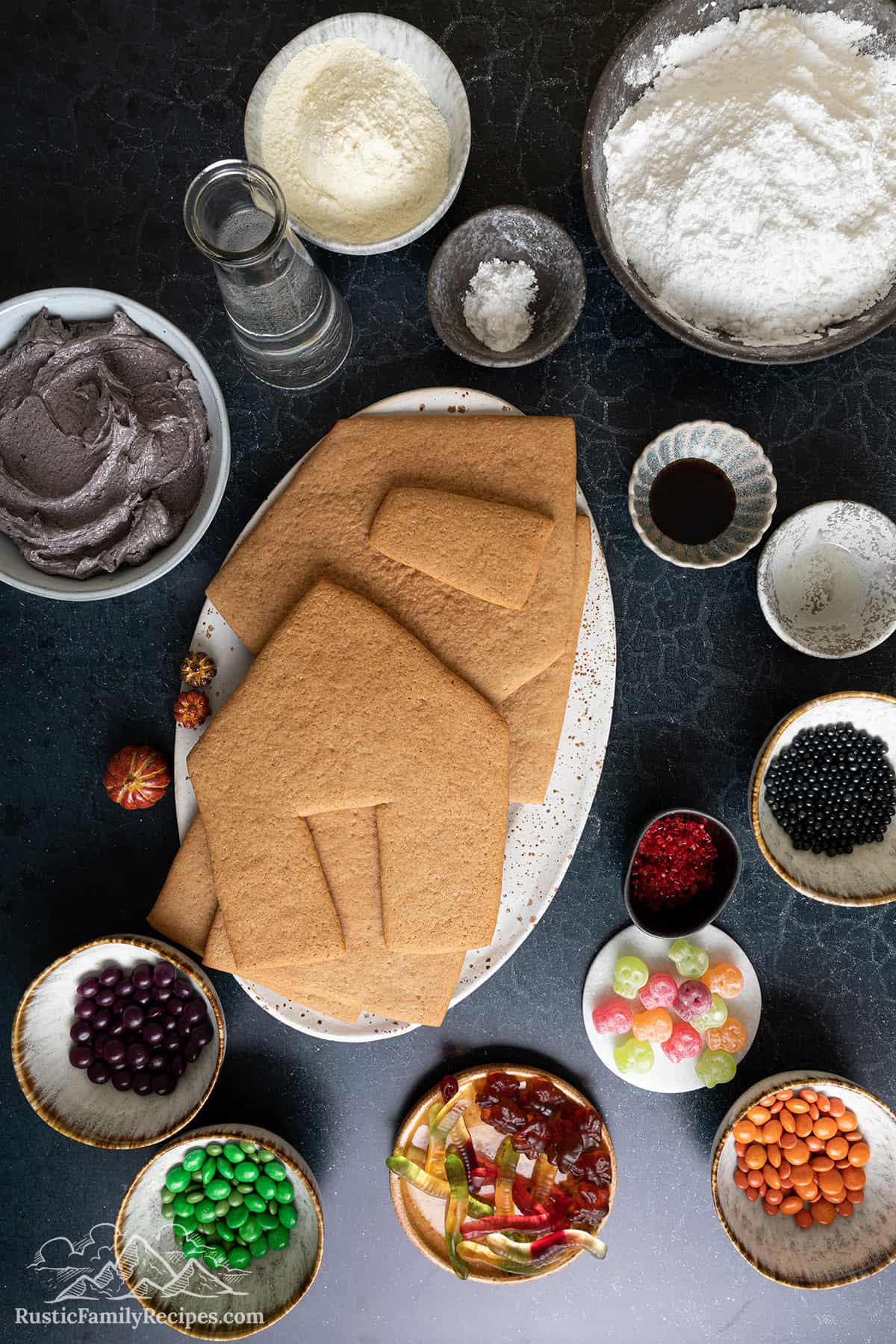 Place the roof. Make sure the main structure has set completely otherwise your house may collapse when you try to "glue" the roof. Use more tall glasses and cans to help you keep the roof in place.
Let it set. Give the royal icing 1-2 hours to set before you start decorating the house.
Decorate. Pipe buttercream along the edges of the walls. Use it to decorate the roof as well. Decorate the rest of the house with royal icing and use it to "glue" your favorite candy to the walls.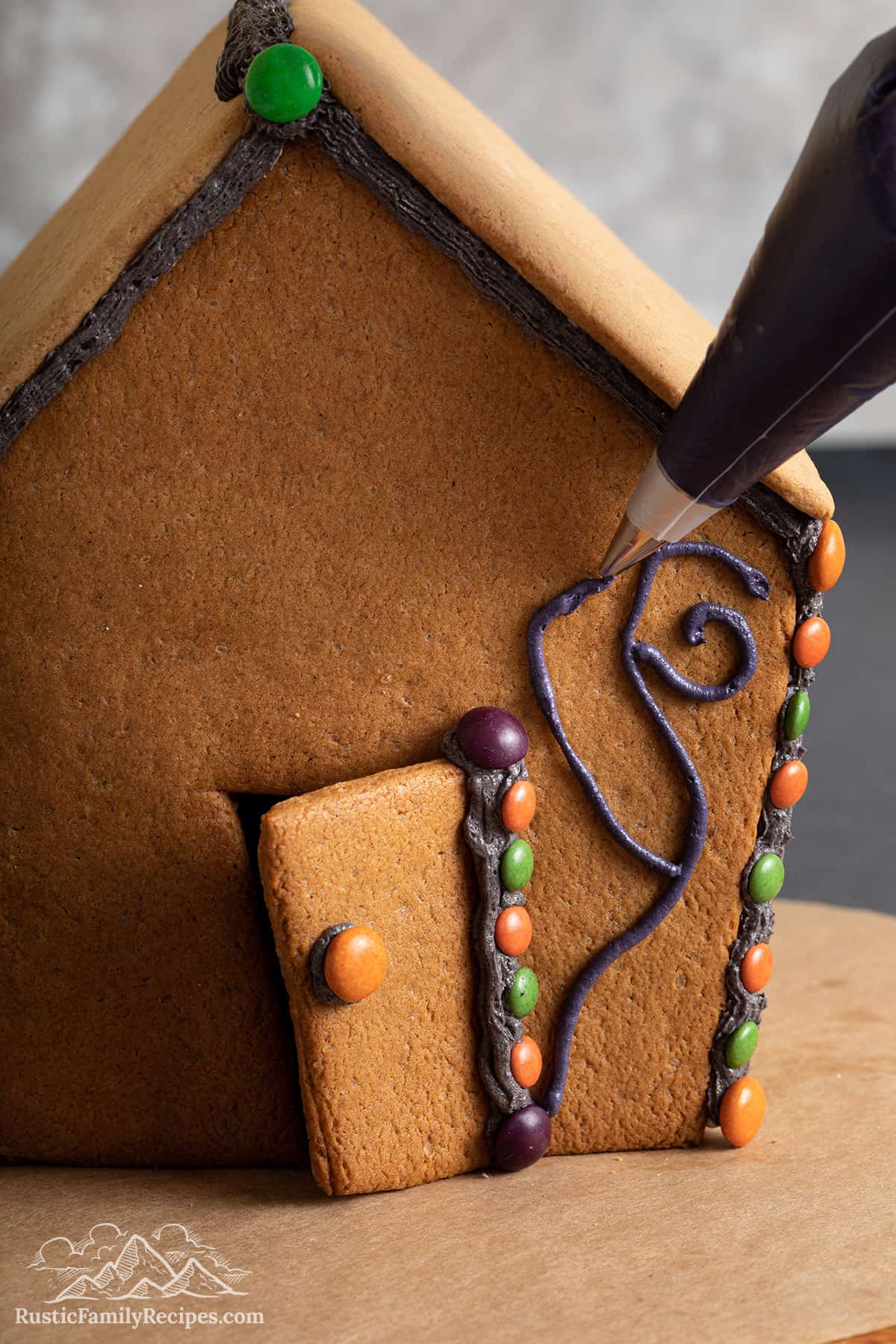 Download My Gingerbread House Template
It's not a complex blueprint, so there's nothing to worry about. You only need 4 squares and 2 pentagons. Easy! Despite this, don't think you can free-style it. You'll run into some serious issues when you're trying to glue the walls together and realize they don't fit. My recommendation is to print out the template. It only takes a second and will save you tons of time and stress.
Tips for Success
Whether you're a cookie architect or not, follow these tips to make sure your gingerbread stands tall and proud by the time you're ready to decorate it:
Laminate the template. The template is fine for a single use, but not more than that because the paper absorbs the butter's fat. Laminating the template was my way around it. Cut it out, laminate it, and then cut it out again, leaving a 0.2″ plastic edge around it. Re-use it as many times as you want, just make sure to wipe it clean after each use.
No laminating machine? In that case, another trick is to trace the outline onto parchment paper. Then cut out the template on the parchment paper. You can use it over and over without the paper absorbing anything from the gingerbread.
Bake until the edges are golden. Every oven is different and baking times also vary depending on the altitude. Keep an eye on your oven and bake until the edges of your gingerbread are golden brown.
Make ahead. Nobody likes to wait around in order to start decorating. Get a head start by making the gingerbread a day before. Store the pieces in an airtight container at room temperature.
Let the gingerbread cool. Leave the gingerbread on the tray after baking. Let the pieces cool for at least 30 minutes before removing them from the tray. Warm gingerbread is more delicate and breaks easily. Then let it cool completely before assembling your house so that the icing doesn't melt.
Cover the royal icing. If you're not going to transfer the royal icing to piping bags immediately, lay some cling film over it. The plastic should be touching the icing. If it's not in contact with it, the icing will develop a crust.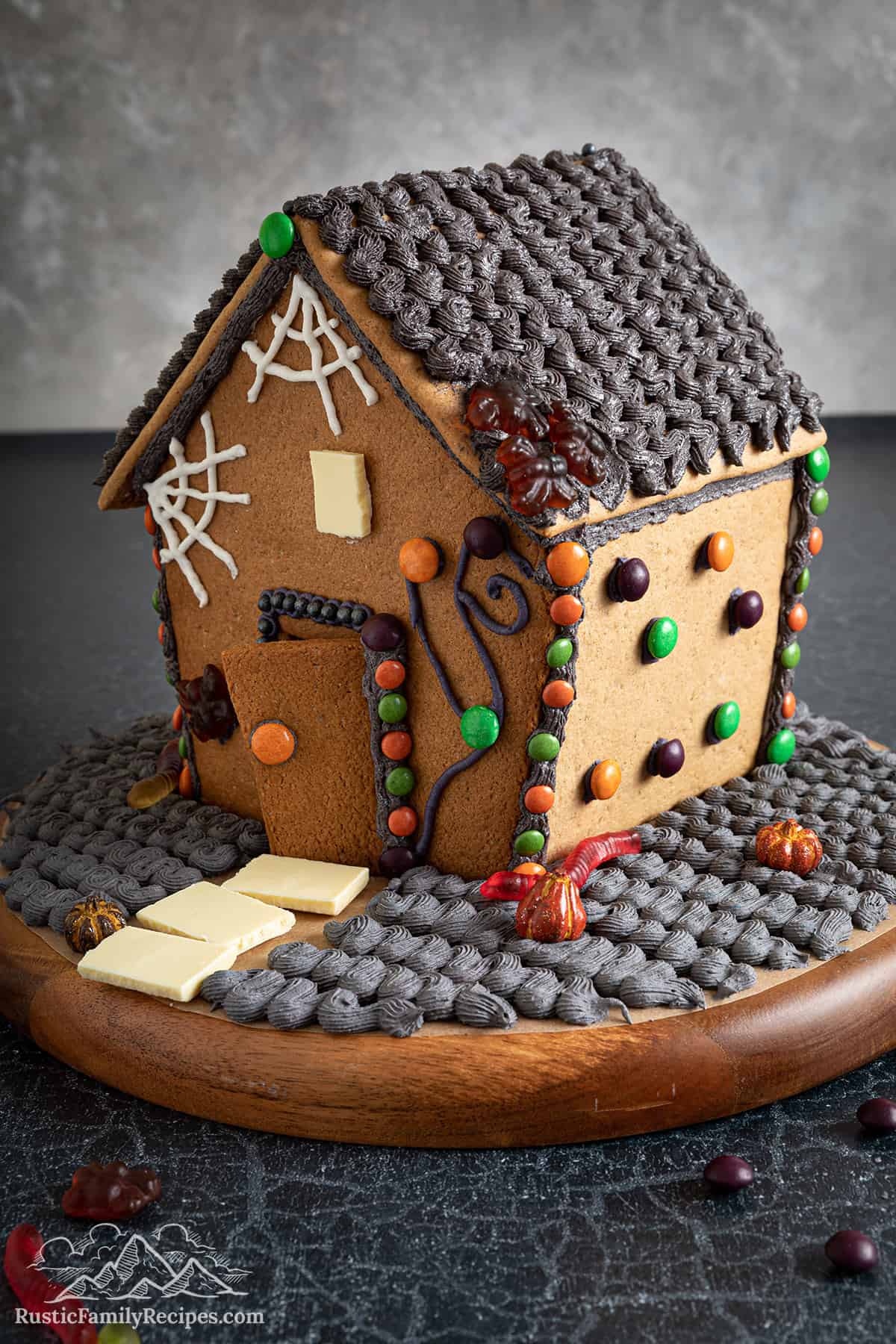 More Gingerbread House Ideas
Let your creativity run wild when it comes to decorating your gingerbread house. Gummy worms, cookies, and sprinkles are just the beginning.
Use gummy worms. These are great "guests" for the gingerbread house. Glue them along the outside of the house.
Cut out windows. Cut small windows into your gingerbread, then during the last 5 minutes of baking, pop a Jolly Rancher into each window space. The candy will melt and create a stained-glass look. If you want to get really fancy, you can use small fondant cutters to make windows in different shapes.
Use Cinnamon Toast Crunch. Line the roof with Cinnamon Toast Crunch squares for a tiled-look.
Use wafer cookies. These make amazing chimneys. Glue four rectangular wafer cookies together with royal icing. Once it sets, glue the chimney to the roof.
Add more candies. Use mini M&Ms, marshmallows, Snickers bars, Reese's, candy ribbons, and all your favorite candies to decorate the walls of the house.
Toss some sprinkles. Mix leftover sprinkles and use them to create window sills, paths, or patterns on the walls.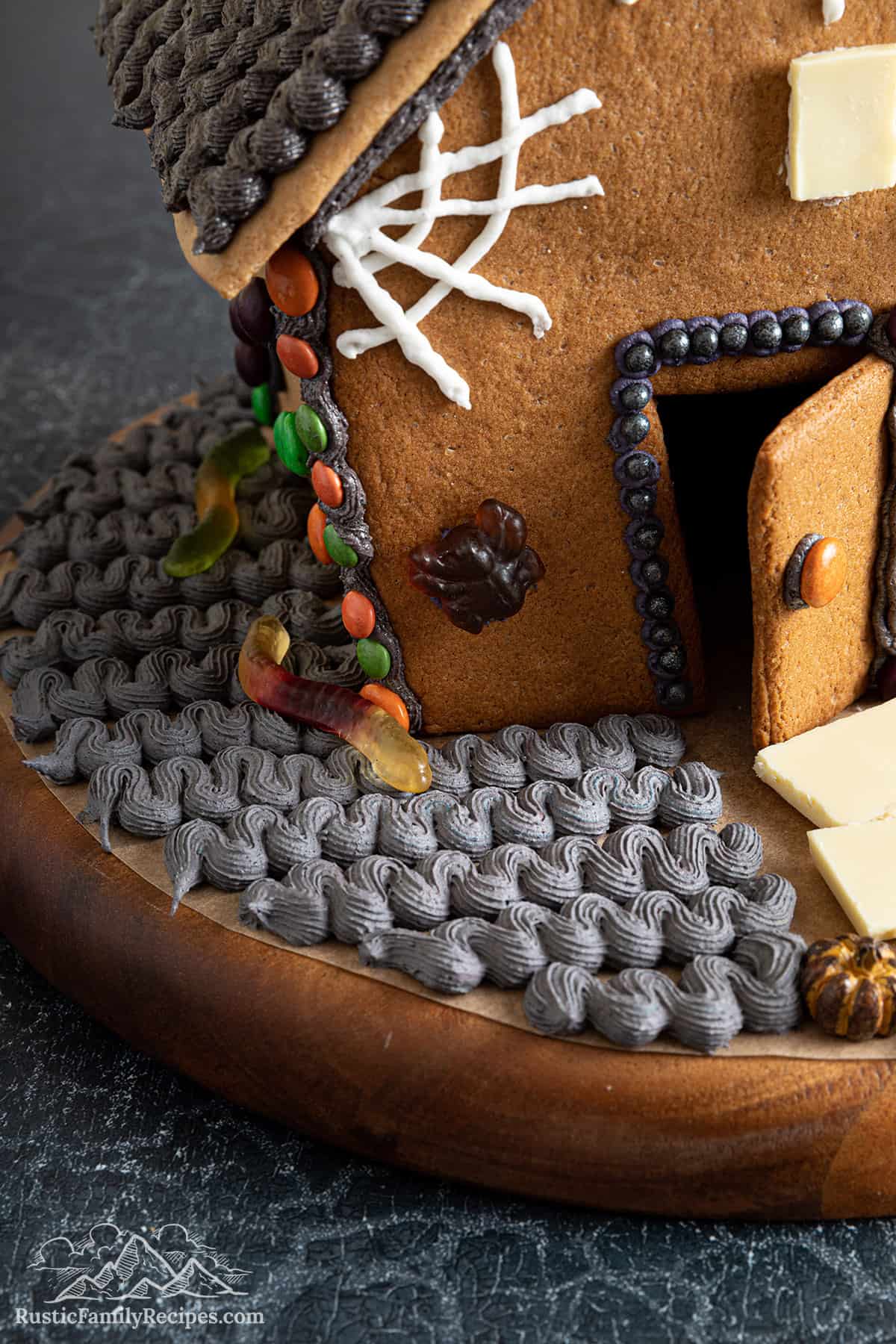 Common Questions
This gingerbread house tastes as good as it looks. Hopefully, the answers to these questions will help you figure out what to do with it when you finish decorating it.
Are you supposed to eat the gingerbread house?
Of course! It's so delicious that kids might not wait until they've finished decorating the house to start eating it. While there are some methods of assembling gingerbread houses that make them not ideal for eating, in this recipe I purposefully made everything edible. There is no way the kids I know would NOT eat their gingerbread house.
How long will a gingerbread house last?
If you want to eat it, a gingerbread house will last for about 7 days. If you are just making it for decoration, then it will last for up to 1 month.
How to Store Your Halloween Gingerbread House
Because this gingerbread house is meant to be eaten, I usually store it for a maximum of 2 days on the counter. Longer than that and it goes in the fridge. First place it in the fridge for a few hours so that the frosting can harden, then cover it with saran wrap and store it in the fridge for up to 7 days. Just pick off a piece of the house when you want to eat some.
More Halloween Food Ideas
Print
Halloween Gingerbread House
Made with a print-out template, this easy Halloween gingerbread house is decorated with luscious buttercream and all your favorite candy.
Author: Rustic Family Recipes
Prep Time:

2 hours

Cook Time:

20 minutes

Total Time:

2 hours 20 minutes

Yield:

1 gingerbread house

Category:

Dessert

Method:

Oven

Cuisine:

American
For the gingerbread
¾ cup

unsalted butter

1 ½ cup

brown sugar

¼ cup

molasses or golden syrup or corn syrup or maple syrup

¼ cup

honey

3 ⅔ cups

all-purpose flour

1 tbsp

ground cinnamon

1 tbsp

ground ginger

½ tsp

ground clove

½ tsp

salt

1 tsp

baking soda

2 tbsp

water
For the royal icing ('glue')
½ cup

meringue powder

¾ cup

warm water

1 tsp

cream of tartar (optional)

6 cups

powdered sugar

1 tbsp

vanilla extract

¼ tsp

almond extract

½ tsp

purple food dye

1 tsp

black food dye
For the buttercream frosting (from the Encanto Cake buttercream frosting)
⅔ cup

unsalted butter

2 cups

powdered sugar
a pinch of salt

1 tbsp

heavy whipping cream

1 tsp

black food dye
Instructions
Making the gingerbread
Print. Print out the Gingerbread House template.Cut out the design of the house.
Preheat. Preheat the oven to 350°F.
Make the sweet mixture. In a small pot, melt together: butter, brown sugar, molasses and honey. Set aside for 5-10 minutes to cool.
Whisk the dry ingredients. In a large bowl mix together: flour, spices, salt and soda.

Combine wet and dry ingredients. Pour the chilled melted mixture into the flour mixture, add warm water and, using a large spoon, mix together until a dough forms. The dough should be thick. It is ready to
roll right away and doesn't need to be chilled prior to making the house.
Prepare the trays. Line two large baking sheets with parchment paper and set aside.
Flour the surface. Generously flour your working surface and rolling pin, otherwise the dough will stick.
Roll it out and cut. Split the dough into two parts. Roll until approx. ¼ inch thick. Transfer the rolled dough onto the pre-prepared baking sheet, place the house pattern templates on top of the rolled dough and cut out individual shapes using a pizza cutter. When cutting the dough make sure to leave some room in between each piece, as the dough will be spreading while baking. Re-roll the dough scraps until you've cut out all the house pieces. Remember to cut out a door in the front house wall and move the door to the side of the tray to let it bake.
Bake. Bake for 20 minutes, then take out of the oven.
Making the royal icing
Whisk the meringue. Whisk together meringue powder and water until foamy (approx. 2 minutes). Add cream of tartar (if using) and whisk until incorporated.
Add the sugar. Sift in the powdered sugar. Using a paddle attachment, mix on low for 5 minutes.
Add the extracts. Add vanilla and almond extracts and mix for 3 more minutes.
Divide it. Split royal icing in half. Add black food dye to one half. Split the second half in half,
leaving one of them white and adding purple food dye to the second one.
Making the buttercream frosting
Beat the butter. In a large bowl of a stand mixer fitted with a paddle attachment, beat the butter on medium speed until light and fluffy- approx. 3 minutes.
Add the sugar. Add the powdered sugar and start mixing, slowly increasing the speed from low to medium. Mix for a total of 1-2 minutes, until the consistency is light and fluffy.
Add the whipping cream. Add heavy cream, vanilla extract, and salt and mix just until combined. Stop, scraping down sides of the bowl a few times.
Add food-dye. Add black food dye to the frosting and combine.
Assembling the house
Glue the main structure. 'Glue' the front and sides together by piping out thick lines of white royal icing along the edges of the pieces. Hold the pieces in place and prop them with canned food or heavy
mugs. Allow the icing to harden for 20 minutes.
Place the roof. Add the roof once the icing on the front, back and side walls has hardened.
Let it set. Start decorating the house after approx 1 hour.
Decorate. Pipe out the black buttercream frosting along the edges of the walls using wilton tip no. 22. Use the same tip and buttercream frosting to decorate the roof. Decorate the rest of the house with the royal icing and use it as glue to stick your favorite candy to the house. Enjoy!
Last Step:
Please
share a rating and comment
if you enjoyed this recipe! Your feedback helps this little blog thrive and continue providing free, high-quality recipes for you.
Keywords: halloween gingerbread house, halloween party food, halloween food ideas
Filed Under: