This goat cheese pasta recipe features a simple sauce made with fresh tomatoes and herbs. Goat cheese is mixed in with the noodles and sauce, creating an irresistibly creamy dinner topped with a sprinkle of extra goat cheese.
This is one of those pasta dinners that I've been making for as long as I've known my husband. In fact, I started making this goat cheese pasta at the same time I began making this cozy baked rigatoni recipe. That's like 20+ years folks, which is a long time to be making something the same way. But if it ain't broke, right?
This goat cheese pasta recipe is perfect for using up the last of summer's tomatoes. You only need 4-5 of them, depending on their size. The tomatoes are cooked with olive oil, onion, garlic, and broth until they break down and create a flavorful sauce flavored with thyme, sage, and rosemary. Goat cheese is added last and creates a super creamy texture.
Why You'll Love this Goat Cheese Pasta
Easy. There is nothing complicated about this recipe. If you can boil water and chop tomatoes you can make this simple pasta dinner.
Flavorful. Even though the ingredients are super simple, the finished dish is full of flavor and so satisfying.
Flexible. You can adjust the herbs to your liking. Not a fan of sage? Replace it with an equal amount of thyme. Not a rosemary fan? You can swap it with the same amount of parsley. The main thing is to keep the herbs used in the same family as the Simon & Garfunkle song: parsley, sage, rosemary, and thyme.
Fast. It takes longer to boil the water than to make the sauce. This is one of my last-minute get-something-tasty-on-the-table recipes for a reason.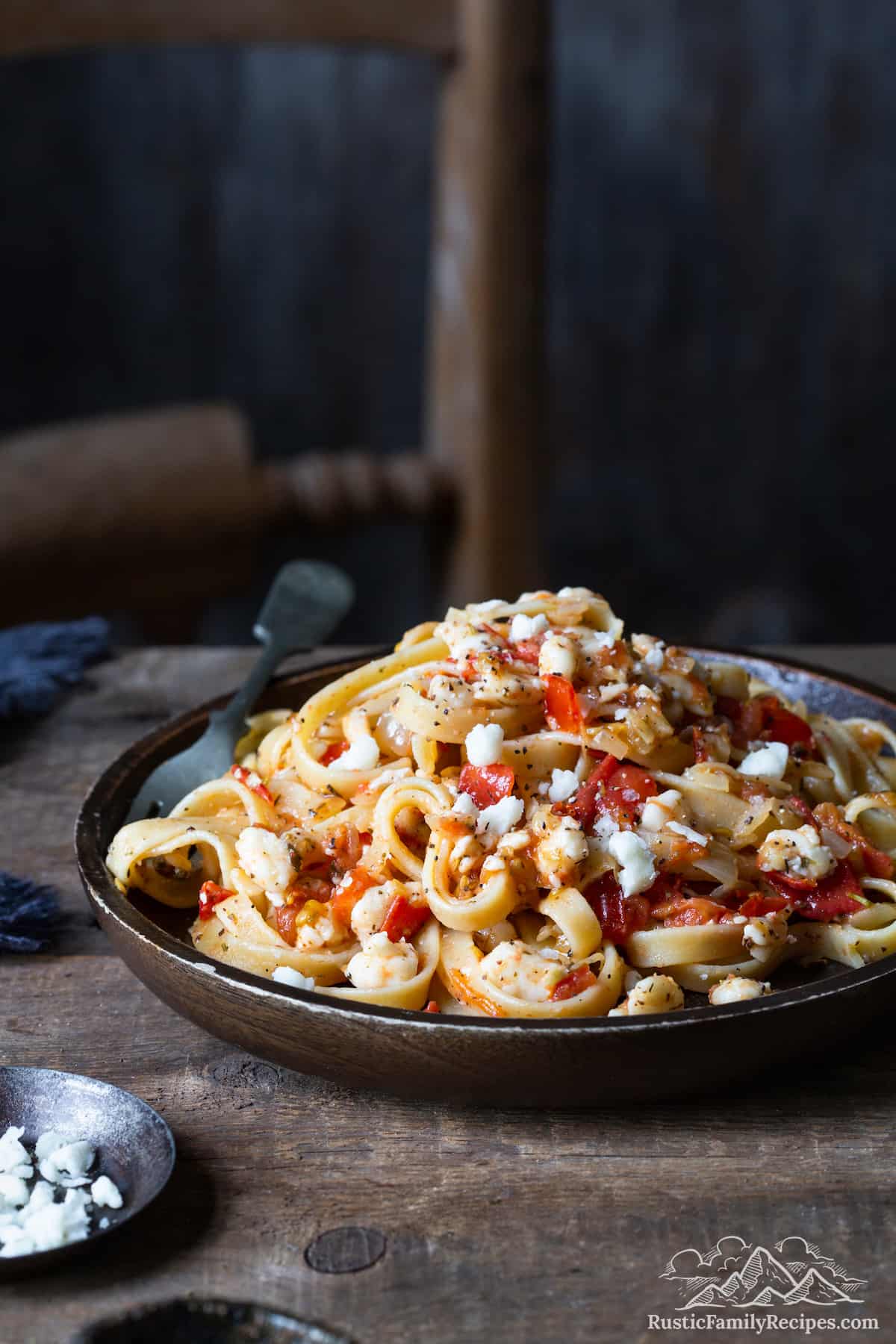 Tips for Success
Use tongs. The best way to toss pasta with sauce is by using tongs. When you use a spoon to stir the pasta noodles with sauce usually the sauce ends up along the edges of your pot while the noodles gather in the middle. When you use tongs you can evenly incorporate your noodles and sauce.
Add the cheese while the pasta is hot. It is important to add the goat cheese to your pasta while it is still hot, this way the heat can melt the cheese and create a creamy sauce to coat the noodles.
Sprinkle more goat cheese on top. Reserve some of the goat cheese to sprinkle on top of the pasta when you serve it.
Common Questions
Can I use a different kind of pasta? Definitely. You can use an equal amount of any other kind of pasta. I prefer long noodles with this recipe because I enjoy swirling the pasta and sauce around my fork.
Can I use chicken broth? Yes, you can use chicken or beef broth instead of vegetable broth.
What does goat cheese taste like? Goat cheese is creamy, tangy and can sometimes be slightly sweet depending on the goat the milk came from.
Is feta the same as goat cheese? No. Although both feta and goat cheese contain goat's milk, feta cheese also has sheep's milk. Feta cheese is crumbly and has a salty, tangy flavor because it is a brined cheese. By contrast, goat cheese is not brined and has a soft and creamy texture. When you add the goat cheese crumbles to your hot pasta they will melt into the sauce.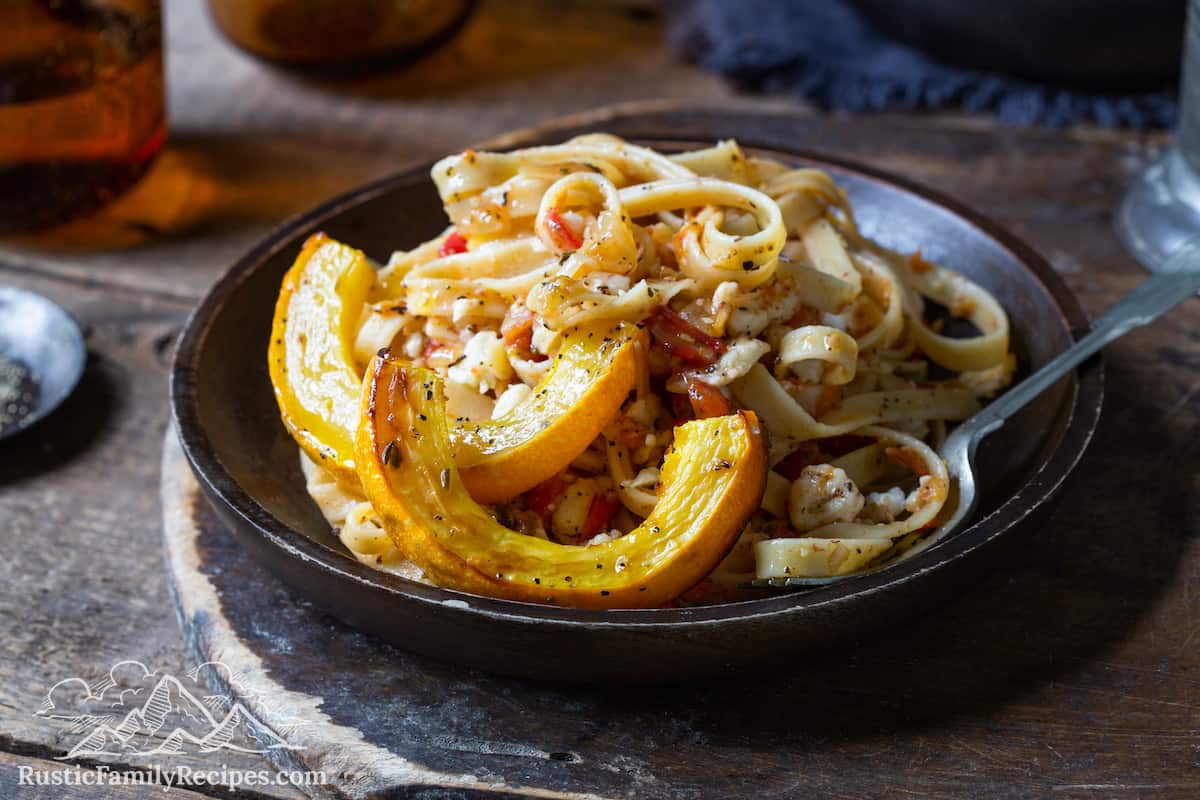 What to Serve With Goat Cheese Pasta
My favorite thing to serve with this pasta recipe is roasted delicata squash, which you can see in the photo above. The nutty, slightly sweet flavor of the roasted squash just goes wonderfully with pasta.
I also like to serve something bready with this pasta dish. Here are some ideas on that front:
Fancy a drink on the side? How about one of these:
How to Store and Reheat Leftovers
Let your pasta cool, then transfer it to an airtight container and store in the fridge for up to 4 days.
When you're ready to eat some, simply scoop the amount you want to eat into a microwave-safe bowl and zap it until warmed through. The amount of time you'll need will depend on the serving size. For one serving in a regular-sized bowl, I usually heat it for 2 minutes, pausing halfway through to stir the pasta.
Print
Goat Cheese Pasta
This goat cheese pasta recipe features a simple sauce made with fresh tomatoes and herbs. Goat cheese is mixed in with the noodles and sauce, creating an irresistibly creamy dinner topped with a sprinkle of extra goat cheese.
Author: Rustic Family Recipes
Prep Time:

10 minutes

Cook Time:

20 minutes

Total Time:

30 minutes

Yield:

4-5 servings

Category:

Dinner

Method:

Stovetop

Cuisine:

American
4

medium tomatoes (or

5

small ones), diced

3

garlic cloves, minced

1/4 cup

extra virgin olive oil

1/4 cup

yellow onion, minced

7 tablespoons

vegetable broth

1 teaspoon

dry thyme

1 teaspoon

dry sage

1/2 teaspoon

dry rosemary

1

16-oz box of linguine noodles

8

-oz goat cheese crumbles
Instructions
Bring a large pot of salted water to boil.
While the water is coming to a boil, make the pasta sauce:
Heat the olive oil in a large skillet over medium heat. Add the onions and cook, stirring occasionally, until they are translucent and have a bit of color, about 5 minutes. Add the garlic and cook for 1 minute.
Add the diced tomato (no need to remove the seeds). Cook a few minutes, then add the broth and herbs. Stir and bring to a simmer, then reduce heat to medium-low and cook for about 5 minutes until the sauce reduces somewhat.
Once your water has come to a boil, cook the pasta according to package instructions. Drain the noodles but do not rinse them with water.
Add the cooked pasta back to the pot you heated the water in. Pour the the pasta sauce over the noodles and toss with tongs to coat the noodles in the sauce.
Add 3/4 of the goat cheese to the pot and stir into the pasta so that it melts and goats them in creaminess.
Serve topped with additional goat cheese.
Last Step:
Please
share a rating and comment
if you enjoyed this recipe! Your feedback helps this little blog thrive and continue providing free, high-quality recipes for you.
Keywords: pasta with goat cheese, pasta dinner ideas, linguine recipes
Filed Under:
This post may contain affiliate links. Please read our disclosure policy.