Make French toast in minutes with this easy mug recipe! All you need is two slices of brioche or challah bread, plus a few simple ingredients for the custard. Add maple syrup, a dollop of whipped cream, then dig in.
French toast in a mug is one of those recipes I wish I'd known in college. Often all you have to cook with during your dorm years is a microwave, but alas, the concept of mug cooking never occurred to me back then. Can you imagine being able to make French toast in your dorm room in less than 5 minutes though? Heaven.
This recipe is based on a simple overnight french toast that I often make using slices of brioche or challah bread. It's so simple that my kiddo makes it solo. The only skills you need are the ability to cut bread and to mix eggs together with a few other ingredients. Then you just pop the whole thing in your microwave and hit the buttons!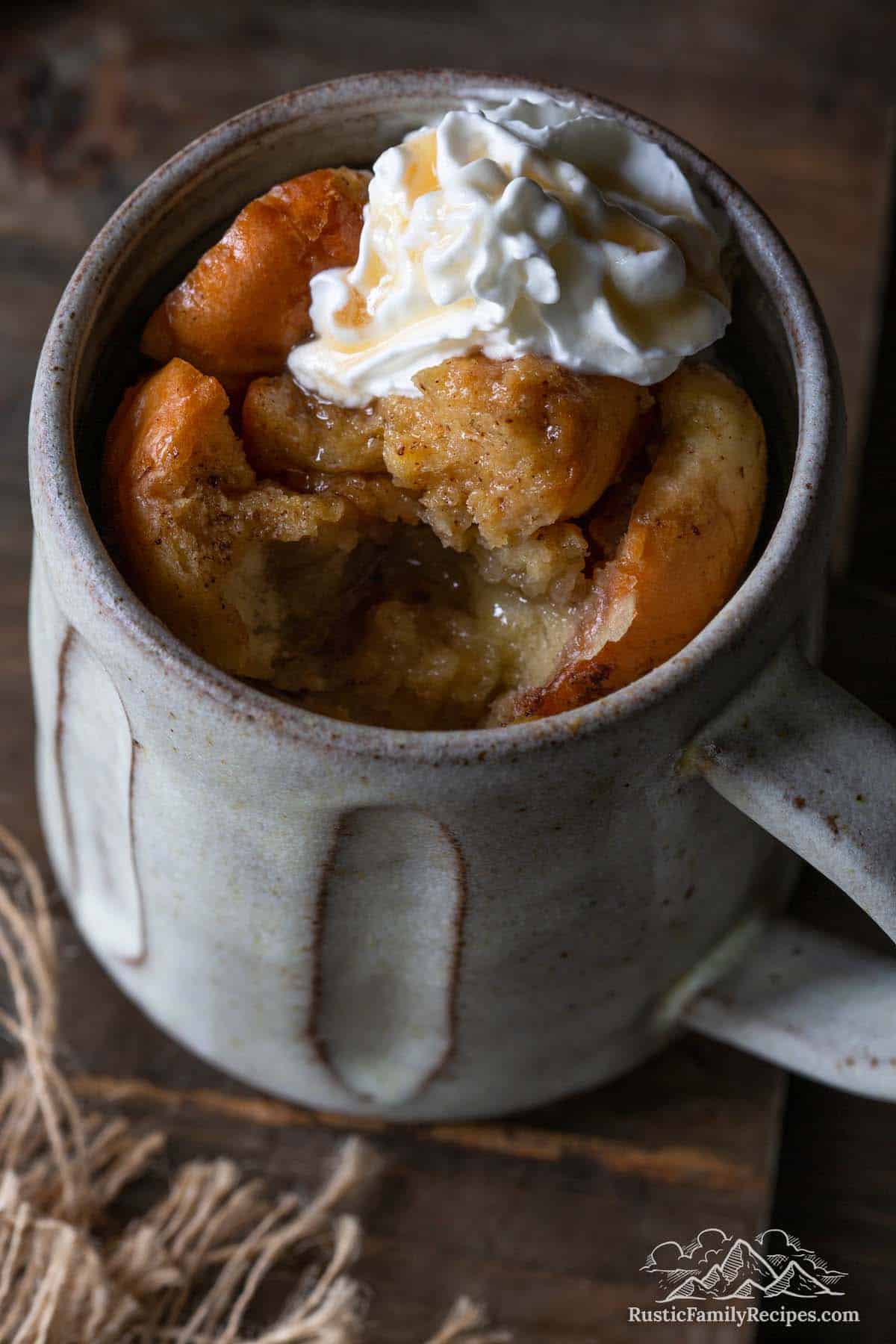 Why Make French Toast in the Microwave?
Making French toast in the microwave has a few things to commend it:
It's quick. This recipe comes together in less than 5 minutes, which makes it perfect for busy mornings, afternoon snacks and even late night indulgences!
It's easy. You only need to know how to cut bread, mix things in a bowl, and use a microwave to make this recipe.
It let's you satisfy a craving. Want to make French toast without committing to eating a bunch of it? This is your solution.
All this being said, I DO sometimes make French toast the old-fashioned way. If you want to make a French toast recipe that feeds more than one person, then I highly recommend my Overnight Blueberry French Toast or this Bourbon Apple Crisp French Toast Casserole. This Challah French Toast is also amazing!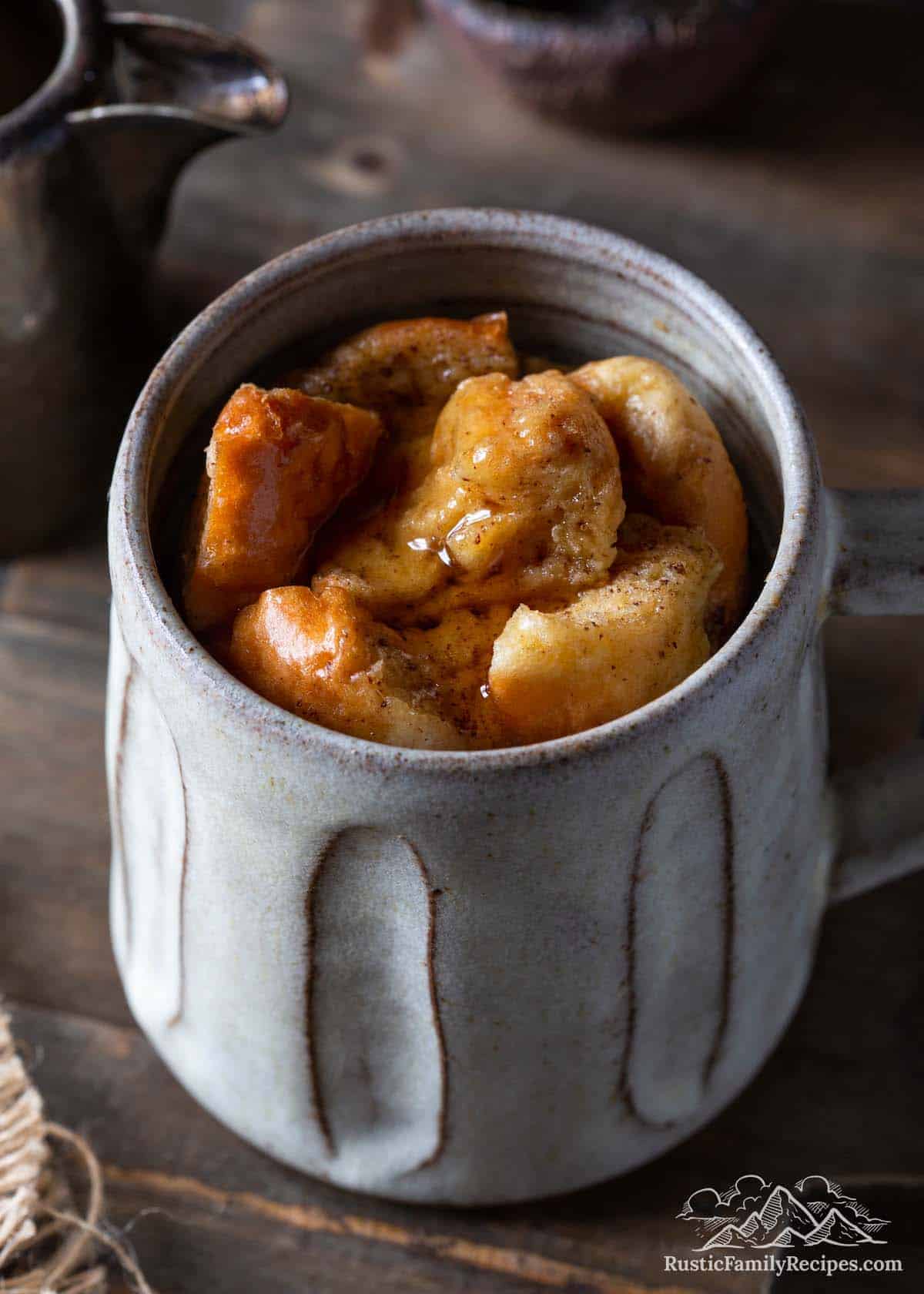 The Best Kind of Bread to Use
I like to use challah bread or brioche for French toast. Both kinds of bread have a modest amount of sweetness and a slightly firm texture that holds up well when being baked – or in this case, microwaved – with a custard. My absolute favorite kind of bread to use is my Sourdough Maple-Vanilla Challah!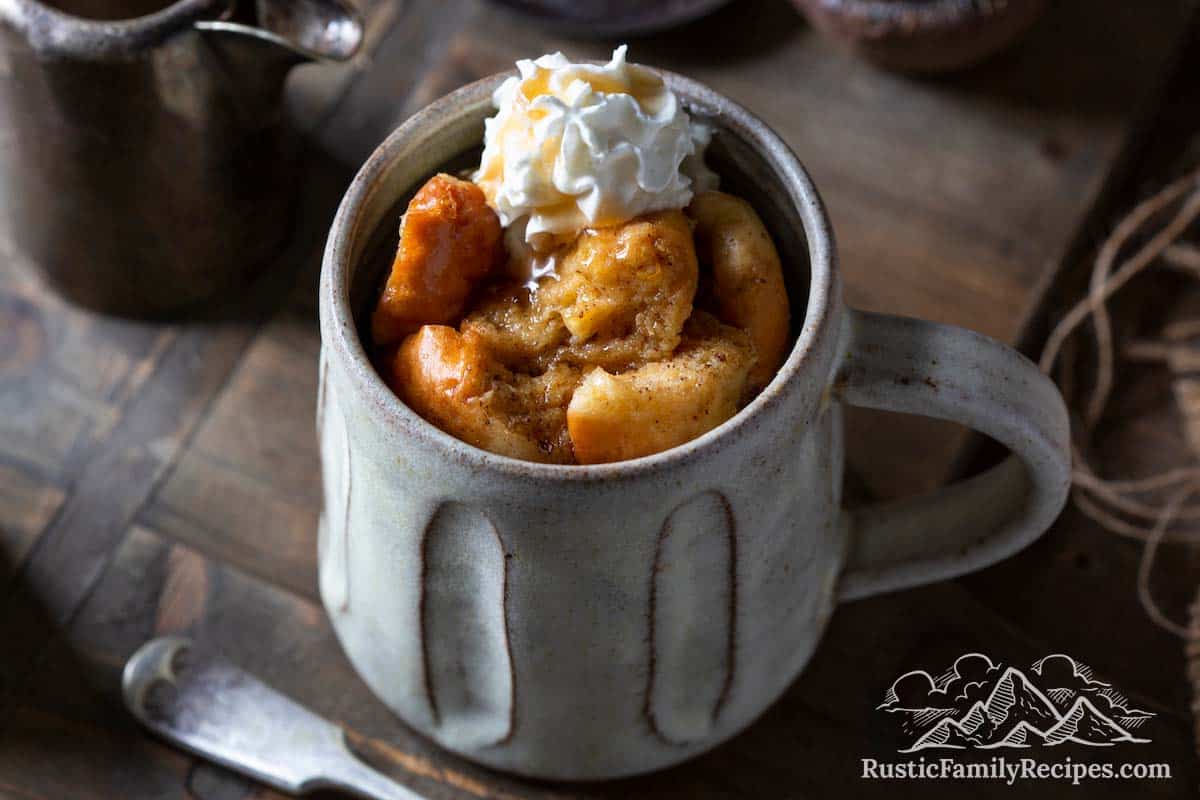 Tips for Success
Use a 15-oz microwave safe mug. The French toast will expand a bit as it cooks, then shrink again during the cooling period. However, you want it to have room to expand without coming out of the mug so a large mug is best. This also gives you room to add your toppings right in the mug.
Press the bread into the custard. After you have poured the custard over the brioche pieces, gently press them down into the custard with a fork. Move them around a bit too, so that the custard can work its way in between the pieces.
Let it cool. The french toast will be HOT when it comes out of the microwave. Give it a few minutes to cool so you don't burn your mouth.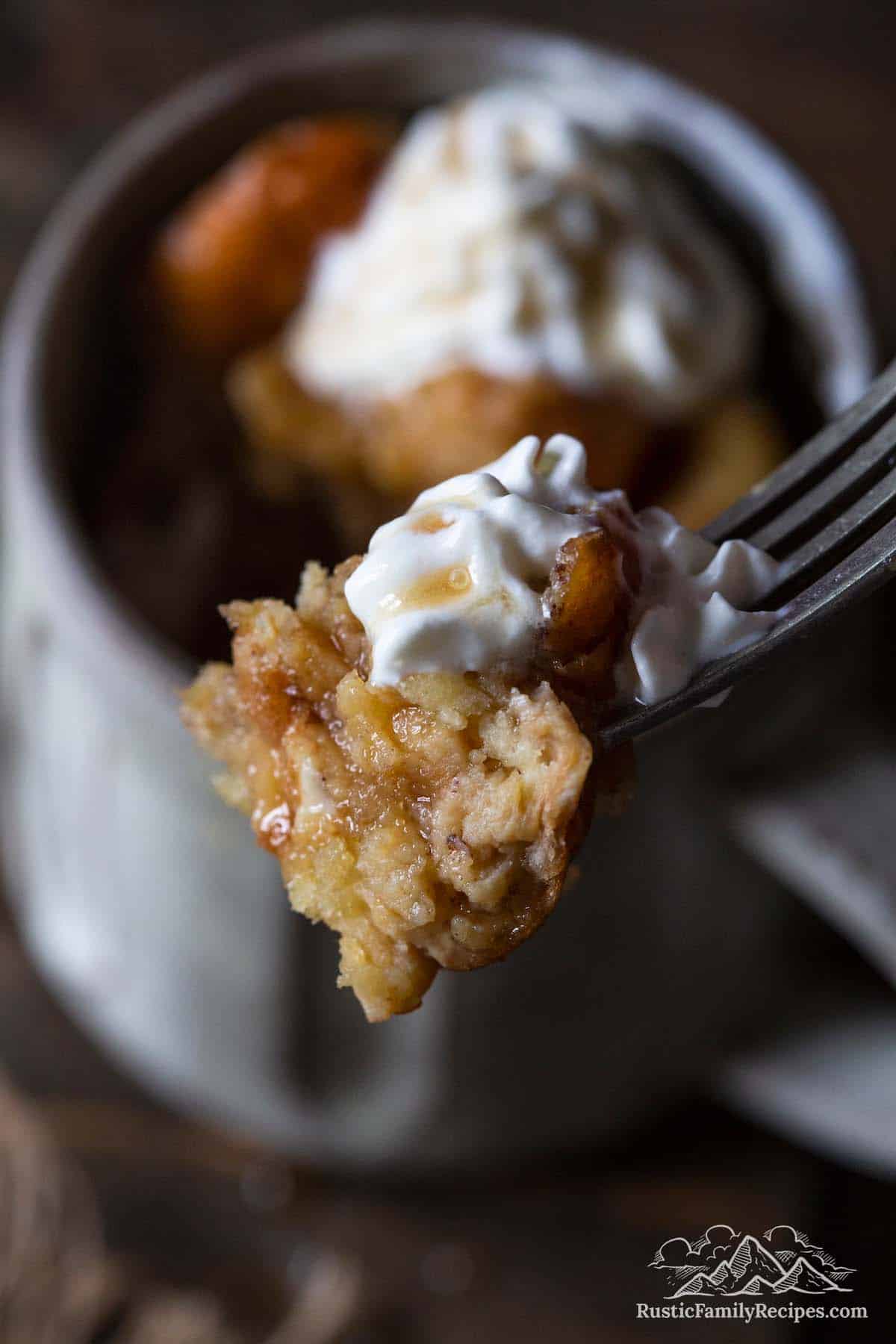 Topping Ideas
Toppings are part of what make breakfasts like French toast and pancakes so fun to eat. Amiright?
When I'm in a hurry I like to drizzle maple syrup on top of this recipe and add a dollop of whipped cream. You can also add fresh fruit, such as berries, or confectioners sugar.
If I have a bit more time and want to go all out, sometimes I'll scoop this French toast into a bowl and serve it with vanilla ice cream. That still counts as breakfast right? I only do this when my kiddo is at school though, cause uh, gotta set a good example and all. ;P
Print
French Toast in a Mug
Make french toast in minutes with this easy mug recipe! All you need is two slices of brioche and a few simple ingredients for the custard. Add maple syrup, a dollop of whipped cream, and dig in.
Author: Rustic Family Recipes
Prep Time:

3 minutes

Cook Time:

2 minutes

Total Time:

5 minutes

Yield:

1 serving

Category:

Breakfast

Method:

Microwave

Cuisine:

American
1 tablespoon

unsalted butter

2

slices of brioche or challah, cut into cubes

1

egg

1/4 cup

milk

3 teaspoons

brown sugar

1/8 teaspoon

ground cinnamon

1/2 teaspoon

vanilla extract
Instructions
Melt the butter. Add the butter to the bottom of a 15-oz microwave-safe mug and melt it in the microwave for 30 seconds to 1 minute. Once the butter has melted, carefully swirl it around the inside of the mug by tilting the mug around a bit.
Add the bread. Fill the mug with your bread cubes.
Make the custard. In a medium bowl, add the egg, milk, brown sugar, cinnamon, and vanilla. Whisk together well.
Pour the custard over the bread pieces in the mug. With a fork press the bread into the custard. Move the pieces of bread around with your fork so that the custard can get in between the pieces and soak into the bread.
Cook. Microwave on high for 1 minute 30 seconds to 2 minutes, until the custard has cooked and is firm to the touch. The cook time will vary slightly according to the strength of your microwave.
Cool and serve. Allow the french toast to cool a bit, then top with maple syrup and your other preferred toppings. Dig in!
Last Step:
Please
share a rating and comment
if you enjoyed this recipe! Your feedback helps this little blog thrive and continue providing free, high-quality recipes for you.
Keywords: french toast in a mug, breakfast in a mug, easy mug recipe
Filed Under:
More Mug Recipes to Try
This post may contain affiliate links. Please read our disclosure policy.