This easy Encanto Cake brings the magic! A simple yet stunning cake recipe made from moist and fluffy vanilla cake layers decorated in vibrant swirls of colored homemade buttercream.
You don't need to be gifted with superhuman baking skills to create an enchanting layer cake. This Encanto cake is the perfect example! The recipe turns simple, ordinary ingredients into something truly extraordinary – without any fancy bells or whistles. It's just a colorful cake that anyone can make at home.
This recipe involves moist and tender white cake layers decorated in whimsical ropes of colorful buttercream. The cake crumb is light and fluffy, while the pretty piped butterflies and flowers make this Encanto dessert as pretty as it is scrumptious. Looking for an Encanto cake idea for a birthday party? This is it.
Watch How to Make this Encanto Cake
Watch my video to see how to make this Encanto cake from start to finish:
Why You'll Love this Encanto Birthday Cake
Whether you're making this cake for a birthday party or just because you love the movie, here are my top reasons this recipe is worth trying:
Easy. This Encanto cake comes together in a little over two hours from batter, to baked, to buttercream. It's a fun and easy-to-follow recipe.
Flexible. You can let your creative juices flow when it comes to decorating. Feel free to use different colors for your frosting, use different shapes or even add sugar decorations. For example, Wilton makes some pretty sugar butterflies that would be gorgeous on this Encanto cake.
Kids can help. This cake is easy enough for kids to help you decorate it. You could even make the cake decorating part of a birthday party. Everyone can decorate their own section of the cake, then cut it out and eat the slice with their decorations on it.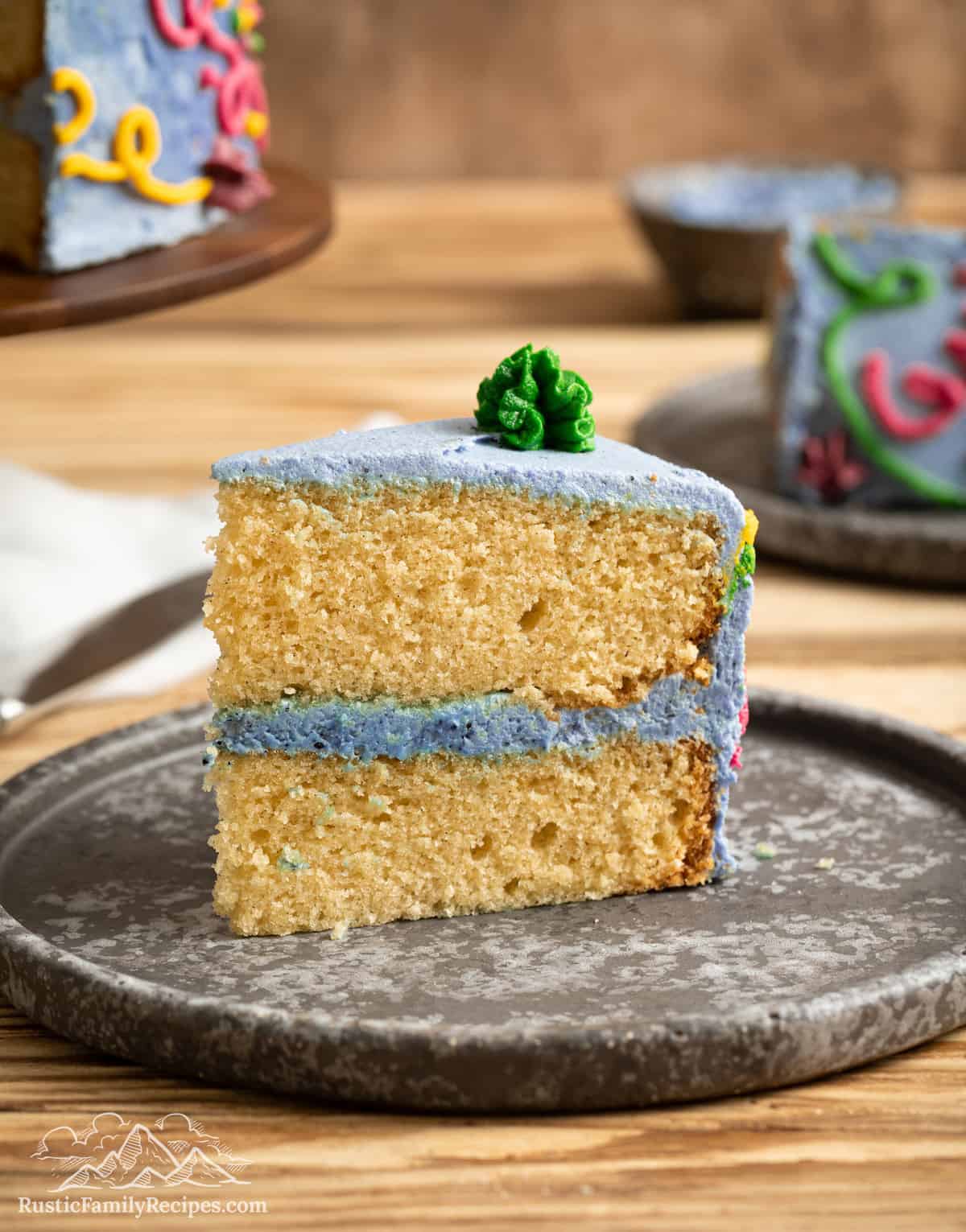 Why is this Called Encanto Cake?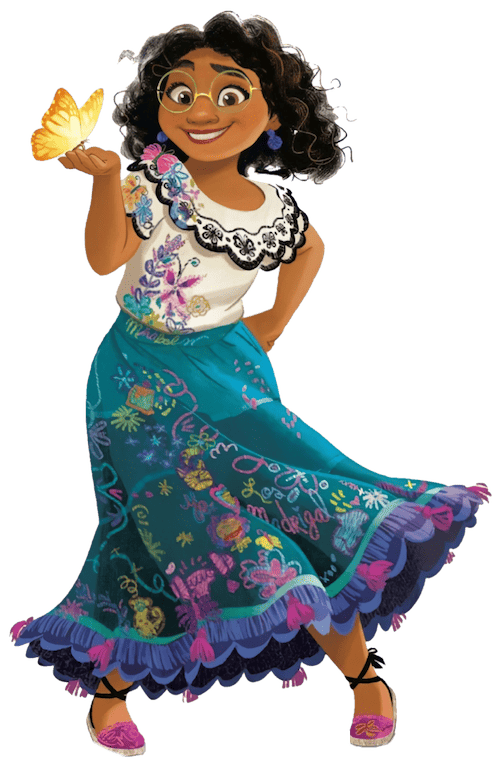 The design of this cake was inspired by Mirabel Madrigal's skirt in Disney's Encanto. I loved this movie when it came out last year and felt inspired to make an Encanto-themed cake. However, when I looked for ideas online all the cakes that came up were so complicated. I love fancy cakes and enjoy making them, but this time I wanted something more simple. So I set out to create a recipe that the everyday baker could manage with their own tools, in their own kitchen. No fancy techniques needed! I think it was a success.
My cake channels all the beauty and animation of Encanto into a simple, double-layer cake with brightly colored frosting. It has swirls of buttercream shapes inspired by the skirt worn by the movie's main character, Mirabel. Just a few easy techniques and some food coloring is all it takes.
Fun fact: My arepitas recipe was also inspired by a scene in Encanto, which featured the Colombian version, arepas.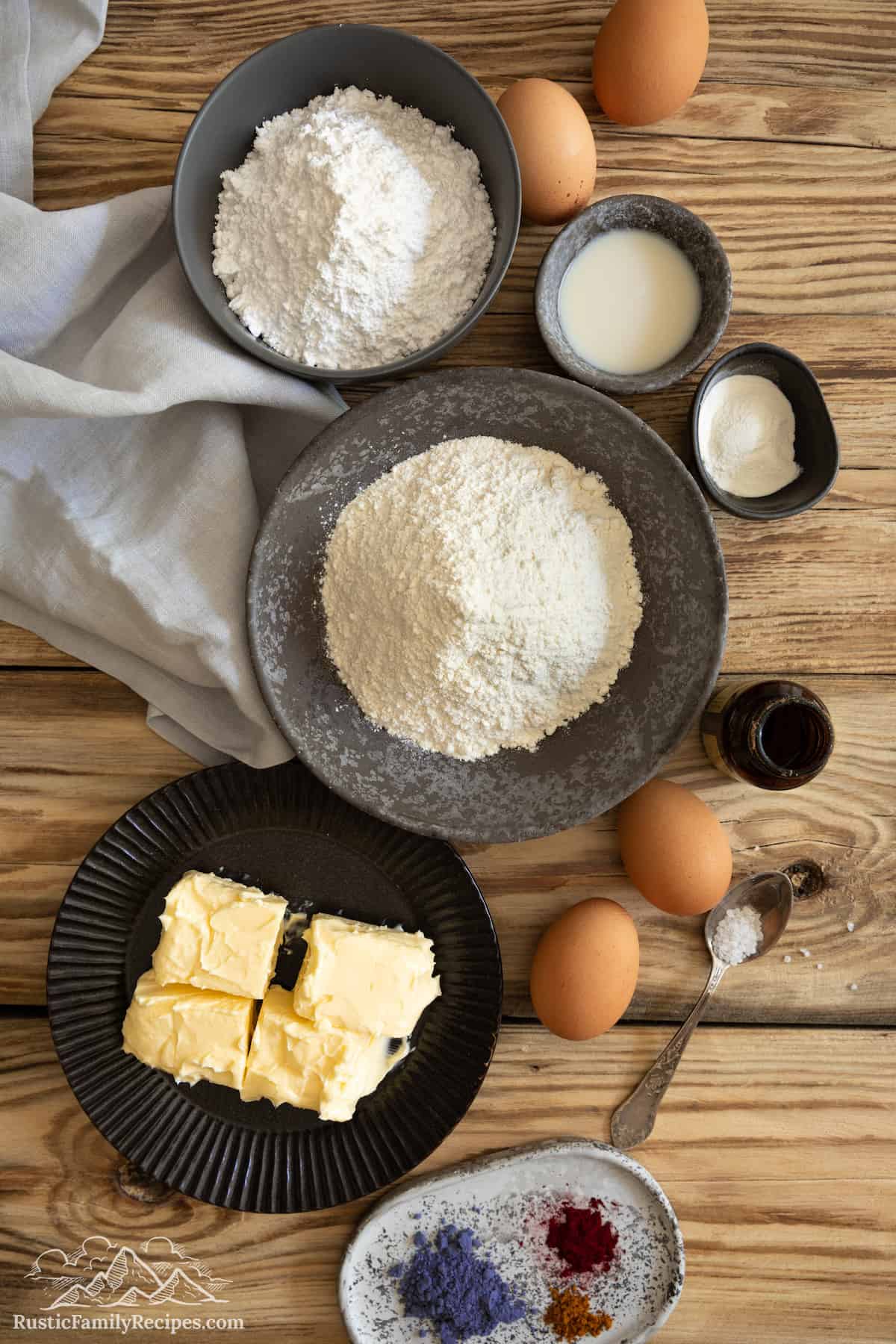 What You'll Need
The goal with this cake was to use ingredients that most home bakers would have on hand in their pantry. Below you'll find an overview of what you'll need to make the cake as well as the colorful buttercream frosting. Please refer to the recipe card later on for the full ingredient amounts.
For the Cake
Unsalted butter – I recommend using unsalted butter for this cake to keep the flavors balanced. Remember to take it out of the fridge to let it come to room temperature before you start. This is important for this cake recipe, as it makes the batter easier to combine, and helps it to bake more evenly.
Powdered sugar – I make this cake using powdered sugar. I know that is unconventional but it makes the cake fluffier because there aren't any sugar crystals that need to dissolve while it bakes. That being said, I have made this recipe with granulated sugar too, using the same proportion and it worked just as well (the texture is just a smidge denser).
Eggs – This recipe calls for four large eggs. Like the butter, be sure to have them at room temperature.
All-purpose flour
Baking powder – For leavening (to help the cake rise).
Vanilla extract – Use pure vanilla extract for the best flavor.
For the Buttercream Frosting
Unsalted butter – Use unsalted butter so that your frosting doesn't come out too salty
Powdered Sugar – You can't substitute granulated sugar here, you need powdered sugar to make frosting.
A pinch of kosher salt
Heavy whipping cream – I recommend using full-fat whipping cream for the creamiest frosting. Keep it chilled in the fridge right up until you're ready to use it.
Food coloring – I use butterfly pea powder for the blue frosting, dragon fruit powder for the pink frosting, a combination of the two for the purple/violet frosting. These dyes are natural alternatives to artificial dyes, and I love to use them in baking whenever possible (like in my naked blue velvet cake and pink and blue mochi donuts recipes). You'll also need yellow food coloring (or a couple teaspoons of pulverized mango), and green food coloring for the other frosting colors. Of course, feel free to use regular food dyes for all the colors if you prefer.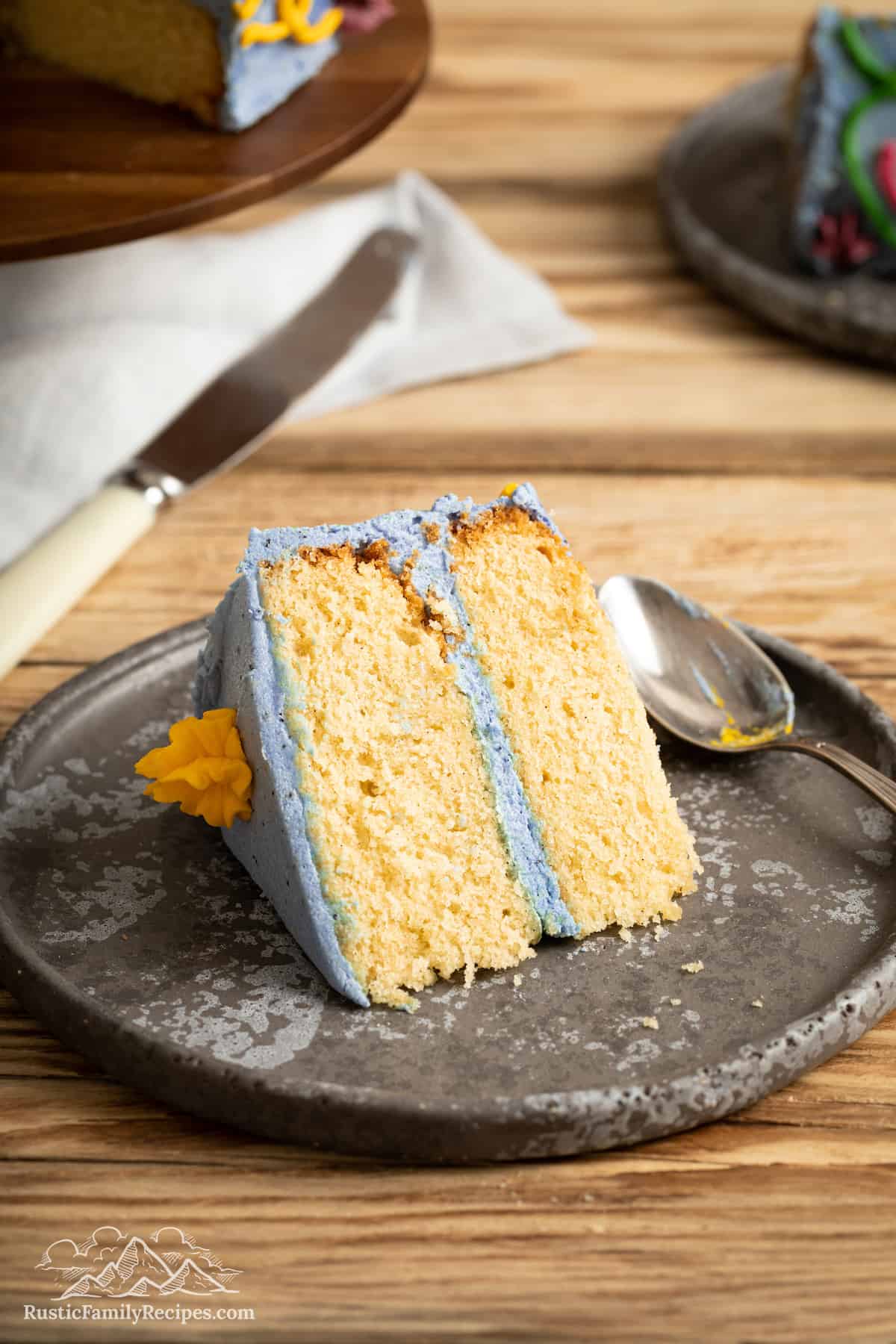 How to Make Encanto Cake
Whether or not you've seen the movie Encanto, this is a gorgeous, easy cake recipe, made using simple techniques that will carry over to other cake recipes, too.
Making the Cake Base
We're going to get this cake started with the vanilla cake layers. While the oven preheats to 360°F, grease and line two 7-inch round pans with parchment paper. Next, let's whip up the batter: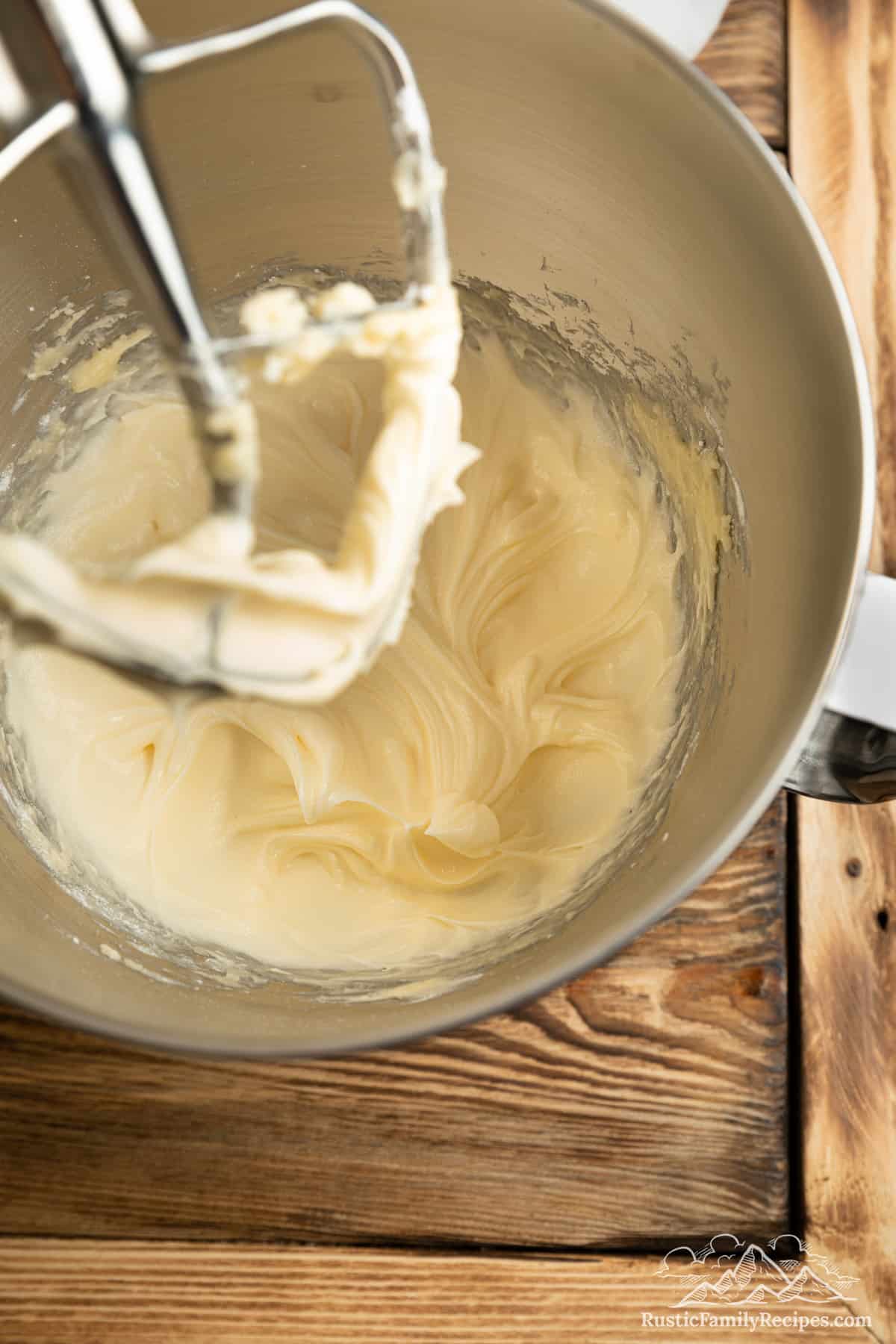 Mix the wet ingredients. First, beat the butter and sugar together in a bowl until fluffy. Afterwards add in the eggs one at a time, mixing in between. While you're mixing the ingredients for the cake batter, remember to frequently scrape down the sides of the bowl.
Add the dry ingredients. In a separate bowl, sift together the four and baking powder. With the mixer on low, slowly add the dry ingredients into the wet ingredients. Be sure to mix only until the batter is just combined.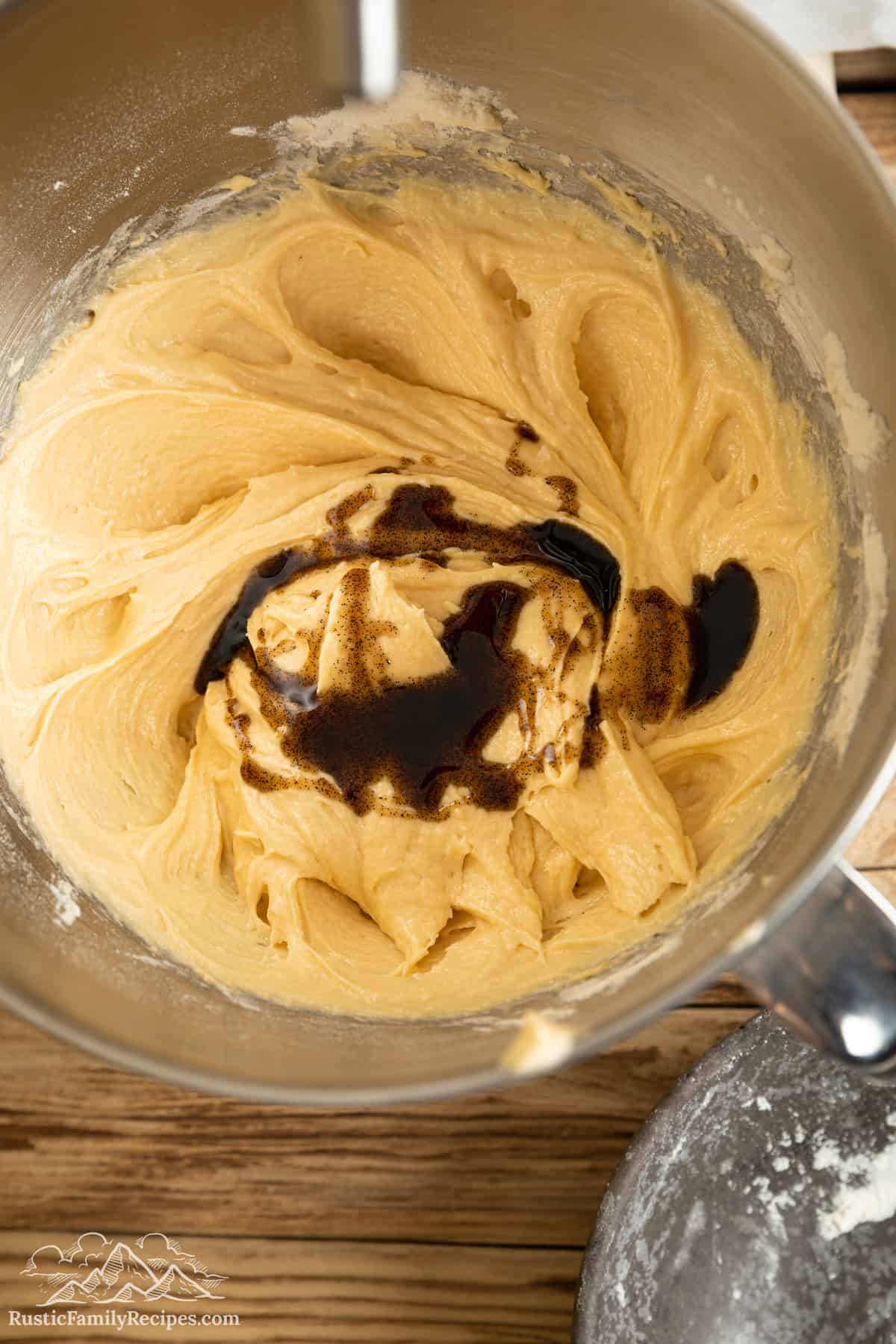 Divide and bake. Finally, mix the vanilla and salt into the batter, then divide the cake batter evenly between your two prepared cake pans. Bake the cake layers for about 35 minutes, or until a toothpick inserted into the center of the cakes comes out clean. Let the cakes rest in the pans for a bit once they're out of the oven, before removing them. Once your cakes are cooled completely, it's time to get started on your frosting.
Making the Frosting
Like the cake batter, the frosting for this Encanto cake comes together in a few easy steps: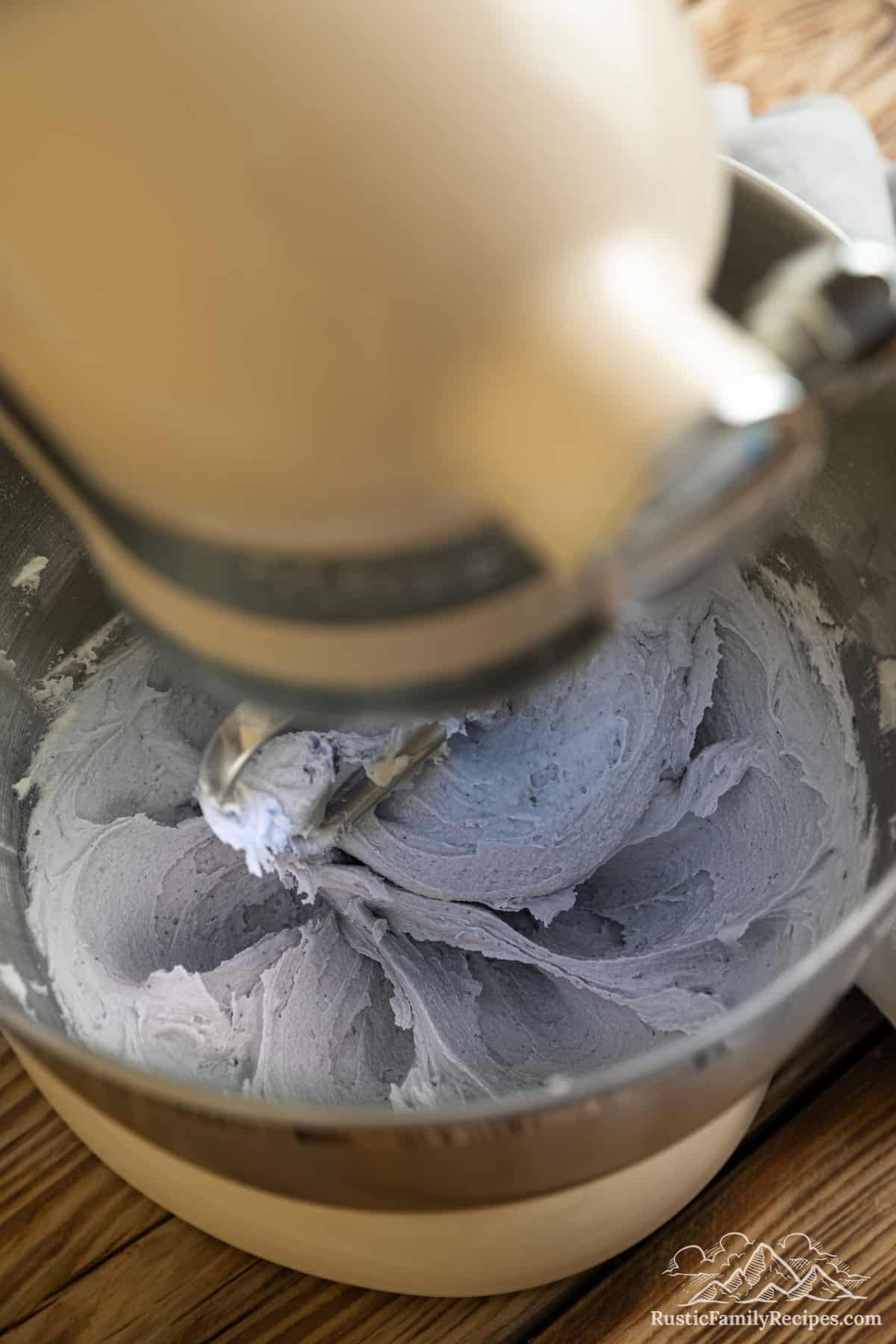 Cream the butter and sugar. Begin by creaming the butter in the bowl of your stand mixer until it's light and fluffy. Next, slowly beat in the powdered sugar.
Add the remaining ingredients. Add in the heavy cream, vanilla, and salt. Continue to mix until the frosting is just combined, then stop and scrape down the bowl.
Divide and add the coloring. To color the buttercream, first you'll divide the frosting in two. Set aside one half in a separate bowl. With the half that remains in the bowl of your mixer, stir in the blue matcha powder until you reach an even color (this will be the base color you use to frost the cake layers). Next, divide the frosting that was set aside into four even parts, coloring each part with the appropriate food dyes to achieve the pink, violet, green, and yellow colored frosting.
Decorating the Cake
With your frosting prepared and your cake layers fully cooled, it's time to assemble and decorate your Encanto cake: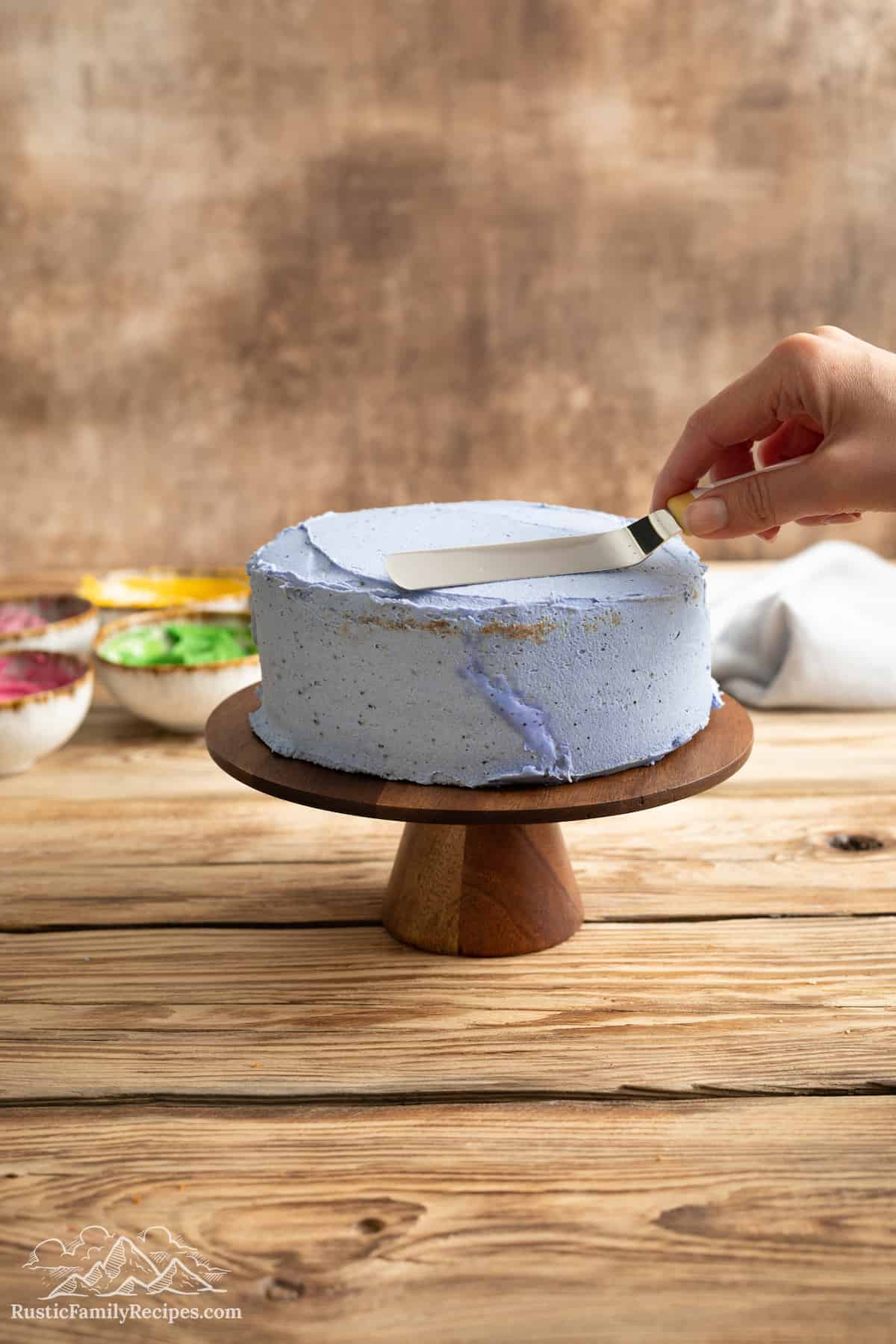 Transfer the first of your cooled cake layers to a cake stand or plate. A cake stand makes things a little easier here, but it isn't 100% necessary! Spread one-third of the blue frosting over the base of the cake, then place the second cake layer over top. Frost with another layer of blue buttercream, then use the last of the frosting to frost the sides of the cake.
Add buttercream swirls. Finally, it's time to bring Mirabel's skirt to life. Well, at least in cake form. To decorate your cake, transfer your colored frosting into piping bags. I used the Wilton frosting tip no. 8 to "draw" fanciful colored swirls, butterflies, and flowers over the blue frosting layer, doing my best to imitate the pattern from the skirt in the movie. Finally, use a Wilton frosting tip no. 21 to dollop a few peaks of buttercream in a crown on top of the cake.
Chill. Once your cake is decorated to your liking, place the finished Encanto cake in the fridge to chill for about 40 minutes to allow the frosting to set up. Then slice and serve!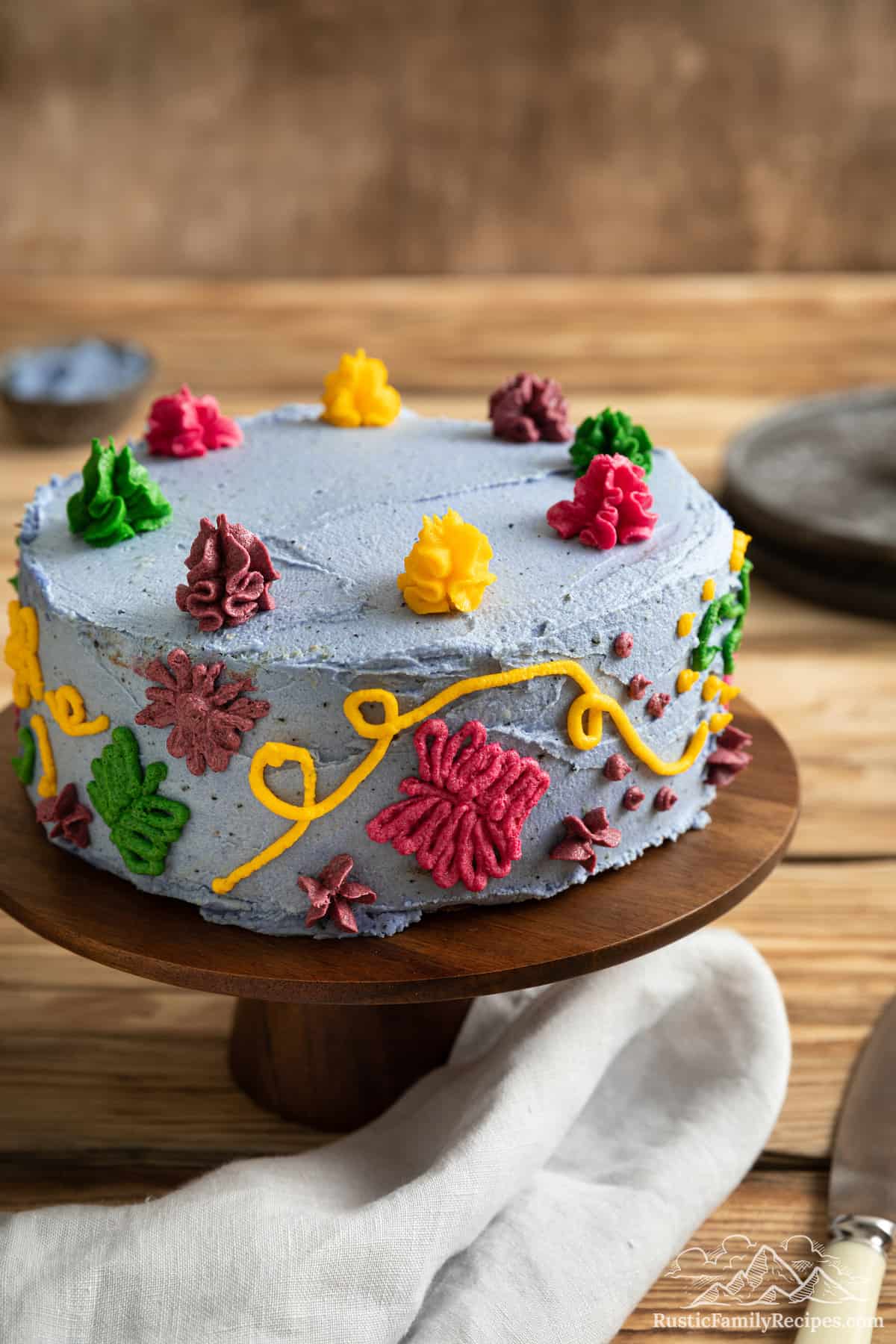 Tips for Success
Here are my tips to have this cake come together without a hitch:
Use room temperature ingredients. Make sure that your butter and eggs are at room temperature when making the cake and the frosting,
Don't chill the frosting. Your buttercream will be easiest and smoothest to pipe and spread while it's at room temperature.
Chill the frosted cake. After you've frosted the cake and before you decorate it, place it in the fridge to chill for about 45 minutes to harden the outer layer. This makes it easier to add on decorations without smudging!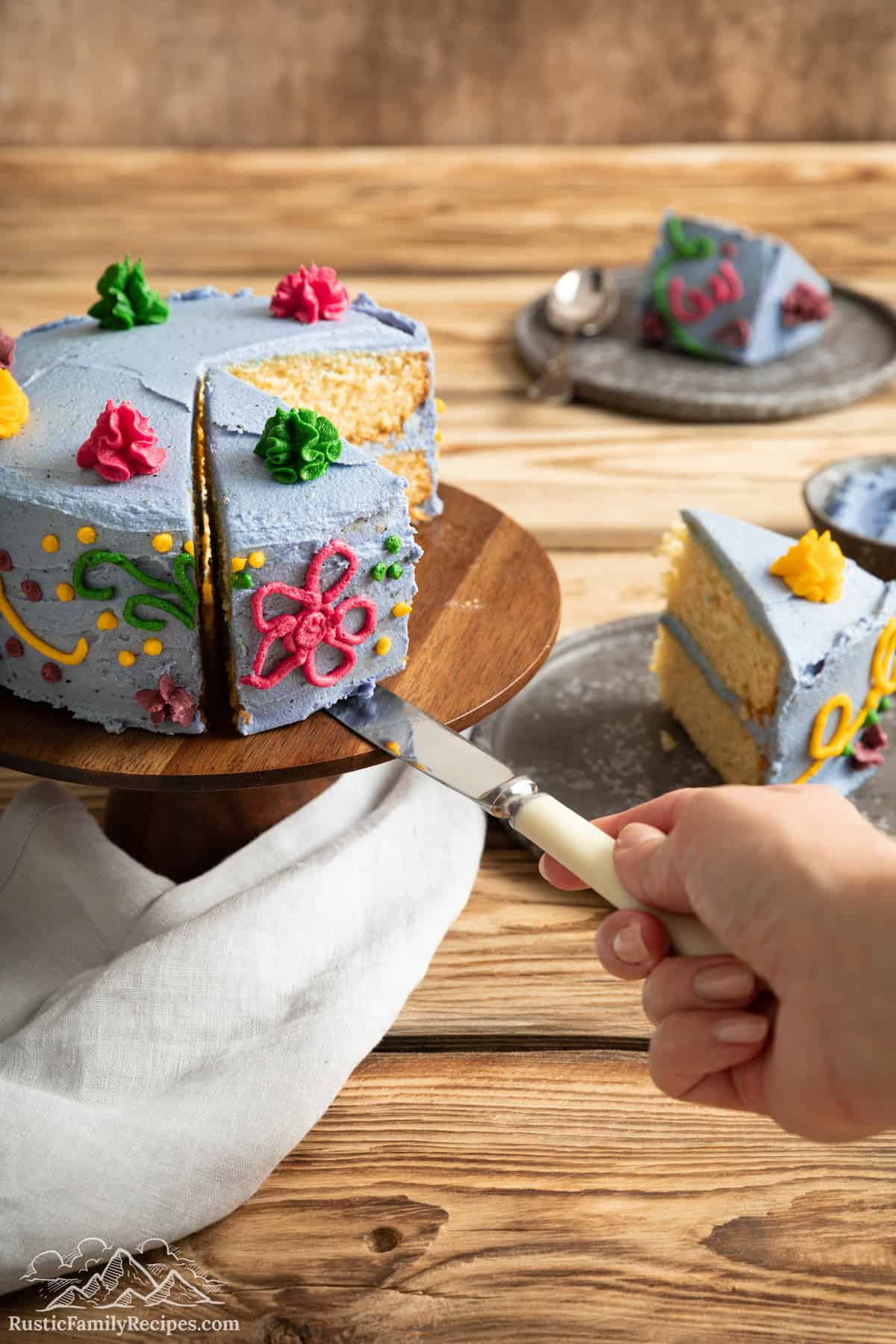 What Goes With This Cake?
This cake is great to enjoy for a festive occasion, or to slice up and serve with a tall glass of milk or warm cup of coffee or tea. For a special dessert, we love our Encanto cake alongside a scoop of vanilla ice cream, or strawberry ice cream. Or top it with whipped cream for a bit of fluffy flair.
Round out a dessert spread at your next party with Encanto cake as the centerpiece. Pair it with other Spanish-inspired treats like puerquitos (marranitos pan dulce) and maple mazapan (Mexican peanut candy).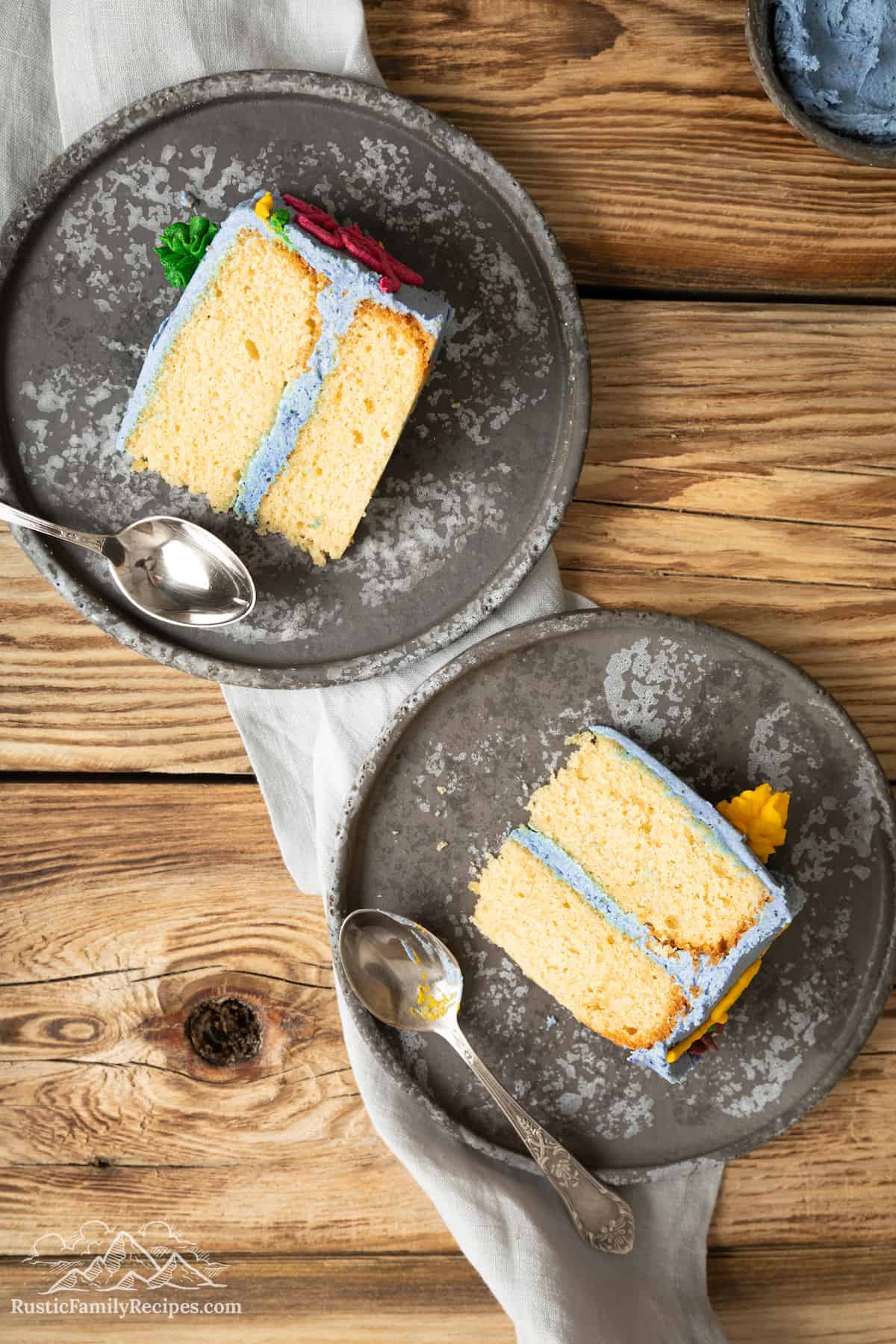 How to Store
Once the cake has chilled enough for the frosting to harden, this Encanto cake can be covered and kept in the fridge for up to one week.
Can I Freeze It?
Since buttercream frosting doesn't hold up well in the freezer, your best bet for freezing this cake is to do so before it's frosted. The baked cake layers can be wrapped tightly in saran wrap, plus an extra layer of aluminum foil (to prevent freezer burn). Store them for up to 3 months until you're ready to thaw and frost them. Thaw the cake layers in the fridge and then whip up a fresh batch of frosting for decorating.
Print
Encanto Cake
This brightly frosted Encanto cake brings the magic! Inspired by Mirabel's skirt, this simple dessert is made with fluffy vanilla cake layers decorated in vibrant swirls of colored buttercream.
Author: Rustic Family Recipes
Prep Time:

1 hour 30 minutes

Cook Time:

35 minutes

Total Time:

2 hours 5 minutes

Yield:

16 servings

Category:

Cake

Method:

Oven

Cuisine:

American
For the cake
¾ cup

unsalted butter, at room temperature

1 ⅓ cup

powdered sugar

4

large eggs, at room temperature

1 ½ cup

all-purpose flour

2 tsp

baking powder

2 tsp

vanilla extract
For the buttercream frosting
1 ⅓ cup

unsalted butter

4 cups

powdered sugar
a pinch of salt

2 tbsp

heavy whipping cream, chilled

1 tsp

blue matcha powder – for blue frosting

¼ tsp

dragon fruit powder – for pink frosting

½ tsp

blue matcha powder and ½ tsp dragon fruit powder – for violet frosting

1 tsp

yellow food dye or

2 tsp

pulverized mango

1 tsp

green food dye
Instructions
Make the cake base
Prepare two 7 inch cake tins, grease the base and sides and line them with parchment paper. Preheat the oven to 360°F.
Fit a large bowl of stand mixer with a paddle attachment. Cream the butter with sugar on medium speed for 5 minutes until pale and fluffy. Scrape down the sides of the bowl.
Add eggs, one at a time, mixing on low speed for 30 seconds after each addition. Make sure to also scrape down sides of the bowl after each addition.
Sift flour and baking powder into a separate bowl. Reduce the mixer speed to low and add the flour mixture to the cake batter, mixing just until incorporated. Add vanilla extract and salt, mix everything together for an additional minute on low speed.
Divide the cake batter evenly between the two cake tins. Bake at 360°F for 35 minutes or until a toothpick inserted in the middle comes out clean. After this time, take the cake out of the oven, place it on a cooling rack and let it rest for 20 minutes. Then, remove the cake tin and allow the cake to cool completely.
Make the frosting
In a large bowl of a stand mixer fitted with a paddle attachment, beat the butter on medium speed until light and fluffy – approx. 3 minutes.
Add the powdered sugar and start mixing, slowly increasing the speed from low to medium. Mix for a total of 1 – 2 minutes, until the consistency is light and fluffy.
Add heavy cream, vanilla extract, and salt and mix just until combined. Stop, scraping down sides of the bowl a few times.
Divide the buttercream in half. Leave one half in the mixer's bowl and set the other one aside in a separate bowl. Color the half in the mixer bowl with butterfly pea powder, mixing vigorously with a spoon.
Divide the remaining half of the frosting into four even parts. Color each part with the correct amounts of fruit powders or food dyes, mixing each part vigorously with a different spoon.
Place the base of the cake on a plate or a cake stand. Divide the blue frosting into 3 parts. Dollop a few tablespoons of the first part onto the base of the cake and spread evenly. Gently layer the second cake on top and press. Place the second part of the frosting on top and spread. Use all the remaining frosting to frost the top and sides of the cake with an offset spatula.
Now, finish off decorating the cake. Decorate with a few creative swirls, some butterflies and flowers all around the sides of the cake. 'Draw' them with the Wilton frosting tip no. 8. Dollop a few decorations around the top of the cake with a Wilton frosting tip no. 21.
Chill the cake in the fridge for approx 40 minutes before serving. Slice and enjoy!
Notes
It is very important that the butter and eggs that you use for the cake and the frosting are at room temperature.
Do not refrigerate the frosting before decorating the cake. The frosting should be at room temperature which will make the process of piping it around the cake much smoother and easier.
Once you have frosted the cake, chill it in the fridge for approx. 45 minutes before decorating. This will harden the outer layer of frosting and will make it easier to frost it with all the decorations.
Last Step:
Please
share a rating and comment
if you enjoyed this recipe! Your feedback helps this little blog thrive and continue providing free, high-quality recipes for you.
Keywords: encanto cake ideas, encanto birthday cake, encanto cake recipe
Filed Under:
More Cake Recipe to Try
This post may contain affiliate links. Please read our disclosure policy.