This classic pasta carbonara recipe comes together in less than 30 minutes and makes perfectly creamy, cheesy noodles studded with crispy pieces of bacon. Serve it with a slice of crusty bread and a glass of wine for a restaurant-quality dinner at home.
There are some recipes that just sound difficult and I think classic pasta dishes often fall into this category. The names just sound extra. Pasta carbonara is a perfect example of this. It is essentially noodles tossed with a cheesy egg sauce and oodles of bacon. Since it has eggs, cheese and bacon my son calls this "breakfast pasta" when he makes it, even though we never eat it for breakfast. I guess as far as he's concerned, it's a "breakfast for dinner" type situation. 🙂
You can serve this pasta with popovers or a slice of crusty bread. I quite like a thick slice of my Autumn Apple Bread with this recipe. Add more cheese on top of your pasta, pour yourself a glass of wine, and dig in. The whole thing comes together in less than 30 minutes too.
Simple Tricks for Perfect Pasta Carbonara
Now the trick with making pasta carbonara is the technique – and this is not difficult to do, it is just specific. As I mentioned above, my son makes this pasta dish solo and he's not even a teenager yet. If my kiddo can make this, so can you!
When to add the sauce: The cheesy sauce for pasta carbonara has eggs in it that are cooked not in the pan but using the residual heat from the freshly cooked noodles. The mistake most people make when attempting this dish is adding the egg and cheese mixture to the pan when you toss the noodles with the bacon fat over medium-low heat. My guess is they are trying to "cook" the sauce with the noodles over heat. Don't do this. Adding the egg mixture to the pan over heat will make the eggs scramble vs tossing it with piping hot noodles, which will coat each noodle in a rich, creamy sauce.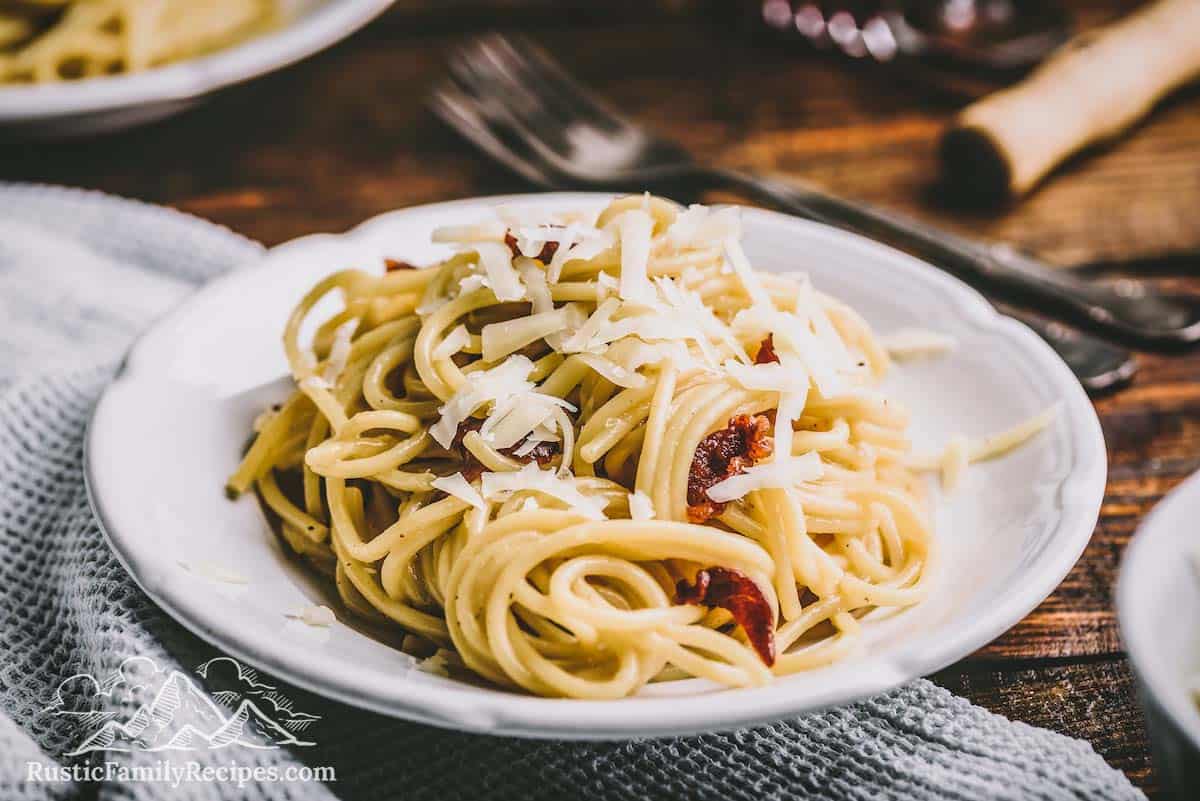 Make sure your noodles are HOT: With most pasta recipes you can cook the noodles a bit beforehand, then add the sauce later. Not so with pasta carbonara. Because you are counting on heat from the noodles to cook the eggs in the cheese sauce it is very important that the noodles are piping hot. So cook the bacon first, then make the egg mixture while the noodles are still cooking. That way you can add the sauce to the hot noodles as soon as they are done being coated in bacon fat.
Use room temperature eggs: Cold eggs will take longer to cook with the noodles so it is important to give your eggs time to come to room temperature before you make the sauce. If you are chicken keeper like me who stores their eggs on the counter this will be an easy one for you!
Don't rinse the pasta. The egg whites in the sauce will combine with starches from the pasta to help the sauce stick to and coat the noodles. The starches also help the bacon fat stick to the noodles. If you rinse your pasta you'll be washing away some of the starch.
Use hot water. Lastly, fill the mixing bowl you are going to use to toss the pasta and sauce together in with boiling water. Pour the water out of the bowl and give it a quick wipe down before adding the noodles and sauce. This trick warms up the bowl and helps with assembling this dish.
Frequently Asked Questions
Can I add other kinds of meat to this dish?
Yes, you can also add cooked chicken if you have extras to use up. I have been known to toss some leftover roasted chicken in with this dish!
Can I use a different pasta?
Yup! Bucatini, fettucini, or linguine noodles would all work well. I recommend sticking with the long noodles though.
Can I add cream?
I suppose you could but then it would not be pasta carbonara. Much as I love adding cream to my pasta dishes, there isn't a need for it here. You will be amazed by how creamy the egg and cheese sauce becomes as you toss it with the hot noodles.
Is pasta carbonara healthy?
No. But why should that stop you? Just don't eat it every day. 🙂
How to Store and Reheat Extras
In my opinion pasta carbonara is best eaten immediately after it is made. However, if you must store extras for later you can place the pasta in an airtight container and store it in the fridge for up to a day. Reheat it on the stovetop in a bit of melted butter to try and recapture some of the creaminess. I will usually melt 1 tablespoon of butter in my pot before adding the pasta and tossing it all together as I reheat everything.
Print
Easy Spaghetti Pasta Carbonara
This classic pasta carbonara recipe comes together in less than 30 minutes and makes perfectly creamy, cheesy noodles studded with crispy pieces of bacon. Serve it with a slice of crusty bread and a glass of wine for a restaurant-quality dinner at home.
Author: Rustic Family Recipes
Prep Time:

15 minutes

Cook Time:

15 minutes

Total Time:

30 minutes

Yield:

4 -5 servings

Category:

Pasta

Method:

Stovetop

Cuisine:

Italian
4

eggs (2 egg yolks, plus 2 eggs)

1/2 cup

grated pecorino romano cheese

1/2 cup

grated Parmesan cheese, plus more for serving

1 tablespoon

olive oil

4

slices of bacon

16 oz

spaghetti (usually this is

1

box)
Kosher salt
Ground pepper
Instructions
Prep your tools. Bring a pot of salted water to boil. Fill a large pyrex or stainless still bowl with boiling water and set aside.
Make the sauce mixture. In a medium bowl combine the egg yolks, eggs, pecorino roman and parmesan cheese. Add a generous pinch of kosher salt and a few shakes of ground black pepper. Stir well, then set aside.
Cook the bacon. In a large pan heat 1 tablespoon of olive oil. Add the bacon slices and cook until the bacon is just starting to crisp up, about 3-4 minutes per side. Remove the bacon to a plate and set aside to cool.
Cook the pasta and coat it in bacon fat. Once the water has come to a boil cook the pasta according to the package instructions. Reserve 1 cup of water, then drain it and add it to the pan where you cooked the bacon. Set the heat to medium-low and with tongs, toss the pasta so that it gets coated in all the fat that came off the bacon.
Assemble the pasta. Drain the hot water from the large mixing bowl you prepared earlier. Give it a quick dry with a paper towel or cloth, then add the pasta noodles. Pour the egg mixture over the noodles and toss with tongs for a few minutes, making sure that the sauce gets worked into all the noodles. If needed you can add splashes of some of the reserved pasta water to make the pasta extra creamy. (I usually don't need to do this but it's a good option to have if you feel like your pasta is too dry.)
Add the bacon. Quickly crumble the bacon with your hands and add it to the pasta. Toss the pasta a bit more with tongs to work the bacon into the noodles.
Serve. Immediately serve the pasta topped with extra parmesan cheese.
Last Step:
Please
share a rating and comment
if you enjoyed this recipe! Your feedback helps this little blog thrive and continue providing free, high-quality recipes for you.
Keywords: spaghetti carbonara, how to make carbonara, bacon carbonara, carbonara sauce
Filed Under:
This post may contain affiliate links. Please read our disclosure policy.