This rustic rabbit stew can be served with tender potatoes, roasted carrots or spooned over a bed of creamy mashed potatoes. Just add a slice of crusty bread and a glass of wine!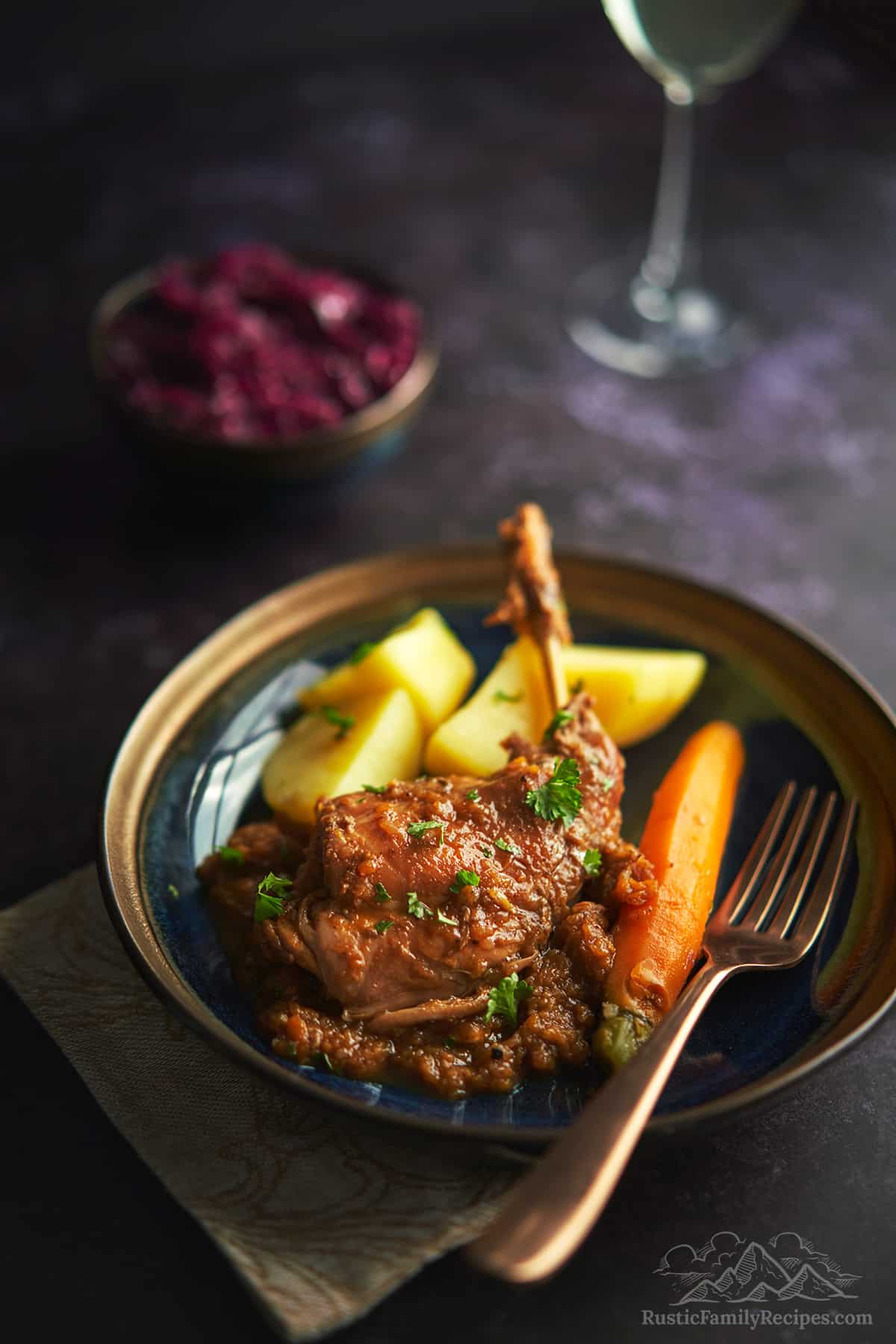 I will never understand why some of my fellow meat eaters raise their eyebrows when I mention that rabbit is one of my favorite things to eat. Rabbit is one of the most ancient game meats and it's healthier than many other types of meat with more protein and fewer calories per pound. It's also one of the most environmentally friendly meats you can eat. According to Modern Farmer one "rabbit can produce six pounds of meat on the same amount of feed and water it takes a cow to produce just one pound." This means that rabbits have a smaller carbon footprint.
So what's the problem? I think it's because bunnies are cute. And they definitely are. But then again, pigs are as smart as dogs and we love our bacon.
I think another source of inner conflict is just how distant we have become from our food sources. It is one thing to buy chicken breast at the grocery store, and quite another to hatch, raise and care for said chicken before you eventually eat it.
Maybe it is the way I grew up (my grandmother kept meat chickens and rabbits). I actually prefer to eat meat that I raised, that was wild caught by a hunter friend, or the was humanely raised on a local farm. In that order of preference. For example, when our hens get older and stop laying we will eat them. They will be given a swift end, then we will gratefully eat a chicken we know had an incredible life eating the best food and chasing after bugs in our garden. It's the circle of life and there is no way around it if you eat meat – there's only ways not to think about it.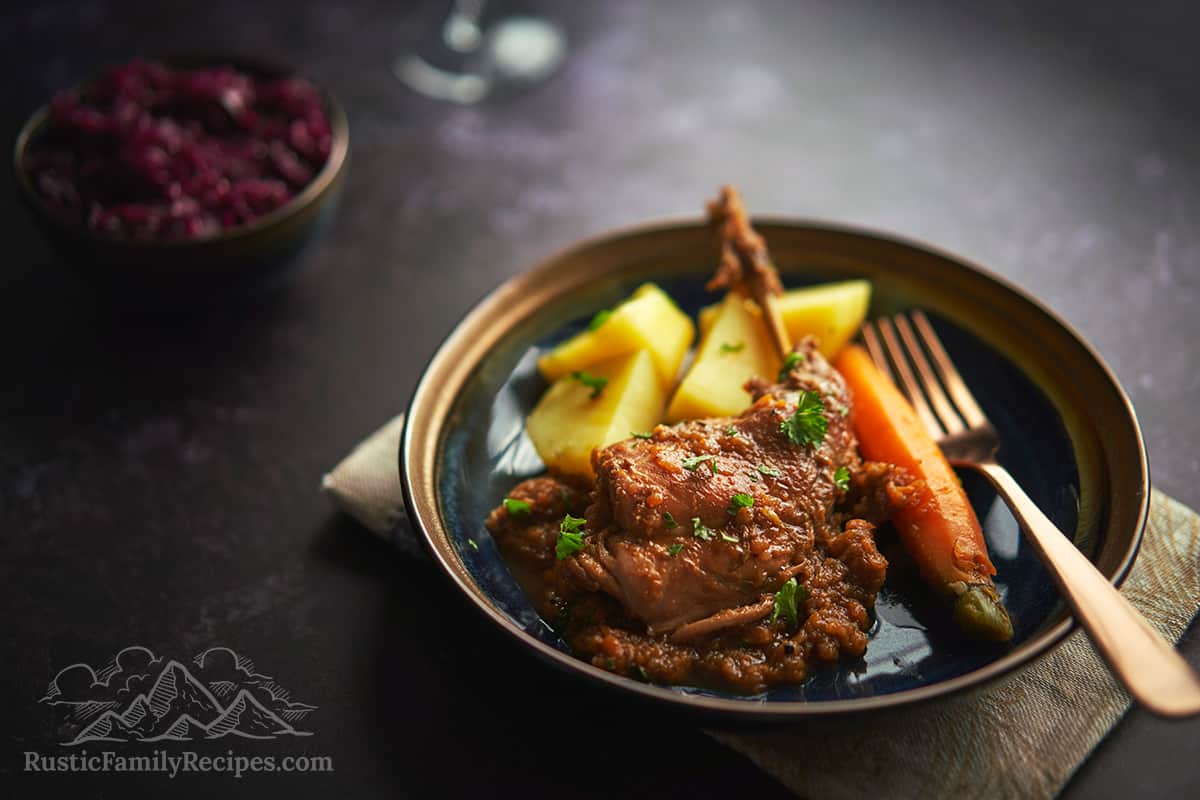 What Does Rabbit Taste Like?
Rabbit tastes a lot like chicken. In fact, when it is cooked the meat looks similar to white chicken meat. It is a leaner meat than chicken and also has far less sodium than the chicken breasts you can purchase at the store (which sometimes have had a salt water solution injected into the flesh). Rabbit meat will soak up the flavors of your recipe, so it's an excellent meat for flavorful stews like this one. All in all, rabbit is good eating!
Where Do You Get It?
Very few of us raise meat rabbits these days. I don't. Much as I love the idea of having a bunny farm I also have three large dogs who would never leave those poor bunnies alone. (They grudgingly ignore my chickens.) So, where does one get a rabbit to eat? Here are my favorite sources:
Local hunters. If you live in a more rural area like I do, odds are there will be hunters in the area who catch rabbit. Make friends! I usually get a few rabbits and some venison from a friend of mine who hunts local game. I trade baked goods, garden produce or freezer meals for the meat depending on the time of year. The meat goes into the freezer and is a real treat when I decide to cook it.
Local bunny farm. We have a rabbit farm nearby that sells the meat.
Non Chain Grocery Stores. We also have a small, locally owned grocery store with a "speciality meat" freezer. They stock rabbit, elk, venison and other game meats sold by local hunters with the appropriate hunting licenses.
Order Online. I have only done this once, when I really wanted to make rabbit and there was none to be found locally. I ordered a whole rabbit from Fossil Farms and it got here in a couple days, perfectly packaged and still frozen. They also sell just the hind legs but those are fairly expensive so I prefer to purchase the entire rabbit.
How Do You Butcher a Rabbit?
Unless you are able to find the hind legs sold separately, odds are you will need to purchase and break down a whole rabbit. Here is how to do it:
If you have chickens, you can boil the rib cage until the meat is cooked, then feed it to your hens. My girls love this and the protein is great for them. Sound strange? Don't forget, chickens are the closest living relative to the Tyrannosaurus Rex!
Variation Ideas
This rabbit stew is very easy to make and can be modified to use the veggies you have on hand.
Use different veggies. I usually go for potatoes and carrots, but if I have them around peeled and chopped parsnips are also lovely. You can also add diced celery with the onions, chopped butternut squash, or use sweet potato instead of regular potatoes.
Leave out the veggies: You can also forgo the potatoes and carrots so make a more rabbit focused stew. I sometimes do this when I'm already making another side and want to cut down on prep time a bit. I would not leave out the onions or garlic as those add a lot of flavor to the stew.
Serving Suggestions
Oh there are so many ways to serve this succulent rabbit stew! My top combos are:
Boiled or Roasted Potatoes & Roasted Carrots: Since these veggies are already in the stew, this combo goes really well. Yes it is more veggies, but what's wrong with that? You can also leave the potatoes and carrots out of the stew. Cook them separately and serve them on the side.
Mashed potatoes: This stew is incredible spooned over a bed of creamy mashed potatoes.
Crusty bread. I feel like a thick slice of crusty bread is pretty essential with this recipe. The bread is perfect for sopping up the stew juices.
Popovers. A couple fluffy, homemade popovers are amazing with this stew!
Red wine. This recipe used red wine to add flavor and depth to the stew. My advice is to use a wine you also like to drink, because then you can also pour yourself a glass. I usually use Apothic red wine. It's not too expensive and I enjoy drinking it.
Print
Easy Rabbit Stew Recipe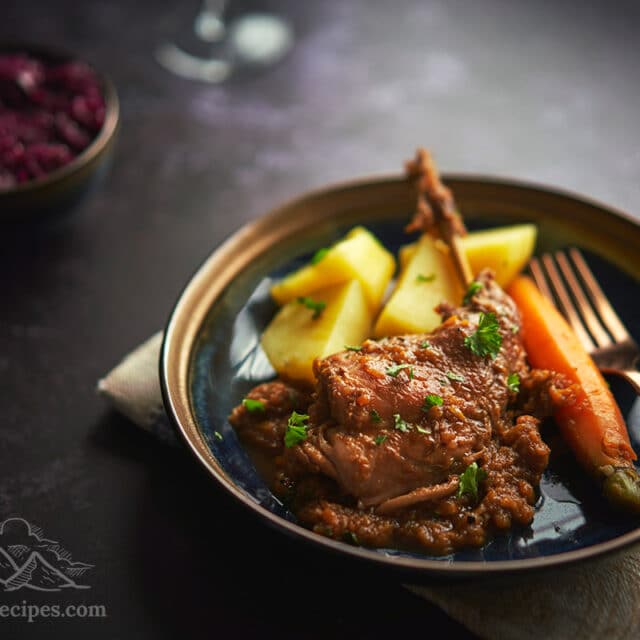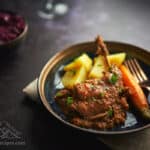 This rustic rabbit stew can be served with tender potatoes, roasted carrots or spooned over a bed of creamy mashed potatoes. Just add a slice of crusty bread and a glass of wine!
Author:
Prep Time:

30 minutes

Cook Time:

2 hours

Total Time:

2 hours 30 minutes

Yield:

4

1

x
Category:

Dinner

Method:

Stove

Cuisine:

American
4

rabbit hind legs (or

1

whole rabbit)

2 tablespoons

olive oil, divided use

3 tablespoons

butter, divided use

2 tablespoons

all purpose flour

2

large onions, roughly chopped

3

garlic cloves, minced

3 cups

vegetable broth

1/2 cup

red wine

8

-oz can tomato sauce

3

small potatoes, peeled and roughly chopped

2

carrots, peeled and chopped (or

4

–

6

small carrots peeled and added whole)

1/2 teaspoon

dry sage

1/2 teaspoon

dry thyme

1/2 teaspoon

dry parsley

1/2 teaspoon

kosher salt

1/4 teaspoon

ground black pepper
Instructions
If using a whole rabbit: divide the rabbit into 5-6 smaller pieces. I usually cut off the legs, then remove the rib cage and divide the saddle. A sharp butchers knife works best for this. See the video in my post for a visual.
Heat 1 tablespoon of olive oil in a skillet over medium heat and fry the rabbit pieces on both sides, just until golden. Remove from the skillet and set aside.
In a soup pot, heat 1 tablespoon of olive oil over medium heat. Add the chopped onion and cook, stirring frequently, until translucent. Add the garlic and cook about 30 seconds, stirring constantly.
Add 2 tablespoons of butter. When it has melted add the flour and stir it in with the onions and garlic, cooking about a minute.
Add the vegetable broth, tomato sauce, red wine, potatoes, carrots, herbs, salt and pepper. Mix well.
Add the rabbit pieces and nestle them at the bottom of the pot.
Bring to a boil, then cover and reduce to a simmer. Cook on low or medium-low heat for 1 hour 30 minutes. The temperature will vary according to your stove, you want the heat just high enough to keep the stew at a steady simmer.
Stir the stew a couple times during the cooking time. If the liquid reduces too rapidly, add vegetable broth 1/2 a cup at a time. You want the rabbit to be just covered by the liquid.
Remove the cover and add the last tablespoon of butter, stirring until it has melted. Simmer an additional 30 minutes until the liquid has reduced and has a thicker, more stew-like texture. The rabbit meat is done when it flakes off the bone when you test it with a fork.
Taste the stew and add salt/pepper as needed.
I like to serve this stew with more potatoes, a thick slice of crusty bread and a glass of wine.
Keywords: rabbit stew recipe, how to cook rabbit