Instant Pot hard boiled eggs come out perfect every time! You can cook beautiful and easy-to-peel eggs in the pressure cooker in only 20 minutes.
What if I told you that you could have the most perfect, easy-peel hard-boiled eggs any and every time you'd like? With the help of your Instant Pot, that kitchen fantasy is a reality that's ready in under 20 minutes.
Technically, the pressure cooker actually steams the eggs. But the end result is "hard boiled" eggs with crisp, set whites and sunshine-yellow middles. No green rings and dry yolks! Making hard-boiled eggs in your pressure cooker is the easiest way to ensure perfection every time – here's how.
The Benefits of Using Your Instant Pot
"Hard boiled" eggs in the Instant Pot are foolproof. Pressure-cooked hard boiled eggs will come out exactly to your liking every time.
You don't need to watch the pot. Since there's no stove or boiling involved, you can leave most of the work to your pressure cooker.
Instant Pot hard boiled eggs are so easy to peel. No more fussing with crumbling, flimsy shells that refuse to release from the eggs.
What is the 5-5-5 Method?
The 5-5-5 method is the best way to achieve perfect hard boiled eggs in a pressure cooker. The technique comprises 5 minutes of pressure cooking, followed by 5 minutes of natural release, and finally 5 minutes in an ice bath.
Using this method, you'll have easy-peel hard boiled eggs that are perfectly set every time with golden yellow centers, and shells that come away without a hitch.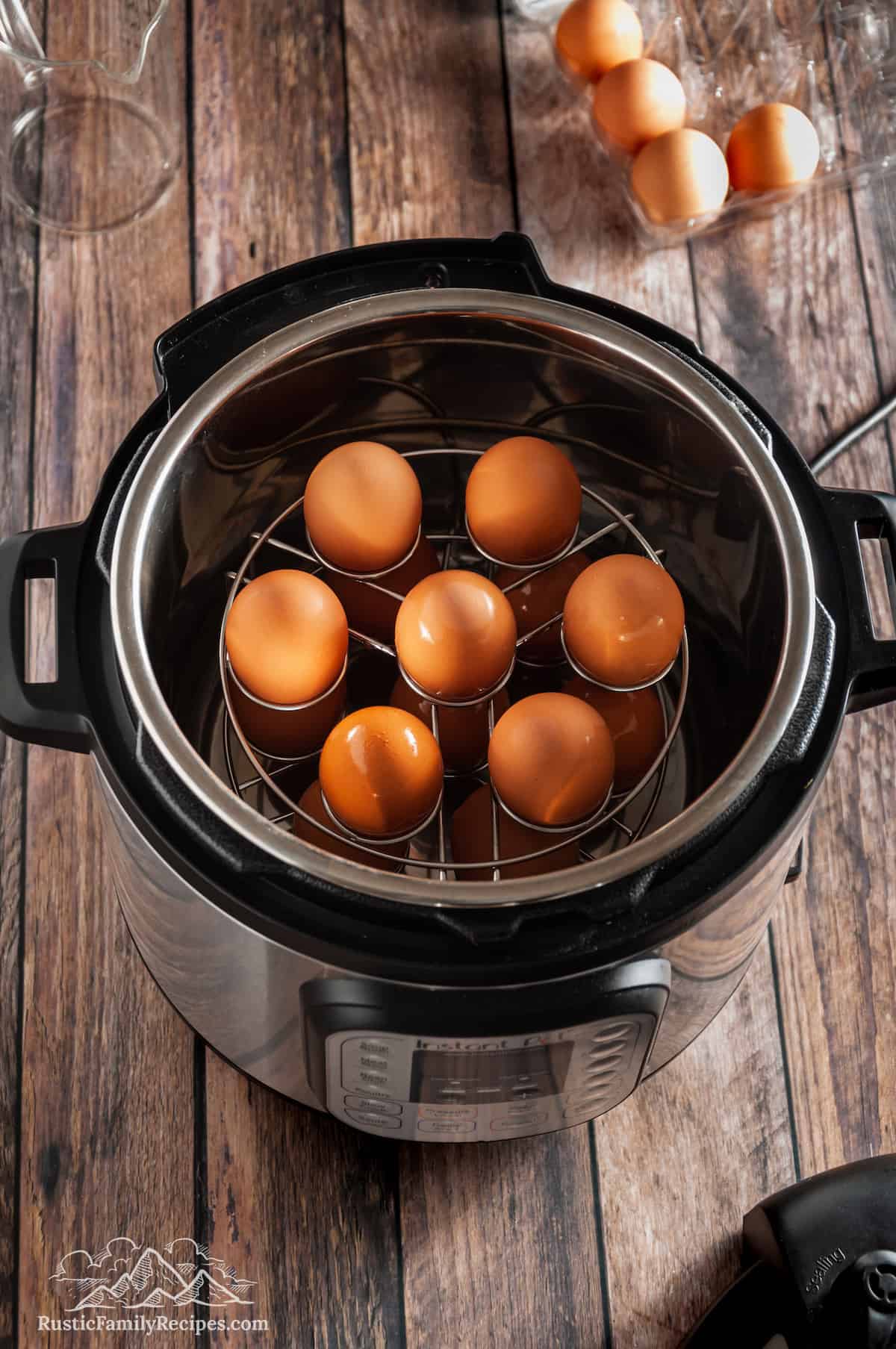 What You'll Need
Tools
Instant Pot Pressure Cooker: This technique for hard boiled eggs will work in either a 5, 6, or 8-quart Instant Pot.
Stackable Egg Steamer: Most Instant Pots come with a trivet that will work for a few eggs. I like to use an inexpensive stackable egg steamer I found online that fits up to 14 eggs at once. (It was $12.99 and totally worth it.)
Ingredients
Eggs: I've based this recipe on 14 large eggs.
Water: Of course, to build the steam necessary to pressure cook the eggs.
Is it Better to Use Fresh or Older Eggs?
It seems that everyone has a theory about the freshness of eggs when hard boiling. I've always found that older eggs are better. This is because the membrane of fresh eggs is still attached to the shell, making them harder to peel. As eggs age, the membrane starts to pull away from the shell, which makes them easier to peel after they are hard boiled.
I prefer to use the eggs from our hens that have been on the counter for at least a week, which gives the membrane time to loosen.
What if I Don't Have a Steamer?
No egg steamer? No problem! You can easily cook batches of 6-8 eggs using only the steamer trivet that comes with your Instant Pot. I suggest using a larger steamer rack if you're cooking a dozen eggs or more all at once.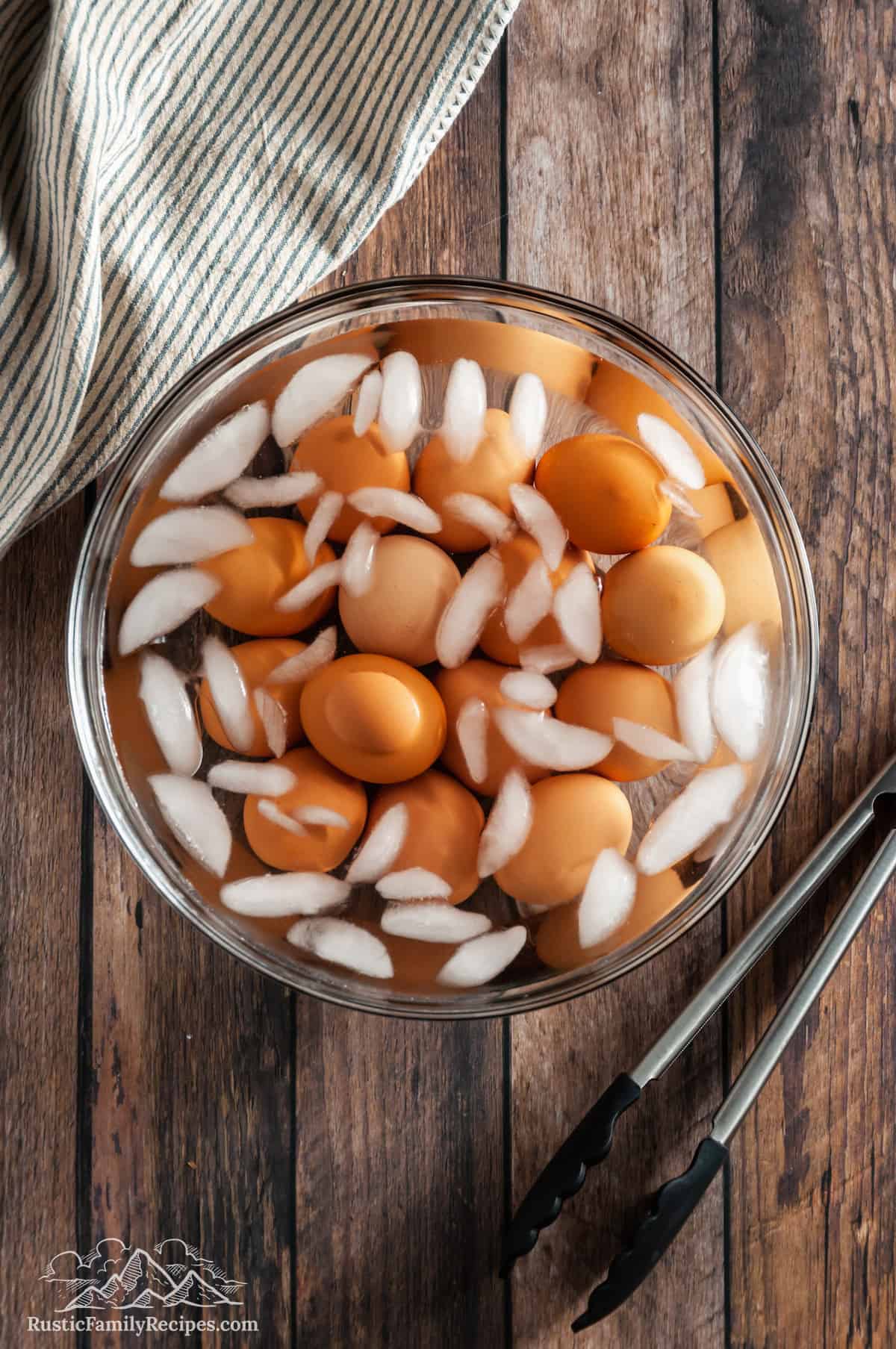 How to Hard Boil Eggs in Your Instant Pot
Inside the Instant Pot, carefully place the eggs into one or both of the layers of your egg steamer. Add one cup of cold water into the Instant Pot. Next, you'll hard boil your eggs using the handy 5-5-5 method:
Pressure cook for 5 minutes. Seal the lid and set the Pot to pressure cook on high for 5 minutes. Keep in mind that the Instant Pot itself will take a few minutes or so to build up pressure before the actual cooking time begins.
Natural release for 5 minutes. When the timer goes off, leave the Instant Pot to naturally release the pressure for another 5 minutes. I've found it helpful to set an extra timer as a reminder!
Ice bath for 5 minutes. Fill a large bowl with cold water and chuck in some ice while you wait for the timer to sound. When venting your Instant Pot, use a wooden spoon to open the vent and release the rest of the steam. Gently remove the eggs and slip them into the ice bath. The eggs will be hot to the touch, so I like to use rubber-ended tongs to save my fingers the hassle! Leave the eggs in the ice for 5 minutes.
Peel and/or store. You can choose to store your perfect hard boiled eggs either with or without the shell. See my sections below for tips on easy peeling and storage.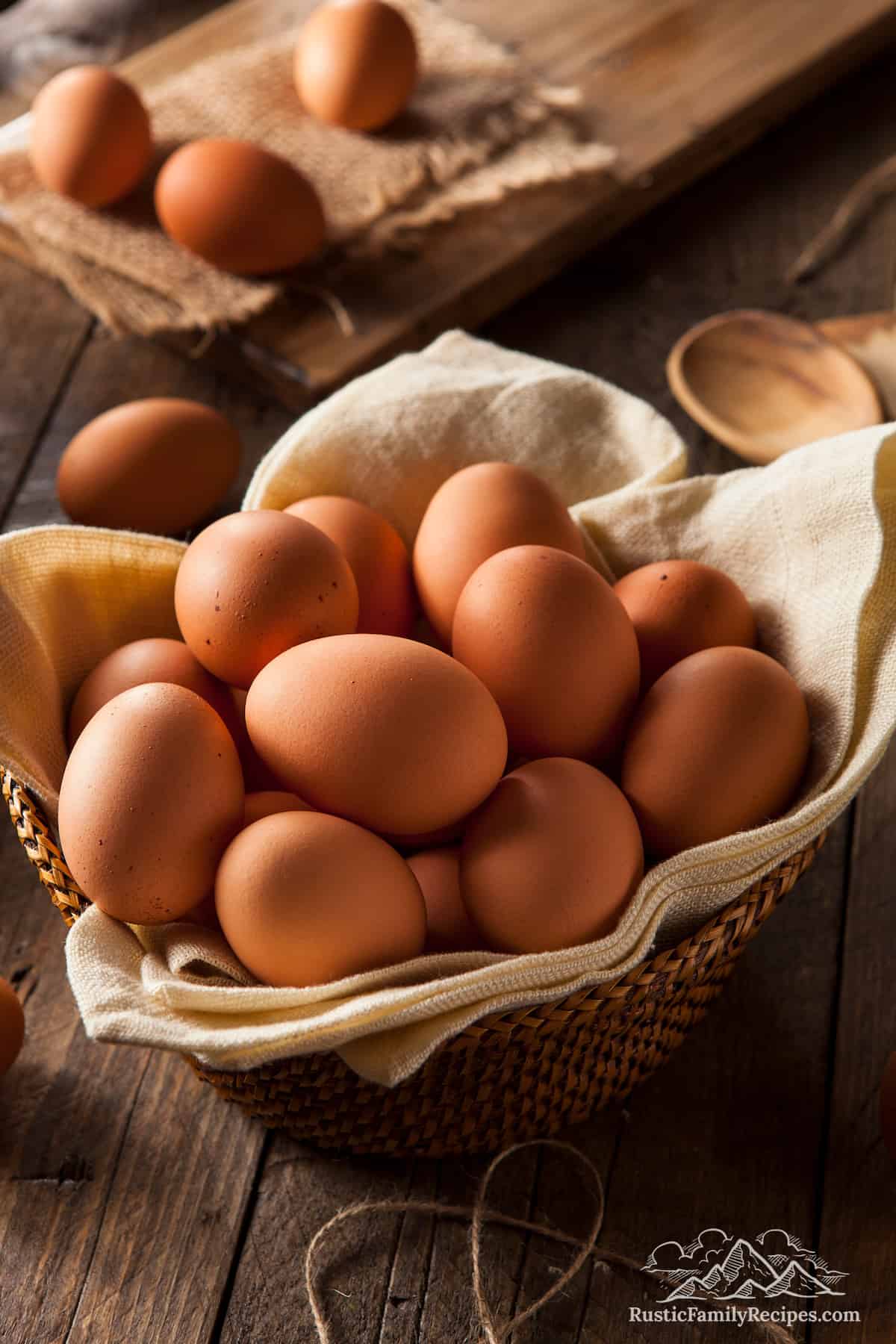 How Many Eggs Can You Cook at a Time?
I've found that this Instant Pot method will cook anywhere between a single egg to up to 10-14 eggs (depending on the size of your appliance, of course), without much difference in the way the eggs are cooked.
The Trick to Easy Peeling
The first key to eggs that peel easily is in the ice bath. I recommend peeling the eggs right from the ice water for the best results! The second comes in the actual way you peel them: I use my hands to gently roll the egg on the counter to crack and loosen the shell. Then I peel the eggs carefully under running water to wash off any small bits of shell before storing.
Ways to Use Hard Boiled Eggs
Once they're peeled, hard boiled eggs make a protein-packed addition to all kinds of easy meals.
Breakfast: Hard boiled eggs make a healthy grab-and-go breakfast all on their own, or you can serve them with bacon and a side of savory Cheddar Cheese Sweet Potato Muffins. They're also great in a breakfast bowl or top of avocado toast with a sprinkle of black cumin seeds, red chili flakes, or salt and pepper. Instead of regular bread, try these Sweet Potato Buttermilk Biscuits.
Lunch & Dinner: Transform your hard boiled eggs into classics like deviled eggs, chop them up for egg salad sandwiches, or toss them over a Caesar salad.
How to Store & How Long They Last
Once they're completely cooled, store your eggs airtight in the fridge. Hard boiled eggs can be stored with their shells on, or you can peel them; they'll keep for 7 days unpeeled, or up to 3 days when peeled.
Print
Easy Peel Instant Pot Hard Boiled Eggs
Instant Pot Hard Boiled Eggs come out perfect every time! You can cook beautiful and easy-to-peel eggs in the pressure cooker in only 20 minutes.
Author: Rustic Family Recipes
Ice Bath:

5 minutes

Cook Time:

10 minutes

Total Time:

15 minutes

Yield:

14 eggs

Category:

Breakfast

Method:

Instant Pot

Cuisine:

American
Instructions
Place the first layer of your stackable egg steamer into your Instant Pot and carefully add the eggs.

If you are using the second layer, attach the second layer of the steamer to the first one, being sure to line up the bottom of the second layer with the top of the first layer. Carefully add the eggs to this second layer of the steamer.

Pour 1 cup of COLD water into your Instant Pot.

Seal the pressure cooker and set to cook for 5 minutes at high pressure.

After the timer goes off, let the Instant Pot do a natural release for 5 minutes.

While you are waiting, fill a large bowl with cold water and ice.

Once the 5 minutes have elapsed, vent your instant pot to release the rest of the steam. Use a wooden spoon to open the vent so that you don't accidentally get steam on your hand.

Carefully remove the eggs and gently place them in the ice bath. I usually use tongs with rubber ends to remove them without burning my fingertips. The eggs will be HOT!

Let the eggs sit in the ice water for 5 minutes.

You can store them with the shells on. Let them cool completely, then place them in an airtight container in the fridge for up 7 days unpeeled, up to 3 days after they have been peeled.

To peel the eggs, crack them open by gently rolling each egg on the counter with your hands to release the shell. Then gently remove the shell with your fingers. I usually do this under running water so that any small bits of shell get washed off immediately.
Last Step:
Please
share a rating and comment
if you enjoyed this recipe! Your feedback helps this little blog thrive and continue providing free, high-quality recipes for you.
Keywords: how to make hard boiled eggs, perfect hard boiled eggs, instant pot eggs
Filed Under:
This post may contain affiliate links. Please read our disclosure policy.