Made with shrimp tempura, cucumber, and avocado, this Dragon Roll is crispy, creamy, and refreshing. Top it with spicy mayo, unagi, and sesame seeds for a flavor-packed lunch or light dinner.
Homemade Dragon Roll Sushi
This easy dragon roll with spicy mayo tops the list for easy, flavorful sushi rolls. It's definitely an American version of traditional sushi, but it's one of the most popular rolls at restaurants. Given its irresistible flavor combination, it's not hard to see why.
For the filling, crispy shrimp tempura and cucumber are hugged inside a salty nori sheet. With the tangy, sweet sushi rice on the outside, this roll is just waiting to be topped with lots of creamy avocado. You can also add sliced mango if you're feeling creative. The delicate-looking roll is then sprinkled with crunchy sesame seeds. Finally, it's drizzled with unagi sauce and spicy mayo for extra creaminess and sweetness.
While tempura shrimp and avocado are the stars of the dish, there are no rules against switching things up. Try adding some carrots for extra crunch or a jalapeño-infused soy sauce for a spicier dipping sauce. Chipotle mayo instantly makes things more interesting too. Enjoy it on its own or with a side of chicken katsu, yakitori, or other Asian dishes for a heartier meal. Whatever you do, there's no going wrong with this easy dragon roll recipe. (And if you like homemade sushi, also check out this Alaska Roll recipe!)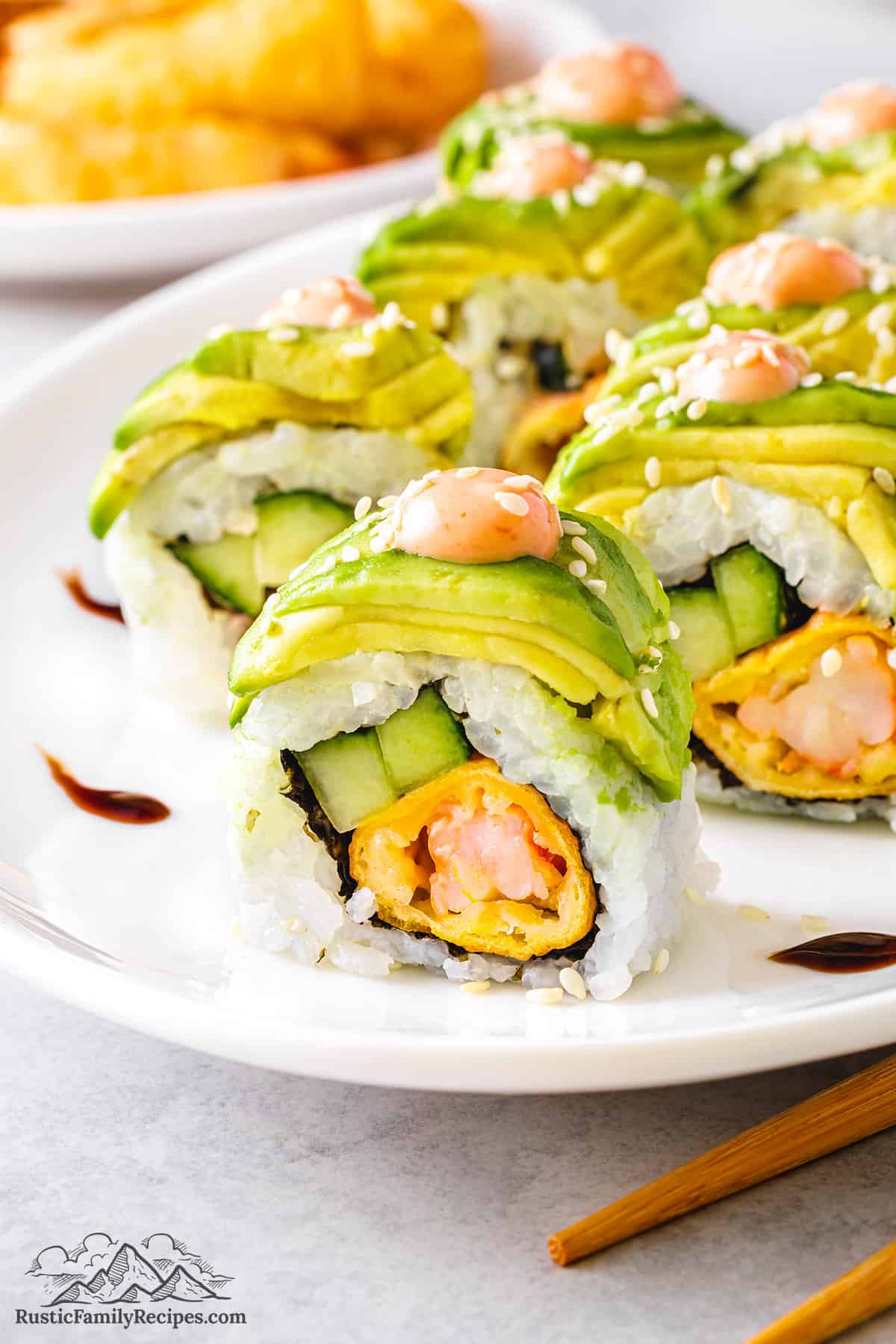 What Is A Dragon Roll?
Dragon rolls are basically inside-out maki rolls. This means the sushi rice is on the outside and it's the nori holding the fillings together.
They're filled with crispy shrimp tempura and thin strips of crunchy, refreshing cucumber. These are enclosed in a nori sheet spread with spicy mayo and have perfectly cooked sushi rice wrapped around the outside. Topped with thin avocado slices, the layered look is supposed to resemble a dragon's scales.
Once ready, it's sprinkled with sesame seeds for a nice, earthy bitterness. Offset by more spicy mayo and a drizzle of sweet unagi sauce, it's an amazing combination of textures and flavors.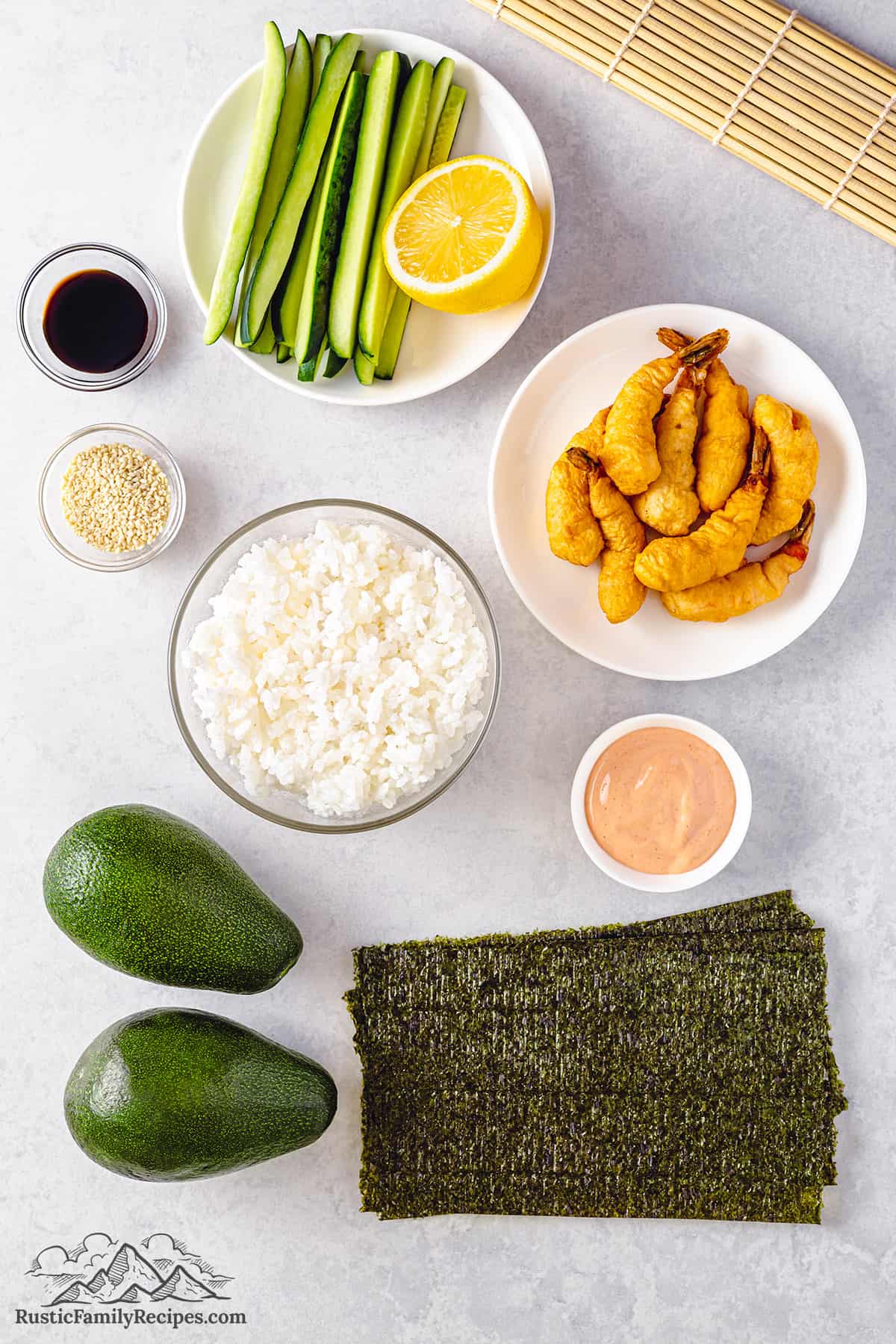 Recipe Ingredients
With only 9 ingredients, sushi rolls don't get much easier than this. Scroll down to the recipe card at the bottom of this post for exact ingredient amounts.
Nori – Don't forget to cut it in half or you'll end up with huge sushi rolls. Also, make sure it's not snack-sized nori!
Cooked sushi rice – If it's not Japanese short-grain rice, it won't work.
Shrimp tempura – You can also substitute it for panko or breaded shrimp as long as it's crunchy!
Cucumber – It doesn't need to be peeled, but you will need to remove all the seeds to avoid excess moisture from seeping into your roll.
Avocados
Lemon – Try not to substitute this for lime, which can have a more astringent, bitter flavor.
Spicy mayo – Sriracha mayo is most traditionally used, but you can mix your favorite hot sauce with mayo to make your own.
Toasted sesame seeds – Black or white sesame is fine. If you can't find toasted sesame, make it yourself. Place the sesame seeds in a pan over low heat. Shake the pan continuously, toasting the seeds for 3-4 minutes. Let them cool and incorporate them to the recipe.
Unagi – Regular soy sauce, ponzu, or even teriyaki sauce are good options too.
Is Sushi Rice the Same as White Rice?
No, it's not. There are three kinds of grains for white rice: short, medium, and long. Sushi rice is a short-grain rice, but that's pretty much the only similarity.
Sushi rice is Japanese short-grain rice. When cooked, it's stickier, more compact, and keeps its bite. Once cooked, the flavor is also slightly tangy and sweet from the added vinegar and sugar. If you're making sushi or other kinds of Japanese food, sushi rice is the only kind you should be using. On the other hand, medium and long-grained white rices are a lot lighter and fluffier. The grains also don't stick at all, making it impossible to make sushi rolls with them.
Variations
You'll love how easy it is to spice up this dragon roll. Here are a couple of changes you could make for a fruitier, crunchier, spicier bite:
Add mango. Thinly slice some mango and alternate it with the avocado that goes on top of the roll. It's an unconventional flavor combo, but it'll add an amazing tropical sweetness to your sushi!
Add carrot. Swap the cucumber for carrot matchsticks. It'll add an earthy crunch and a pop of color. You could also use a mixture of cucumber and carrot for the filling.
Use chipotle mayo. Use it instead of regular Sriracha mayo for a different kind of heat. Make it by mixing 3 parts mayo to 1 part canned chipotles in adobo. You can use the brine or make it chunky by adding bits of chipotle. Mix well and then adjust the spiciness to taste.
Add imitation crab. Mix it with some mayo and make room for it among the fillings. It'll add a nice, stringy texture and a kick of seafood flavor.
Mix wasabi into the unagi. Tone down the unagi's sweetness by whisking 1/8 tsp (or less) of wasabi into the sauce. Add more wasabi as needed to make it spicier.
Make spicy soy sauce. Take your dipping sauce to the next level by chopping some jalapeños and throwing them into soy sauce. Let the mixture rest for at least 30 minutes before using. If you're brave enough, you can also add a piece of jalapeño on top of your sushi with every bite.
How to Make a Dragon Roll
Follow these simple steps to turn your kitchen into a sushi restaurant in less than an hour:
Cook the sushi rice. I have an easy tutorial on how to make sushi rice in the instant pot.
Make the shrimp tempura. I also have a simple recipe for shrimp tempura.
Spread the rice. Line a bamboo mat with plastic wrap. Place a nori sheet, shiny side down, over the lined mat. Moisten your hands with water or grease them with cooking spray. Evenly spread 1/2 cup of sushi rice over the nori.
Add the fillings. Flip over the nori sheet so that the rice is facing down. You should now only be looking at nori. Leaving a 1-2″ edge, spread spicy mayo to taste. Then arrange cucumber strips and 2 pieces of shrimp tempura over the nori, lengthwise.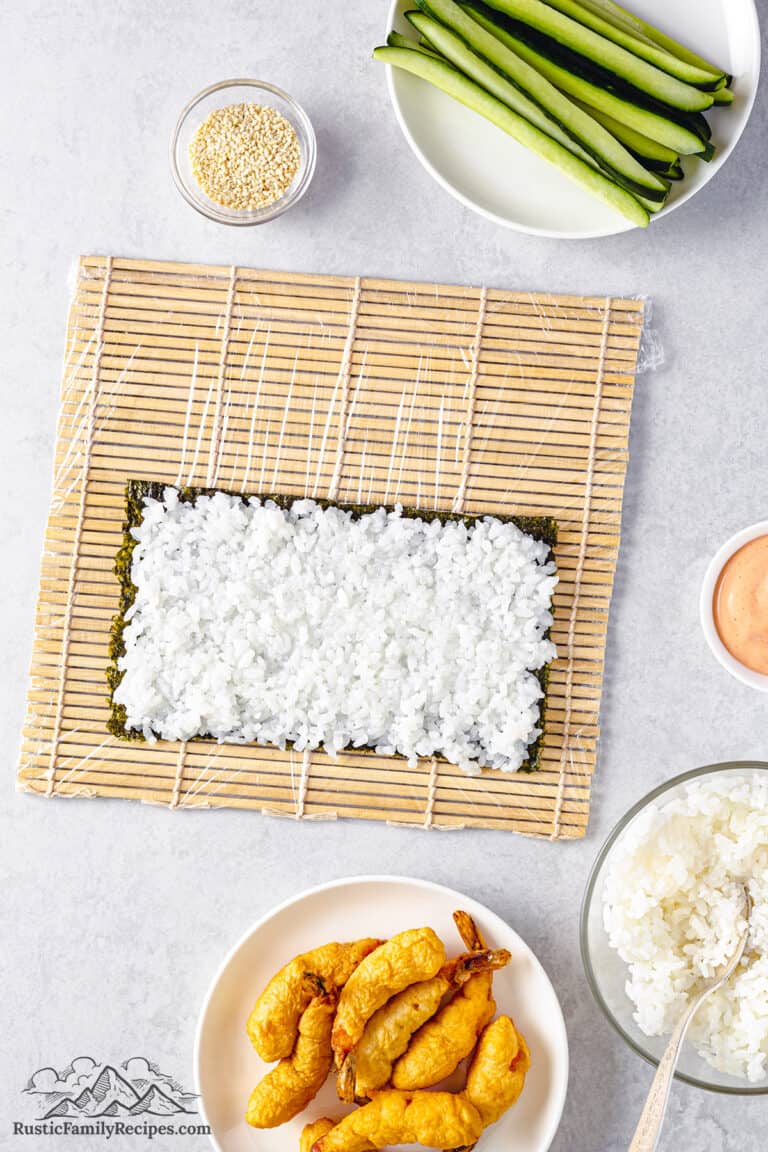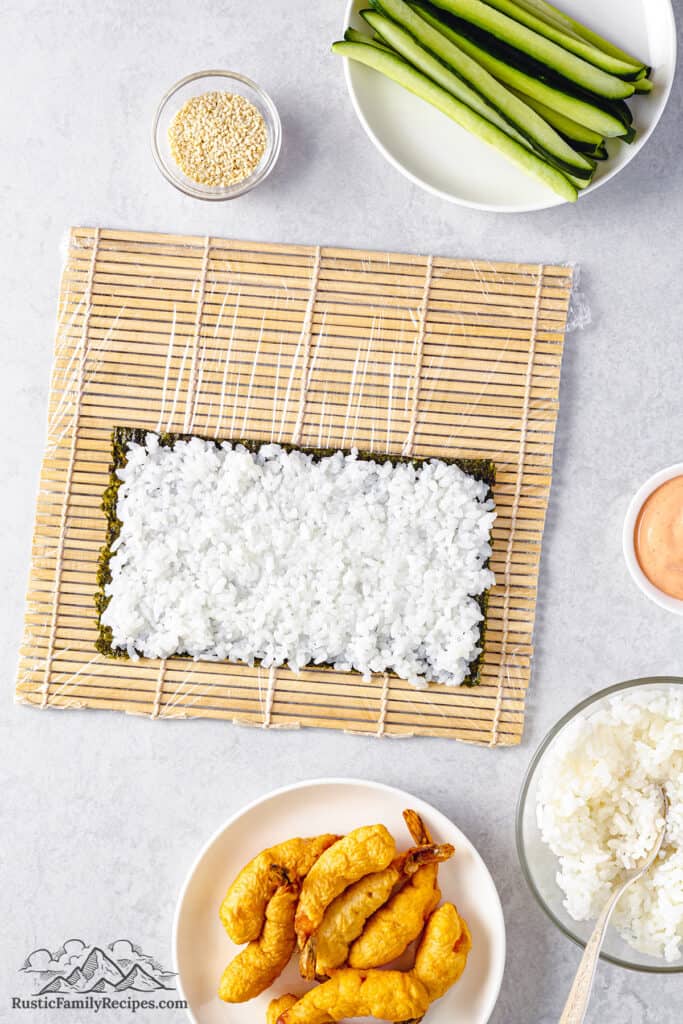 Roll it. Pull the 2″ nori edge upward and carefully roll it over the fillings. Use your hands to roll the sushi up, tightening it with certain pressure. Squeeze the roll through the mat. Don't skip this step or your dragon roll will spread open later.
Prepare the avocado. Thinly slice the avocado and drizzle it with lemon juice. You don't have to soak it. The lemon juice is just so the avocado doesn't turn brown.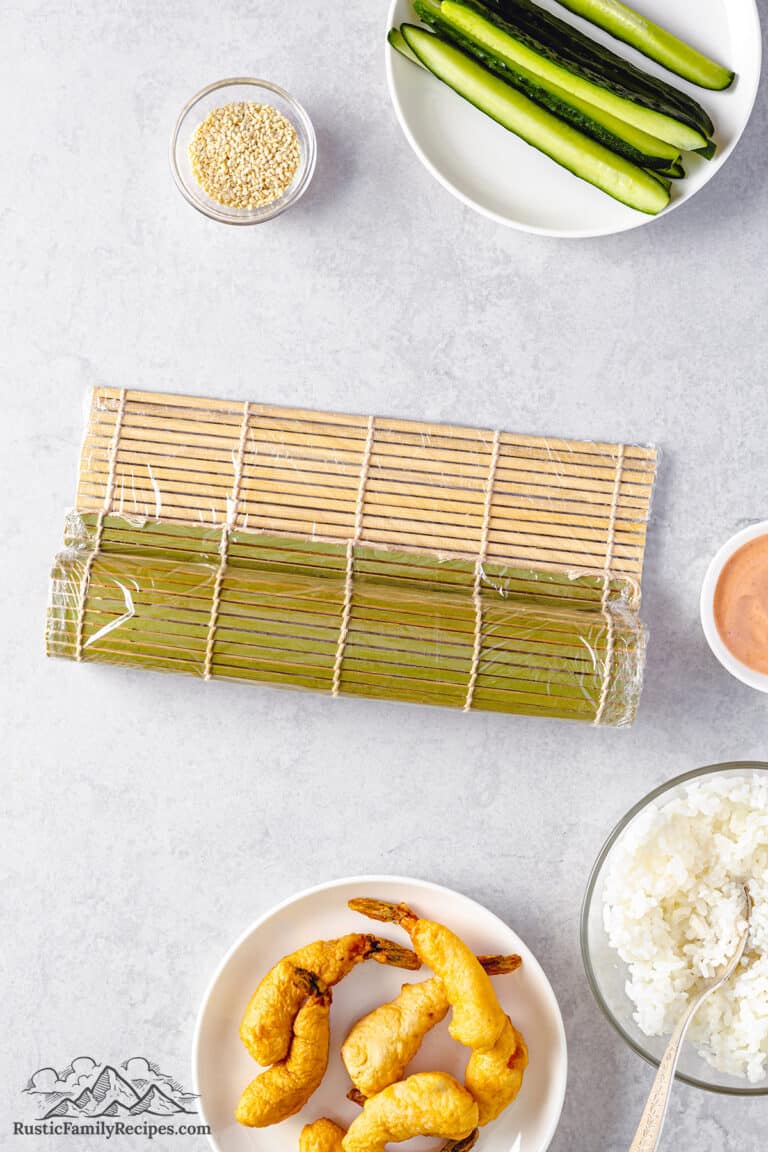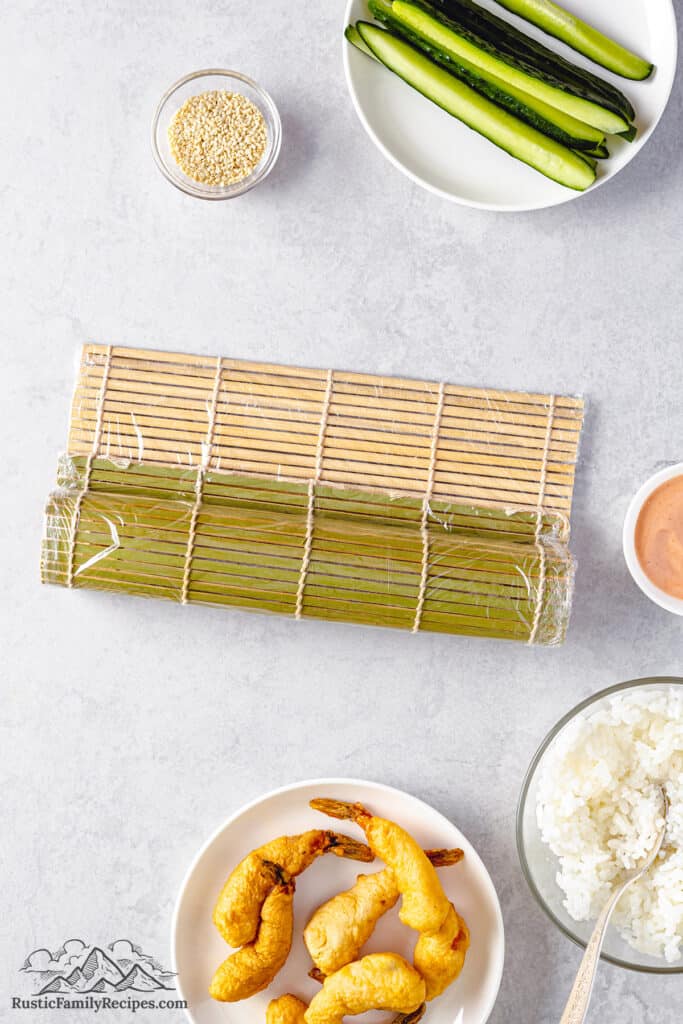 Top with avocado. Arrange half of the avocado slices on top of the roll to cover it. Use another piece of plastic wrap to cover the roll.
Tighten the roll. Place the bamboo mat on top, pressing gently on the mat to help the avocado stick to the rice. Don't squeeze too tightly or it'll turn to guacamole! Then use a sharp knife to cut the roll through the plastic wrap into 8 pieces. Do this for every roll.
Serve. Carefully remove the plastic wrap from each piece. Transfer the sushi to a serving plate and garnish with unagi, more spicy mayo, and toasted sesame seeds. Enjoy!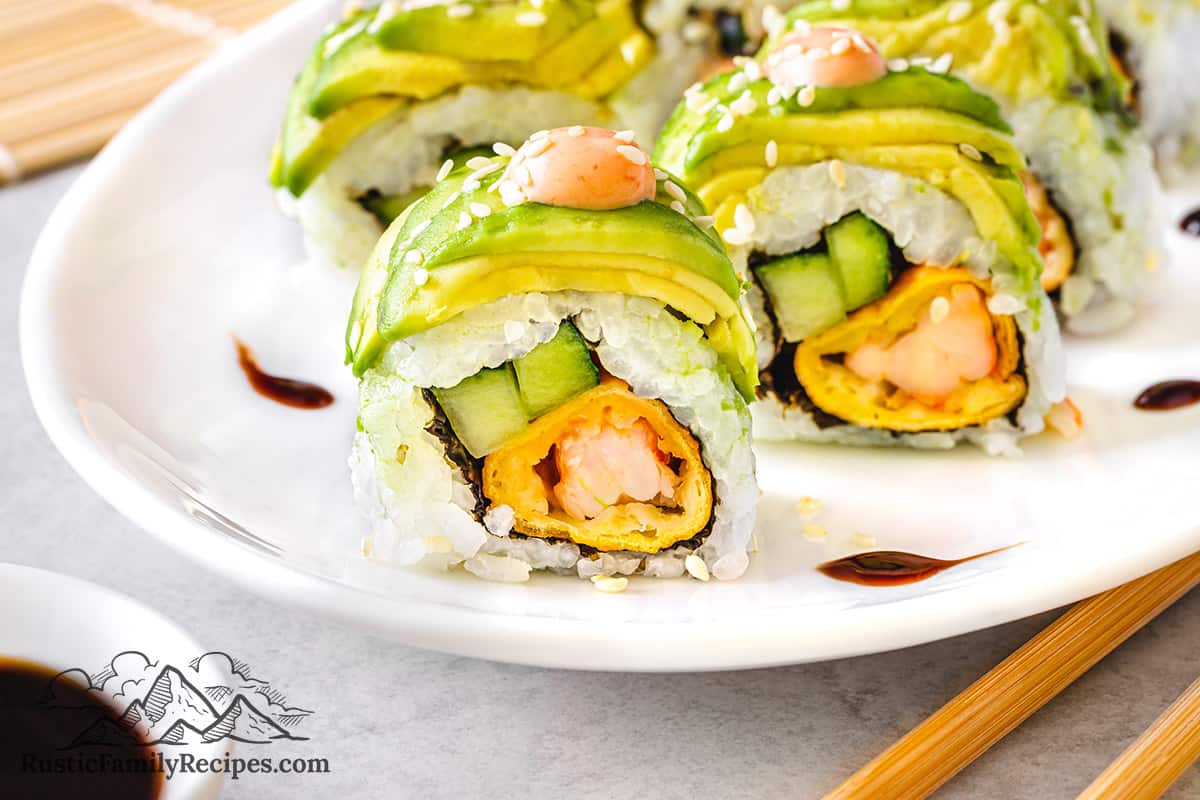 Tips for the Best Homemade Sushi Rolls
It's a fact of life that 35-minute recipes can't be difficult. Follow these tips for perfectly rolled and sliced sushi:
Don't forget to line the sushi mat. Once avocado and other soft ingredients get into the crevices, it's impossible to get them out completely. Lining the sushi mat also helps prevent the transfer of odors and growth of bacteria over time.
Grease the knife. Lightly grease your knife with cooking spray to help avoid the blade from sticking to the sushi.
Moisten your hands. Sprinkling your hands with water or even lightly greasing them before handling the rice will make a huge difference. It'll barely stick to your hands and will make spreading the rice over the nori much easier.
Don't pack it. When adding your fillings, make sure not to go overboard with the amount. The more you add, the harder it'll be to roll. Larger rolls also tend to spread open.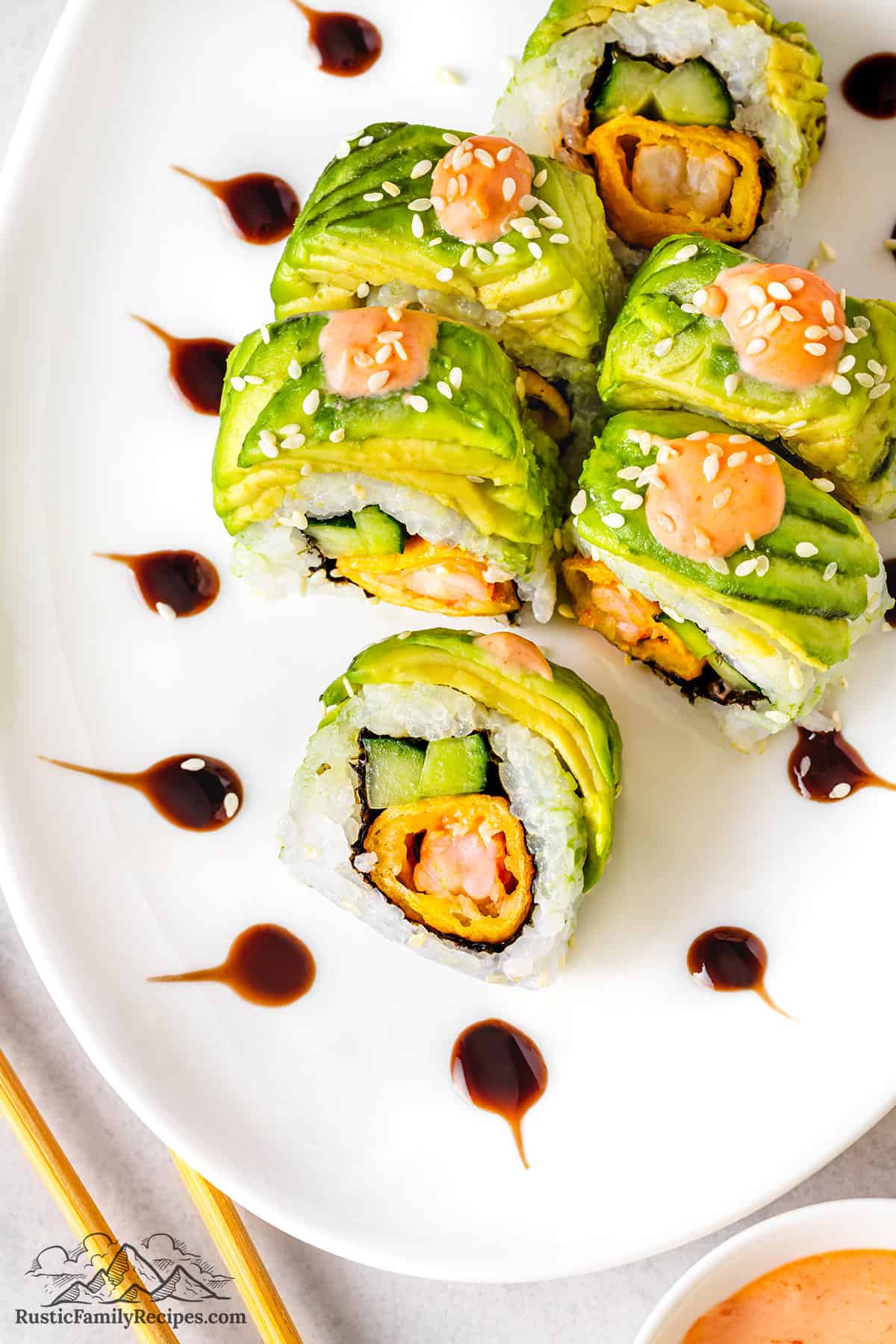 Serving Suggestions
Ponzu, teriyaki sauce, and soy sauce make amazing dipping sauces. Dress them up by mixing in a bit of wasabi or chopped jalapeños. Chipotle mayo is an interesting alternative to regular Sriracha-mayo too. Other interesting toppings include tempura bits or deep-fried sliced leek for a garlicky, crunchy bite.
How Long Will Sushi Last In The Fridge?
This dragon roll can be refrigerated for 3-4 days in an airtight container. This is because the shrimp is fully cooked, meaning it will take longer to spoil. However, sushi with raw seafood ingredients can only be kept for 1-2 days.
Print
Dragon Roll
This easy dragon roll with spicy mayo is crunchy, refreshing, and creamy.
Author: Rustic Family Recipes
Prep Time:

30 minutes

Cook Time:

10 minutes

Total Time:

40 minutes

Yield:

4 rolls

Category:

Lunch, Dinner

Method:

Assemble

Cuisine:

American
2

sheets nori cut in half

2 cups

cooked sushi rice

8

pieces shrimp tempura

1

cucumber cut into strips

2

avocados

½

lemon

2 tbsp

spicy mayo

2 tbsp

toasted sesame seeds
Unagi sauce for garnishing
Instructions
Spread the rice. Place the nori sheet (shiny side down) on a bamboo mat, lined with plastic wrap on top. Spread a quarter of the rice amount over the nori sheet.
Add the fillings. Flip over the nori sheet with the rice on it. Place cucumber strips, spicy mayo, and 2 pieces of shrimp tempura over the nori.
Roll it. Use the sushi mat to tightly squeeze the roll.
Prepare the avocado. Peel avocado and slice it, squeeze with lemon juice
Top with avocado. Transfer half of the avocado on top of the roll. Place plastic wrap over the avocado.
Tighten the roll. With the help of the bamboo mat, squeeze the sushi roll. Cut the roll through the plastic wrap into pieces.
Serve. Remove the plastic wrap, transfer to the serving plate, and garnish with unagi, more spicy mayo, and toasted sesame seeds.
Last Step:
Please
share a rating and comment
if you enjoyed this recipe! Your feedback helps this little blog thrive and continue providing free, high-quality recipes for you.
Keywords: dragon roll sushi, dragon rolls, dragon sushi roll
Filed Under:
This post may contain affiliate links. Please read our disclosure policy.