These homemade Cuccidati cookies are made with buttery shortbread dough wrapped around a delightful fig filling. Top them with a simple lemon glaze and colorful sprinkles for perfect Italian Christmas cookies!
Want to make festive Christmas cookies that look impressive, but are super easy to make? Meet these cuccidati cookies! With buttery homemade cookie dough, a sweet fig filling, and colorful sprinkles, these are a grown-up and much fancier version of Fig Newtons.
The flavor profile of these cookies is different than what you'd usually find on American cookie platters, which is one of the reasons I love making them for the holidays. My version of these cookies includes a filling made with dried figs, raisins, dates, candied citrus peels, chocolate chips, almonds, and cinnamon. The combination of dried fruit plus candied orange and lemon peels actually makes these cookies similar to my stollen recipe taste-wise.
Another great thing about these cookies? There are enough steps for little hands to get involved. They can help make and roll out the dough, mix and add the filling, assemble the cookies, and decorate them after baking. Cuccidati cookies are topped with a simple lemon glaze and then finished with colorful sprinkles. I used green sprinkles because the color was so merry and bright, but you should feel free to use whatever kinds of sprinkles make you happy.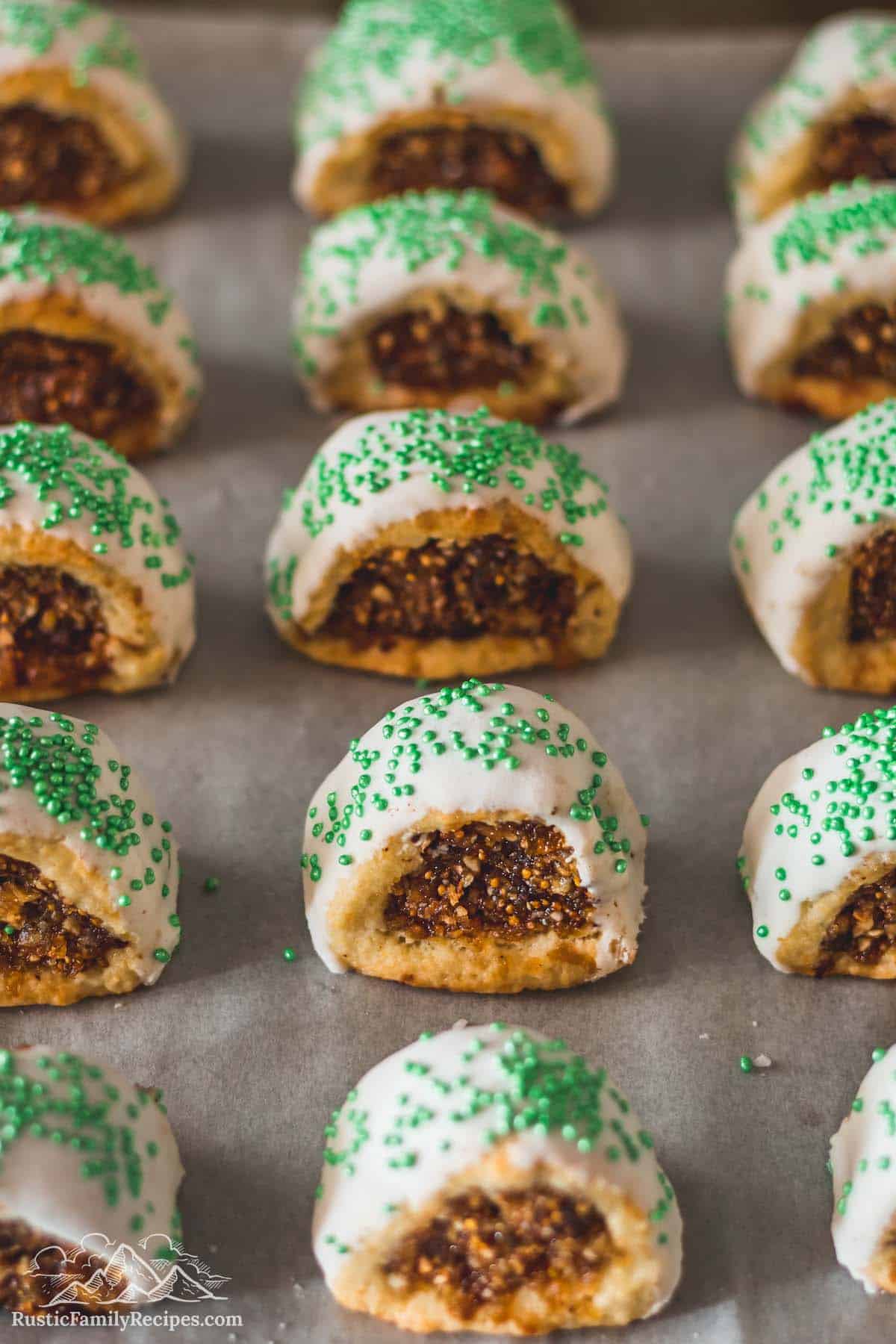 Cuccidati are Italian fig cookies from Sicily that are especially popular at Christmas time. The shortbread dough is wrapped around a fig filling that usually includes things like nuts, jam, honey, dates, and spices. Then the cookies are cut into short tubes as shown here in these photos, or formed into small rounds that resemble bracelets, in which case the cookies are then called "buccellati."
Other names for these cookies include "nucciddati," "zucciddati," "ucciddati," "vucciddati" and "pucciddati" – it really just depends on who is making the cookies and what they are filling them with. Usually, the cookies are finished with a simple glaze and then topped with sprinkles.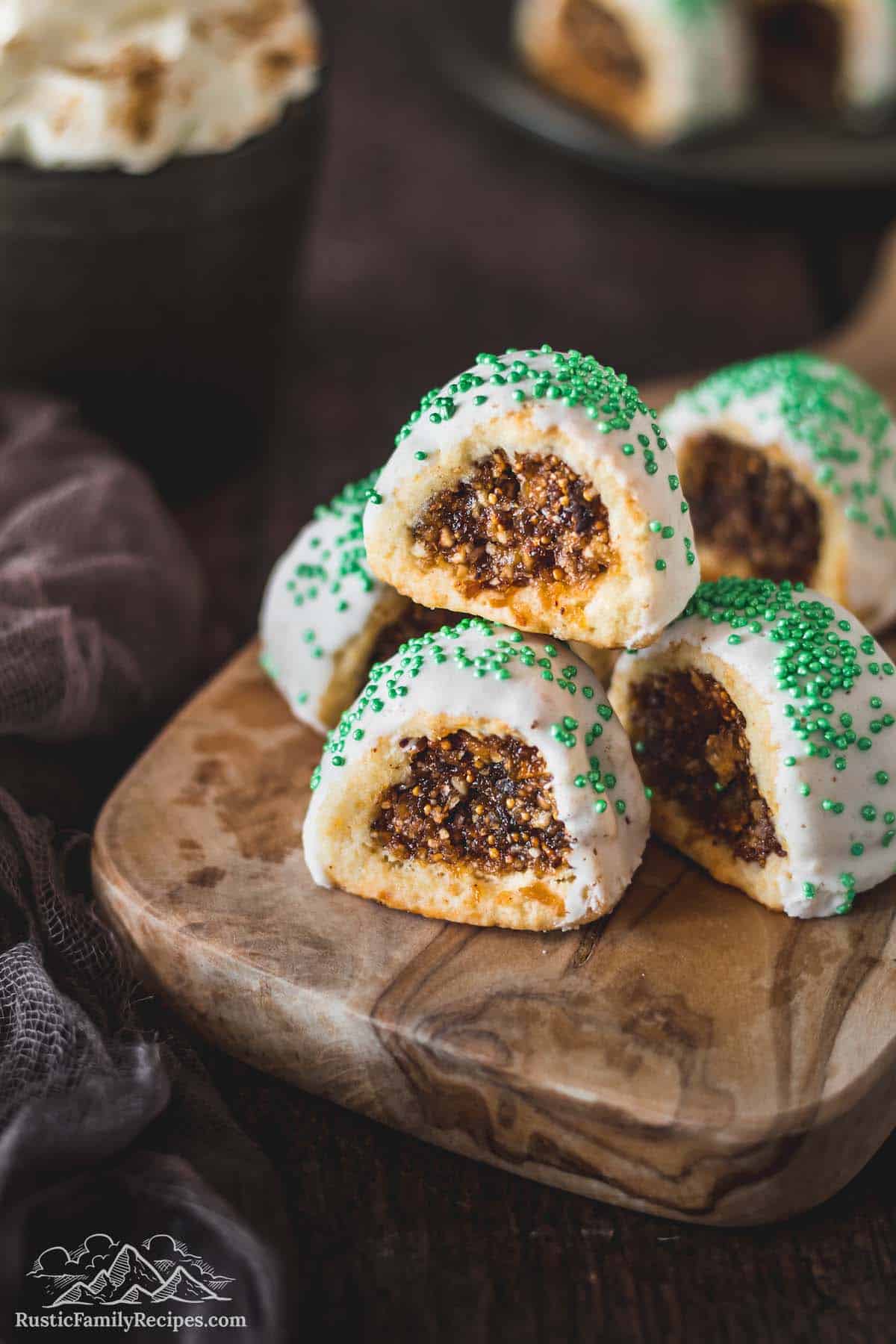 Making the Dough in Advance
These Italian fig cookies are relatively simple to make, but you can make the process even easier by preparing the cookie dough in advance. This is especially helpful if you plan to make them with children because the dough does need to chill for 1 hour before rolling it out and adding the filling. You can make the dough up to 1 day in advance and then store it in the fridge. Wrap it tightly in saran wrap to prevent it from drying out.
When you are ready to make your cookies, take the dough out of the fridge 20-30 minutes before you plan to roll out it out. If the dough is too cold it will be hard to roll, but giving it time to warm up a bit makes it much easier to handle. Be sure to flour your counter before rolling out the dough to prevent it from sticking to the counter surface.
Can I Make the Filling Ahead Too?
Yes! You can make the filling up to 3 days in advance. Just prep it as if you were going to add it to the cookies immediately, then store it in an airtight container in the fridge until you're ready to use it.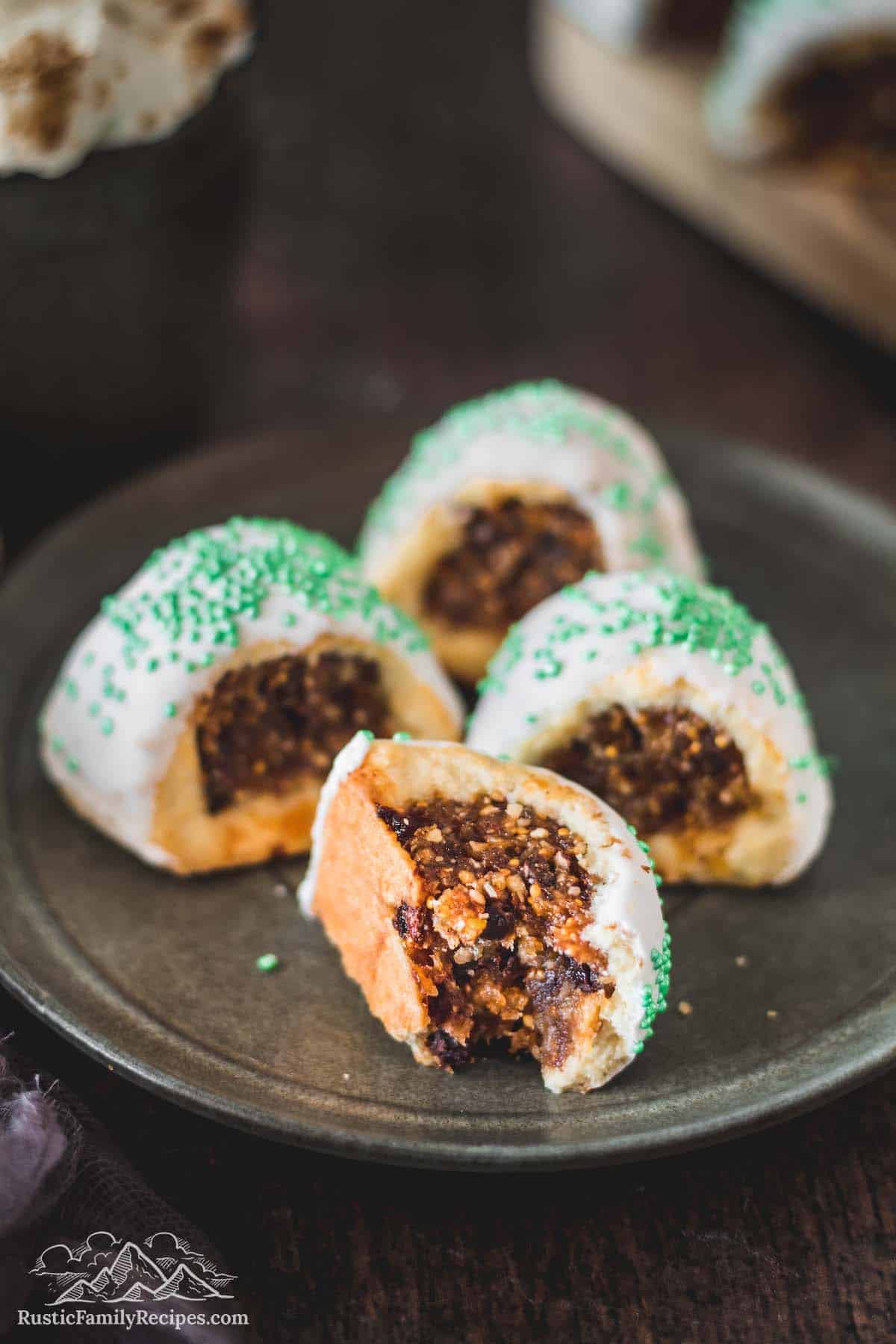 Counter: Cuccidati cookies can be stored at room temperature for up to 4 days. Make sure they have cooled completely before placing them in a cookie jar or container that is almost but not quite airtight. Sometimes I will simply place these cookies on a glass plate that is loosely covered with saran wrap. The reason for this is that moisture tends to build up in airtight containers, which makes the icing on top a bit sticky over time. Allowing a modest amount of airflow prevents this issue.
Fridge: You can also store these cookies in the fridge, in which case I do recommend an airtight container to prevent drying out. They will keep in the fridge for up to 10 days.
Freezer: If you want to freeze your cookies, it is best to do so before you have added the glaze. In this case, bake the cookies and let them cool completely. Then place them in an airtight, freezer-safe container and store them in the freezer for up to 3 months. When ready to eat, simply take them out of the freezer, let them defrost on the counter for a few hours, then proceed with adding the glaze and sprinkles.
Print
These homemade Cuccidati cookies are made with buttery shortbread dough wrapped around a delightful fig filling. Top them with a simple lemon glaze and colorful sprinkles for perfect Italian Christmas cookies!
Author: Rustic Family Recipes
Prep Time:

30 minutes

Chill Time:

1 hour

Cook Time:

20 minutes

Total Time:

1 hour 50 minutes

Yield:

30 cookies

Category:

Dessert

Method:

Oven

Cuisine:

Italian
For the dough:
1 cup

all-purpose flour

1/4 cup

granulated sugar

1 teaspoon

baking powder

1/2 teaspoon

kosher salt

1/4 cup

unsalted butter, cold and cut into cubes

1

large egg

1 teaspoon

vanilla extract

1

–

2

tablespoons milk
For the filling:
1/2 cup

dried figs

1/4 cup

raisins

1/4 cup

dates

2 tablespoons

candied orange peel

2 tablespoons

candied lemon peel

1/4 cup

chocolate chips

3 tablespoons

chopped almonds

1 teaspoon

ground cinnamon
For the glaze:
1

egg white

3/4 cup

powdered sugar

1/2 tbsp

lemon juice
Colored sprinkles
Instructions
Make the Dough:
In a food processor add flour, sugar, baking powder, salt, and butter. Process until mixture resembles coarse meal.
Add the egg and vanilla extract and pulse for a few times until the dough starts to come together.
Gradually add 1-2 tbsp milk, until your dough comes together and forms a smooth ball.
Turn dough out onto a lightly floured surface. Knead dough gently and pat it out to a disc.
Cover with plastic wrap and let rest in the fridge for about 1 hour.
Make the Filling:
Remove stem from figs and let them soak in hot water for about 30 minutes. Take them out on a paper towel and pat dry to remove excess liquid.
In a food processor add figs, raisins, dates, and candied citrus peel and process until you get a paste. Add chocolate chips, chopped almonds, and cinnamon and process until incorporated.
Assemble and Bake:
Preheat the oven to 375°F and cover two baking sheets with parchment paper.
Remove dough from the fridge and roll it out in rectangular shape on a lightly floured surface to approx. 1/8 inch thick.
Place fig filling lengthwise closer to one edge of the rectangle and fold the dough over to the other side.
Place formed log seam side down and cut into 1-inch cookies.
Arrange the cookies on prepared baking sheets about 1/2 inch apart from each other.
Bake for 15-20 minutes or until lightly golden brown around the edges.
Remove from oven and let cool.
Glaze and Decorate:
Beat egg white until foamy, then add the lemon juice. Slowly, add powdered sugar and beat for another few minutes until soft peaks form.
Once cookies are cooled, dip them in the glaze and top with colored sprinkles.
Let dry for a few hours before storing.
Notes
Making ahead: You can make the dough the day before and leave it in the fridge overnight. The next day, take the dough out about 20 minutes before rolling, otherwise, it will be too hard to roll. The filling can be prepped up to 3 days in advance and stored in the fridge.
Storing: Cuccidati cookies can be stored at room temperature for up to 4 days or in the fridge for up to 10 days. If you want to freeze them, it's better to do it without the glaze. When ready to eat, simply take out of the freezer, thaw, and dip in the glaze.
Last Step:
Please
share a rating and comment
if you enjoyed this recipe! Your feedback helps this little blog thrive and continue providing free, high-quality recipes for you.
Keywords: italian cookies, christmas cookies, fig cookies
Filed Under:
This post may contain affiliate links. Please read our disclosure policy.