This crepe cake is made of layers of crepes, diplomat cream and fresh berries. Each luscious slice has the perfect balance of tender and creamy. Plus, the end result is totally gorgeous!
This light and flavorful crepe cake is almost too beautiful to eat. Each slice is made of layers of thin, golden crepes layered with diplomat cream, then topped with fresh fruit. This is one of those desserts you can make for a summer cookout or a holiday get together.
Why You'll Love This Crepe Cake Recipe
Impressive. Even though it's made of simple layers, a crepe cake is a stunning dessert. If you're looking for a recipe that will impress everyone at your next gathering, this may just be it.
Customizable. You can customize a crepe cake by adding different fruits, extra fillings, and even chocolate ganache. I've shared lots of ideas for ways to make this dessert your own below.
Make ahead. You can make a crepe cake slightly ahead of time, which is great if you're hosting a party or heading to a potluck. Simply assemble the cake and chill it in the refrigerator for a few hours.
Light & delicious. Crepes are thin and delicate, which makes them a lighter alternative to a traditional cake. The creamy filling and fresh fruit add just the right amount of sweetness.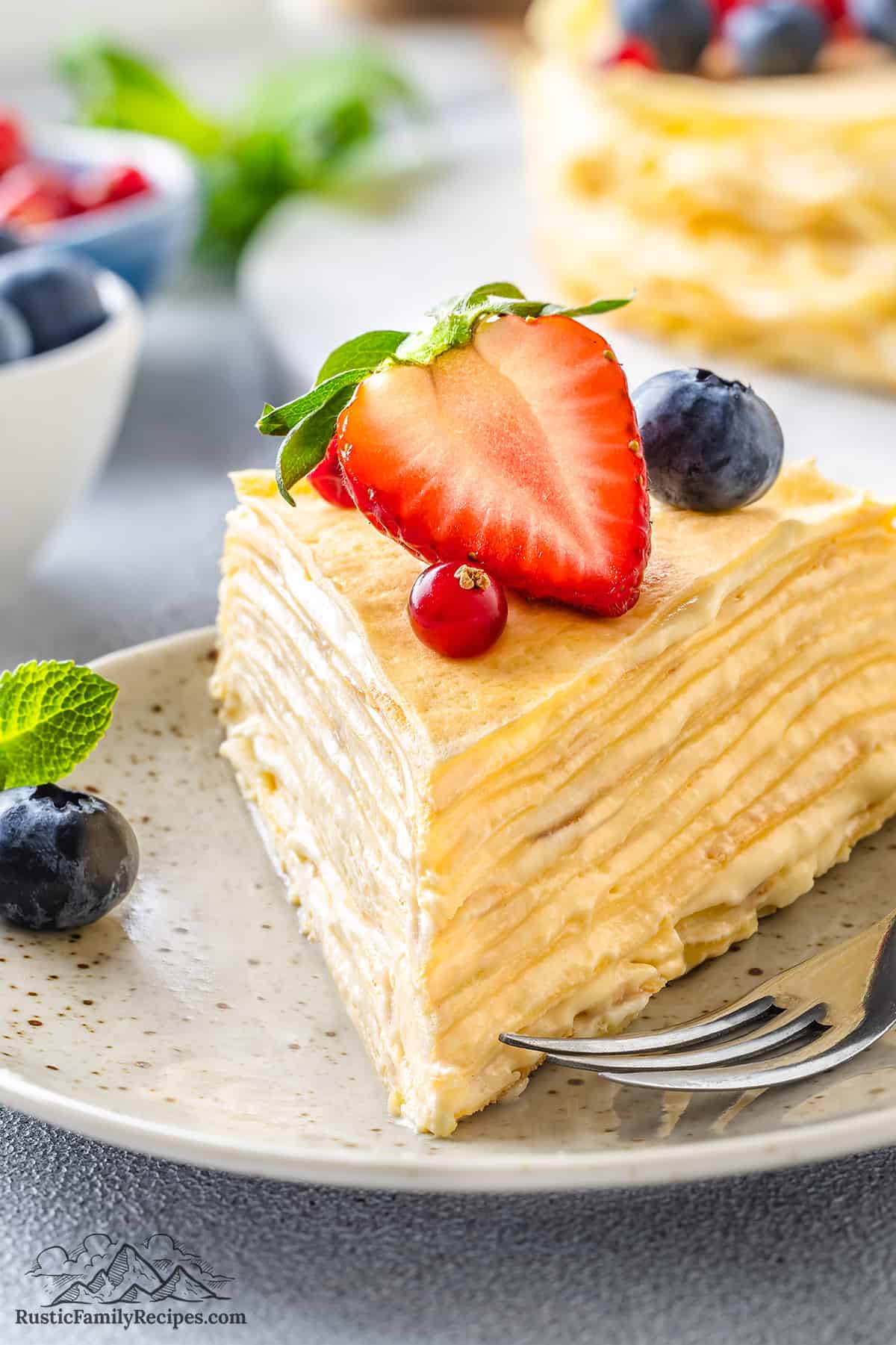 What is a Crepe Cake?
A crepe cake, also known as mille crepe cake, is a French-inspired cake made from layers of thin crepes and a creamy filling. "Mille" means "thousand" in French and refers to the many layers of crepes. (Don't worry, there are not a thousand of them!) The crepes are stacked on top of each other, with a layer of filling in between each crepe. The finished cake is typically garnished with fresh fruit, powdered sugar, or whipped cream.
Crepe cakes are believed to have been inspired by the traditional French dessert, Gâteau Mille-feuille, which is a layered pastry made from puff pastry and pastry cream. It's a gorgeous dessert that's perfect for family gatherings and even the holidays.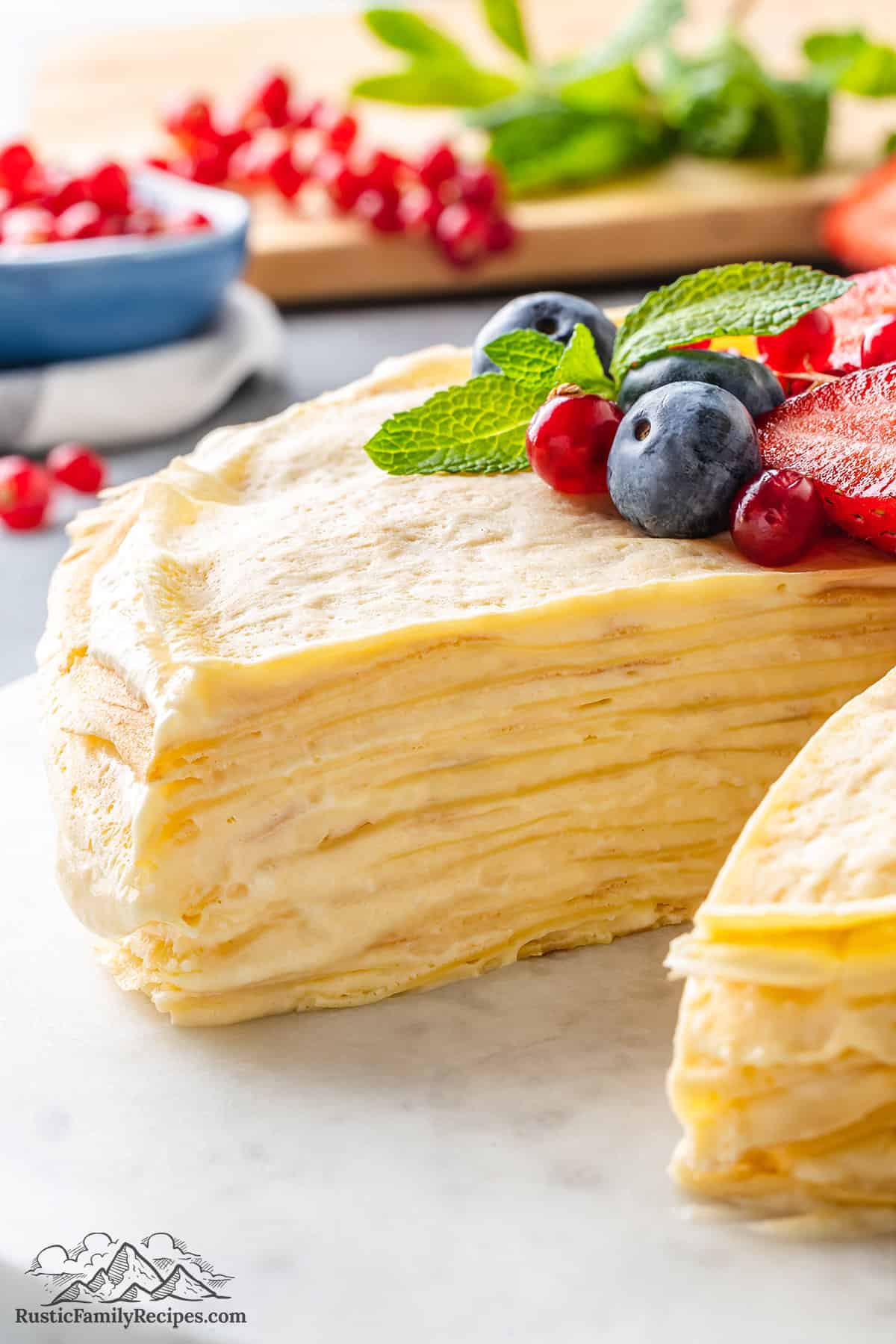 How to Make a Crepe Cake
Below is a brief overview of how to make a crepe cake. Be sure to check out the recipe card below for an ingredient list and full instructions.
Make your diplomat cream. This crepe cake uses homemade crepes, diplomat cream, and fresh berries to make a gorgeous dessert. Check out my post about diplomat cream for detailed instructions on how to make it.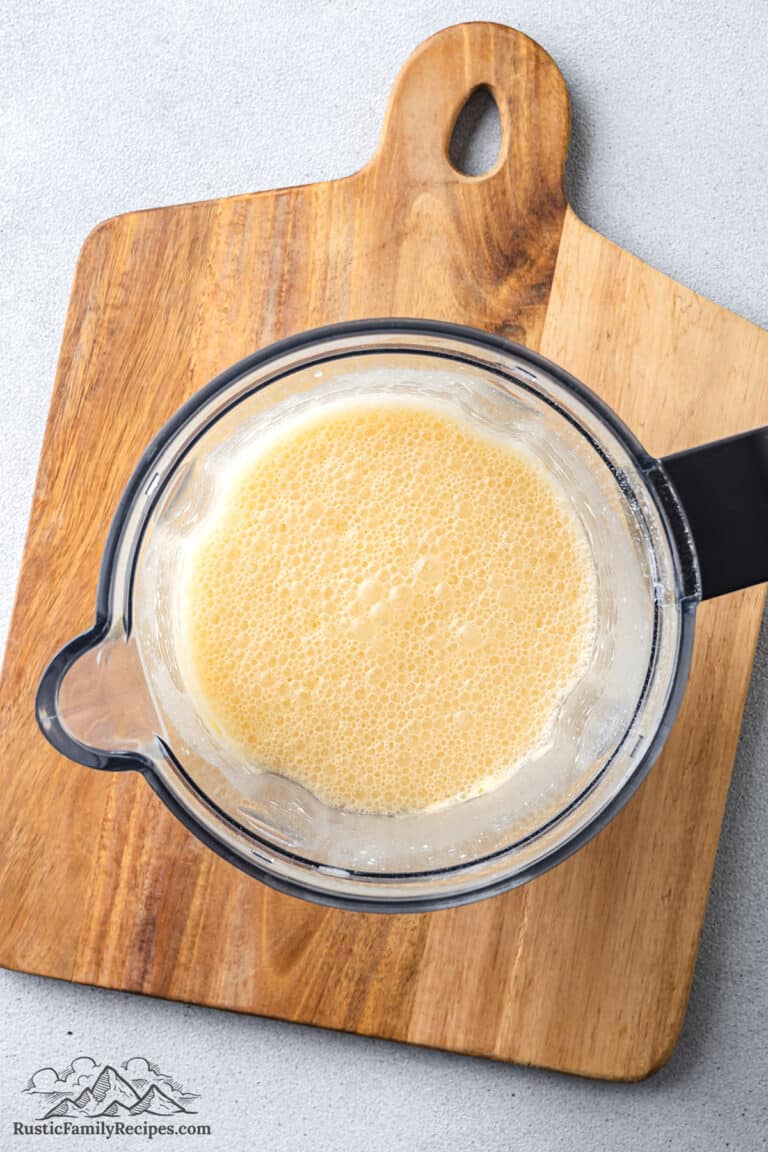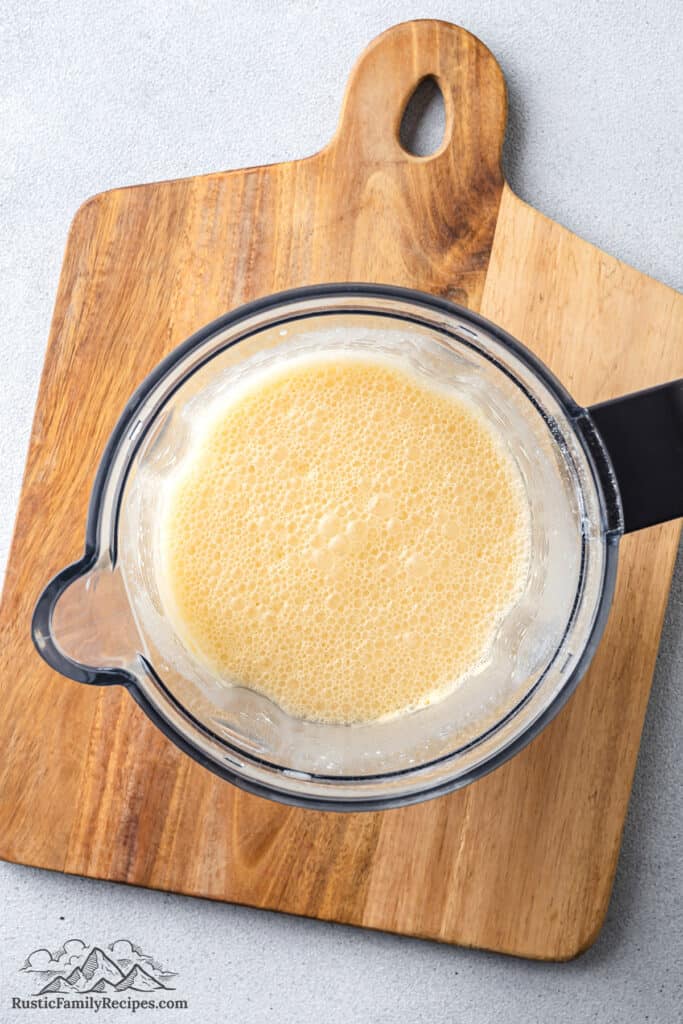 Cook the crepes. Mix up a simple batter in your blender (this is similar to how I make popovers). Cook each crepe in a non-stick pan until golden. Set aside to cool.
Assemble. On a cake stand or large serving plate, create alternating layers of crepe and diplomat cream.
Chill. Once the cake is assembled, chill it in the refrigerator for at least 1-2 hours, or overnight. This will help the filling set and make the cake easier to slice.
Serve. When you're ready to serve the crepe cake, slice it into wedges and garnish it with fresh fruit, whipped cream, ice cream, you name it!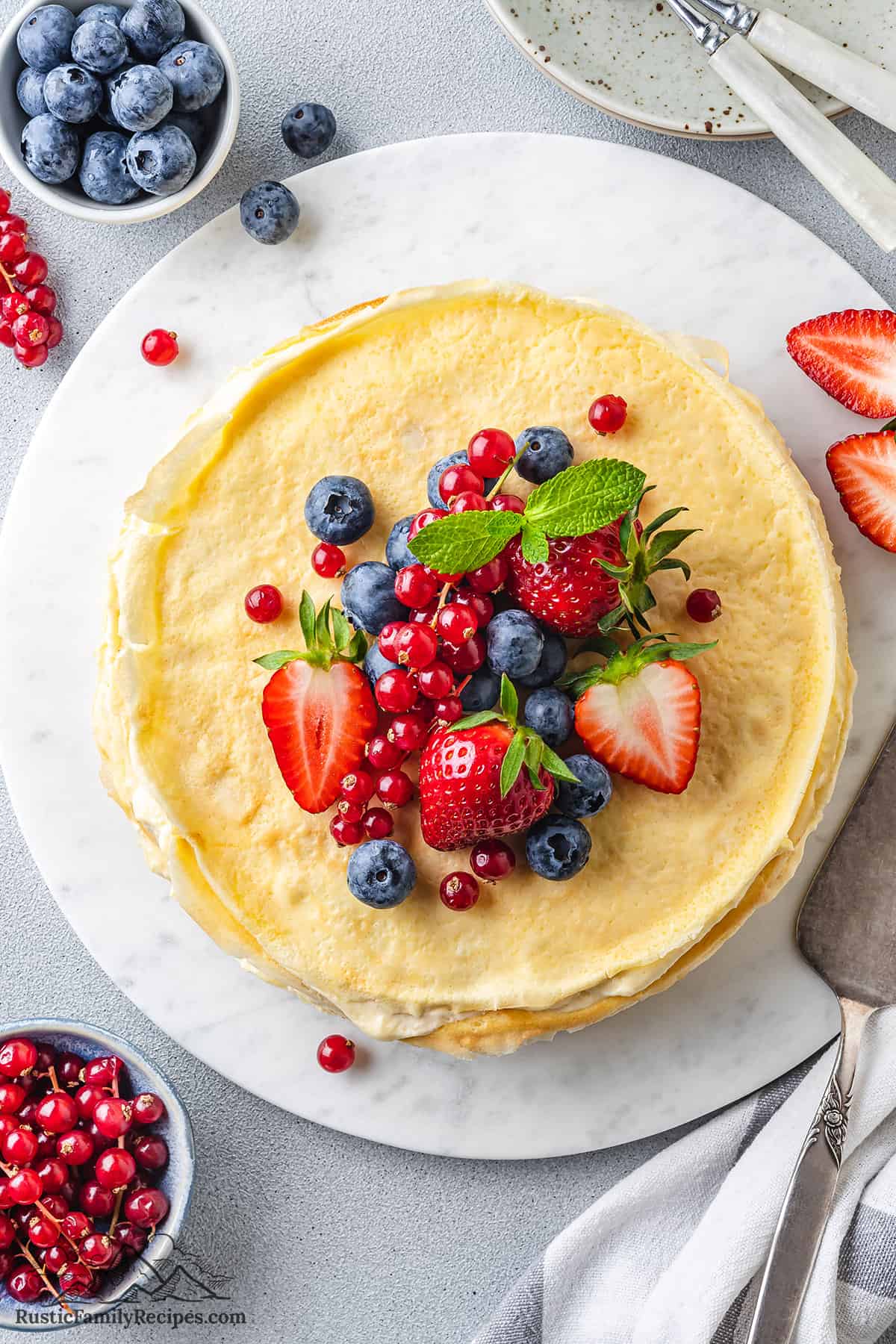 How Many Layers Are There?
To keep this recipe approachable I only used 12 layers. But you can easily increase the number of layers by doubling the crepe recipe and making twice the amount of diplomat cream. Remember that a "mille" cake is a "thousand" layer cake. While I don't think a thousand layers is doable, you could certainly do 24-36 layers if you wanted.
Tips for Success
Cool the crepes. Make sure to cook the crepes evenly and let them cool completely before assembling the cake. If you try to use them while they are still warm, they'll melt your diplomat cream.
Chill the filling. Chill the diplomat in the refrigerator before assembling the cake to make it easier to spread.
Don't worry if your crepes tear or don't come out perfectly round. You can hide imperfections with the filling and garnishes. A dollop of perfectly placed whipped cream goes a long way!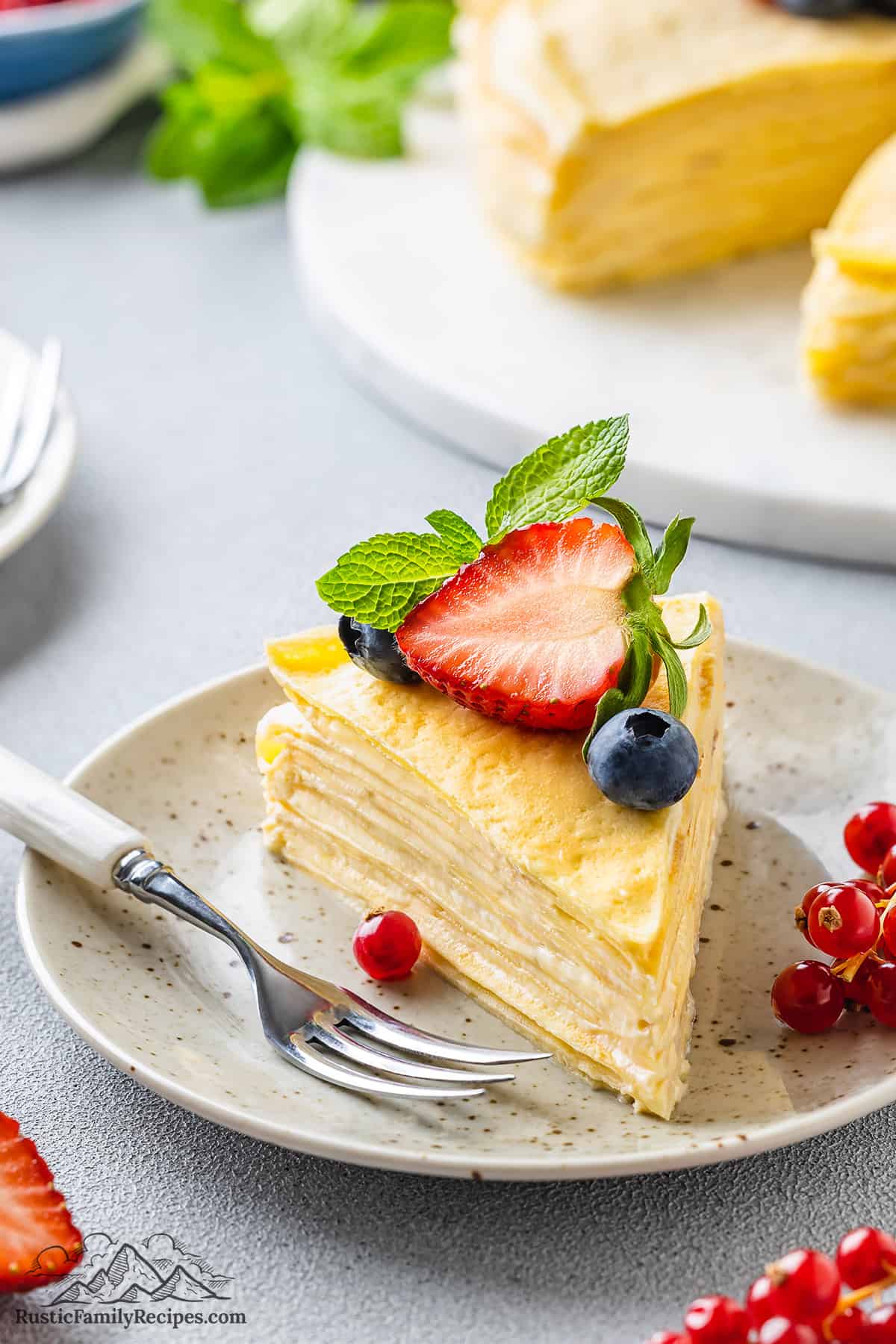 Variation Ideas
There are many delicious filling ideas for crepe cakes. Here are some simple variation ideas:
Whipped cream. Instead of making the diplomat cream with pastry cream and whipped cream, you can just make the stabilized whipped cream. You can add a touch of vanilla for extra flavor.
Mascarpone cheese. This creamy and slightly tangy cheese pairs well with fruit or chocolate crepes. You can spread a thin layer on top of each crepe.
Chocolate ganache. Use the chocolate ganache recipe from my Devil's Food cake. Drizzled some in between layers and on top of your crepe cake.
Jam or fruit sauce. Add a thin layer of your favorite kind of jam or even blueberry sauce.
Nutella. Add some chocolate-hazelnut spread to some of the layers for a decadent touch.
Lemon curd. This tangy and sweet filling made from lemon is ideal for summertime crepes. I like this lemon curd recipe over at Cookies & Cups.
Ways to Add More Fruit to Your Mille Cake
Fresh fruit is one of the easiest and most colorful ways to dress up your crepe cake. Here are some ways to add even more, in addition to the fruit on top:
Add in between layers. Arrange a layer of fresh berries, such as strawberries, raspberries, or blueberries, between the crepes and the filling.
Top with sliced fruit. Top the finished crepe cake with sliced fruit, such as kiwi, peaches, or mango.
Mix fruit into the filling. Mix chopped fruit into the diplomat cream just before adding it to the cake. This works well with soft fruits, such as sliced bananas.
Add fruit sauce. You can add the blueberry sauce linked above, or this simple strawberry sauce.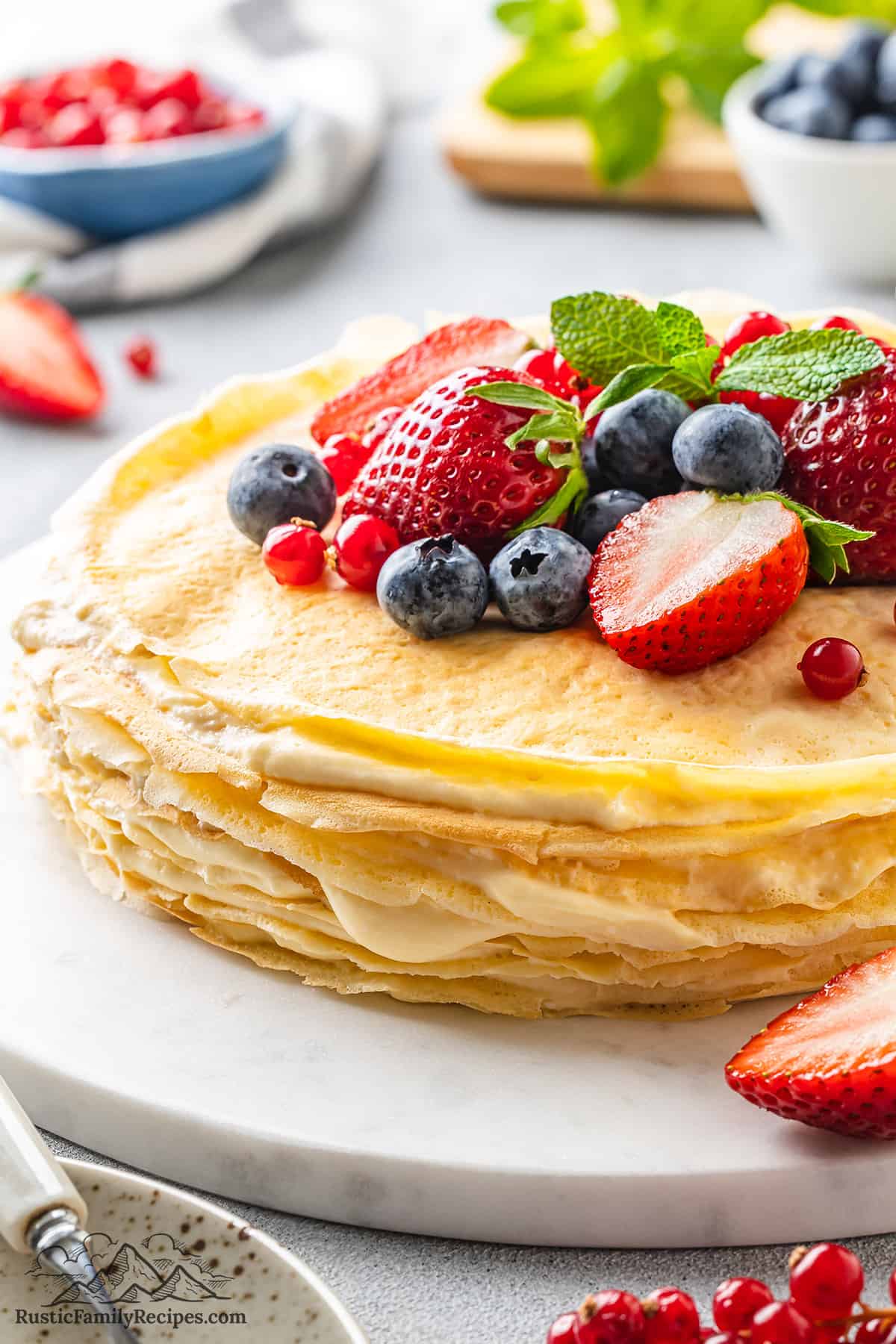 Can I Just Eat the Crepes?
Of course! If you want you can use the crepes to make a delicious breakfast or brunch instead of a crepe cake. Just cook the crepes, fold them in half, and serve with pancake toppings. I love serving crepes with fresh fruit, whipped cream, and maple syrup. You can get more toppings ideas in this post about fluffy homemade pancakes. You can also make these crepes into frumple cakes!
Saving Extras For Later
Yes, you can store a crepe cake in the refrigerator for later. To store the cake, cover it with plastic wrap or store it in an airtight container to prevent it from drying out. Crepe cakes with a cream or custard filling should be stored in the refrigerator to prevent the filling from spoiling.
Depending on the filling and the freshness of the ingredients used, crepe cakes can be stored in the refrigerator for up to 2 days. However, keep in mind that the longer the cake is stored, the softer the crepes will become as they absorb the moisture from the filling.
If you want to make a crepe cake ahead of time and serve it later, it's best to assemble it just before serving to ensure that the crepes retain their texture and the filling stays fresh.
Print
Crepe Cake
This gorgeous crepe cake is made with layers of homemade crepes, diplomat cream and fresh berries.
Author: Rustic Family Recipes
Prep Time:

30 minutes

Chill Time:

2 hours

Cook Time:

30 minutes

Total Time:

3 hours

Yield:

6-8 servings

Category:

Dessert

Method:

Stove

Cuisine:

American
For the crepes:
3/4 cup

milk

3/4 cup

water

4

large eggs

1/4 teaspoon

salt

4 tablespoons

unsalted butter, melted

1 tablespoon

sugar

1 cup

all-purpose flour
To assemble:
Instructions
Make the Crepes
Add the milk, water, eggs, salt, melted butter, sugar, and flour to a blender (in the listed order). Blend the mixture on high speed for about 20 seconds, or until the batter is completely smooth.
Heat a 9-inch non-stick skillet or crepe pan over medium-high heat.
Pour about 3 tbsp of batter into the pan and quickly swirl the pan around to spread the batter into a thin, even layer.
Cook the crepe for about 1 minute until the edges start to curl and the bottom is lightly golden brown. Use a spatula to carefully flip the crepe over and cook for an additional 30 seconds on the other side, until lightly browned.
Transfer the cooked crepe to a plate and repeat the process with the remaining batter.
Assemble the Crepe Cake
To assemble the cake, place one crepe on a cake stand or serving platter. Spread a thin layer of diplomat cream over the crepe. Repeat with remaining crepes and diplomat cream, ending with a crepe on top.
Refrigerate for at least 1 hour before serving.
Garnish with fresh berries before serving.
Last Step:
Please
share a rating and comment
if you enjoyed this recipe! Your feedback helps this little blog thrive and continue providing free, high-quality recipes for you.
Keywords: crepe cake, mille crepe cake, crepe cake recipe
Filed Under:
This post may contain affiliate links. Please read our disclosure policy.