This birria ramen recipe uses leftover birria stew to make a bowl of cozy soup. Slurpy noodles, a soft-cooked egg, and quick pickled red onions make this a satisfying way to use up extra birria meat!
It's deep winter and the wind chill is predicted to be -45F this weekend, so that means one thing: time to make soup.
I've shared several family soup recipes since starting this little blog. And while tomato soup or Instant Pot chicken soup are always a hit, this time I decided to do something a little different. See, we made quesabirria tacos this week and I had a bunch of leftover birria stew in the fridge. I thought, why not add it to soup?
The end result was a simple and satisfying bowl of ramen that's ready in less than 30 minutes!
Why You'll Love This Birria Ramen Recipe
Great way to use up leftovers. We almost always have leftover birria meat after making quesabirria tacos. If you find yourself in the same boat, this is a tasty way to use up some extras.
Quick. Assuming you have made birria and have leftover stew meat, this recipe comes together in less than 30 minutes.
Tasty. The extra birria broth and shredded meat combined irresistibly with tender ramen noodles, a soft-cooked egg, and quick pickled red onions.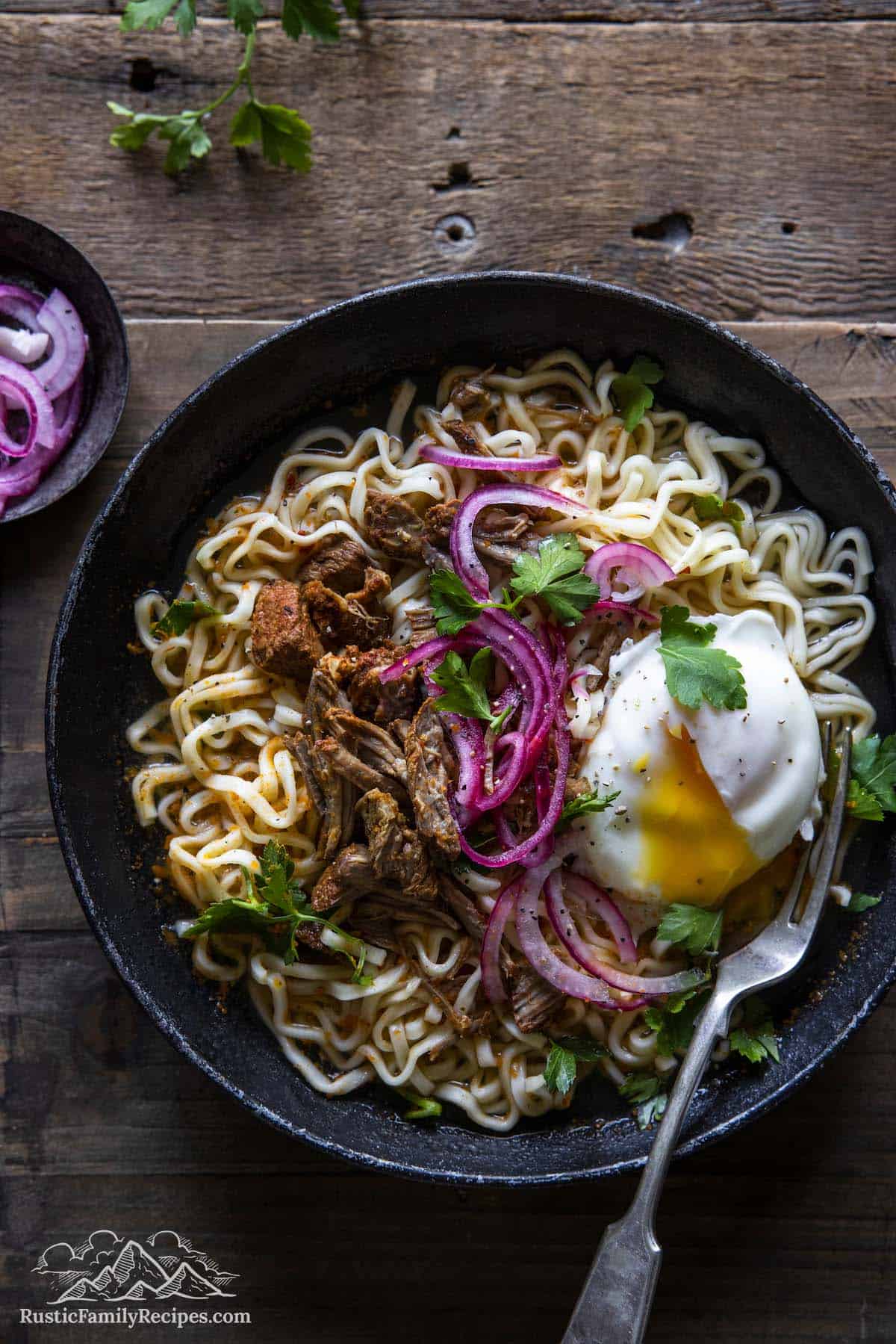 This Recipe Makes One Big Bowl of Ramen Soup
This recipe makes enough for one big, steaming bowl of ramen noodle soup. If you want to make more than one serving you can easily double or triple the amounts. (Use a larger pot, obviously.) I kept the serving size small because I was making soup just for myself and also because, as a leftover birria recipe, I didn't want to make it necessary for you to have large amounts of meat or birria broth on hand.
Is it Safe to Eat Soft Cooked Eggs?
Yes, it is safe to eat soft-cooked eggs provided they are cooked correctly. You will need to cook the egg in the simmering (NOT boiling) soup liquid for about 4 minutes. This will give the whites time to set and will also soft cook the inside of the egg, resulting in a runny yolk that you can then mix into the rest of your soup.
If you are concerned about eating a runny yolk, you have two options:
Cook the egg a bit longer. You can extend the cook time to 6-7 minutes, which will result in a firmer, more jammy yolk that is still very tasty in ramen soup.
Whisk & temper the egg first. You can also whisk an egg in a medium bowl, then ladle in a 1/2 cup of the simmering broth. Stir it all together quickly, then pour it back into the simmering soup and stir well. Let the soup cook for another 4-5 minutes, stirring constantly. This will result in a creamy soup where the egg becomes part of the broth.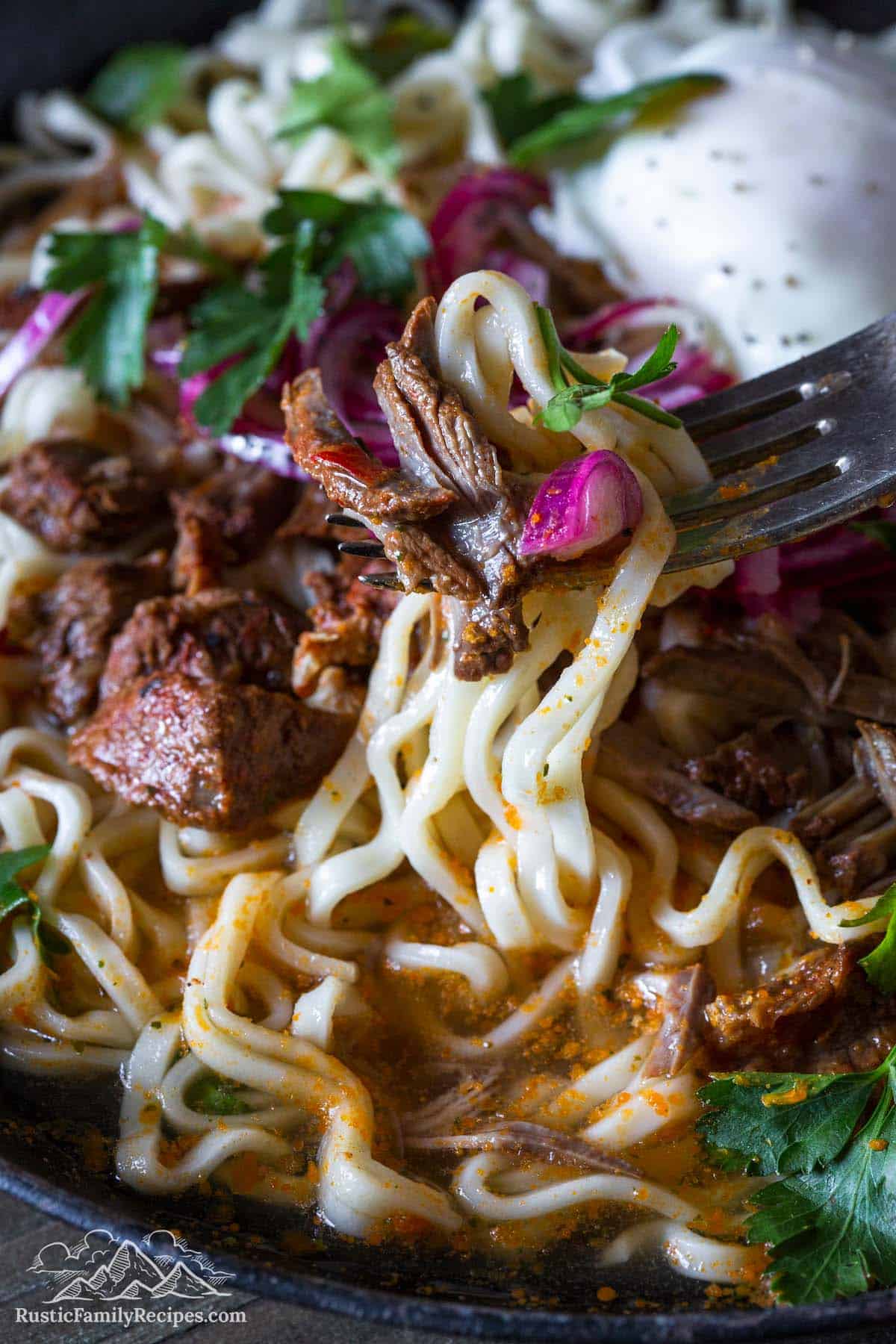 Tips for Success
Taste and adjust. When you're using leftovers in a recipe it is important to taste along the way and adjust the seasonings to your preferences. This is probably a good tip for any recipe! The best time to taste test this recipe is before you have added the egg to the pot.
Make it as soupy as you want. You can adjust the amount of vegetable broth used to make this ramen as soupy as you like. Use more to increase the noodles/meat to broth ratio, or use less to make a thicker stew.
Other kinds of broth work too. I used vegetable broth because that's what I had on hand, but you could also use beef or chicken broth.
Can I use water instead of vegetable broth? I don't recommend using plain water for this soup because it doesn't add any flavor. If you find yourself in a situation where broth is not an option, simply use the ramen soup mix and prepare the ramen per the package instructions, then add the birria meat, birria broth and egg as toppings.
Extra Ramen Topping Ideas
I sprinkled a bit of fresh, chopped cilantro on top of my ramen along with some quick pickled red onions and a squeeze of fresh lime. Want more ideas? Here are more ramen soup toppings to consider:
Cholula hot sauce or Sriracha. Add a few dashes to your soup and mix it in for a spicy kick.
Furikake. This is a Japanese seasoning often made with dry seaweed, salt, fish flakes, MSG and sugar. You can sprinkle it on top of your ramen as a seasoning.
Chili flakes. Add a pinch of chili flakes and mix them in.
Trader Joe's Yuzu Hot Sauce. I love this sauce so much I even put it on slices of pizza. It is a Japanese-inspired hot sauce with a citrusy note.
Toasted seasame oil. Add a little drizzle on top.
Cheese. You can sprinkle your favorite kind of cheese on top of the ramen to add a melty, gooey dimension to your soup. I'd recommend Monterey Jack to compliment the birria flavors, but you do you!
Fresh scallion. Chop up a scallion and add sprinkle on top of your soup. I recommend only using the green parts.
Butter. Melt 1 tablespoon of butter into your soup. Unusual? Yes. Tasty? Also yes.
Cooked and chopped bacon. Crispy bacon bits AND birria in a ramen soup? Um, definitely. The only reason I didn't do it in these photos is because I didn't have any bacon in the fridge when I made this.
More Ways to Use Extra Birria Meat
Cozy Birria Ramen
This easy birria ramen recipe uses leftover birria stew to make a bowl of cozy soup. Slurpy noodles and a soft-cooked egg make this a satisfying way to use up extra birria meat!
Ingredients
Leftover birria stew,

2 cups broth plus some of the meat

2

cups

vegetable broth

1

portion ramen noodles

,

just the noodles, not the soup mix

1

large egg

¼

red onion thinly sliced

1

lime

,

divided use

Kosher salt and ground pepper

,

to taste

Fresh cilantro chopped

,

optional
Instructions
Quick pickle the onion. Thinly slice the red onion. Place in a small bowl and squeeze the juice of 1/2 a lime over the onions. Add a pinch of kosher salt and a dash of black pepper. Stir to combine, then set aside.

Cut the remaining piece of the lime in half. Set aside.

Set a small pot of water to boil. You need enough to make 1 square of ramen noodles.

Prep your leftover birria stew. (This recipe is meant to use up extra birria stew from my quesabirria tacos recipe.) Place 2 cups of the stew broth in a small pot to heat. Shred the meat and add enough for a single serving of birria ramen to the pot. (In other words, as much as you want in your bowl of ramen.) If you don't have enough broth leftover from the birria stew you can replace it with extra vegetable broth.

Add the vegetable broth to the pot & cook. You can use 2 to 3 cups, depending on how soupy you want your ramen to be. Bring to a simmer over medium-low heat, taste, and add salt + ground black pepper as needed. Let it cook for about 5 minutes until the liquid has reduced somewhat and the meat is heated through.

Crack an egg into a small bowl, then slide it into the simmering liquid. When the white is completely set but the yolk is still soft turn off the heat. This should take about 4 minutes.

Your pot of water should be boiling by now. Cook the ramen noodles according to the package instructions. Drain.

Assemble the ramen. Add the cooked ramen noodles to a bowl, then spoon the birria broth, meat, and egg on top. Top with the quick pickled red onions, chopped fresh cilantro, and a squeeze of lime juice.
Last Step:
Please
share a rating and comment
if you enjoyed this recipe! Your feedback helps this little blog thrive and continue providing free, high-quality recipes for you.
Nutrition
Calories:
426
kcal
|
Carbohydrates:
14
g
|
Protein:
56
g
|
Fat:
16
g
|
Saturated Fat:
5
g
|
Polyunsaturated Fat:
1
g
|
Monounsaturated Fat:
6
g
|
Trans Fat:
0.02
g
|
Cholesterol:
303
mg
|
Sodium:
2090
mg
|
Potassium:
898
mg
|
Fiber:
2
g
|
Sugar:
5
g
|
Vitamin A:
1272
IU
|
Vitamin C:
20
mg
|
Calcium:
90
mg
|
Iron:
6
mg
Nutritional info is an estimate and provided as a courtesy. Values may vary according to the ingredients and tools used. Please use your preferred nutritional calculator for more detailed info.
Did you make this recipe?
💖 I love hearing how my recipes came out for others! If you tried this recipe, please share a comment. 💖
Filed Under:
This post may contain affiliate links. Please read our disclosure policy.