About Me: I have more than 20 years of cooking experience & share my favorite recipes on this blog.
Have a question? Please post a comment, I'm happy to help. 🙂
Make the Costco Chicken Bake at home with this easy copycat recipe! Made from tender chicken, bacon, savory dressing, and cheese wrapped up in a crispy homemade crust.
Attention Costco shoppers: If you're a fan of the legendary Costco chicken bake, turns out it's wildly easy to make some right in your own kitchen! This homemade version is filled with tender chicken, smoky bacon, and cheese, folded up stromboli-style in crispy pizza dough, just like the original.
Why You'll Love This Copycat Costco Chicken Bake
Easy ingredients. You can make a homemade chicken bake from scratch with affordable ingredients, right down to the pizza crust. You likely have everything you need in your kitchen already. It's also easy to make this recipe with a ready-made pizza crust for extra convenience.
Full of flavor. The Costco Chicken Bake is cheesy and creamy, with mild, tender chicken and smoky bacon, rounded out with ranch and Caesar dressings and salty Parmesan cheese. This homemade version definitely does it justice (in my opinion!)
Freezer-friendly. This recipe makes a big enough batch of Costco chicken bakes that you can enjoy half now, and freeze leftovers for later!
What Is a Chicken Bake?
The Chicken Bake is a Costco food court staple, made from tender chicken, bacon, cheese, and creamy dressing wrapped up and baked inside a snug log of dough. Making the chicken bake at home means that you can enjoy them fresh and hot from the oven even if it doesn't happen to be Costco shopping day. The outsides are crisp, while the insides are warm and ooey-gooey. So good!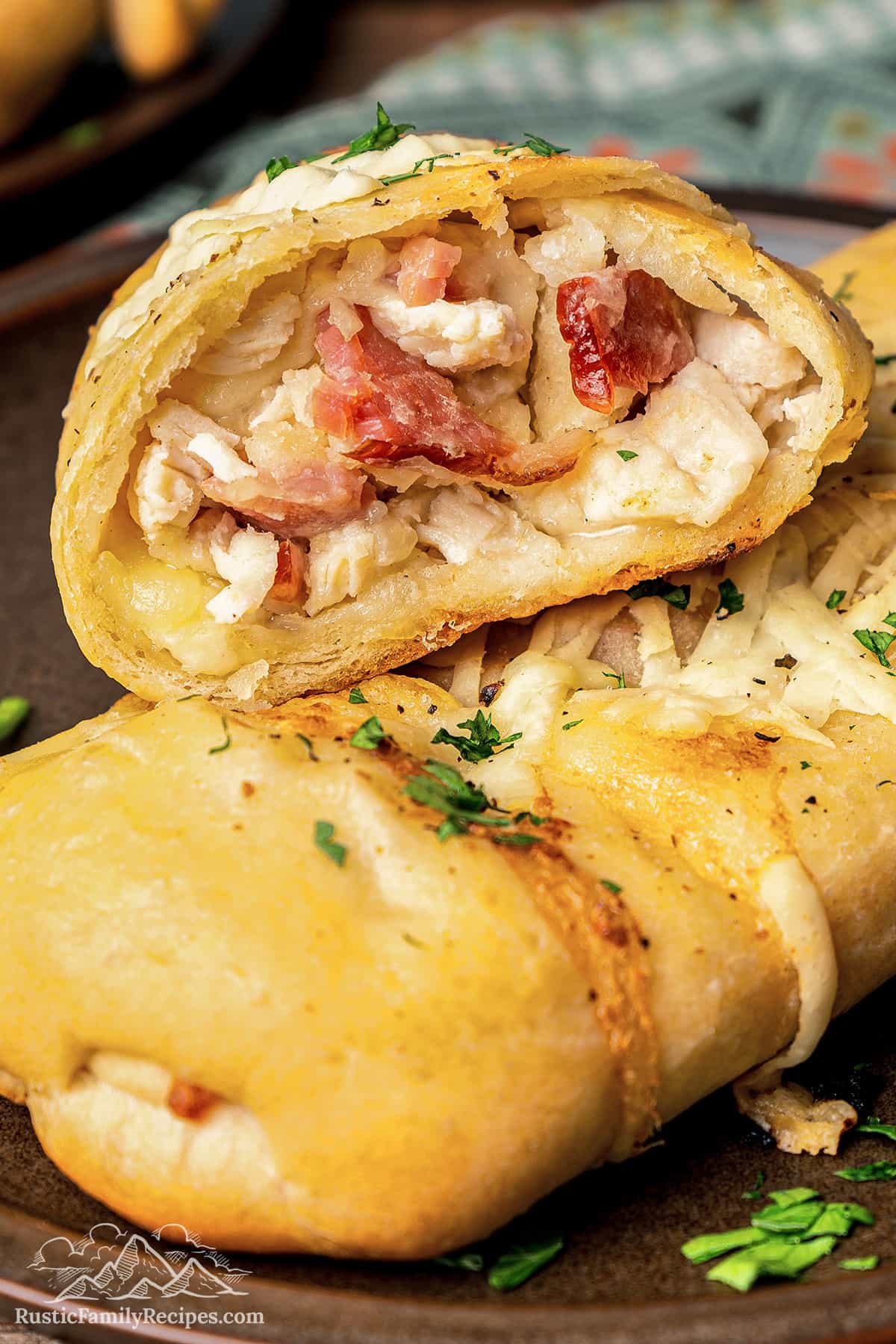 Ingredient Notes
Here are my notes on some of the ingredients. I hope they are helpful! Remember to scroll to the recipe card for the full recipe amounts and details.
Pizza Dough – Use my homemade pizza dough (also linked in the recipe card), your own recipe, or use refrigerated pizza dough.
Chicken – Make a batch of shredded chicken or you can pick up a rotisserie chicken from the store.
Bacon – I like to use thick-cut, uncured bacon for rich, smoky bites throughout the filling. You could also try turkey bacon.
Cheese – I used mozzarella and Parmesan, but you could also use cheddar.
Dressing –Brushing the outsides of the rolls with Caesar dressing helps these bakes crisp up in the oven and adds some extra flavor to the dough.
How to Make the Costco Chicken Bake
Once your ingredients are assembled and ready to go, this Costco chicken bake recipe comes together quickly. Here's how to make it: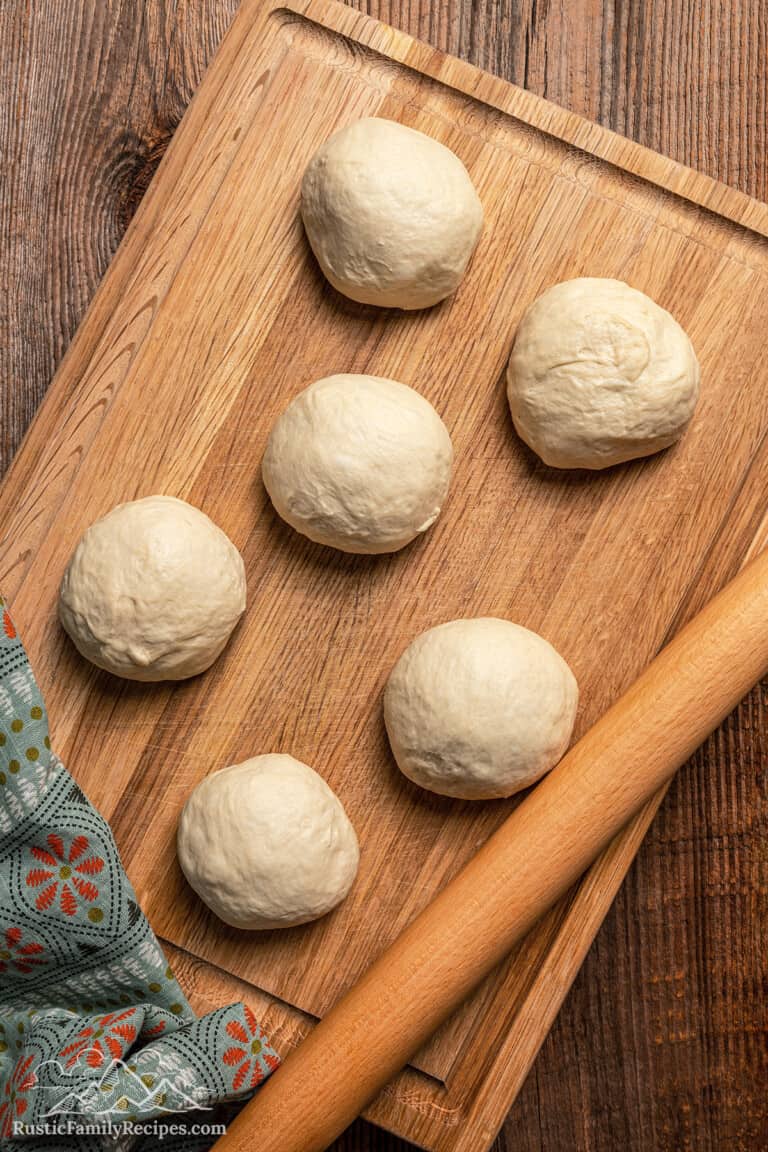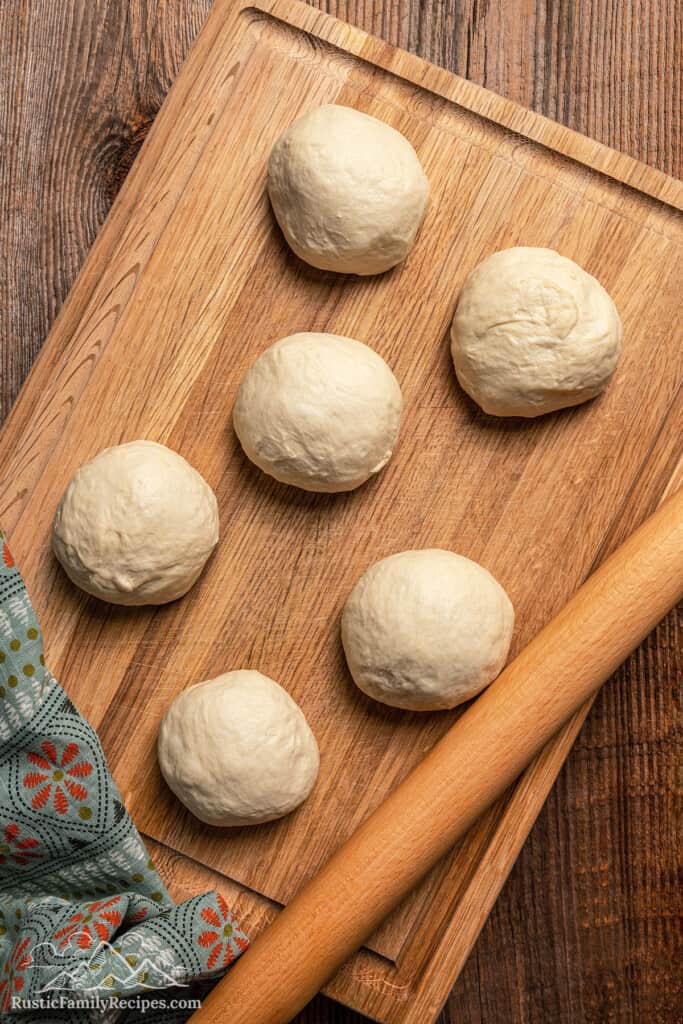 Prepare the dough. Divide your pizza dough into 6 balls, and set the portions aside underneath damp paper towels (this keeps the dough from drying out).
Cook the bacon. Meanwhile, cook the bacon to your desired level of crispiness.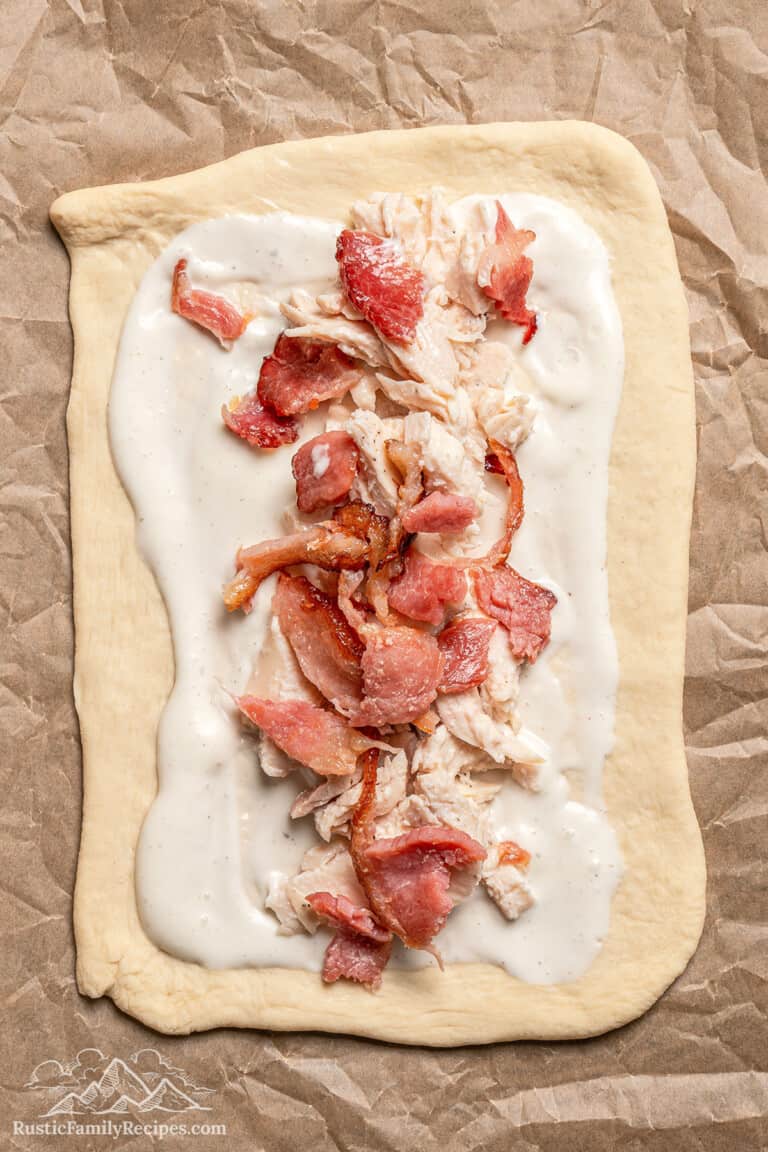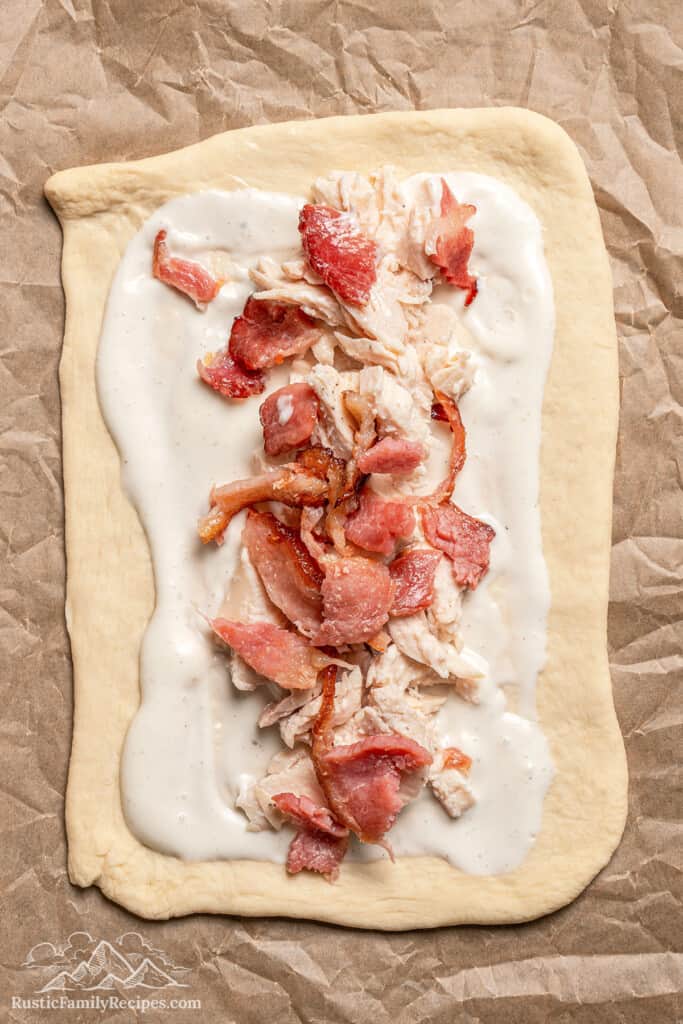 Fill the chicken bakes. Roll your balls of dough out into rectangles. Spread each rectangle with some ranch dressing. Top with shredded chicken, crumbled bacon, and a generous sprinkling of shredded mozzarella and Parmesan cheese.
Roll up the chicken bakes. Roll the dough into a log, jelly roll-style (similar to how you'd roll up cinnamon rolls). Start with the top and bottom, and then roll the log up lengthwise.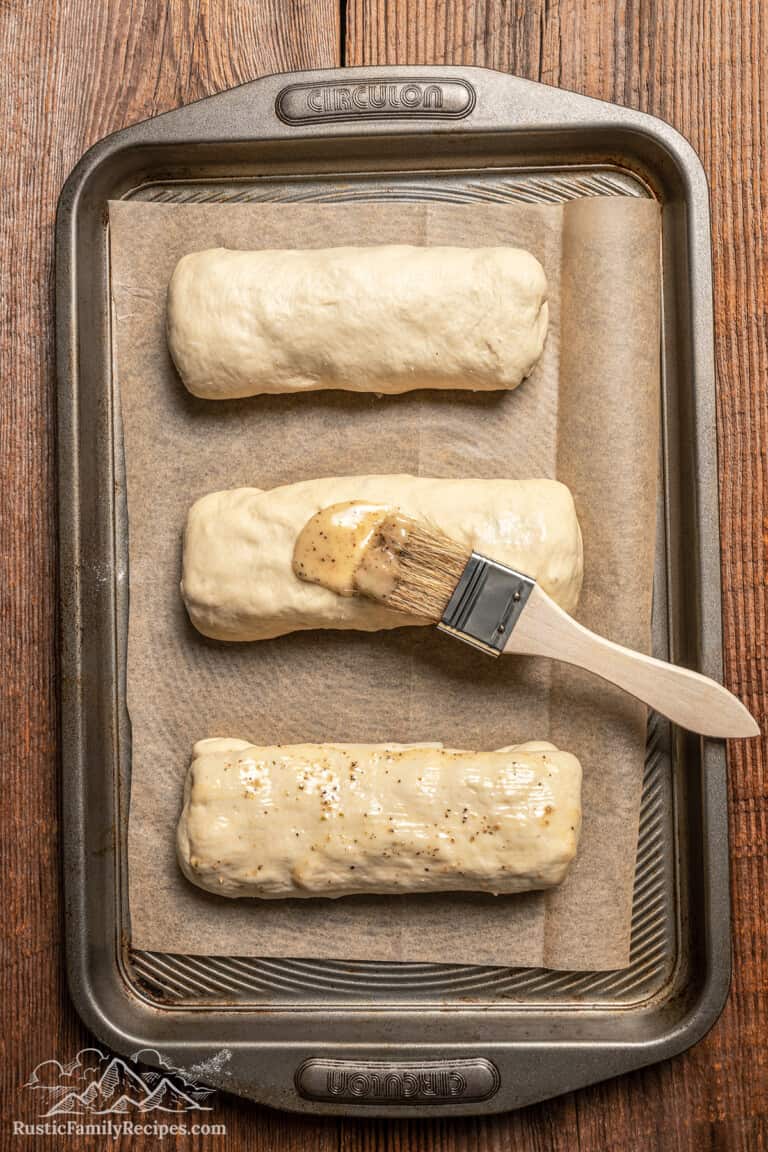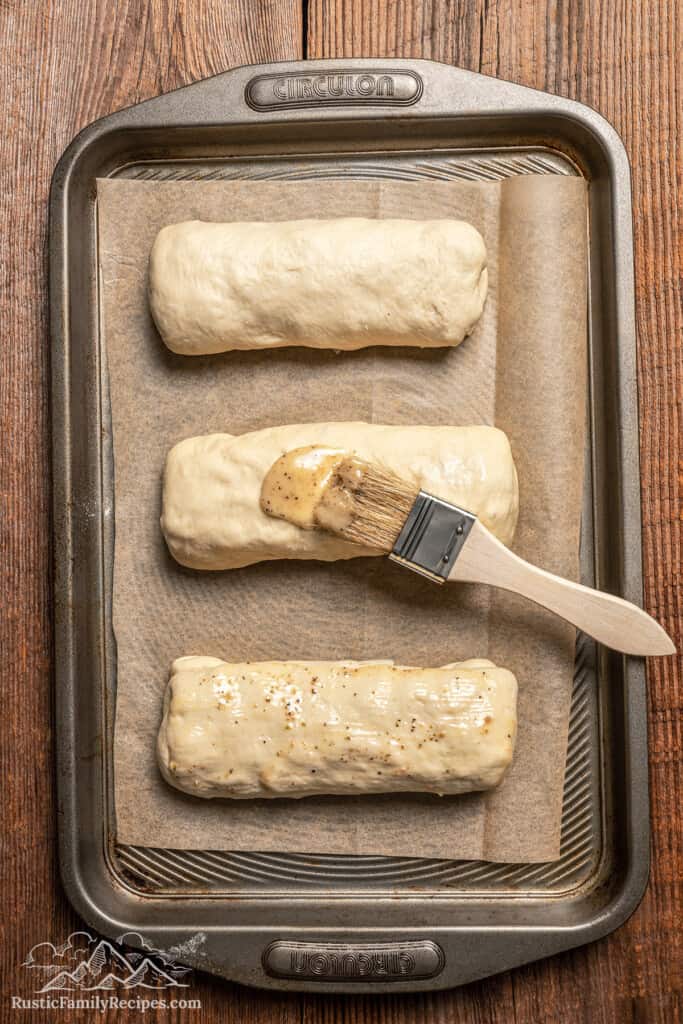 Bake. Finally, place your dough rolls onto two parchment-lined baking sheets and brush the tops with Caesar dressing. Bake the rolls in the oven at 400ºF for 20 minutes. Sprinkle with Parmesan, and return them to the oven for another 5 minutes.
Serve. Tuck into these cheesy golden chicken bakes while they're still hot and melty!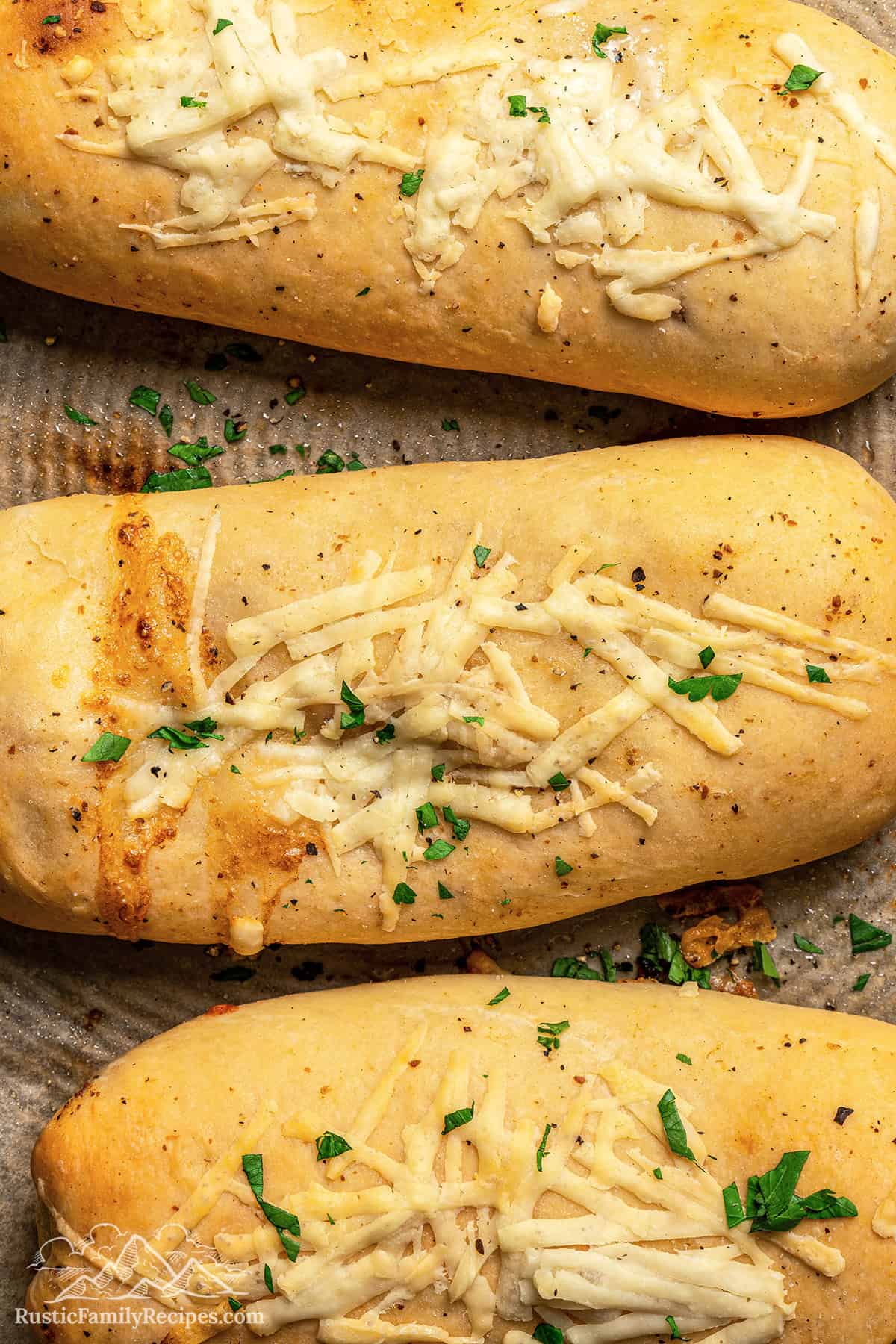 Tips & Variation Ideas
Here are some additional recipe tips to keep in mind, along with some tasty variation ideas:
Bake in batches. You should be able to fit 3 chicken bakes on one baking sheet. This recipe makes 6 rolls in total, so bake them in batches if needed so that you don't overcrowd your oven.
Use a different protein. In place of chicken, try pulled pork, ground beef, or even pork carnitas or chilorio meat for a Mexican-style twist. The meat used in these steak quesadillas would be another tasty variation.
Make it vegetarian. Fill your bakes with chopped and sautéed mushrooms, diced zucchini, onions, bell peppers, or a medley of veggies. Or try this vegetarian chorizo.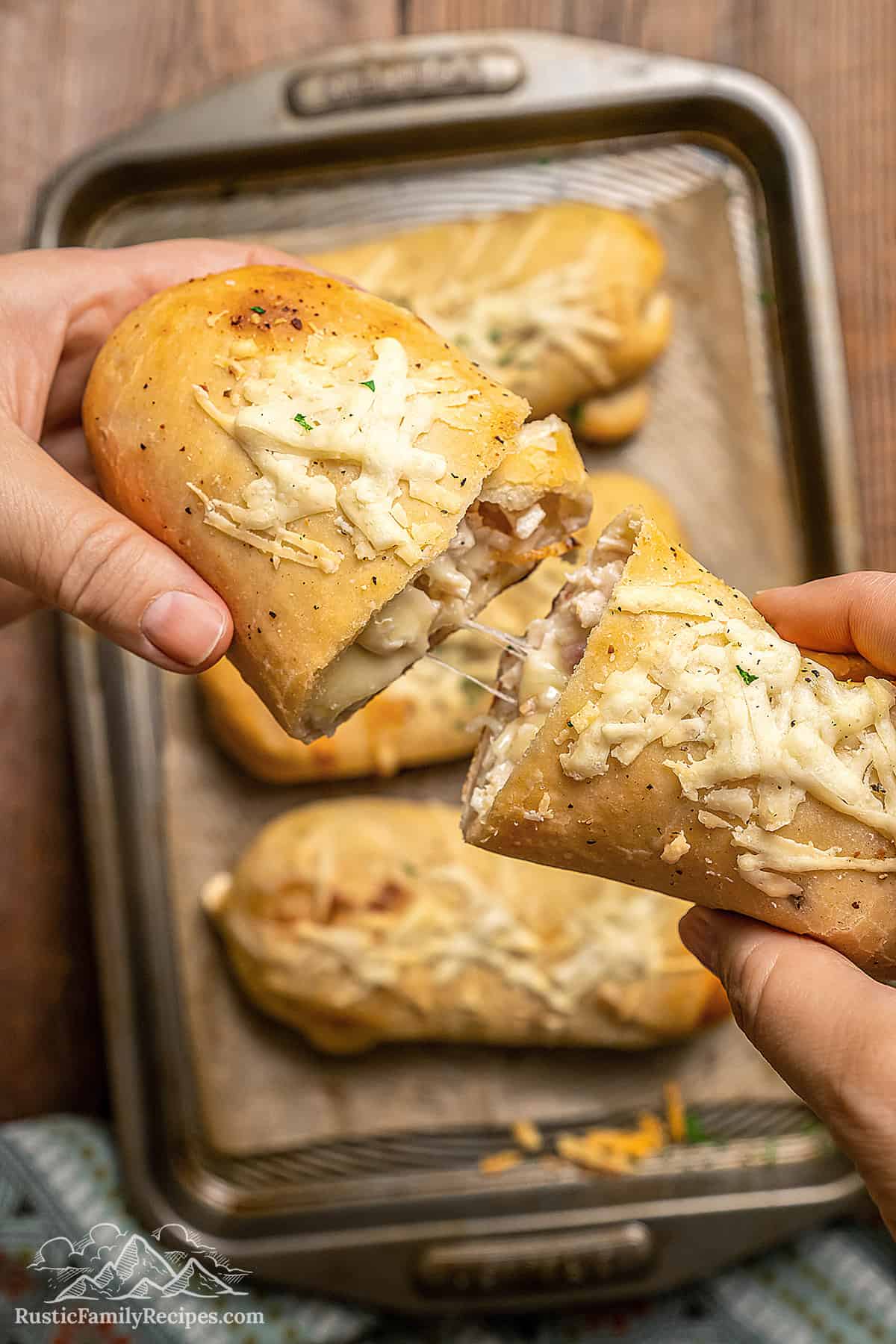 Storing & Reheating Leftovers
Fridge: These Costco chicken bakes are best when they're hot and fresh, but you can store leftovers airtight in the fridge for up to 4 days.
Reheat: I recommend warming the bakes in a 350ºF oven for ~8 minutes until they're hot throughout and crispy again on the outside. Avoid the microwave if possible, as the bakes can turn out soggy.
Freeze: Pre-freeze the baked or unbaked rolls on a lined baking sheet first. Once solid, transfer the chicken bakes to a resealable freezer bag or container. Keep the bakes frozen for up to 3 months.
More Winning Chicken Recipes
Costco Chicken Bake
Recreate the Costco Chicken Bake at home with this easy recipe! Made with tender chicken, bacon, savory dressing, and cheese baked inside crispy, golden dough.
Ingredients
1

recipe

pizza dough

2

cups

shredded chicken

6

strips uncured bacon

3

cups

mozzarella cheese

¾

cup

shredded parmesan cheese

,

divided use

1

cup

Ranch dressing

¼

cup

Caesar dressing
Instructions
Prepare the dough. Make the dough according to the recipe instructions. After the rising time, divide the dough into 6 equal pieces. Roll into balls and set aside, covered with a damp paper towel to prevent the dough from drying out.

Cook the bacon. While the dough is rising, prepare the bacon. Preheat your oven to 400F. Line a baking sheet with parchment paper. Place the bacon slices on the sheet and cook for 10-15 minutes, until it has reached your desired level of crispiness. Remove the bacon to a wire rack to drain or place on a plate lined with paper towel. Set aside to cool.

Leave oven at 400F. This is the temperature at which we will cook the chicken bakes. Add parchment paper to two baking sheets.

Fill the chicken bakes. Roll each ball of dough out into a rectangle. Spread about 1 1/2 tablespoons of ranch dressing onto the dough, leaving a 1 inch margin. In the center of the rectangle, sprinkle about 5-6 tablespoons of shredded chicken on top of the dressing, forming a vertical row of chicken. Crumble one piece of cooled crispy bacon on top. Sprinkle a large handful of mozzarella cheese on top (about 1/2 a cup). Add about a tablespoon of Parmesan cheese.

Roll each bake up. Fold in the top and bottom of each rectangle, then roll the dough up jelly roll style, lengthwise, until you have a log. (Method is similar to making cinnamon rolls.)

Finish each bake. Transfer the log to one of the prepared baking sheets. With a pastry brush, apply a small amount of ceasar dressing to the top of each bake (less than 1 tablespoon).

Repeat for each of the chicken bakes. You should have 6 total and you can bake 3 on a standard sized baking sheet.

Bake. Place in the oven and bake for 20 minutes, then remove from the oven and sprinkle 1 tablespoon of the remaining Parmesan cheese on top of each bake. Put them back in the oven and continue baking for another 5 minutes, until the dough is golden.

Serve. These are best served hot while the cheese is melty.
Last Step:
Please
share a rating and comment
if you enjoyed this recipe! Your feedback helps this little blog thrive and continue providing free, high-quality recipes for you.
Nutrition
Calories:
738
kcal
|
Carbohydrates:
30
g
|
Protein:
35
g
|
Fat:
53
g
|
Saturated Fat:
17
g
|
Polyunsaturated Fat:
17
g
|
Monounsaturated Fat:
14
g
|
Trans Fat:
0.03
g
|
Cholesterol:
119
mg
|
Sodium:
1591
mg
|
Potassium:
244
mg
|
Fiber:
1
g
|
Sugar:
6
g
|
Vitamin A:
532
IU
|
Vitamin C:
0.03
mg
|
Calcium:
416
mg
|
Iron:
3
mg
Nutritional info is an estimate and provided as a courtesy. Values may vary according to the ingredients and tools used. Please use your preferred nutritional calculator for more detailed info.
Did you make this recipe?
💖 I love hearing how my recipes came out for others! If you tried this recipe, please share a comment. 💖
Filed Under: