Cookie Monster Ice Cream is a creamy no churn ice cream recipe, filled with chunks of chocolate chip cookies, crunchy Oreos, and homemade edible cookie dough. Set in a bright blue ice cream base for a fun and easy frozen dessert!
What's crunchy and creamy and blue all over? I'll tell you: Cookie Monster ice cream! Be prepared to nom nom nom.
This might just be the ultimate ice cream for cookie lovers, bursting with three variations of cookies set in a creamy, monster-blue ice cream base. And everyone knows I love a blue-themed dessert. Between Baby Yoda blue matcha sugar cookies and Star Wars Blue Bantha Milk, and my appreciation for homemade ice cream in general, it's a thing. And today we're officially joining the Cookie Monster ice cream bandwagon.
This is a simple and creamy no churn ice cream with the delightful contrast of soft edible cookie dough and crunchy crushed cookies in every bite. The vanilla ice cream base is naturally colored, and the brightest blue you'll ever lay your eyes on! Plus, no churn means no ice cream maker needed. The whole family will get a delicious kick out of this vibrant and classic, cookie-filled frozen treat.
If you or your family grew up watching Sesame Street, you already know why they call this Cookie Monster ice cream! Not only does the blue color of the ice cream conjure up the beloved Sesame Street character, Cookie Monster ice cream is brimming with cookies throughout.
Between crunchy Oreos and chocolate chip cookies, plus my homemade recipe for cookie dough, there's enough cookie goodness in this ice cream to make even the Cookie Monster swoon.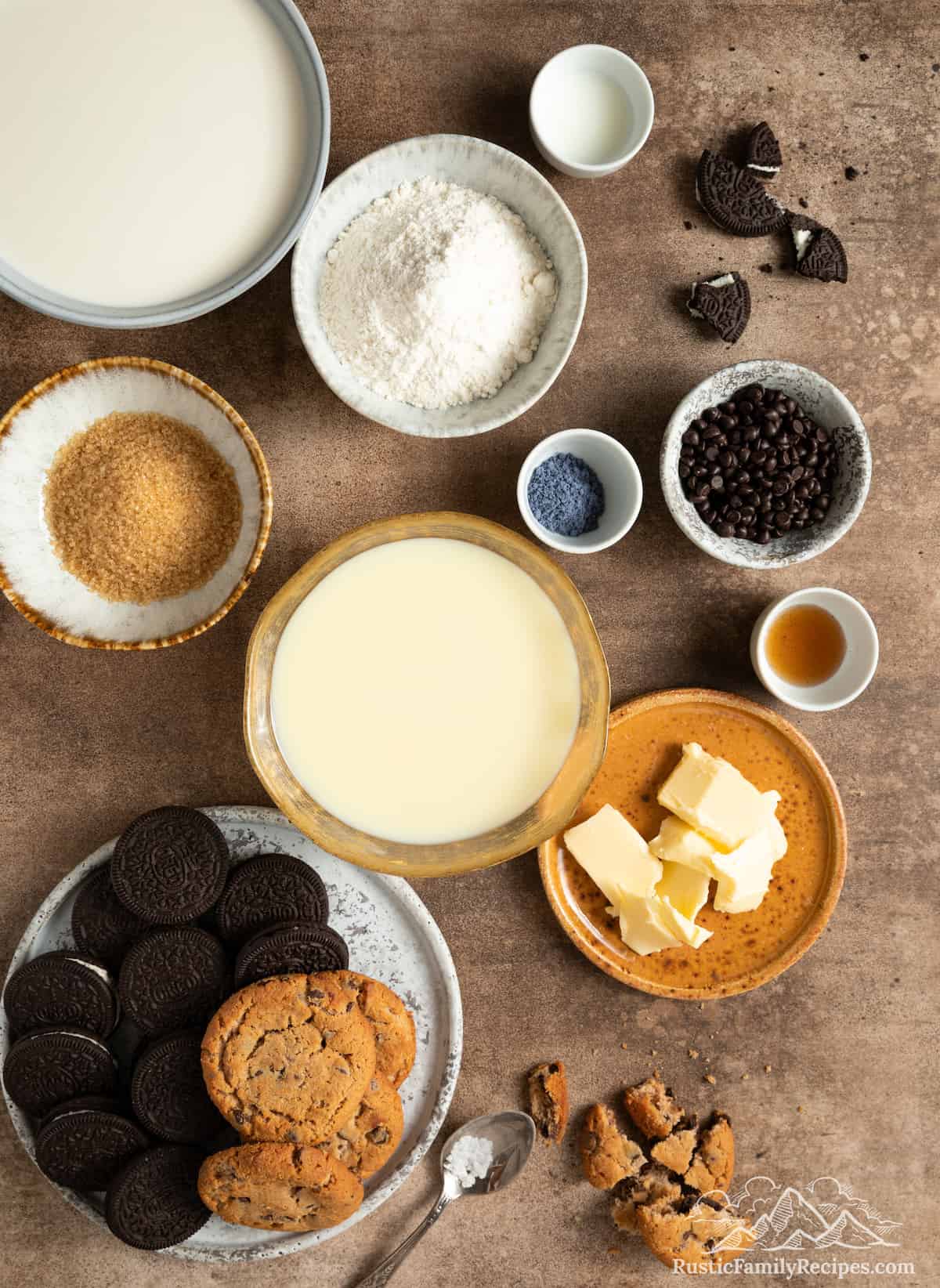 Recipe Ingredients
This ice cream recipe doubles up (technically, triples up) on the cookies as well as the fun. I've included an overview of the ingredients you'll need for both the edible cookie dough as well as the ice cream itself. Be sure to visit the recipe card for the full amounts.
For the cookie dough
All-purpose flour – Be sure to heat treat the flour so that it's safe to eat. Heating the flour for edible cookie dough kills off any harmful bacteria that might be lurking. I've included directions for how to do this in the recipe below!
Butter – Unsalted butter adds richness in the dough.
Brown sugar – Since the dough won't be baked, brown sugar gives it a nice caramelized flavor.
Vanilla extract – Pure vanilla extract and not imitation.
Milk – For extra moisture.
Pinch of salt
Chocolate chips – Semisweet or dark chocolate chips both work great in this recipe.
For the ice cream
Heavy whipping cream – I highly recommend using full-fat heavy whipping cream when making no churn recipes, as this will yield the creamiest ice cream.
Vanilla extract
Blue matcha powder – Also known as butterfly pea powder. I use matcha powder as an alternative to blue food dye to get that classic Cookie Monster hue (more on this below). You can of course stick with food dye if you can't get your hands on blue matcha.
Salt
Sweetened condensed milk – This is a key ingredient in no churn ice cream. Make sure to use the full-fat, sweetened kind, and not regular unsweetened condensed milk.
Cookies – Chocolate chip cookies and Oreo cookies, plus extra for topping the ice cream once it's assembled.
Cookie dough – Edible cookie dough (see above) rounds out the trifecta of cookie filling in this homemade ice cream.
What Makes This Ice Cream Blue?
Some Cookie Monster ice cream recipes call for blue food coloring to achieve a vibrant, Cookie Monster blue. My recipe uses blue matcha powder, also known as butterfly pea powder, for a more natural yet still classic blue hue. Like my blue matcha sugar cookies and naked blue velvet cake, I love using blue matcha as an alternative to artificial dyes whenever possible.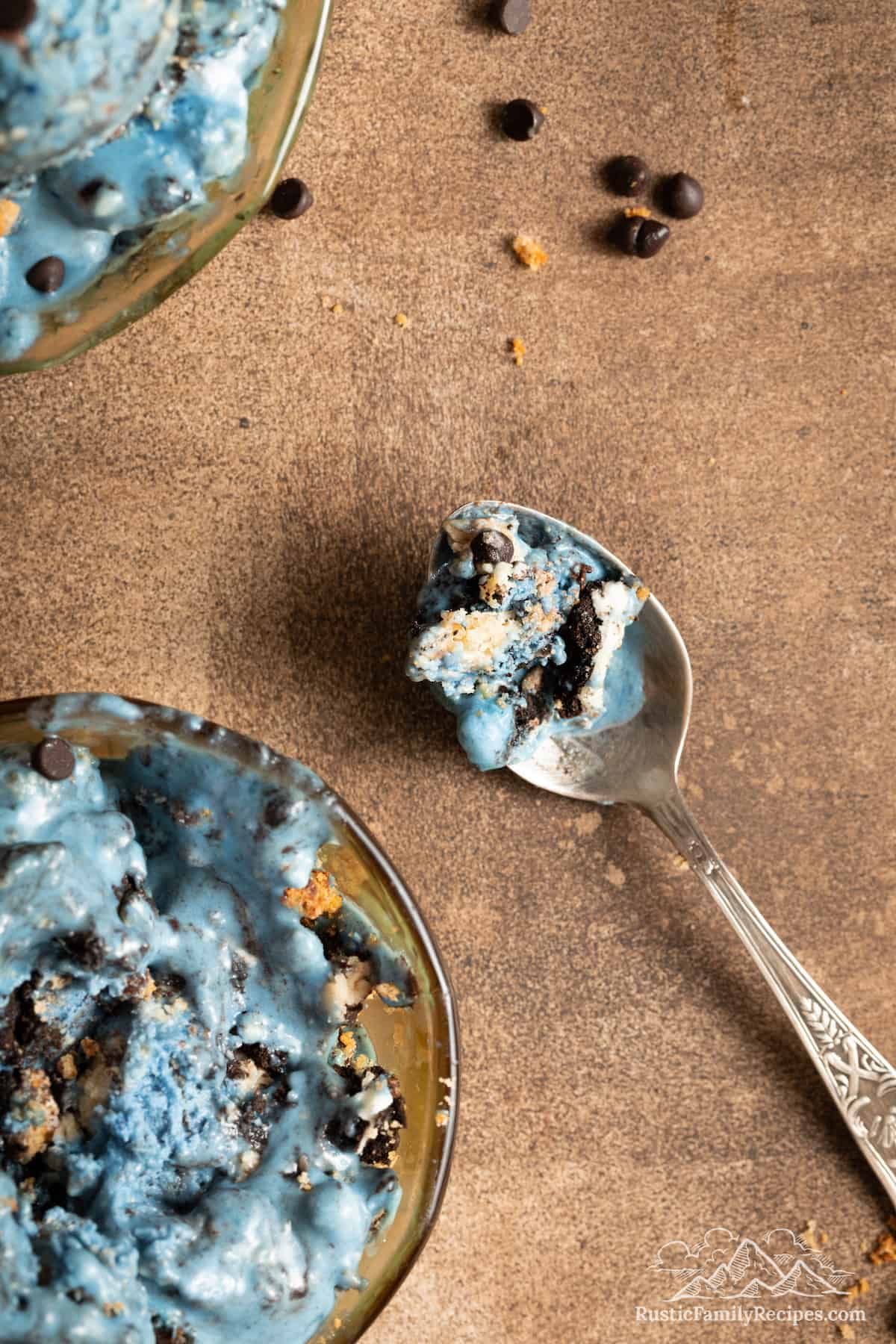 Since the chocolate chip cookie dough will be left uncooked, you'll notice we've left out the eggs. However, you'll also need to heat treat the raw flour to make the cookie dough in this ice cream 100% safe to eat. Raw flour can harbor bacteria like E. coli, so it's best to not take chances in edible cookie dough recipes. Luckily, heat-treating flour takes only a matter of minutes. So, that's where we'll start.
Heat treating the flour
Zap the flour in the microwave in 15-second intervals, until the internal temperature reaches a safe 165ºF. This usually only takes about a minute, then you can set the flour aside while you get started on the cookie dough.
Making the cookie dough
Cream together the butter and sugar until light and fluffy. Next, you'll add in the wet ingredients, followed by the salt, and finally the treated flour. Stir the dough together with a spoon or spatula until it's just combined. I like to transfer my edible cookie dough to a jar for storage, or you can use any airtight container you have on hand. Check out my edible chocolate chip cookie dough post for step by step.
Making the ice cream
Once your cookie dough is ready to go, it's time to make some ice cream:
Prep your tools. Get the bowl of your stand mixer (affiliate link) nice and chilled in the freezer, and line a baking tray with parchment paper.
Make the ice cream base. Once your bowl is cold, whip the heavy cream until stiff peaks form. Add in vanilla, blue matcha powder, and salt and continue to whip until the blue coloring is even throughout. Since this is a no churn recipe, next you'll gently fold in the condensed milk.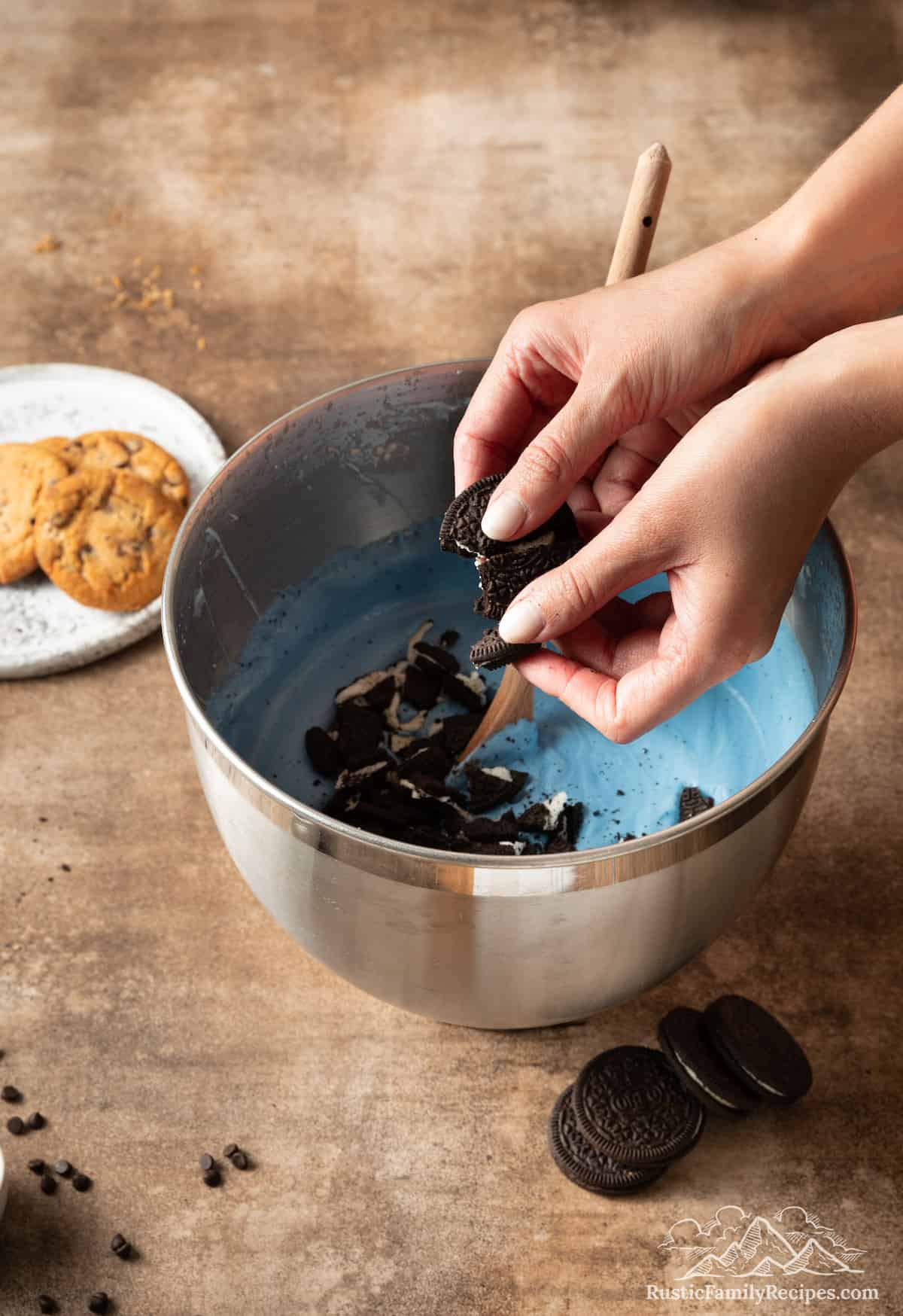 Add the cookies. Crumble and fold your chocolate chip cookies and Oreo cookies into the ice cream base.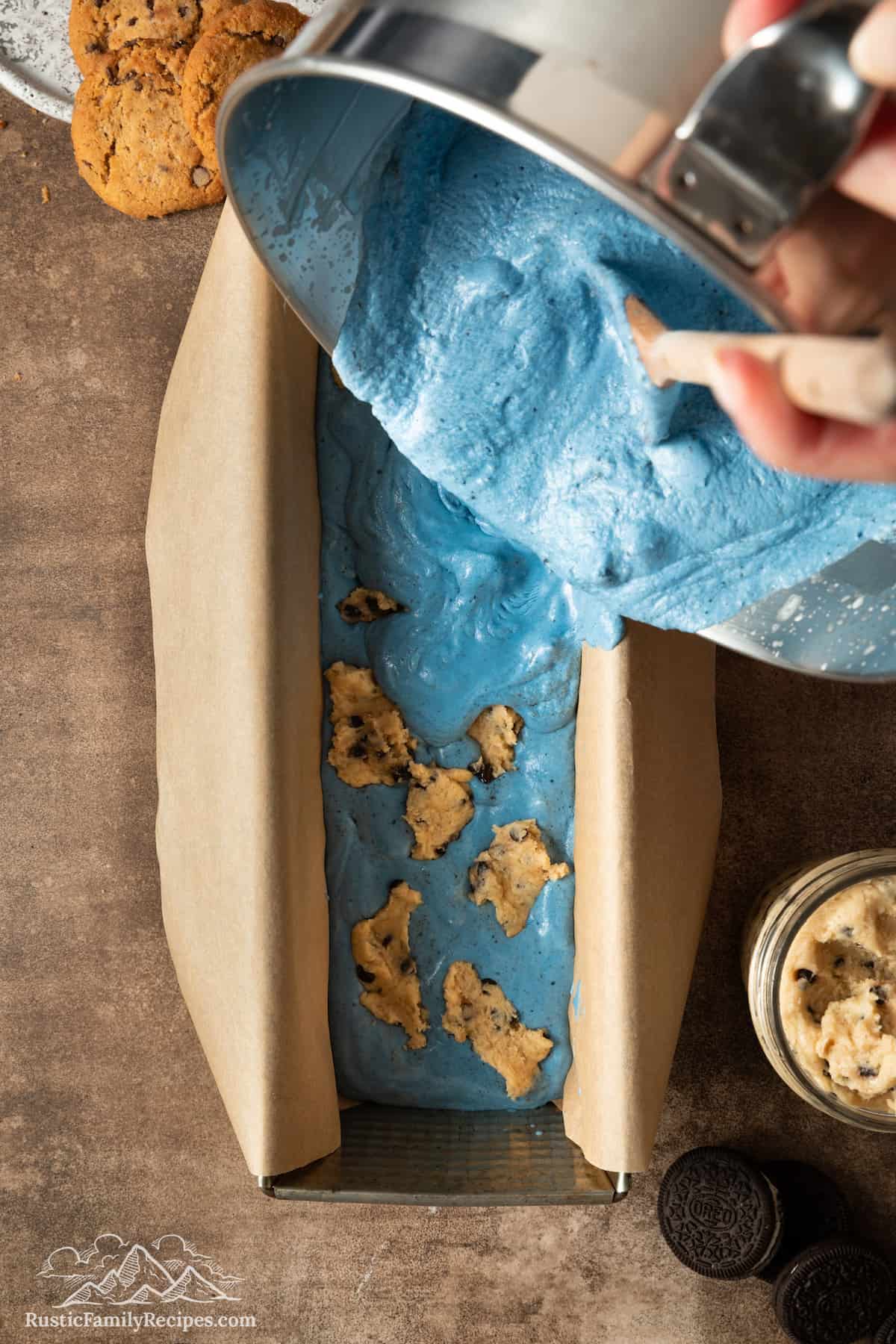 Assemble the ice cream. Spread about a third of the ice cream into the prepared baking tray, top with chunks of cookie dough, followed by another layer of ice cream. Repeat with the last layer of ice cream and then scatter leftover cookies and cookie dough over top to decorate. Place the tray filled with ice cream into the freezer overnight, or at least 8 hours.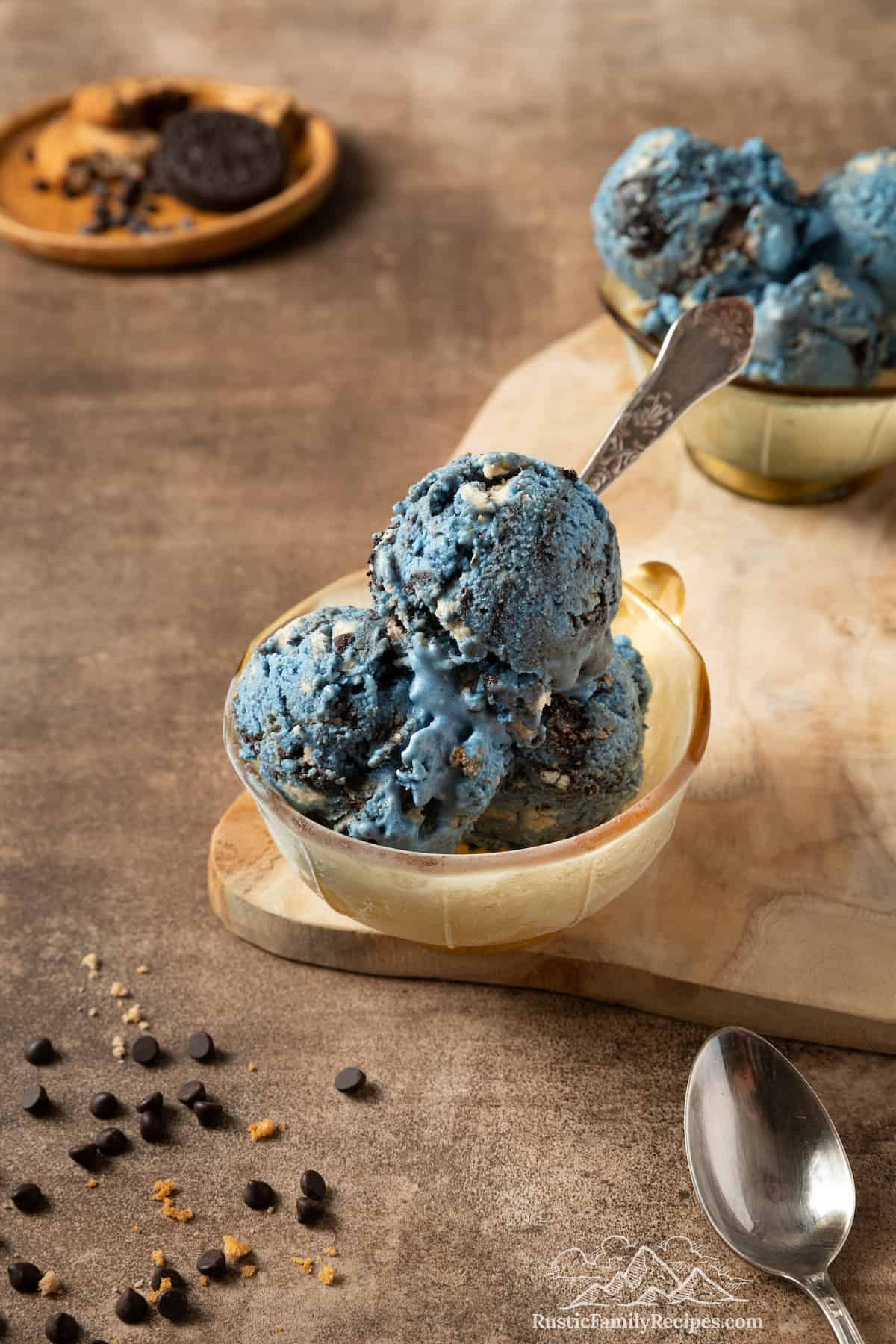 Tips for the Best Ice Cream
You'll find that this no-churn ice cream is as easy as A, B, C! Here are some extra tips to ensure the creamiest results when making your Cookie Monster ice cream:
Chill the bowl. For the best results, keep the bowl for the whipping cream good and chilled until you're ready to use it.
Store up to 30 days. Despite everyone's best efforts, homemade ice cream does tend to become icy after about a month in the freezer. This is simply because no-churn ice cream is free from many of the additives that come with store-bought ice cream. So, for the creamiest, freshest ice cream experience, enjoy this Cookie Monster ice cream within 30 days of making it.
Allow enough time for freezing. Make sure to budget enough time for your homemade ice cream to really set up in the freezer before you serve it. Aim for 8 hours at the very least, though ideally overnight. To make it easier to scoop once frozen, let the ice cream sit out on the counter for about 10-15 minutes beforehand.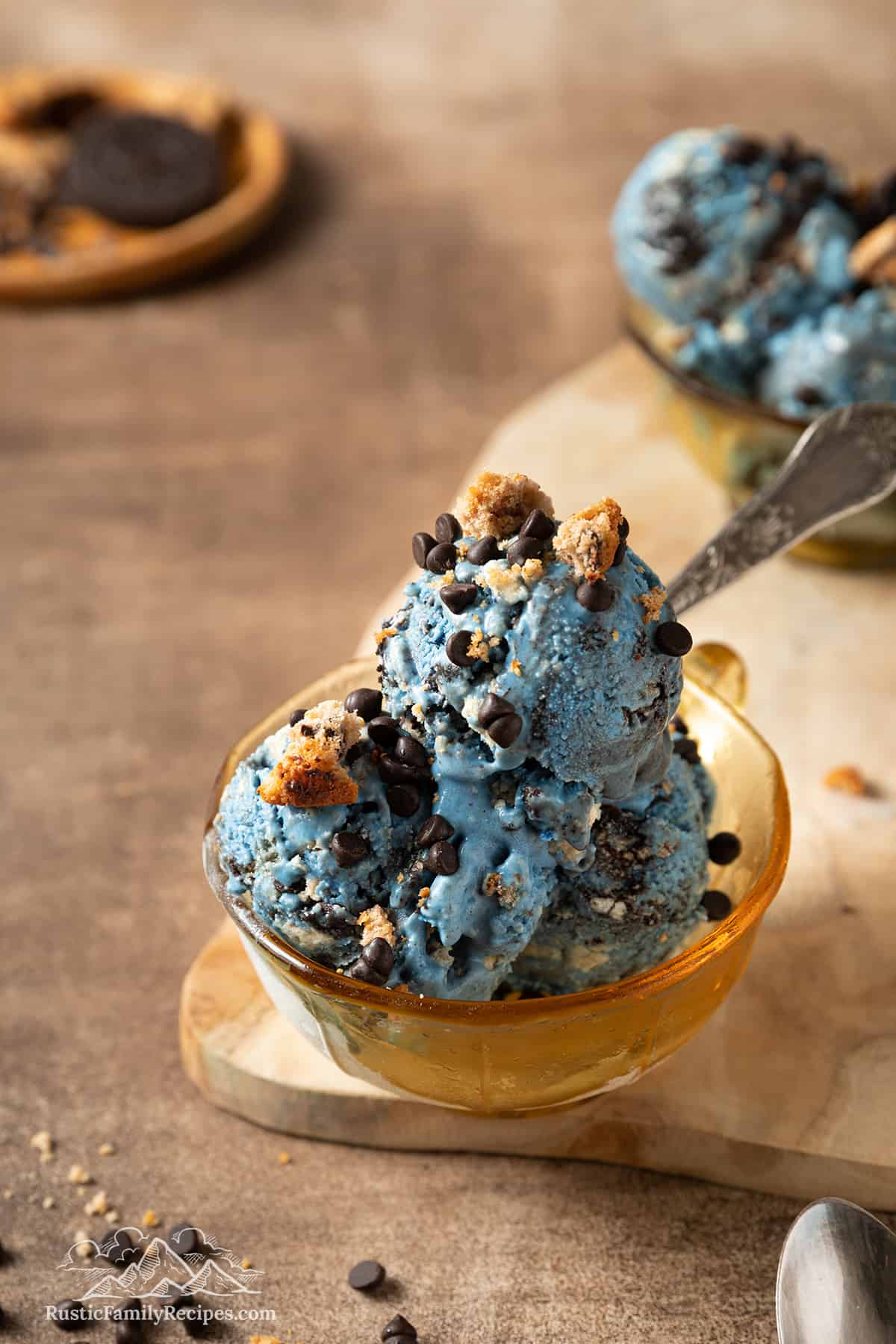 How to Store Ice Cream
Once it's frozen, transferring no-churn ice cream to a freezer-safe, airtight container will help to prolong its shelf life. Store this Cookie Monster ice cream in your freezer for up to one month. Since homemade ice cream is softer than store-bought, it's a good idea to take extra precautions to prevent ice crystals from forming – see below.
Avoiding Freezer Burn
Try not to store your ice cream in the freezer for longer than one month. As extra protection against freezer burn, I also like to lay a piece of saran wrap over the top of my ice cream before sealing the lid. This plastic layer helps prevent the cream from icing over.
Print
This homemade Cookie Monster ice cream is a creamy no churn ice cream recipe, filled with chunks of soft edible cookie dough and two types of cookies! Set in a bright blue ice cream base for a fun and easy frozen dessert.
Author: Rustic Family Recipes
Prep Time:

25 minutes

Freezing Time:

8 hours

Total Time:

8 hours 25 minutes

Yield:

10-14 servings

Category:

Ice Cream

Method:

Freeze

Cuisine:

American
For the cookie dough (makes ½ jar)
2/3

cup

all-purpose flour

3 tbsp

unsalted butter

4 1/2 tbsp

brown sugar

1/2 tsp

vanilla extract

2 tbsp

milk
a pinch of salt

3 tbsp

chocolate chips
For the ice cream
2

cups

heavy whipping cream

1 tsp

vanilla extract

4 tsp

blue matcha powder (butterfly pea powder)

1/2 tsp

salt

18

oz

sweetened condensed milk

6

chocolate chip cookies +

2

for topping

8

Oreo cookies +

4

for topping

1/2

jar of the pre-made cookie dough
Instructions
Heat treat the flour
Measure out the flour and place it in a microwave safe bowl. Microwave the flour in 15 second intervals on maximum power until it reaches an internal temperature of 165°F. Mix the flour throughout between each interval. This should take approximately 1 minute in total. Set the flour aside.
Making the cookie dough
Using an electric hand mixer, cream butter and brown sugar in a medium bowl. Mix on medium speed for 3 minutes until pale and fluffy.
Add vanilla extract and milk, and combine together either with a mixer or a spoon. Now, add a pinch of salt and flour and mix with a spoon or a spatula just until combined.
Using a spatula or a spoon, fold in the chocolate chips. Transfer to a jar and set aside.
Making the ice cream
Chill a large bowl of an electric stand mixer. Line a 14 x 5 inch baking tray with parchment paper and set aside.
In the chilled bowl, whip the heavy cream until thickened and peaks easily form.
Add vanilla extract, blue matcha powder and salt and whip for a few seconds until the color is evenly distributed.
Using a spatula or a spoon, fold in the sweetened condensed milk.
Break the chocolate chip cookies and Oreo cookies into smaller pieces. Fold into the ice cream.
Transfer ⅓ of the ice cream into the baking tray. Spread half of the cookie dough on top, cover with ⅓ of the ice cream and spread the remaining cookie dough, leaving just a few pieces to decorate the top. Now, cover with the remaining ice cream and decorate with crushed cookies and a few remaining pieces of the cookie dough.
Freeze for at least 8 hours or, ideally, overnight. Allow the ice cream to rest on the kitchen counter for approx. 10 minutes before serving. Enjoy!
Keywords: homemade ice cream, frozen desserts, no churn ice cream
More Homemade Ice Cream Recipes
This post may contain Amazon affiliate links to products that I use, which can earn a small commission on qualifying purchases.