This post may contain affiliate links. Please read our disclosure policy.
The Colorado Bulldog drink is a sweet and creamy cocktail that's a twist on a White Russian. Loaded with coffee flavor plus a fizzy splash of Coca Cola, this easy vodka drink is finished with a ruby-red maraschino cherry.
You may never have heard of a Colorado Bulldog, but it's a drink worth adding to your cocktail menu. If you love a White Russian, you will probably love this recipe! The Colorado Bulldog drink is more like a dessert than a traditional cocktail because it's swirled with chocolate syrup, topped with Coca Cola, and finished with a maraschino cherry. In fact, you could almost pretend that this drink is an ice cream soda.
But a Colorado Bulldog is definitely not for kids! The vodka and Kahlua give it an alcoholic bite that will get you buzzing. Serve this drink in a tall glass with a cute straw for an extra nice presentation.
Why You'll Love this Colorado Bulldog Recipe
Easy. This recipe only takes a few minutes to make and needs only a few ingredients.
Sweet. Coca Cola and chocolate syrup make this drink a real treat. Think of it as an adult milkshake.
Doubles as Dessert. You can serve a Colorado Bulldog during happy hour or as a boozy liquid dessert!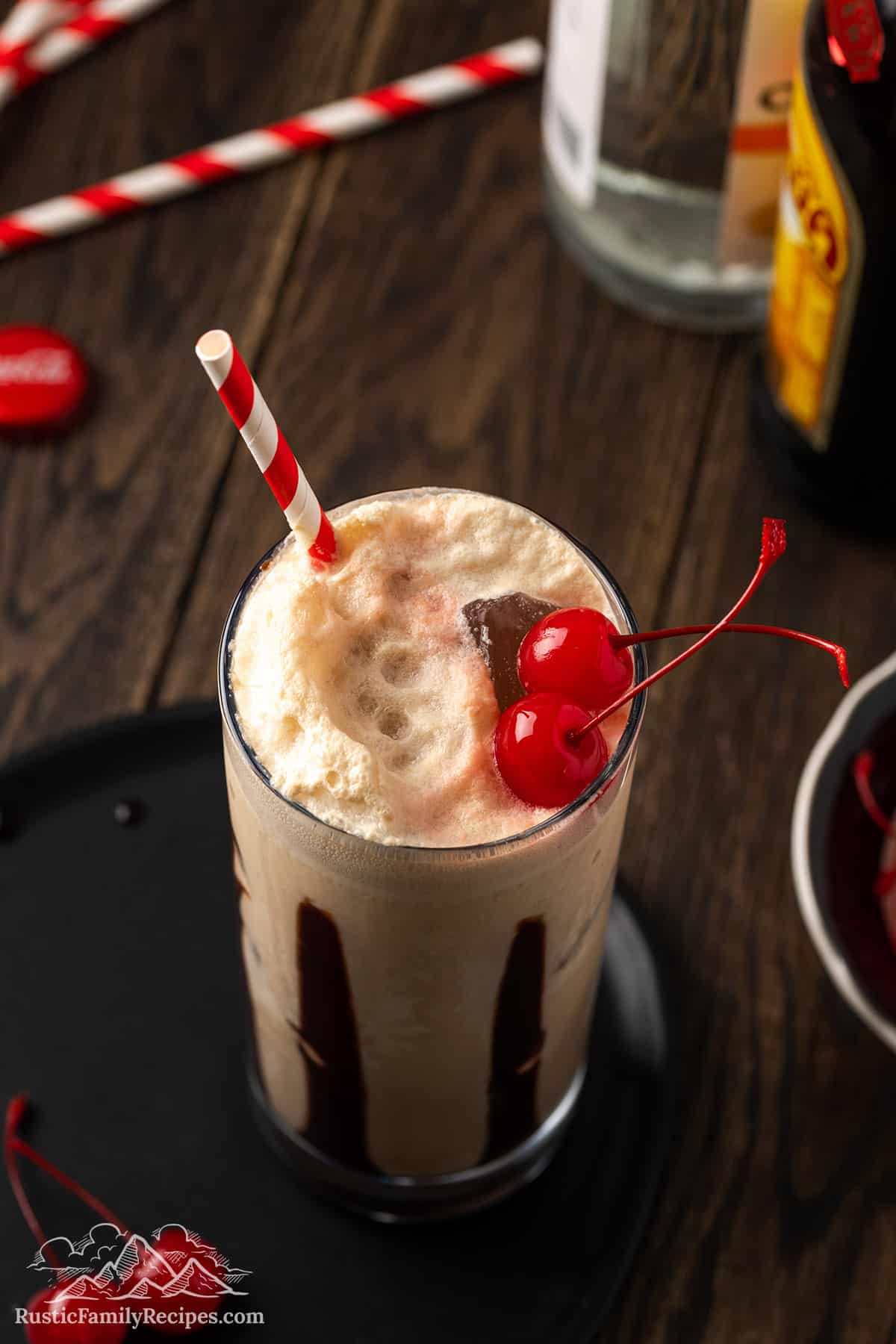 What is a Colorado Bulldog Drink?
If you're familiar with a White Russian, you'll have a good idea of what's in this cocktail. Actually, a Colorado Bulldog drink is a variation of both a Black Russian and a White Russian. So what's the difference? A Black Russian drink is just a combination of Kahlua and vodka over ice. When you make a White Russian cocktail, you'll do the same but add heavy cream.
The Colorado Bulldog drink takes it a step further and adds a splash of Coca Cola after the cream for sparkle and flavor. Top it with a maraschino cherry for extra sweetness and a pop of color!
Recipe Ingredients
Here's what you'll need to serve a Colorado Bulldog at your next cocktail party. Be sure to scroll down to the recipe card for specific amounts.
Equipment
Cocktail shaker

(affiliate link)

– a cocktail shaker filled partway with ice helps to chill the vodka and Kahlua.
Highball glass – a highball glass is a glass tumbler used to serve highball cocktails and other mixed drinks. It can contain 240 to 350 milliliters of liquid.
Ingredients
Vodka – I like to use Absolut.
Kahlua – You can substitute coffee liqueur if you don't have Kahlua.
Heavy cream
Coca Cola soda
Chocolate syrup – Chocolate syrup will be used for serving.
Cubed ice
Maraschino cherry – You'll top each drink with one maraschino cherry.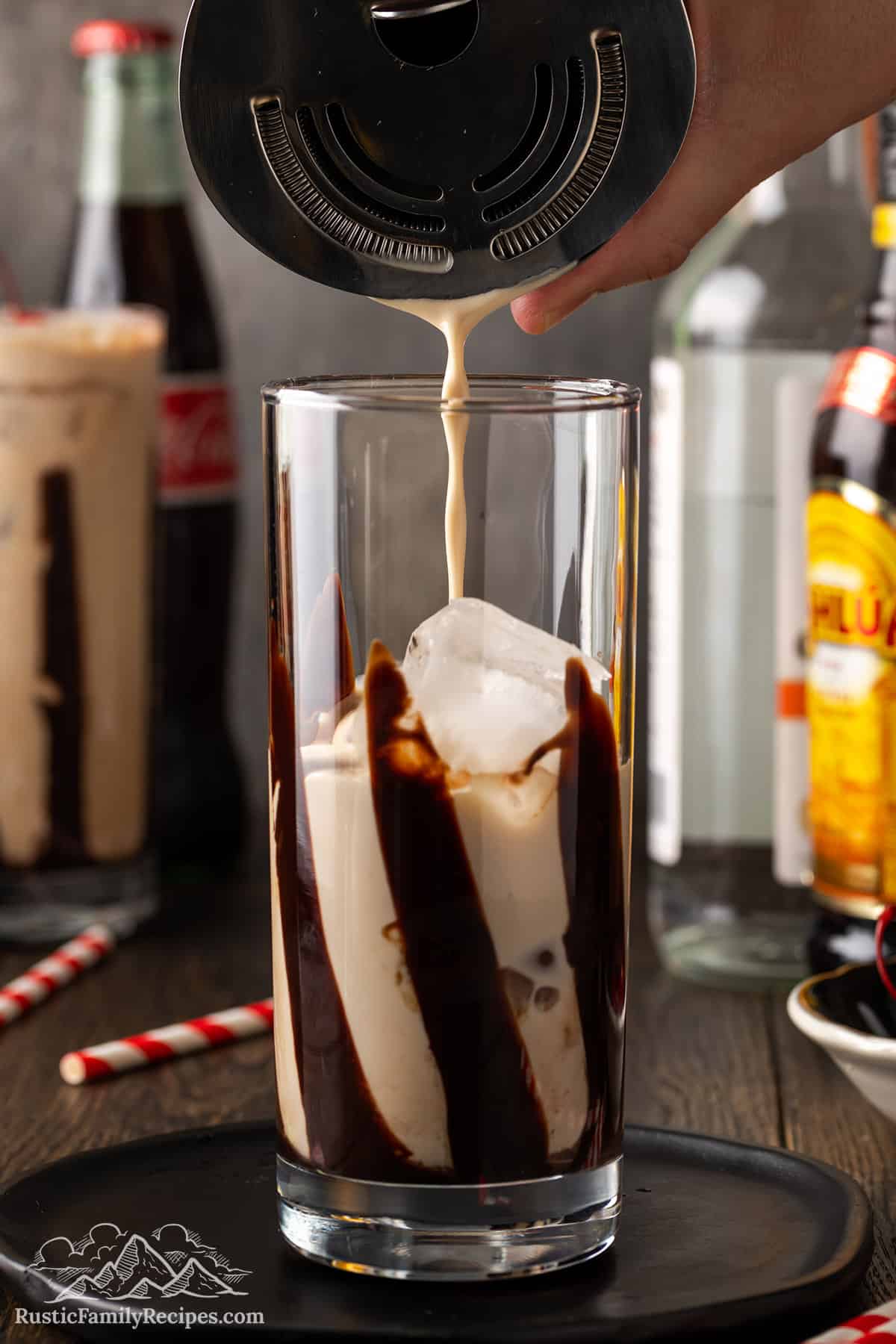 What is Kahlua?
Kahlua is an easy-to-find coffee liqueur that's great in mixed drinks or served simply over ice. Read on to learn a bit more about Kahlua.
What is Kahlua? Kahlua is a coffee-flavored liqueur that's made in Mexico from rum, sugar, and coffee. It shows up in many popular cocktails.
Is Kahlua high in alcohol? Kahlua contains 20% alcohol by volume, making it a lower alcohol liqueur.
Is Kahlua caffeinated? Kahlua does have some caffeine, but it works out to be only about 5mg of caffeine per serving. (An 8oz cup of brewed coffee has about 200mg of caffeine per serving.)
Can I substitute for Kahlua? You can try coffee liqueur, Frangelico, Tia Maria for alcoholic versions if you don't have Kahlua. You could also try brewed coffee in place of the Kahlua for flavor and a non-alcoholic option.
What's so great about Kahlua? It works in many drinks! You can pop it into everything from mudslides to espresso martinis, drink it straight up on the rocks, or add a splash to a cup of coffee.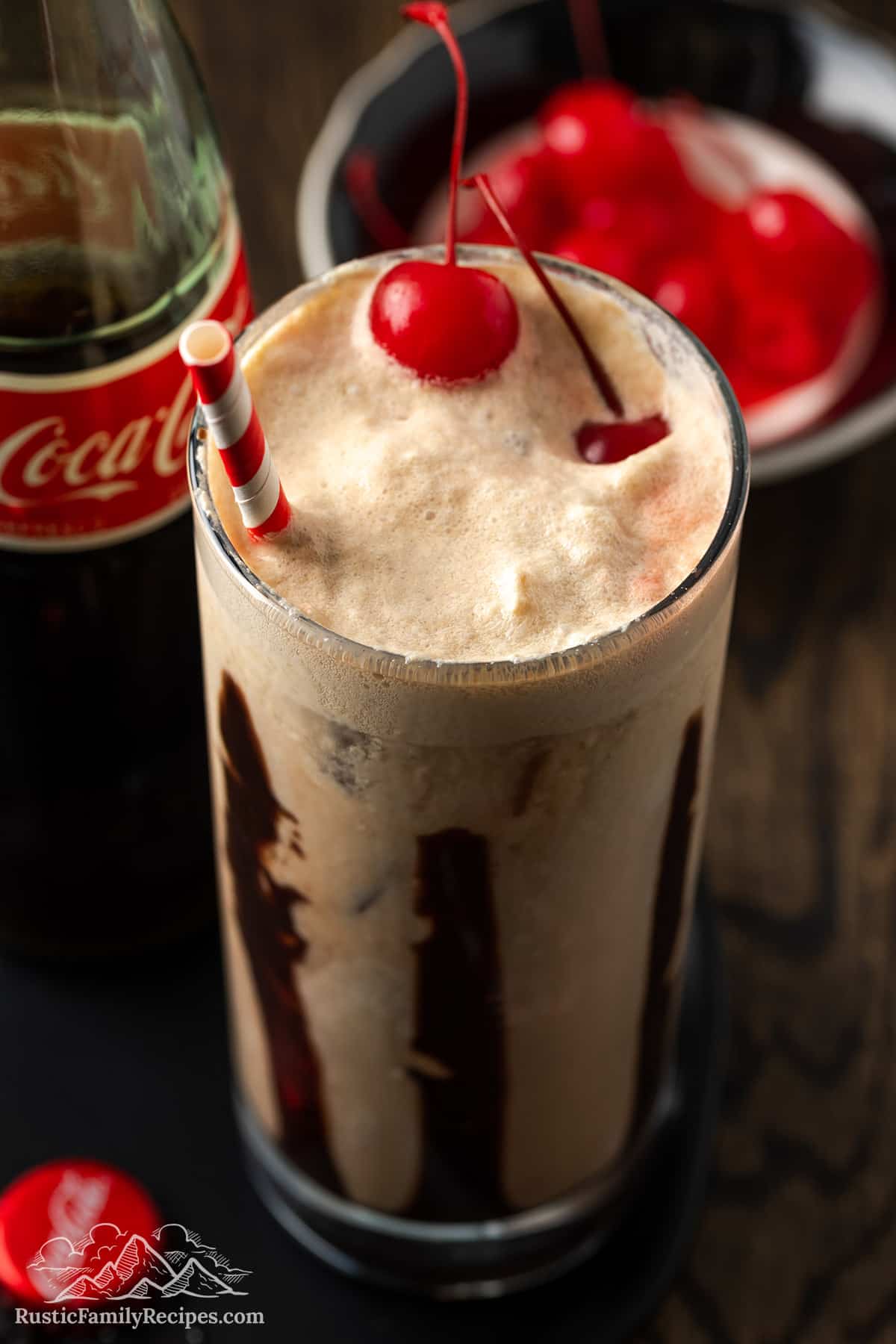 How to Make the Best Colorado Bulldog Drink
Want to make a Colorado Bulldog for happy hour? Here are the step-by-step instructions to serve this bubbly drink at your next gathering.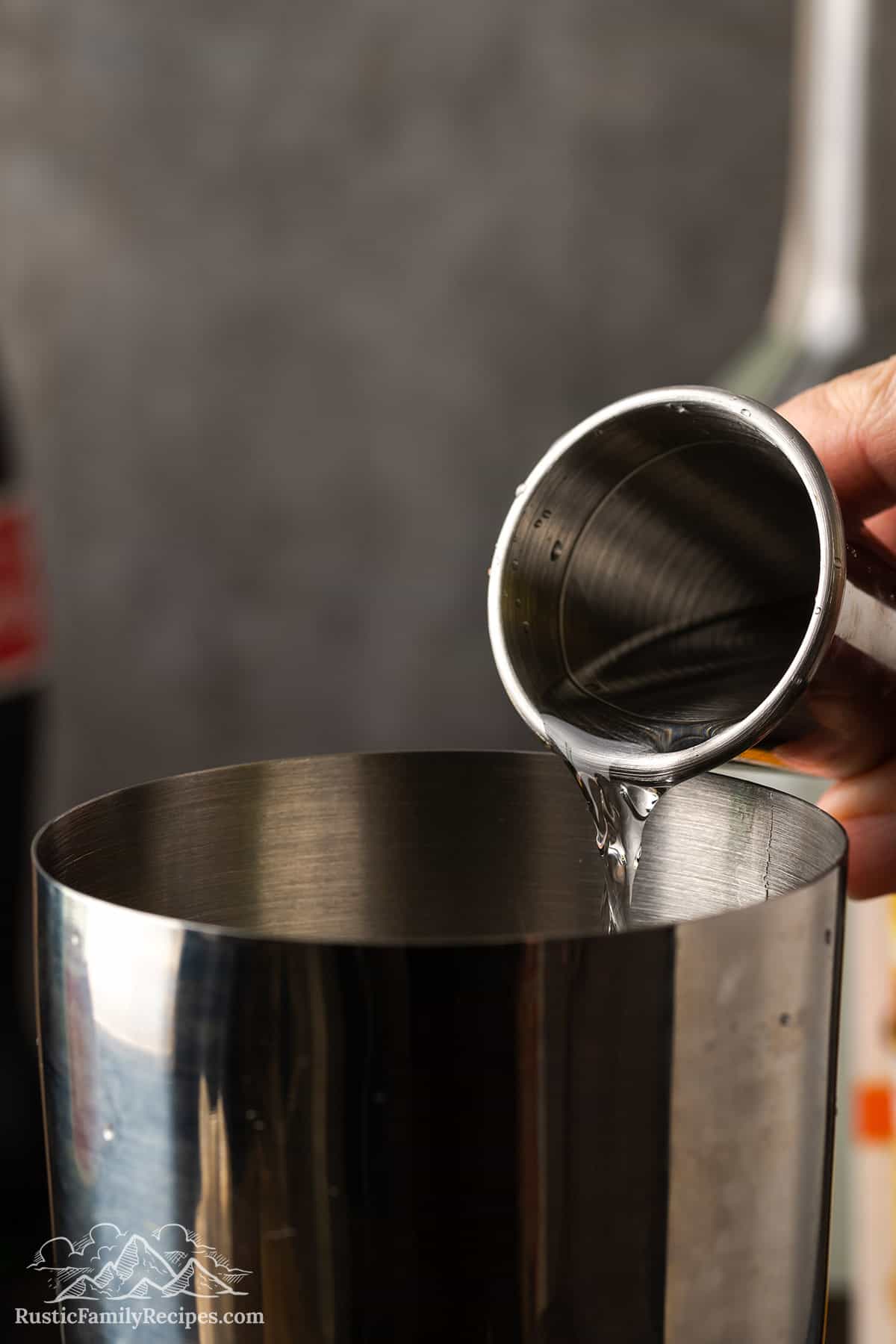 Add chocolate syrup. Drizzle the inside of a tall glass with chocolate syrup, making pretty stripe patterns.
Add ice. Fill about 1/3 of the glass with ice.
Make the drink. In a cocktail shaker, add more ice, then pour in the the vodka, Kahlua and heavy cream and shake vigorously.
Finish the drink. Pour the drink into a highball glass and top with Coca Cola.
Garnish. Top your drink with a maraschino cherry and serve.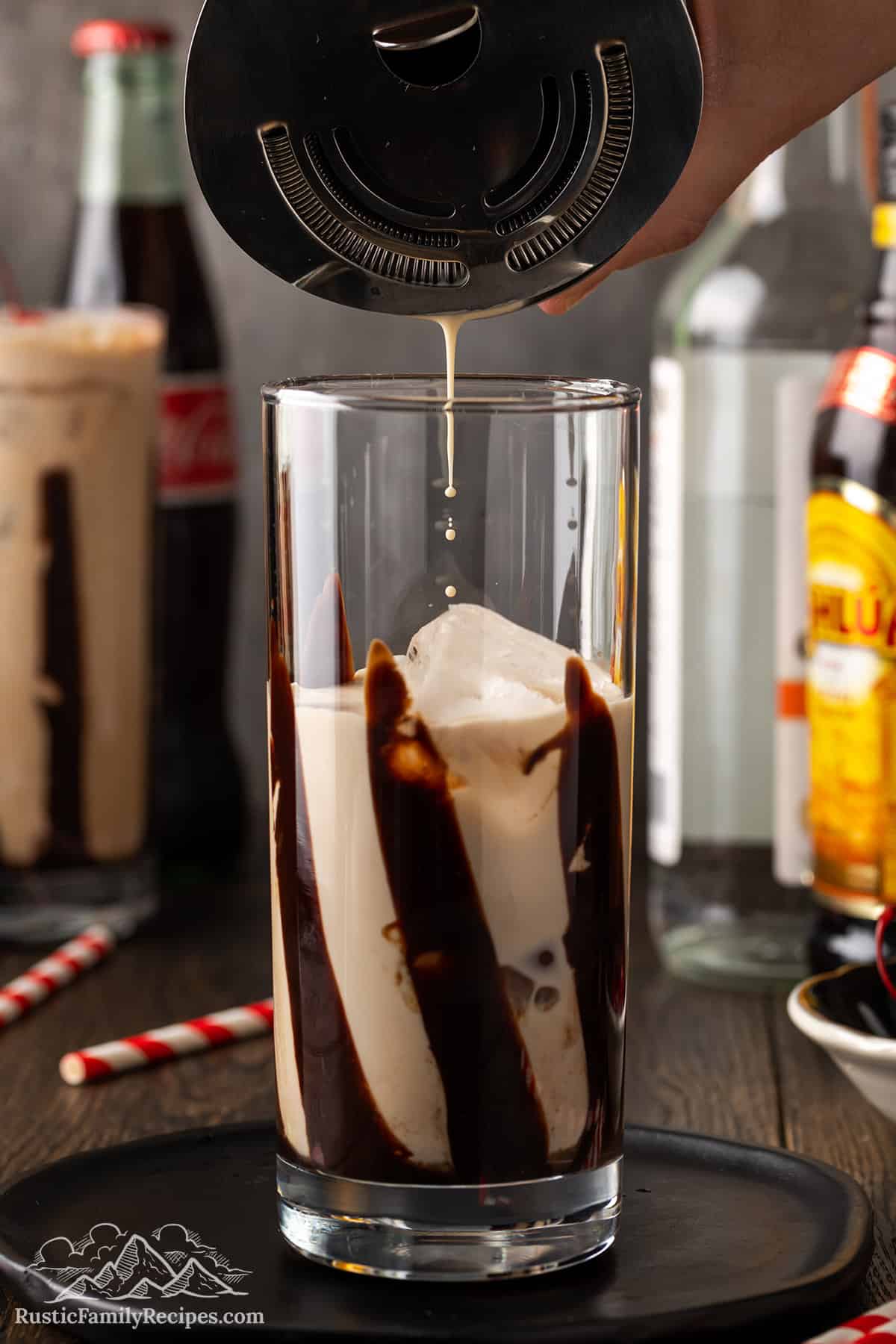 Tips for Success
This drink is so easy to make and looks so pretty served in a tall glass. (It might even be Dude-approved.) Read on for a few more tips to make Colorado Bulldog drink perfection:
Serve a Colorado Bulldog in a tall glass. As shown in the photos, a Colorado Bulldog drink is served in a glass called a highball glass. This sets it apart from a White Russian which is served in an old fashioned glass (a short tumbler). A highball glass is a taller glass than an old fashioned glass and really shows off the finished drink.
Open a fresh soda. Don't use that open bottle of Coca Cola that's been hanging around the back of your fridge for a few days. Treat yourself, and this drink, to a fizzy fresh bottle.
Use fresh cream and don't panic if it curdles when you add the soda. Sometimes when you add the soda the cream separates a bit, which is fine. Give it a stir before serving and it should all come together.
For a little more flavor, drizzle cherry juice. If you love the maraschino cherry flavor, spoon out a little of the liquid in the jar and drizzle it over the top of your Colorado Bulldog when you add the cherry.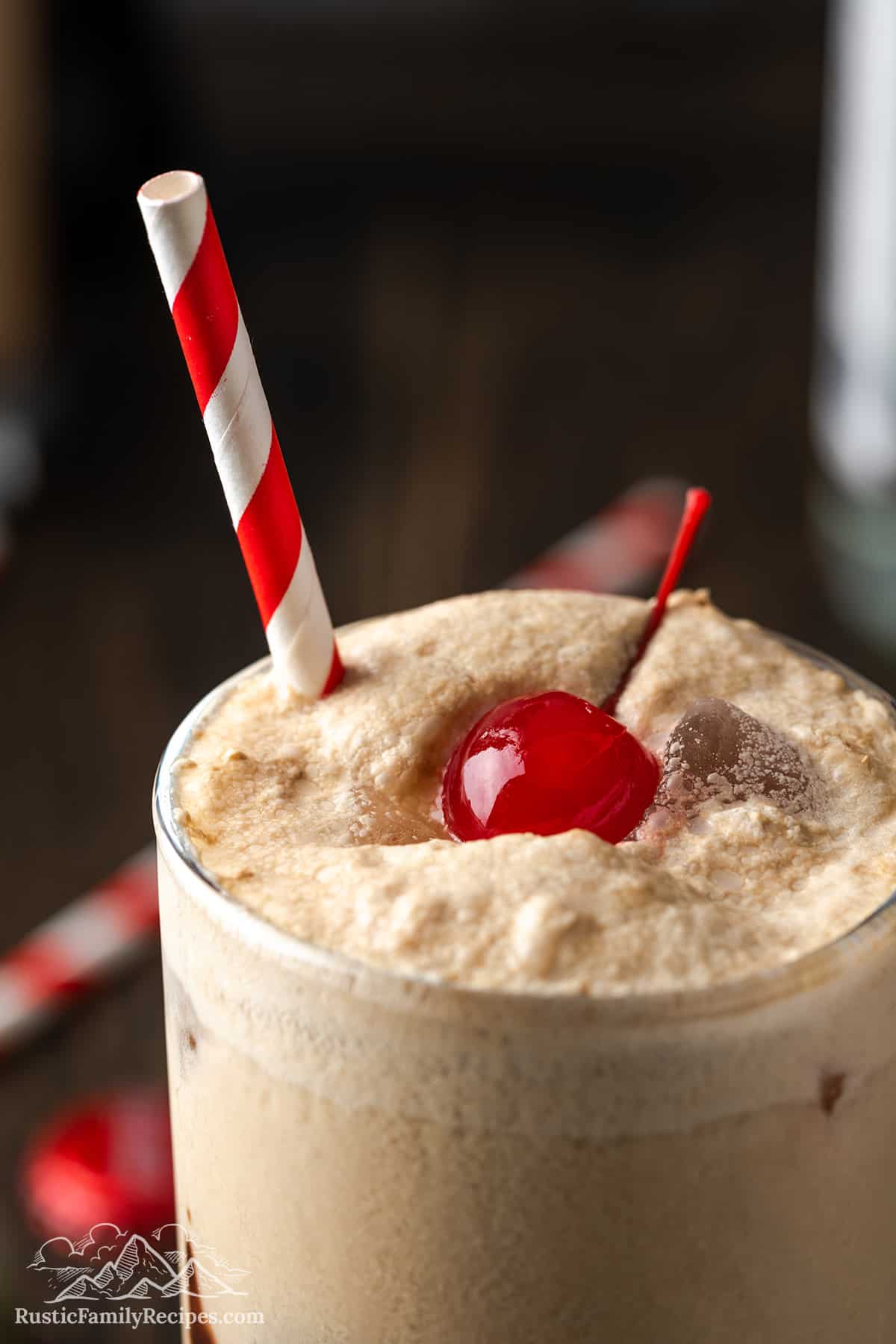 Serving Suggestions
If you want some snackable bites to go along with your cocktail, I suggest something crunchy to balance the sweetness of the drink. Some of my favorites include:
Nuts. Grab a can of roasted and salted mixed nuts at the store when you're gathering your ingredients for the Colorado Bulldog. The saltiness of the nuts is a nice contrast to the sweet drink.
Popcorn. A bowl of crisp, salty fresh popcorn will balance the sweetness of this cocktail.
Chocolate covered pretzels. Chocolate overload! Just go for it and serve a Colorado Bulldog with more chocolate in the form of crunchy chocolate covered pretzels.
Plain, salted pretzels. Skip the chocolate and enjoy your sweet drink with salted pretzels.
Variations on the Colorado Bulldog Drink
If you love the combination of vodka and Kahlua, like in the Colorado Bulldog drink, you might also enjoy some similarly flavored cocktails. Check out this list below for drinks in the same family:
Black Russian: The original classic, with just Kahlua and vodka
White Russian: Build on the Black Russian with Kahlua and vodka and add a splash of cream
Mind Eraser: Kahlua, vodka, and soda water
Mudslide: Kahlua, vodka, and Irish cream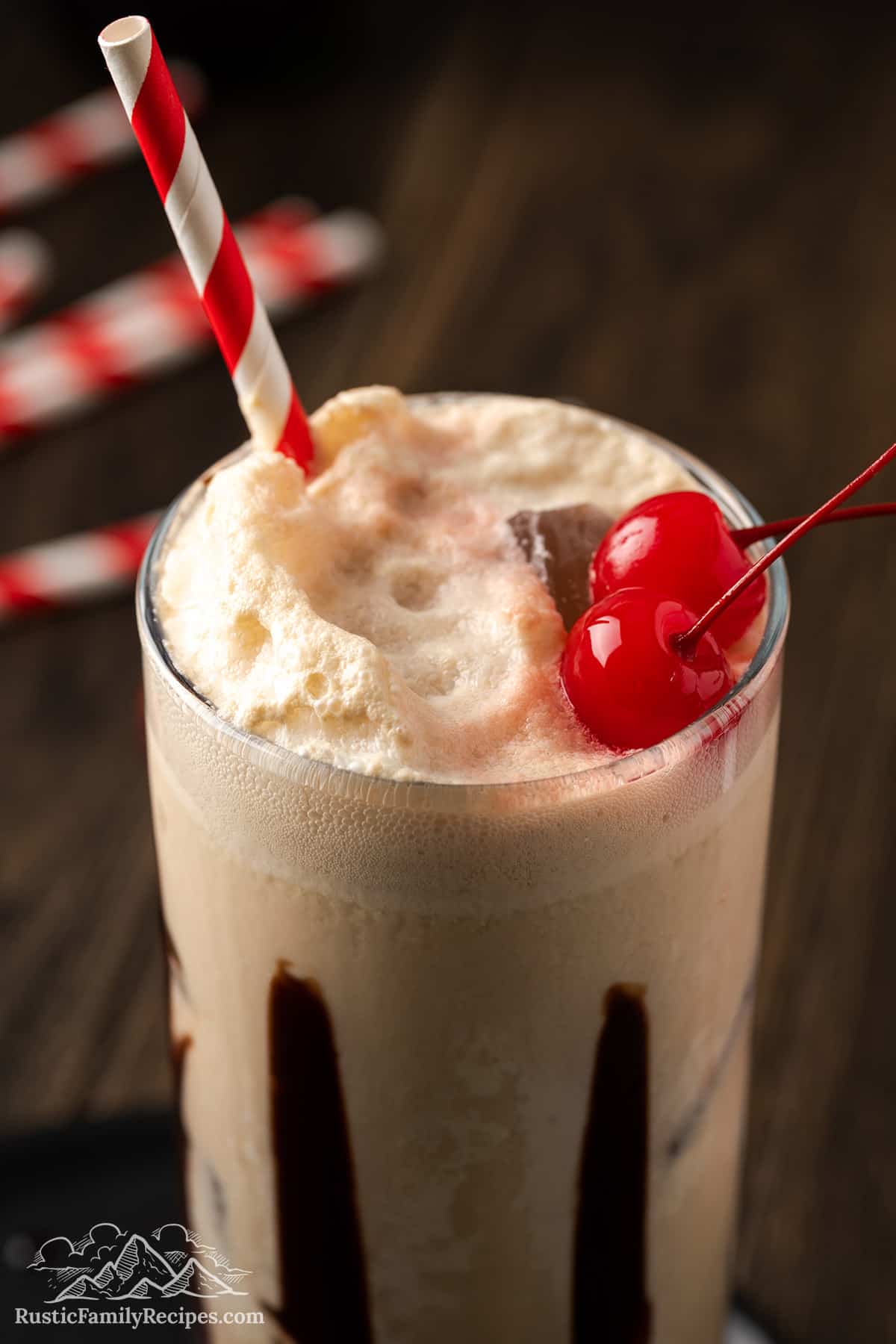 When to Serve a Colorado Bulldog Drink
There's really no wrong time of day to serve a Colorado Bulldog. It can work as both an after-dinner drink and dessert, or you can whip it up for happy hour.
Happy hour – mix up Colorado Bulldogs during happy hour for a sweet treat.
After-dinner dessert cocktail – since the Colorado Bulldog is basically dessert in a glass, it is great served after dinner. No extra dessert needed!
Brunch – if you feel like switching out the traditional bellini, a Colorado Bulldog drink's creamy sweetness will be a welcome addition to the brunch menu.
Can I Double This Recipe?
You absolutely can double this recipe! Follow the recipe card instructions below but add twice the amount (3 ounces of vodka, 2 ounces of Kahlua, 4 ounces of heavy cream) to make two cocktails. Serve each drink in its own highball glass
Print
Colorado Bulldog Drink
The Colorado Bulldog drink is a sweet cocktail that's a twist on the White Russian. Top with Coca Cola and a maraschino cherry for a memorably fizzy variation of a classic.
Author: Rustic Family Food
Prep Time:

2 minutes

Cook Time:

3 minutes

Total Time:

5 minutes

Yield:

1 drink

Category:

Drinks

Method:

Easy

Cuisine:

American
1.5 ounces

vodka

1 ounce

Kahlua

2 ounces

heavy cream

2

–

3

ounces Coca Cola soda
Chocolate syrup, for serving
Cubed ice

1

maraschino cherry, for serving
Instructions
Drizzle the inside of a tall glass with chocolate syrup, making pretty stripe patterns.
Fill the glass about 1/3 the way with ice.
Fill a cocktail shaker halfway with ice, then add the vodka, Kahlua, and heavy cream. Shake vigorously for 20 seconds, then pour into the glass.
Top the glass off with Coca Cola.
Garnish with a maraschino cherry and serve.
Last Step:
Please
share a rating and comment
if you enjoyed this recipe! Your feedback helps this little blog thrive and continue providing free, high-quality recipes for you.
Keywords: colorado bulldog recipe, colorado bulldog drink, kahlua recipes, kahlua drinks
Filed Under: