About Me: I have more than 20 years of cooking experience & share my favorite recipes on this blog.
Have a question? Please post a comment, I'm happy to help. 🙂
This strawberry shortcake recipe features homemade biscuits, whipped cream, and vanilla ice cream served with fresh strawberry sauce and more berries. It's our favorite summer dessert!
We have a patch of ever-bearing strawberry bushes in our yard, which means strawberry season lasts all the way through the first frost. (Ever-bearing plants produce berries for months, not just in June!) To say we eat a lot of strawberries is an understatement. We eat them straight off the plants, in salads, freeze them for winter, and of course, make a lot of desserts. 😋
Our favorite way to use fresh berries? Classic strawberry shortcake. I make mine slightly different in that I also add a scoop of vanilla ice cream to the mix, but if you're a strawberry shortcake purist you can skip that step and just use whipped cream. (Why though?!) A spoonful of tender shortcake biscuit, fresh strawberry sauce, and cool ice cream topped with whipped cream is pretty amazing!
Watch How to Make It
Want to see how to make this classic American dessert from scratch? Check out my step-by-step video:
Why You'll Love This Strawberry Shortcake Recipe
Easy. All you need to do is mash up some strawberries, then grab some whipped cream and ice cream! I like to make the biscuits from scratch, but you can also use store-bought biscuits.
Decadent. This recipe is a little extra because we're using vanilla ice cream AND whipped cream in between layers of biscuits and macerated berries. The combination is totally irresistible!
Flavorful. Between the fresh berries, sweet ice cream and tender biscuits every bite of this dessert is bursting with flavor.
How to Make Strawberry Shortcake
Are you ready to make the best strawberry shortcake ever? Here's how to do it:
Make the Strawberry Sauce & Ice Cream (Optional)
If you want to use homemade strawberry sauce and ice cream, I recommend making both of these the day before. Not saying you can't use store-bought because you totally can, just saying if you want to go the 100% homemade route some advance prep work makes things easier. 🙂
Strawberry sauce. Make the shortcake biscuits and strawberry sauce.
Ice Cream. If you are using homemade ice cream, make that the day before.
Macerate the Strawberries & Make the Biscuits
Prep the berries. Wash your strawberries, remove the tops and slice the berries.
Mash. Combine all the strawberry filling ingredients, then mash everything together and set aside.
Make the biscuits. Once you have prepped the berries, it's time to make your biscuits! You can find complete ingredients and step-by-step instructions in the recipe card below.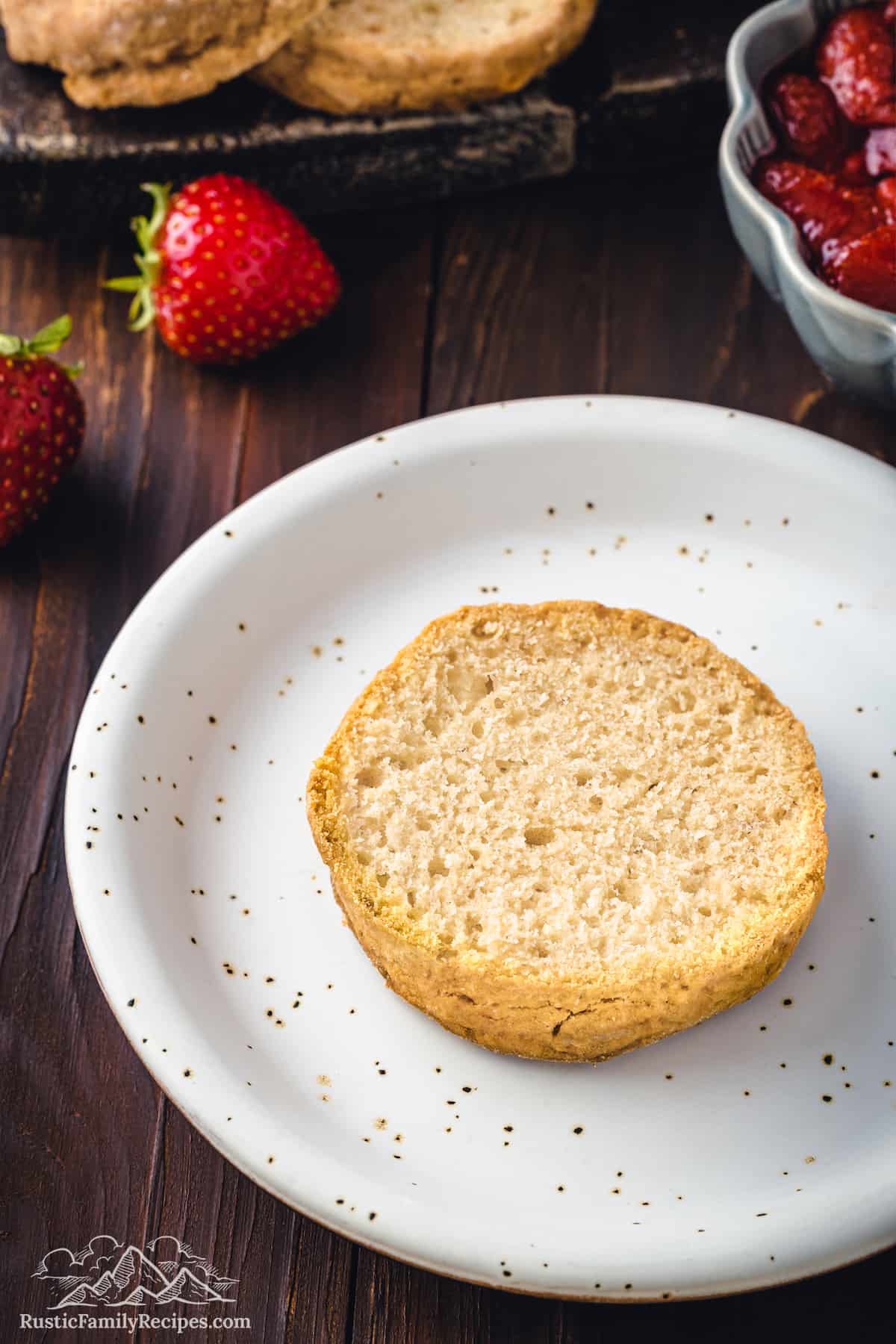 Assemble Your Strawberry Shortcake
Slice the biscuits. For each serving of strawberry shortcake, slice a biscuit in half. Place the bottom of the biscuit on the serving plate.
Add the first layer. Top with some of the macerated berries. Place a few fresh strawberry slices on top.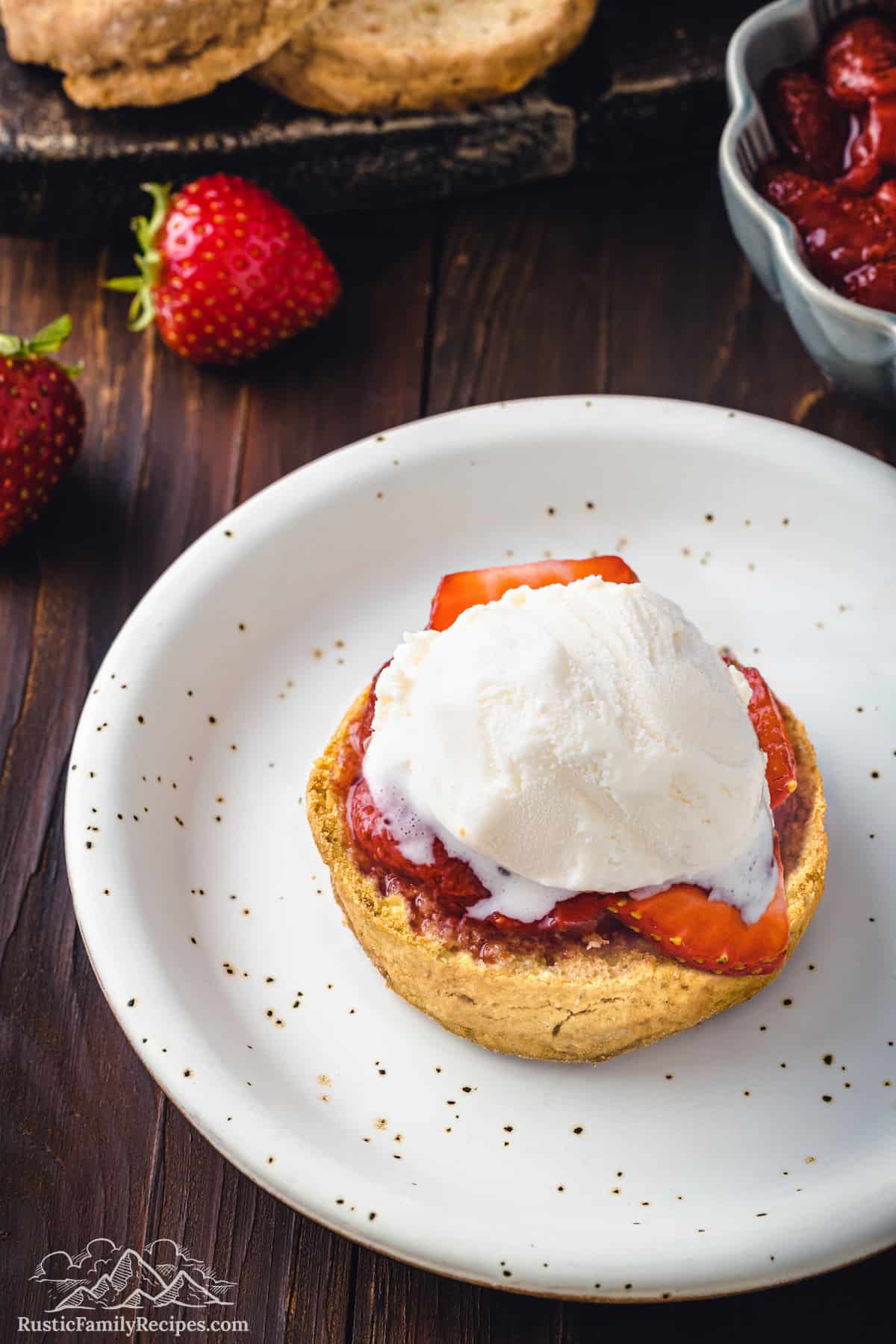 Time for ice cream! Add a scoop of vanilla ice cream.
Add the second layer. Spoon another layer of macerated strawberries on top. Place a few sliced strawberries on top of the sauce.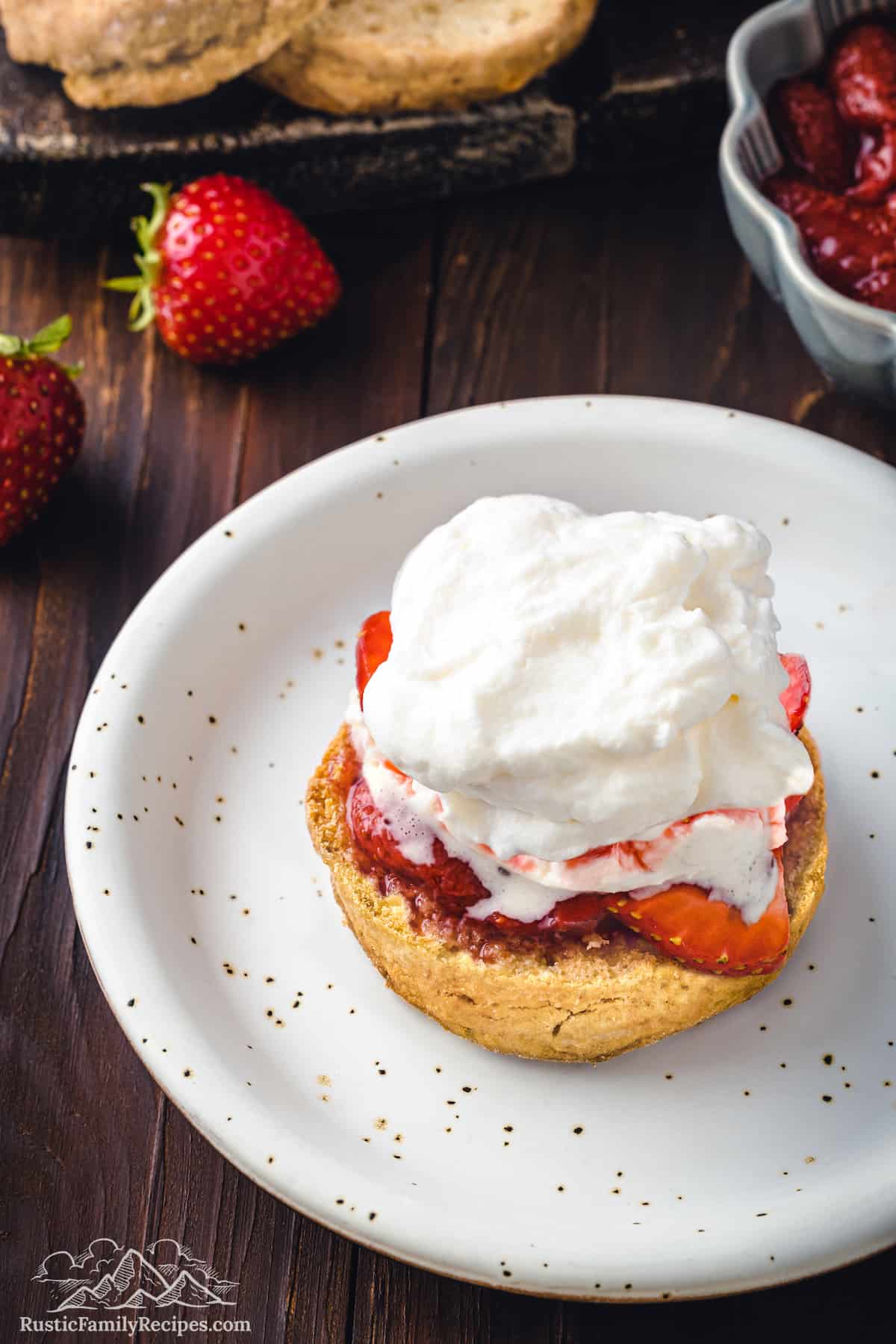 Finish the layers. Add another layer of whipped cream. Top with the remaining half of the shortcake.
Top with whipped cream and berries. Add whipped cream on top of the shortcake, plus a few slices of strawberry.
Drizzle strawberry sauce. This is totally optional (and also totally delicious).
Grab a spoon and dig in!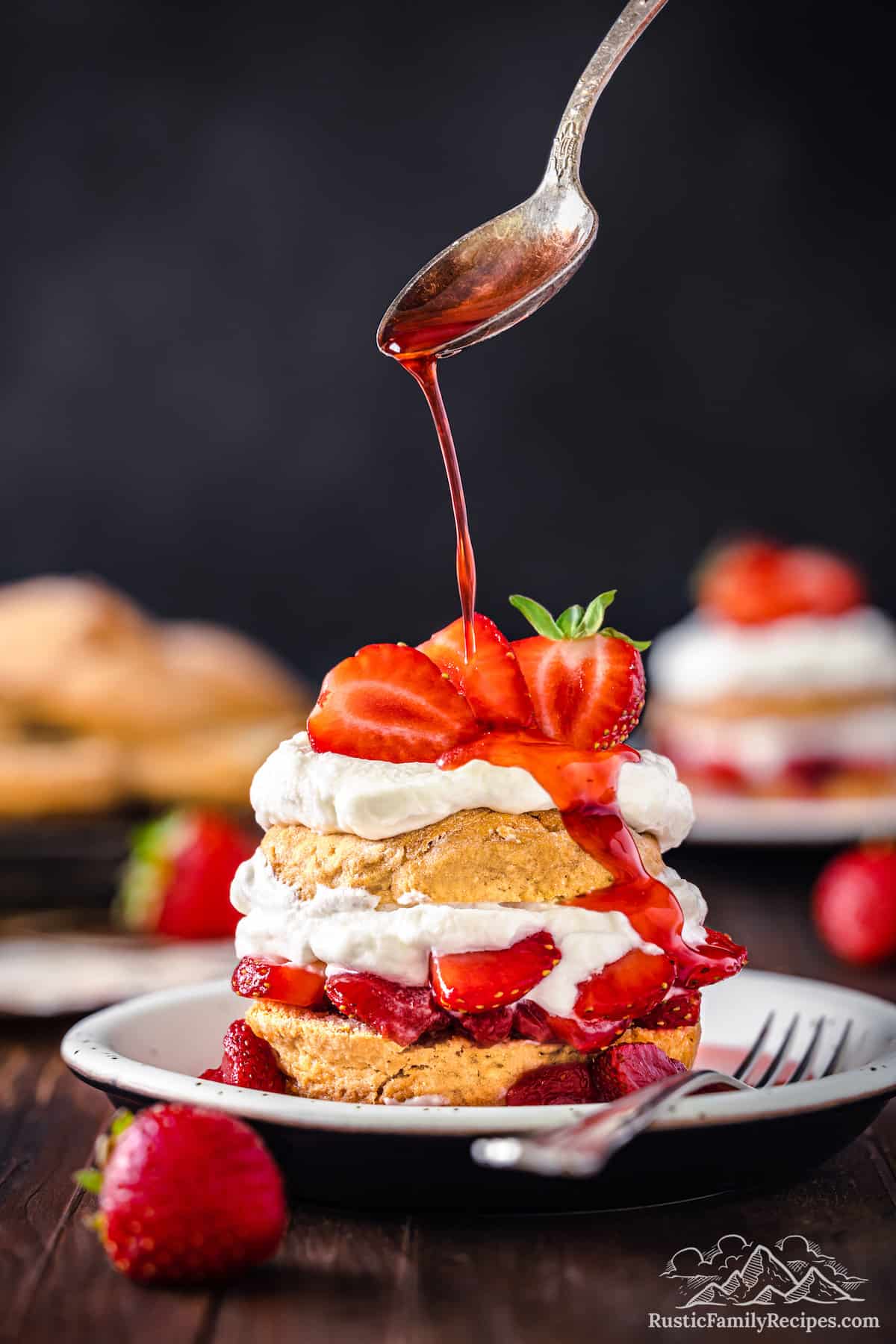 What Are Macerated Strawberries?
Macerated strawberries are fresh berries that have been lightly mashed with a bit of sugar. This releases the berry juices and coats everything in a small amount of sugar. The end result is a sweet, fruity mixture made of berries and syrup.
Tips for the Best Strawberry Shortcake
Make the shortcakes ahead. You can make the shortcake biscuits in advance, or on the same day. There is something to be said for using warm biscuits stuffed with cold ice cream and whipped cream though!
Want to use homemade ice cream? Since homemade ice cream will need to freeze overnight, make this in advance if you're going the from-scratch route. I usually use store-bought ice cream for my shortcake dessert unless I already happen to have some ice cream sitting in the freezer.
Whipped cream can be homemade or store-bought. This is another area where you can make things easier and use a can of your favorite whipped cream instead of going the from-scratch route. I like Cabot whipped cream for this dessert.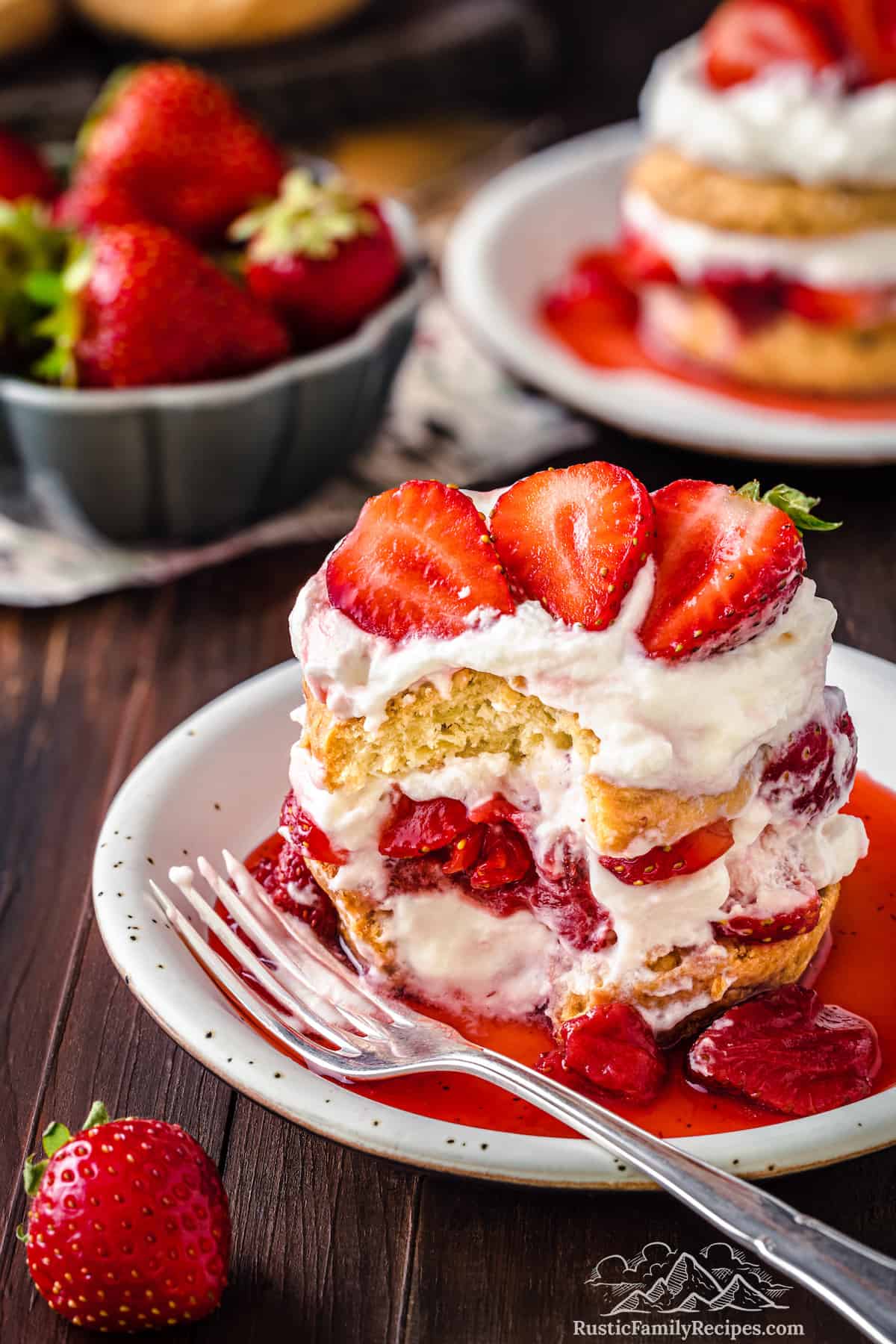 Can I Store Extras for Later?
I don't recommend storing an assembled strawberry shortcake for later, but you can certainly store the separate components for later and then make more dessert when you're ready.
Shortcake Biscuits: Store on the counter in an airtight container for up to 2 days. You can also store them in a container in the fridge for up to 4 days.
Macerated Strawberries: You can store extra macerated berries in an airtight container in the fridge for up to 4 days.
Ice Cream: If you made homemade ice cream, that will keep in the freezer for up to 1 month.
For the whipped cream, I don't recommend storing extras for later. Homemade whipped cream needs to be used pretty soon after it is made.
More Strawberry Recipes to Try
Print
Strawberry Shortcake
This strawberry shortcake recipe features homemade biscuits, whipped cream, and vanilla ice cream served with fresh strawberry sauce and more berries. It's our favorite summer dessert!
Author: Rustic Family Recipes
Prep Time:

10 minutes

Cook Time:

20 minutes

Total Time:

30 minutes

Yield:

6

Category:

Dessert

Method:

Assemble

Cuisine:

American
Strawberry Filling
4 cups

chopped fresh strawberries

2 tablespoons

sugar
Baking Powder Shortcake Biscuits
2 cups

all-purpose flour

1 1/2 tablespoons

granulated white sugar

2 teaspoons

baking powder

1/4 teaspoon

kosher salt

1/3 cup

cold unsalted butter, cut into small cubes

1

large egg

3/4 cup

half and half, plus 1 tablespoon more for brushing
Granulated sugar, for sprinkling on top
For Serving
Vanilla Ice Cream
Whipped Cream

10

–

12

fresh strawberries, tops removed and thinly sliced
Instructions
Make the Macerated Strawberry Filling

Combine ingredients. In a large bowl, combine all the strawberries and and sugar.
Mash. With a potato masher, mash the berries until they are somewhat broken down but there are still some chunks.
Set aside. Allow the berry mixture to rest while you make the biscuits.
Make the Shortcake Biscuits

Prep your tools. Preheat your oven to 375F. Line a baking sheet with parchment paper and set aside.
Combine the dry ingredients. In a medium bowl mix together flour, sugar, baking powder and salt.
Cut in the butter. Add the butter to the dry ingredients. Work it into the flour with your hands, pressing the butter and flour together in your fingers, until you have a mixture resembling coarse breadcrumbs.
Add the egg and 3/4 cups half and half. Mix with a spoon until a ball of dough forms.
Knead. Turn out onto a lightly floured surface, then knead 2-3 times with your hands, or until there aren't any dry bits and you have a cohesive ball of dough.
Shape the biscuits. Pat the dough into a circle and use a biscuit cutter to create 6 evenly sized biscuits. Usually I can cut 2-3 biscuits from the initial circle of dough, then I re-roll the dough scraps and cut more. The remaining scraps of dough are then rolled up into the last biscuit.
Brush with half and half, add sugar. Place the biscuits on your prepared baking sheet. With a pastry brush, top each biscuit with some half and half. Then finish with a sprinkle of sugar.
Bake. Bake for 20-24 minutes until golden. Remove from the oven and cool completely on the baking tray.
Assemble and Serve
Slice the biscuits in half. Place the bottom of a biscuit on a serving plate.
Assemble the layers. Top with some of the macerated berries. Add a scoop of vanilla ice cream, then a layer of whipped cream. Add some fresh berries into the layers as desired. You can also drizzle strawberry sauce on the layers if you like.
Top with the remaining piece of shortcake. Add whipped cream on top of the shortcake and top with a few slices of strawberry. Drizzle more strawberry sauce on top of your shortcake, if desired.
Serve. Grab a spoon and dig in!
Last Step:
Please
share a rating and comment
if you enjoyed this recipe! Your feedback helps this little blog thrive and continue providing free, high-quality recipes for you.
Keywords: strawberry shortcake recipe, easy strawberry shortcake, best strawberry shortcake
Filed Under: