These Chocolate Crinkle Cookies are soft, chewy, and rolled in two kinds of sugar before baking. A classic Christmas cookie recipe that's perfect for the holiday season.
These classic crinkle cookies are soft, chewy, and intensely chocolatey. The cookie batter is made with melted bittersweet chocolate and cocoa powder, so there are two ways that chocolate is infused into the cookie dough. Once chilled, the batter is rolled into balls that are then doused in granulated sugar and confectioners sugar. The end result? Chocolate cookies with gorgeous cracks and sugary tops.
These chocolate cookies are perfect for holiday baking and would be an excellent addition to Santa's cookie platter. I honestly make them year round though, they really hit the spot when you need a chocolate fix!
Crinkle cookies are cookies that have crinkles. 🙂
The crinkle is created by rolling the chilled cookie dough in sugar before baking. The sugar draws moisture out of the cookies, creating cracks in the process. You can use either confectioners or granulated sugar to do this, but granulated sugar works better because of its crystalline structure.
In this recipe, we are using both granulated and confectioners sugar. The cookie dough balls are first rolled in granulated sugar, making sure that kind of sugar is closest to the dough, then the balls are rolled again in confectioners sugar.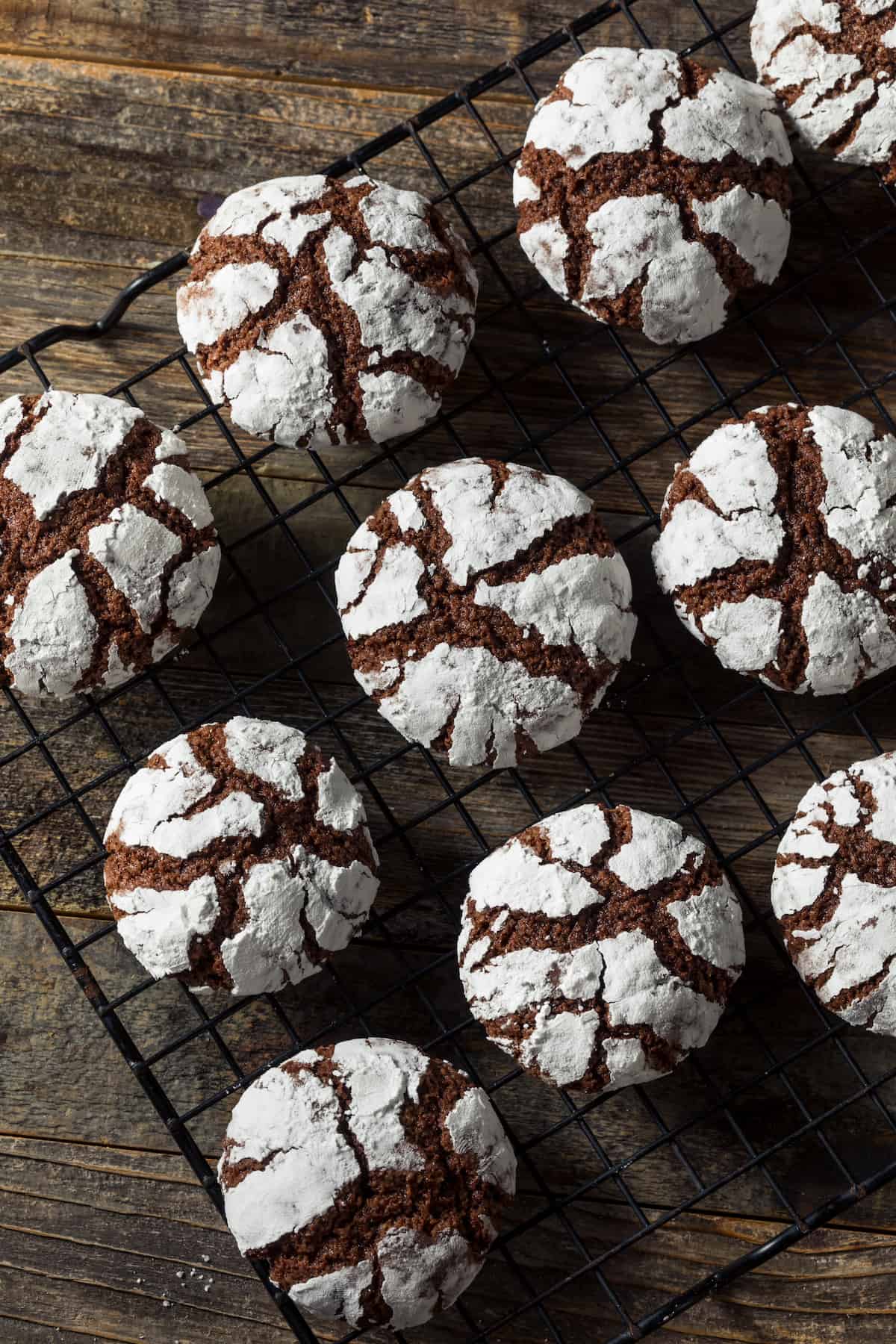 Notes on Ingredients
Here's a quick overview of what you'll need to make these chocolate crinkle cookies. Be sure to scroll down to the recipe card for specific amounts.
Bittersweet chocolate – I like to use chocolate chips for this, but you can also get bars of chocolate and break them into pieces before melting.
All-purpose flour
Unsweetened cocoa powder – I used Hershey's cocoa powder.
Baking powder
Kosher salt
Unsalted butter – At room temperature
Light brown sugar – I like my cookies to have intense chocolate flavor, however, you can increase the amount of brown sugar to 1 1/2 cups if you want your cookies to be slightly sweeter. Don't replace the brown sugar with white sugar or your cookies won't be chewy.
Eggs
Pure vanilla extract
Milk – Any kind of milk works.
For rolling:
Granulated sugar
Confectioners sugar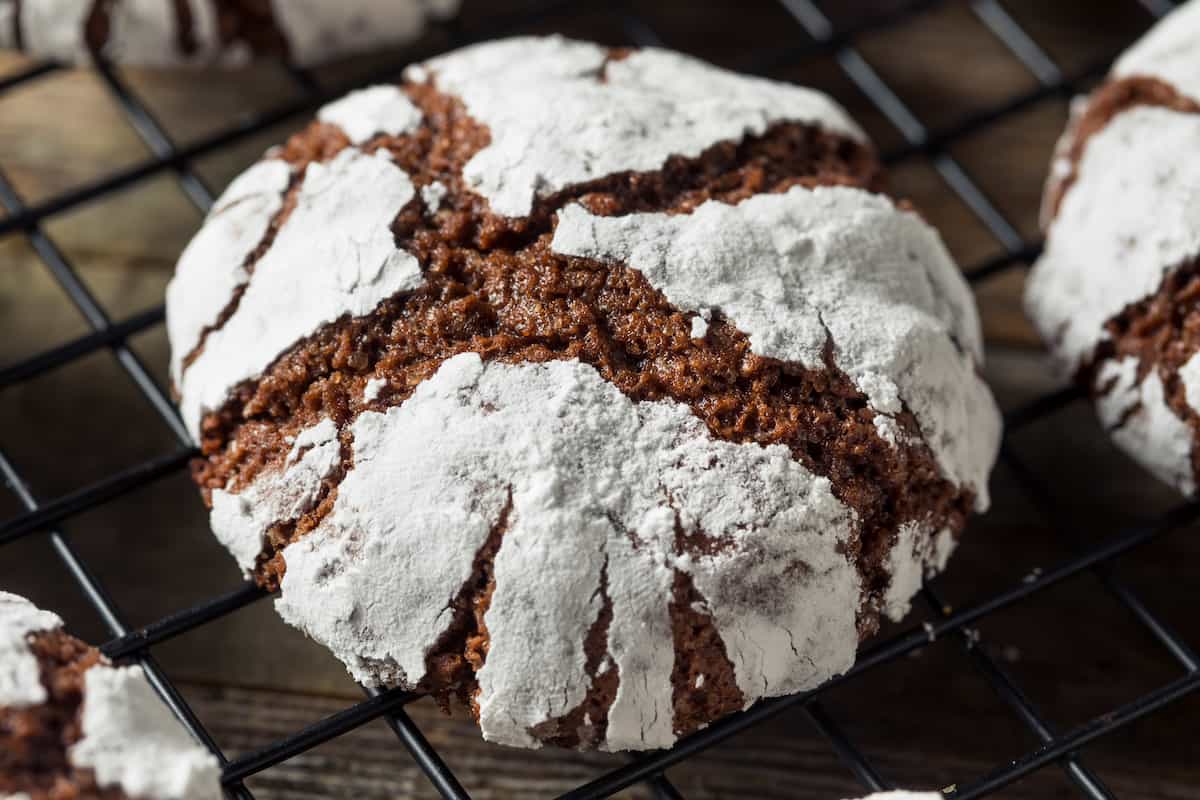 It never hurts to have a few tricks up your sleeve to make sure your cookies bake up perfectly! Here are my tips:
The dough is sticky. The batter for these cookies will be sticky when you go to roll it into balls, so expect to get some cookie dough stuck to your hands as you roll them.
Rolling perfect cookie dough balls. Because the dough is so sticky, it can be difficult to get perfectly rolled balls. The best way to get around this is to shape the dough into a rough ball, then roll it in the granulated sugar, and then finish rolling the dough into a ball. The sugar will stick to the dough and make it easier to finish rolling them.
Be generous with the confectioner's sugar. When you go to roll the dough in the confectioner's sugar, make sure the cookies get a thick coat. The simplest way to ensure this is to take your time and gently press each ball of dough into the sugar before placing it on your baking sheet.
Check for the crack. These cookies are done baking when they have cracked nicely on top. They will still be quite soft but will firm up as they cool. Don't keep on baking them until they are firm or you'll end up with hard cookies.
Let them cool. Wait at least 30 minutes before removing the cookies from the baking tray to finish cooling (or to dig in). If you try to remove them too soon, the cookies will not have had enough time to finish firming up and the bottoms will break.
How to Store
Let the cookies cool completely, then store them in an airtight container on the counter for up to 3 days. You can also store them in an airtight container in the fridge for up to 5 days.
Print
These Chocolate Crinkle Cookies are soft, chewy, and rolled in two kinds of sugar before baking. A classic Christmas cookie recipe that offers the perfect chocolate fix.
Author: Rustic Family Recipes
Prep Time:

15 minutes

Chill Time:

1 hour 30 minutes

Cook Time:

15 minutes

Total Time:

2 hours

Yield:

18 cookies

Category:

Cookies

Method:

Oven

Cuisine:

American
8 oz

bittersweet chocolate

1 1/4 cups

all-purpose flour

1/2 cup

unsweetened cocoa powder

2 teaspoons

baking powder

1/4 teaspoon

kosher salt

1/2 cup

unsalted butter, at room temperature

1 1/3 cup

light brown sugar

2

large eggs

1 teaspoon

pure vanilla extract

1/3 cup

milk
For rolling:
1/2 cup

granulated sugar

3/4

–

1

cup confectioners sugar
Instructions
Melt the chocolate. Set a medium heatproof bowl over a small pot of simmering water. Make sure the bowl is completely dry. Add the chocolate and melt over the heat, stirring frequently. Set aside to cool.
Mix dry ingredients. In a medium bowl, combine the flour, cocoa powder, baking powder, and salt. Set aside.
Cream butter and sugar. In the bowl of a stand mixer fitted with a paddle attachment, beat the butter and brown sugar until light and fluffy, about 2 minutes.
Add chocolate, eggs, and vanilla. Add the cooled chocolate to the creamed butter and sugar, and mix well. Add the eggs and vanilla and mix well.
Add dry ingredients and milk. Add half of the dry ingredients, then half of the milk, and mix to combine. Add the remaining dry ingredients and the rest of the milk. Mix well, scraping down the sides and bottom of the mixing bowl with a spatula.
Chill the dough. Place the mixer bowl in the fridge and chill the dough for at least 1 hour 30 minutes and up to 2 hours 30 minutes. If you need to cut down the chill time, you can instead place the bowl in the freezer for 45 minutes.
Prep your tools. Preheat the oven to 350F and line two baking sheets with silpats or parchment paper.
Prep the rolling sugar. Get two small plates. In one place the granulated sugar. In the other, place the confectioner's sugar.
Roll the dough. Scoop about 1 1/2 tablespoons of cookie dough and roll it into a ball. The dough will be sticky. Roll the cookie dough ball in the granulated sugar, then roll it in your hands a bit more to get a nice spherical shape. Lastly, place the cookie dough ball in the confectioner's sugar and gently move it about to cover all sides with a thick coat of sugar. Place each ball on your prepared cookie sheet, making sure there are at least 2 inches of space between each ball of dough.
Bake. Bake the cookies for 15-16 minutes until cracks form. You may need to bake in two batches, depending on how many ovens you have and/or the size of your ovens.
Cool. Let the baked cookies cool for at least 30 minutes before attempting to remove them to a cooling rack. This is very important. If you try to move them too soon the bottoms of the cookies will break.
Last Step:
Please
share a rating and comment
if you enjoyed this recipe! Your feedback helps this little blog thrive and continue providing free, high-quality recipes for you.
Keywords: crinkle cookies, chocolate crinkle cookie recipe, chewy cookies, cookies for santa plate
This post may contain affiliate links. Please read our disclosure policy.