This fall-apart-tender chicken birria recipe is simmered for hours in a flavorful sauce brimming with smoky Mexican chilies and spices. Use the shredded chicken to make chicken birria tacos filled with melty cheese!
This chicken birria is spicy, smoky, and slow-cooked on the stove-top in a combination of broth and zesty chili sauce. The result is incredibly tender chicken that comes apart with a fork. Stuff the chicken it into a corn tortilla, pan-fry it, and then dip it in the leftover sauce birria sauce to make chicken birria tacos. Yum!
You can add many different toppings to your chicken birria tacos, and the meat makes wonderful leftovers. I love having a batch of leftover birria meat in the freezer for last-minute meals!
Why You'll Love This Chicken Birria Recipe
These flavor-packed chicken tacos put a fun, easy spin on a classic Mexican birria recipe. Here's why you'll love this recipe:
Full of flavor. The chicken in this recipe gets slow-cooked in broth until it's tender and juicy, then shredded and combined with a spicy, flavorful sauce. Afterward, we stuff the shredded chicken into corn tortillas that are fried until golden and crispy. So good!
Leaner than beef. Many birria recipes are beef-centric, so this version with chicken packs all the flavors you love into a leaner, lighter meal.
Versatile. Why stop at tacos? Chicken birria stores and freezes like a dream, meaning that you can use your leftovers for even more easy meal ideas. See the section later on for details.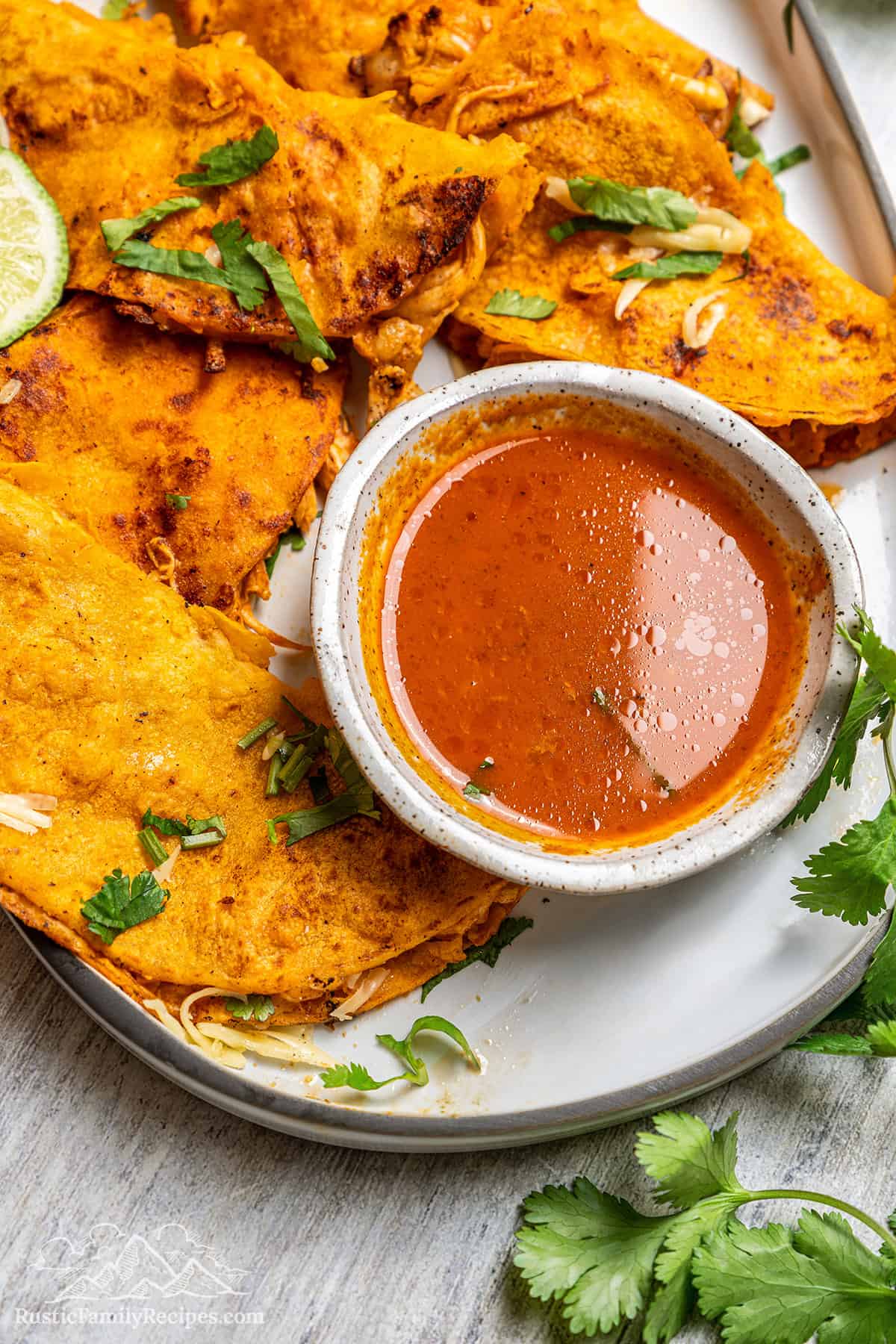 What Are Birria Tacos?
Birria tacos are a Mexican dish traditionally made from meat that's marinated in a flavorful chili sauce and then cooked in broth. Once tender, the meat gets stuffed between the folds of a corn tortilla and finished with a spritz of lime and sometimes cheese (in the case of quesabirria tacos).
Many birria recipes are made with goat, beef, or mutton. This recipe uses approachable, bone-in chicken breast and transforms it into something truly magical.
What You'll Need
Below is a brief summary of the ingredients you'll need to make chicken birria tacos. Remember to scroll to the recipe card for the full recipe details.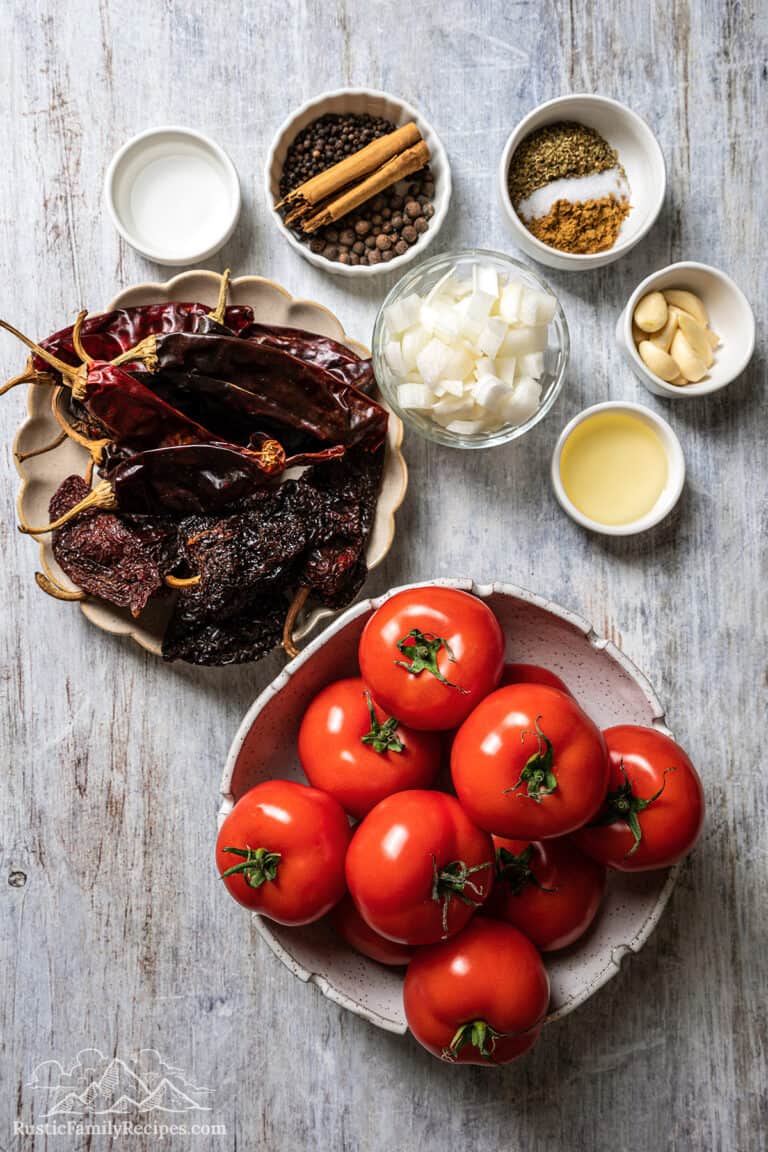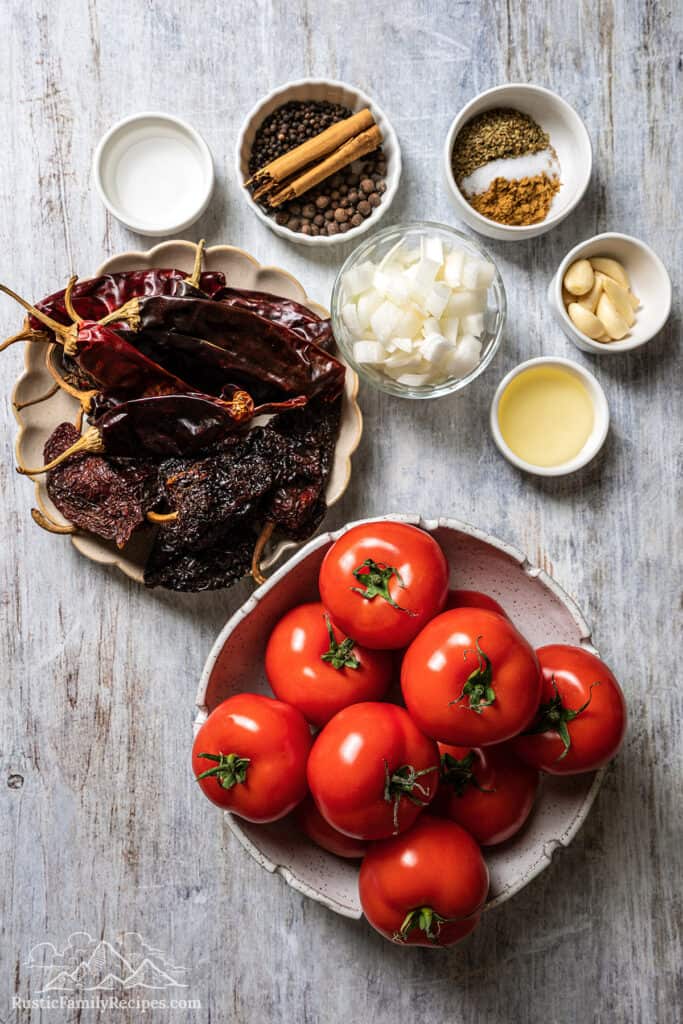 For the chicken birria:
Olive Oil – I prefer to cook with extra virgin olive oil. However, your preferred mild-flavored cooking oil (like vegetable oil or avocado oil) will also work.
Tomatoes – Make sure to choose ripe, juicy tomatoes for the best sweetness and flavor. Any variety will do.
Onion and Garlic – Our essential aromatics. You'll need one white or yellow onion and a handful of whole garlic cloves (I use 10 cloves, but you can adapt the number to suit).
Allspice – I love shopping for ingredients in my local Mexican supermarket, where allspice is also called "pimienta gorda". It brings a warm, spiced flavor to the sauce. You'll also need fresh Black Peppercorns, one half of a Cinnamon Stick.
Chilies – This chicken birria uses a combination of trimmed and deseeded ancho chilies and guajillo chilies. These two dried chili varieties form the Mexican "Holy Trinity" of chilies along with arbol peppers (which I leave out here). Feel free to adapt the amount of chili to taste.
Vinegar – I add a splash of white vinegar for acidity.
Spices – You'll need ground cumin and dried oregano, along with kosher salt to round out the flavors.
Chicken Breast – You'll need about 3 ½ pounds of bone-in, skin-on chicken breasts. This is the only kind of chicken I recommend for birria because it's easier to shred and you'll need fewer pieces. You'll simmer the chicken with Bay Leaves for added flavor.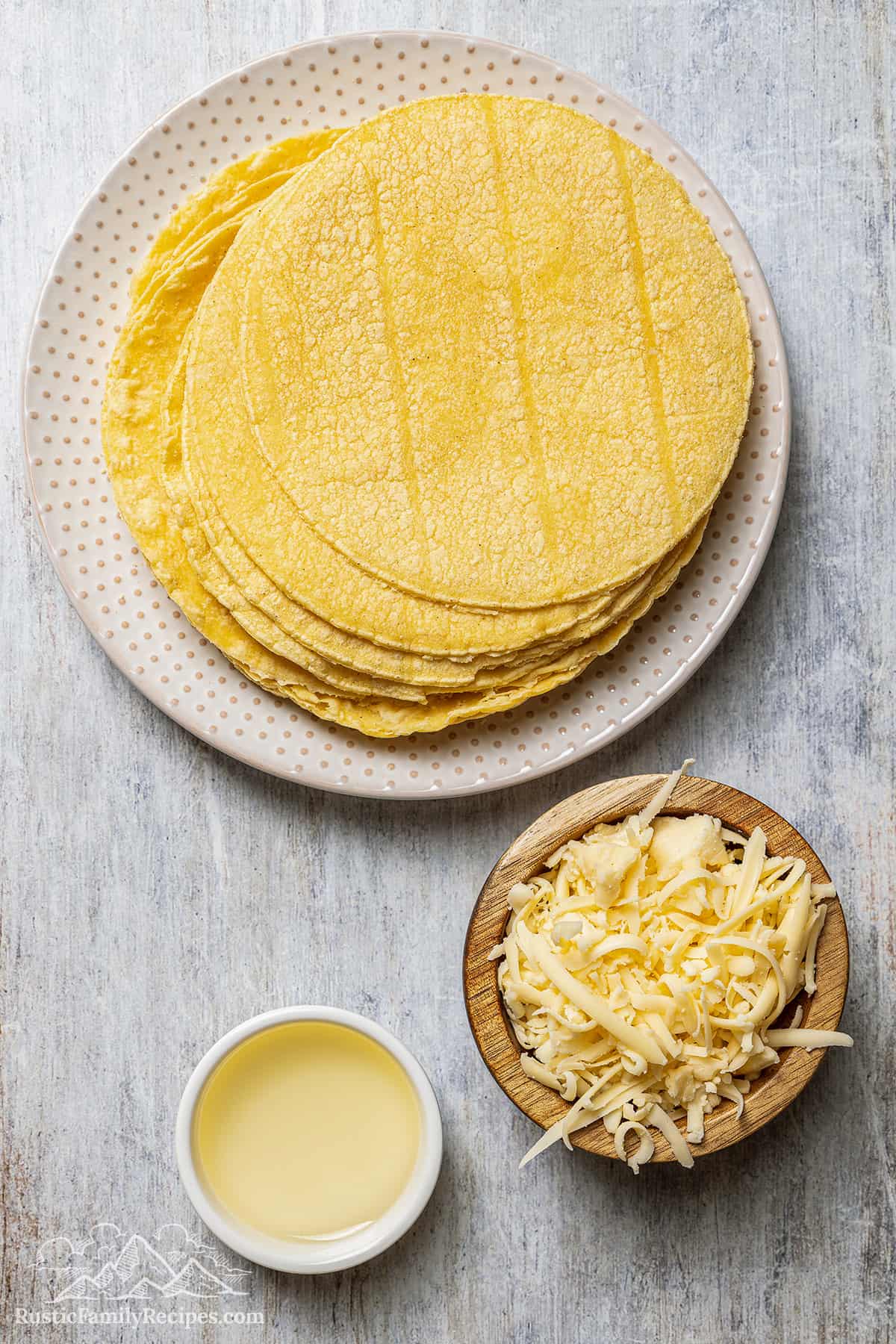 For the tacos:
Tortillas – Authentic birria tacos use corn tortillas. Don't use flour tortillas, as you'll wind up with birria burritos instead.
Oil – For pan-frying.
Shredded Cheese – You can also use thinly sliced cheese. Mexican cheeses like Chihuahua, Oaxaca, and Manchego are best for this recipe.
How to Make Chicken Birria Tacos
Ready to make some delicious, authentic Mexican-style chicken tacos? Let's get started!
Prepare the Chicken Birria
There's a bit of time involved in slow-cooking the chicken for this recipe, but the end result is more than worth it. First, we'll prepare the best chicken birria that's smoky, spicy, and melt-in-your-mouth tender.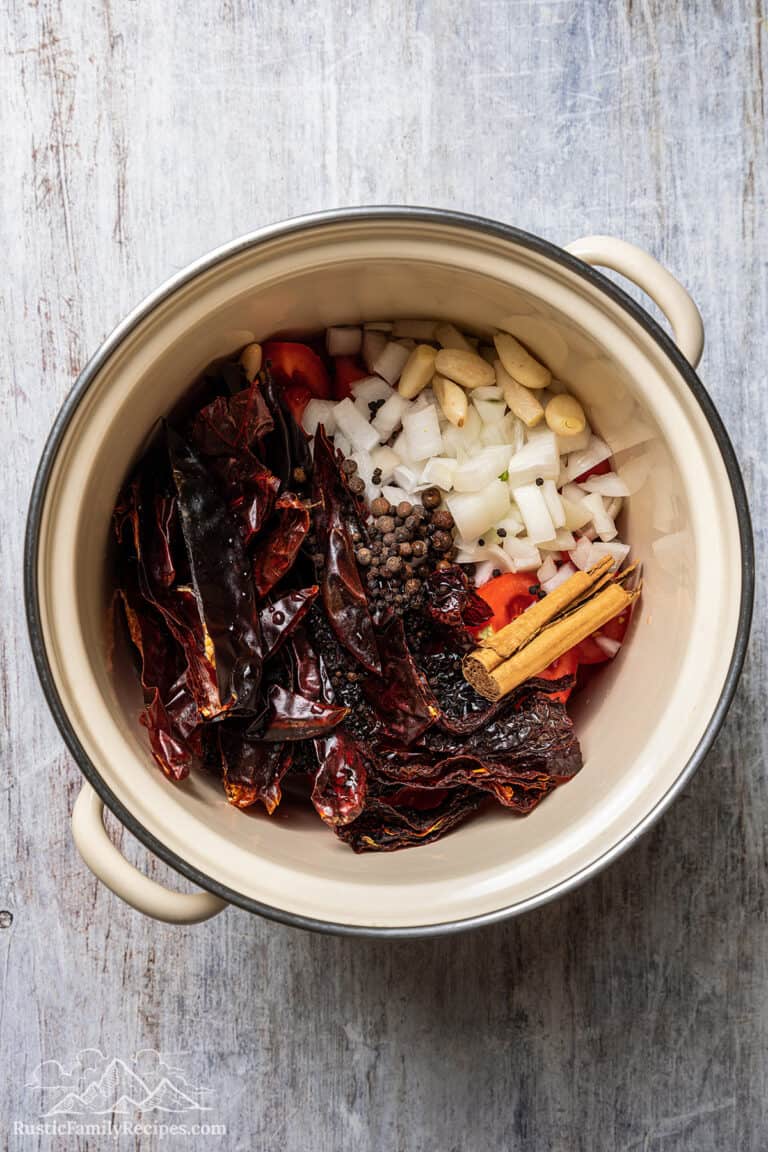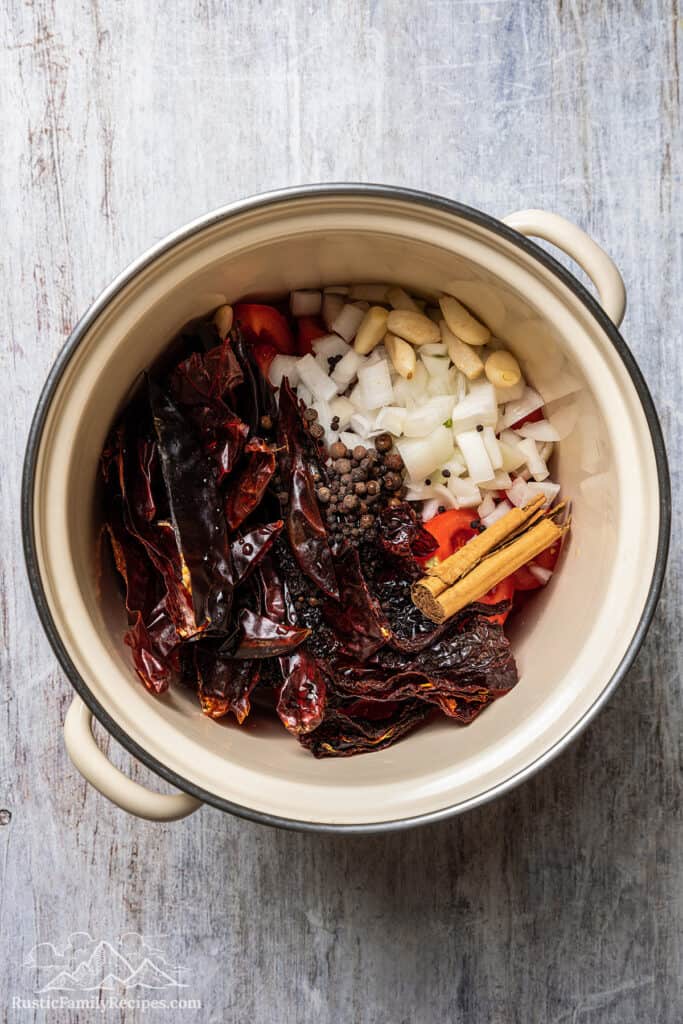 Cook the veggies. In a large pot with oil, sauté the tomatoes, onion, and garlic with allspice, black peppercorns, cinnamon, chile ancho, chile guajillo, and white vinegar. Let the contents cook, stirring occasionally until all the veggies are softened.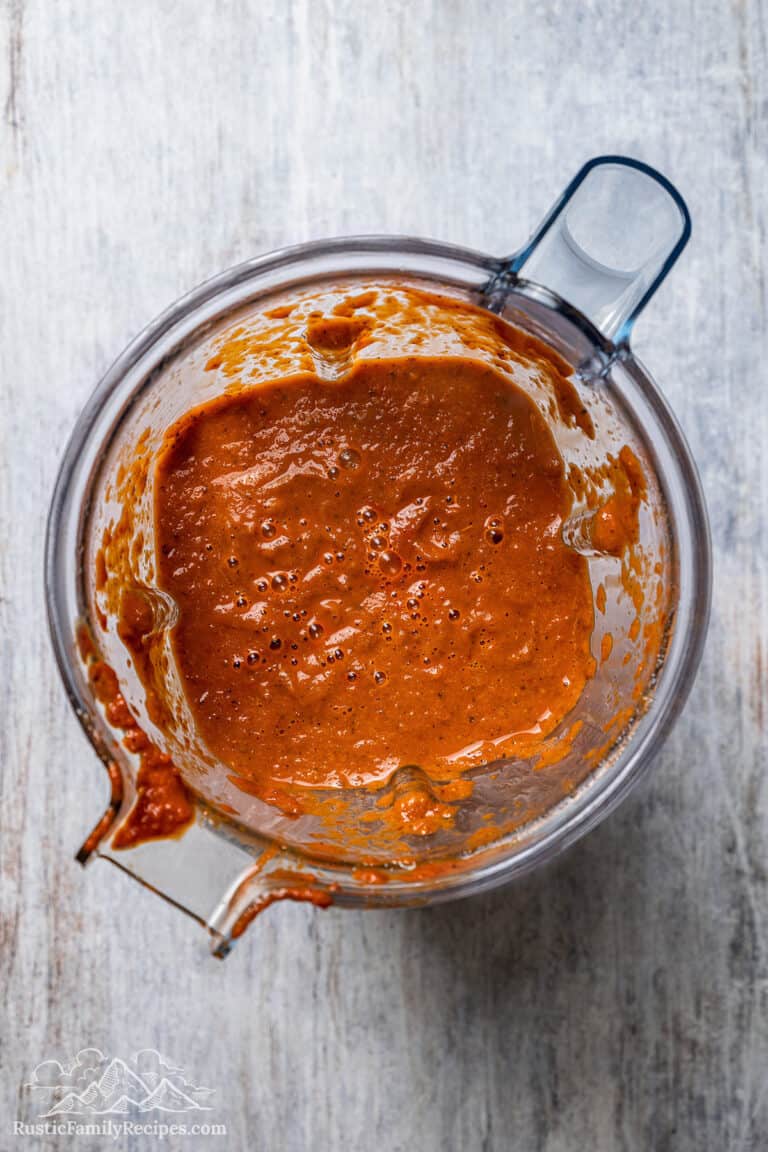 Blend the sauce. Add the veggies to a blender

(affiliate link)

and sprinkle in the cumin and oregano. Pulse the mixture until smooth, then season to taste with salt and blend it one more time before passing the sauce through a strainer. You can leave the sauce aside for now while you prepare the chicken.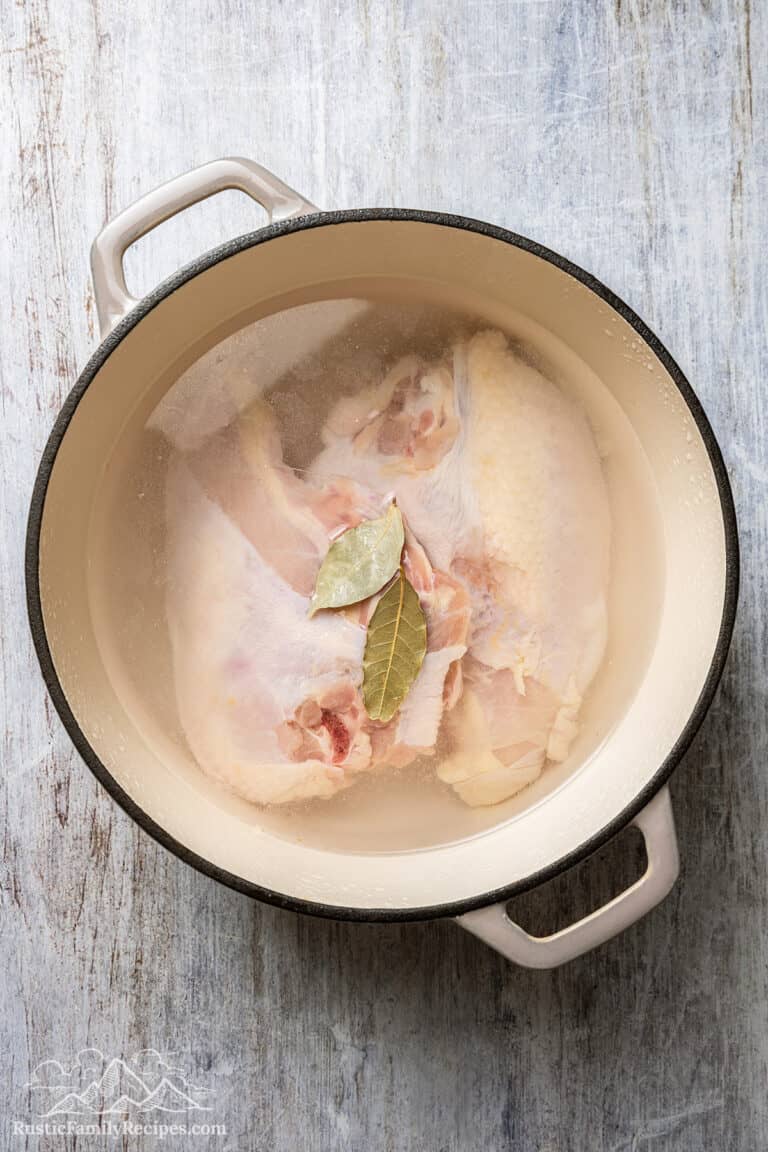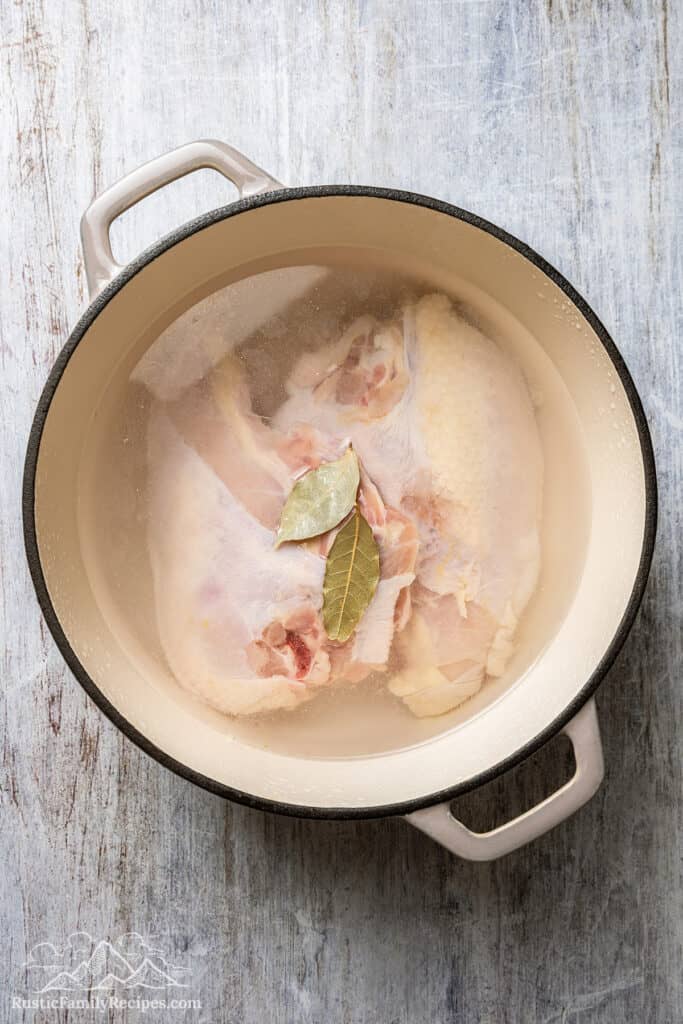 Cook the chicken. You can use the same pot you used to cook your veggies, simply give it a rinse before adding the chicken breasts. Next, add just enough water to cover the chicken and toss in the bay leaves. Bring the pot to a boil, and then lower the heat and simmer for 1 to 1 ½ hours.
Add the sauce. When the chicken is cooked through, add the blended sauce to the pot. Give it a good stir to combine, then boil and simmer the chicken again for an additional hour. This process creates a flavorful broth, also called a consomé in Mexican cooking. Finally, take the pot off the heat. Don't forget to pluck out the bay leaves.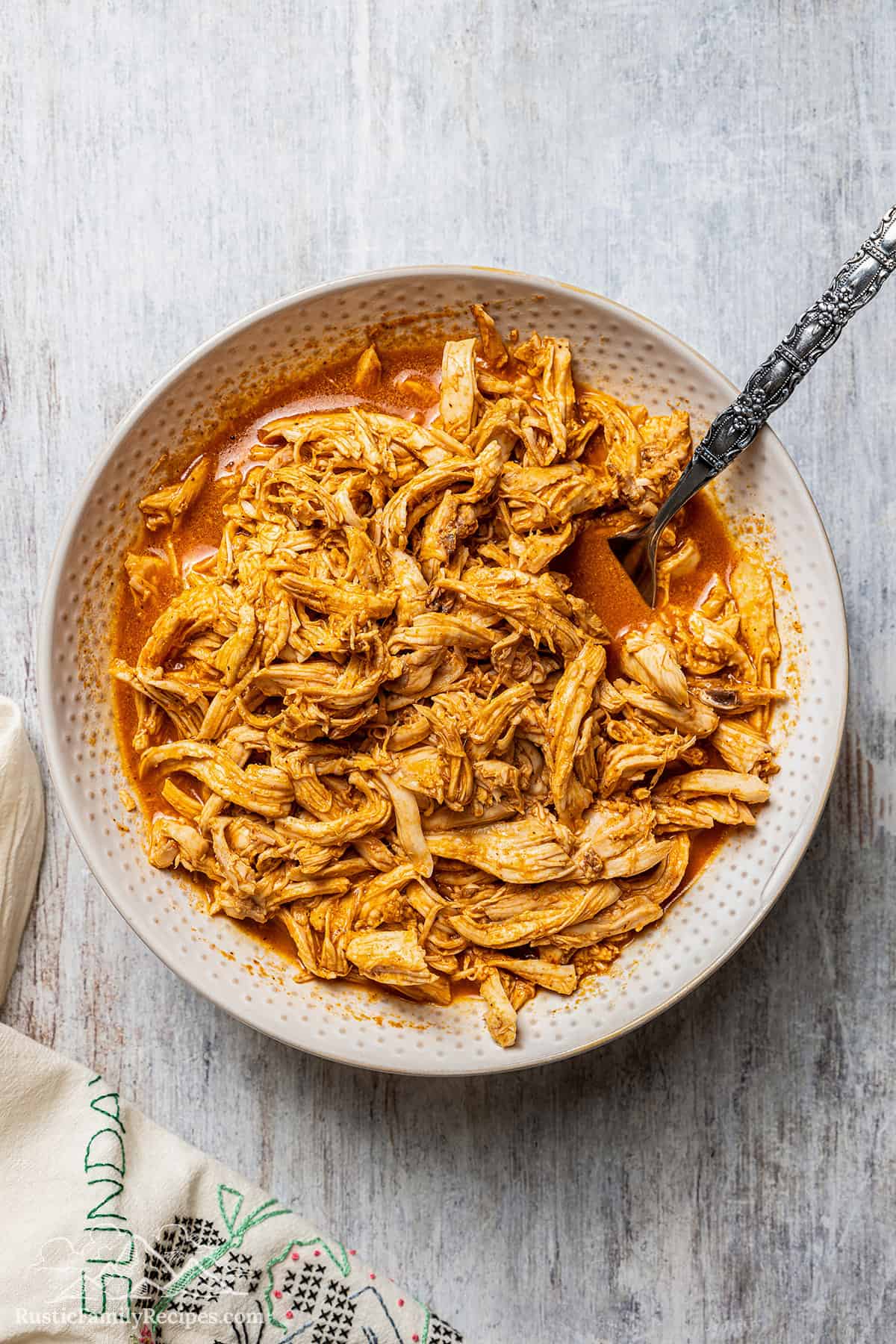 Shred the chicken. Transfer the chicken from the pot to a casserole dish or cutting board. Give it a few minutes to cool before discarding the skin, then shred the chicken using a pair of forks.
Save the cooking liquid (consomé). We are going to use the extra liquid from cooking the chicken to coat the chicken, tortillas, and also for dipping later on.
Mix the chicken. Next, combine the shredded chicken with a bit of your consomé and toss to coat.
Coat the tortillas. Now, we'll use an easy technique that adds loads of flavor to the tortillas. First heat the corn tortillas on a warm (not hot) griddle to soften them up. Then, dip each tortilla into your pot of consomé so that they're coated in sauce. Transfer the dipped tortillas to a plate.
Make the Tacos
With your shredded chicken prepared and your corn tortillas ready to go, it's time to fry up these birria tacos. This is very easy to do. Begin by heating a bit of vegetable oil in a pan for frying, then proceed with assembling your tacos.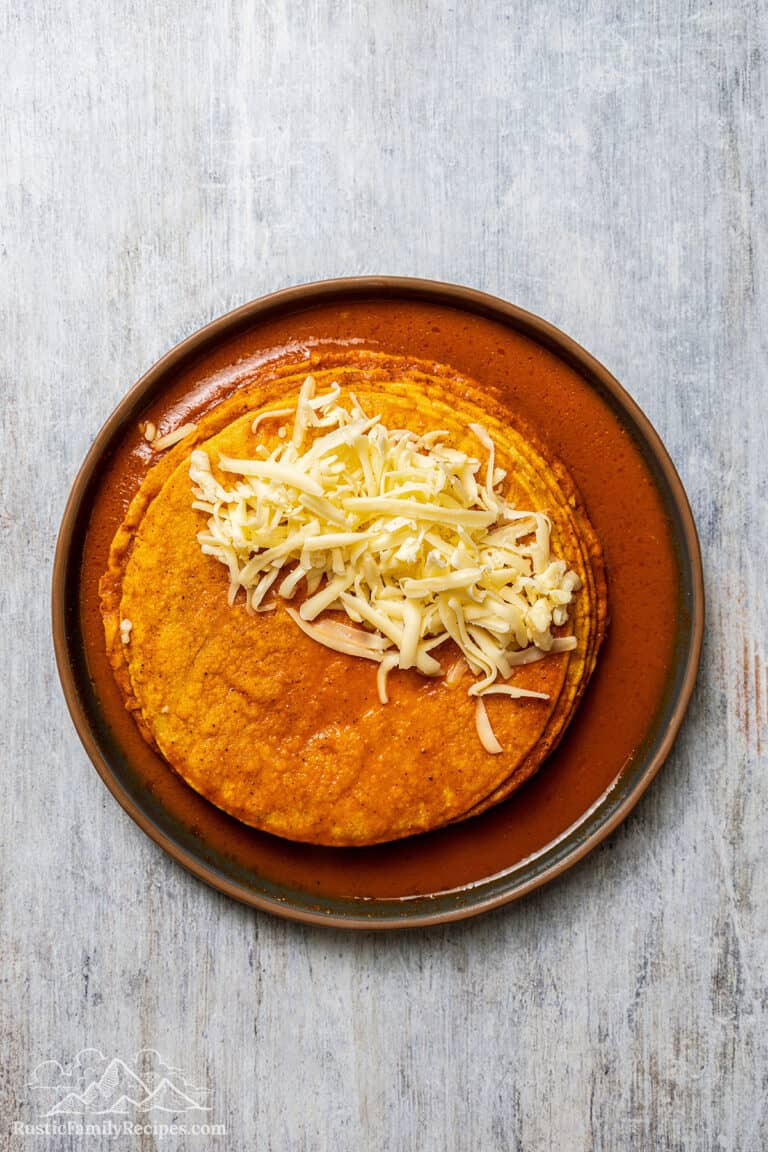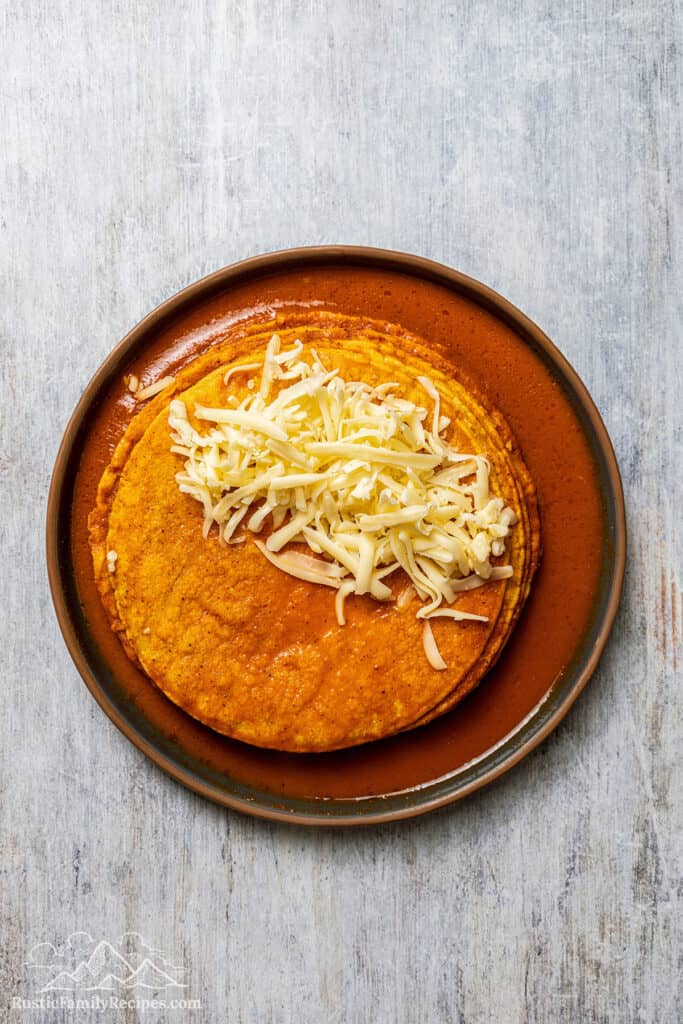 Fill the tortillas. Add a few spoonfuls of shredded chicken to one-half of each corn tortilla. Sprinkle on some shredded cheese, then fold the tortilla over like a quesadilla.
Fry. Place the taco into the pan with hot oil and fry for 2-4 minutes per side, until golden. Repeat with the remaining filled tortillas.
Serve. Once all your chicken birria tacos are fried and crispy, it's time to dig in. Serve the tacos with additional consomé for dipping, or pour the sauce right over top. See below for more serving suggestions and topping ideas.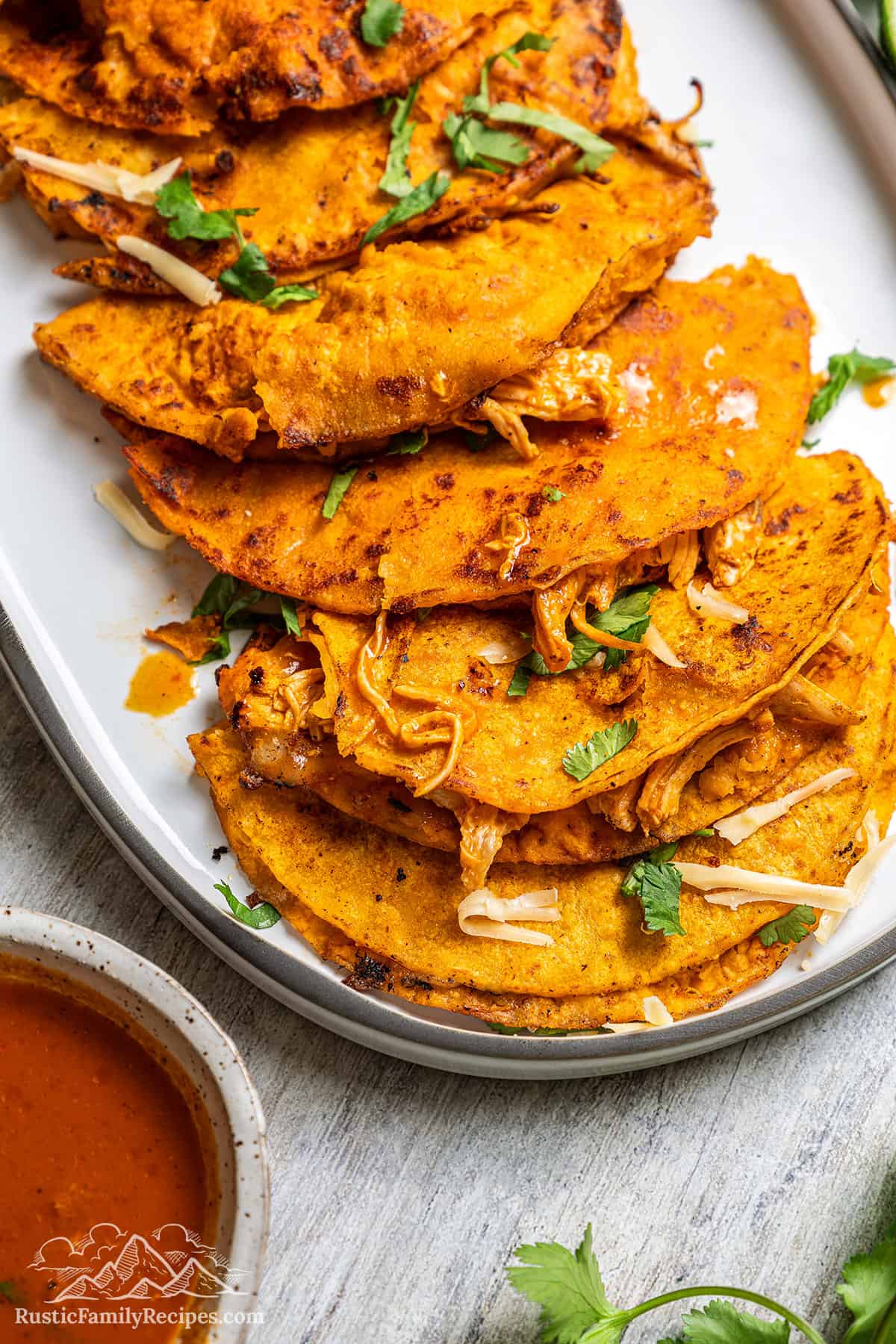 Recipe Tips
Here are my tips for the best chicken birria:
Give the meat enough time to cook. Low and slow cooking is the secret to unbelievably tender, fall-apart chicken that's not dry or chewy. Make sure to budget enough time to cook the chicken for the full 2-3 hours.
Dip and fry the tortillas. I include this step for a reason. Frying the corn tortillas after dipping them in the consomé adds tons of flavor and the best crispy texture. Don't skip it!
What kinds of tortillas are best? Not all corn tortillas are created equally and many of the varieties you find at the grocery store will fall apart quite easily. (I'm looking at you Mission corn tortillas.) My favorite brand of store-bought corn tortillas is La Tortilla Factory Yellow Corn & Wheat Tortillas.
Make this recipe dairy-free. If you're avoiding dairy, or if you'd simply rather make these tacos without cheese, feel free to leave it out.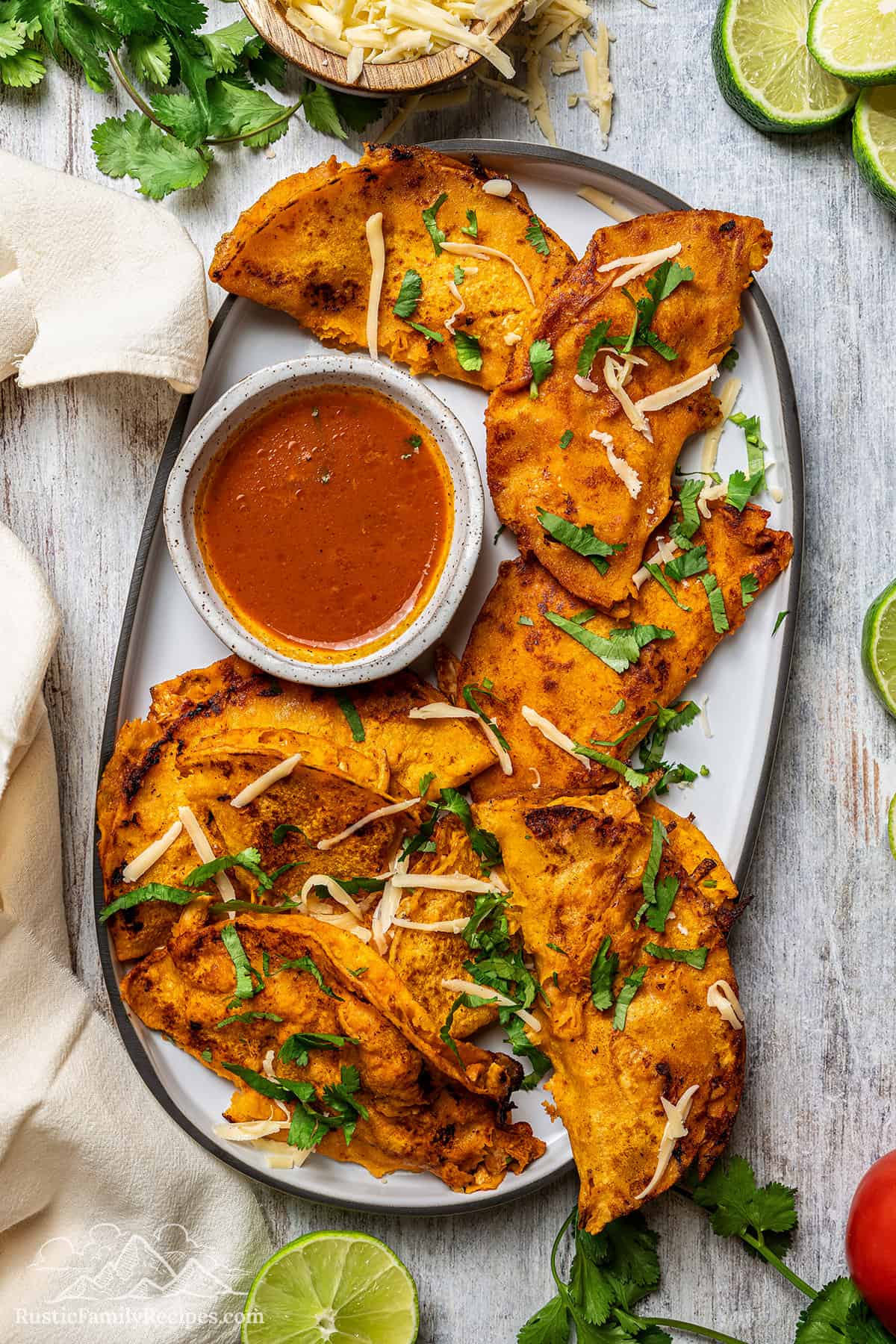 What to Serve With Chicken Birria Tacos
Chicken birria is delicious as is, with a squeeze of lime to brighten the flavor. Or, you can get creative. Serve your cheesy chicken tacos with one or more of these easy topping ideas:
We'll turn our chicken birria tacos into a meal by pairing them with a side of Frijoles de la Olla or Instant Pot Mexican Rice. If you're entertaining, wash everything down with a fresh and easy Blood Orange Margarita.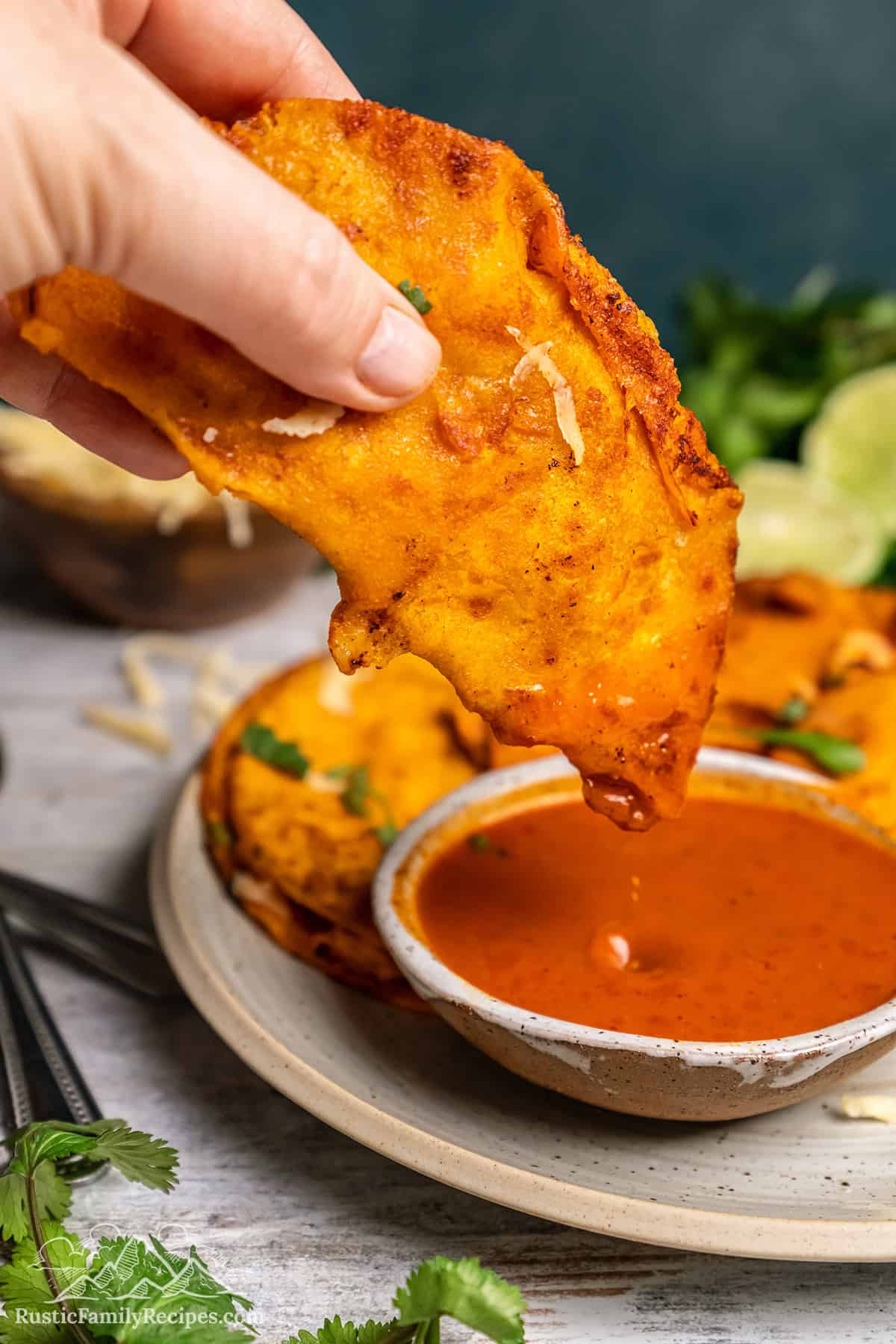 Ways to Use Leftover Chicken Birria Meat
You can use extra chicken birria meat the same way you would use beef birria. Here are some of my favorite ideas:
Quesadillas or Mulitas: Make a simple quesadilla with some cheese, tortillas and leftover meat. Or go-to-town by adapting by using chicken birria instead of beef in my mulitas recipe.
Flautas: These are an easy way to use most kinds of extra meat! You can add chicken birria to my black bean flautas, or adapt this birria flautas recipe.
Enchiladas: Use extras to make enchiladas suizas or birria enchiladas.
Burritos: Stuff extra meat into flour tortillas along with leftover arroz rojo (red rice), refried beans and your favorite kind of cheese.
Pizza: Yes, you can add birria meat to pizza! I have a birria pizza recipe that you can use, just swap the beef birria for chicken birria.
Storing and Reheating Leftovers
I don't recommend storing the assembled tacos for later, as the tortillas can become soggy after a while. Plus, these tacos are so tasty, we hardly ever have leftovers! If you absolutely must store your birria tacos once they're made, wait until they've cooled completely and then store them airtight in the fridge for up to 2 days. Reheat the tacos by frying them on the stovetop, or placing them into the oven at 350ºF until warmed through.
The leftover birria meat on its own can be refrigerated in an airtight container for up to 1 week. You can also freeze the shredded chicken for longer storage, see below.
Can I Freeze Chicken Birria?
Yes, this chicken birria recipe freezes super well. Store the shredded chicken inside an airtight container or freezer bag and freeze it for up to 3 months. Thaw your chicken birria in the fridge before reheating and serving.
Enjoy!
Print
Chicken Birria Tacos
Mexican-style chicken birria tacos made with fall-apart-tender chicken cooked in a flavorful consomé brimming with chilies and spices.
Author: Rustic Family Recipes
Prep Time:

1 hour

Cook Time:

2 hours 40 minutes

Total Time:

3 hours 40 minutes

Yield:

16 servings

Category:

Dinner

Method:

Stovetop

Cuisine:

Mexican
For the sauce:
1 tablespoon

olive oil

9

large tomatoes, roughly chopped

1

large white onion, roughly chopped

10

medium garlic cloves

1 tablespoon

whole allspice

1 tablespoon

whole black peppercorns

1/2

large cinnamon stick

5

ancho chiles, seeds and stem removed

8

guajillo chiles, seeds and stem removed

1 1/2 tablespoons

white vinegar

1 tablespoon

ground cumin

1 tablespoon

dried oregano
Kosher salt to taste
For the chicken:
3.5

pounds bone-in, skin-on chicken breasts
Water, for boiling

2

bay leaves
For the tacos:
3

–

4

pounds of corn tortillas

1 tablespoon

vegetable oil

1

pound shredded Chihuahua cheese
Instructions
Cook the veggies. Add the oil to a large pot over medium heat. Add the tomatoes, onion, garlic, allspice, black peppercorns, cinnamon, chile ancho, chile guajillo, and white vinegar. Let them cook for 5-10 minutes, stirring occasionally. Then place the lid on the pot and cook for another 15-20 minutes, stirring occasionally. This will help cook and soften all the veggies in the pot evenly and not just those at the bottom of the pot.
Blend the sauce. Add all of the cooked veggies and spices into the blender. Add the ground cumin and dried oregano. Process until you get a smooth mixture. Season with salt to taste and blend again. Strain the sauce and set it aside.
Cook the chicken. Rinse the large pot in which you cooked the veggies. You can also use a separate pot. Place the chicken inside. Cover it with water and add the bay leaves. Bring it to a boil over high heat. Next, reduce the heat to medium-low and let the chicken simmer for 1-1.5 hours or until cooked through. Occasionally remove the scum and foam that forms on top of the broth.
Pour in the sauce. Add the sauce to the chicken broth and stir well. Season with salt to taste. Bring it to a boil and then reduce the heat to medium. Let it simmer for another hour or until reduced and slightly thickened. Remove it from the heat and set it aside. Remove the bay leaves.
Shred the chicken. Remove the chicken from the pot and let it cool down slightly. Discard the chicken skin. Use two forks to carefully shred the chicken. Set it aside.
Save the cooking liquid (consomé). We are going to use the extra liquid from cooking the chicken to coat the chicken, tortillas, and also for dipping later on.
Mix the chicken. Add the chicken to a large bowl and pour in 2-3 cups of consomé (the broth with sauce.) Mix to combine. Set it aside.
Coat the tortillas. Heat the tortillas in a warm griddle or comal over low heat until bendy and pliable. Dip them in the pot of consomé (until completely coated) and then set them on a plate.
Make the tacos. Add the vegetable oil to a large pan. Fill half of each tortilla with 3-4 tablespoons of the prepared shredded chicken. Sprinkle with cheese so that the tacos have a nice amount of melty cheese in them after they are cooked. Fold the tacos in half, like quesadillas. Fry them over medium heat for 2-4 minutes on each side or until golden and crispy.
Serve. Place the tacos on serving plates. Place a small bowl of consomé on the side for dipping or pour the consomé right over them. Enjoy.
Last Step:
Please
share a rating and comment
if you enjoyed this recipe! Your feedback helps this little blog thrive and continue providing free, high-quality recipes for you.
Keywords: chicken birria tacos, chicken birria, birria tacos recipe
Filed Under:
More Authentic Mexican Recipes to Try
This post may contain affiliate links. Please read our disclosure policy.