This easy oatmeal raisin cookie recipe makes soft and chewy cookies. They are compulsively eatable! One of our favorite cookie recipes.
These easy oatmeal raisin cookies are thick, soft, and chewy. In other words, everything you want in a homemade cookie! With plump raisins that were soaked in orange juice before being added to the cookie dough, even the raisins are tender. Brown sugar, vanilla, and cinnamon add even more flavor and make your kitchen smell amazing, which is honestly one of the simple pleasures of cooking baking that just can't be replicated.
If you're typically not a raisin lover, you can swap them out with dried cranberries or even dried blueberries. But because the raisins in this cookie recipe are soaked in orange juice, you'll be surprised by how perfectly sweet they are. You can also soak them in apple juice if you prefer – either one works as long as the juice is warm, which encourages the dried fruit to soak up more liquid.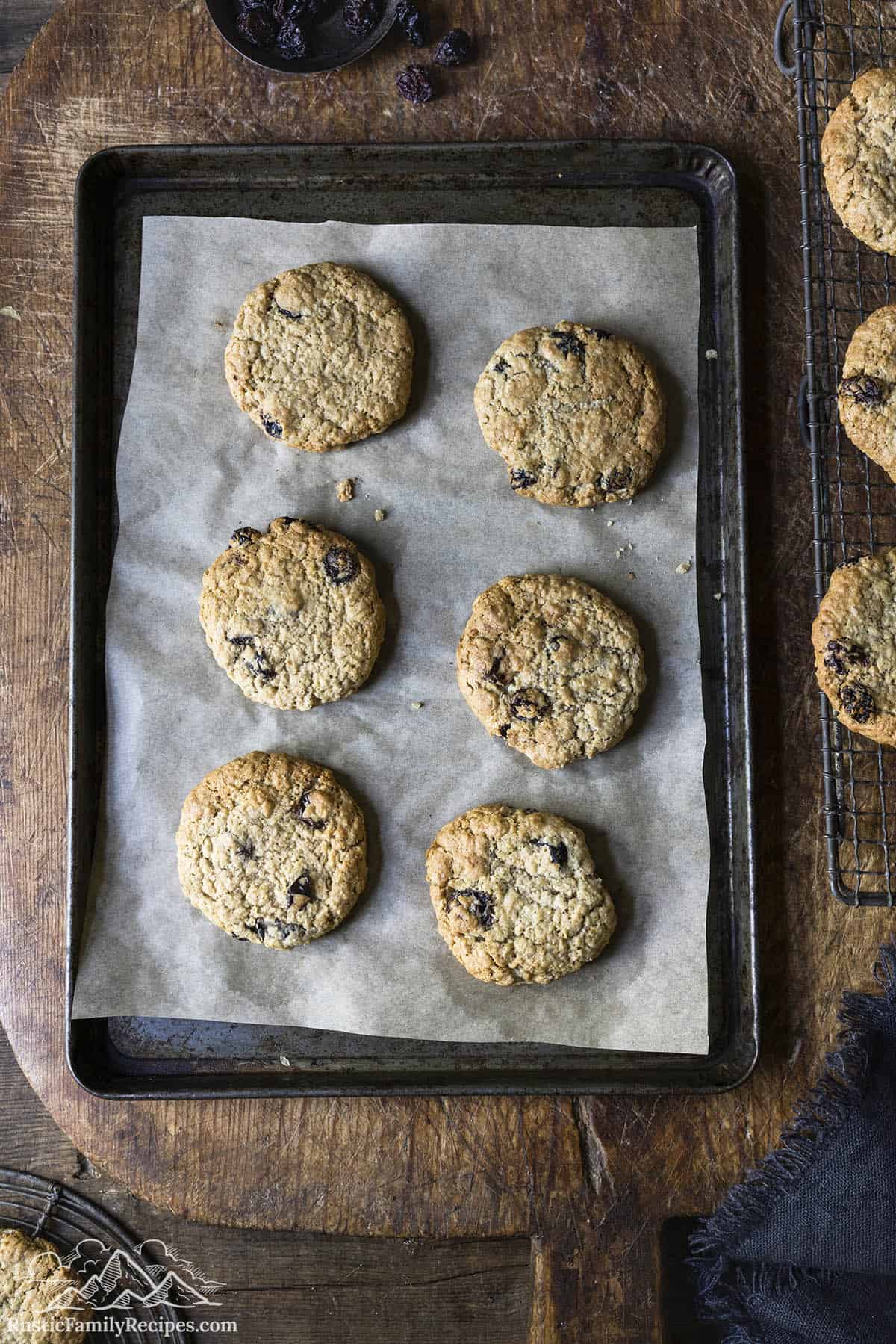 There are many reasons to love these oatmeal raisin cookies. Here are the main ones:
Perfectly sweet – These cookies are made with two kinds of sugar, raisins, and orange juice. The combination of flavors and sweetness is just right.
Plump raisins – Because the raisins are soaked in warm juice before being added to the batter, they are plump and soft. No hard bits of raisin in these cookies!
Flavorful – Brown sugar adds a slightly caramel flavor, while cinnamon and vanilla add warming notes ideal for fall baking. Your home will smell amazing by the way!
Easy – This is a simple cookie recipe without any complex ingredients or complicated techniques. Always a good thing in my book! I'm all about maximum cookie enjoyment for minimum effort.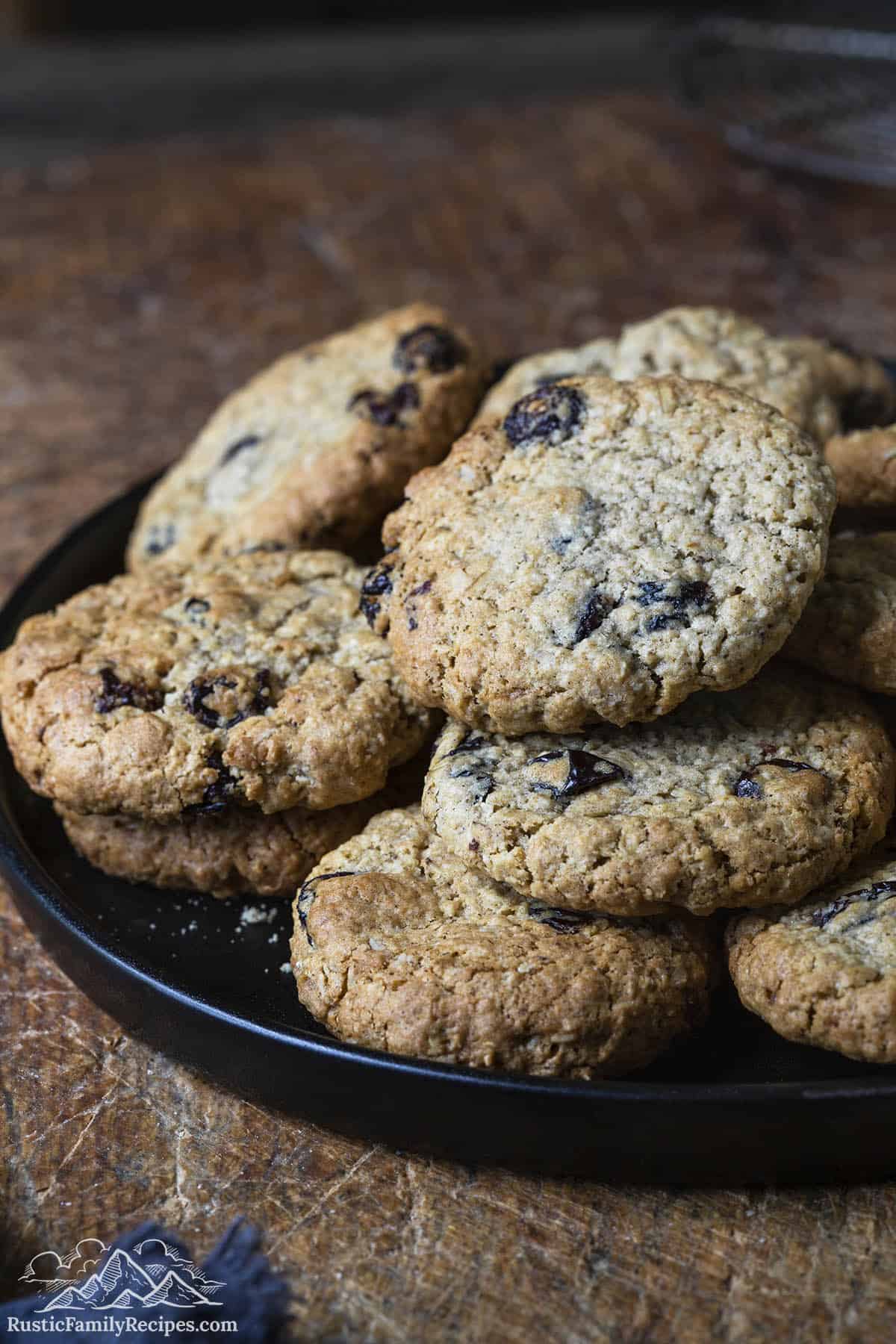 Recipe Ingredients
One of the great things about these cookies is that they only use ingredients that you're likely to already have in your kitchen. Here's what you'll need. You can find the exact amounts of each ingredient on the recipe card at the bottom of the page.
Unsalted butter – I recommend using unsalted butter so that you can have more control over the amount of salt that goes into the cookies. Make sure to take the butter out of the fridge a few hours before making these cookies, so it has time to soften. You can also put it in the microwave on low power for 30 seconds if you're in a pinch.
White sugar
Brown sugar – Brown sugar adds an almost caramel-like flavor to the cookies.
Eggs – Let them come to room temperature first. Room temp eggs are easier to combine with other ingredients.
Vanilla extract – Make sure to use pure vanilla extract, not synthetic stuff.
All-purpose flour
Baking soda
Kosher salt
Ground cinnamon
Rolled oats – It's important to use rolled oats for this recipe, and not a different style of oats.
Raisins – You can use regular or golden raisins for this recipe. If you want to substitute the raisins, dried cranberries or dried blueberries work as well.
Orange juice – We'll soak the raisins in juice before adding them to the cookie dough. You can also use apple juice.
Why are the raisins soaked in juice?
Soaking the raisins in orange juice helps the cookies in two ways. First, it plumps up the raisins as they absorb the juice. The raisins will be softer and juicier as a result. And second, it adds an additional layer of flavor that you don't normally get in oatmeal raisin cookies.
Can I use applesauce instead of butter?
I wouldn't recommend that in this recipe. However, if you want to make oatmeal raisin cookies that use applesauce, I have these Oatmeal Applesauce Cookies that are also lunchbox favorites!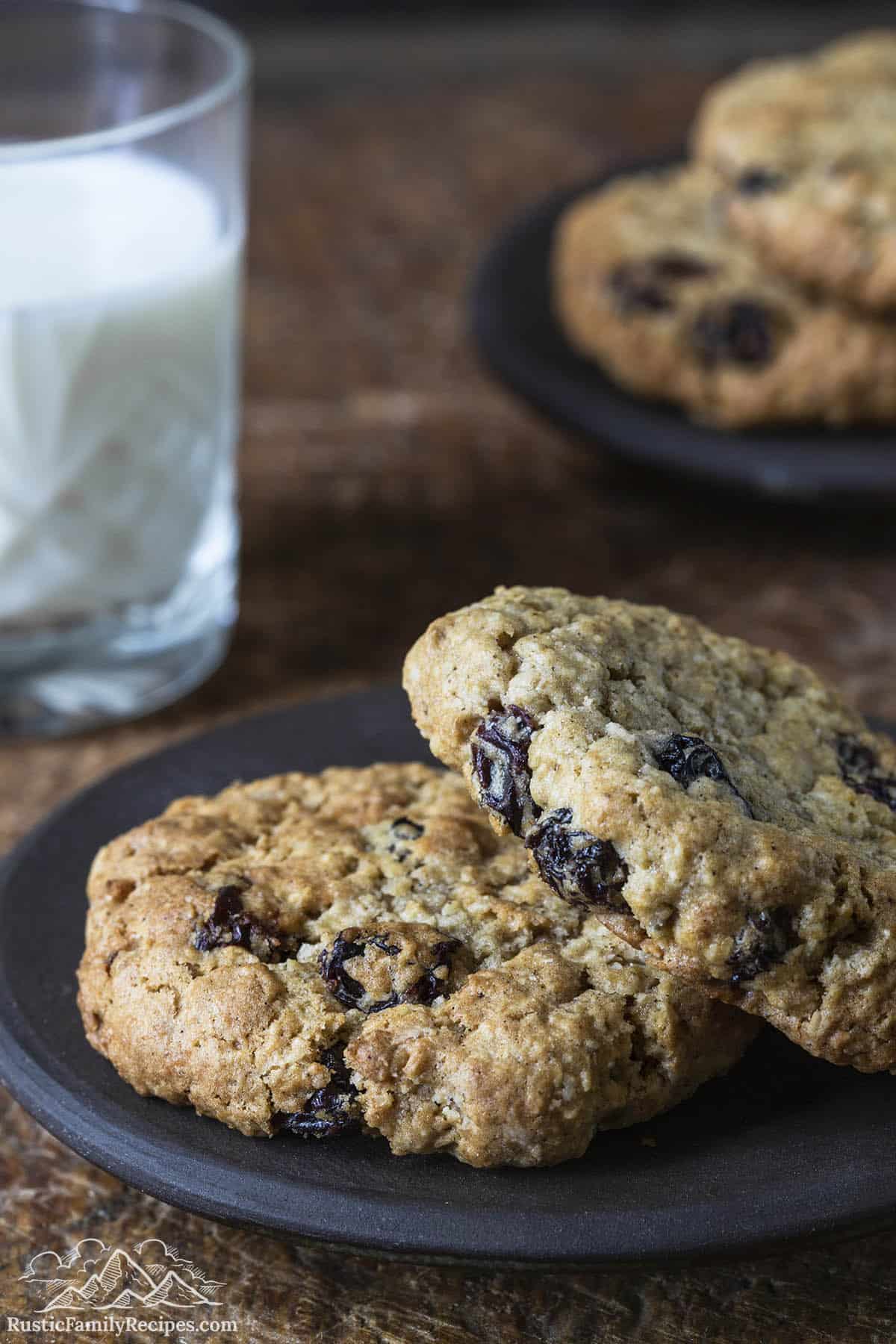 This cookie recipe is about as simple as it gets. Here's how to make them:
Soak the raisins. Add the juice to the raisins and microwave to heat them, then let them rest while they absorb all the delicious flavor.
Mix the butter, sugar, and wet ingredients. To start with the dough, mix both of the sugars and the butter with a stand mixer paddle attachment. After the mixture becomes fluffy, add in the eggs and the vanilla extract.
Mix the dry ingredients. Take the remaining dry ingredients and mix them all together in a bowl.
Combine the wet ingredients and the dry ingredients. With your stand mixer running on low, add about half of the dry ingredients to the wet ingredients. After the dry ingredients are fully incorporated into the wet ingredients, add the rest of the dry ingredients.
Add the raisins. Remove the raisins from the juice and add them to the cookie dough. Mix on the low setting until the raisins are worked into the dough. Make sure there are no dry bits of dough in the stand mixer.
Chill. Cover the stand mixer bowl with plastic wrap and put it in the fridge for an hour.
Prep your tools. While the cookies are chilling, preheat the oven to 375F, then use a silpat or parchment paper to line a baking sheet or two, depending on how many cookies you're making.
Shape the cookies. Each cookie should be about two tablespoons of dough. Roll them into balls, place them on the cookie sheet, and lightly press down on them to flatten them a little. Make sure to leave a lot of space between cookies, because they will expand when you bake them. I only do six cookies per baking sheet.
Bake the cookies. Put the cookies in the preheated oven for 10-12 minutes. The edges will be a light golden brown when the cookies are done, but the middle should still be soft.
Cool. Let the cookies rest for about 5 minutes, then transfer them to a wire rack until they've cooled.
Yes, you have to chill the cookie dough. I know, I know who wants to wait for the dough to chill right? But trust me, it's worth it. Chilling your dough gives the oats time to absorb moisture from the surrounding batter, which means your cookies will be soft and chewy. The chill time also firms up the dough a bit so that your cookies won't spread too much during baking.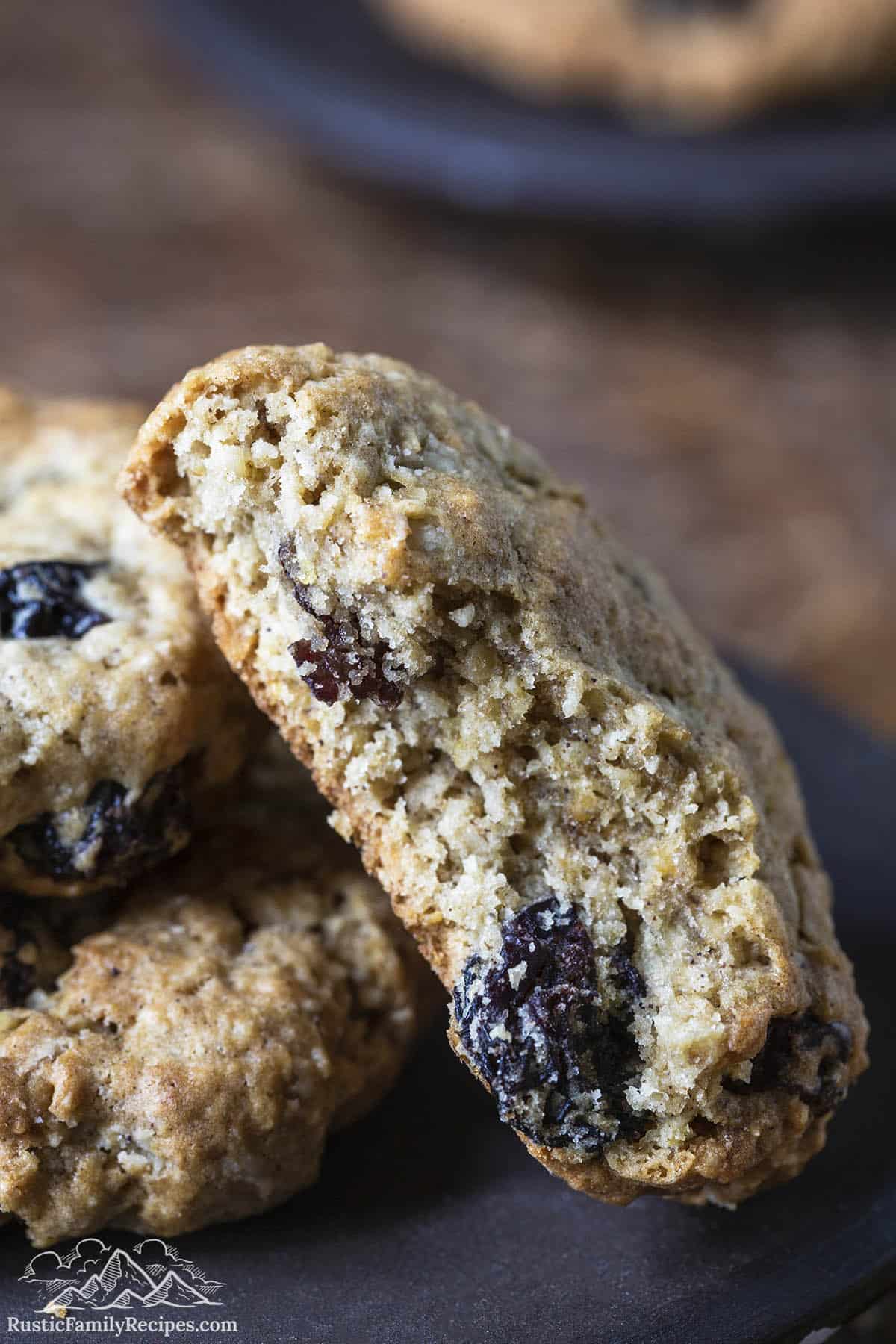 Here are some tips I use to get perfect cookies every time:
Don't overbake them. The cookies will keep cooking even after you've taken them out of the oven, so it's important to pull them out when the middle is still soft. If you bake them for too long your cookies will be hard.
Beat your butter and sugar. It can be tempting to just mix the sugar into the butter and move on to the next step in the recipe. But if you thoroughly beat your sugar into the butter, you'll create small pockets of air in the dough that make the cookies lighter and fluffier.
Don't skip on cooling time. The residual heat will finish baking the cookies, while cooling will allow the dough to firm up. Let the cookies cool for 5 minutes on the baking rack before transferring them to a wire rack to finish cooling. If you try to transfer them too soon then the centers won't have set and your cookies will break.
While these oatmeal cookies are wonderful when still warm, they're just as tasty and chewy the next day. Here are some different ways to store them.
On the counter: You can store these oatmeal raisin cookies on the counter in an air-tight container or bag. Cookies stored this way will last up to five days, but may not last as long if your home is super hot.
In the fridge: You can store your cookies for even longer in the fridge. Place them in an airtight container so that they don't dry out. They will last for up to 1 week when stored this way.
In the freezer: Cookies can be frozen for up to six months. Keep them in an air-tight bag, and make sure that you remove as much air as possible from the bag before placing it in the freezer. Individually wrapping each cookie in saran wrap also helps reduces freezer burn. To thaw the cookies, simply take them out of the bag and leave them at room temperature until they're fully thawed.
Print
These chewy oatmeal cookies are moist and cakey, with a hit of flavor from plump raisins soaked in orange juice.
Author: Rustic Family Recipes
Prep Time:

15 minutes

Chill Time:

1 hour

Cook Time:

10 minutes

Total Time:

1 hour 25 minutes

Yield:

18-20 cookies

Category:

Dessert

Method:

Oven

Cuisine:

American
1 cup

unsalted butter, softened

3/4 cup

white sugar

1/2 cup

light brown sugar

2

eggs, at room temperature

1 teaspoon

vanilla extract

2 cups

all purpose flour

1 teaspoon

baking soda

1 teaspoon

kosher salt

1 1/2 teaspoons

ground cinnamon

3 cups

rolled oats

1 cup

raisins

1/2 cup

orange juice or apple juice
Instructions
Prep the raisins. In a medium microwave-safe bowl, combine the raisins and juice. Heat in the microwave for 30 seconds. Set aside for at least 15 minutes.
Combine wet ingredients. In the bowl of a stand mixer fitted with a paddle attachment, combine the butter and both sugars. Beat on medium low until light and fluffy, about 2 minutes. Add the eggs and vanilla, then beat on low until just combined.
Mix dry ingredients. In a large bowl, combine the flour, baking soda, salt, cinnamon and rolled oats.
Combine wet and dry ingredients. Add half of the dry ingredients to the stand mixer, and mix on low until just combined. Add the remaining dry ingredients and mix on low until just combined.
Add the raisins. Pour the raisins into a sieve to remove the juice, then add to the stand mixer bowl. Mix on low until just combined. Scrape down the sides and bottom of your bowl to make sure there are no dry bits of dough.
Chill. Cover your stand mixer bowl with saran wrap and place it in the fridge to chill for 1 hour.
Prep your tools. Preheat your oven to 375F. Line a cookie sheet with parchment paper or a silpat. Set aside.
Shape the cookies. Scoop 2 tablespoons of cookie dough and roll into a ball with your hands. Place on the prepared cookie sheet, gently pressing down to slightly flatted the cookie dough ball. These cookies will spread slightly, so make sure to leave enough room for them to do so. I recommend baking 6 cookies at a time, placing the dough back in the fridge in between scooping. You will need to bake these cookies in batches. If you have more than one cookie sheet, you can use 2 at a time.
Bake. Place the cookie sheet in the preheated oven and bake for 10-12 minutes, until the edges of the cookies are a light golden brown. The centers of the cookies will still be quite soft but this is normal, they will firm up and the cookies will finish baking as they cool. Do not over bake the cookies or they will be hard.
Cool. Let the cookies cool on the cookie sheet for 5 minutes, then remove them to a wire rack to finish cooling.
Last Step:
Please
share a rating and comment
if you enjoyed this recipe! Your feedback helps this little blog thrive and continue providing free, high-quality recipes for you.
Keywords: oatmeal cookie recipe, best oatmeal raisin cookies, easy cookies
This post may contain affiliate links. Please read our disclosure policy.