This easy Challah French Toast is one of my family's all-time favorite breakfast ideas! Homemade challah bread is dipped in a sweet custard, then cooked into the best French toast of your life.
Given the number of breakfast ideas on this site, it should come as no surprise when I say my family is big into cozy recipes to start the day. This classic French toast is one of our favorites. We make it using homemade challah bread that's dipped in a sweet custard, cooked into French toast, and then topped with maple syrup, whipped cream, and fresh berries. Each slice of French toast has that ideal balance of crisp edges and pillowy centers. It is seriously so good.
What Kind of Bread is Best for French Toast?
I like to use slightly dense, semi-sweet bread for French toast. Denser bread holds up better in terms of slicing, dipping, and cooking. Not to mention holding its shape once all of that is done and you want to cut into a perfect slice piled high with your favorite toppings!
So what kinds of bread meet these parameters? Brioche and challah are my favorite. I have two challah bread recipes that work wonderfully for French toast:
Honey Vanilla Challah Bread – You can bake this as a regular 3-braid loaf or, my recommendation, bake it in a loaf pan. The bake time is the same and this produces a tighter, slightly more dense loaf that is easier to slice.
Sourdough Maple-Vanilla Challah Bread – This is is a sourdough variation of the recipe above. You can bake it as a braid or in a loaf pan.
For the photos shown here, I used my sourdough challah bread and baked it in a loaf pan. 🙂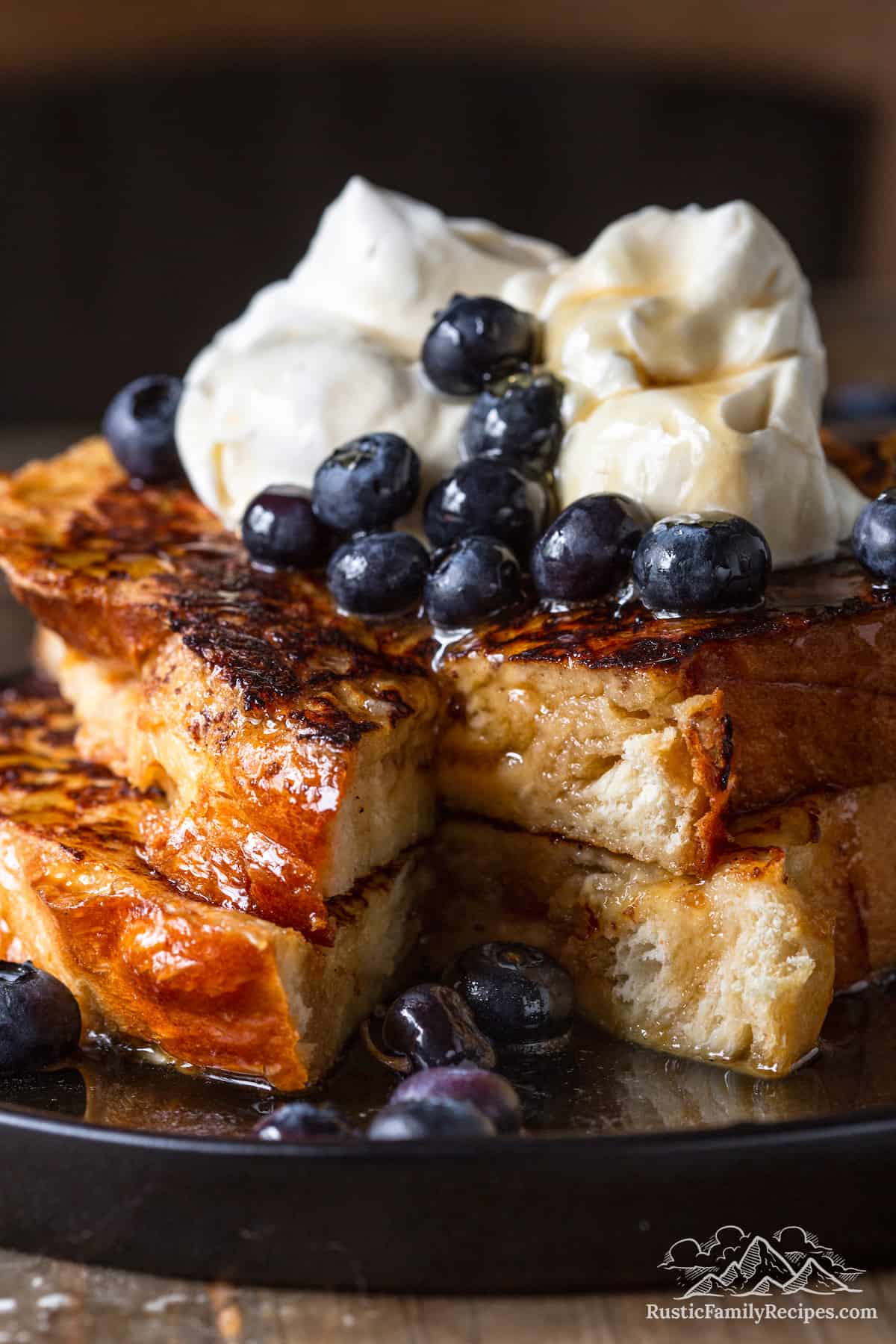 Other Names for French Toast
Although in America we call this kind of breakfast recipe "French Toast," in France it is typically called "Pain Perdu," which means "lost bread." I love the origins of this name because it perfectly describes what French bread is: stale bread that would have otherwise been unedible (aka lost), which is soaked in custard and then fried into a breakfast treat! In New Orleans, which features cuisine with strong French influences, French toast is also called pain perdu. It is usually served with confectioners sugar, similar to beignets.
The earliest form of French toast dates back to Roman times (1st century CE) in a "cookbook" called Apicius. Here the author describes taking old bread, removing the crusts, then soaking it in custard before frying it and serving with honey.
In the UK French Toast is sometimes called "Eggy Bread" and in Denmark, it's called "Arme Riddere" (Poor Knight's bread). This version of French toast is made with cinnamon sugar instead of plain sugar.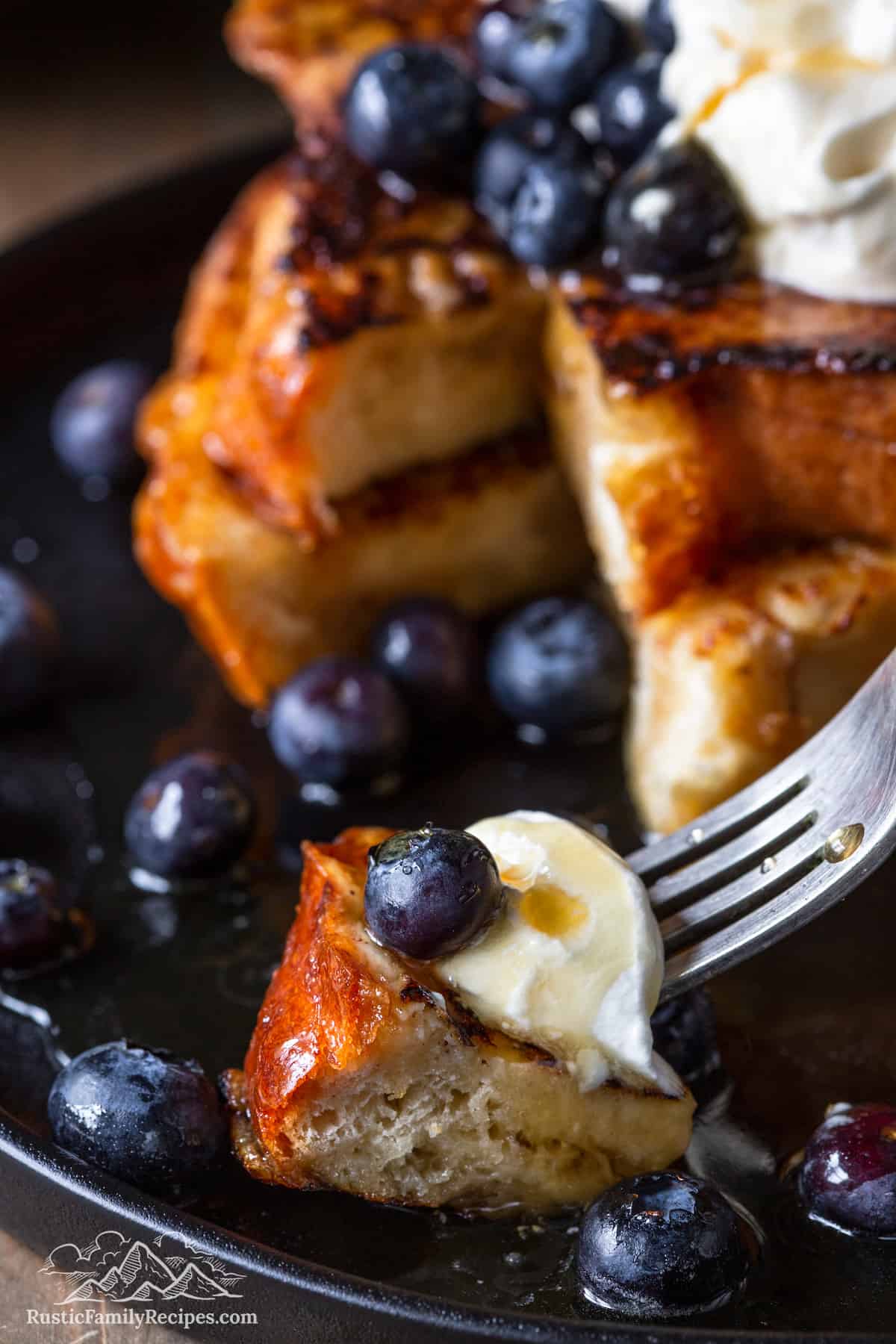 Topping Ideas
We like to serve this with maple vanilla whipped cream and fresh blueberries, plus maple syrup. But of course, the possibilities are endless! Here are some other ideas:
Confectioners sugar
Fresh fruit – Any kind of berry, fresh mango slices or fresh peach slices would be lovely.
Maple cream or whipped honey butter
Fruit butter – Apple butter or pumpkin butter are my favs.
Caramel sauce
Chocolate sauce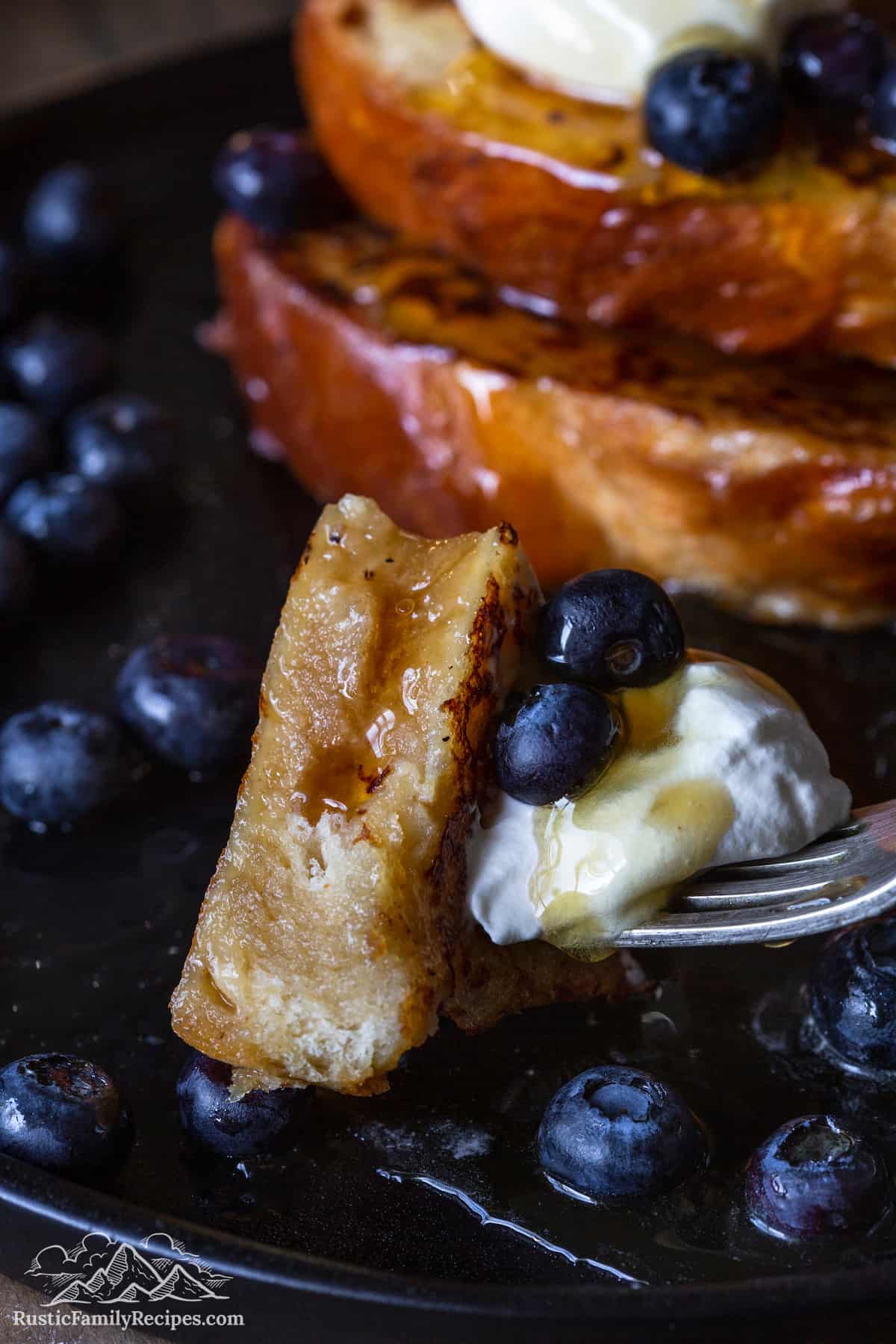 How to Store and Reheat French Toast
Let it cool to room temperature, then transfer your French Toast slices to an airtight container and store them in the fridge for up to 3 days.
To reheat, I recommend zapping individual slices in the microwave for 30 seconds, then warming them in an oven heated to 350F for about 5 minutes. This way you can quickly warm the inside of the toast in the microwave, then the oven will crisp up the edges.
You can also just reheat your French toast in the microwave or oven. However, I find the microwave-only method can make the toast soggy. Similarly, the oven-only method can crisp up the outsides too much while leaving the center cold.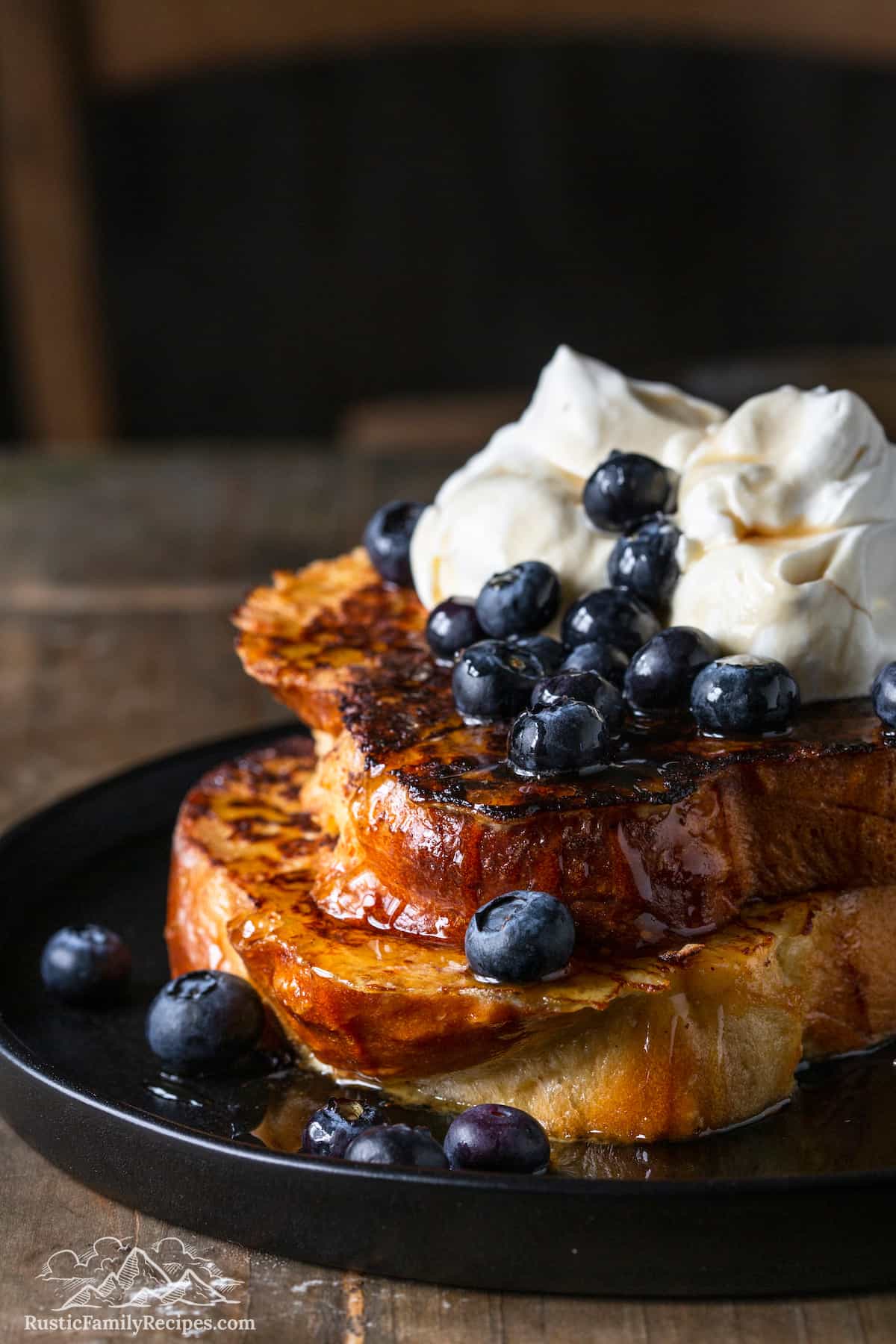 Can I Freeze Extras?
Yes, you can freeze French toast and it reheats well. Let it come to room temperature, then wrap each slice in tin foil before storing the slices in an airtight, freezer-safe container. They will keep in the freezer for up to 3 months.
To reheat, I recommend thawing them overnight in the fridge and then following the reheating instructions above. However, you can also reheat frozen French toast by zapping it in the microwave for about 1 min, then crisping it up in an oven preheated to 350F for about 5 minutes. The same guidelines apply here as outlined above.
Print
Challah French Toast
This easy Challah French Toast is one of my family's all-time favorite breakfast ideas! Homemade challah bread is dipped in a sweet custard, then cooked into the best French toast of your life.
Author: Rustic Family Recipes
Prep Time:

15 minutes

Drying Time:

8 hours

Cook Time:

10 minutes

Total Time:

8 hours 25 minutes

Yield:

4-6 servings

Category:

Breakfast

Method:

Stovetop

Cuisine:

American
For the Custard
6

large eggs

2 cups

half and half

1/4 cup

honey heated in microwave 30 seconds

1/2 teaspoon

kosher salt

2 teaspoons

vanilla extract
Pinch grated nutmeg

3

–

4

tablespoons unsalted butter, for cooking
Instructions
Make the Bread
Make the sourdough challah as described. After braiding it, place it in a greased 9×5 loaf pan and bake at 350F for 30-35 minutes until golden and baked through.
Allow to cool for 10 minutes after baking. Then remove from the pan and allow to finish cooling. Once the bread has reached room temperature, cut it into thick slices and lay them out on a cooling rack to dry overnight.
If using storebought bread. If you are using storebought bread, simply set the slices out to dry overnight. Or, use stale bread.
Make the French Toast
Prep your tools. Position a drying rack over a cookie sheet lined with parchment paper. Preheat your oven to 180F and place a separate oven-safe drying rack over a cookie sheet lined with parchment paper in the oven. (So you will need two sets of drying racks set over lined baking sheets.)
Make the custard. Mix custard ingredients thoroughly in a medium bowl and pour into a 9×9 baking dish.
Add the bread. Soak dried bread slices in custard 2 slices at a time, for about 2 minutes per side. Set the soaked bread on the drying rack to sit. Sprinkle each slice with a pinch or two of cinnamon to taste.
Cook. After sitting for ~3 minutes begin cooking the soaked bread on a griddle greased with 1 tablespoon of butter over medium heat. Don't overcrowd the pan/griddle (I cook two slices at a time).
Cook bread slices on each side for ~ 2 minutes. Check for doneness judging by color. Each side should be golden brown. Make sure the slices cook through and evenly (rotate them around if your pan or griddle has hot spots). Add ~1/2 tbsp butter to the griddle after each batch of French toast has cooked and let it foam and subside before adding the next slices.
Keep warm in the oven. When both sides are cooked, place in the oven on the prepared drying rack to keep warm.
Serve. We like to serve this with homemade whipped cream, maple syrup, and blueberries.
Keywords: french toast, pain perdu, eggy bread, challah french toast
More French Toast Recipes