This post may contain affiliate links. Please read our disclosure policy.
This simple iced coffee recipe is made with cardamon infused water and sweetened with simple syrup. Perfect for hot summer days and sipping with a slice of homemade pie.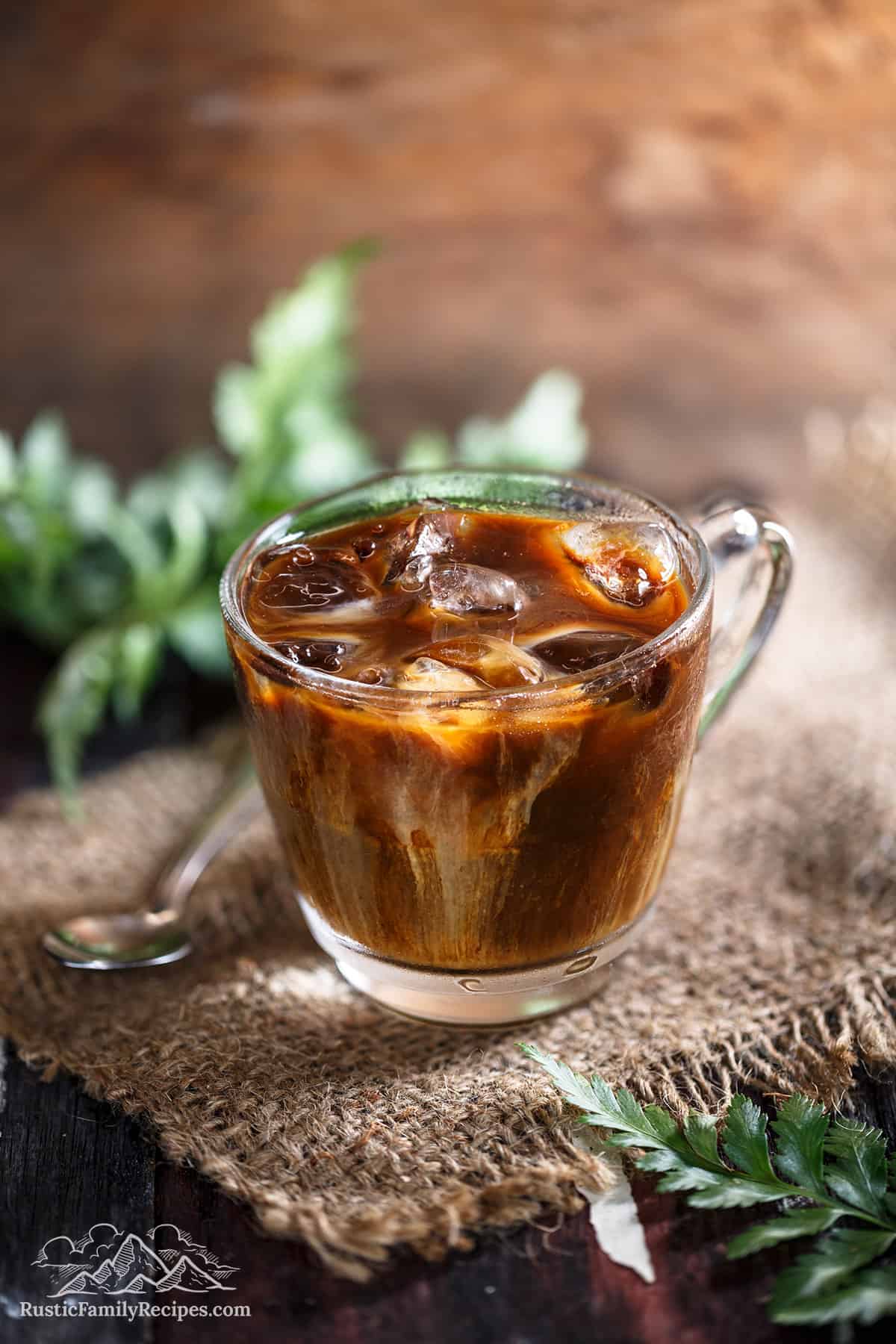 Years ago I met a spunky Italian woman in the baking section of my local bookstore. After simultaneously reaching for the same cookbook – then laughing because neither of us was willing to take it (there was only one copy) – we began talking about our favorite recipes. Eventually we hit upon the topic of friendship and at this point she said something that I remember to this day: "I love America, but after ten years there is one thing I know for sure – Americans don't know how to enjoy life."
Taken aback, I asked her why she had come to this conclusion. "I give you an example," she responded. "In Italy, if I invite a friend for pizza or coffee after work it's no big deal, they're happy to hear from me and maybe they even bring their friends along. Why not? But in America… in America everyone is so busy! It's all work, work, work and 'I can't go out because I have to get up early for work' excuses. Coffee dates mean calling weeks in advance and maybe even then they cancel! That's no way to live. Life is about people, about enjoying yourself. You Americans let life pass you by. Whoosh!"
And you know what? She was right. At the time I did work too much. I was in my early 20s and in grad school, focused on the race to achieve something undefined but incredible. Her point was further proven a few days later when I called a friend and invited her over for freshly baked scones and iced coffee. Alas, she was too busy. She had to work the next day. The second person I called also was not available…. nor was friend 3 and 4.
But before you feel sorry for me there is a happy ending. Because while my American friends didn't understand this spur of the moment getting together, I knew there was one woman who would get it. That's right! I called my new Italian friend. I'd accepted her business card after we met (why not?) and when I told her my tale of baking scones but having no one to share them with, she said: "So American! I'll meet you at the park in 30 minutes." I put the scones in a basket, made a batch of iced cardamom coffee, then headed out. We had a great time, sitting in the warm sun, nibbling on fresh scones, and sipping iced coffee.
This was probably 15 years ago now. Gosh, so hard to believe! And while we lost touch when she moved back to Italy, I still remember what I learned from her: Slow down, enjoy living, and remember that strangers are just friends waiting to happen. I still think of her every time I make this iced coffee recipe.
Tips for Success
This is a simple recipe so I don't think you need much guidance here, but here are few quick tips:
Don't skip the simple syrup. Simple syrup is the best way to sweetened cold drinks because it seamlessly fuses with the liquid. By contrast, sugar granules won't melt and just make your drink a bit gritty. If you want to cut down on prep time you can either make the simple syrup in advance (I always have a mason jar of it in the fridge) or you can substitute it with maple syrup.
Let the coffee cool. I know that traditional iced coffee often uses cold brew coffee. But that usually takes 12-18 hours (often it's done overnight). While I have patience for many things (like sourdough pizza) I do not have patience for a good cup of coffee. Brewing coffee the regular way and then giving it time to cool works just as well in my opinion.
Don't do work while you drink this iced coffee. Is that a crazy thing to recommend? Maybe, but if you're going to take the trouble to make yourself a fancy drink you might as well be fully present to enjoy it. In fact, this recommendation also applies to my Gingerbread Latte and any fancy drinks I publish hereafter. 🙂
Serve with a treat. Blueberry scones, homemade cinnamon rolls, peach mango pie and sweet potato brownies would be some of my top contenders! This easy blueberry coffee cake is also perfect with iced coffee.
Cardamom Iced Coffee
This simple iced coffee recipe is made with cardamon infused water and sweetened with simple syrup.
Ingredients
½

cup

granulated sugar + 1/2 cup water

,

for simple syrup

8

tablespoons

coffee

4 ½

cups

filtered water

½ to 1

teaspoon

whole cardamom pods *

Ice cubes

Milk or coffee creamer

,

to taste
Instructions
Make the Cardamom Water & Brew Coffee
In a medium saucepan combine 4 1/2 cups of water with the cardamom pods. Bring to a boil. Lower heat and continue to simmer for 5 minutes.

In the meantime, grind your coffee beans and place the grounds in your coffee machine or French press.

Use 4 cups of the cardamom water to brew your coffee. ** For a regular coffee maker, remove the cardamom pods. If using a French press you can add the pods to the press along with the water since they will be strained out. In a French press, brew for 5 minutes. Set aside to cool.
Make the Simple Syrup
While the coffee is brewing combine the 1/2 cup of sugar and 1/2 cup of water in a small saucepan. Cook over medium-high heat, gently whisking the entire time.

When you can't see the sugar granules anymore and the liquid is clear, the syrup is done. Remove from heat and set aside to cool. ***
Make the Iced Coffee
Fill two glasses halfway with ice cubes.

Pour coffee over the ice. Add milk or coffee creamer according to your tastes. Sweeten with simple syrup and give it a good stir. Enjoy! (I use about 2 tablespoons of syrup & about 1/2 cup low-fat milk per glass. My husband prefers more milk and more syrup.)
Last Step:
Please
share a rating and comment
if you enjoyed this recipe! Your feedback helps this little blog thrive and continue providing free, high-quality recipes for you.
Notes
*D

epending on how strong you want the cardamom flavor to be
**

Feel free to adjust my coffee-water ratio if you have a preferred balance. You are essentially going to brew your coffee the way you like it, except you'll use cardamom infused water.
***

You can store leftover syrup in the fridge for up to 4 weeks. Store it in a sealed mason jar or other airtight container.
Nutrition
Calories:
24
kcal
|
Carbohydrates:
6
g
|
Protein:
0.1
g
|
Fat:
0.03
g
|
Monounsaturated Fat:
0.01
g
|
Sodium:
28
mg
|
Potassium:
29
mg
|
Sugar:
6
g
|
Calcium:
17
mg
|
Iron:
0.01
mg
Nutritional info is an estimate and provided as a courtesy. Values may vary according to the ingredients and tools used. Please use your preferred nutritional calculator for more detailed info.
Did you make this recipe?
💖 I love hearing how my recipes came out for others! If you tried this recipe, please share a comment. 💖