This cheesy lasagna recipe is made with fresh butternut squash puree, béchamel sauce, ricotta, and lots of melty mozzarella cheese. It's fancy enough for a Sunday dinner and easy enough to assemble without too much prep thanks to no-boil lasagna noodles.
The other day I was looking through some boxes I'd forgotten were in the basement. They have been there, tucked in a corner, ever since we moved to our house over a decade ago. Well, this month I decided it was finally time to finish unpacking and what did I find but an old notebook with recipes I made when my husband I first tied the knot.
This was the food I cooked when we lived in a tiny third-floor walk-up with a kitchen ceiling so low my husband couldn't stand up straight while heading to the dinner table. He is not an inordinately tall man, so the fact that he couldn't walk upright in a good 1/3 of our apartment is saying something. It was teeny, it was tiny, but it was filled with love. And lots of good food. Good food always helps.
Going through those pages I noticed one was more worn than the rest – the page with my handwritten recipe for this creamy butternut squash lasagna. With layers of smooth béchamel sauce, tender noodles, squash, and cheeses, it was one of our cozy dinnertime favorites. It is fancy enough for a special Sunday or holiday dinner without being overly complicated. In fact, this lasagna uses no-boil noodles, so despite making the butternut puree and béchamel, this pasta dish is probably easier than many traditional lasagnas.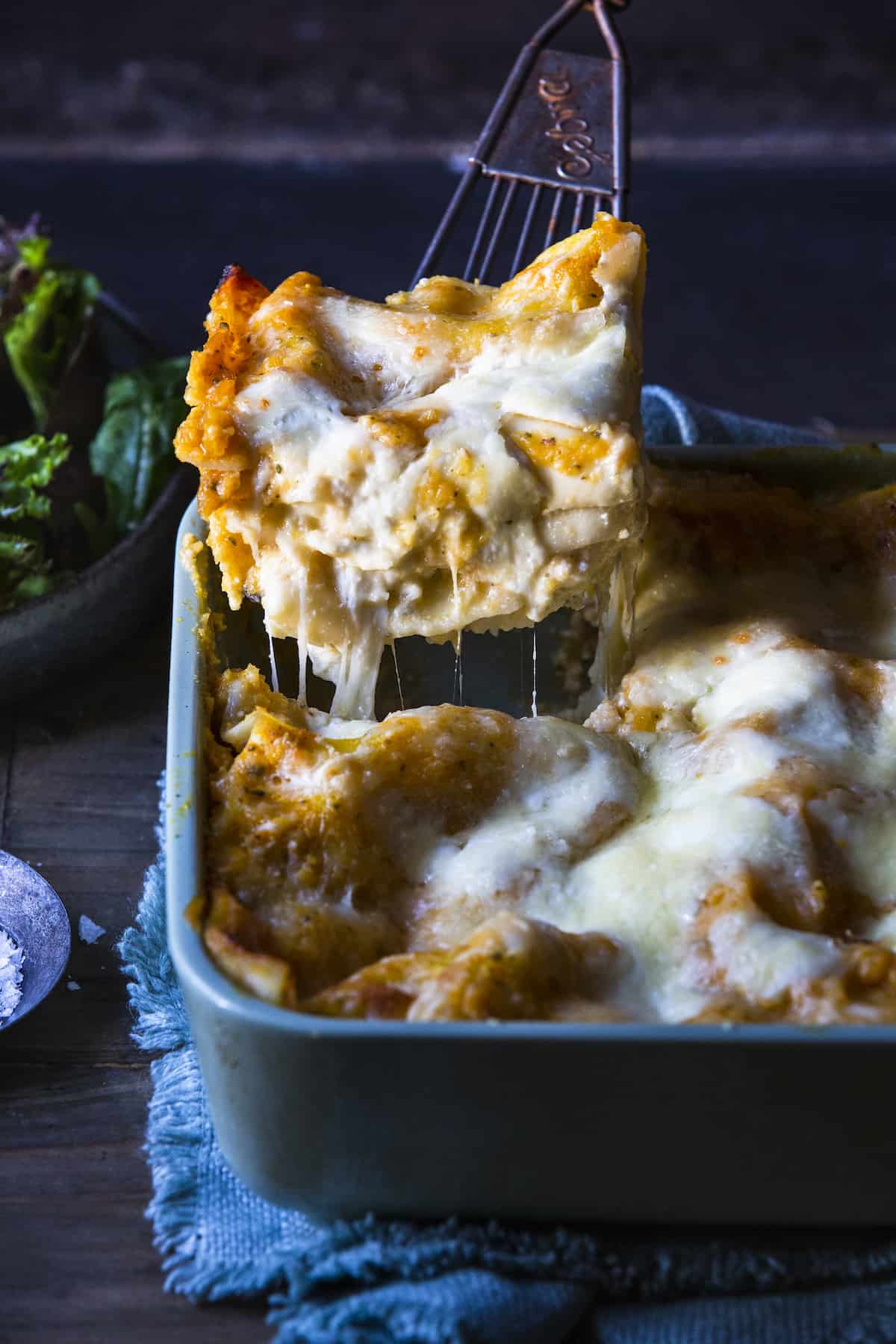 Is it Lasagna or Lasagne?
This may seem like an odd question. Obviously, it is "lasagna" right? But it actually depends on where you live. In Northern Italy, this classic pasta casserole is usually called "lasagne," which is the plural form of the word and refers to the lasagna noodles themselves (of which there are more than one). "Lasagna" by contrast, would mean only one noodle.
In the States where I live, this is called "lasagna" and so I usually just go with that. Back in my college days, I would use "lasagne" and revel in the opportunity to explain the grammatical difference at dinner parties. But these days? Ain't nobody got time for that. Please just devour this plate of cheesy, decadent lasagna and ask for seconds thankyouverymuch.
What is Béchamel Sauce?
Most lasagna recipes will use a red tomato-based sauce, but this one uses béchamel. I know that sounds incredibly complicated/fancy – and you should definitely let your dinner companions roll with that assumption so that they are even more grateful for your efforts making lasagna for them.
The truth is though, that béchamel sauce is very easy to make. It is simply a combination of butter, flour, and milk that is cooked on the stovetop until a thick sauce forms. Salt and pepper are added to taste, and then in my recipe, I also add a dash of freshly grated nutmeg. Béchamel is used for dishes like chicken pot pie, and moussaka in Greece, so it is a handy sauce to know how to make!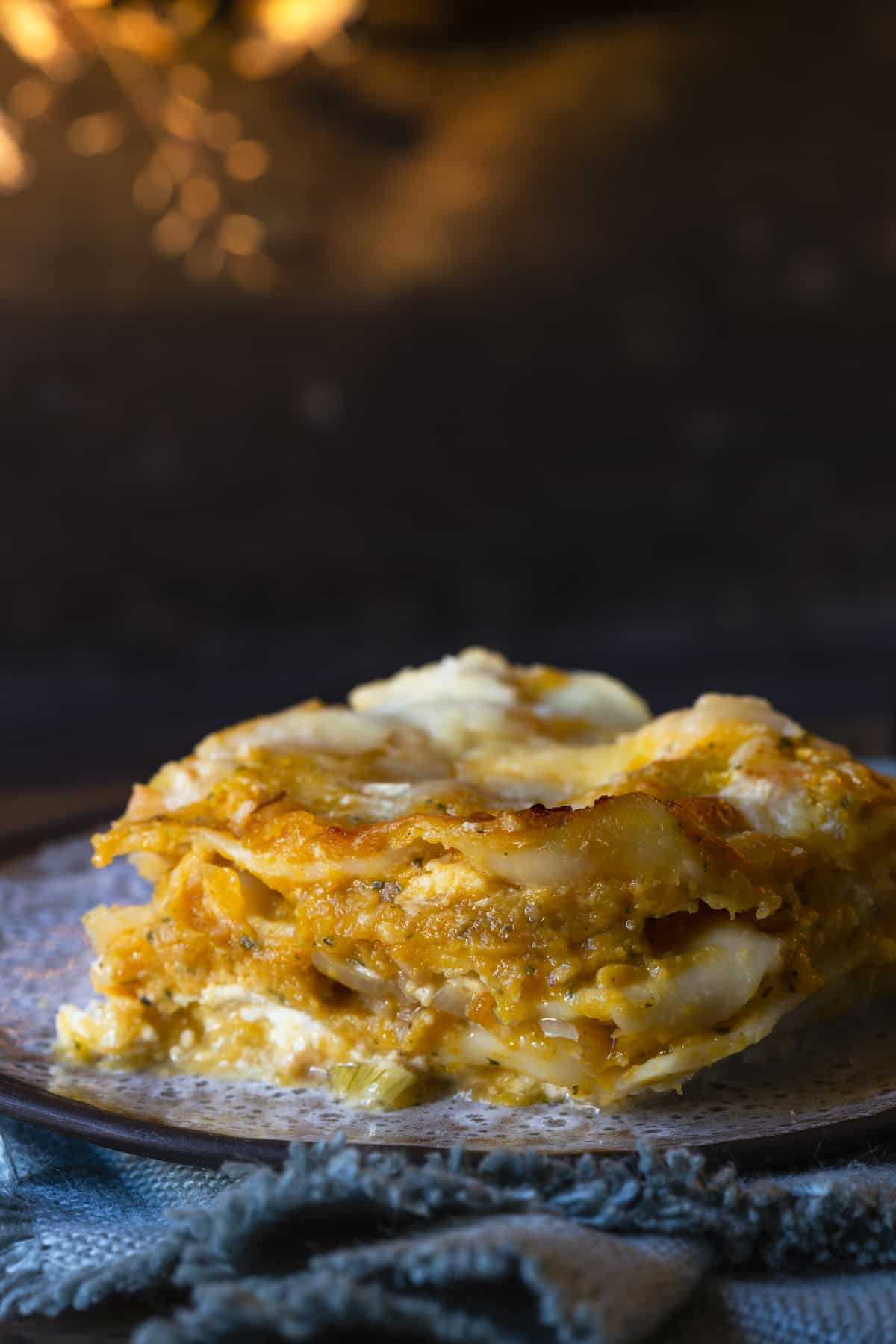 What Are the Correct Layers for Lasagna? How Many Layers Should There Be?
In my opinion, this will largely depend on your preference and the size of your baking dish. However, there are a few constants: a thick layer of sauce should always be the first thing that goes into the dish, and a generous layer of cheese should always be the last layer.
In this particular recipe, I always layer the butternut squash puree and noodles right after each other because we're going to be using "no-boil" noodles and they'll need liquid from the puree to cook properly. So this is the order we'll use:
Béchamel sauce <- Coats the bottom of the pan but is not repeated until the end
Ricotta mixture <- Start the repeat
Noodles
Squash Mixture
Onions
Cheese (alternates between ricotta mixture and mozzarella cheese)
Repeat until the last layer, ending with a layer of mozzarella and parmesan
When I make this lasagna recipe I can get 3 layers of noodles in a 9×13 baking dish. I have shared my step-by-step layers in the recipe card below in case that is helpful.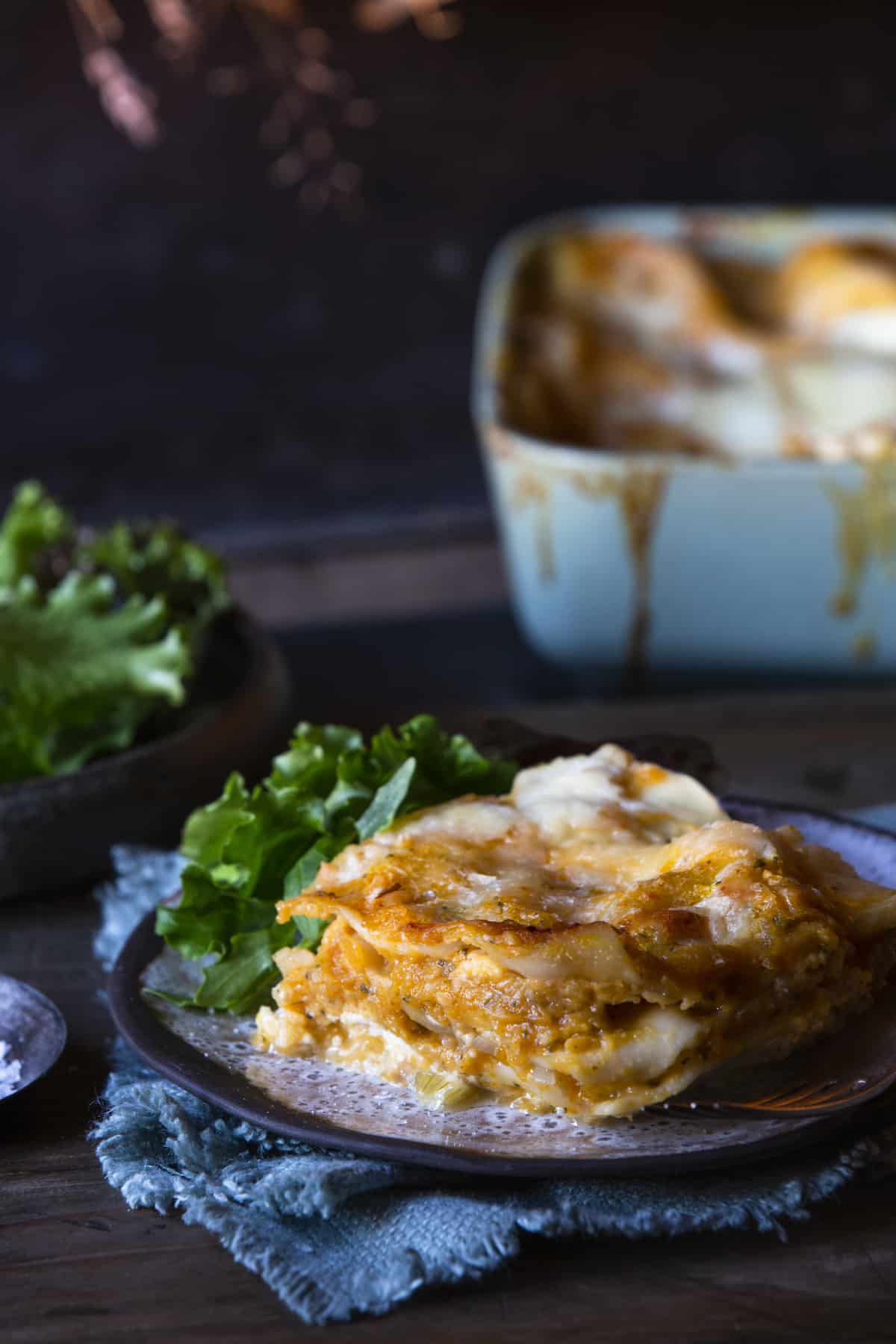 Tips & FAQs
How do I know when the béchamel sauce is done cooking? It's done when it coats the back of a spoon. Dip your spoon into the sauce, then run your finger through the sauce that has coated the spoon. If a clear line remains where your finger just passed through, the sauce is done. If the sauce quickly covers up the space your finger just made, then it needs to cook a bit longer.
Make the béchamel just before assembling the lasagna. If it sits too long it will develop a skin so it's important to make the sauce after you have cooked and prepared the ricotta mixture and squash puree.
Can I use regular cooked lasagna noodles? I haven't tried this recipe with cooked lasagna noodles, but I imagine it would work just fine so long as you reduce the amount of liquid that is going into the dish when you assemble your lasagna. Since the noodles will already be cooked they won't need extra liquid (and also won't be able to absorb as much of it).
Can I puree the onion? If you don't like pieces of soft onion in your lasagna you can also puree the cooked onions with the butternut squash.
Let it cool. When the lasanga comes out of the oven give it at least 10-15 minutes to cool before cutting into it. This cool time not only prevents burnt mouths but also gives the noodles time to absorb extra liquid.
What Goes with Lasagna?
I like to serve lasagna with a simple salad and something bready, like popovers or sweet potato biscuits. If you really want to impress people or are just feeling like being extra, then this focaccia art bread is perfect with lasagna!
How to Store and Reheat Leftovers
Let the lasagna cool to room temperature, then store in the fridge for up to 4 days. You can either cover the baking dish tightly with saran wrap or cut the lasagna into pieces and transfer them to an airtight container.
Reheat in the microwave until warmed through. I usually cut a slice into smaller pieces when reheating so that the microwave also heats the inner parts of the slice.
Butternut Squash Lasagna
This cheesy lasagna recipe is made with fresh butternut squash puree, béchamel sauce, ricotta, and lots of melty mozzarella cheese.
Ingredients
4

tablespoons

unsalted butter

2 ½

cups

diced yellow onion

2

lbs

butternut squash

,

peeled, seeded and cut into 1/4 inch thick slices

1 ¾

cups

vegetable broth

4

tablespoons

chopped fresh thyme

,

divided use

4

tablespoons

chopped fresh sage

,

divided use

30

oz

ricotta

,

I use two 15-oz containers

4 ½

cups

shredded mozzarella

,

divided use

1

cup

shredded Parmesan

,

divided use

3

large eggs

3

biscotti cookies

,

not sweet ones, we used almond & walnut biscotti

Kosher salt and pepper to taste

10

oz

no-boil lasagna noodles
For the béchamel sauce:
2

tablespoons

butter

2

tablespoons

all-purpose flour

1 ¾

cups

whole milk

Pinch

of nutmeg

Kosher salt and pepper

,

to taste
Instructions
Prep your tools. Heat oven to 350 degrees F and get a 9x13 baking dish out.

Cook the onions in butter. Melt 4 tablespoons butter in a large pot or dutch oven. Add onion and cook over medium heat until soft, about 10 minutes. Raise heat to high and continue to cook, stirring constantly for about 3 minutes. Season with salt and pepper. Transfer to a bowl and set aside.

Cook the squash. In the same pot, add the sliced squash, vegetable broth, 3 tablespoons of thyme and 3 tablespoons sage. Bring to a boil, then reduce heat and simmer, stirring occasionally, until squash is tender, about 20 minutes.

Make the ricotta filling. While squash is cooking, in a medium bowl combine ricotta, 2 cups of mozzarella, 1/2 cup Parmesan and the remaining 1 tablespoon thyme and 1 tablespoon sage. Season with salt and pepper to taste. Add the eggs and mix well. Set aside.

Drain the squash. When squash is done, cool slightly and remove 3/4 cup of the excess liquid (1 cup if there is an excessive amount of liquid). Transfer to a food processor. Break the biscotti in half and add to the processor. Blend until smooth, then season with salt and pepper to taste. Set aside.

Make the béchamel. In a medium saucepan melt 2 tablespoons of butter over medium heat. Add 2 tablespoons flour and whisk for 1 minute. Gradually whisk in the milk. Bring to a boil over medium-high heat, then reduce the heat to medium and simmer until the sauce thickens slightly, whisking frequently. Whisk in the nutmeg. This sauce is called "béchamel" and it's done when it coats the back of a spoon. (Make the bechamel just before assembling the lasagna, if it sits too long it will develop a skin).
Now it is time to assemble the lasagna. Add the layers in this order:
Coat the bottom of your baking dish with 1/2 of the béchamel.

1/3 of the ricotta mixture

Noodles (make sure they are not overlapping)

1/3 of the squash mixture

1/2 of the onions

1/3 of the mozzarella

1/3 of the ricotta mixture

Noodles

1/3 of the squash mixture

1/2 of the onions

1/3 of the ricotta mixture

1/3 of the mozzarella

Rest of the béchamel

Noodles

Remaining squash mixture

Sprinkle the remaining mozzarella

Add Parmesan over the top

Bake. Cover with aluminum foil and bake at 350 degrees F for 40 minutes. Then remove the aluminum foil and bake for an additional 10 minutes, or until cheese is completely melted and starting to color a bit.

Remove from oven and allow to rest for at least 10-15 minutes. This is important so that the noodles have a chance to absorb more liquid.
Last Step:
Please
share a rating and comment
if you enjoyed this recipe! Your feedback helps this little blog thrive and continue providing free, high-quality recipes for you.
Nutrition
Calories:
620
kcal
|
Carbohydrates:
44
g
|
Protein:
33
g
|
Fat:
36
g
|
Saturated Fat:
21
g
|
Polyunsaturated Fat:
1
g
|
Monounsaturated Fat:
10
g
|
Trans Fat:
0.3
g
|
Cholesterol:
181
mg
|
Sodium:
789
mg
|
Potassium:
610
mg
|
Fiber:
3
g
|
Sugar:
8
g
|
Vitamin A:
10909
IU
|
Vitamin C:
19
mg
|
Calcium:
655
mg
|
Iron:
2
mg
Nutritional info is an estimate and provided as a courtesy. Values may vary according to the ingredients and tools used. Please use your preferred nutritional calculator for more detailed info.
Did you make this recipe?
💖 I love hearing how my recipes came out for others! If you tried this recipe, please share a comment. 💖
This post may contain affiliate links. Please read our disclosure policy.