This buttermilk mashed potatoes recipe is creamy, tangy and easy to make! Yukon gold potatoes are mashed with butter, buttermilk and sour cream for a totally irresistible side dish.
Mashed potatoes are one of those classic American recipes that I love year around. I'm always down for homemade mashed potatoes with Thanksgiving dinner, and I'm equally thrilled with a generous helping at summer BBQs with piles fried chicken. In this recipe we are using buttermilk and sour cream to add a subtle tang to buttery mashed potatoes. You're going to love them!
Why You'll Love This Buttermilk Mashed Potatoes Recipe
Easy. You'll need less than 30 minutes and a few simple ingredients to make this mashed potatoes recipe. Just cook the potatoes and mash everything together.
Flavorful. These mashed potatoes are fluffy, creamy and tangy all in one.
Flexible. Serve them for holiday dinners, at summer cook outs, or as a simple side on busy weeknights. This recipe is so easy, fast and delicious that it can really be served any time.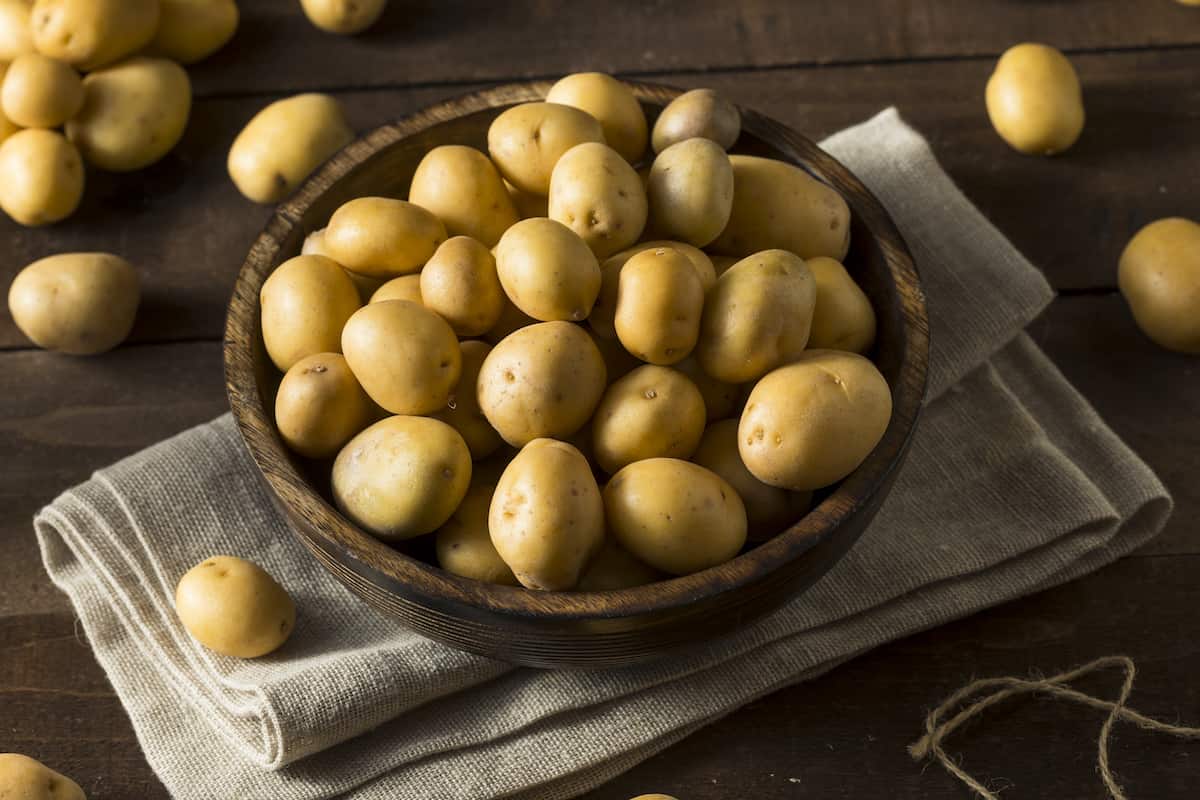 What Potatoes Are Best for Mashing?
I like to use Yukon Gold potatoes for mashed potatoes. They have a tender, buttery texture that makes them super easy to mashed. I also appreciate our thin and tender their skins are, which means that you have the option of leaving the skins on if you want to add some texture to your mashed potatoes.
Another reason Yukon Golds are ideal for mashed potatoes? The kind of potato they are. There are three varieties: floury, waxy and all-purpose. An example of a floury potato would be a russet. These kinds of potatoes are best for dry heat cooking like making baked potatoes. A kind of waxy potato would be fingerling potatoes, which are best for boiling and roasting.
Yukon Gold are all-purpose potatoes. They are have qualities in between floury and waxy potatoes, and can be cooked in many different ways. As Samwise Gamgee once said: boil 'em, mash 'em, stick 'em in a stew. That's Yukon Gold potatoes in a nutshell. 🙃
I also use Yukon Golds to make classic mashed potatoes and deviled egg potato salad, if you'd like to check those recipes out!
Can I Use Russet Potatoes?
Even though Yukon Gold's are best for mashed potatoes, you can still use russet potatoes. In fact, I made this recipe with those last night! My kiddo really wanted some buttermilk mashed potatoes with dinner, but all I had was russets, so I figured it'd be good "research" to use them and see what happened.
When I used russet potatoes the resulting mashed potatoes were fluffier and not as creamy, but they were still delicious. And honestly? No one in my family noticed the difference. They were too excited to dig in.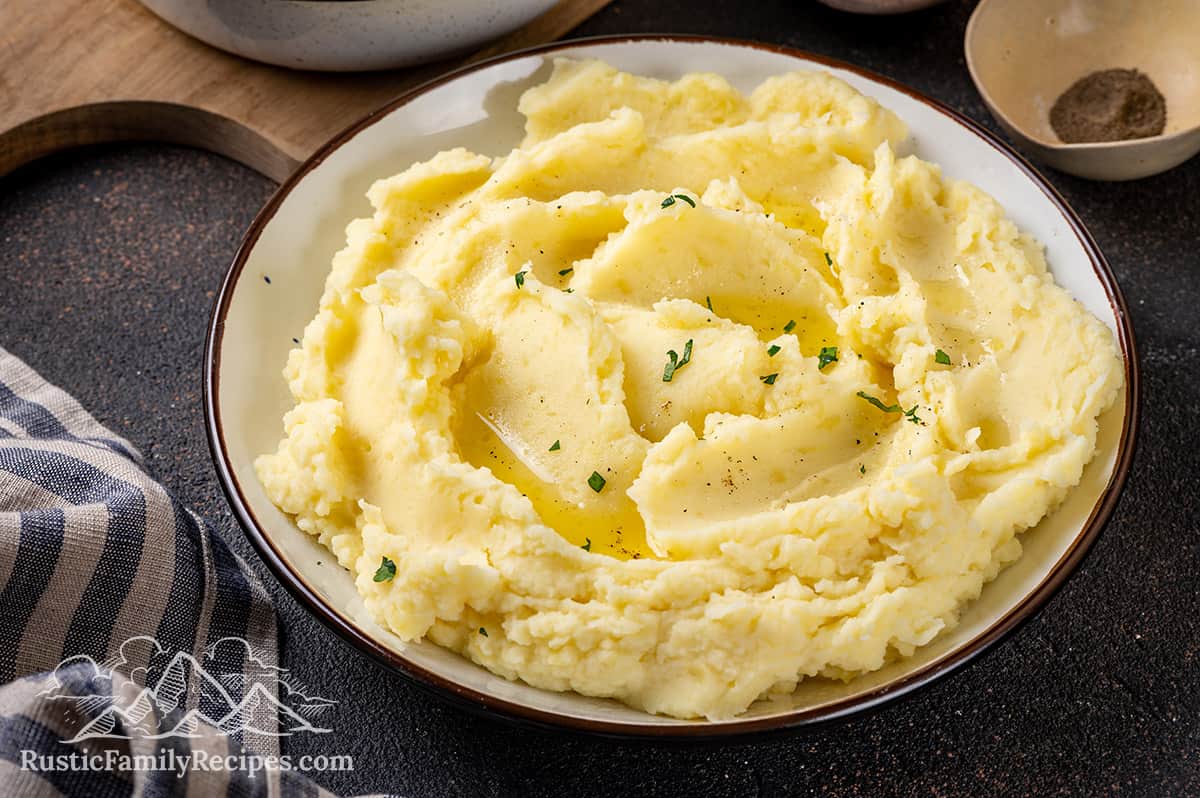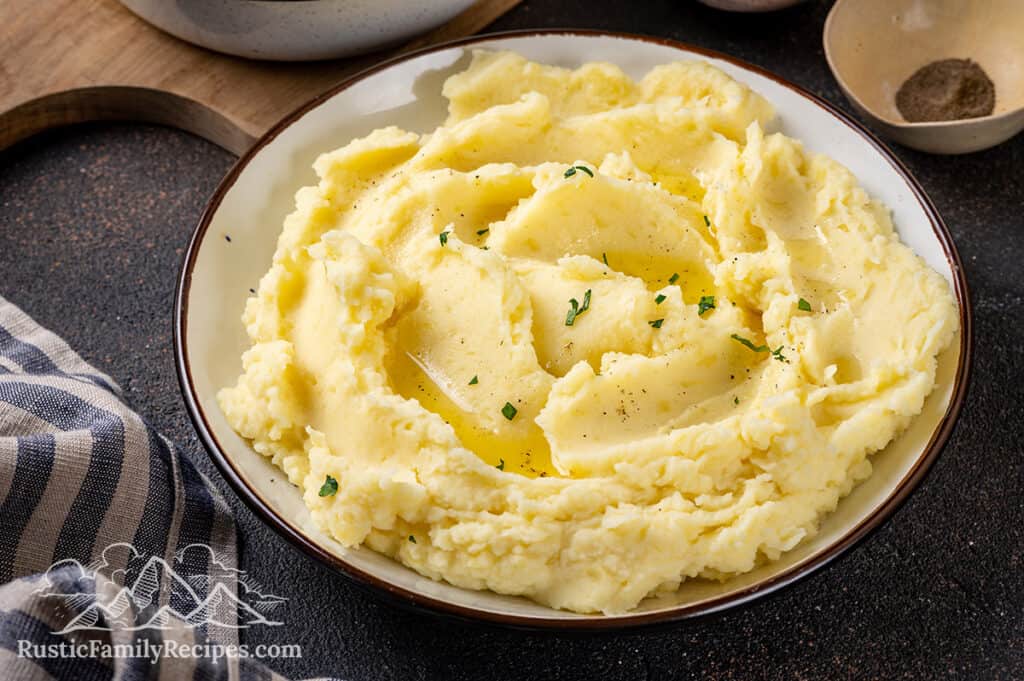 How Do You Boil Potatoes For Mashed Potatoes?
Before you make mashed potatoes you have to cook the potatoes. Here's how to do it. It's super easy!
Cut the potatoes into similarly sized pieces. With Yukon Golds, you can leave the skin on if you prefer. I sometimes do that if I'm in a hurry. For the photos you see here, I peeled the potatoes then cut them into cubes that were all roughly the same size.
Start with cold water. Unlike pasta, when you are getting ready to cook potatoes in boiling water you want to start with cold water. This small adjustment to your cooking method helps the potatoes cook evenly.
Salt the water. I like to add salt to the water I'm using to cook the potatoes. I do the same for pasta. This helps infuse the potatoes with flavor and makes it easier to adjust the amount of salt added later in the recipe.
Test for doneness. Your potatoes are done cooking when a fork can easily pierce the potato. The simplest way to gauge this is to remove a piece of potato from the boiling water with a slotted spoon, then place it on a small plate. Test it with the tines of a fork:

Fork goes in easily? The potatoes are done.
Meets resistance? The potatoes need more cooking time.
Potatoes fall apart? They are probably overcooked. The usually happens if the potato pieces were cut too small and as a result cooked faster than expected. (Floury potatoes always fall apart when boiled btw, so that is not a sign of being over cooked for that variety of potato.)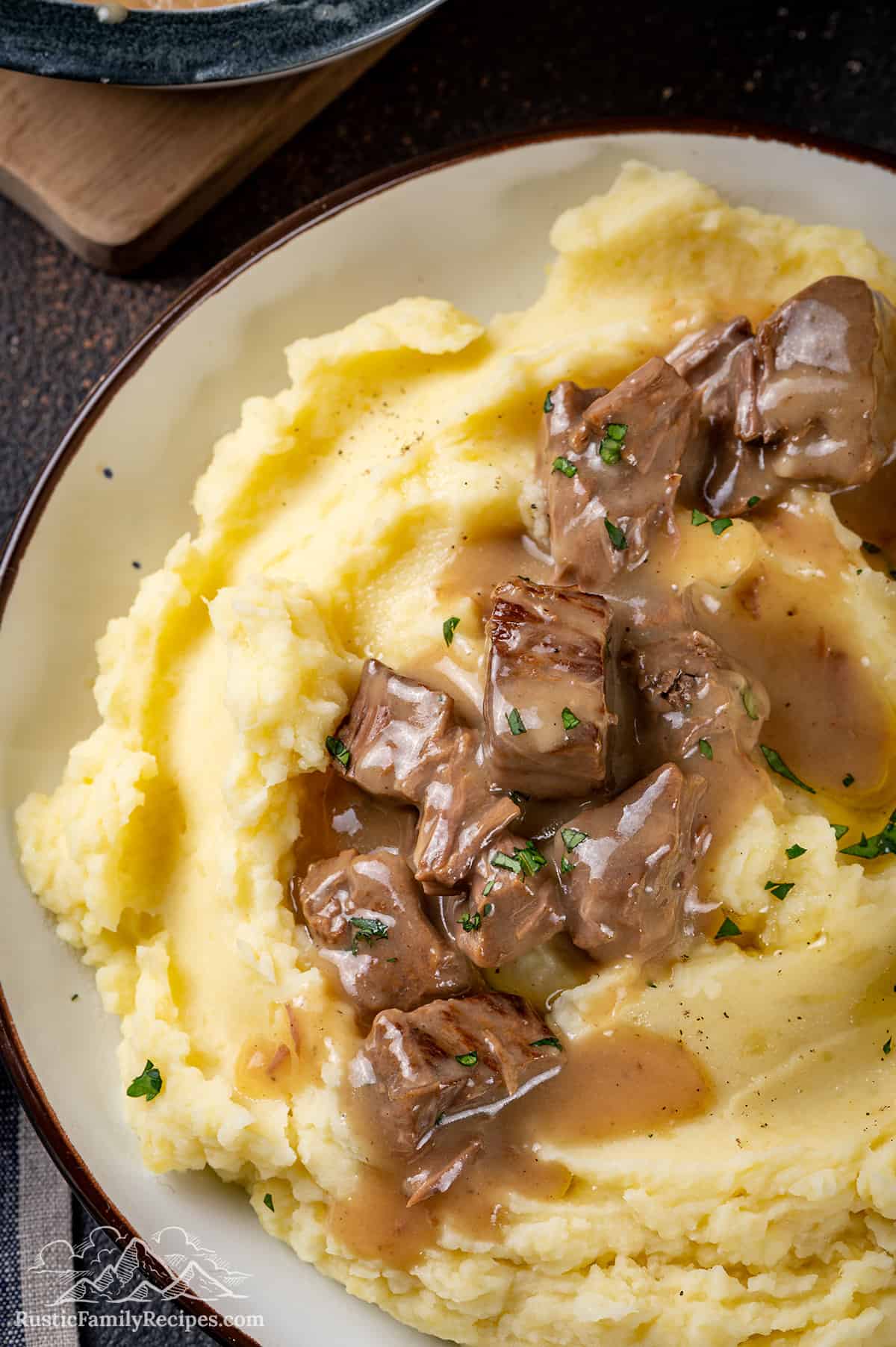 Serving Suggestions
Mashed potatoes go with a wide variety of main dishes. During the holiday season, they're perfect with your Thanksgiving or Christmas dinner. I've served them with roast turkey, roasted quail and cornish hen.
During the summer months, mashed potatoes are delightful with crisp fried chicken or any kind of grilled main dish. You can also top them with your favorite crock pot dinner idea, like No Peek beef tips.
And for weeknight dinners, honestly, the sky is the limit! I love serving mashed potatoes with meatloaf, rabbit stew and venison stew during the cooler months of the year. They're also great with chicken, steak (coulotte steak is my favorite), pork chops and meatballs.
How to Use Leftover Mashed Potatoes
If you have leftover buttermilk mashed potatoes don't let them go to waste. There are many delicious ways to use them up! Here are some of my favorite ideas:
Sandwiches. During the holidays, layer them between thick slices of bread with turkey, cranberry sauce, extra stuffing and melty cheese. Meatloaf sandwiches are also wonderful with mashed potatoes.
Pierogi. Make homemade pierogi. It's easier thank you think and you'll never eat store bought again.
Colcannon. Saute up some kale or baby spinach with garlic, then stir it into your mashed potatoes to make colcannon. This is a traditional Irish dish made of mashed potatoes and a green veggie.
Crunchwrap. Add mashed potatoes and cooked chicken slices to the center of a flour tortilla with some cheese, then wrap it around the filling and cook it in a bit of olive oil until golden.
Make Mashed Potato Tacos
Adding mashed potatoes to warm corn tortillas and then lightly frying the tortillas in olive oil was my Nana's favorite way to use up leftovers. Simply warm the tortillas, then add warm mashed potatoes to one side of a tortilla and top it with cotija cheese or another kind of cheese that melts easily. Then fold the tortilla in half and fry in a bit of olive oil until the taco is golden and crispy. Serve with pico de gallo and lime wedges.
How to Store and Reheat Extras
Fridge: Let your buttermilk mashed potatoes cool to room temperature, then transfer them to an airtight container and store them in the fridge for up to 3 days.
To reheat: You can reheat single servings in the microwave until warmed through, or on the stove top over medium-low heat. If the potatoes are too thick, you can add a splash of milk and stir that in as you warm them up.
Can You Freeze Mashed Potatoes?
Yes you can! Let them cool completely, then transfer them to an airtight, freezer-safe container. Label the container with the date and then freeze your mashed potatoes for up to 3 months. Thaw overnight in the fridge when you're ready to use them and reheat as directed above.
Print
Buttermilk Mashed Potatoes
This simple buttermilk mashed potatoes recipe makes creamy, tangy mashed potatoes in less than 30 minutes.
Author: Rustic Family Recipes
Prep Time:

10 minutes

Cook Time:

15 minutes

Total Time:

25 minutes

Yield:

5-6 servings

Category:

Side Dishes

Method:

Stove

Cuisine:

American
3

pounds peeled and cube Yukon Gold potatoes, 2-inch pieces*

2 1/2 teaspoons

kosher salt, divided use, plus more to taste

4 tablespoons

unsalted butter, cut into small pieces

1/2 cup

sour cream

3/4 cup

to 1 cup buttermilk

1/4 teaspoon

ground black pepper, plus more to taste
Instructions
Weigh the chopped potatoes. After you have peeled and chopped your potatoes, weigh the pieces. You want 3lbs total.
Cook the potatoes. Fill a large pot with water and add 2 teaspoons kosher salt. Add the potatoes to the cold water and bring to a boil over high heat. Reduce the heat to low and simmer for about 15 minutes or until a fork easily pierces through the potatoes. (Test them at the 12 minute mark and then adjust accordingly.) Drain the potatoes and transfer them to a large mixing bowl.
Mash with butter. Add the butter to the potatoes and mash with a potato masher until the potatoes are chunky, but not fully smooth.
Add the sour cream and buttermilk. Mash until completely smooth. You can adjust the amount of buttermilk depending on the texture you are going for. I recommend starting with 1/2 cup of buttermilk, then adding in small amounts until the potatoes reach your desired consistency. I usually end up using 3/4 cup of buttermilk total.
Adjust seasonings and serve. Add remaining 1/2 teaspoon kosher salt and 1/4 teaspoon ground black pepper. Taste and adjust seasonings as needed. Serve with your favorite mains.
Notes
*I usually buy 3 1/2 lbs at the grocery store so that I can be sure I have 3lbs of potato cubes. After you have peeled the potatoes and chopped off any bits with discoloration, it's easy to end up with less than 3lbs.
Last Step:
Please
share a rating and comment
if you enjoyed this recipe! Your feedback helps this little blog thrive and continue providing free, high-quality recipes for you.
Keywords: buttermilk mashed potatoes, homemade mashed potatoes
Filed Under:
This post may contain affiliate links. Please read our disclosure policy.