This simple pasta dinner features a quick meat sauce that's bursting with flavor. Ground beef or venison is marinated in milk, then cooked into a hearty pasta sauce flavored with garlic, oregano and an optional pinch of red pepper flakes.
Sometimes I just get a hankering for a big ole plate of pasta served with hearty meat sauce and lots of Parmesan cheese. Does that happen to you too? Or is it just me?
My Nana called this kind of craving an "antojo," which literally translates as "whim." As in, there you are going about your day and all of a sudden you can't stop thinking about eating a certain thing. That's what happened with this recipe, and the end result was a hearty, flavor packed pasta dinner that I made just because I felt like it. This is now my go-to recipe when I want pasta with meat sauce pronto.
The Secret to this Pasta Sauce
The secret to this pasta sauce may surprise you: milk.
The challenge with making a meat-based sauce quickly is that you usually need to simmer it for a fair amount of time in order to give the meat proteins time to break down and become tender. For example, the meat sauce for my classic lasagna recipe simmers for hours on the stove! The time investment is 100% worth it, but when you want pasta stat waiting that long just won't do.
By marinating the meat in milk, you can kick that tenderization process into warp speed. The lactic acid in the milk breaks down proteins and collagen in the meat even after a brief amount of time.
Ground Beef or Ground Venison – Both Work!
I have made this pasta sauce with ground beef as well as ground venison meat, though I'm pretty sure ground elk or bison would work equally well. I wouldn't recommend subbing the red meats with ground chicken or turkey though, the flavors just won't be the same.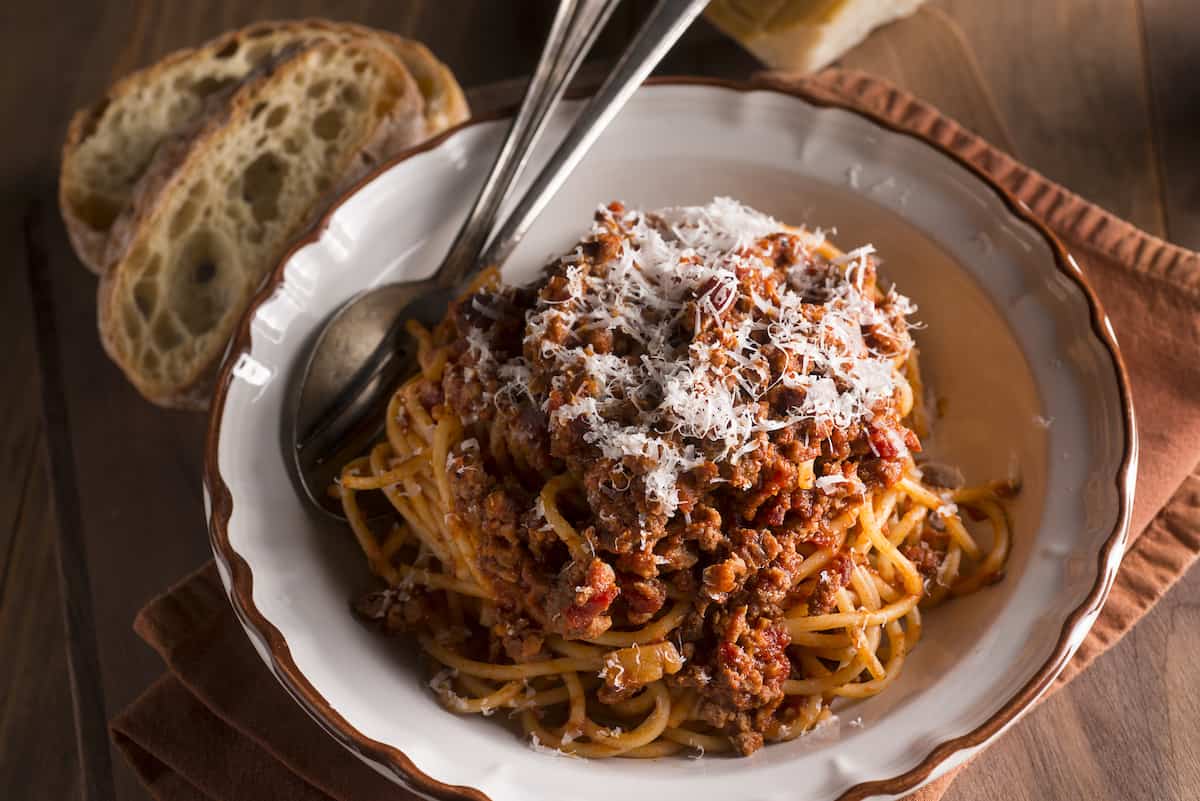 What Kind of Noodles to Use
I like to use bucatini pasta, which is essentially a thick kind of spaghetti noodle with a hole running down the center. The Italian word "buco" means "hole," which is where the name of this pasta comes from. It is also known as perciatelli. Bucatini is especially good at sopping up sauces because the sauce gets into the noodle, as well as coating it.
Other long noodles that work well with this sauce are spaghetti, linguine, tagliatelle or fettuccine. I usually go with long noodles because I enjoy the sensation of twirling them around a fork and then taking a bite of tender pasta and meaty sauce.
If you want to use short noodles, then I recommend campanelle, gemelli or cavatappi because the nooks and crannies in these pasta shapes are perfect for getting as much sauce as possible in every bite.
What Goes Well on the Side?
A thick slice of crusty bread is an excellent side for pretty much any pasta dish. But if you want to make something to serve on the side, I recommend my buttermilk biscuits. They are easy to make and ready in under 30 minutes! My 20-min cornbread muffins are another quick option.
Other ideas that take a bit longer to make include old fashioned cornbread with cheddar and zucchini cornbread. My family actually enjoys homemade popovers with pasta too – they're not just for breakfast!
How to Store and Reheat Leftovers
Let extras cool, then transfer them to an airtight container and store in the fridge for up to 4 days. Reheat single servings of the pasta in the microwave for about 2 minutes, pausing halfway through to stir the pasta and make sure it heats through.
Print
Bucatini with Quick Meat Sauce
This pasta dinner idea features a simple meat sauce that's bursting with flavor. Ground beef or venison is marinated in milk, then cooked into a hearty pasta sauce flavored with garlic, oregano and an optional pinch of red pepper flakes.
Author: Rustic Family Recipes
Prep Time:

10 minutes

Cook Time:

20 minutes

Total Time:

30 minutes

Yield:

4-5 servings

Category:

Dinner

Method:

Stovetop

Cuisine:

American
16 oz

ground beef or ground venison

2 cups

milk (not plant based)

2 tablespoons

extra virgin olive oil

3

cloves garlic, minced

4 tablespoons

tomato paste

1/2 teaspoon

kosher salt

1/2 teaspoon

dry oregano
Ground black pepper to taste
Red pepper flakes, optional

16 oz

bucatini noodles

3/4 cup

shredded parmesan cheese, divided use
Instructions
Marinate the meat. In a large bowl, combine the ground beef or ground venison with the milk. With your hands, work the milk into the meat until it is well combined. Set aside and wash your hands well.
Set a pot of heavily salted water to boil. This will be your water for cooking the pasta noodles.
Begin making the sauce. Add the olive oil to a large skillet or pan, and warm over medium heat. Add the garlic and cook until fragrant, stirring constantly, about 1 minute. Add the tomato paste, salt, oregano and a few dashes of black pepper. If you want to add some heat to your sauce, add a couple pinches of red pepper flakes. Give everything a good stir and cook for another 1 minute or so.
Add the meat. Add the prepared meat to the pan and stir to combine with the other ingredients. Raise the heat to medium-high and cook until the sauce starts to simmer. Lower the heat to medium-low and let the sauce simmer for about 10 minutes, until the meat has browned and cooked through.
Cook the pasta. While the sauce is simmering, cook the pasta according to the package instructions. Drain the pasta, reserving 1/2 cup of the pasta water. Return the noodles to the pot you cooked them in.
Finish the sauce. By this point the sauce should be thick but have a liquid consistency, similar to heavy cream. If it has thickened up too much, add some pasta water a few tablespoons at a time until it reaches the desired consistency. Add 1/3 cup of the Parmesan cheese to the sauce and stir it in until the cheese has melted and combined with the sauce. Taste and add additional salt/pepper as needed.
Combine the cooked pasta and sauce. Add the sauce to the pot with the noodles. Use tongs to toss the pasta with the sauce until all the noodles are coated.
Dig in. Serve the pasta with additional Parmesan cheese on top!
Last Step:
Please
share a rating and comment
if you enjoyed this recipe! Your feedback helps this little blog thrive and continue providing free, high-quality recipes for you.
Keywords: meat sauce pasta, ground venison recipes, bucatini pasta, quick pasta
Filed Under:
This post may contain affiliate links. Please read our disclosure policy.