Blueberry (or any berry) toast is a simple + healthy breakfast idea you can customize in countless ways! Perfect for families where everyone wants something different on busy mornings.
If you're looking for an incredibly simple, yet flexible, breakfast idea that your family can pretty much DIY look no further than blueberry (or any berry!) toast my friends. It's quick, it's easy and it's healthy. All but the youngest child can assemble it themselves and everyone in your family can put their favorite flavor combos together, which also makes this the ideal breakfast for picky eaters.
I know, I know. The concept is sooooo simple it might not even qualify as a recipe. But! I think it does because there are literally countless ways you can serve up this morning meal. Below are tons of different ideas for ways to mix up protein, fruit, and a bit of something sweet for a healthy start to your day.
What Kind of Bread to Use
No need to go crazy with the bread, whatever you typically use for sandwiches is perfectly fine! In fact, your usual might even be the best option because you know everyone in your house will eat it.
But if you want to mix things up, choose a sturdy bread that will be able to hold the weight of the toast toppings. Also, use thicker slices of bread for the same reason, then toast them to your desired level of crispness in your toaster oven. Some suggestions: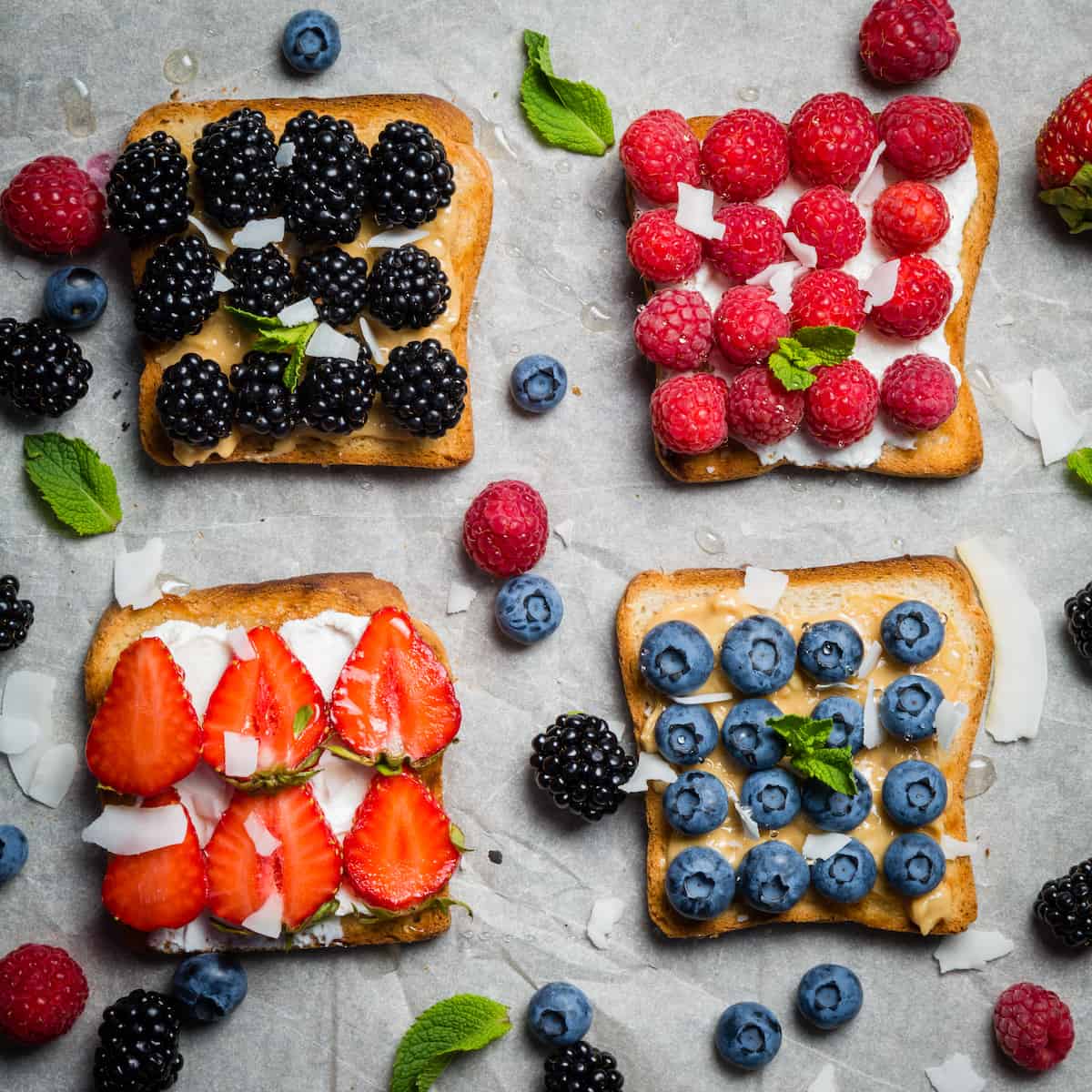 The Base of Your Blueberry Breakfast Toast
Here again, there are many options! My favorites include:
Almond butter – I especially like Justin's Vanilla Almond Butter or Maple Almond Butter (affiliate links).
Peanut butter – Smooth and chunky peanut butter both go well on breakfast toast!
Ricotta cheese – This is especially tasty with a drizzle of honey on top.
Cottage cheese – My favorite brand is Nancy's Whole Milk Probiotic Cottage Cheese
Cream cheese – Whipped cream cheese or regular block cream cheese. The whipped variety is easier to spread on toast.
Goat cheese – Use the whipped, spreadable variety.
Whipped honey – Add this as an additional layer with one of the other layers, or on its own if you have a sweet tooth.
Fruit butter – Apple butter and pumpkin butter are our favorites!
Jam or preserves – Whatever flavor you like! Our favs are blueberry, strawberry, apricot, and peach.
Add as many layers of the above as you want, keeping the thickness of your toast in mind. For example, combine a more savory layer like cottage cheese or ricotta with a sweet layer like jam or fruit butter.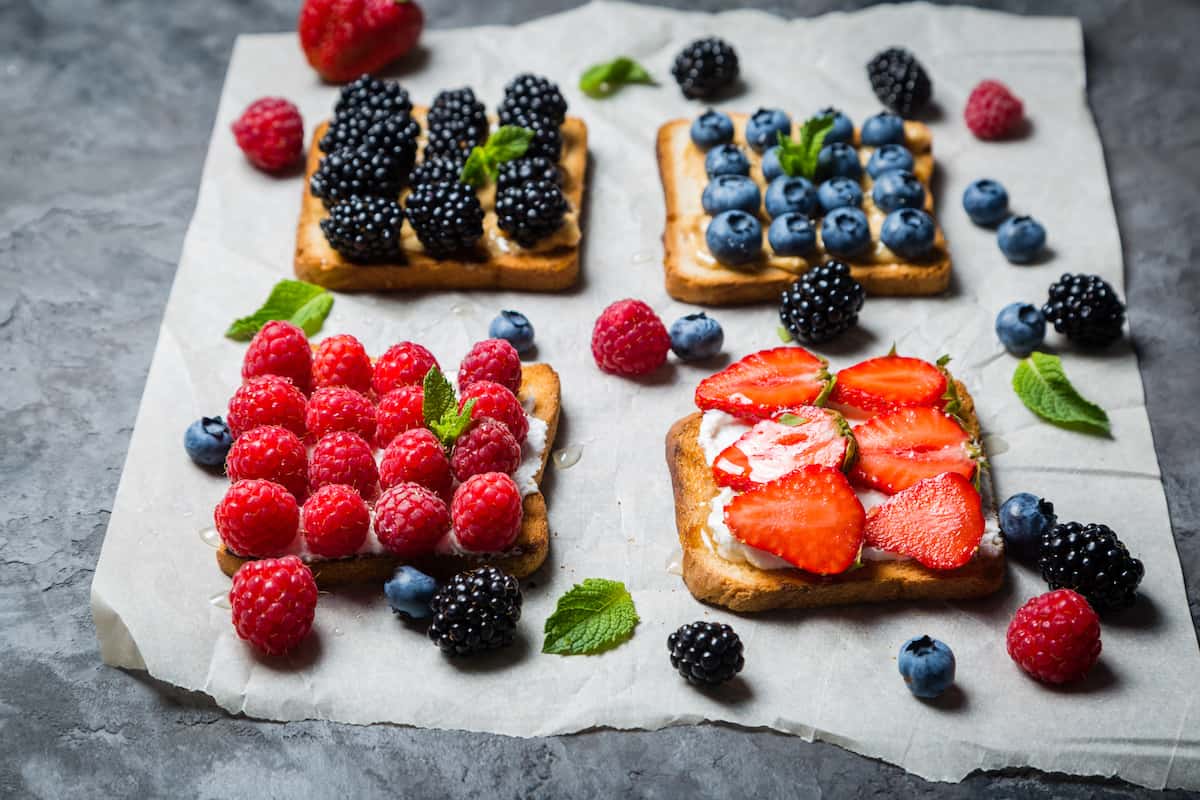 The Toppings – Blueberries & More!
As you can probably guess by now, we're not just talking about blueberries here even if this breakfast toast post started with blueberries. There are tons of options:
Any kind of berry – Blueberries, raspberries, blackberries, and sliced strawberries are easy picks. During the summer months, we'll also add black raspberries into the mix, as well as sweet gooseberries and huckleberries.
Other kinds of fruit – Sliced fresh peaches, mangos, pears, bananas, and apples. I also love thinly sliced figs on toast when I can find them.
Grated carrots – Even though these are a veggie they are also sweet and don't need any cooking. Shred some in advance and then sprinkle them on top.
Nuts – Sprinkled chopped walnuts, pecans, pistachios, or slivered almonds on top.
Coconut flakes – I'm the only coconut lover in my family, but if you are too you might like this option!
Brie – Thin slices of brie cheese can be quite lovely on breakfast toast.
Add a Bit of Something Sweet
Finish everything off with a touch of something sweet, such as:
Maple syrup – Use pure maple syrup, not the synthetic stuff.
Agave or Honey
Blueberry sauce – Make it in advance and store it in the fridge.
Strawberry sauce
Cinnamon Sugar – We usually have a small jar of this sitting on the counter so we can add it to coffee or oatmeal.
Balsamic Vinegar – This is obviously not sweet, but a tad does go well with honey, maple and agave.
That's it! There are definitely even more ways you could spruce up your blueberry breakfast toast!
Print
Blueberry Toast
Blueberry (or any berry) toast is a simple + healthy breakfast idea you can customize in countless ways!
Author: Rustic Family Recipes
Prep Time:

5 minutes

Total Time:

5 minutes

Yield:

1 serving (2 slices)

Category:

Breakfast

Method:

Assemble

Cuisine:

American
2

pieces of bread, sliced thickly and toasted

4 tablespoons

of almond butter, or your preferred layer

1/2 cup

blueberries, or other fresh fruit

1/2 tablespoon

honey, maple syrup or agave
Instructions
Toast 2 thick slices of bread to your desired doneness.
On each piece of toast, spread 2 tablespoons of almond butter. You could also use peanut butter, ricotta cheese, cottage cheese, goat cheese, and more.*
Top each piece of toast with 1/4 cup of fresh blueberries or other fresh fruit.* Press them down gently into the almond butter so that they don't roll off.
Finish with a drizzle of something sweet, such as honey, agave, or maple syrup.*
Notes
*For lots of topping ideas please check out the post that accompanies this recipe card.
Last Step:
Please
share a rating and comment
if you enjoyed this recipe! Your feedback helps this little blog thrive and continue providing free, high-quality recipes for you.
Keywords: blueberry toast, raspberry toast, strawberry toast, healthy breakfast idea
Filed Under:
More Healthy Breakfast Ideas
This post may contain affiliate links. Please read our disclosure policy.