These easy blueberry peach galettes have the most perfectly tender and flakey pie crust. Filled with peach jam, crushed graham crackers, peaches and blueberries these "fruit pizzas" are summer at its best!
For a savory version of this free-form pie, try this Tomato Galette.
Last year, I planted several new fruit trees: two peach, two plum, and another apple. I wasn't expecting a harvest for a few years at least, but what did I see while tending the garden the other day but spots of bright orange on two of my trees. Upon closer inspection, whaddya know, peaches! I ran inside like a kid who hears the ice cream trunk for the first time all summer to let my family know. Pretty soon I had a hatful. I was too excited to remember a bowl when I led them back outside to behold our bounty. 🙂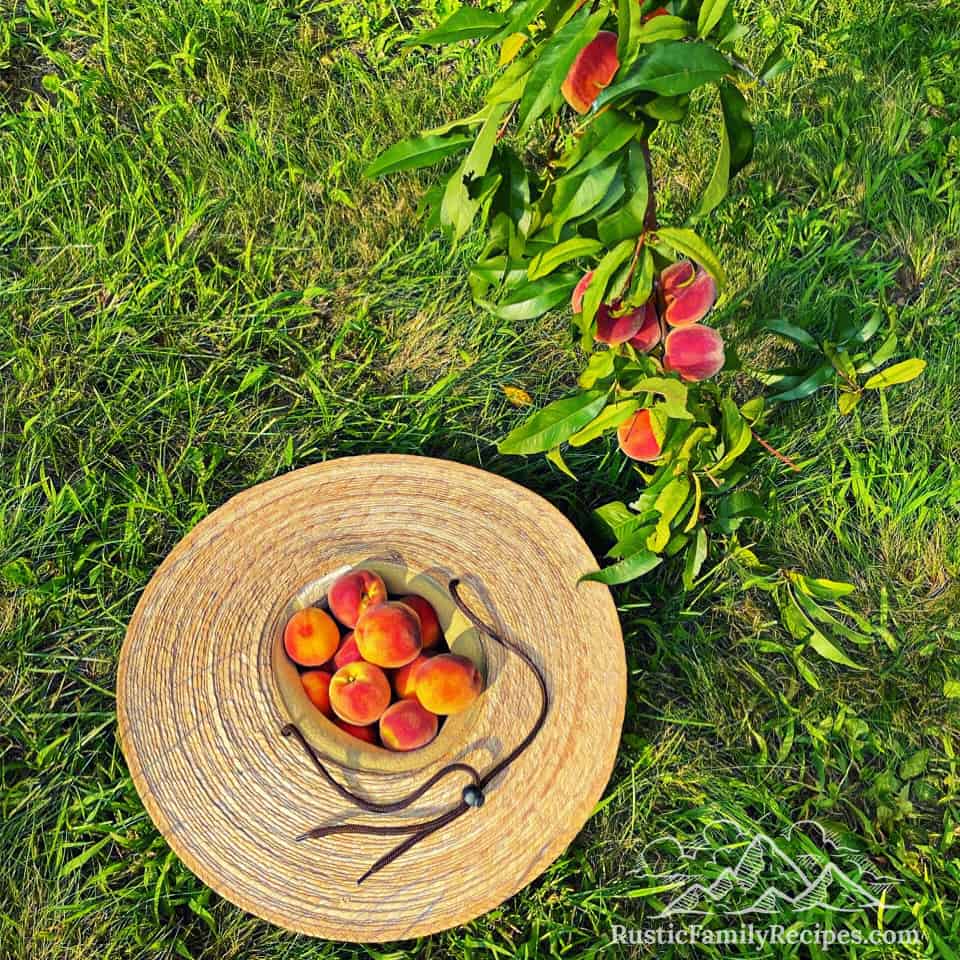 Of course, when you happen upon such a large yield of fresh produce the question is what to do with it. Homegrown fruit in particular only lasts a couple of days on the counter. I was tempted to make Peach Mango Pie, but instead, I made the rustic Blueberry Peach Galettes you see here.
I used a pie crust recipe that I usually reserve for apple pies in the fall, then filled it with peach jam, graham crackers, and a whole lot of peaches. We had fresh blueberries in the fridge so I added those in too for good measure.
You can make this recipe as one big galette or 2-3 smaller ones. My family likes the smaller galettes best because you can pick them up with your hands and eat them without a fork. But sometimes I'll make one large galette just because it's easier.
What is a Galette?
My family insists on calling galettes "fruit pizzas." And I suppose they are not too far of if you swap pizza dough for pie crust and savory toppings for sweet ones. A galette is essentially a single crust pie that is not baked in a dish. Instead, it is baked flat on a baking sheet and the sides of the crust are wrapped around the filling. They are easy to make and beautifully rustic.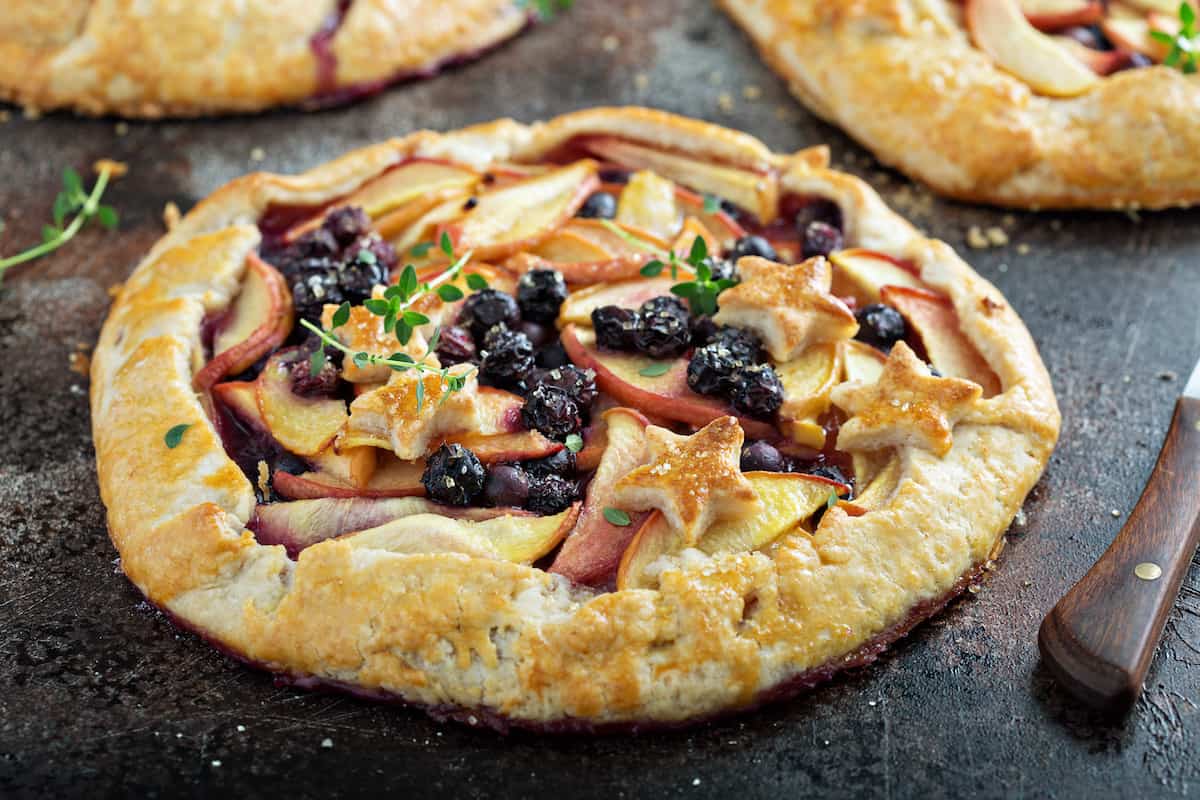 Tips for Success
Don't skip the graham crackers. The graham cracker crumbs add flavor and also soak up extra juices that may escape from the fresh fruit. This ingredient is key to a tender and flaky bottom on your galette.
Do you have to peel the peaches? I know many galette recipes will recommend blanching the peaches and removing the skin before baking with them. Personally, I never do this. The skin softens while the peaches bake and also has more antioxidants than the inner flesh.
Can you use different fruit? Definiately, just keep the overall amount of fruit the same. Some fun variations might include sliced strawberries, blackberries or sliced mango.
Use a pizza cutter. If you make one big galette the easiest way to cut it is with a pizza cutter. Just slice it up the same way you would a pizza.
Serve with ice cream. Not 100% neccessary, but topping these with a scoop of ice cream or a generous dollop of whipped cream tastes mighty nice.
How to Store a Homemade Galette
Let your galette come to room temperature then store slices in the fridge in an airtight container. They will keep for 2-3 days. If you want to warm the slices before eating them, you can pop them in the microwave for about 30 seconds before digging in.
Print
Blueberry Peach Galettes
These easy blueberry peach galettes have the most perfectly tender and flakey pie crust. Filled with peach jam, crushed graham crackers, peaches and blueberries these "fruit pizzas" are summer at its best!
Author: Rustic Family Recipes
Prep Time:

45 minutes

Cook Time:

35 minutes

Total Time:

1 hour 20 minutes

Yield:

5-6

Category:

Dessert

Method:

Oven

Cuisine:

American
For the Pie Crust
1 1/2 cups

all purpose flour

2 tablespoons

sugar

3/4 teaspoons

kosher salt

1 1/2

sticks (12 tablespoons) unsalted butter, cold

1 tablespoon

vegetable shortening

1/4 cup

cold water
For the Fruit Filling
4 tablespoons

jam (I used peach jam)

4 tablespoons

graham cracker crumbles (about

2

crackers)

12

–

14

fresh peaches

1 cup

fresh blueberries

1

egg +

1 tablespoon

water
Sugar, for dusting
Instructions
Make the Pie Dough
Combine the dry ingredients: Add the flour, sugar and salt to a food processor fitted with the blade attachment. Pulse one or two times.
Add butter and shortening: Cut the butter into small pieces (about 1-inch), then add to the food processor. Cut the shortening into 2-4 pieces and add to processor. Pulse until everything is combined and the mixture resembles coarse breadcrumbs.
Add cold water: Drizzle the ice water into the food processor, pausing to pulse periodically. After several pulses the dough should start to form into a ball. The dough should stick together if you pinch it.
Chill: Remove the dough from the food processor and wrap it in plastic wrap. Gently smush it together briefly with your hands to make everything finish forming a cohesive dough. Then pat it into a round and chill in the fridge for at least one hour.
Assemble the Galettes & Bake
Preheat the oven to 425F. Line a baking sheet with parchment paper.
Prep the fruit. Wash and thinly slice the peaches. Wash the blueberries and make sure there are no stems. Set aside.
Roll out the dough. On a well floured countertop, roll the dough out. If you are making one large galette, roll it out into a 13-14 inch rough circle. If you are making 3 galettes, divide the dough into 3 equal parts and roll each one into a 9 inch rough circle.
Transfer the dough to your baking sheet. The easiest way to do this is to gently roll the dough over your rolling pin and then lift the dough on the pin. You can also roll out the dough between two sheets of parchment paper and then just transfer the parchment paper to your baking sheet. If you do this, you don't need to line the sheet before hand. Remove the top layer of parchment paper.
Trim the edges. (optional) Using a knife or pizza cutter, trim just the edges of the dough so that the circles have clean edges. Save the extra dough. You can also skip this step completely and let the edges be their rustic selves.
Fill the dough. Spread the jam over the dough, leaving a 4-inch margin for a large galette and a 3-inch margin for smaller galettes. Top with graham cracker crumbs. Add the fruit. You can arrange the fruit in a pretty pattern if you like.
Fold up the edges. Gently fold the edges of each galette over the filling.
Roll out extra dough (optional). If you trimmed the dough, you can roll it out and form it into little shapes like stars or hearts with cookie cutters. Place these on top of the fruit.
Add egg wash and sugar. Combine 1 egg with 1 tablespoon of water. Whisk well. Brush over the dough. Sprinkle sugar over the dough and fruit.
Bake. Place the galette(s) in the oven and bake at 425F. There are two steps to baking. First, we are going to bake the crust, then we are going to cover the galettes and let the fruit soften further.
For a large galette, the baking time will be 25-30 minutes or until golden.
For 3 small galettes, the baking time will be about 25 minutes or until golden.
Once this initial baking period is done, cover the galette with aluminum foil by just laying a piece of foil loosely over the top of the baking sheet. We are just going to give the fruit more time to cook while preventing the crust from over-browning.
Lower heat to 400F. Bake the covered galette(s) for an additional 10-15 minutes or until the filling is bubbly and the fruit is soft.
Cool and serve. Remove from the oven and let cool 5-10 minutes. Serve with ice cream or whipped cream if desired.
Last Step:
Please
share a rating and comment
if you enjoyed this recipe! Your feedback helps this little blog thrive and continue providing free, high-quality recipes for you.
Keywords: peach hand pie, blueberry hand pie, hand pies
Filed Under:
This post may contain affiliate links. Please read our disclosure policy.