These lemon tea cakes are light, fluffy, and stuffed with blueberry jam. They're perfect with a cup of tea or a steaming mug of coffee.
Although it has been many years since Game of Thrones was on the air, I can't help but think Sansa Stark would have loved these tea cakes. Lemon cake was Sansa's favorite dessert, and these elegant treats pretty much check all the boxes. They're bright, they're citrusy, and they are stuffed with blueberry jam. What's not to love? I can just see Lady Olena and Sansa nibbling on a pile of these while having tea in the gardens of the Red Keep.
Why You'll Love These Tea Cakes
Easy and elegant. The fancy look of these tea cakes comes from using a madeleine cookie mold, not from any complicated techniques. If you can spoon batter and jam into a tin, you can make these tea cakes.
Flavorful. Every bite of these tea cakes is full of fresh blueberry and lemon flavor. They are truly delicious!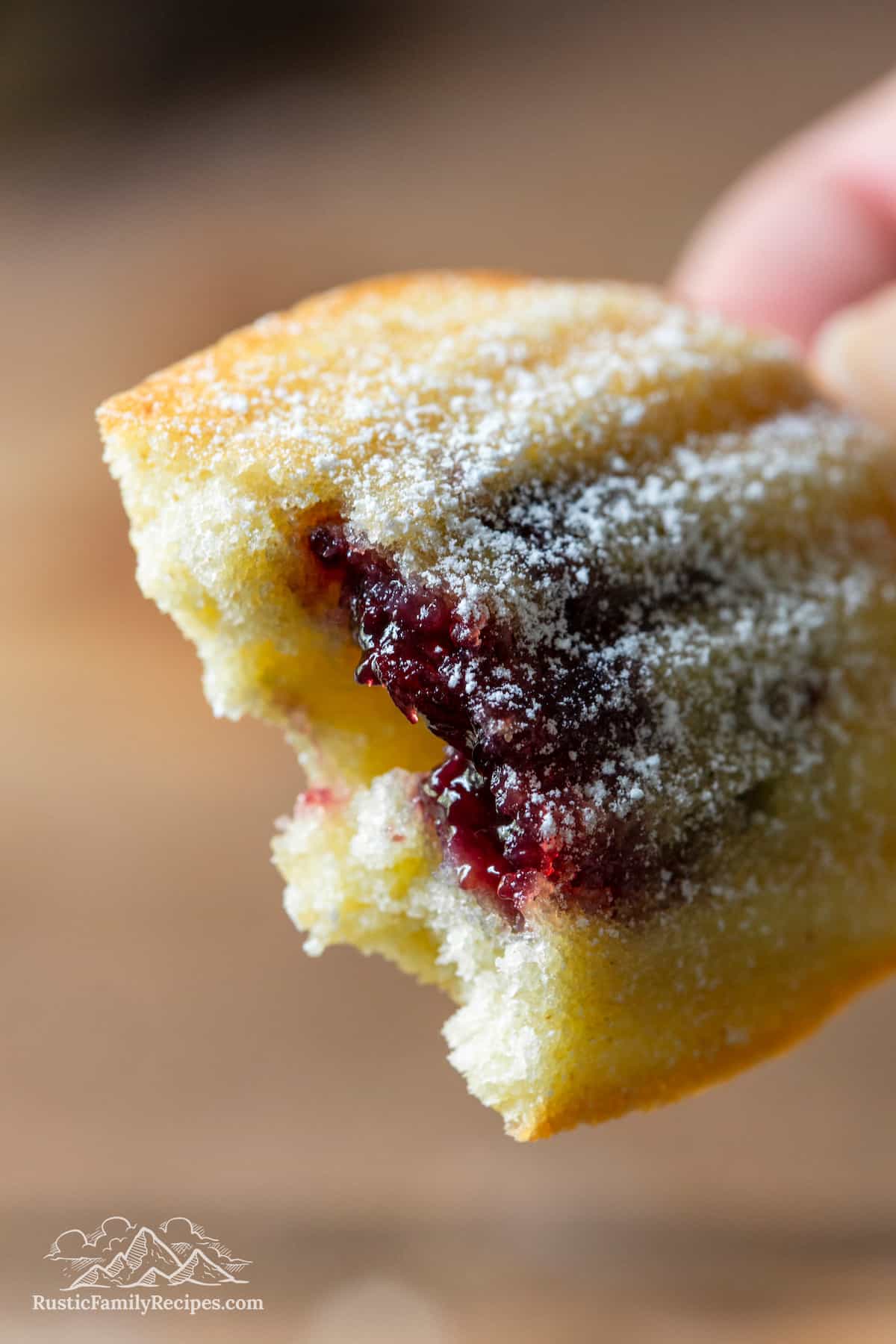 Madeleines are traditionally small sponge cakes that are baked in a shell shape mold. They are sometimes referred to as cookies. Whether madeleines are cakes or cookies is one of those things that foodie folks like to debate. According to the French, they are cakes, but because of their small size, many Americans say they are cookies.
I'm not sure I would call these traditional madeleines. The recipe is based on one of my favorite lemon cakes, which I will post at some point, and I used a madeleine pan because I wanted to make a mini version that looked pretty and was fun to eat. So in my book, these are mini lemon tea cakes.
Tips for Success
Measure accurately. While these cakes are easy to make, they do require a bit of patience just because you use such a small amount of batter and blueberry jam when filling the molds. If you overfill the madeleine shell mold then the cakes will overflow while baking and you won't get that pretty shell shape. So be patient and measure the batter. You only need 1 tablespoon of cake batter per cake, plus 1/2 teaspoon of blueberry jam.
Prep your pan. It is important to grease your shell molds with melted butter. This helps prevent the cakes from sticking in the pan. Use a pastry brush to add a thin layer of melted butter to each mold, but not so much the butter pools at the bottom.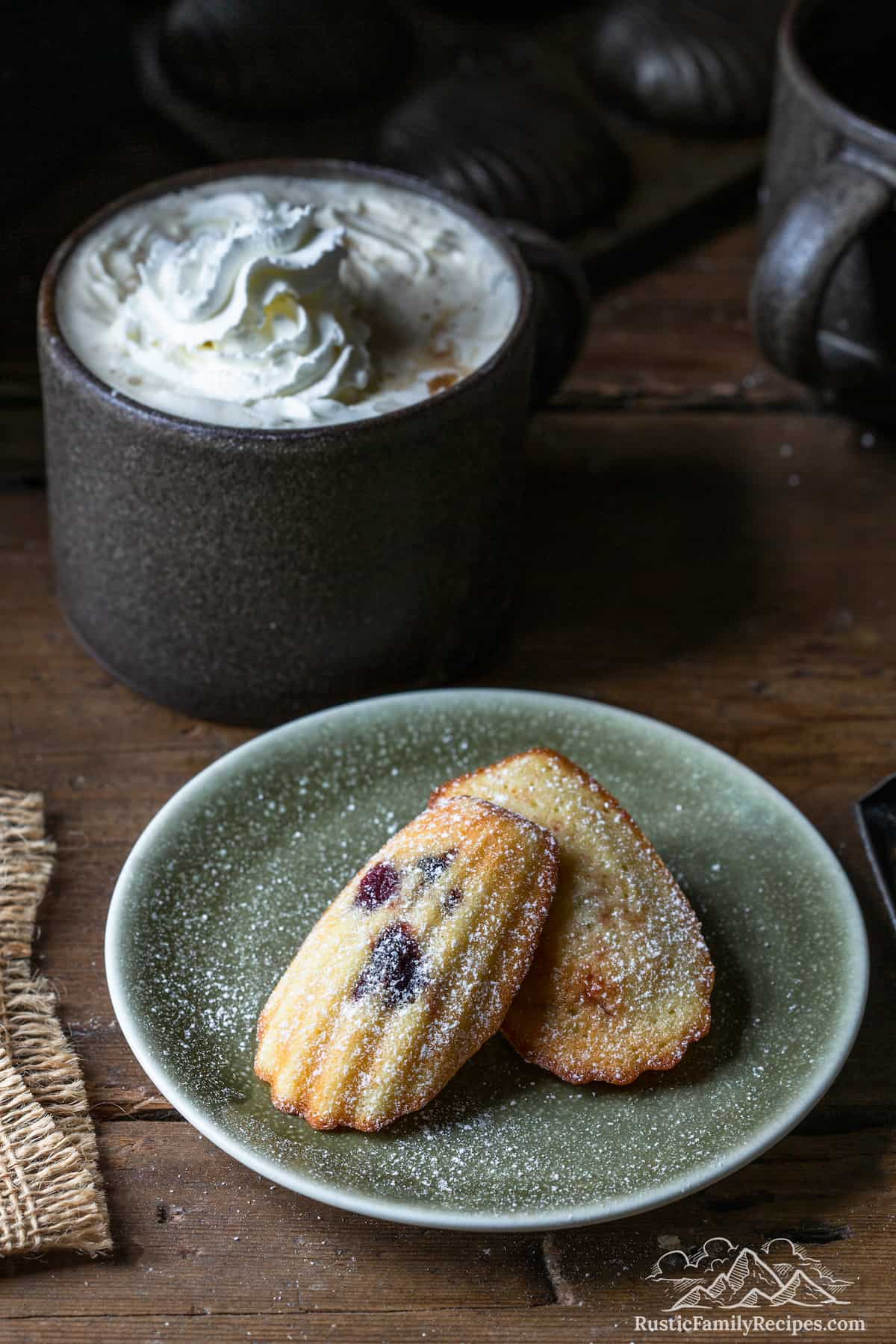 Flavor Variations
Kinds of jam filling. I decided to fill these cakes with blueberry jam, but you could also use strawberry, blackberry, or raspberry jam. Pretty much any flavor you like works! The key is using a thick jam that will hold its shape as a little "dollop" in the center of the batter. A watery preserve will not work.
Different zests. You can also substitute lemon zest for orange or clementine zest. Play with the flavors and see what you like! You can get a lot of variation just by using different combos of zest and jam filling.
Experiment with how you top these cakes. You can serve them just as they are and they will be delightfully delicious. I usually serve them with a dusting of confectioners sugar. Another idea is to add a drizzle of a simple glaze, like the maple glaze used in my maple scones recipe even the matcha glaze used in my lemon bundt cake. Just make the glaze exactly as described in those recipes, then drizzle it on top of the cakes, or dip one side of each cake briefly into the glaze. Give the glaze at least 15-20 minutes to harden.
How to Eat Tea Cakes
The most straightforward way to enjoy these cakes is with a cup of tea, a cup of coffee, or a glass of milk. A cool glass of lemonade would also be quite lovely during the warm summer months.
But, can I tell you about another way I love to eat these mini cakes? Especially when summer produce is at its best, I like to break two cakes in half and then layer them in a large wine glass with maple-vanilla whipped cream and fresh berries. It's so good!
How to Store
I'm going to be honest with you. We always eat ALL of the tea cakes the day they are made. Seriously. No joke. BUT, if you do have some leftover and want to store them for later, here's how:
Counter. These mini cakes will keep in an airtight container on the counter for up to 3 days.
Fridge. Store them in an airtight container in the fridge for up to 5 days.
Freezer. You can also freeze them in an airtight, freezer-safe container for up to 3 months. Thaw for a few hours on the counter, overnight in the fridge, or zap them for a few seconds in the microwave when you're ready to eat some lemon cakes.
Print
Blueberry Lemon Tea Cakes
These mini lemon tea cakes are light, fluffy, and stuffed with blueberry jam. They're perfect with a cup of tea or a steaming mug of coffee.
Author: Rustic Family Recipes
Prep Time:

10 minutes

Cook Time:

8 minutes

Total Time:

18 minutes

Yield:

12 tea cakes

Category:

Dessert

Method:

Oven

Cuisine:

American
5 1/2 tablespoons

unsalted butter, plus 1 tablespoon more for greasing the baking tin

1/2 cup

plus 1 tablespoon all-purpose flour

1 teaspoon

baking powder
A pinch of kosher salt
Zest of

one

lemon

5 tablespoons

sugar

1/4 teaspoon

vanilla

2

eggs, room temperature

6 teaspoons

blueberry jam
Confectioners sugar, for dusting
Instructions
Preheat oven to 450F. Get out your madeleine pan and set aside.
Melt some of the butter. Melt 5 1/2 tablespoons of butter in a saucepan. Set aside to cool.
Mix dry ingredients. In a medium bowl, combine the flour, baking powder, salt and lemon zest. Set aside.
Mix wet ingredients. In another medium bowl, combine the cooled butter, sugar and vanilla. Mix well. Add the eggs. Mix well and then set the bowl aside.
Melt the remaining butter. In the same saucepan you used to melt the butter, melt an additional 1 tablespoon of butter. Set aside.
Combine wet and dry ingredients. Add the dry ingredients to the wet ingredients. Mix well until there are no dry bits of batter visible.
Grease the pan. With a pastry brush or using a spoon and your finger tips, grease the madeleine pan with the remaining 1 tablespoon of butter. Make sure each well is thoroughly greased but that the butter does not pool at the bottom of the well.
Assemble the tea cakes. Into each madeleine well, spoon about 1/2 tablespoon of batter. In the center of the batter spoon about 1/2 teaspoon of blueberry jam. Top with another 1/2 tablespoon of batter.
Bake. Place the tin in the oven and bake for 4 minutes.
Lower the temperature. Reduce the oven temperature to 350F and bake for another 4 minutes. The cakes are done when they are golden and spring back when you touch one gently with a fingertip.
Cool. Allow the cakes to cool for 5 minutes, then remove from the pan and let them cool a bit more on a wire rack.
Serve. Dust the cakes with confectioners sugar and serve.
Equipment
Last Step:
Please
share a rating and comment
if you enjoyed this recipe! Your feedback helps this little blog thrive and continue providing free, high-quality recipes for you.
Keywords: tea cakes, blueberry lemon cake, mini cakes, lemon cake
Filed Under:
More Lemon Desserts to Try
This post may contain affiliate links. Please read our disclosure policy.