These blueberry cookies are soft, chewy and brilliantly purple! Made with fresh blueberries and rolled in sparkly sugar, these gorgeous cookies are bursting with blueberry flavor in every bite.
Featured Comment
These were fabulous made exactly according to instructions! Thank you for sharing!
Easy. Despite the impressive-looking results, these cookies are actually super simple to make. Just make a quick blueberry sauce, add it to the cookie dough, then chill and bake.
Flavorful. Cooking down the blueberries into a sauce intensifies their flavor, so every bite of these purple cookies is full of fresh, summery blueberry flavor.
Soft & chewy. If you're a fan of soft and chewy cookies, then you're going to love this recipe. The edges of these cookies are perfectly crisp, while the centers are delightfully chewy.
Totally gorgeous. The color in these cookies is even prettier in person! The camera really doesn't do them justice. Each cookie is vibrantly purple inside and out. I daresay eating one of these makes you feel a bit like royalty since purple is traditionally a "royal" color!
Watch How to Make Them
Want to see how to make these cookies step-by-step? Here's a quick video:
Chill time is important. These cookies need to chill for 3 hours to give the dough time to firm up. If you skip the chill time your cookies will spread too much and you'll end up with flat, thin, crisp cookies instead of soft and chewy ones.
Give them space on the baking sheet. I usually bake 6 cookies at a time on a standard-sized baking sheet. This gives them plenty of room to spread a bit while they are baking and means you don't have to worry about cookies fusing together during the baking time.
Use parchment paper. It is important to line your baking sheet with parchment paper or a silpat

(affiliate link)

. If you try to bake these directly on the sheet the cookies will stick, even if you have sprayed the cookie sheet

(affiliate link)

with cooking spray.
Getting the perfect shape. If your cookies don't have a perfectly round shape when they just come out of the oven you can use a spatula or a large biscuit cutter to gently press the edges into a circular shape while the cookies are still soft. When I use a biscuit cutter, I place the cookies in the center of the cutter – I'm not actually cutting the cookies – and then I just swirl the cutter around the cookies in a circular motion to easily give the cookies a round shape.
Let them cool. These cookies will be quite soft when they come out of the oven. They need to cool for 30 minutes to firm up and take on that perfectly chewy texture we're looking for.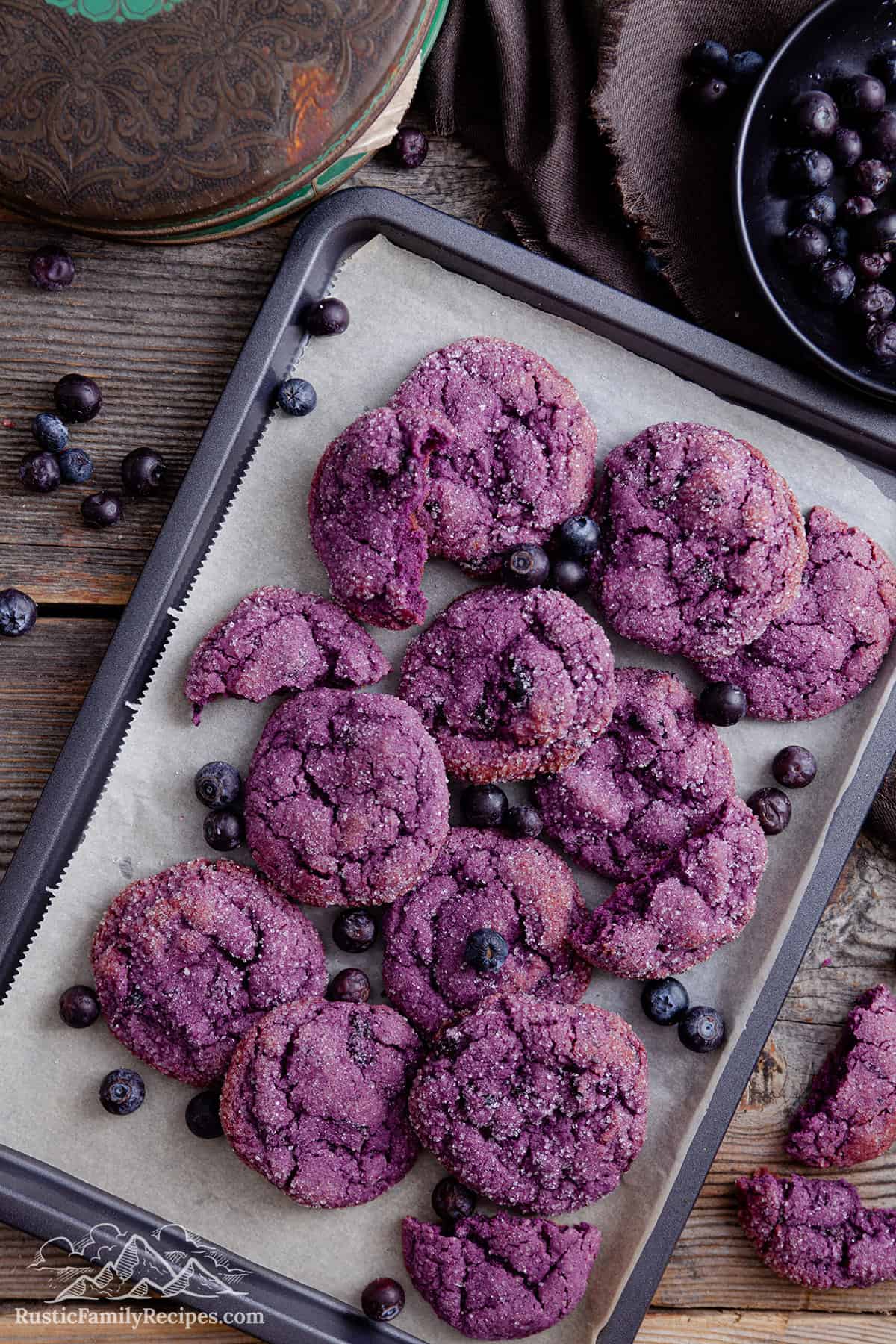 Frequently Asked Questions
Can I add fresh blueberries to the cookie dough? There is no need. You will still have visible pieces of blueberry in the cookies because the blueberry sauce doesn't cook long enough to break down the berries completely. That's why you can see chunks of blueberry in the photos shown here. 🙂 If you really want to add more berries to the cookies, you could probably add up to 1/3 cup. (I have not tried this though.)
Can I use a different kind of berry? Yes, though if you want to use strawberries I recommend using my strawberry cookies recipe. Otherwise, you can use the same method with blackberries, black raspberries, or raspberries.
Can I use frozen blueberries? Absolutely. Since we are using the berries to make a small amount of blueberry sauce that is then added to the cookies, both fresh and frozen berries work just fine.
Can I add mix-ins? I haven't tried adding mix-ins like dried fruit or chocolate chips to these cookies. If I were going to experiment with it, dried blueberries and white chocolate chips would be where I began. I would start with 1/4 cup of dried blueberries and 1/2 cup of white chocolate chips.
Can I freeze the cookie dough? You sure can! Once you have formed the cookie dough into balls, freeze them on a baking sheet lined with parchment paper. In about 2-3 hours the balls will be frozen solid, at which point you can transfer them to an air-tight, freezer-safe container and store them for up to 3 months. When you are ready to bake, you can simply place the frozen cookie dough balls on your lined baking sheet. I usually add about 2-3 minutes to the baking time. You'll need to keep an eye on the cookies and adjust as needed since the dough will be colder than usual.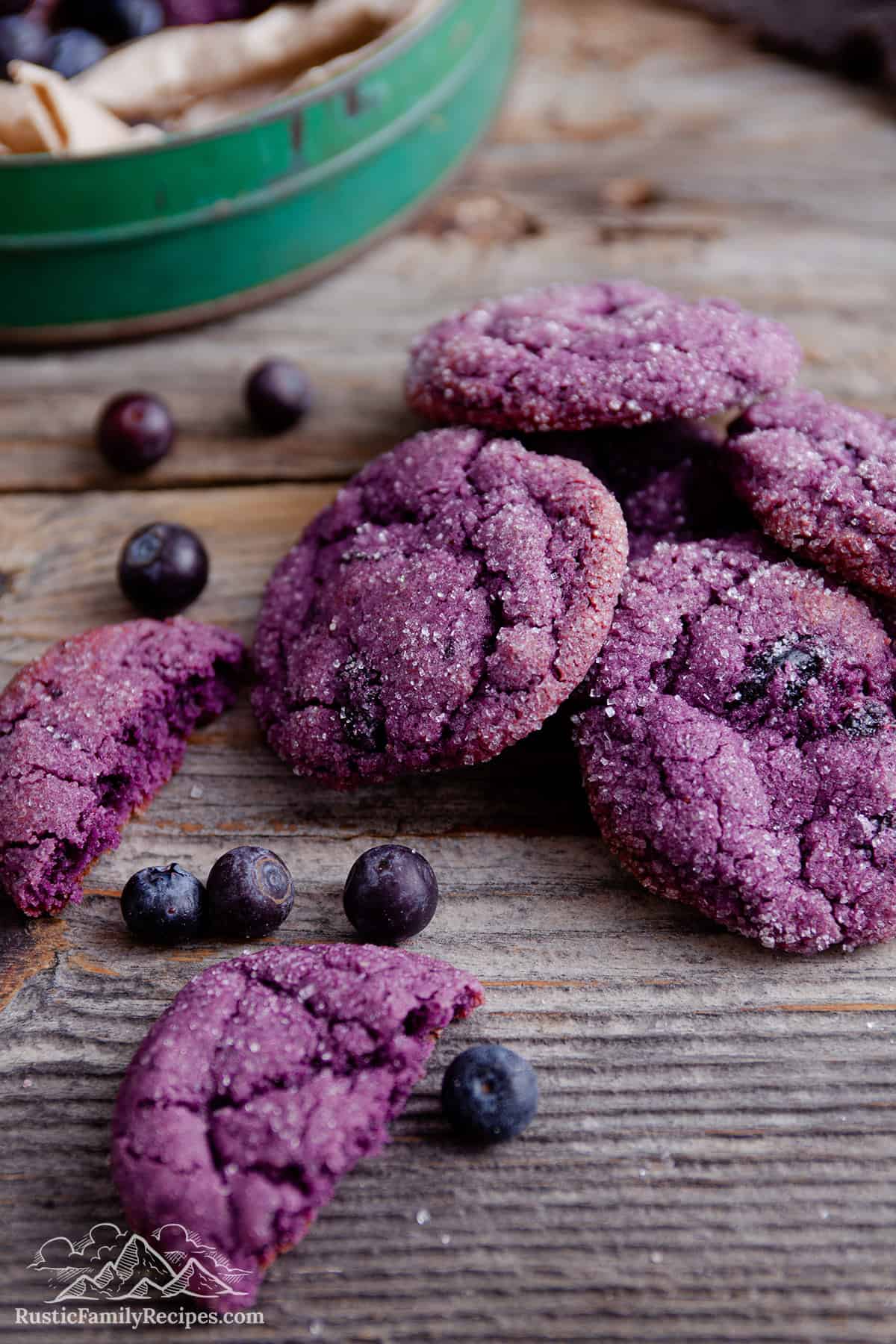 How to Store
Let your blueberry cookies cool to room temperature, then store them as follows:
Counter. Place them in a tupperware, cookie jar, or ziplock bag and store them on the counter for 3-4 days.
Fridge. If you would like to extend their shelf life, you can place them in an airtight container and store them in the fridge for up to 7 days.
Freezer. Carefully put the cookies in an air-tight, freezer-safe container and freeze them flat. I recommend something like a freezer-safe tupperware vs. a bag because the cookies can break easily if they are layered on top of each other or something else is placed on top of them. They will keep for up to 3 months. Thaw on the counter for a few hours when you're ready to eat one.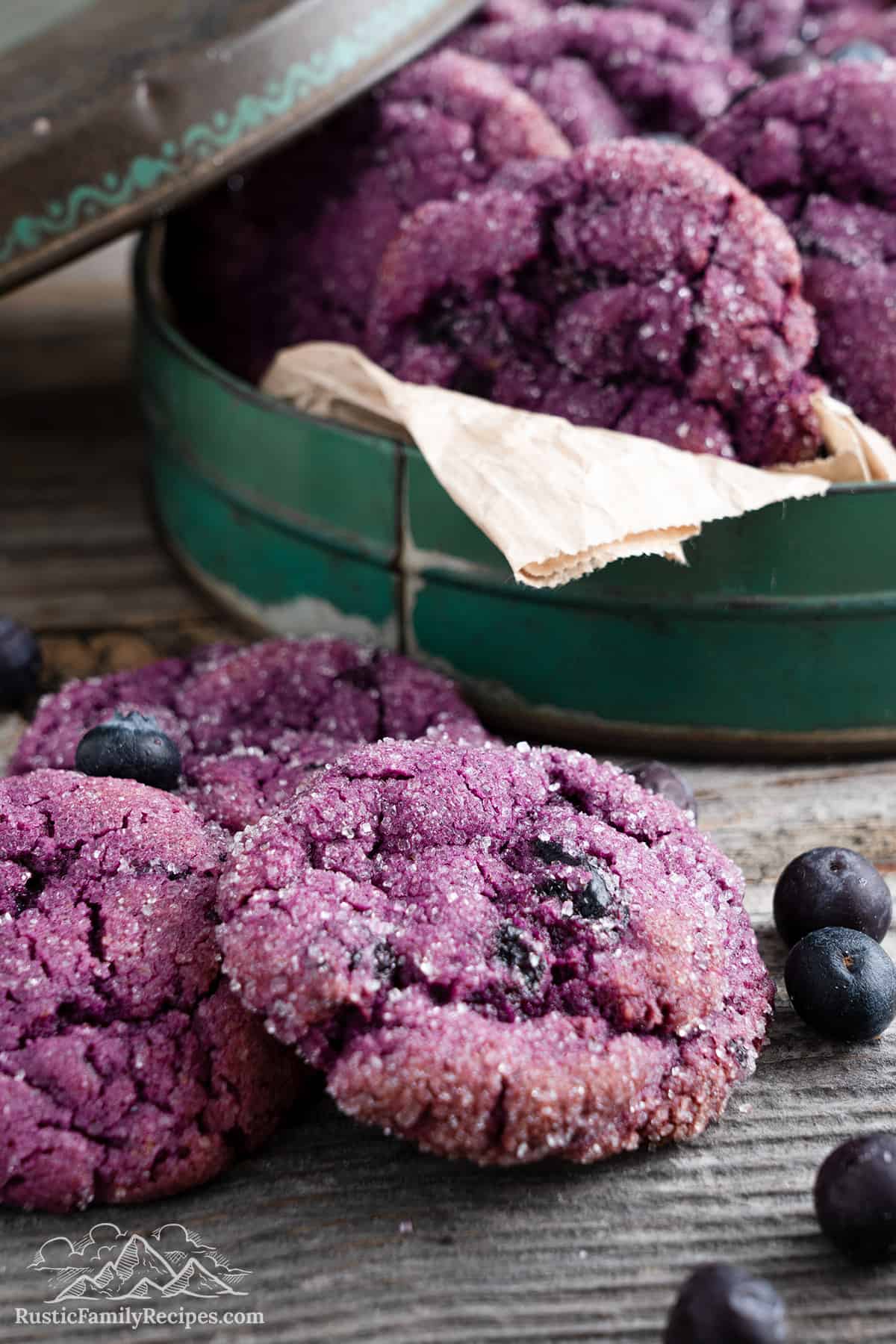 This soft and chewy blueberry cookies are made with fresh berries and have a gorgeously purple hue!
Ingredients
For the blueberry sauce:
1

cup

fresh blueberries

,

stems removed

2

teaspoons

sugar

1

tablespoon

fresh lemon juice

,

not bottled
For the cookies:
2

cups

all purpose flour

1 ½

tablespoons

cornstarch

1 ½

teaspoons

baking powder

½

teaspoon

kosher salt

½

cup

unsalted butter

,

room temperature

1 ½

cups

white sugar

,

divided use

2

tablespoons

milk

1

large egg

¼

teaspoon

purple food dye

,

liquid dye
Instructions
Make the blueberry sauce. In a medium pot over medium low heat, combine the fresh blueberries, sugar and lemon juice. Cook, stirring frequently, until the blueberries break down and the mixture thickens. This will take about 5-8 minutes. Set aside to cool.

Combine the dry ingredients. In a large bowl, combine the flour, cornstarch, baking powder, and salt. Set aside.

Cream butter and sugar. In another large bowl, cream the butter and 1 1/4 cups of white sugar together until light and fluffy.

Add the blueberry sauce. Scoop 3 tablespoons of the cooled blueberry sauce out of the pot and mix into the butter and sugar. (If you have extra sauce, put it in a mason jar for later, you can use it on pancakes.)

Add milk, egg and dye. Mix until just combined.

Add dry ingredients. Mix until everything is well combined and there are no dry bits of batter.

Chill the dough. Cover your bowl with saran wrap and chill for 3 hours.

Prep your tools. Preheat your oven to 325F. Line a baking sheet with parchment paper or a silpat. Set aside.

Pour sugar. Place the remaining 1/4 cup of sugar in a shallow plate. Set aside.

Form the cookies. Scoop the chilled cookie dough and roll into balls, using about 1 heaping tablespoon of dough per cookie.

Roll in sugar. Place the rolled cookie dough into the sugar and roll it around to coat. Place the sugar cookie dough ball onto your prepared baking sheet. You will be able to fit 6 cookies on one standard baking sheet. (There needs to be space between the balls of dough.)

Chill the extra dough. Once you have shaped your 6 cookies, place the cookie dough back in the fridge until you are ready to shape the next batch. Or, if you have two cookie sheets, you can start working on the next batch while the first one bakes. You just don't want the cookie dough to sit on the counter and warm up.

Bake. Place in the oven and bake for 15 minutes, until cracks form.

Cool. Remove from the oven and allow to cool for 10 minutes before removing to a wire rack to finish cooling for another 20 minutes. If you try to move the cookies before 10 minutes they will be too soft and they will break.
Last Step:
Please
share a rating and comment
if you enjoyed this recipe! Your feedback helps this little blog thrive and continue providing free, high-quality recipes for you.
Nutrition
Serving:
1
cookie
|
Calories:
248
kcal
|
Carbohydrates:
43
g
|
Protein:
2
g
|
Fat:
8
g
|
Saturated Fat:
5
g
|
Polyunsaturated Fat:
0.4
g
|
Monounsaturated Fat:
2
g
|
Trans Fat:
0.3
g
|
Cholesterol:
21
mg
|
Sodium:
153
mg
|
Potassium:
29
mg
|
Fiber:
1
g
|
Sugar:
26
g
|
Vitamin A:
240
IU
|
Calcium:
38
mg
|
Iron:
1
mg
Nutritional info is an estimate and provided as a courtesy. Values may vary according to the ingredients and tools used. Please use your preferred nutritional calculator for more detailed info.
Did you make this recipe?
💖 I love hearing how my recipes came out for others! If you tried this recipe, please share a comment. 💖
This post may contain affiliate links. Please read our disclosure policy.