This post may contain affiliate links. Please read our disclosure policy.
This old-fashioned Blueberry Buckle has all the delicious flavors of a giant blueberry muffin, bursting with fresh berries and topped with a buttery crumb. This is one of our favorite summertime desserts when blueberries are in season!
As soon as summer hits, the blueberries in our garden are out in full force. Every time I look outside it's like they've multiplied ten-fold. We're talking a sea of blue, and with that amount of blueberry power comes a great responsibility to bake all the things.
With blueberries very much officially in season, I like to make the most of the bounty with blueberry peach cobbler, blueberry muffins, and blueberry sauce. Then there's our family favorite: an old-fashioned blueberry buckle.
If you find yourself with an abundance of blueberries from your own garden, or following a haul from the local farmers' market, I encourage you to make this cake. For one, it's a simple and easy dessert, full of juicy fresh berries set inside a tangy and moist, tender coffee cake. Secondly, your house will smell incredible. You'll want to bake one of these every week!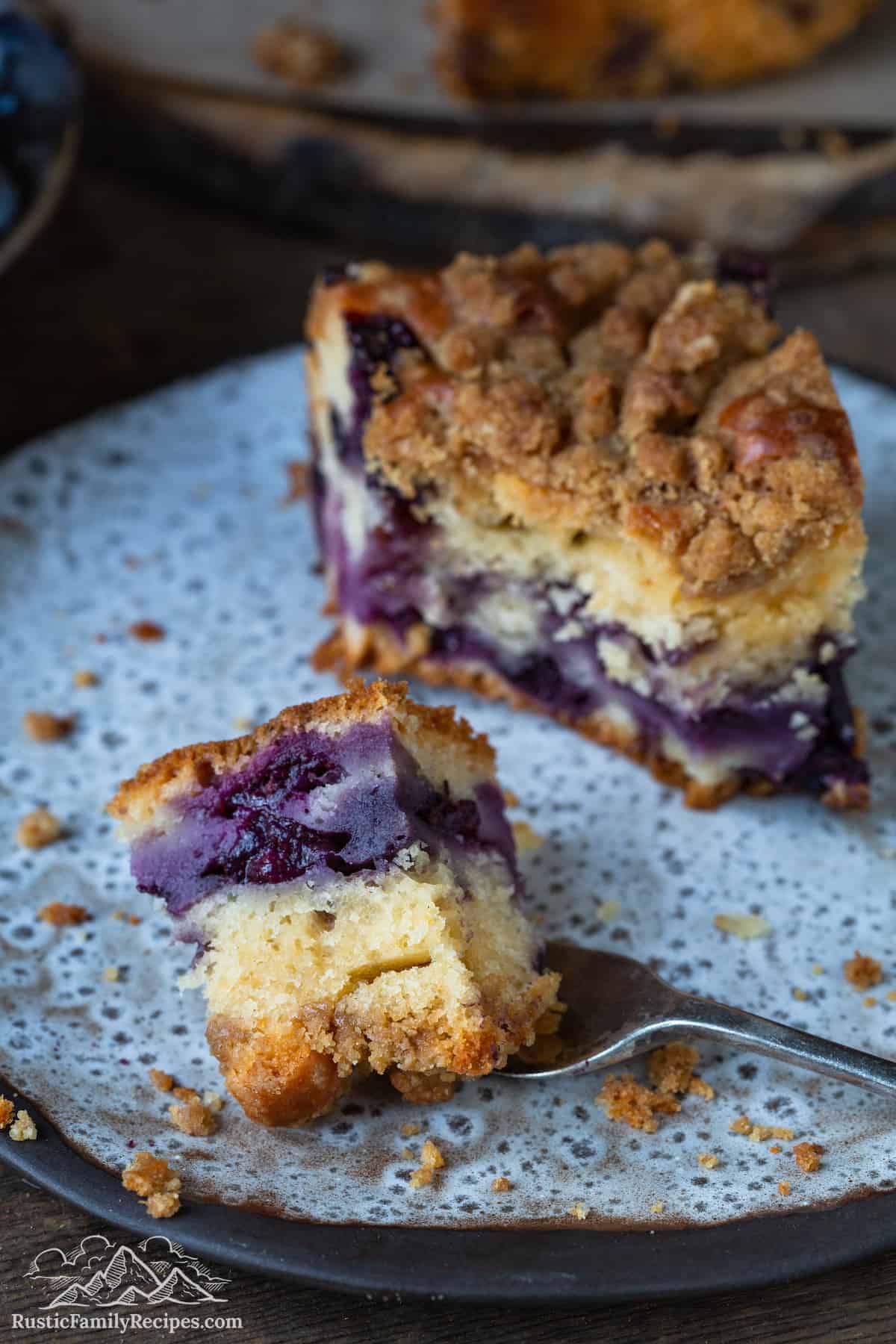 What is a Buckle?
This blueberry buckle is a type of cake that's basically a cross between a giant blueberry muffin and a crumb or coffee cake. This recipe actually isn't too far off from my blueberry coffee cake muffins. This blueberry buckle is made from a tender, rustic cake studded with fresh blueberries, then topped with a deliciously sugary crumb.
A "buckle" gets its name from the way the cake rises while it bakes, and eventually buckles beneath the weight of the juicy blueberries and crumb topping.
Recipe Ingredients
Below is a summary of what you'll need for the blueberry cake and crumb topping. For the full amounts, please refer to the recipe card later on.
All-purpose flour – I use good old all-purpose flour in the cake, as well as the buttery crumb topping.
Sugar – Regular granulated white sugar works perfectly for this buckle recipe. You'll also need a half cup of packed brown sugar to make the topping.
Baking powder
Salt
Eggs – Set your eggs outside of the fridge about 30 minutes before you start, to let them get to room temperature.
Buttermilk – Creamy buttermilk makes this cake rich and tangy.
Unsalted Butter – Melted in the microwave and cooled, for both the cake and the topping. You can also use olive oil in place of butter in the cake, though I recommend sticking with butter for the streusel.
Fresh blueberries – If you can't grow your own, your local farmers' market is your next best bet for getting your hands on the freshest blueberries. Make sure to remove the stems before you begin!
Can I Use Other Kids of Berries?
Yes. Strawberries, raspberries, blackberries, and any other berry can be subbed into this recipe with great results. You can even mix up different kinds of berries and make a jumbleberry buckle, just like I did for this jumbleberry cobbler.
You don't need to stop at berries, either. Just about any seasonal fruit can be used. Make a peach buckle for another easy summertime treat, or a plum buckle for a sweet-tart version. Even an apple buckle with cinnamon makes an incredible fall dessert, though for apples I recommend cooking them first.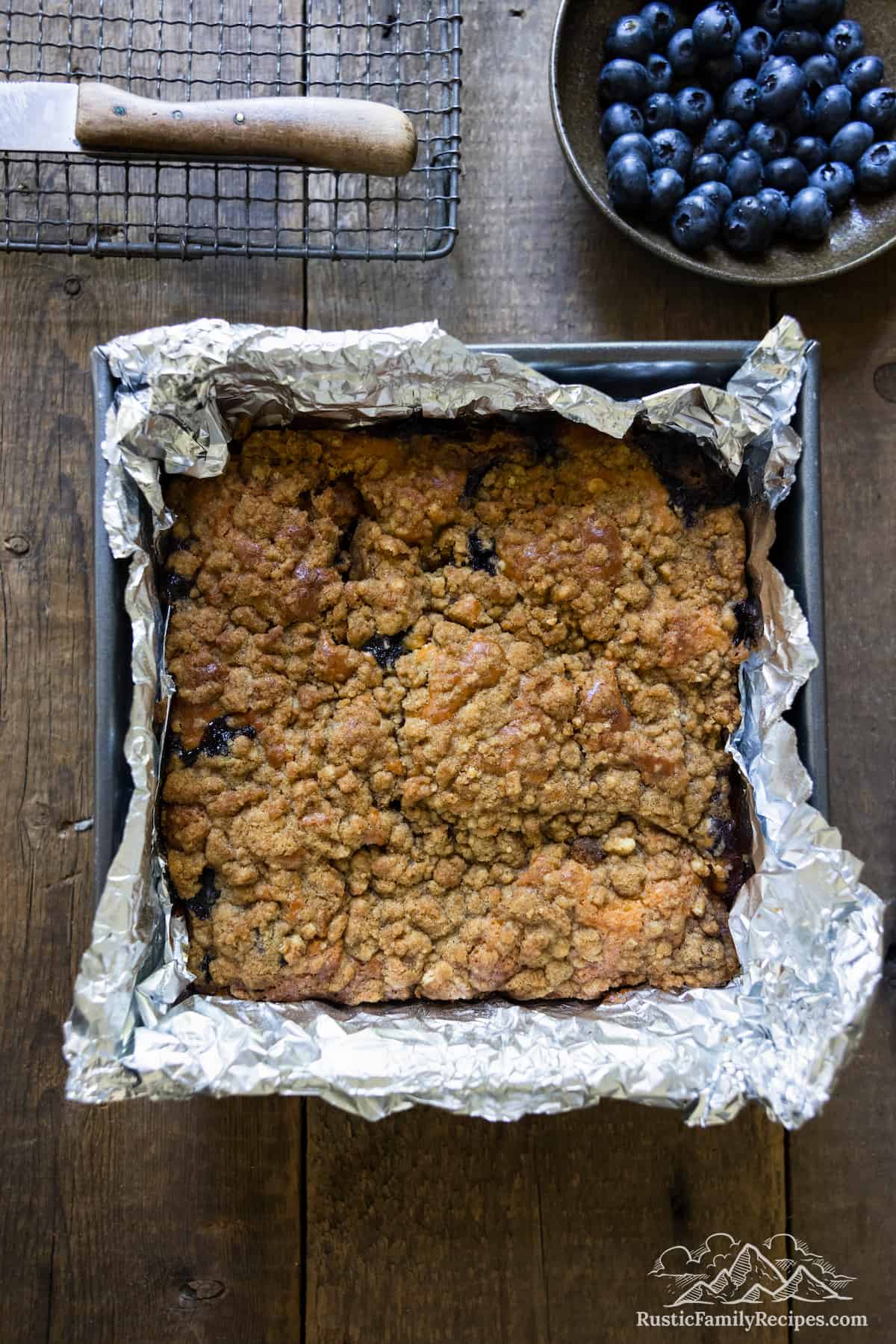 How to Make a Blueberry Buckle
Prep your tools. While the oven preheats to 375ºF, line a baking dish with aluminum foil. I recommend leaving a bit of foil hanging over the edges of the dish, for easy lifting and removal once the buckle is baked. Give the inside of the foil a light coating with cooking spray, then set your pan aside and get started on the cake itself:
Make the topping. Right off the bat, mix the ingredients for the crumb topping. Leave this aside, too, for now.
Mix the batter. Next, in a separate bowl, whisk together the flour, sugar, baking powder and salt. Use your spoon or your hands to form a well in the center of the dry ingredients. Add in the eggs, buttermilk and cooled, melted butter. Give everything a mix until just combined, being careful to not overmix the batter at this stage.
Add the blueberries. Gently fold in the blueberries and continue to mix until any dry bits left in the batter are just dissolved. Remember to give the sides of the bowl a scrape along the way.
Add the crumb topping. Transfer the cake batter into your prepared, lined baking dish. Sprinkle the crumb topping from earlier in an even layer over top.
Bake. Place the buckle into your preheated oven to bake.
After about 40 minutes or so, the topping should be nice and golden. However, the center of the buckle will require more time to cook through because this cake is so thick.
Take the cake out, cover it with foil, then return it to the oven and raise the temperature to 400ºF for the last bit of baking time.
Test for doneness. After 10 minutes, take the cake out again and carefully lift the foil. Here you'll gently press the top of the cake with your fingertip (it will be hot!). The buckle is done when the center springs back when it's poked. If the indent doesn't pop out again, this means your cake should be sealed up again and popped back into the oven for a few minutes more.
Cool. Once your blueberry buckle is baked, remove the top layer of foil and leave the cake to cool for a while before you slice it.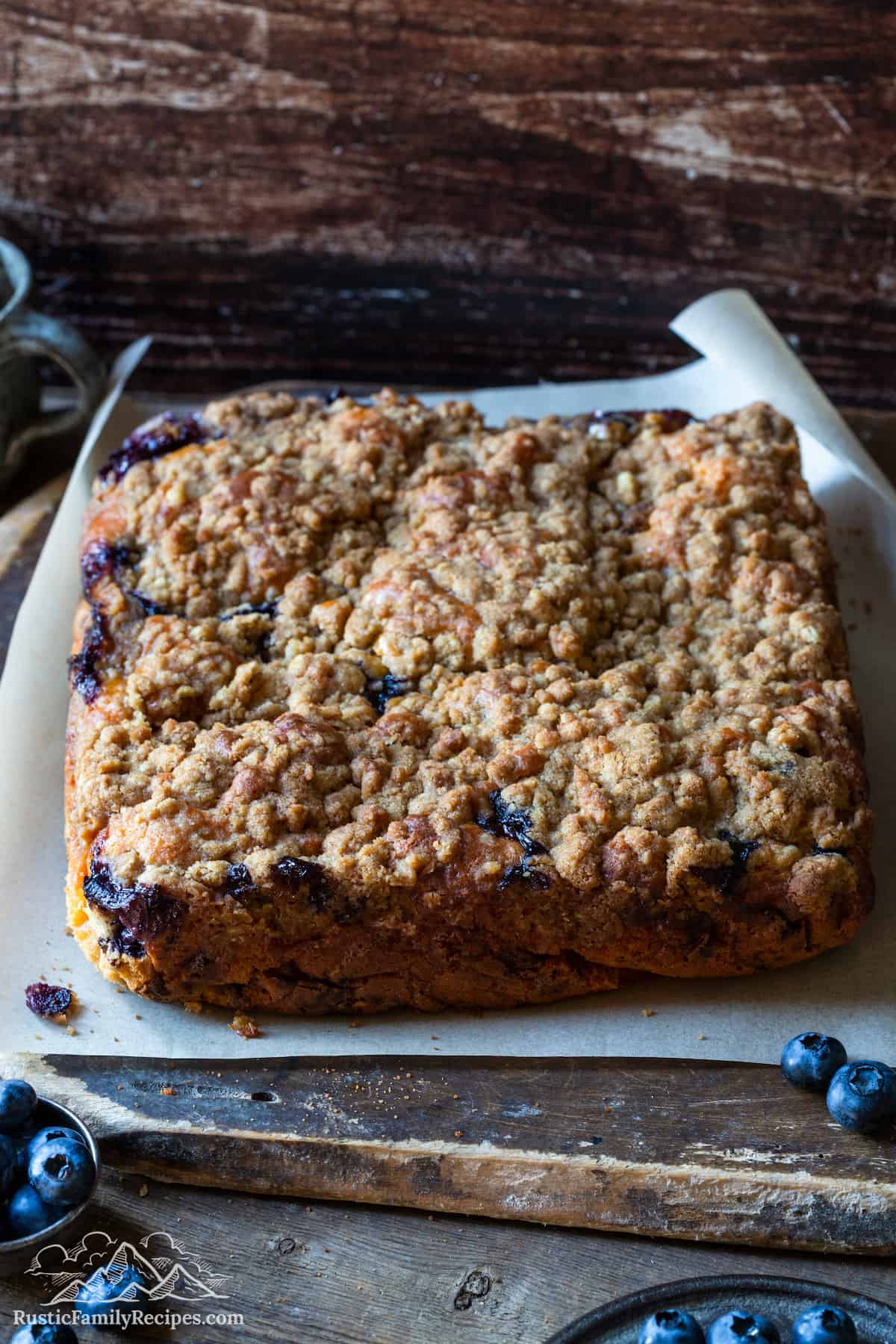 Tips for Success
Some easy tips to remember so that your blueberry buckle comes out amazing:
Measure the flour correctly. No scooping! Use the spoon and level method if you don't have a kitchen scale, by spooning the flour into your measuring cup and leveling it off with a knife. This helps to avoid too much flour, which can lead to a dense, tough cake.
Don't overmix the batter. The nature of a buckle means that it doesn't rise as high as a regular cake. Nonetheless, you still want that tender, moist texture that everyone craves. The best way to achieve this (along with correctly measured ingredients) is to not over work the batter. Be sure to mix only until any dry bits are no longer visible.
Cover with foil. This is a gloriously thick, rustic crumb cake and as such the edges tend to cook quicker than the middle. Don't skip the foil covering halfway through, otherwise, you'll wind up with overcooked topping and edges.
Make your own buttermilk. If you don't have buttermilk on hand to use in recipes like this one, make it yourself! Combine 1 tablespoon of lemon juice or vinegar per 1 cup of whole or 2% milk. Let the mixture stand for a few minutes, and there you have it.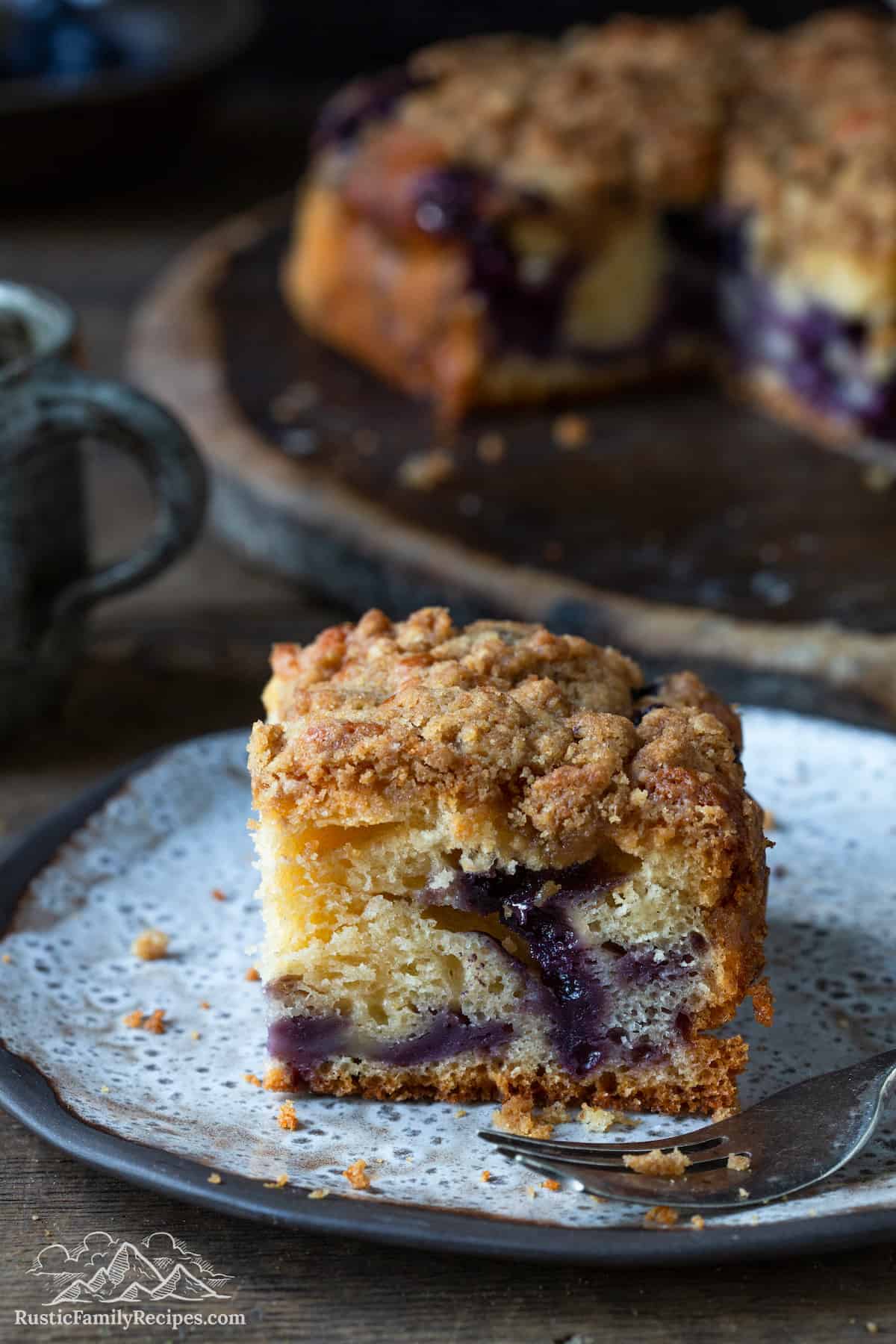 Serving Suggestions
Like any coffee or crumb cake, nothing compares to a fresh, warm blueberry buckle next to a cozy cup of coffee or tea. If you're truly after something akin to an out-of-body experience, try a slice topped with fluffy maple vanilla whipped cream. Want to go all out? Add a scoop of vanilla ice cream too.
Meanwhile, the kids love their blueberry cake with a glass of milk after dinner. Sometimes we'll really play up the summer berry flavors with a scoop of homemade strawberry ice cream, or vanilla ice cream (plus more whipped cream, let's be honest).
This is the perfect summertime spoil after a light meal of other garden favorites like my zucchini tart with bacon and pine nuts, spinach pesto alla genovese, or spinach mushroom quiche.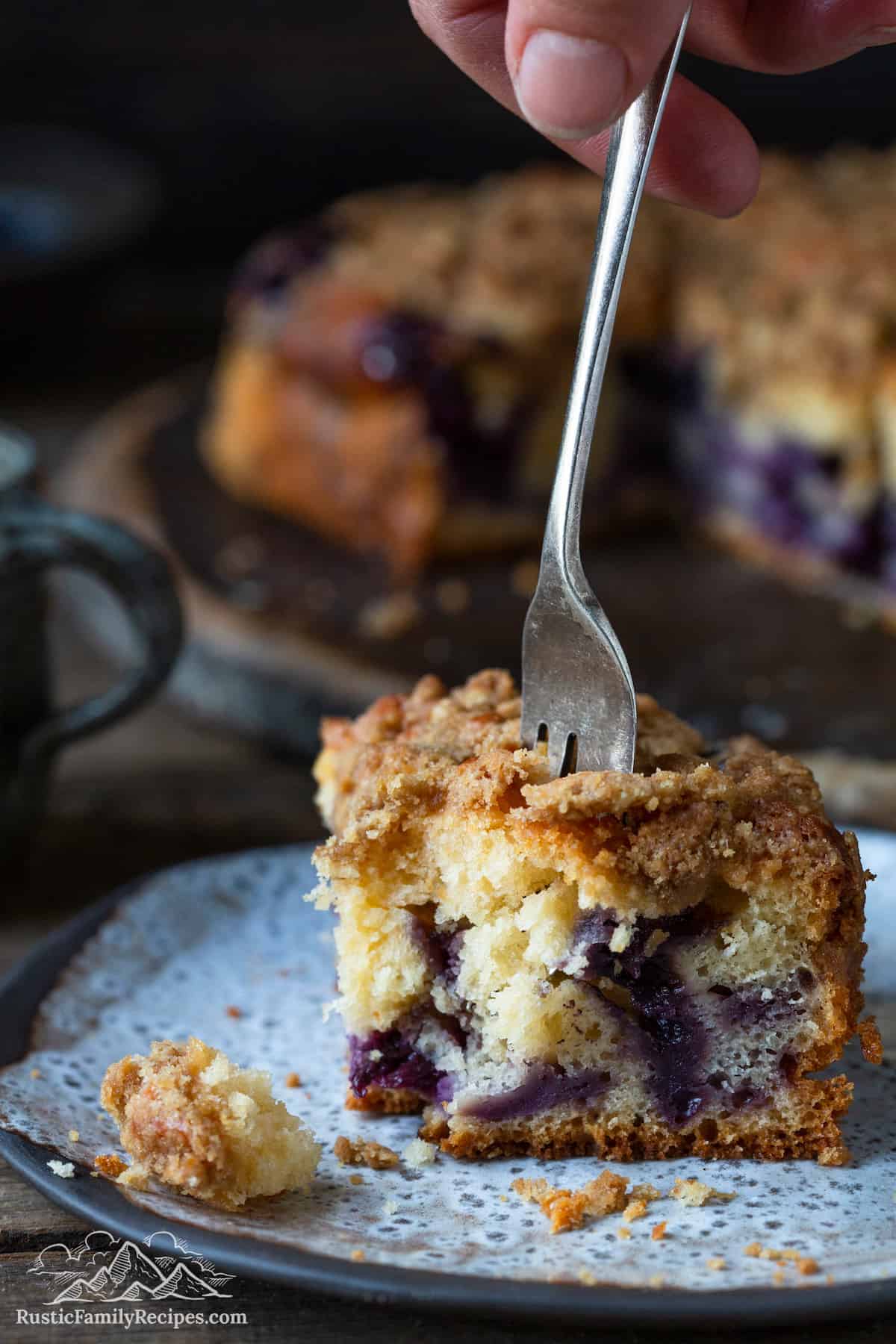 How to Store a Buckle
This blueberry buckle will keep fresh enough when stored airtight or covered at room temperature for a few days. I generally don't keep mine in the fridge, though this could be an option if you live in a particularly humid climate. Just know that refrigerating may dull the flavor and can sometimes dry out the cake.
Can I Freeze This?
Yes! Once the blueberry buckle has cooled completely, it can be kept frozen for up to 3 months. Store the cake whole or in slices, wrapping everything in saran wrap before placing in an air-tight freezer-safe container. You can also freeze the whole cake wrapped in several layers of saran wrap and aluminum foil.
Thaw the cake on the counter and then warm it in the microwave for a few seconds if you'd like. Note that with freezing, the crumb topping will lose its crispness, though it will still taste delicious!
Print
Blueberry Buckle
This tender Blueberry Buckle is an old-fashioned, easy blueberry cake recipe bursting with fresh berries and topped with a buttery crumb. A favorite summer dessert!
Author: Rustic Family Recipes
Prep Time:

10 minutes

Cook Time:

45 minutes

Total Time:

55 minutes

Yield:

12 servings

Category:

Dessert

Method:

Oven

Cuisine:

American
For the cake:
2 cups

all-purpose flour

3/4 cup

sugar

3 teaspoons

baking powder

1/2 teaspoon

kosher salt

2

large eggs, room temperature

3/4 cup

buttermilk

1/4 cup

unsalted butter, melted and cooled (or olive oil)

2 cups

fresh blueberries, stems removed
For the topping:
1/2 cup

brown sugar, packed

1/3 cup

AP flour

1/4 cup

butter, melted and cooled
Instructions
Prep your tools. Preheat your oven to 375 F. Line an 8×8 baking dish with foil with some foil hanging over the edges. This will make it easy to lift the cake out of the pan later. Lightly spray the foil that's inside the baking dish with PAM or cooking spray.
Make the topping. In a medium bowl, combine all of the topping ingredients. Mix well, then set aside.
Mix the dry cake ingredients. In a large bowl, combine the flour, sugar, baking powder and kosher salt. Mix well.
Add the wet ingredients. Make a well in the center of the dry ingredients. Add the eggs, buttermilk and cooled butter. Mix until just combined.
Add the blueberries. Fold the blueberries into the cake batter. Mix until no dry bits of batter are visible, making sure to scrap the sides and bottom of the bowl.
Add the topping. Pour the cake batter into the prepared 8×8 baking dish, then sprinkle the topping all over the cake batter.
Bake. Place the baking dish in the oven and bake for 40-45 minutes.
Add foil and raise the temperature. Around the 40 minute mark the topping will be golden but the center of the cake will still need to cook longer. Using oven mitts, remove the cake from the oven and cover it with another layer of foil, crimping down the edges to seal. Raise the temperature to 400F and place the cake back in the oven for another 10-15 minutes.
Test for doneness. After 10 minutes, remove the cake from the oven and lift the top layer of foil. Test the cake by pressing the center gently with your finger tip. (Careful, the cake will be hot.) If the cake is done the center will spring back when you gently press on it. If the cake needs more time, the indentation will not spring.
If the cake is done, remove the top layer completely and allow the cake to cool for 15 min before slicing.
If the cake is not done, seal the top layer of foil again and bake for another 5 minutes, until the center of the cake springs back.
Notes
This cake is very thick, so the center does not cook as quickly as the edges. It is important to cover it with aluminum foil halfway through the baking process to allow the middle to cook through without over cooking the edges or topping.
Last Step:
Please
share a rating and comment
if you enjoyed this recipe! Your feedback helps this little blog thrive and continue providing free, high-quality recipes for you.
Keywords: blueberry desserts, blueberry coffee cake, summer desserts, crumb cake
Filed Under:
More Blueberry Dessert Ideas