About Me: I have more than 20 years of cooking experience & share my favorite recipes on this blog.
Have a question? Please post a comment, I'm happy to help. 🙂
Birria pizza is my new favorite way to use up leftover birria meat. Homemade pizza dough covered in consommé then topped with birria meat and oodles of melty Oaxaca and Monterey Jack cheese. Serve each slice with dipping sauce and lime wedges!
One of our favorite weekend dinners includes birria tacos stuffed with gooey cheesy and then lightly fried in fat. Is it health food? No. Is it seriously good? You better believe it. Usually, we reserve this meal for lazy Sundays when nothing else is going out and we want to give the weekend a proper send-off. Maybe with a pomegranate margarita for the grown-ups and some mango lemonade for the kids for good measure.
Why am I talking about tacos when this post is about pizza? Well my friends, because there is usually leftover birria meat. And while a bowl of birria ramen or a birria quesadilla is a delicious way to eat it, I do think my heart has by stolen by the siren song of pizza. I think it was the cheese. Who can resist?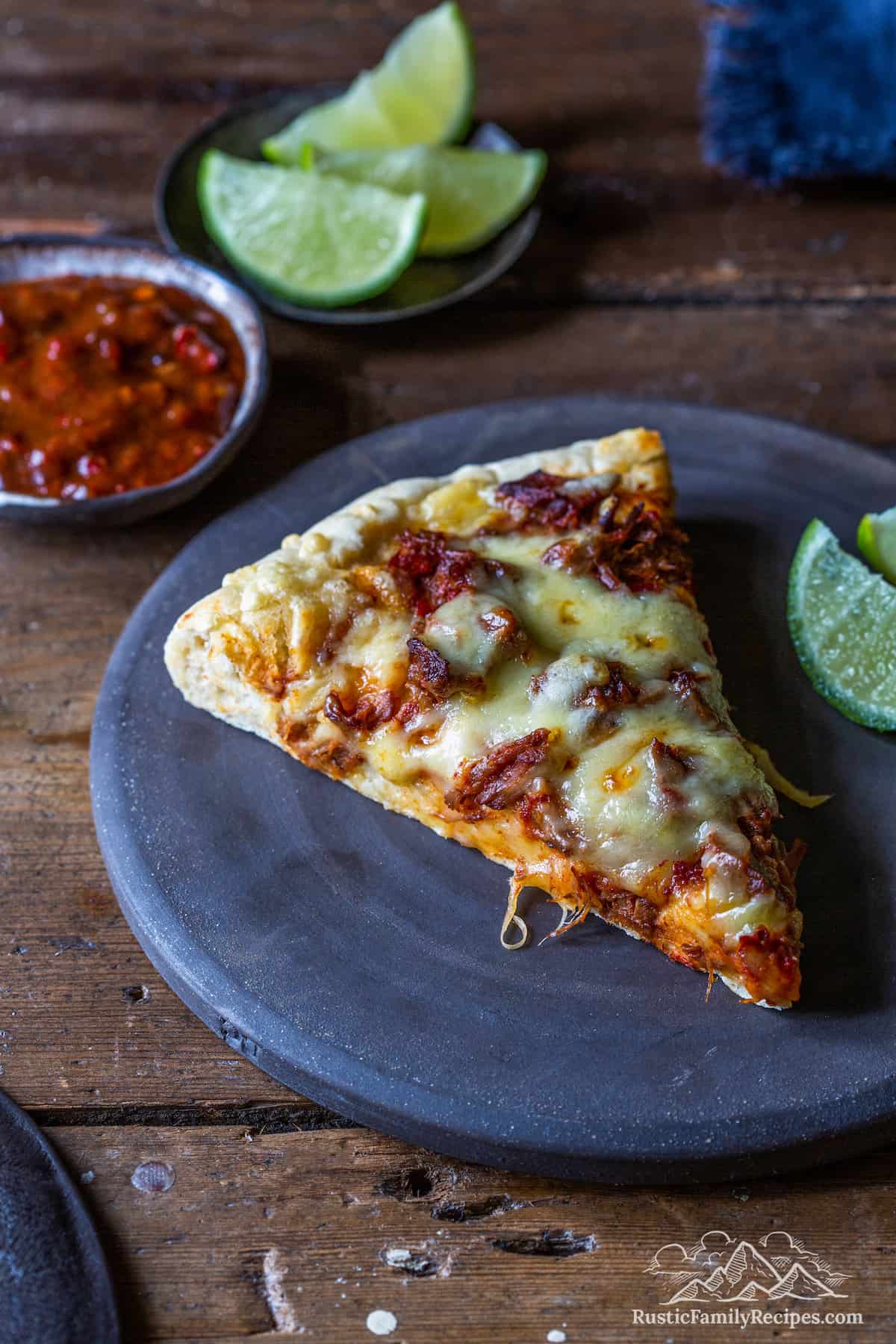 What is Birria Pizza?
Birria pizza is exactly what it sounds like: pizza made with birria meat instead of the usual pepperoni, ham, or other kinds of common "meaty" pizza toppings. Also, instead of marinara sauce, we're going to use the taco dipping sauce that's usually served with the tacos, then serve each slice with lime wedges. Talk about the ultimate Mexican meets Italian combo! This is a meat lovers pizza with a twist (of lime, that is).
I strongly recommend using homemade pizza dough for this recipe because the fresh crust compliments the consommé and birria meat better than any pre-made dough ever could. I used this easy dough recipe, which comes together in about 5 minutes and only needs one 90 minute rise. It makes a perfect pizza crust with a crisp exterior and fluffy interior. You could also use my sourdough pizza crust if you are feeling extra fancy!
Equipment Needed
To make this recipe as described you'll need a pizza stone and a pizza peel. The stone is what helps the crust get that crispy edge, while the peel lets you remove the pizza from a super hot oven easily. If you don't have these you could also bake the pizza on a baking sheet, but the crust won't be as crisp.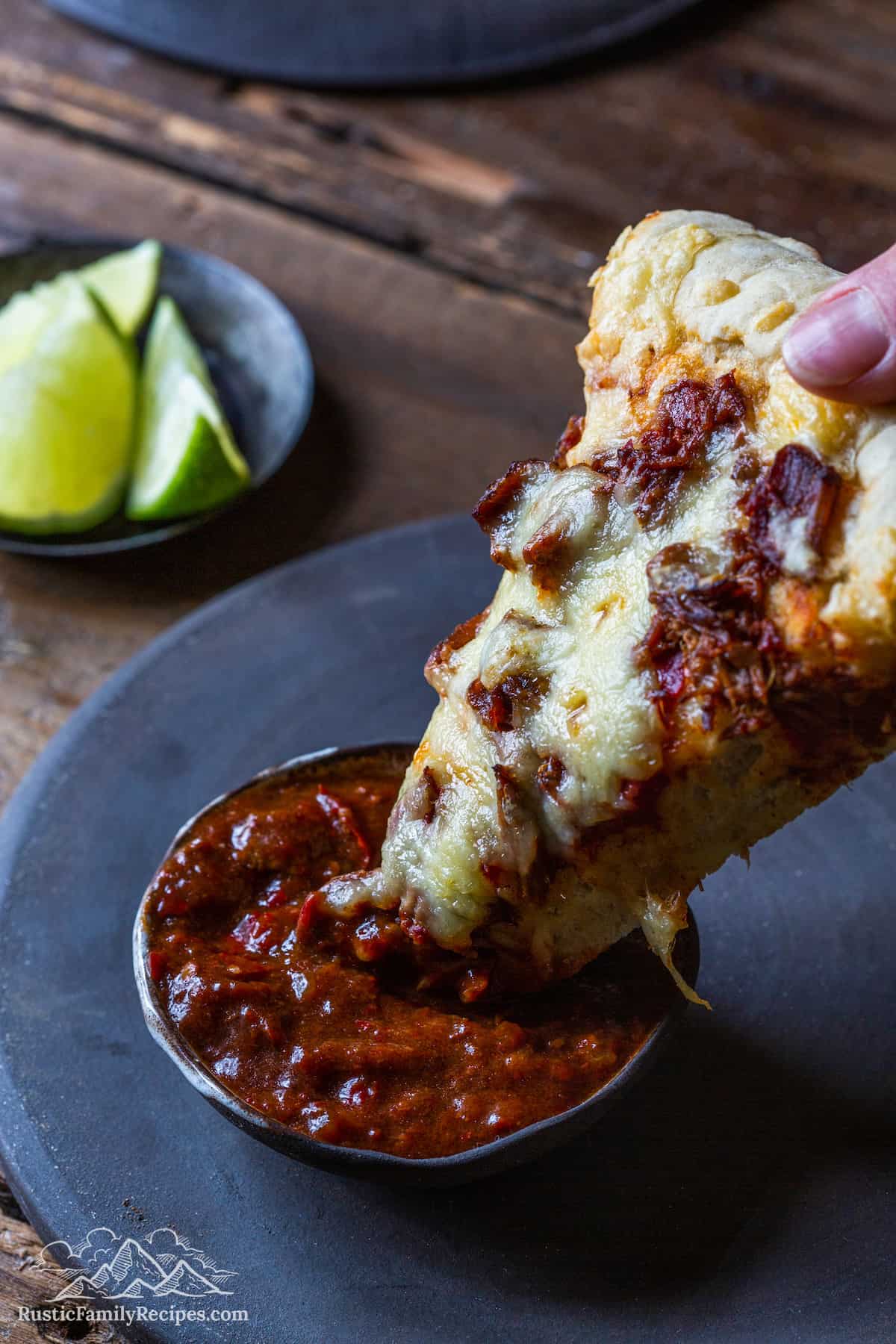 Topping Ideas
I am partial to making this pizza with Oaxaca and Monterey Jack cheese, plus a squeeze of fresh lime on top! But it's pizza, it's flexible, so you do you boo. Here are some of my top suggestions:
Mozzarella cheese – Classic, goes with almost everything.
Cheddar cheese – Melty and delicious.
Guacamole – This is a bit like dipping pizza in ranch dressing, which, I admit, I also do. But since are channeling our Mexican vibes here, I think some spicy homemade guacamole could be just the thing.
Cholula hot sauce – I love this stuff and add it to everything from burritos and tacos, to chicken soup. Why not pizza?
Whatever topping you choose, be generous with the cheese and serve a cocktail or refreshing drink on the side.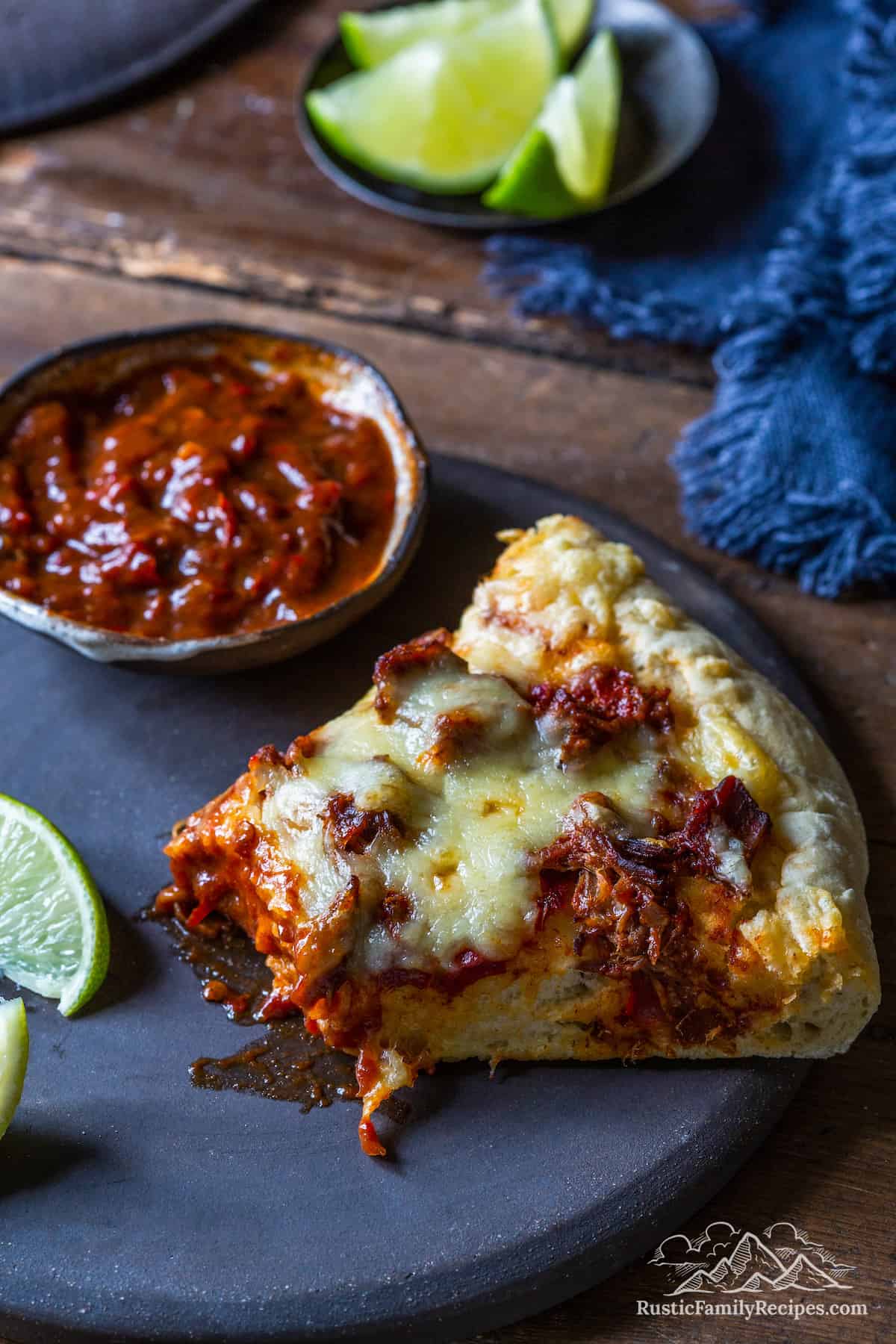 How to Store and Reheat Pizza
Let your pizza cool to room temperature, then store extra slices in an airtight container in the fridge for up to 4 days.
Reheat in an oven heated to 350F for about 5-8 minutes, until warmed through. You can also reheat pizza in the microwave but that is not my preferred method because the dough becomes soft. By contrast, the oven method crisps up your crust nicely. If you are in a bit of a hurry you can zap your pizza slice in the microwave for about 45 seconds and then finish up the heating time in the oven for about 3 minutes.
Leftover birria pizza does not freeze well, so gobble it up within a few days of making it!
Print
Birria Pizza
Birria pizza is my new favorite way to use up leftover birria meat. Homemade pizza dough covered in consommé then topped with birria meat and oodles of melty Oaxaca and Monterey Jack cheese. Serve each slice with dipping sauce and lime wedges!
Author: Rustic Family Recipes
Prep Time:

20 minutes

Dough Rising:

90 minutes

Cook Time:

8 minutes

Total Time:

1 hour 58 minutes

Yield:

8 slices

Category:

Dinner

Method:

Oven

Cuisine:

Mexican American
Cornmeal, for coating the pizza peel

1

batch of pizza dough

1 cup

birria consommé, plus more for serving

2 cups

birria meat

2 cups

shredded Oaxaca cheese

1 cup

Monterey Jack cheese
Lime wedges, for serving
Instructions
Thicken the consommé. Pour the 1 cup of consommé into a small saucepan and bring to a simmer. Cook over medium heat until it has thickened a bit.
Prep your tools. Adjust your top oven rack so that it is in the middle of the oven and place the pizza stone on top. Preheat oven to 500F. Lightly coat the pizza peel with cornmeal. Set aside.
Roll out the dough. Roll out your pizza dough to the size you want. Be sure to keep the size of your pizza peel in mind and don't roll the dough into a shape larger that the pizza peel. The unbaked pizza will be heavy so you need the pizza peel to support the weight.
Assemble the pizza. Place the rolled out dough on your prepped pizza peel. Spoon the thickened consommé over the top of your pizza dough, leaving a 1-inch perimeter along the edges of the dough with no consome. Sprinkle the birria meat over the top of the sauce. Top with the cheeses.
Cook the pizza. Carefully slide the pizza onto your heated pizza stone. Cook for 8-9 minutes, until the dough is lightly golden and the cheese is melted.
Cool. When the pizza is done, carefully slide the pizza peel under the cooked pizza and remove it from the oven. Let it cool for 5 minutes.
Serve. Cut the pizza into slices and serve with extra consommé so that you can dip the pizza in it, plus lime wedges.
Last Step:
Please
share a rating and comment
if you enjoyed this recipe! Your feedback helps this little blog thrive and continue providing free, high-quality recipes for you.
Keywords: birria pizza, meat lovers pizza, meat pizza
Filed Under: