Pure maple syrup adds a rich, cozy flavor to homemade Maple Scones. Buttery, crisp on the outside, and soft in the middle, these scones are absolutely perfect!
Looking for more scone recipes? Try my blueberry scones or these pumpkin scones!
For some reason, scones have a reputation for being supremely fussy. But if you make this easy maple scones recipe, I think you'll agree that scones are much easier to make than their reputation might lead you to believe. Like buttermilk biscuits and homemade pie crust, there are two keys to perfect scones: using chilled butter and being careful not to over-mix the dough. That's really all there is to it!
These maple scones have a soft, buttery interior that's perfectly moist – never dry or crumbly. The exterior is crisp and flaky, with a thick drizzle of rich glaze. Of course, my favorite thing about these scones is the addition of maple, which provides more depth and nuance than a scone sweetened with sugar alone. If maple makes you weak in the knees, you'll swoon over these scones!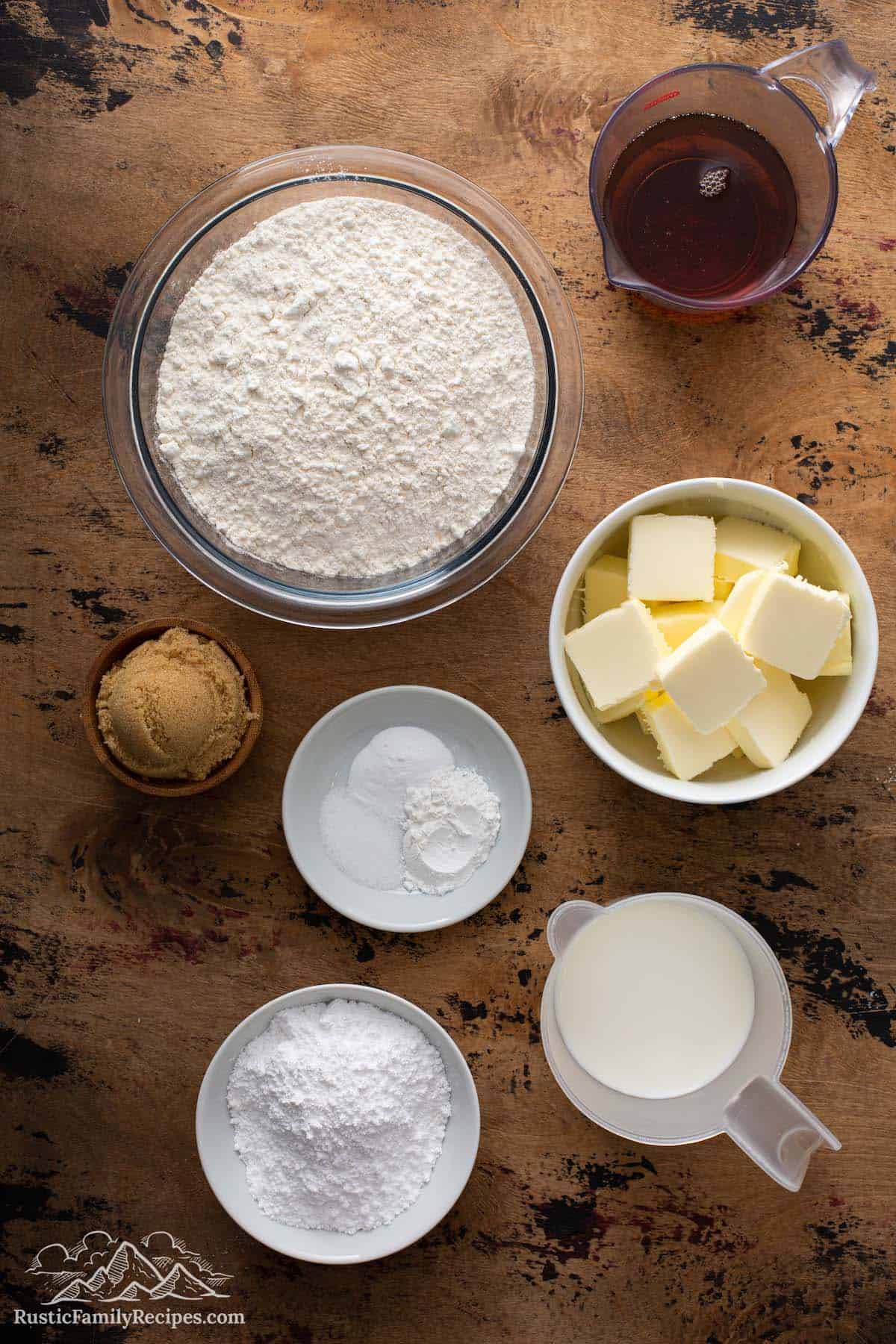 What You'll Need
Aside from the maple syrup, the ingredients for this recipe are more or less standard for scones:
All purpose flour
Light brown sugar – You can also use dark brown sugar if that is what you have. I would not recommend subbing with regular white sugar.
Baking powder
Baking soda
Kosher salt
Unsalted butter – The butter needs to be cold. Don't take it out of the refrigerator until you're ready to use it.
Whole milk – Your milk should also be chilled.
Pure maple syrup – Don't use pancake syrup! It's not the same.
Powdered sugar
About Maple Syrup Grades
Pure maple syrup is graded, just like eggs. For the richest maple flavor, choose Grade A: Dark Color & Robust Flavor. This used to be known as Grade B.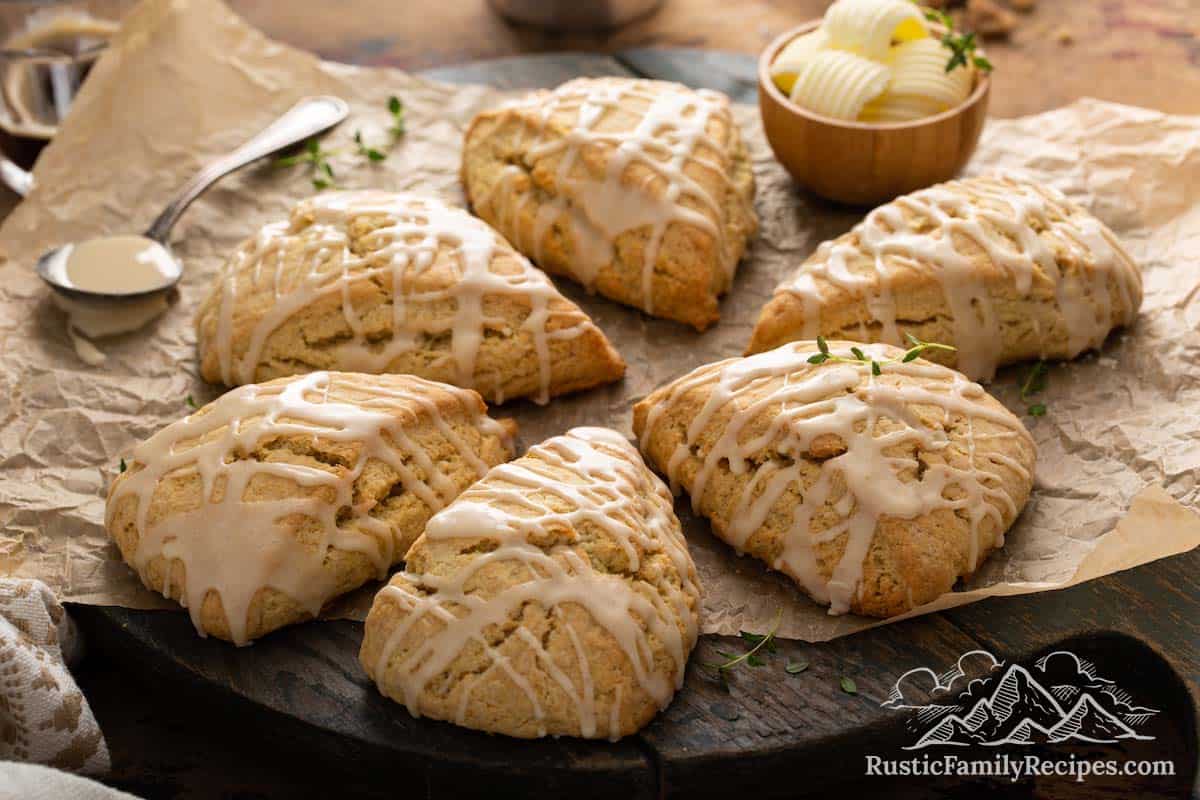 How to Make Maple Scones
Follow the step-by-step instructions below and get ready to enjoy the best homemade scones you've ever had!
Prepare. Preheat your oven to 375°F. Line a baking sheet with parchment paper or a silpat.
Whisk the dry ingredients. Combine the flour, 2 tablespoons of brown sugar, baking powder, baking soda, and salt in a large bowl and whisk to blend.
Incorporate butter. Add the chilled butter and use your fingertips to rub it into the dry mixture, until you're left with a coarse meal, like shown in the photo above.
Finish the dough. In a small bowl, stir together ½ cup of milk and ½ cup of the maple syrup. Slowly add this mixture to the flour mixture. Stir just until the dough comes together; you can add more milk by the tablespoonful if the dough seems dry.
Knead the dough. Turn out the dough onto a lightly floured work surface. Knead it gently until it feels smooth, about 5 turns. Use floured hands to pat the dough into an 8-inch round, then cut the dough into 8 wedges. Place the wedges onto a baking sheet 2 inches apart.
Bake. Place the baking sheet in the oven and bake the scones until they're golden and a toothpick inserted into center comes out clean, about 20 minutes. Place on a rack to cool.
Make the glaze. While the scones are cooling, whisk the remaining brown sugar and maple syrup in medium bowl. Add ⅔ cup of confectioners sugar and stir until smooth. Add the milk a tablespoon at a time, whisking between additions, until you have a thick glaze.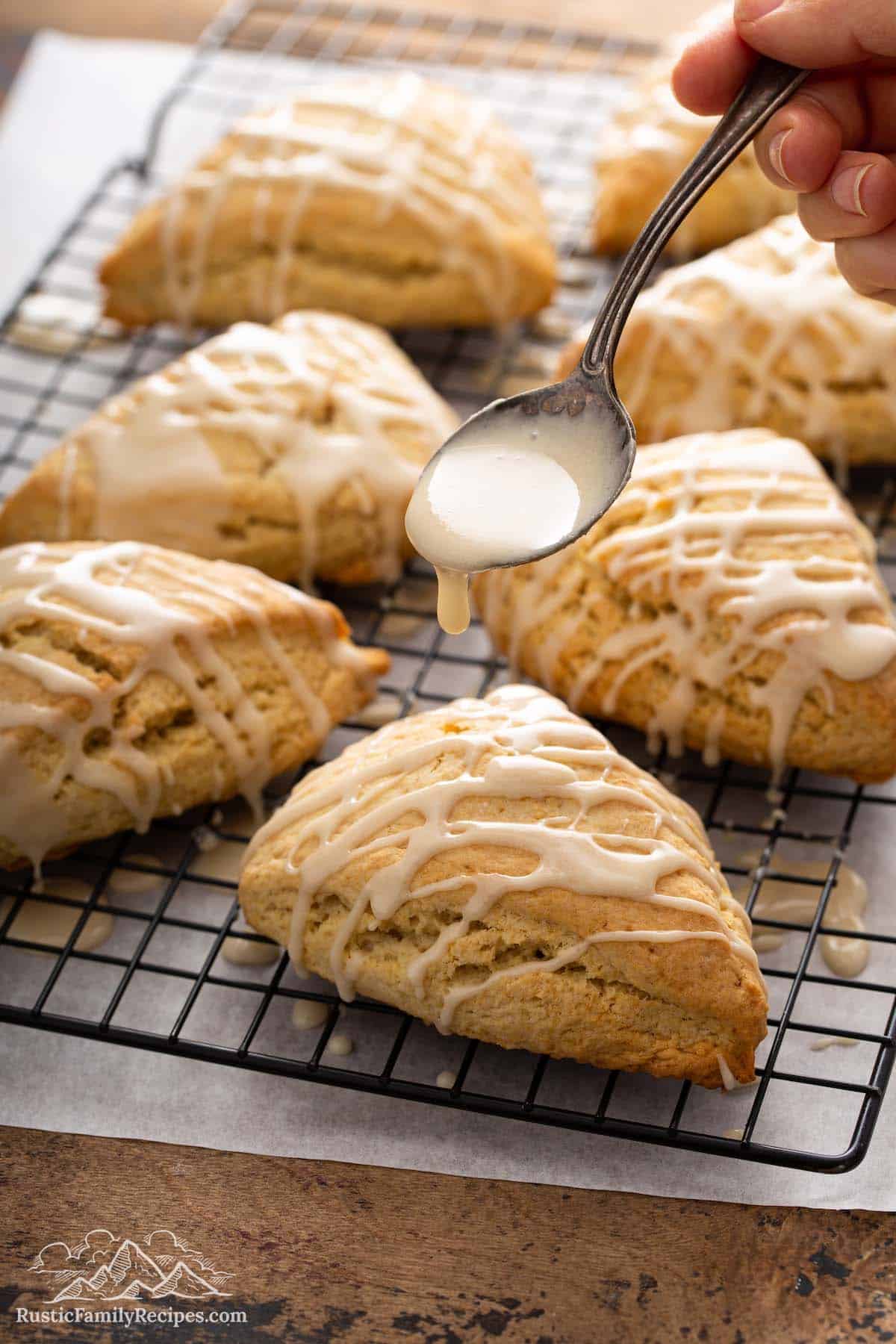 Glaze the scones. Drizzle or spread the glaze over the scones while they're still a bit warm. Let the glaze set before serving or storing.
Tips for Success
Here are some of my best tips for making perfect scones:
Measuring flour. Don't scoop your measuring cup into the flour. Instead, use a spoon to gently fill it so the flour isn't packed. Use a butter knife to scrape any excess flour off the top to keep your scones from being dry.
Freeze the butter. If you've never made scones before, you can place the butter in the freezer for a few minutes before starting the recipe. This gives you a little more time to work with the dough before the butter starts getting too soft.
Mixing the dough. You might have some dry crumbs at the bottom of the mixing bowl when making the dough. This is okay! It's better to have some crumbly bits left behind than adding too much liquid or stirring so much that your scones end up hard instead of tender.
Use your hands. I know some scone recipes say you should use a food processor to incorporate the butter into the dry flour mixture, but I don't recommend this. When I have tried that method the scones are not as fluffy and tender. Plus in my opinion it is more satisfying to work the butter in with your hands!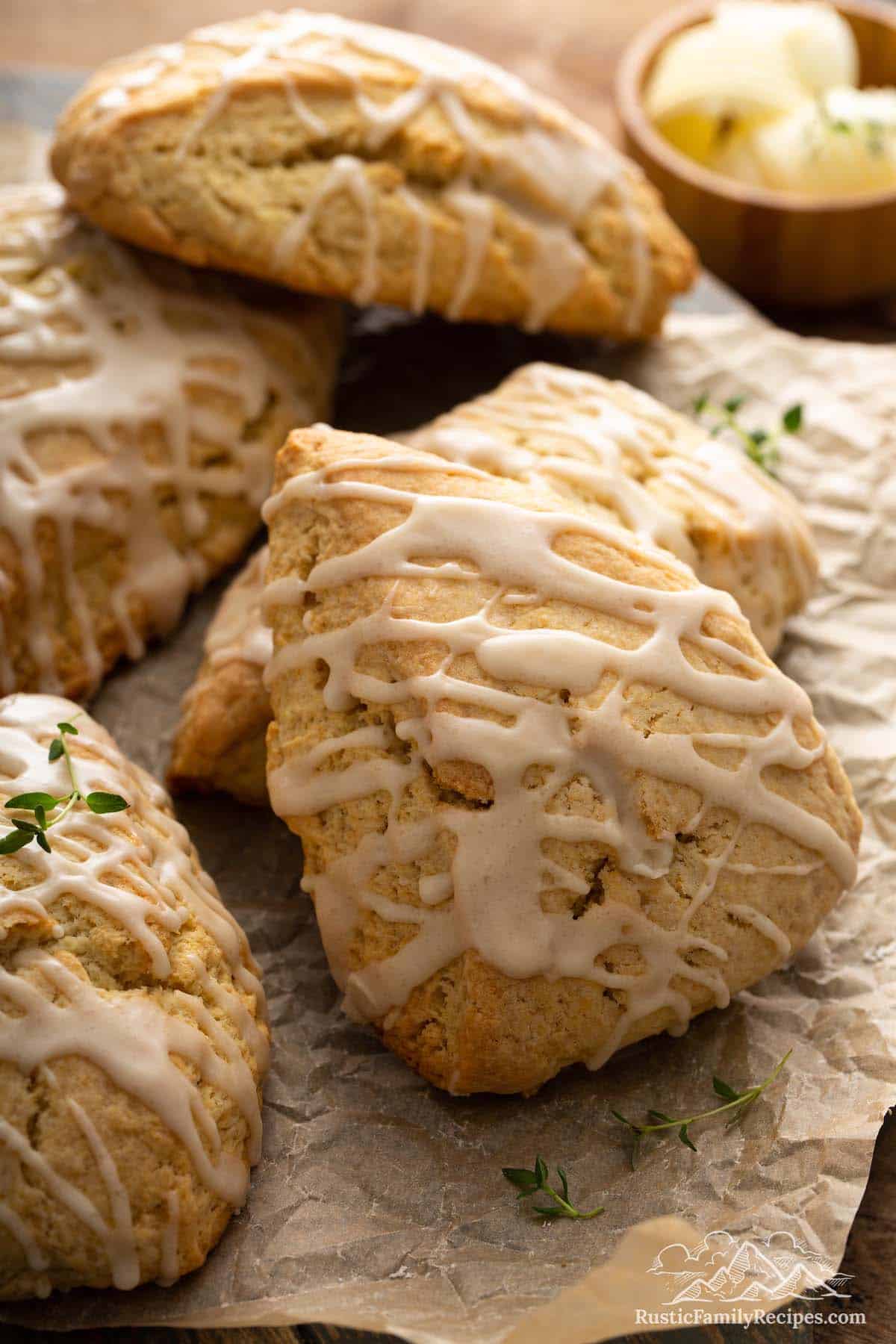 How to Store
Scones are best enjoyed the day they're made, but you can store them in an airtight container at room temperature for a day or two.
Can This Recipe Be Frozen?
Yes, you can freeze scones. Wrap each scone in saran wrap, then place them in an airtight container or freezer bag and freeze them for up to 2 months. When you are ready to eat them, let them thaw to room temperature on the counter, then enjoy.
You can also freeze unbaked scones, then bake them according to the recipe instructions, adding a few more minutes to the baking time to account for the fact that they're being baked from frozen. I recommend freezing unbaked scones flat on a baking sheet lined with parchment paper. Once the scones are frozen transfer them to a freezer-safe bag and place them in the freezer for long-term storage.
Print
Easy Maple Scones Recipe
These simple scones are tender and buttery, with a perfectly crispy exterior and a deep maple flavor.
Author: Rustic Family Recipes
Prep Time:

20 minutes

Cook Time:

20 minutes

Total Time:

40 minutes

Yield:

8 scones

Category:

Breakfast

Method:

Oven

Cuisine:

American
3 cups

all purpose flour

4 tablespoons

(packed) light brown sugar

1½ teaspoons

baking powder

½ teaspoon

baking soda

½ teaspoon

salt

¾ cup

(

1½

sticks) chilled unsalted butter, cut into ½-inch pieces

½ cup

(or more) plus about 4-6 tablespoons whole milk

½ cup

plus 2 tablespoons pure maple syrup

⅔ cup

(about) powdered sugar
Instructions
Preheat oven to 375°F.
Whisk flour, 2 tablespoons light brown sugar, baking powder, baking soda and salt in large bowl to blend. Add butter and rub in with fingertips until mixture resembles coarse meal.
Stir ½ cup milk and ½ cup maple syrup in small bowl to blend. Gradually add milk mixture to flour mixture, stirring just until dough comes together and adding more milk by tablespoonfuls if dough is dry.
Turn dough out onto lightly floured surface. Knead dough gently until smooth, about 5 turns. Using floured hands, pat out dough to 8-inch round; cut dough into 8 wedges. Transfer wedges to baking sheet, spacing 2 inches apart.
Bake scones until golden and tester inserted into center comes out clean, about 20 minutes. Transfer to rack.
Meanwhile, whisk remaining 2 tablespoons brown sugar and 2 tablespoons maple syrup in medium bowl to blend. Add ⅔ cup confectioners sugar and mix well. Add whole milk 1 tablespoon at a time, whisking, until you have a thick glaze.
Drizzle or spread glaze over warm scones. Let stand until glaze sets.
Keywords: easy scones, homemade scones, christmas morning breakfast,