These easy buttermilk biscuits are my family's absolute favorite. Tall and tender with the perfect crumb, these classic baking powder biscuits can be enjoyed in tons of ways!
There are some recipes that you just need to know by heart and if you ask me, these buttermilk biscuits are one of them. I make these old-fashioned biscuits at least once a week and they always disappear within a day. They go with scrambled eggs for breakfast, salad for lunch, lasagna for dinner – and so much more.
What Makes These the Best Buttermilk Biscuits?
There are many things that make these biscuits truly the best, but here are the main reasons this recipe is a winner:
EASY. These biscuits are incredibly simple to make and no special skill is required. You don't even need a biscuit cutter if you don't have one. This is one of the first recipes I teach kids to make.
Quick. From start to finish these biscuits are ready in under 30 minutes.
Delicious! These biscuits are fluffy and tender, yet firm enough to be sliced in half and stuffed with things like scrambled eggs and some melty cheese.
Watch How to Make Homemade Buttermilk Biscuits
Want to see how to make buttermilk biscuits from scratch? Watch my step-by-step video:
What If I Don't Have a Biscuit Cutter?
If you don't have biscuit cutters, not to worry! There are two ways to work around this.
The simplest solution is simply to cut your biscuits into squares with a knife. Pat the dough into a rough squarish rectangle, then use a sharp knife to cut the dough into about 8 biscuits.
You can also use a BPA-free 16-oz can. Remove the outside paper wrapping if there is some, and then remove the top AND bottom of the can with a can opener. Wash and dry the can well. Now you can use one side of the can to cut the biscuits, and you can stick the handle of a wooden spoon through the top of the can if you need to coax the biscuit out of the mold.
The process for making these buttermilk biscuits is the same as my sweet potato buttermilk biscuits. Check out that post for step-by-step photos. 🙂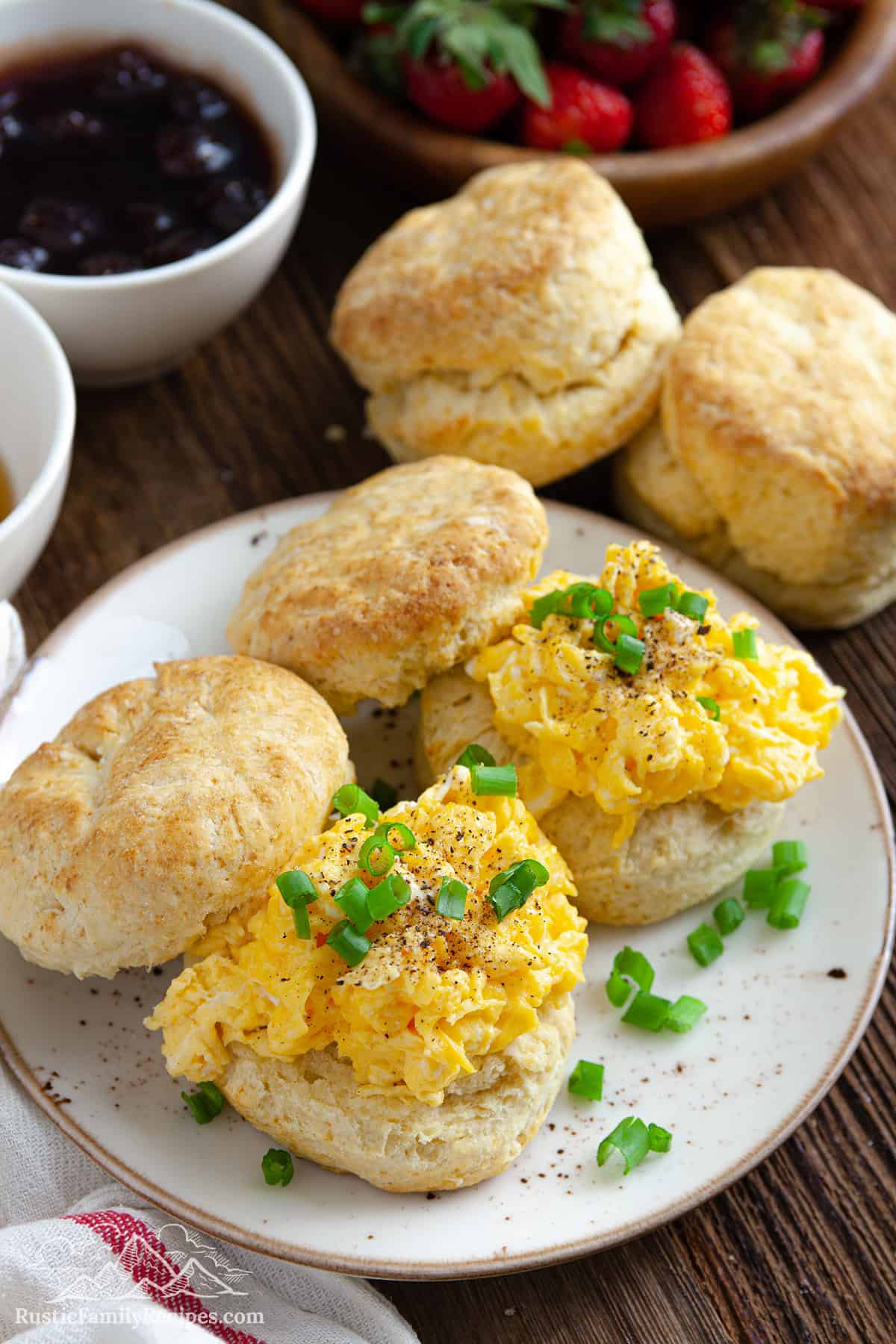 Tips for Success
Here are a few tricks for the best biscuits:
Don't overwork the dough. We aren't making bread here, so don't overwork the dough or you'll start to form gluten and your biscuits won't be as fluffy.
Flour your biscuit cutter. The same goes for using a can, as described above. Just put about 1/4 cup of flour on a small salad plate and then dip your biscuit butter into it before cutting the biscuits. Repeat as needed to prevent sticking.
Twist. Another tip for cutting buttermilk biscuits is to press the biscuit cutter straight down into the dough, then twist it. This helps separate the individual biscuit from the rest of the dough.
Buttermilk substitute. If you don't have buttermilk, you can make some by combining 3/4 cup of milk with 2 teaspoons so of lemon juice. Let it sit for at least 5 minutes, then give it a stir and use it as you would the buttermilk.
Cool before cutting. Let the biscuits cool for 5 minutes before slicing them in half.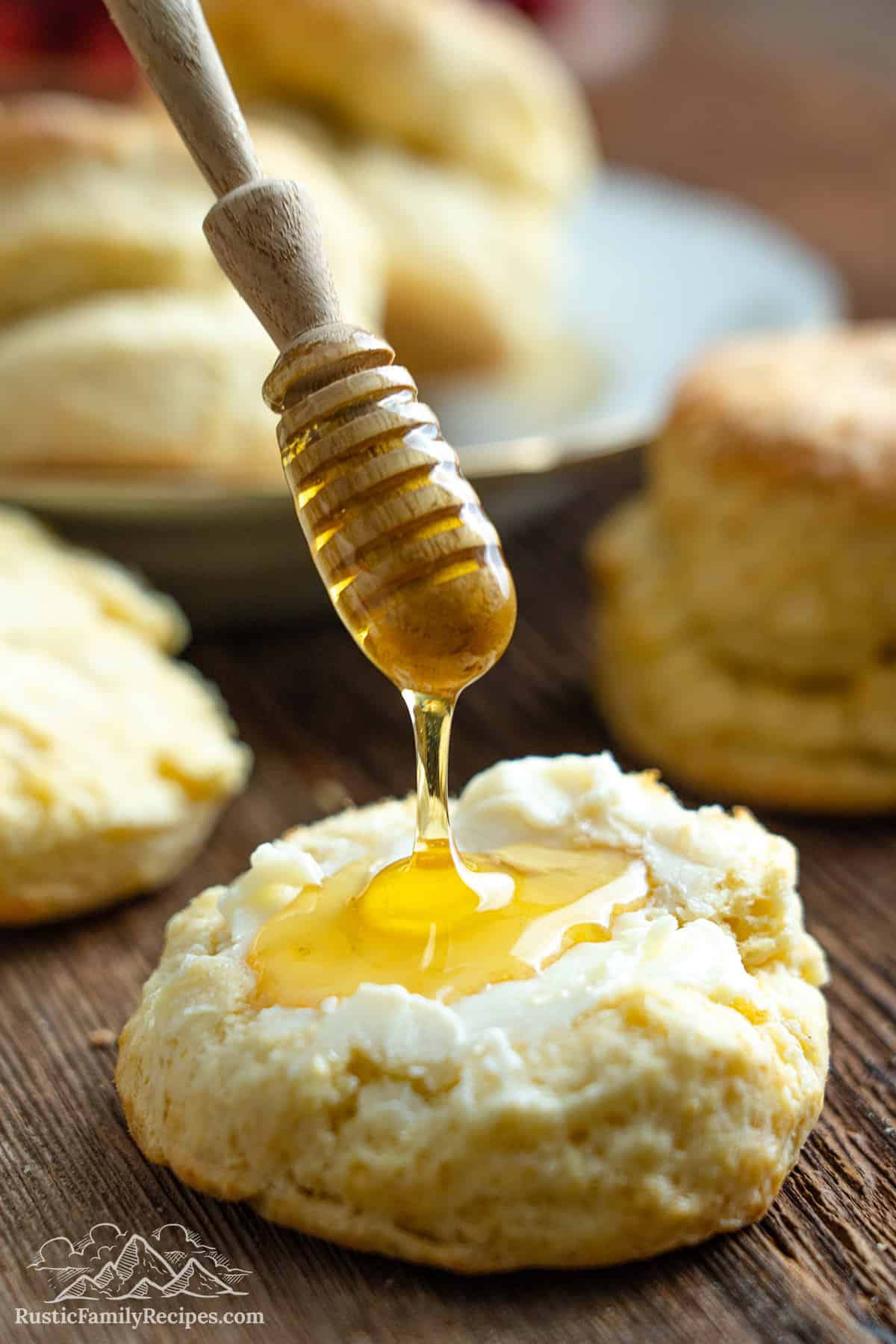 What Goes With Buttermilk Biscuits?
Butter, jam, or honey. Just slice the biscuits in half and slather them with your preferred amount of jam, butter, or honey. I also like to spread whipped maple cream on these biscuits.
Make a sandwich. These biscuits hold up well to being cut in half, which makes them perfect for pretty much any kind of sandwich. I like to make cheesy scrambled eggs to make breakfast sandwiches. You can add a sprinkle of chopped chives or scallions on top, or even add some melty cheese. Another fav is to chop up some instant pot hard-boiled eggs, then turn them into a quick egg salad by mixing them with a bit of mayo and salt/pepper to make a biscuit sandwich.
On the side. Serve them with soup, lasagna, salad you name it! I especially like them with rabbit stew so that I can use a biscuit to wipe my bowl clean and get every last bite in my belly. (That stew is seriously good.) These biscuits are also incredible with instant pot roast beef.
How to Store Buttermilk Biscuits
These biscuits are best stored on the counter in an airtight container. They will keep for 3-4 days.
Want to freeze them? You can do that too! Let the biscuits cool completely, then wrap each biscuit in saran wrap before placing the wrapped biscuits in an airtight, freezer-safe container. They will keep for up to 3 months in the freezer. Thaw on the counter for a couple of hours when you're ready to use them.
More Bready Sides
Print
The Best Buttermilk Biscuits
These easy buttermilk biscuits are my family's absolute favorite. Tall and tender with the perfect crumb, these classic baking powder biscuits can be enjoyed in tons of ways!
Author: Rustic Family Recipes
Prep Time:

10 minutes

Cook Time:

15 minutes

Total Time:

25 minutes

Yield:

7-8 biscuits

Category:

Bread

Method:

Oven

Cuisine:

American
2 cups

all-purpose flour, plus a bit more for dusting the counter

2 teaspoons

baking powder

1/2 teaspoon

baking soda

1/2 teaspoon

kosher salt

7 tablespoons

unsalted butter, cold and cut into small pieces

1

large egg

3/4 cup

buttermilk
Instructions
Prep your tools. Preheat your oven to 425F and line a baking sheet with parchment paper or a silpat. Set aside.
Mix dry ingredients. In a large bowl combine 2 cups flour with the baking powder, baking soda and kosher salt.
Add the butter. Combine the dry ingredients with the cold pieces of butter by rubbing the butter and flour mixture together with your fingers until it resembles coarse breadcrumbs.
Add the wet ingredients. Make a well in the center of your breadcrumb-like mixture. Add the egg and buttermilk, then combine with a spoon until you have a rough dough.
Shape the biscuits. Turn the dough out onto a floured countertop and gently work it with your hands, just until it holds together. Don't over knead it or your biscuits will be tough.
Pat/press the dough into a circle about 3/4 inches thick. Cut into rounds with a 2 1/2-inch biscuit cutter. Push straight down into the dough and then twist. If your biscuit cutter is sticking to the dough, dip it in some flour.
Roll up any scraps of dough and repeat this process until you have used it all. You can shape that last bit of dough into a biscuit by hand since there probably won't be enough to cut.
Bake. Place the biscuits on your baking sheet, spacing them out so that they have room to rise. Bake for 15-17 minutes, or until the tops are golden brown.
Equipment
Last Step:
Please
share a rating and comment
if you enjoyed this recipe! Your feedback helps this little blog thrive and continue providing free, high-quality recipes for you.
Keywords: baking powder biscuits, buttermilk biscuits, old fashioned biscuits, easy biscuits recipe
Filed Under:
This post may contain affiliate links. Please read our disclosure policy.