This post may contain affiliate links. Please read our disclosure policy.
Sweet and tender Baking Powder Shortcake Biscuits are perfect to use in your favorite strawberry shortcake recipes! These golden baked biscuits are also just as delicious all on their own, warmed and drizzled with strawberry sauce or honey.
Just like everyone needs a good pie crust recipe, I believe we all need a great shortcake recipe up our sleeve. Do you agree? Like buttermilk biscuits, these sweeter biscuits are simple pantry staples that can be made into all sorts of delightful treats. Turn them into strawberry shortcakes, make them into strawberry shortcake ice cream (recipe coming soon), or just enjoy warm shortcakes with a drizzle of honey and maybe a dollop of strawberry sauce to boot.
Made with baking powder and buttermilk, these biscuits rise up light and crisp. Golden and buttery, they're full of that unmistakable crumbly texture that only comes with a perfect shortcake biscuit.
What is the Difference Between a Biscuit and a Shortcake?
Biscuits are a type of crumbly bread made with baking powder or baking soda as the leavening agent. Meanwhile, in American terms, a shortcake is a sweet cake with a similarly crumbly texture.
Some shortcakes are actually a lot closer to a biscuit than a cake: crumbly and buttery, and more crispy. This is because the "short" in shortcake has nothing to do with height, and everything to do with the butter that makes the cakes crisp up as they bake.
Recipe Ingredients
Below you'll find an overview of the few ingredients you'll need. Please refer to the recipe card for the full amounts:
All-purpose flour
Granulated sugar – White granulated sugar brings just the right amount of sweetness.
Leavening – I use both baking powder and baking soda in my shortcake recipe.
Salt
Butter – Unsalted butter, that's well chilled before you start.
Buttermilk – Buttermilk gives these biscuits a delicious richness and tang.
How to Make Baking Powder Shortcake Biscuits
Before you begin, you'll need to line a baking tray with parchment paper. You can set this aside for now – you'll use it to stash your biscuits in the freezer later. Now, let's get started on making the biscuits themselves:
Combine the dry ingredients. First, whisk together the dry ingredients in a mixing bowl.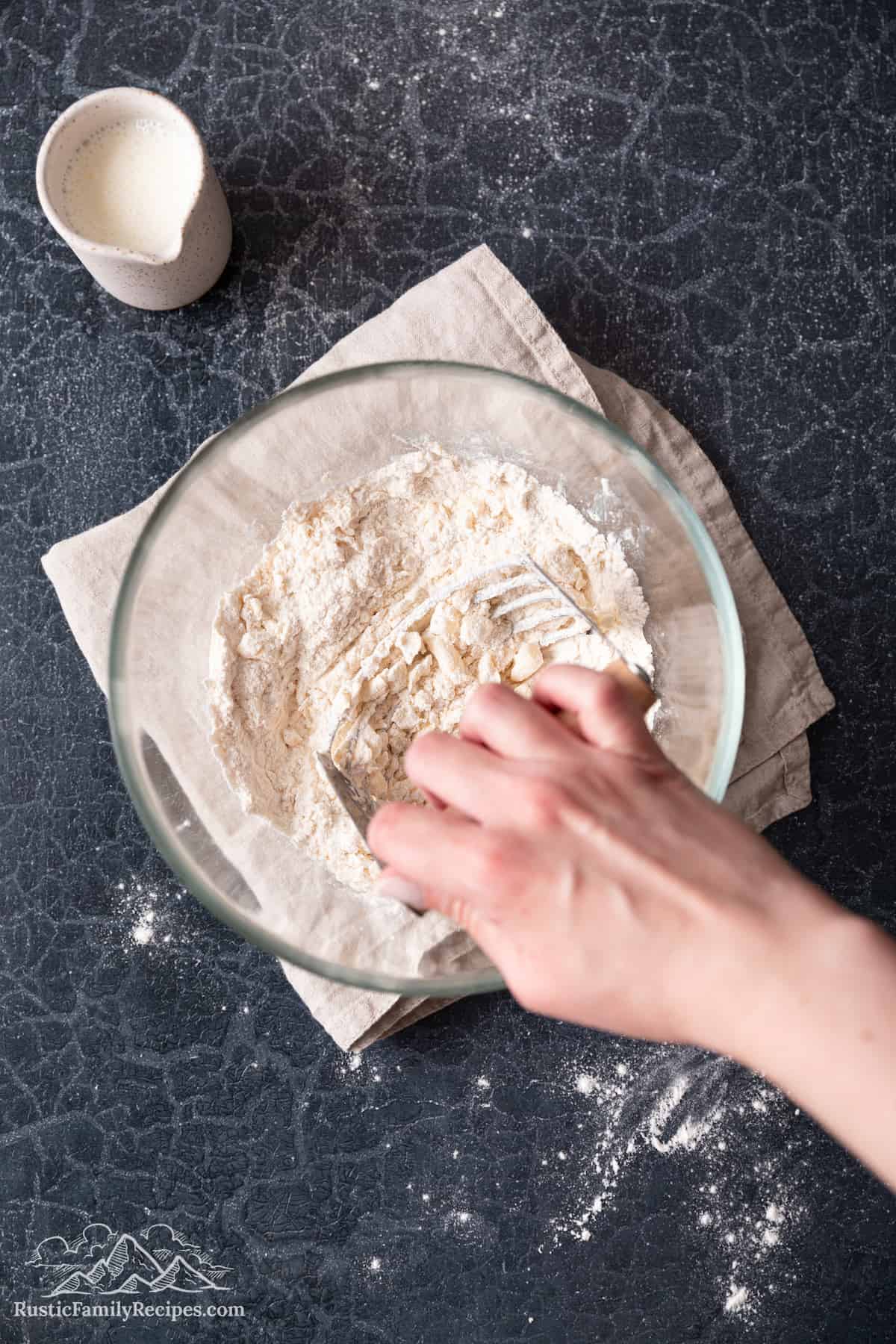 Cut in the butter. Add cubes of butter into the bowl with the dry ingredients. Use a pastry cutter to chop the butter into the mixture until you reach a crumbly consistency, like a streusel.
Add the buttermilk. Use a spoon or your fingers to create a well in the middle of the streusel mixture, then pour in the buttermilk. Give it a stir, then use your hands to knead the batter just until the ingredients come together, being mindful to not over knead.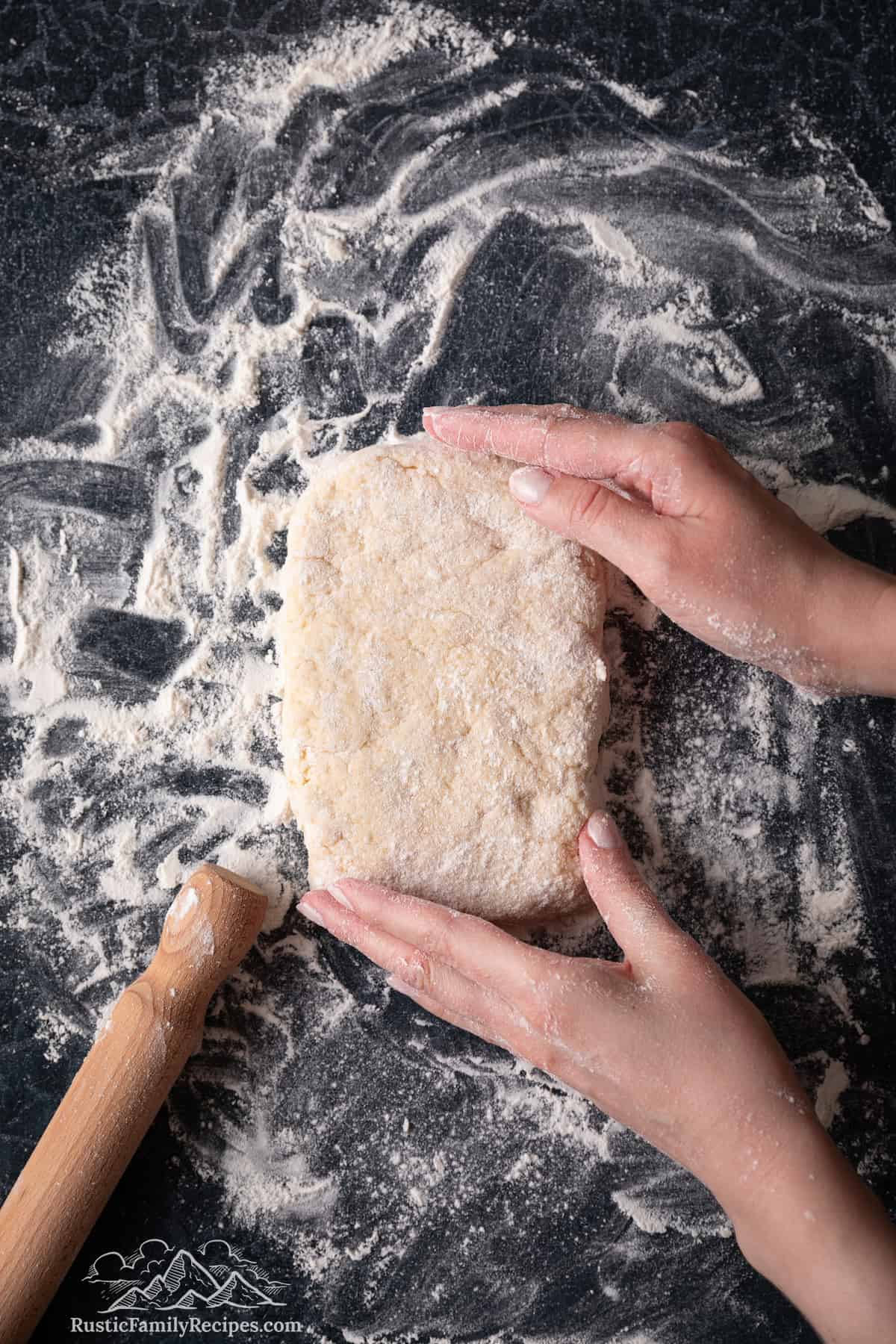 Shape the dough. On a floured work surface, shape the dough into a rectangle. Make sure to flour your hands to prevent sticking as you work the dough. Once shaped, divide the rectangle into 6 equal-sized pieces. Stack the pieces of dough and press them down gently. You'll need to do this twice more, so reshape the rectangle and repeat.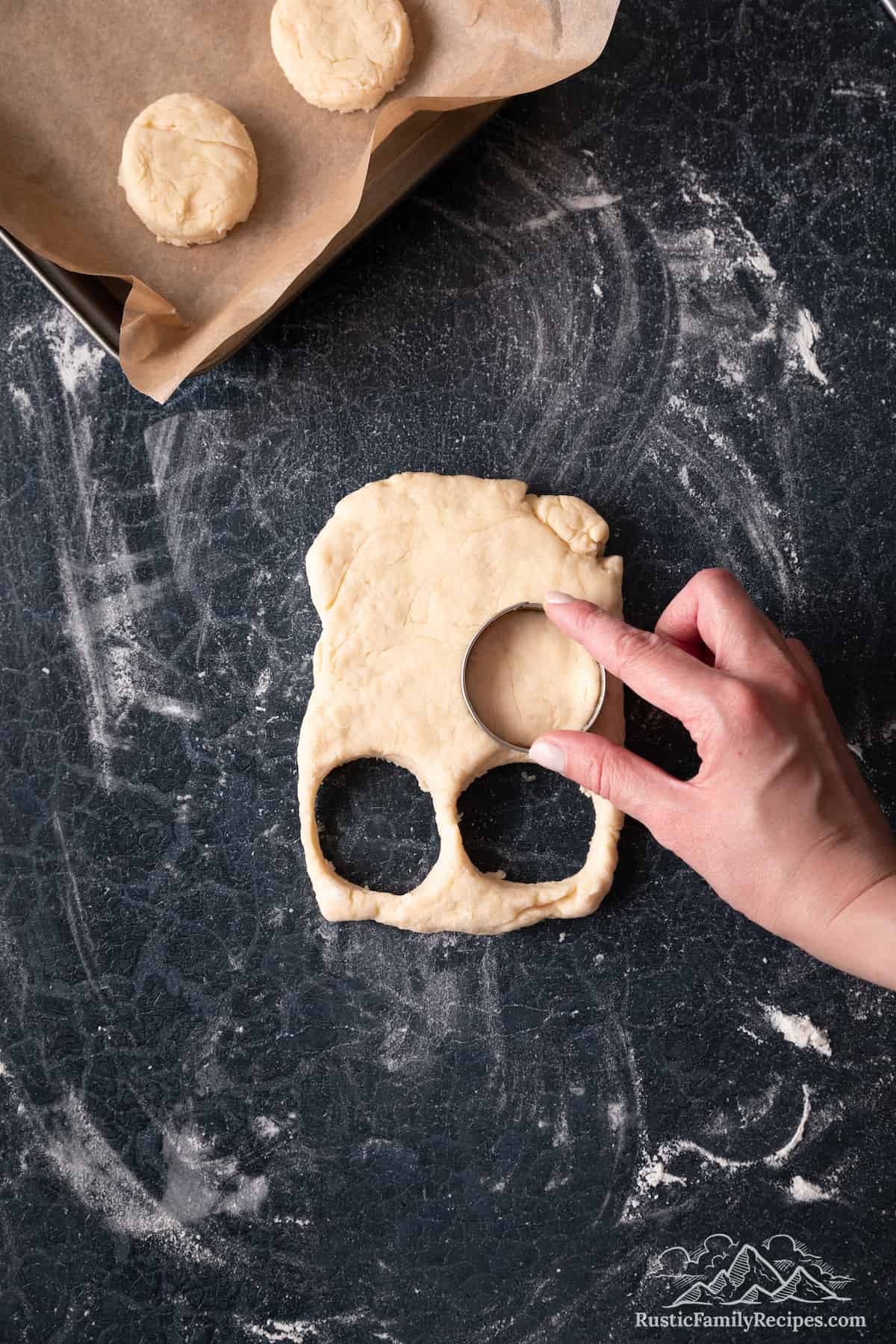 Cut out the biscuits. Finally, use a cookie cutter to cut the dough into discs. Gather the scraps and reshape the dough, continuing to cut discs from the leftovers until you have about 6-8 shortcakes.
Chill. Once your shortcakes are cut out, you'll need to chill them for about 20 minutes or so while the oven preheats. Place the shortcakes in your lined baking tray and pop them into the freezer.
Bake. When the cakes are chilled and the oven is up to temperature, move the shortcakes to a large baking sheet. Bake the shortcakes in the preheated oven until they're crisp and golden. After taking them out, let your biscuits cool completely while still on the tray.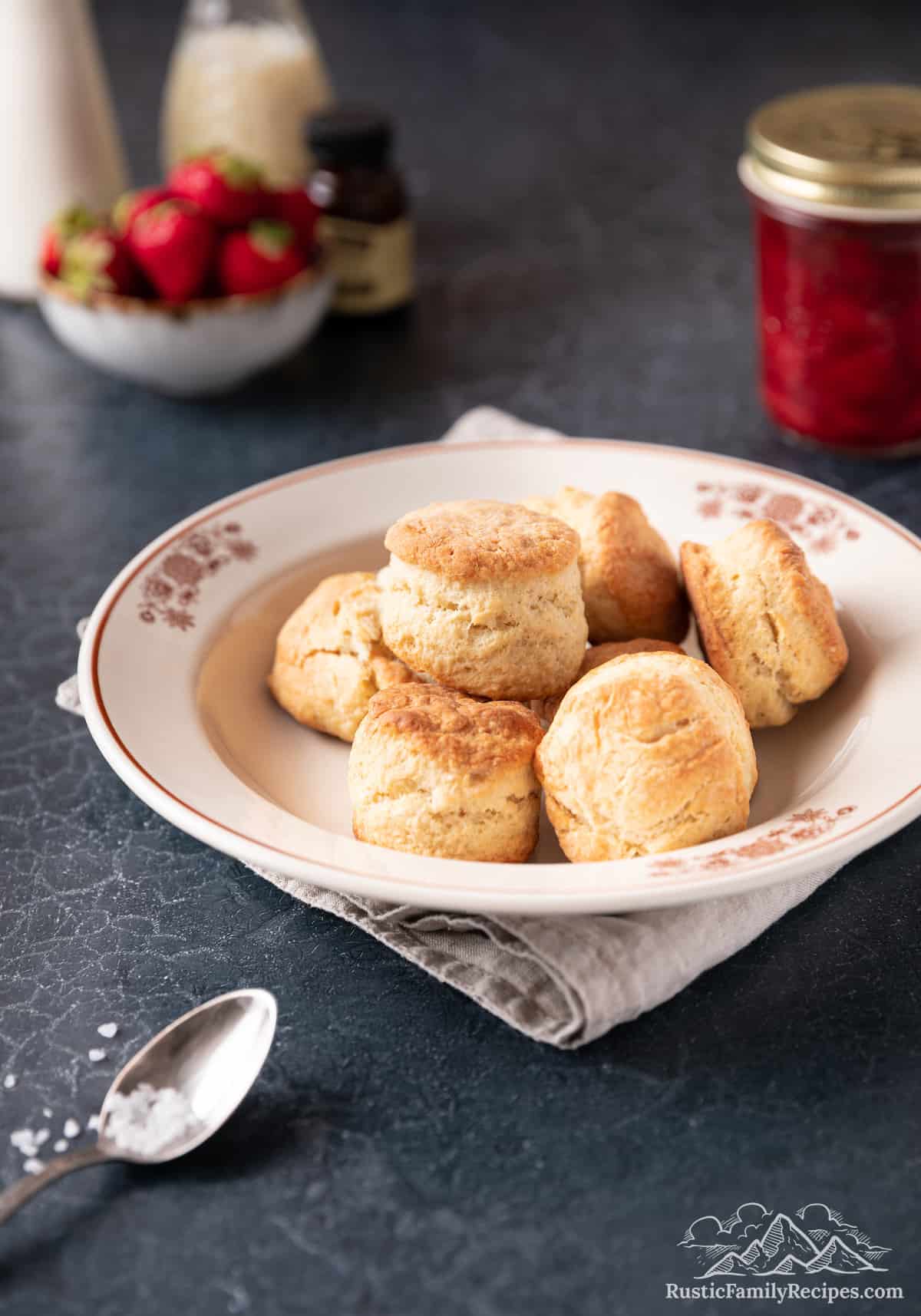 Tips for Success
Here are some tips to ensure your baking powder biscuits come out of the oven gloriously crisp and fluffy, as they should:
Work with cold butter. Ingredients like butter should be cold before you start. Coldness is key to successfully light and flaky dough. For the same reason, you'll need to budget time for the biscuit dough to chill in the freezer, as this keeps the butter in the dough cold before baking.
Don't overwork the dough. This goes for mixing and kneading! Stir and knead the dough only until the ingredients are just combined. The texture should be "shaggy" – that is, lumpy yet well mixed, without any dry spots, but not a completely smooth ball.
Ways to Use Your Biscuits
When I'm not dressing up these biscuits in recipes for strawberry shortcake and homemade strawberry shortcake ice cream, they're just as delicious to bite into as is.
Their sweetness makes these shortcakes great for serving with other sweet toppings. For dessert, enjoy them topped with berries and maple whipped cream, spread with jam, or drizzled with honey or strawberry sauce. Whipped maple cream is also delightful with these biscuits!
They're also an easy breakfast when sliced lengthwise and warmed up with a pat of butter. These tender, fluffy biscuits are the perfect pairing with a cozy gingerbread latte in the winter, or cardamom iced coffee when the weather is warm.
How to Store
Once these shortcake biscuits are fully cool, store them airtight in a lidded container or bag. You can also wrap them, either in plastic wrap or aluminum foil, to keep at room temperature for up to 2 days. For storing longer term, I recommend moving the biscuits to the fridge or freezing them, see below.
Can I Freeze Baking Powder Biscuits?
Freezing is a great option to extend the shelf life of these shortcakes, especially if you don't plan on getting through them in a day or two. They'll keep well when frozen for up to 6 months.
Before freezing, make sure your biscuits are cooled completely. Wrap them separately in plastic wrap before placing them in a container or freezer bag for storing. Wrapping the biscuits individually helps prevent freezer burn.
Defrost the shortcakes in the fridge overnight, or at room temperature. You can also skip the wait time and pop them back into the oven at 350ºF for about 5 to 10 minutes, for warm biscuits that are ready to butter!
Print
Baking Powder Shortcake Biscuits
These sweet and tender shortcake biscuits are light and crisp, perfect to use in your favorite strawberry shortcake recipes. Or, enjoy them all on their own, warmed and drizzled with strawberry sauce or honey.
Author: Rustic Family Recipes
Prep Time:

15 minutes

Chilling Time:

20 minutes

Cook Time:

25 minutes

Total Time:

1 hour

Yield:

6 servings

Category:

Dessert

Method:

Oven

Cuisine:

American
1 cup

all-purpose flour, plus extra for dusting

1/8 cup

granulated sugar

1 1/2 teaspoon

baking powder

1/4 teaspoon

baking soda

1/4 teaspoon

kosher salt

1/4 cup

unsalted butter (cold)

6 tablespoons

buttermilk
Instructions
Prep your tools. Line a small 12×7 baking tray with parchment paper and set aside.
Combine the dry ingredients. In a medium bowl mix together flour, sugar, baking powder, baking soda and salt. Whisk shortly to combine.
Cut in the butter. Cube the butter and add into the flour mixture. Continue chopping with a pastry cutter until the consistency resembles a streusel and crumbles are visible.
Add the buttermilk. Create a hollow space in the middle of the streusel and pour in the buttermilk. Mix a few times with a spoon or a spatula until lumps form. Then knead 2-3 times with your hands, just until the ingredients combine. Do not over knead the batter.
Shape the dough. Flour your working surface and transfer the dough. Shape it into a 1 inch thick rectangle.
While shaping the rectangle, work the dough with generously floured hands. Cut the dough into 6 equal parts, layer them on top of each other and gently press down. Then, re-shape into a 1 inch thick rectangle and repeat twice more.
Cut out the biscuits. Cut the dough using a 2.5 inch diameter cookie cutter.
Re-shape and cut out more shortcakes from the leftover dough. The dough should yield around 6-8 shortcakes.
Chill. Layer the shortcakes in the pre-prepared baking tray and freeze for 20 minutes.
In the meantime, preheat the oven to 400°F.
Bake. Transfer the shortcakes to an oven-size baking tray and insert directly into the pre-heated oven, bake for 20-25 minutes until golden. Remove from the oven and cool completely on the baking tray.
Keywords: strawberry shortcake biscuits, easy shortcake recipe, homemade shortcake, baking powder biscuits
More Easy Breads to Try